These frosted glass garage door ideas include their benefits, types, window design options, costs, and comparison to clear glass garage doors.

When you're trying to come up with a one-of-a-kind design for your garage, one choice that will really stand out is a garage door made of frosted glass. There are a few different ways you can execute this idea to revamp your garage and let in a little more light.
Garage Door With Frosted Glass Benefits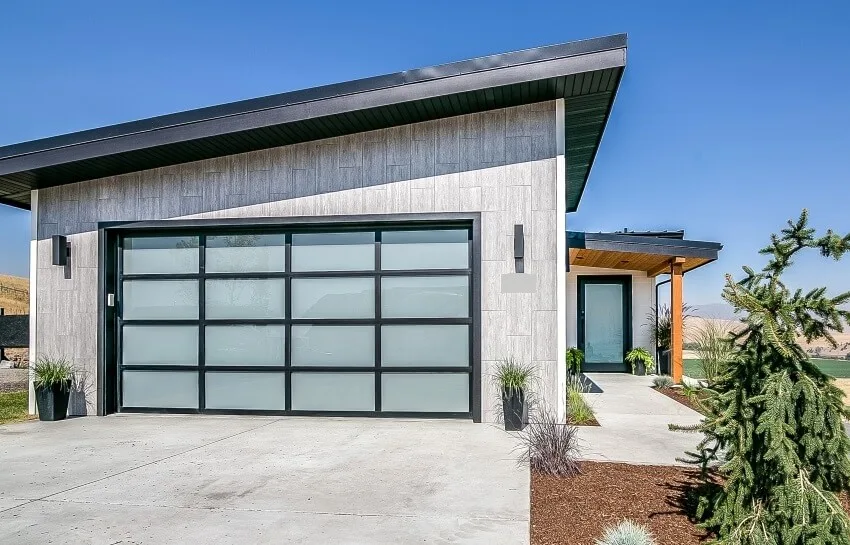 There are quite a few benefits to using a frosted glass door for your garage door. The most obvious is that you'll let in more natural light, giving you a brighter, more open appearance inside.
This can help you save on electricity when you can rely on more daylight to light your garage. Plus, if you opt for frosted glass, you get all this natural sunlight without sacrificing any privacy in your garage.
Glass is also stronger than you might think. It's often thought of as a brittle, fragile material but it's important to remember we're talking about tempered glass. This is what garage doors use and it's the type of glass you see in your car windows, not the more fragile wine glasses you might have in your kitchen.
This type of glass is made to last and is much harder to break than how you might think of glass, although you'll want to avoid intense impact. Compared to a material like wood, its' also better about not showing wear over the years.
You don't have to do much work to keep it in top shape either. The process to keep your frosted glass garage door clean isn't all that different from any other window in your home.
There's an external benefit to this material as well. A frosted glass door is striking from the outside and is sure to increase the curb appeal of your home!
Types Of Frosted Glass Garage Door Designs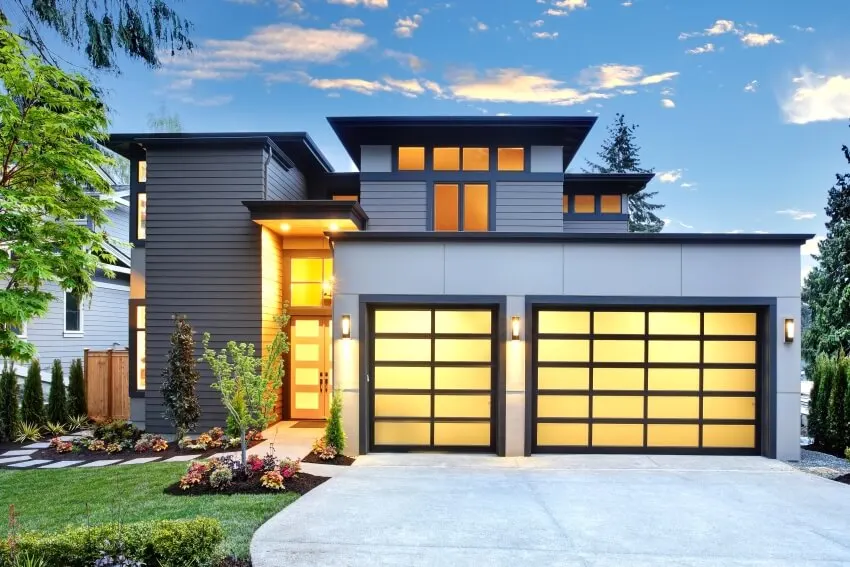 Another benefit to frosted glass doors is that there's a lot of versatility. At first glance, many assume the style is only suited for modern homes but these types of glass doors come in a variety of styles, designs, and even uses. There are just a few of the ways you can shake up the look of your frosted glass door in ways you haven't thought of.
Garage Door with Frosted Glass Panels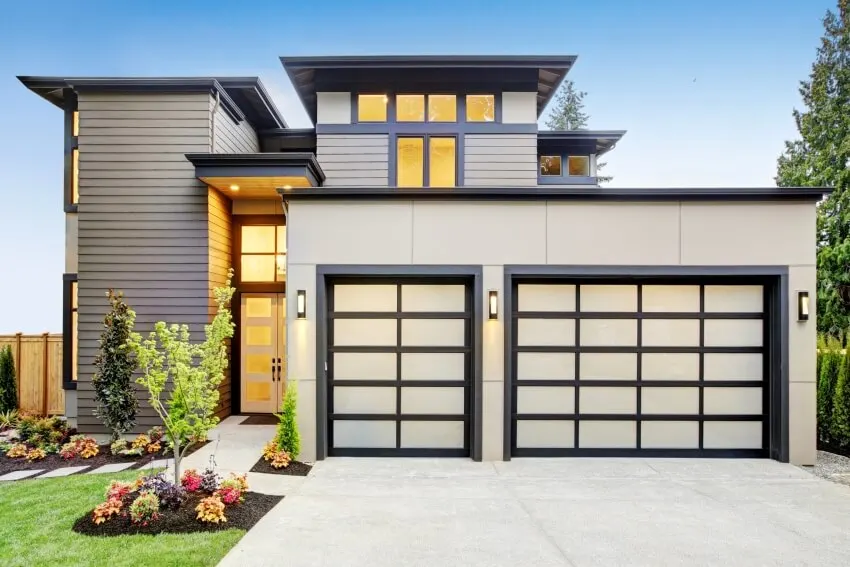 When you want frosted glass in your garage doors, you don't need to opt straight for full coverage. If you only want to let a little light in or are afraid of potential impacts on a garage door made up fully of glass panels, you can opt for a more traditional garage door with glass panels.
Just like any other glass door, you can use frosted glass for these panels as well. For example, adding a row of glass panels along the top of a garage door to allow a little natural light into the garage. Plus, this can help break up the monotony of a solid garage door and offer you a bit of variance in the appearance of your garage door.
If you are interested in full coverage, there's no reason you can't use glass panels to build most of the garage door. This will let increased light into the garage but, by using frosted glass panels, you can still take full advantage of the privacy of your garage without sacrificing the natural light.
Modern Frosted Glass Garage Door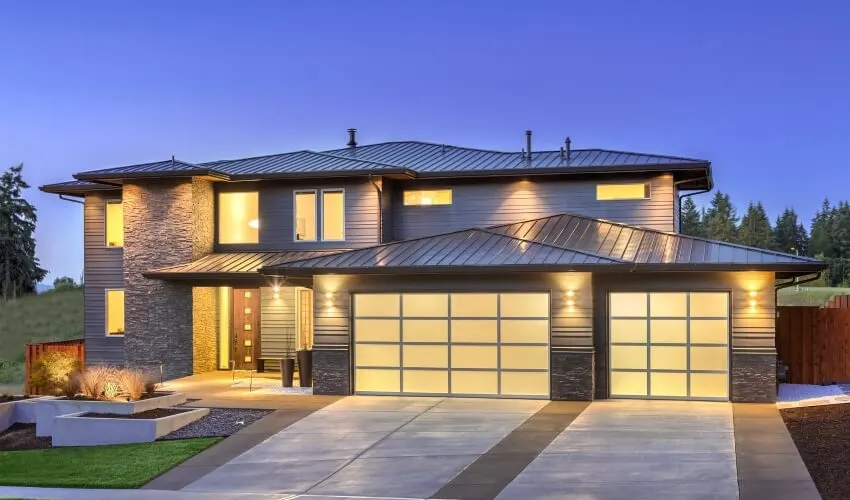 While frosted glass doors are a versatile choice, one of the easiest design schemes to fit them into is a modern home design.
First, it's important to understand what design features modern decor relies on to put the option into perspective. For instance, modern decor often relies on clean, simple lines rather than elaborate designs.
Because of this, a design like a paneled glass door with full coverage of glass can play into these design tropes well. The visual simplicity of this design also lends itself well to more modern garage door preferences.
Using neutral colors is also a common facet of modern design. So, choosing a neutral color to make up the structural parts of the garage door paired with the naturally neutral appearance of glass. See more garage door color ideas here.
Reflective surfaces also center heavily in modern design which makes a material like glass a great choice to take your garage door design to the next level.
Since natural lighting is also favored in modern design, a frosted glass garage door is a great choice when you want to take advantage of these design principles.
Smoked Glass Garage Doors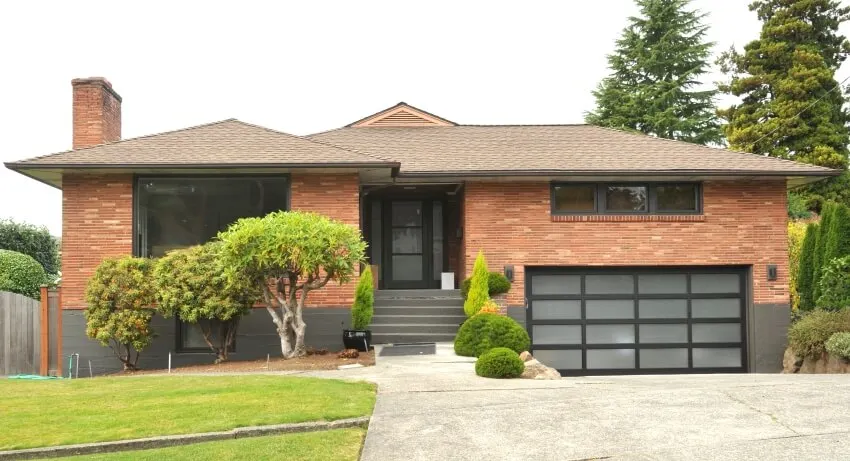 Smoked glass is an interesting concept that's a little different from your usual frosted glass. To create this type of glass, the glass is introduced to a flame. In this process, the manufacturer uses the flame to coat the glass with smoke residue, giving it a darkened appearance.
This material is often used in scientific settings such as in early seismographs. Warranting its place on this list, though, smoked glass can also create a striking appearance when used in decor pieces. It's seen uses in glass-top coffee tables and, of course, you can use it in garage doors as well.
This is a great choice if you want something creative compared to traditional frosted glass. It's also an excellent choice if you would prefer to have frosted glass windows on your garage door with a bit of a tint to reduce how bright it is, giving the natural light in your garage a warmer effect.
On top of that, it's a generally unique choice. With an option like smoked glass in your garage doors, you'll stand out from your neighbors.
Black Garage Door with Frosted Glass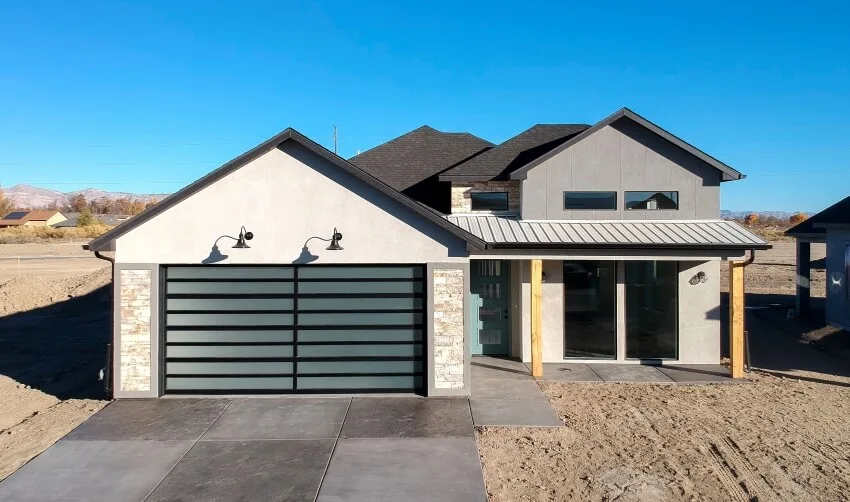 As we mentioned, neutral colors look great in a modern decor scheme. Even better, one of the great things about a neutral tone like black is that you can fit it into almost any home decor scheme with stylish results. With some glass panels, you can make your garage door seem a little more open and stand out from the crowd.
One point often held against garage doors is how energy-consuming they can be. After all, a black door is prone to trapping heat. However, glass panels can help break up this effect.
Just watch out for fading black finishes! Adding sealant every few years can help maintain the color of your garage door better as it will help protect against effects like UV rays, weather, and more.
Black garage doors are also a great way to add a striking focal point when you look at your house from the curb.
White Garage Door with Frosted Glass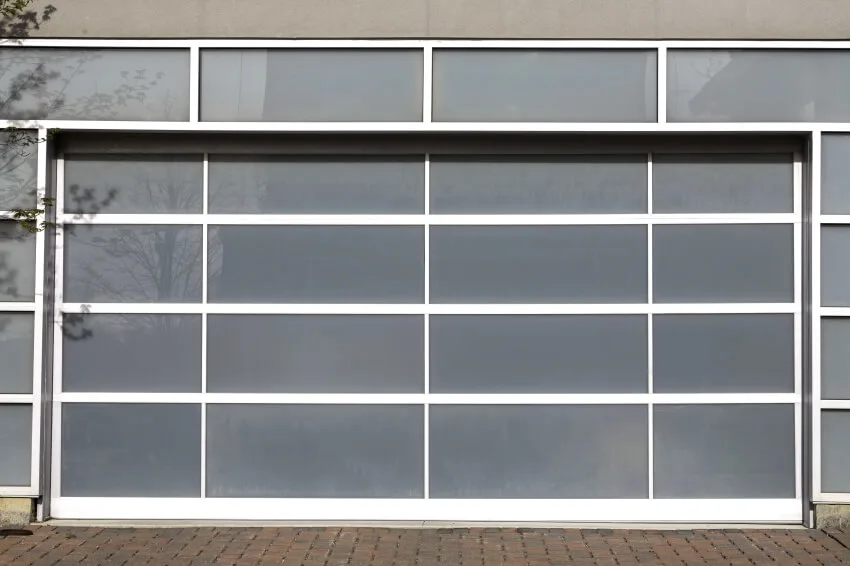 At the other end of the spectrum, another classic choice is a white garage door. In much the same way that a black garage door is a neutral option, a white garage door will fit into almost any home design and it can even pop out from bolder, brighter colors around it. Alternatively, using softer colors, it'll blend into the design more.
Adding windows to your white garage door will make the design even lighter. Plus, once again, it offers you a lighter interior to your garage too as you let more natural light in.
White garage doors are also relatively easy to repaint. This means that if you run into any problems with messes over the years, it's not hard to get back to a fresh and clean look.
Full Frosted Window Garage Door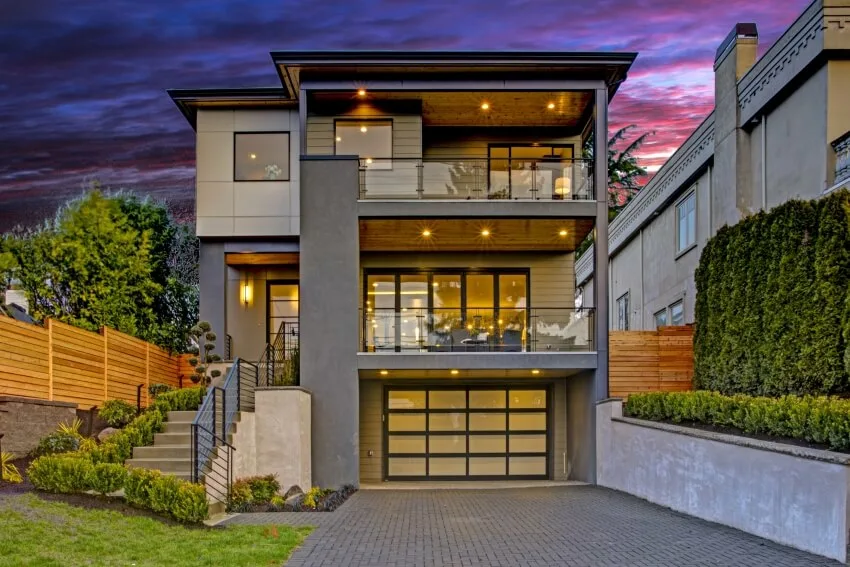 Glass is often used as an accent in doors – both garage doors and otherwise. A row of windows across the top of a door is an excellent way to let light in when you aren't looking for full coverage.
Yet, a full frosted window garage door is a great way to use a more full coverage design to create a one-of-a-kind appearance for your door. There are a few benefits to this type of design. For one, the choice of a full coverage glass door lends itself well to modern design while being versatile enough to fit into other decor schemes as well.
Another benefit of a full coverage frosted garage window door is that it's the type of design that will let the most amount of light in. Still, paired with the frosted texture of the glass, the garage door will still offer you plenty of privacy when you're inside.
Even if you opt for a full frosted window garage door, this glass is still typically installed in panels, not one large piece. Just like any other window, this helps to add support and strengthen the glass.
Frosted Glass Garage Door Cost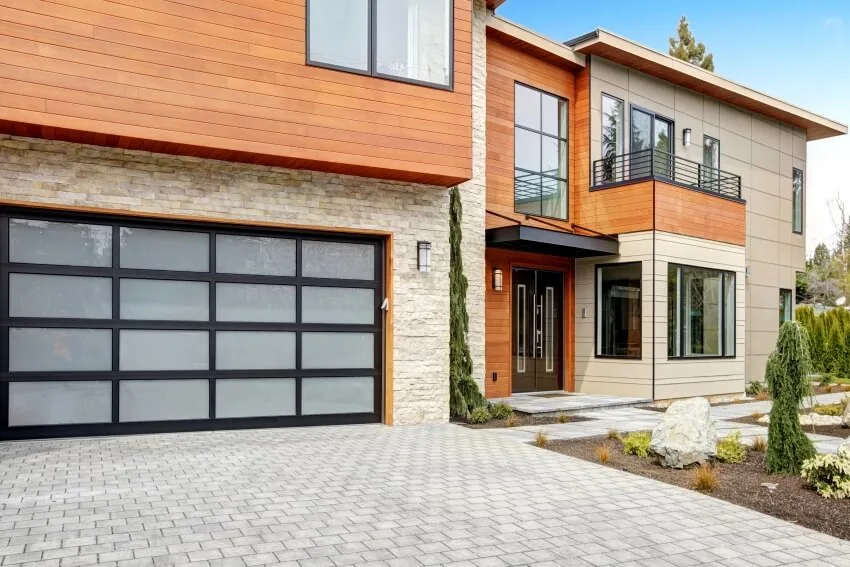 The average garage door costs between $700 and $1,650 but purchasing and installing a frosted glass door will cost you a bit more. In general, you can expect to pay in a range of $1,000 to $4,800 for glass garage doors in general.
In that range, the average sits at about $1,500. However, you should expect to pay closer to the higher end of the range for an option like frosted glass. This is because that average is based on glass garage doors in general while extra features will raise that cost.
These extra features include options like frosted glass over clear glass or glass garage doors with additional energy efficiency. Installation can add another $700 to $1,500 to the job.
Keep in mind, if you're replacing another garage door of another material with a glass garage door, you'll need to check your garage door opener too. Glass is heavier than a lot of other common garage door materials, so your garage door motor has to be up to the job.
If you need to replace your garage door opener, this runs in a range of $200 to $500 but may not be necessary if you have a garage door opener strong enough for the job.
Are Frosted Glass Garage Doors Insulated?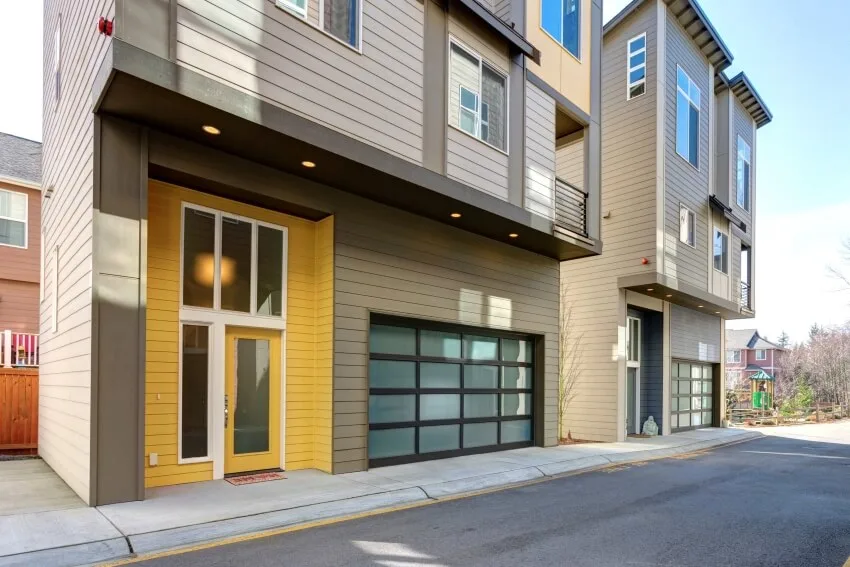 Traditional garage doors made from an opaque material like wood or metal commonly have a space in the middle of the door that you can't see from the outside.
This makes an excellent space for insulation, helping your increase the energy efficiency of your garage by making sure you aren't losing heat through an uninsulated door.
This is one area where frosted glass doors are at a disadvantage. By and large, glass garage doors don't feature this space for insulation. So, your frosted glass doors aren't likely to be insulated.
That said, some glass garage doors do try to make up for this with an energy-efficient design. While improved, these features usually don't offer quite as much energy efficiency as full insulation. These energy-efficient designed frosted glass doors usually come at a higher cost than their standard frosted glass door counterparts as well.
It doesn't help that glass itself isn't a very insulating material either. Even when glass is insulated, you're dealing with a door with many of the same thermal regulation issues you'll come to with windows.
Clear Glass Vs. Frosted Glass In Garage Doors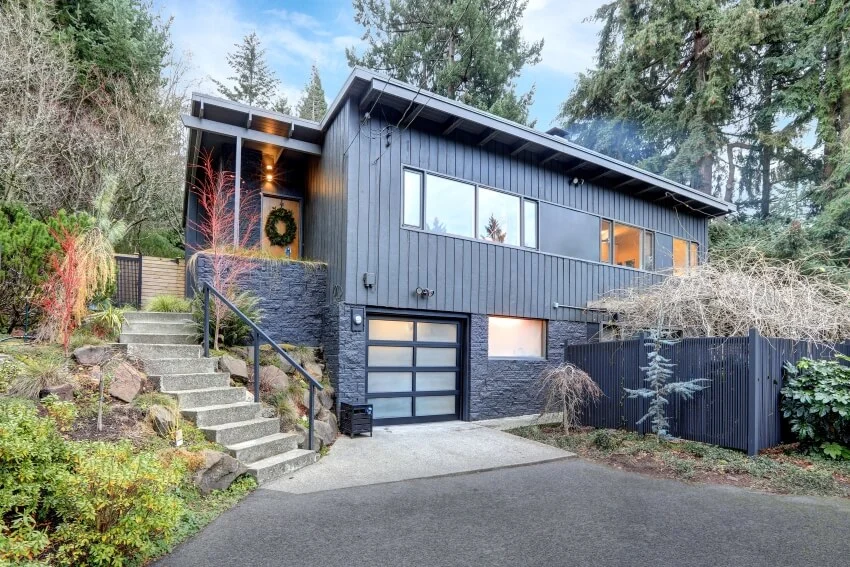 When you choose a glass garage door, you still have the choice between clear or frosted glass garage doors. While made of the same material, the two have some notable differing effects in practice.
The most obvious difference between frosted and clear glass garage doors is visibility from either side of the garage door. Frosted glass windows are usually textured for design which obscures visibility.
Without this texture, by nature, you'll be able to look through the glass for full visibility or, as referred to earlier, clear glass. On the other hand, to reduce visibility and increased privacy, you can opt for a tint even on smooth glass without a frosted texture finish.
In addition to visibility, this means that there is a slight difference in how much light the glass garage doors let in. Frosted glass may also create interesting light patterns in the garage when the sun shines through the garage door.
It's worth noting, though, that if you tint a smooth glass, this will, of course, reduce the amount of light you allow into your garage.
Visit our garage door panels guide for more related content.