Here's our guide to washer dryer in garage ideas including its cost, requirements, and some helpful tips on how to put your washer and dryer in a garage.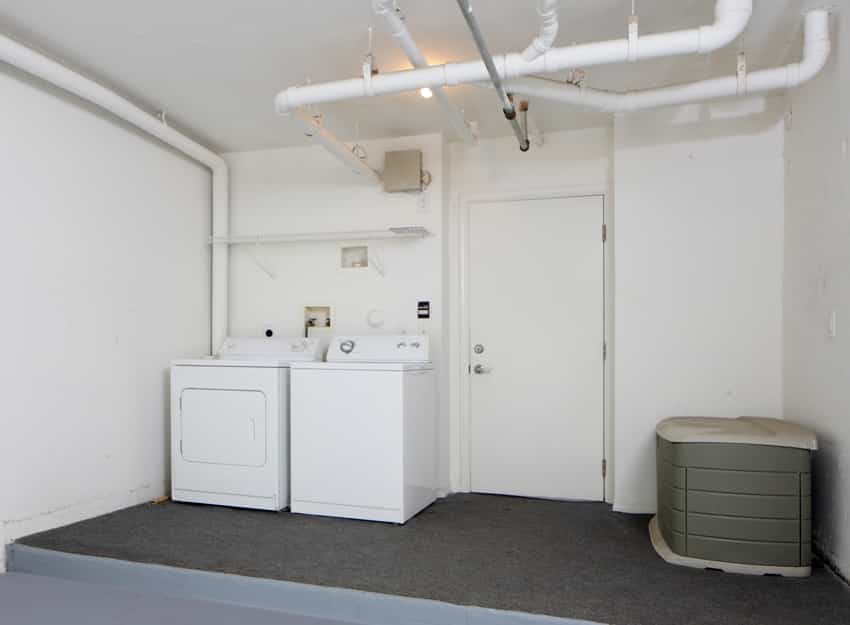 You are considering a project to move your washer and dryer into the garage. The first thing to consider is if you have enough room. If you do, then there are some things to think about before moving these appliances out of the kitchen or laundry room.
Installing your washing machine in the garage is perfectly appropriate because of its concrete floors and is suited for appliances such as washers and dryers. It also optimizes space by making use of the available space in your garage.
A well-planned and organized laundry area in a garage will also be convenient for your daily needs. Having an insulated wall that separates the garage from the rest of your home will be suitable since it will reduce transmission of the noises and vibrations coming from the washer and dryer.
Washer And Dryer In Garage Requirements
The standard garage laundry room should be seven by 10 feet in order to have enough space for the washer dryer and some space for a few extra things.
If you prefer your laundry room to also double as a mudroom, the ideal size of the laundry room should be 12 by 15 feet. See washer and dryer dimensions size guide here.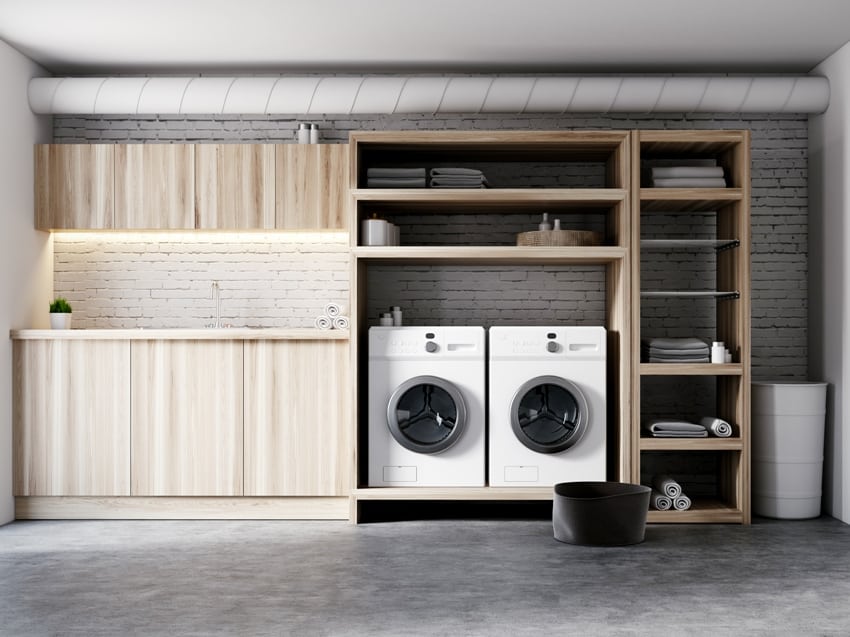 It is also important to be able to determine the ideal place in the garage for a laundry room, make sure that you can access the laundry room easily from the main house and create it near a water and electric line to connect all your appliances.
A good location for the washer and dryer in your garage will give you all the convenience that you need to keep the laundry area clean and organized. Read more about garage storage ideas here.
Plumbing line – this is the most essential requirement when adding a laundry room in the garage since you will need to have a water line passing through the garage for the water supply.
Electrical line – the ideal space to put your washer and dryer should be where an electrical line is available and accessible in order to connect your washer and dryer.
Utility sink – another essential requirement to have in the laundry room in your garage is a utility sink to be used to wash shoes and stained clothes before you put them in the washer.
Shelves and cabinets – having proper shelving and cabinets will keep the garage laundry organized where you can store detergents or other cleaning agents; it is also a place to keep folded clothes, shoes, and towels.
Table and drying rack – a table can be used as a space for sorting your clothes before you put them in the washer. A good size table can also be used as a folding space or ironing space. While a drying rack can be used as a temporary rack to hang your clothes temporarily before you take them inside.
Cost to Move Washer And Dryer To Garage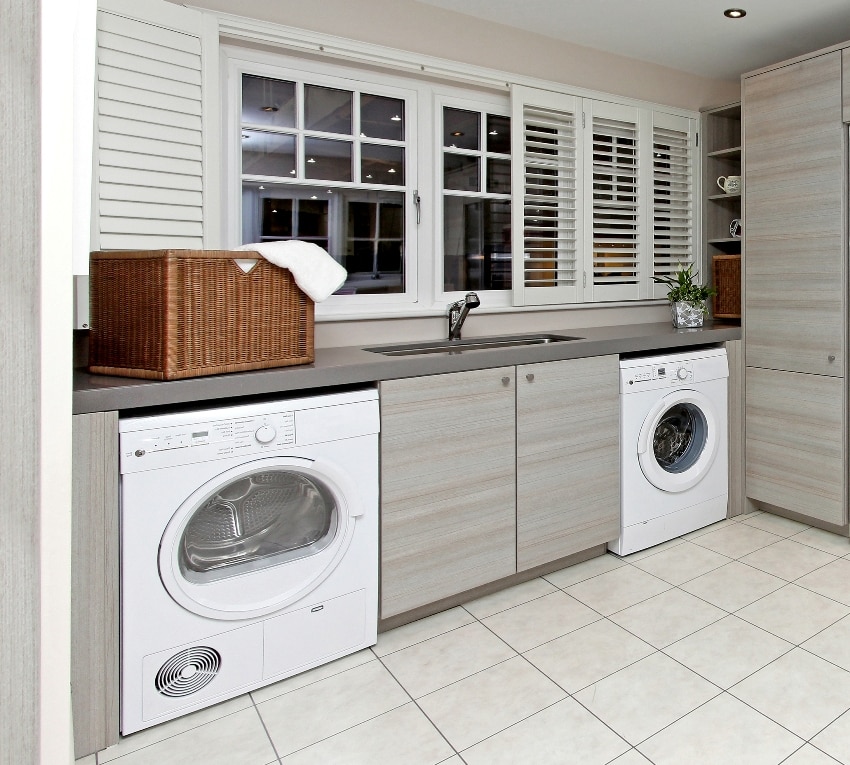 You will need to decide how much space you have and what is the best location for them. You can then find out if there are any restrictions by checking with your homeowners association or property manager before moving forward in this project.
The next consideration is if you want to install a vent for your dryer, which may be required by law in some areas or connected with restrictions on how much space it can take up inside the garage. Ventless dryers use less electricity but are more expensive (typically $200) and require an air hose to be installed outside.
Once the space for your washer and dryer is prepared, and the only thing that needs to be done is to slide the machine in place and connect it to existing plumbing and electrical hookups; the cost on the average will only be around $100 to $200.
If there are more to this that needs to be done such as adding flooring, countertops and cabinets, this will increase the price considerably.
On the average, the cost to move your washer and dryer into the garage will be $1,060 and $4,475 which will cover the installation of washer and dryer hookups, drain line, dryer vent install and installing an outlet.
How To Put Washer And Dryer In Garage
Since most people find it difficult to keep their washer and dryer in the basement or laundry room, here are some helpful tips for how to put your washer and dryer in a garage. See more basement laundry room ideas here.
The first step on how to put your washer and dryer in the garage is to check local laws regarding installation of appliances in garages.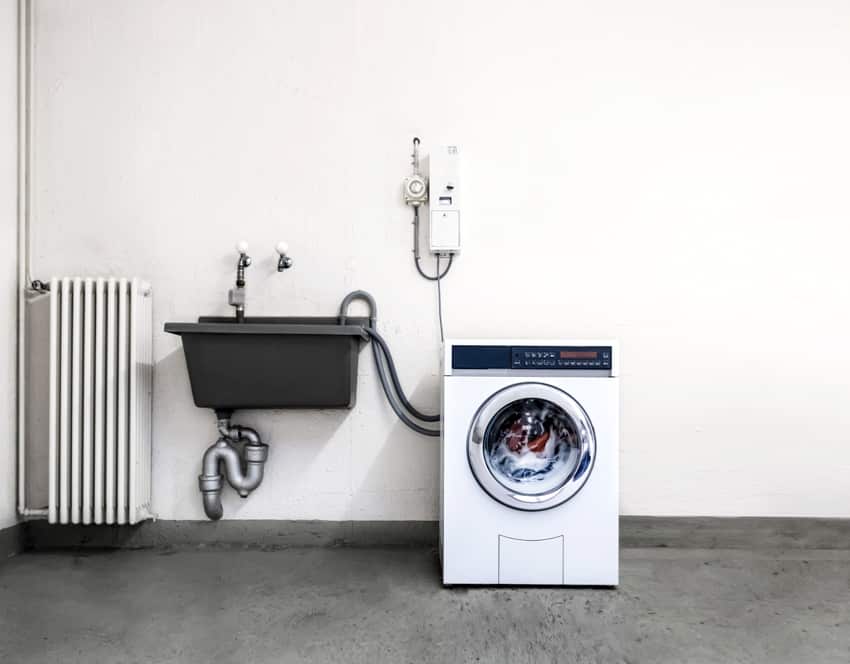 Secondly, get acquainted with what the local plumbing and electrical codes are. Then, carefully measure the space for your washer and dryer.
The third step is to remove the dryer vent pipes from the outside and clean them. Then measure how much pipe you'll need for a new run, cut it with a hacksaw, then install using clamps or plumber's tape.
Next inspect your wall studs near where you want to mount brackets, in order to make sure there are no obstructions you may need to measure your washer and dryer.
Be careful when installing brackets or pipes because if done improperly it can cause leaks down your wall.
Next is to run the electrical wire, which will require an outlet cover plate and a cover plate for the outside of your dryer.
You'll want to install these before moving your washer and dryer in the garage as it will be difficult to work on the electrical afterwards. Be aware that most places require dedicated circuits (and therefore breaker panels) for washers and dryers.
If you're considering installing a washing machine in your garage, it is very important to check for access to the water supply before installing the appliance.
Also, a washing machine will need to have a drain on it, so make sure you know where this is going to go before installing the appliance.
Washer And Dryer In Garage Ideas
The washer in garage idea is perfect for people who want convenience without sacrificing their space-savvy lifestyle.
More often than not these days we have limited square footage within our homes, but you don't need an entire room dedicated to your laundry system when you can easily fit one in your garage.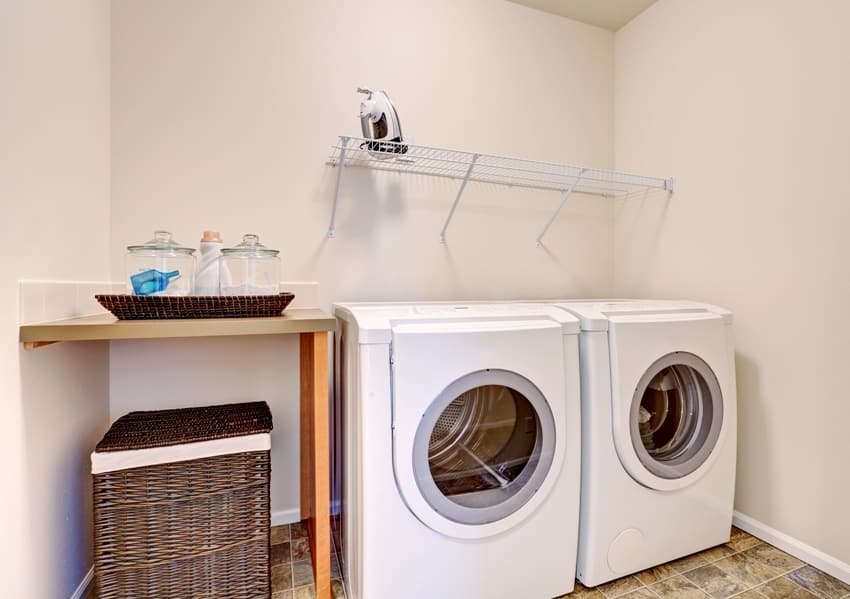 The first thing you need when deciding for a washer and dryer is what kind of storage you need for your clothes.
The two most basic types are a stackable washer and dryer that can hold anywhere from 12-15 loads or a continuous style which could handle up to 25 cycles before it has to be refilled with water.
If one of these units would work best for you (especially those with limited square footage) is how big they can get because most require water hookups which means they take up more than just floor space like some other products do.
Integrated laundry systems offer many different styles that all come in one convenient package including traditional top loaders, front-load machines and even those which have both washing and drying capabilities.
They also require less space than other models because they can be installed under counters or closets depending on where in your home it would work best. See types of closets here.
Storage is also very important to consider for a washer and dryer in a garage. There are a variety of storage options, but it is important to check what kind you need before making your purchase because some offer more than others and might be right for your needs!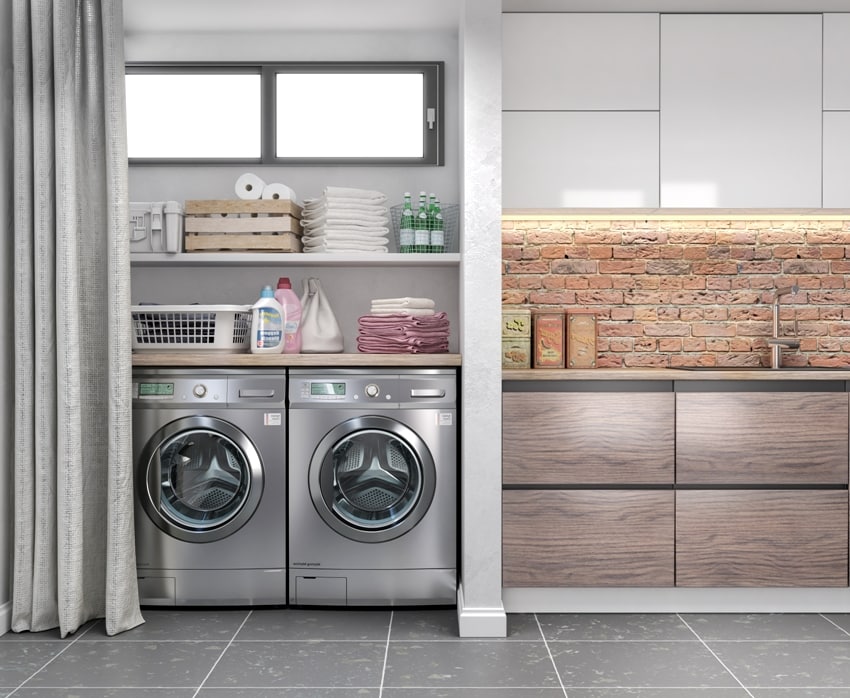 Options include drawers, baskets (which are perfect for sorting), stacking space on top, bottom or both sides. The shelves can also be adjusted depending on how much you want access from either side as well as where row dividers will work best with your items. We hope these suggestions have been helpful.
After reading this article, we hope that you have a better understanding of how to put washer and dryer in your garage. These ideas should help keep things organized while still giving you access to all the benefits of having a washer and dryer in the garage.
For more related ideas visit the best laundry room paint colors page.