See the pros and cons of insulating a garage including its cost, what parts to insulate such as the floor, walls, ceiling & door, and if it is worth insulating.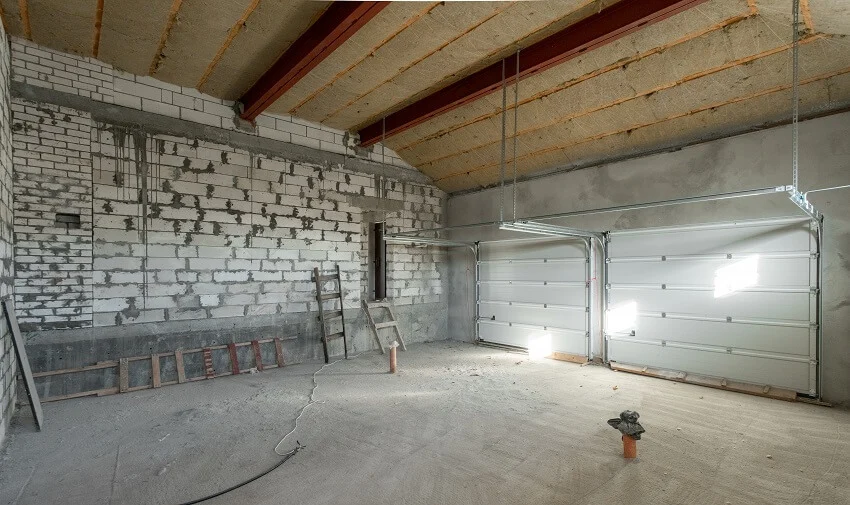 The garage space is as important as any other room in your home, but most of the time, designing this open space only becomes an afterthought. With a lot of room, a garage can be storage space, utility room, craft area, or even a home gym.
So, do you need to insulate your garage? While it does boil down to how you plan to use your garage, there are benefits in insulating your garage and some cons that go along with it. We've listed insulating garage pros as well as cons so you can determine if this is the right step for you.
Insulating Garage Pros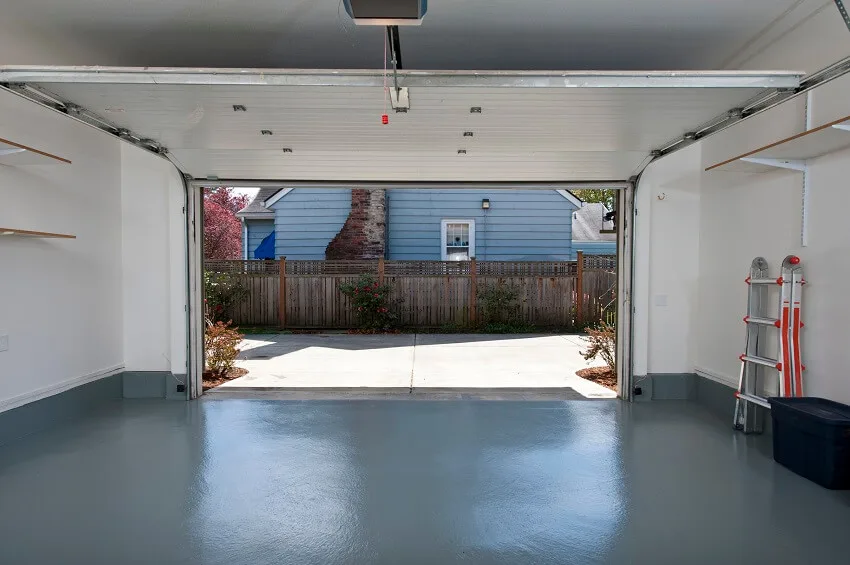 It pays to have a well-insulated garage includes insulating the walls and garage doors, eliminating any gaps from nooks and crannies while adding a protective layer on an internal wall. The most common methods include cellulose insulation, fiberglass insulation, rigid foam insulation, and spray foam insulation.
1. Improve Thermal Comfort. One of the most significant benefits of insulating your garage is improving the thermal comfort of your home, where it keeps away cold drafts during the cold months. Insulation also enhances the efficiency of your heating and cooling equipment by preventing cold or heat from escaping outside, which means you'll have a stable temperature.
2. Prevent Moisture Build-up. With fluctuating temperatures and differences in your garage space, condensation can build up. Dampness and the lack of sunlight exposure can lead to areas in your garage for mold and mildew to grow.
The moisture can damage electronic and other metal components because of rust. Wood is also prone to rot over time because of the constant moisture on its surface.
Mold spores not only can damage your property but can cause serious health issues to occupants, so make sure to check your garage's humidity levels regularly. EPA recommends a relative humidity of 30 to 50% air humidity in homes.
A. Injection and spray foam insulation is effective in preventing moisture retention.
3. Reduce Energy Consumption. Cold drafts and unregulated temperatures can increase your energy bills, especially during the colder months, more so if you're using your garage as a workspace or gym area. Thus, the more you use your space heater or fan, the more energy you use. An insulated garage reduces or even eliminates cold spots or drafts in your garage area.
4. Prevent Fire from Spreading. House fires commonly start from the kitchen and the garage due to oil and other combustible elements present in the said areas. In addition, garage fires are harder to detect and will spread further due to the flammable contents. By adding garage insulation, you prevent fire from spreading towards the main house.
5. Soundproof. If you use your garage space as a work area, power tools and any other loud noises can emanate from your garage. The added layer of insulation can reduce or even eliminate load noises allowing you to work or play in your garage any time.
6. Prevent Foul Smells. When your garage space shares a common wall with your home, chances are smells from diesel can go through your living space. Aside from the discomfort of smelling oil or exhaust, this can lead to more serious issues such as headaches or allergic reactions. Insulate this common wall between your garage and your living area.
7. Keep Insects at Bay. Having excellent garage insulation fills in openings or crevices that can harbor insects. Look for an insulation material that is mold and insect resistant while having a high R-value.
8. Satisfy State Regulations. Check for local building requirements for your garage spaces. These regulations can include the required R-value of your garage door as well as its insulation requirements.
Insulating Garage Cons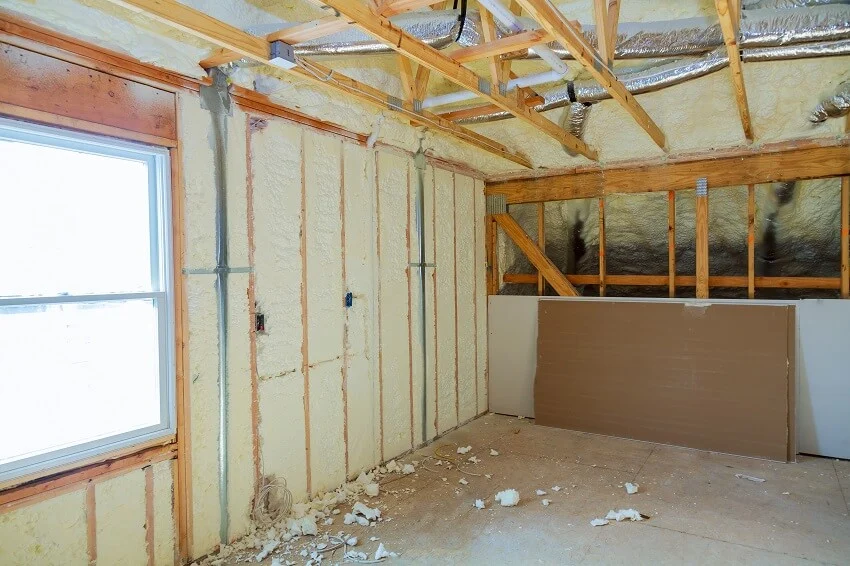 Everything has a flipside, and insulating your garage is no exception, and it is best to be aware and know how to mitigate these cons.
When we talked about the positives of insulation, we talked about its ability to trap heat, which is beneficial if you live somewhere with a cold climate. Unfortunately, it can also trap heat in hot climates as well. And that can be a problem.
1. Heat Buildup. While heat loss prevention is one of the benefits of insulating a garage, it also prevents heat and air from circulating in your space during the hotter months.
To prevent this, it is best to allow trapped hot air to escape by opening your window garage from time to time during the day. A ceiling or an exhaust fan can also help reduce the heat buildup for windowless garages.
2. An Expensive Upfront Cost. Generally, the average cost of insulating a garage can amount from $0.50 to $1.25 per square foot, according to homeadvisor.com, and for professional installations can be twice more expensive.
Factors such as your garage square footage, location, and insulation method will affect the pricing, but a total estimate can range from $1500 and as much as $8,000. However, the long-term benefits of reducing energy costs and comfort to occupants can outweigh this cost.

What To Insulate In A Garage?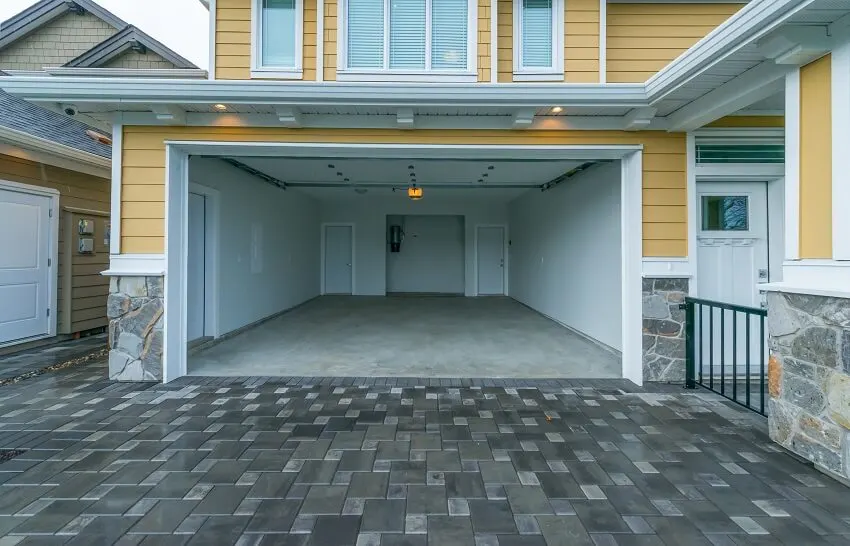 Choosing between insulating partially or the whole garage space depends on your needs and budget. But for the overall energy efficiency of a garage space location of your property is key to narrowing down which garage elements to prioritize during insulation.
The orientation of your garage is also a factor to consider. Remember that south-facing rooms can get most of the sunlight during the day.
Garage Door
The garage door is one of the main elements to focus on when it comes to garage insulation. Metal garage doors with a low rating can easily dent and have air gaps, so it is best to choose a quality-made garage door, especially for the new construction of a home.
However, if you've already got a garage door installed, you can add a weatherstrip between the gaps.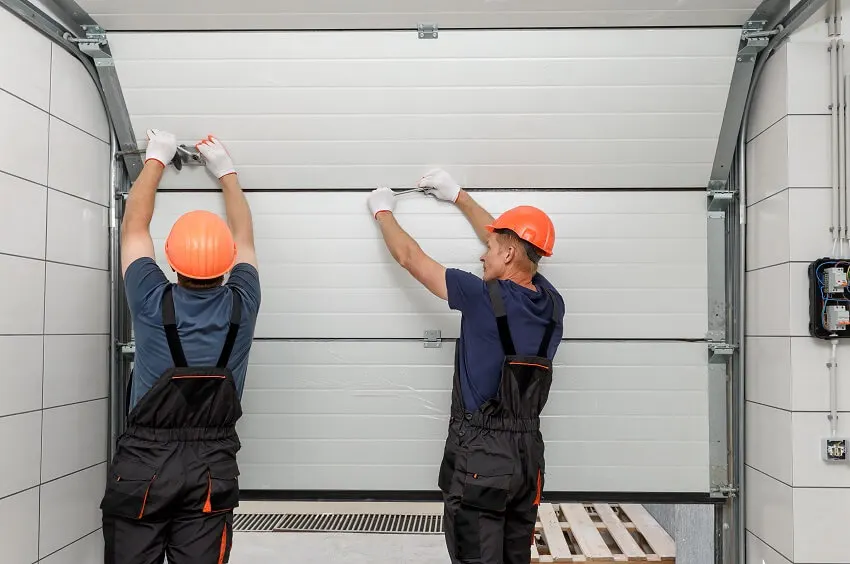 Garage doors usually do not fit precisely against the door frame. When you close your garage door and stand in the dark in your garage, the light will shine through a gap between the door and the wall.
Weatherstripping can be used to close the gap. To ensure proper installation, follow the instructions or seek assistance from a contractor. To ensure a good fit when cutting down weatherstripping, measure twice and cut once.
You can also purchase door insulation kits which are available at hardware or home improvement shops. Measure your garage door before purchasing to make sure the door kit you buy fits your garage door. Homeowners or garage door contractors can install these kits.
Choose a well-insulated rolling door for new builds or if you have the budget to purchase a new garage door. This can decrease air infiltration by as much as 95 percent over air infiltration from standard doors.
Aside from their excellent insulation properties, these garage door types are built to withstand a wide range of wind loads. 7/8-inch thick, closed-cell, pressure-foamed-in-place urethane insulation is filled into double-skin interlocking roll-formed metal slats.
Exterior rolling doors that are insulated can also be specified to meet stringent fire and sound ratings. Manufacturers issue certifications and label performance values that have been verified by third parties.
Garage Walls
Prioritize insulating the shared wall between your garage and living space. Injection foam is a great way to fill in any gaps in existing walls without having to do a lengthy and messy remodel. This creates an air seal, which improves comfort and energy efficiency in homes with old insulation.
You will need to drill holes between each stud cavity to inject the foam once the drywall is up on the wall, as required by code (depending on the state).
Despite the fact that the installation crew will clean up any mess and do a rough patch, the homeowner will be responsible for the final finish and, if desired, repainting the wall. Even though it isn't a big deal, the extra work and cost can deter some homeowners.
Garage Ceiling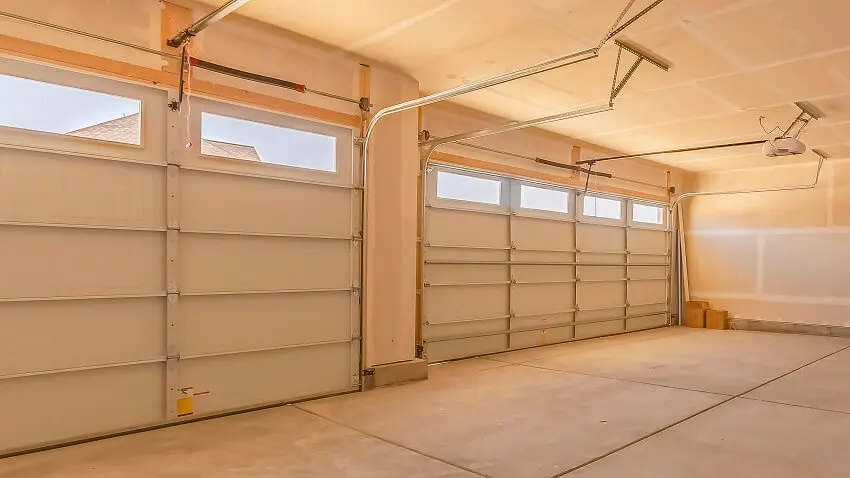 Insulating your garage ceiling follows the same steps as insulating the walls. Just remember to use a higher R-value for your ceiling. Check for your local codes on the required R-values.
As heat rises and escapes through the roof, the ceiling is the most important part of the garage to insulate.
Garage Floors
The method to use depends on your floor material, but the most common material used in garages is concrete. To insulate concrete, you can apply rigid foam insulation directly to the slab before installing a subfloor on top.
One option for insulating a concrete slab is to apply rigid foam insulation directly on top, then place the subfloor on top of the insulation. This method is straightforward, but it has drawbacks. One is because the insulation is installed before the building framing is finished.
It is exposed to the elements thus must be protected until the building is enclosed. In this situation, leveling the subfloor is also difficult; contractors may use a liquid floor-leveling product to address this issue. Before placing your final flooring material, you can cover it with plywood.
The insulative properties of your garage floor can be improved in a number of ways. It's best to consult a professional to determine the best garage floor option for you, as well as to install and finish your insulated garage floor. If your garage door isn't already insulated, don't forget to insulate it.
Cost To Insulate Garage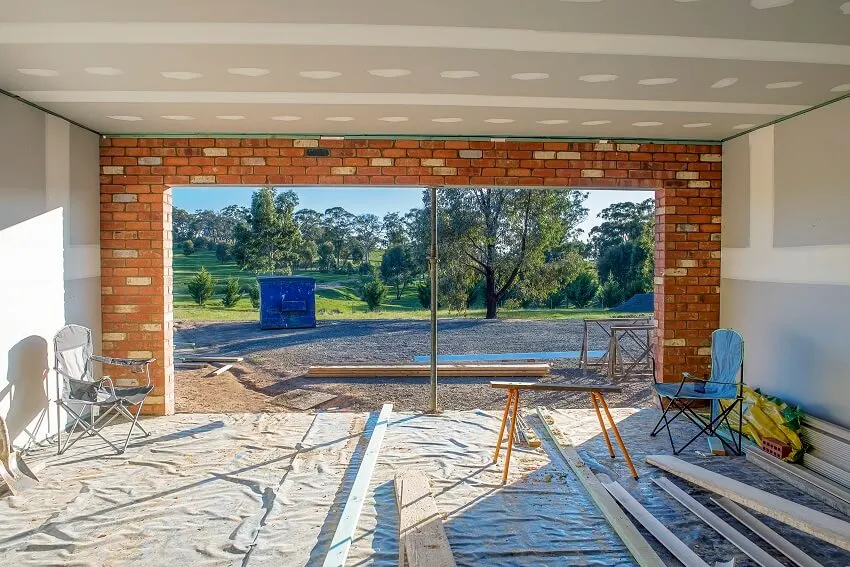 The average cost of garage insulation in the United States is around $1,500, with prices ranging from $800 to $2000 depending on the size of your garage. For garage door insulation, a one-car garage can cost $300, a two-car garage $600, and 3 car garage $900.
Insulation in the walls of your garage may or may not already be installed. The garage walls are already insulated in 80 percent of the homes for which we install insulation. We only need to add reflective insulation to the attic and garage door in most cases.
R-values and U-factors are ratings, and when insulating or re-insulating a garage, you may find that your area has specific requirements. R-13 insulation is appropriate for moderate climates, while R-19 insulation is appropriate for harsher climates but is not overkill in milder climates. Read more on everything you need to know about the cost to build a garage here.
Is Insulating The Garage Worth It?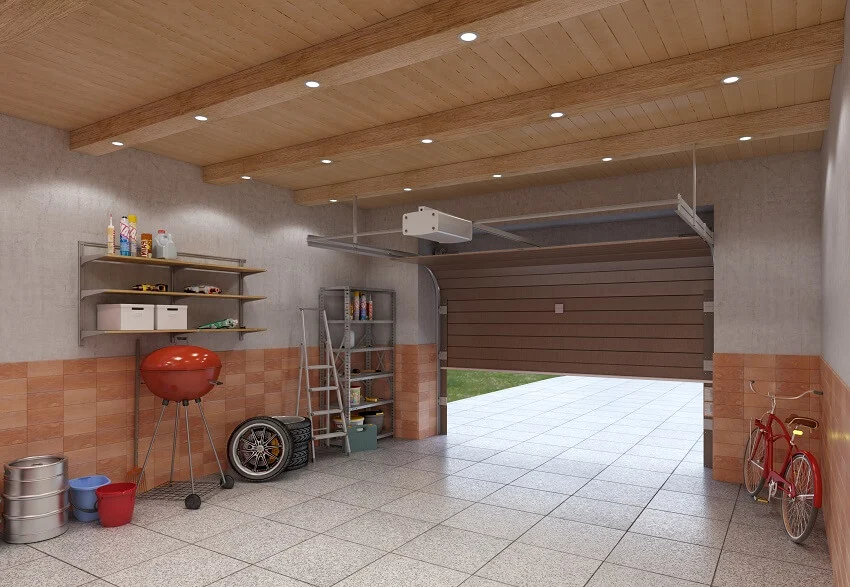 Insulating your garage is a worthwhile investment, given you have the right insulation material and methods used on the right garage elements. While homeowner's needs vary, insulating a garage, in general, has many advantages which outweigh the cons in the long run.
Can You Insulate A Garage Without Drywall?
It is recommended to place fire-rated drywall, which acts as a protective layer on your insulation for fire and vapor barriers. A firewall is inexpensive, and you can easily install them on your garage wall. For more information, visit our drywall alternatives design guide here.
Will Insulating My Garage Keep It Cooler?
In the colder months, this means allowing more hot air in, and in the summer, it means allowing more cold air (from air-conditioning) in. Insulate your garage to keep it nice and warm in the winter and cool in the summer, adding extra protection and saving energy.
For more related content, visit our guide on how to insulate a garage.