Here's the pros and cons of epoxy garage floors including what it is, advantages & disadvantages, cost, slip-resistance, and if an epoxy floor is worth it.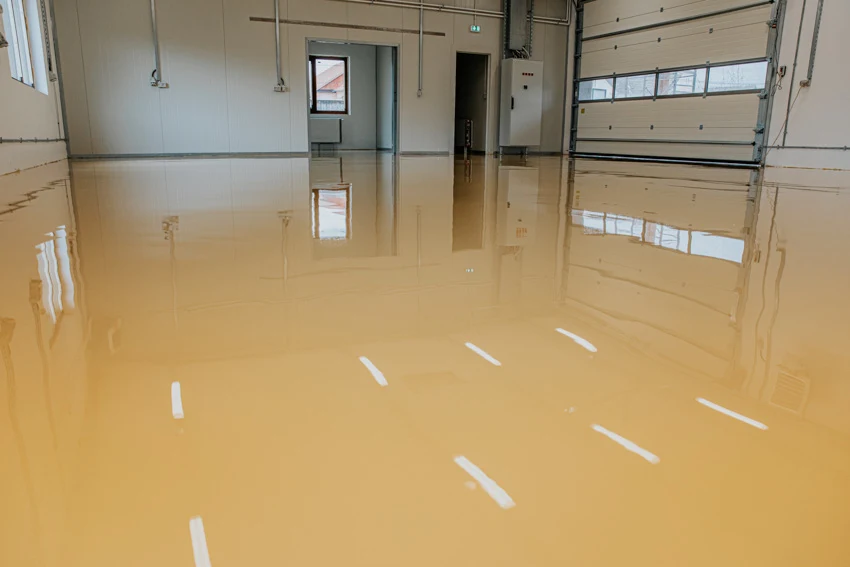 When it comes to garage flooring systems, epoxy floors stand out. Epoxy floors are sustainable, durable, and customizable. Thinking of flooring options for your garage? This article provides an in-depth look at the pros and cons of epoxy garage floors.
What Is An Epoxy Garage Floor?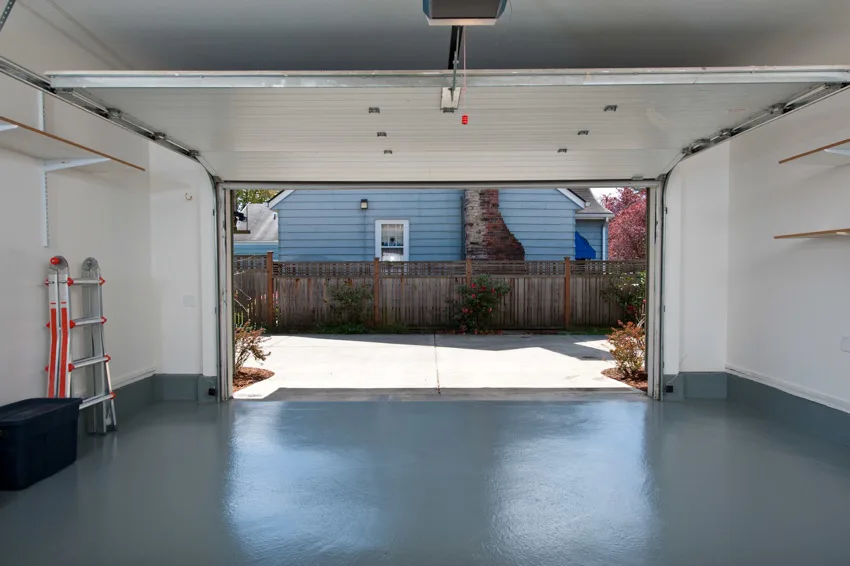 Epoxy flooring is a type of floor system that uses synthetic resin applied on top of concrete. The flooring system consists of several layers of thermosetting resin. It is poured, coated, and applied on top of the concrete substrate. It does not only protect the concrete but also serves as a decoration.
Epoxy is a versatile substance. You can customize it into various effects, styles, colors, and decorative options. Epoxy flooring has many categories for different applications.
Epoxy Flake Coating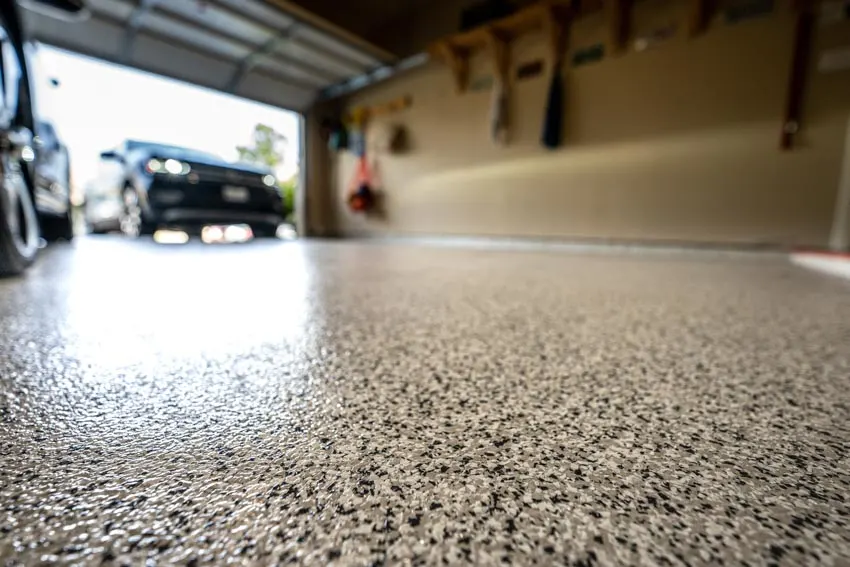 Epoxy flake coating uses varying sizes of flakes scattered on a colored epoxy base coat. Then, a tough, resistant clear sealer is added for the final finish.
The result is a decorative floor finish that has good resistance to heavy foot traffic. This type of epoxy floor can be usually found in shops, restaurants, and showrooms.
Epoxy Self-Levellers
If you are thinking of a DIY epoxy garage floor, this type of epoxy flooring is for you. As the name suggests, self-leveling epoxy smooths out the surface on its own.
After you prep the concrete, all you need to do is pour it and wait. For fast installation, apply the liquid form between 1 to 3mm.
Self-leveling epoxy is easy to clean and maintain. You can clean it using water, regular detergent, and a soft scrubber. Because of this, many electronic manufacturing plants and pharmaceutical facilities use it.
Epoxy Terrazzo Flooring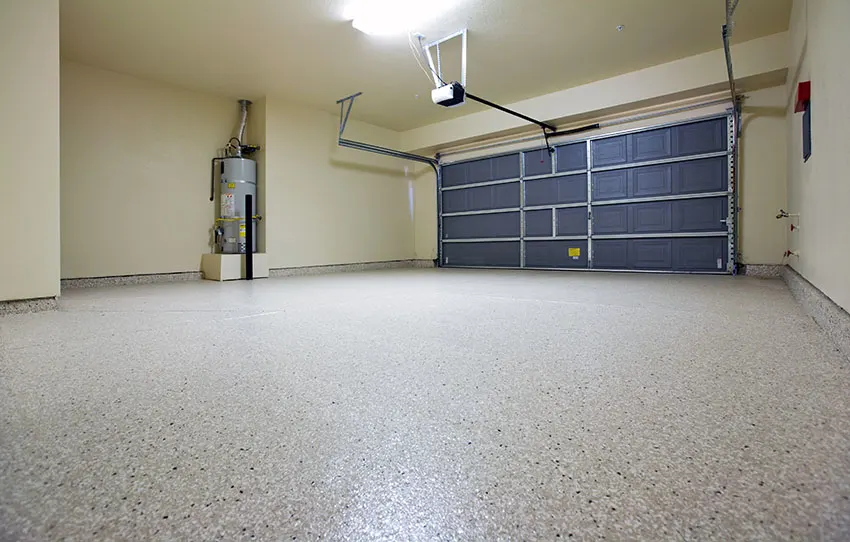 Epoxy terrazzo flooring is ideal for commercial spaces because of its decorative features. The effect comes from mixing colored epoxy with glass, marble, or granite. After the mixture sets, the surface is polished to get a smooth and decorative finish.
Epoxy terrazzo flooring requires simple maintenance. It is also durable. At best, it can last up to 40 years.
Epoxy Screeds
This flooring type has a thicker layer compared to other epoxy flooring. It is usually 4mm to 6mm thick and can receive different types of coating.
Because they are thicker, a trowel is used for the application. They are also power floated to achieve a smooth, level finish.
Epoxy screeds are very strong and are highly resistant to impact. So it's perfect for garages and heavy-duty industrial spaces.
Epoxy Floor Coating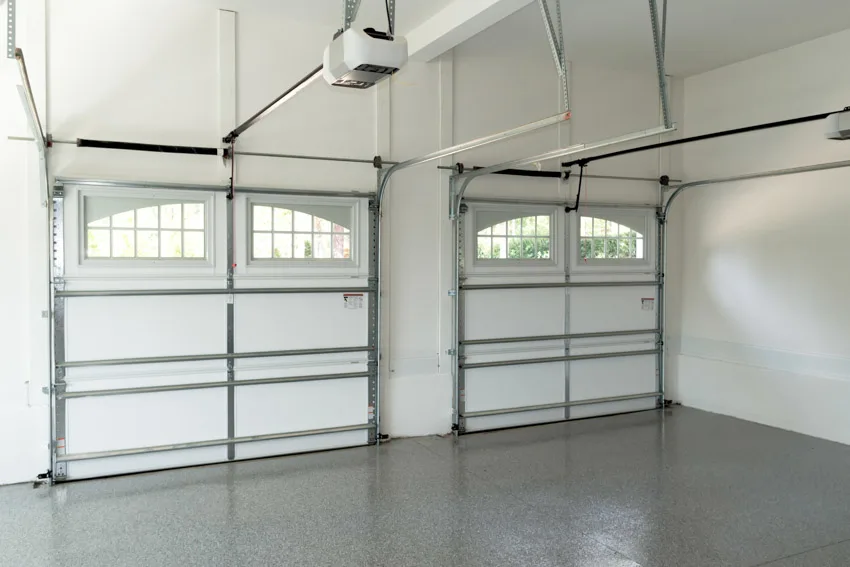 This type of flooring is latex acrylic paint with a small amount of epoxy in it. That's why it is often referred to as epoxy paint.
It is among the garage floor ideas that are resistant to shock, corrosion, and chemicals. These features make it ideal for garages and industrial areas.
Anti-static Epoxy Flooring
Anti-static flooring has special properties that protect the floor from electrostatics. It helps transfer the static charge to defined earthing points. This flooring system is often used in laboratories and electronics manufacturing facilities.
Epoxy Garage Floor Pros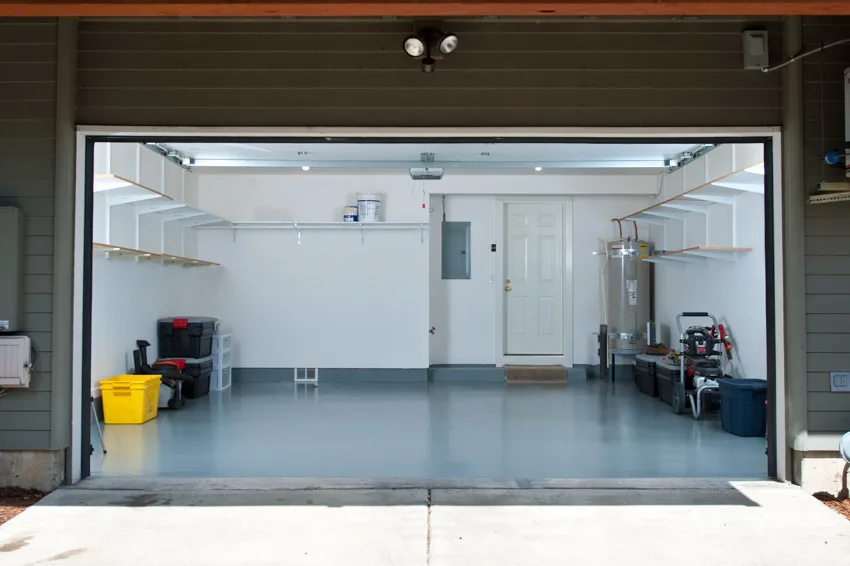 Epoxy flooring has several advantages and benefits compared to other floor coverings. Here are some of them.
Safe: Yes, epoxy can be slippery when wet. But broadcasting sand during the installation gives the flooring non-slip features. With an anti-slip element, the floor becomes safer. It can protect you from slips and falls that might cause injuries.
Easy Maintenance: The resin layer protects the concrete from dirt, liquids, and chemicals. Thus, it's easier to clean and wipe them off the floor.
All you need is a mop and a general-purpose cleaner. Aside from the standard cleaning, epoxy flooring requires no other types of maintenance.
Aesthetically Pleasing: Epoxy flooring is customizable and has different gloss levels. You can choose from matte to a high-gloss finish. It also has a wide range of color and design options. Adding colored microchips or metallic pigments will produce unique effects. Some have geometric patterns and flake flooring. While some have artsy 3D designs.
Durable: Epoxy flooring can withstand heavy foot traffic and even heavy machine equipment. It is also resistant to oil, gas, transmission fluid, and most industrial chemicals. So you don't have to worry about spilling car fluids and other stuff in your garage.
Economical: Compared to other types of flooring, epoxy offers a low cost per square. You can also install it directly on your existing concrete.
The initial cost of epoxy flooring is expensive but it has a low life cycle cost. That means the replacement cost is lower than the concrete substrate. As an alternative, read about the differences of epoxy flooring vs polished concrete here.

Protective Barrier: Epoxy garage floors protect the concrete from grease, stains, cracks, and moisture. It prevents grout accumulation, allowing you to save on cleaning and maintenance costs.
Epoxy Garage Floor Cons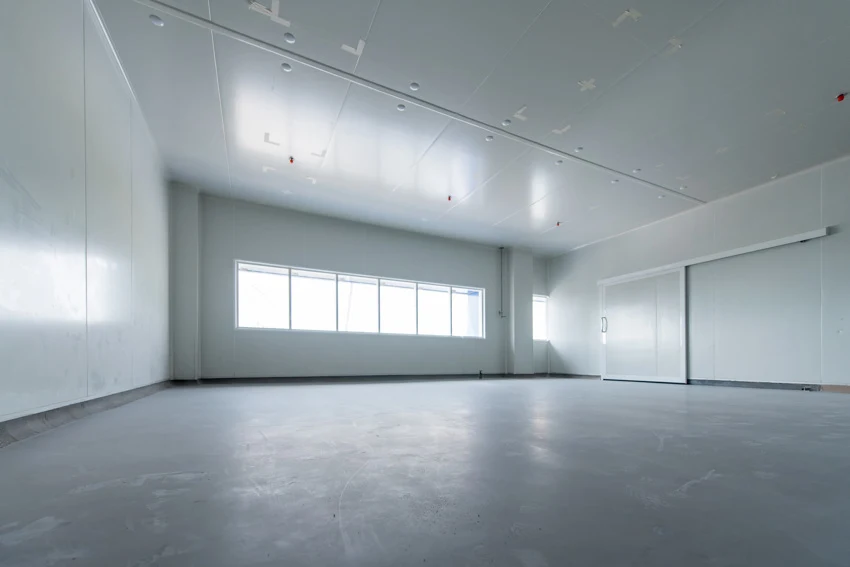 Like other flooring systems, epoxy flooring also has its disadvantages. Here are some of its limitations:
Exhausting Installation Process: Installing the epoxy coating can be very exhausting. You need to follow the installation process to the dot.
For example, you have to make sure that the humidity level is low before installing it. If you don't follow it, moisture will build up and affect its durability.
Even a small amount of moisture trapped in the flooring can cause serious damage. The epoxy application might war or bulge when the epoxy dries. Thus, it will incur extra costs to re-install or retouch the flooring.
Takes Long to Harden: Epoxy takes several days to completely harden. There are some curing solutions can hasten the process. But allowing it to cure longer makes it more durable.
There are even some installations that last 30 days to dry completely. Such a process can become a disadvantage if you're living in the house already.
Strong Odor: Epoxy gives off a strong ammonia-like odor when wet. This odor is toxic and could be harmful to people suffering from asthma.
Long exposure can also cause lung irritation and eye inflammation among others. But allowing it to cure completely eliminates the health risks.
Sensitive: Epoxy garage floors have a very specific set of installation directions to follow. Moisture will have negative effects on epoxy flooring.
Thus, experts recommend installing it when humidity levels are low. If not done properly, its lifespan and durability will suffer.
Costly Removal: If you decide to change your epoxy floor, removing it is both costly and labor-intensive. Thus, regular maintenance is necessary.
Epoxy Garage Floor Cost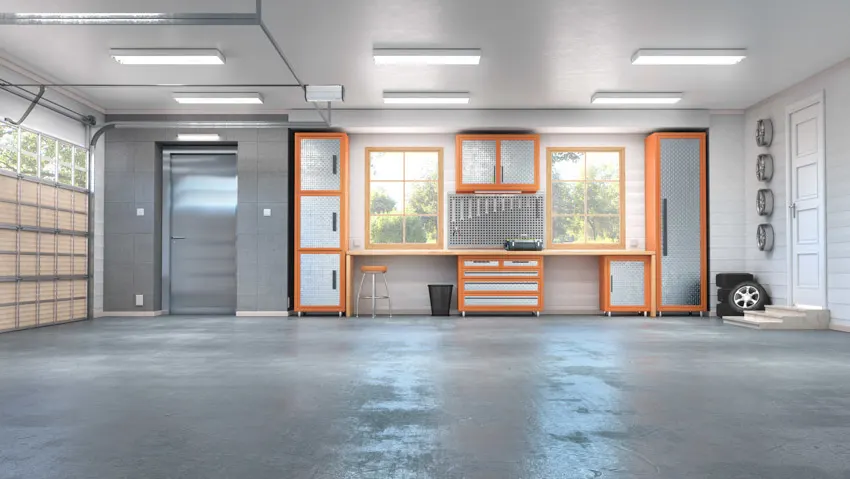 Apart from the pros and cons of epoxy garage floors, one must consider how much it costs. An epoxy garage floor is priced around $2 to $5 per square foot in equipment alone. If you want to include the labor cost, then it will cost you around $3 to $12.
So, if your garage measures 300 sq. ft, the cost will be between $900 and $3,600, including labor.
If you want to go the DIY path, it will cost around $120 to $360, depending on the following factors:
• How big your garage is
• How much your epoxy flooring kit is
• What epoxy type you bought
• The number of coats required
When you decide to DIY your garage, you need to consider the time you'll spend on the application process. Average-sized types of garages will take around 9 hours a day for 3 days for 2 people to finish.
How Long Will An Epoxy Garage Floor Last?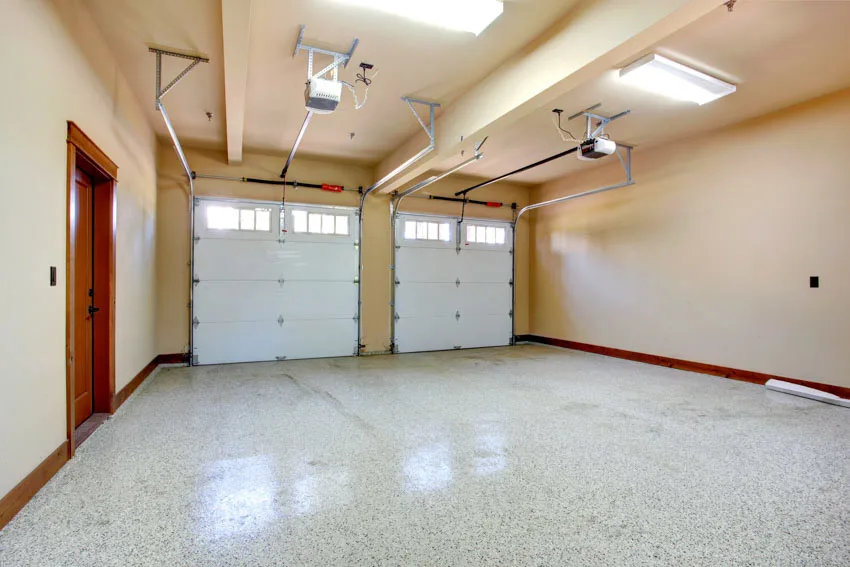 A well-maintained epoxy garage floor can last up to 10 years. But, several factors will have a significant effect on its lifespan. Some factors to consider are:
• The level of foot traffic
• Drop impact
• Levels of coating
• Wear of vehicles in the garage
Also, the manner of application affects the epoxy flooring. A professional installation has a longer lifespan than a DIY installation. But if you know the proper installation process, it's not a problem.
Professionals have access to high-grade materials. They also have the experience of how to prepare and install the epoxy flooring.
A DIY person might miss the moisture on the concrete substrate. Such a mistake can incur significant repair costs. And if the epoxy did not completely dry and cure, it is vulnerable to damage. The floor can peel or delaminate.
Are Epoxy Garage Floors Slippery?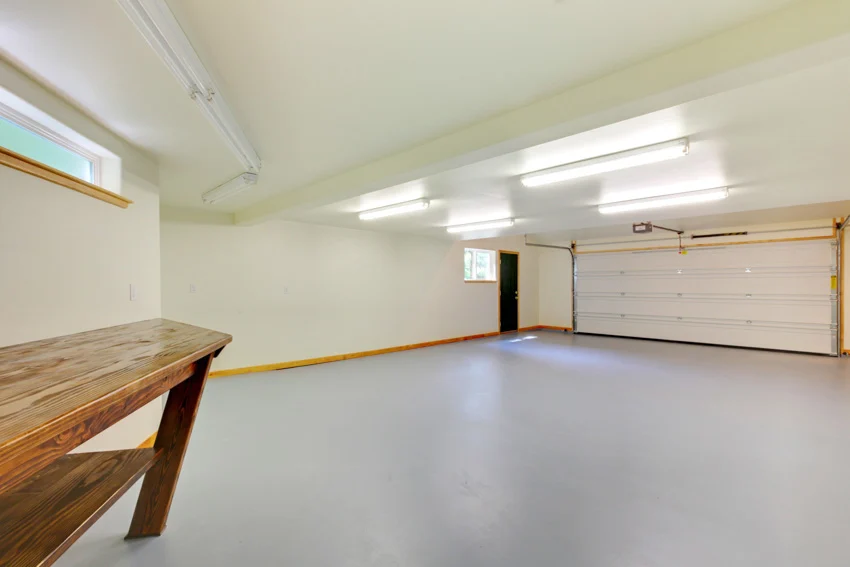 Yes. Sadly, this is one of the disadvantages of epoxy flooring. Epoxy is non-porous which means it has a smooth surface. If there's liquid present, it becomes a safety hazard.
But, there are several solutions to mitigate the hazard:
• Use silica sand during the last coating to create resistance
• Add an aluminum oxide additive to the epoxy to achieve maximum grip
• Place containment mats on the floor
Is It Worth Putting Epoxy On The Garage Floor?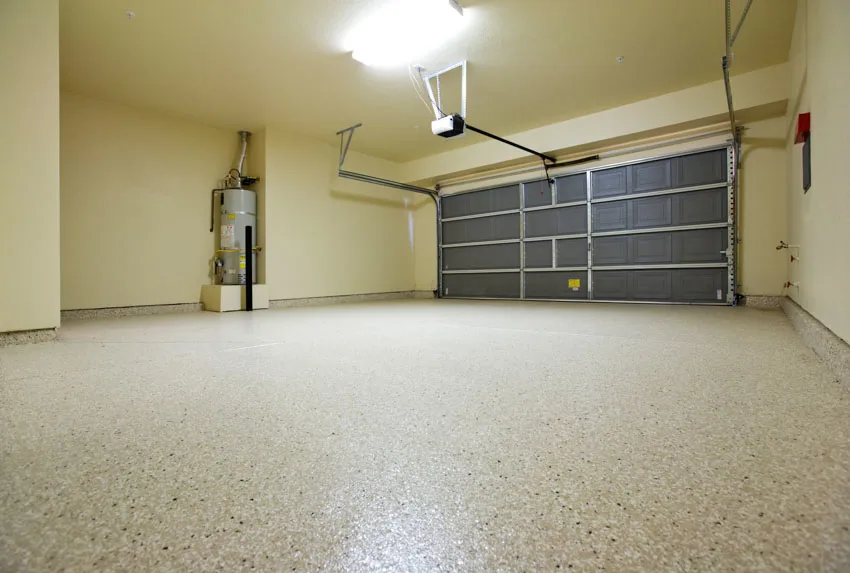 Epoxy flooring protects the concrete substrate from grease, stains, and moisture. It also saves you the hassle of cleaning grime, oils stains, and other chemical substances.
If installed and maintained well, epoxy flooring can last for a long time. So yes, it's worth putting epoxy flooring in your garage.
Consider the pros and cons of epoxy garage floors we presented in this article. These will help you determine whether epoxy flooring is the solution you need for your garage.
If you decide to give it a go, we recommend hiring a professional. Remember, the wrong installation can damage the epoxy flooring coating and affect its lifespan.
See more related content in our article about epoxy floor over tiles on this page.