Here's our garage floor ideas with different floor options like paint, tiles, carpet, rubber and vinyl.

Most homeowners pay special attention to the flooring requirements of their living room, bedroom, kitchen, and other living spaces. Unfortunately, they do not give their garage flooring that much thought.
The garage should receive the same kind of attention other parts of the home get, especially the flooring. After all, the carport is not only storage for one's second most prized possession.
The garage can also be a multipurpose room if one knows how to choose the correct flooring.
Here are some exciting garage floor ideas a modern homeowner should consider.
Garage Floor Options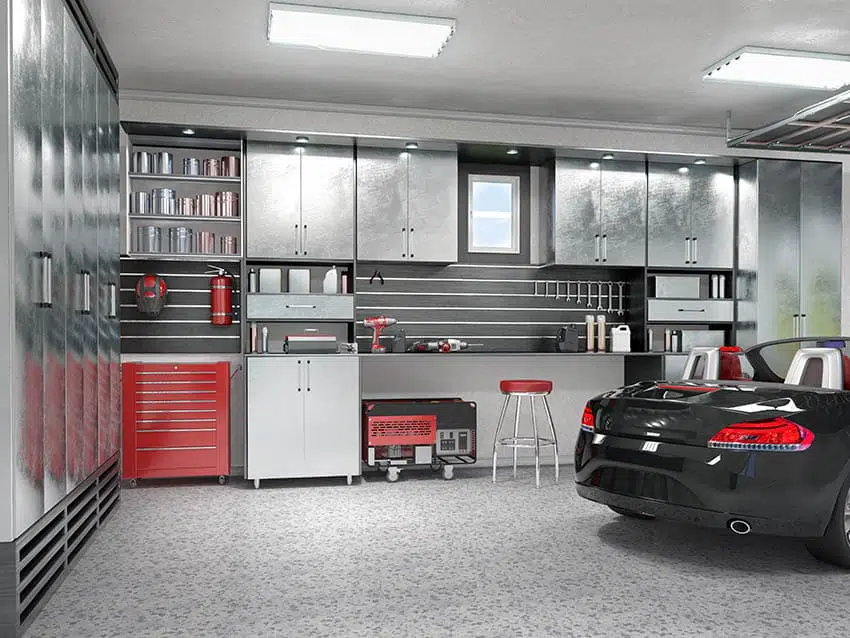 Choosing the right flooring for one's garage entails understanding the different options available. Painting is one of the easiest and most affordable flooring options for many households, although epoxy, rubber, and tiles are becoming common.
There are also newer garage flooring techniques and technologies worth exploring. While these materials and applications may not suit all carports, one must stay open-minded to these products' worth.
Paint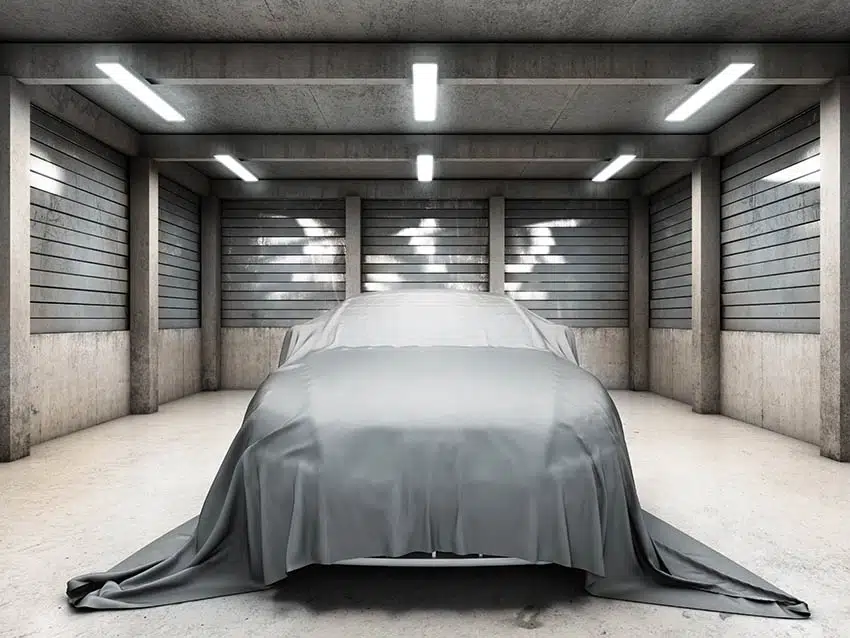 Painting the garage floor is one of the most inexpensive ways to breathe life into a dull-looking carport. The best part about painting is that homeowners get to choose the colors that complement their house's color theme.
However, one issue about it is it can be labor-intensive. For one, there is a need to apply primer before painting. Moreover, there is also a need to repair any floor damage or seal any cracks.
Thoroughly cleaning the garage floor is also a must because paint cannot adhere to a dusty surface. Otherwise, it peels off easily.
Another concern with garage floor paints is that they have a short lifespan. It may be necessary to apply a fresh coat every two to three years, depending on usage level.
Epoxy Coatings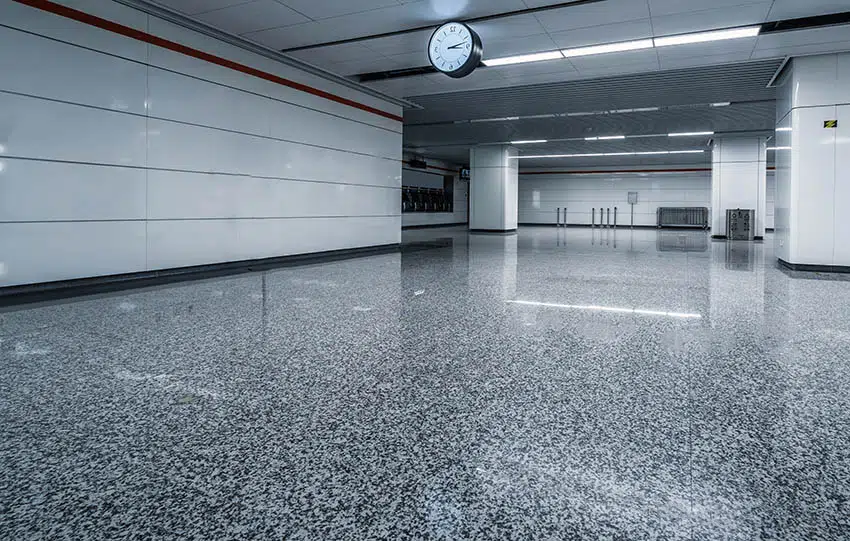 Applying epoxy on garage floors is like painting, only faster. Epoxy coatings contain a hardening agent that gives the coat a robust and durable characteristic. Read more about epoxy floor here.
It is the first choice of industrial establishments because epoxy can withstand chemical spills and impact forces.
Epoxy coatings are also elegant to look at because they can have decorative elements applied to the mixture before it hardens. It is also easy to maintain and can last many years with ordinary cleaning.
The only downside to it is that one must be fast in applying epoxy on garage floors since the mixture hardens quickly in two hours or less.
Vinyl Flooring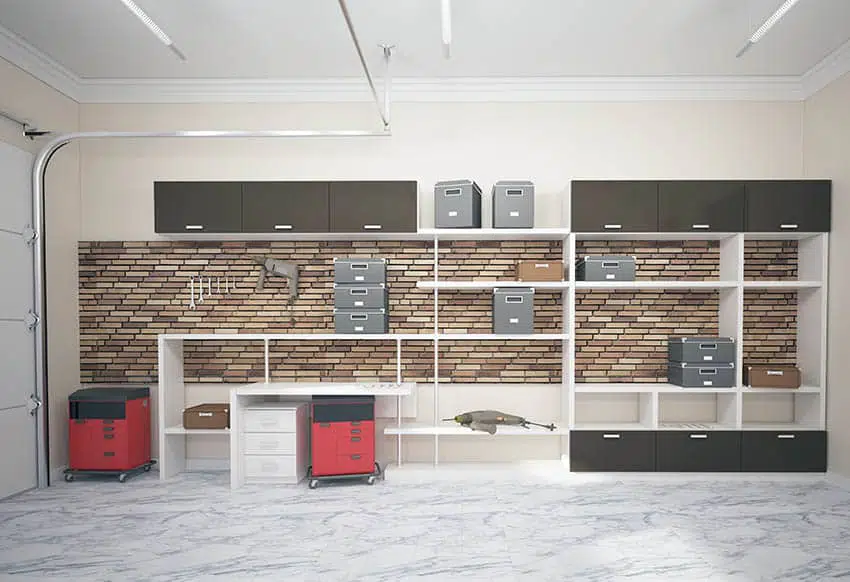 Synthetic plastic polymers are fast becoming the flooring of choice for carports because of their flame-retardant properties and exceptional durability. They are also low maintenance and affordable.
One of the best things about vinyl garage flooring is its ease of application. They come in rolls; one can unroll them on the floor instantly. Apply an adhesive at the backing, and the vinyl flooring is ready for use.
Homeowners also get to choose their preferred colors and patterns to let their carport pop out or complement the color of their vehicle and other items in the garage.
Floor Tiles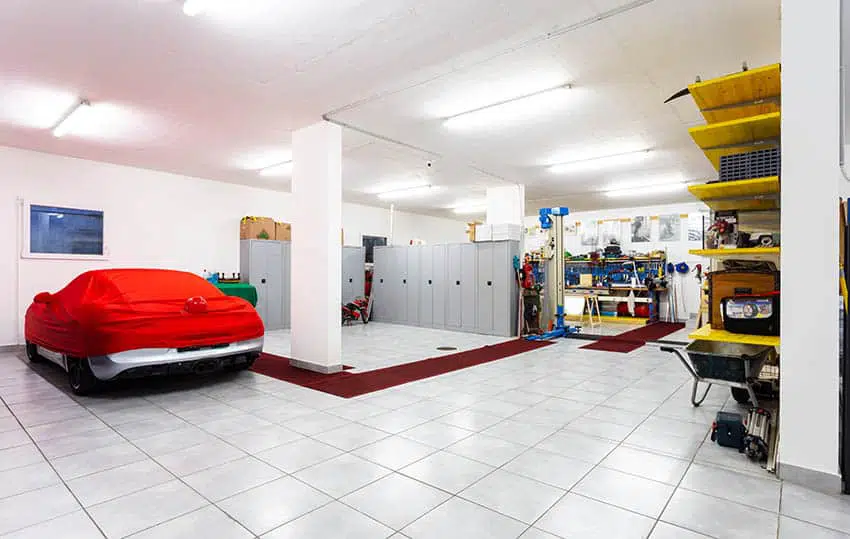 Tiles are always an excellent flooring option, regardless of the area that you will install them in your house.
They are durable and have a non-porous surface, making cleaning and maintenance a breeze. Garage floor tiles can turn any carport into a showroom with their glass-like qualities and mirror-like finish.
Unfortunately, it can be labor-intensive and time-consuming to install floor tiles in one's carport. One must prepare the surface to make it as level as possible.
Homeowners must also apply a synthetic adhesive or a thin-set mortar to hold the tiles on the floor. Moreover, there is also grout to apply.
Despite the taxing application, garage floor tiles are worth it. One can pick different patterns and designs to improve the garage's aesthetics. However, it is not suitable for families who drive heavy vehicles.
Rubber Tiles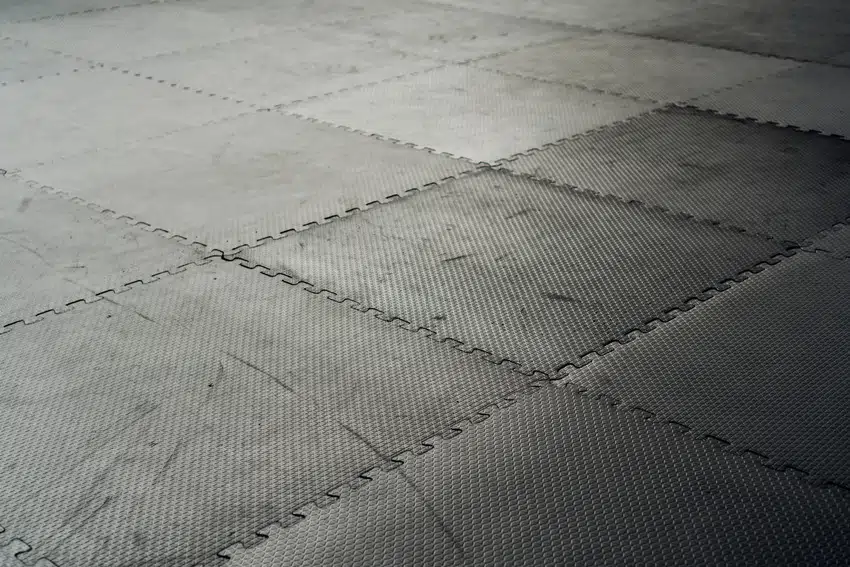 This type of garage flooring is like ordinary tile installation. The only difference is one uses rubber tiles on the garage floor, improving durability and maintenance ease.
Many rubber floor tiles are resistant to chemicals and stains, ensuring effortless cleaning.
Rubber garage floor tiles also come in different patterns and colors, allowing homeowners to create a fascinating carport floor. They are also easy to install and are swappable. One can remove individual tiles and exchange them for other colors or patterns.
Installation is as effortless as snapping the rubber tiles together like one would with a jigsaw puzzle. Unfortunately, rubber garage floor tiles tend to be more expensive than other options.
Interlocking Tiles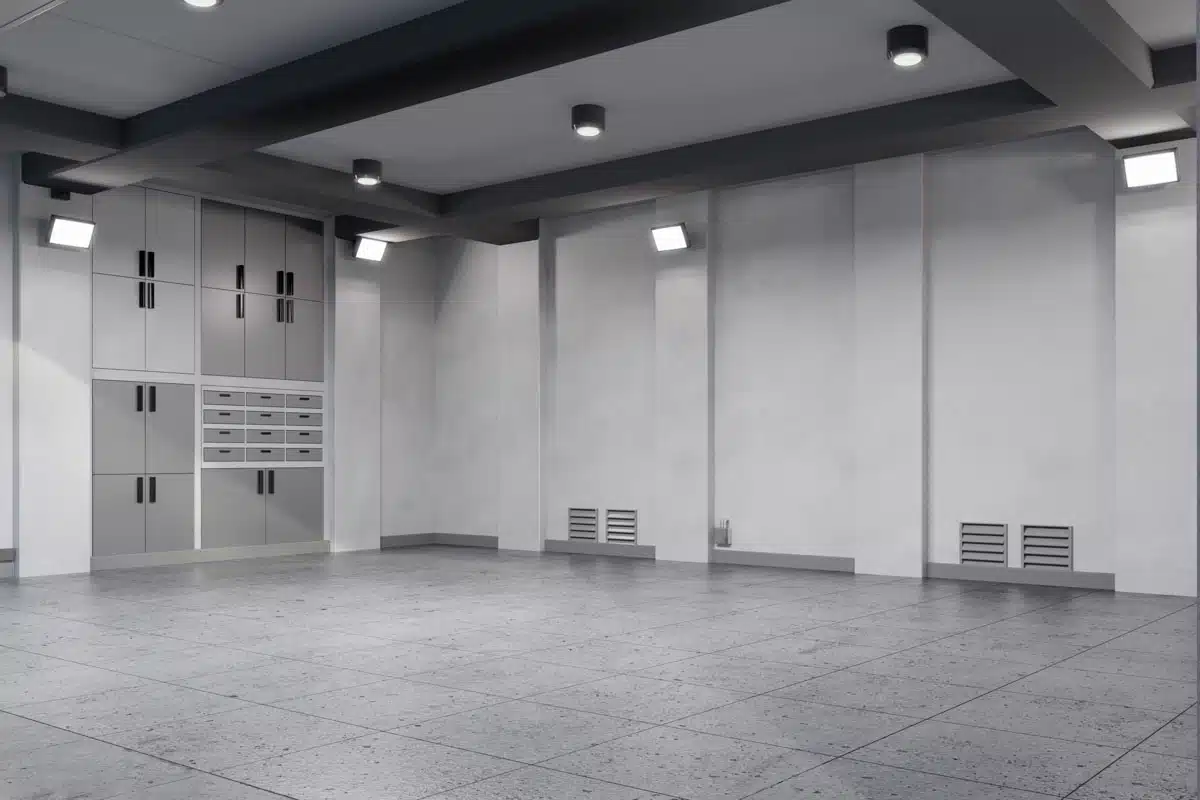 Interlocking tiles, a strong, versatile, quick, and easy-to-install garage flooring material, take the age-old concept of paving units to create a modular flooring system that can revitalize interior floor spaces.
Garage floors in rental properties, hobby spaces, and any garage floor that needs a quick update without the need for replacing the floor or any other complex installation
Interlocking garage types of floor tiles is much like fitting a jigsaw puzzle together, where the edges have loops, tabs, or grooves depending on the design.
The profile edge allows a seamless connection between adjacent tiles and keeps the tiles from moving or separating without the need for adhesives, thus the term "free-floating" flooring system.
To allow water or moisture to dry off between the floor and the tiles, small alternating paneling support posts and spacers make up the underside of the interlocking tiles.
Modular tiles commonly come in square or rectangular shapes in varied sizes. Just like any other tile, the standard sizes for interlocking garage tiles include:
Square interlocking tile sizes:
• 6″ x 6″ (15 cm x 15 cm)
• 8″ x 8″ (20 cm x 20 cm)
• 12″ x 12″ (30 cm x 30 cm)
• 18″ x 18″ (45 cm x 45 cm)
• 24″ x 24″ (60 cm x 60 cm)
Rectangular interlocking tile sizes:
• 12″ x 24″ (30 cm x 60 cm)
• 18″ x 36″ (45 cm x 90 cm)
Interlocking tiles for garage flooring come in a variety of thicknesses with the most common ranging from 5 to 7 mm but can be as thick as 25mm.
• 5mm to 7mm (light to moderate traffic): Standard residential use and regular vehicle.
• 8-10 mm or more (high traffic): Larger vehicles.
• 10mm-15mm (high impact): Workshops
• 10mm-20mm (for comfort): Workspace with needed added cushioning underfoot)
Another contributing factor to the versatility of garage floors is that interlocking floor tiles come in a wide range of materials including rubber, PVC, or wood. The materials can be further categorized as rigid plastic and flexible high-density materials.
Porcelain Tile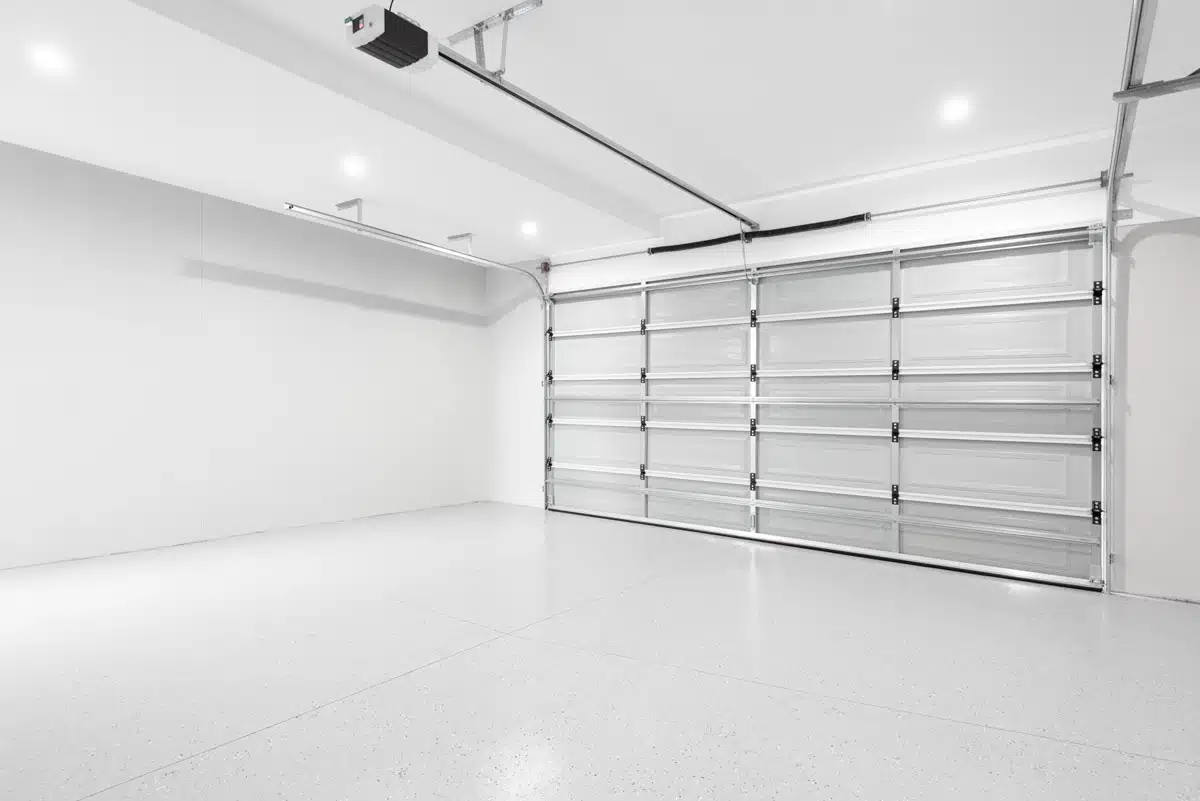 Porcelain tile garage floor is one of the strongest garage floor ideas with its surface scoring 7 to 8 on the Moh's hardness scale, while granite a natural stone well-known for its superb durability falls behind slightly at 6 to 6.5.
Grade 4 to 5 porcelain tiles on the PEI scale are suitable for garage use and can even go up twice or thrice stronger than granite.
Aside from its hardness, porcelain garage floor tiles has excellent abrasion resistance making it a great fit for multi-use garage spaces. Moreover, porcelain is virtually non-porous which prevents staining from oil spills and other chemicals. This property also makes it immune to freeze and thaw conditions.
Prolonged exposure to the sun does not discolor a porcelain tile garage floor making it a low-maintenance flooring. When it comes to its ability to carry weight, a properly installed and quality-made porcelain tile garage can withstand 2,000 pounds or a full-sized SUV.
Considerations:
• Quality substrate: Structurally sound and leveled concrete.
• Impervious grout: Epoxy-based grouting is the best grouting to use in between porcelain tiles.
• Regular maintenance: While a low-maintenance surface regular maintenance is needed to prevent grime and other substances to harden on the surface.
• Light sealing: Porcelain is 0.5% porous and thus considered an impervious surface nevertheless, a light application of sealant is beneficial, especially for grouts in between.
For people who are sensitive to dust, porcelain tile is among the excellent garage floor ideas as it does not harbor allergens. Porcelain tile is categorized under ceramic tile which is made from finer clay.
The distinction comes from the degree of heat as it is fired at a higher temperature than common ceramic tiles. It is known for its durability, strength, and water resistance.
Aside from wall and floor finishing, porcelain tiles are also common for table and counter applications.
Laminate Flooring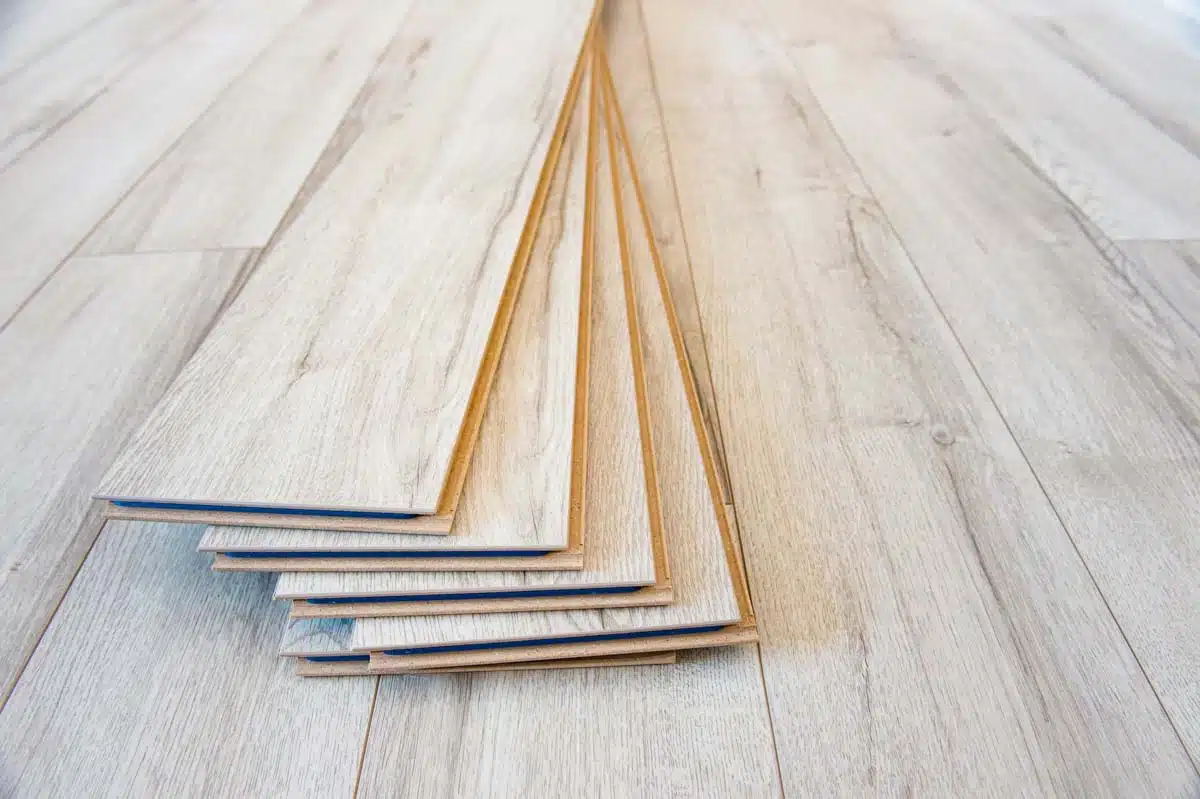 Laminate flooring is among the great garage floor ideas when budget is a concern. The nature-centric or organic themes are popular with laminate floors as they give a warm look as opposed to the typical industrial aesthetic of garages.
Aside from getting the natural wood look from the engineered floor, a variety of colors and designs are available to satisfy the whole spectrum of styles.
A laminate floor is an engineered wood that is made to mimic the look of natural wood, stone, or other natural materials. Laminate flooring typically comes in planks and when cut clockwise, it shows multiple layers that are fused together.
The standard laminate floor will have four layers which include the wear layer, design layer, core layer, and backing layer. Modern laminate floors not only simulate the look of organic materials but can also copy other patterns with high-resolution images.
Aside from the look, laminate floors can also feel like real wood through an embossed finish. This finish adds depth and dimension to the laminate flooring, giving it a more realistic appearance.
The embossed finish can mimic the natural grain patterns and knots found in hardwood, enhancing the overall visual appeal.
Among the garage flooring types, laminate flooring is probably the least option to take by make most homeowners due to the concern of buckling, scratches, and the fading of color.
But overall, laminate flooring is a favorable investment when one is leaning towards a more conservative upfront cost while enjoying an updated garage that can last from 15 to 25.
Like any floor finishing, a good flat and leveled substrate or slab foundation will prevent future problems with the laminated planks. A great concern for laminate floors is moisture seeping through the concrete slab.
To significantly minimize any moisture or water from going through from the subfloor a moisture barrier underlayment should be installed in between the ground and the laminate planks.
Another concern with laminate garage floors is that the surface can deteriorate or stain when certain chemicals are spilled on it. The combustibility of laminate floors is a major disadvantage of laminate garage floors.
Considerations:
• Select a laminate floor product that is of high quality and can be used when installed in a high-moisture area.
• Add a mat or rug underneath areas where excessive wear and tear is possible.
• Prevent oil and other chemical substances to sit and be absorbed into the surface.
• Ensure proper installation with proper moisture barrier and underlayment to minimize the risk of moisture damage.
• Regularly clean and maintain the laminate flooring to prevent the buildup of dirt, moisture, or chemicals.
Stamped Concrete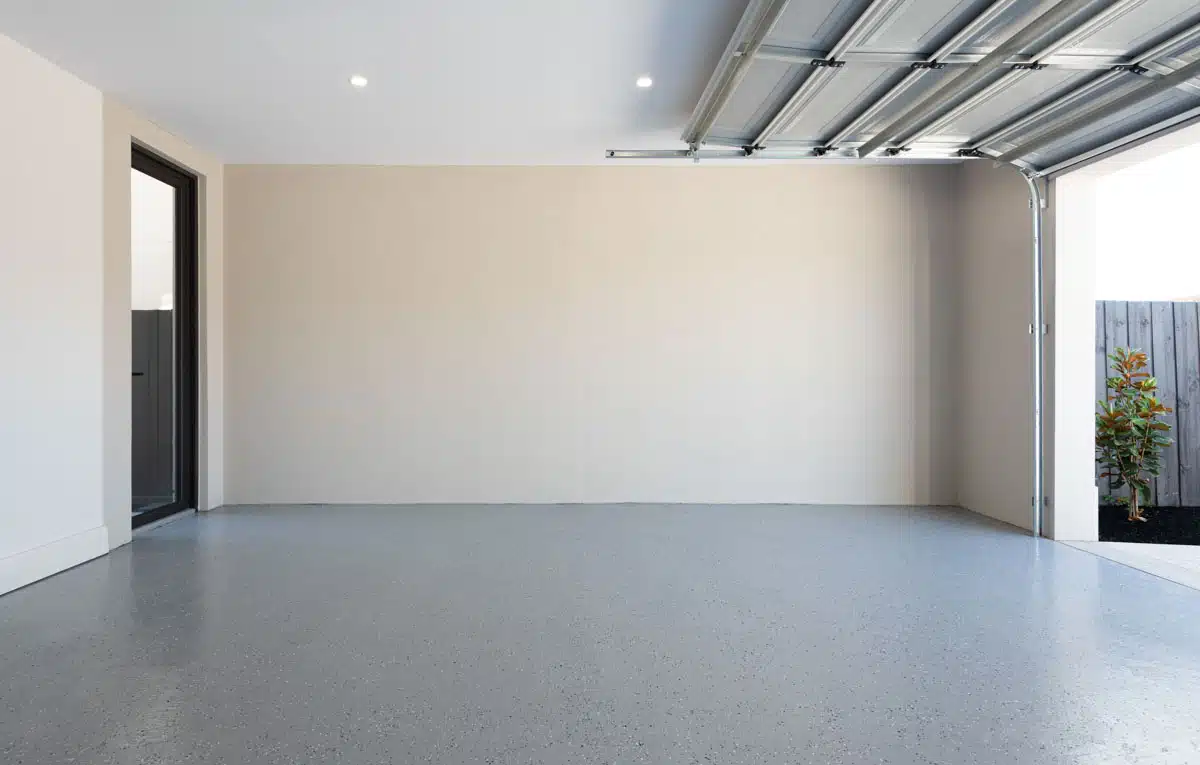 Stamped concrete is among the garage floor ideas that are cost-effective and multi-dimensional. It also offers a durable floor that can last up to 50 years.
A reasonable investment when you need a floor that's ready for foot traffic within 24 to 48 hours and when cured after 7 days can be run by standard automobiles.
Stamped concrete floors deliver more than your typical poured concrete as the design possibilities are endless giving color and texture with the option of a unique or cohesive look in a garage setting.
As the term implies stamped concrete is a concrete slab imprinted or embossed with a particular design that showcases a particular pattern. The attractive nature of stamped garage floors is that they can simulate the look of virtually any type of material or pattern.
Concrete stamps are affordable and can be bought with individual designs or by set and are typically made from polyurethane as it is durable, non-stick, and flexible.
To prevent polyurethane stamps from sticking to fresh concrete, a release agent is used either in powder or liquid form.
The concrete mixture ratio is important for a successful stamped concrete garage floor. Go for a fatty mixture with a good amount of cement paste.
A 4000 psi is recommended for driveways which is also applicable for a garage space ensuring that the concrete slab can take the weight of the vehicle.
Popular Stamped Concrete Patterns:
• Ashlar Slate
• Wood Planks
• Cobblestone
• Herringbone
• Random Stone
• Fractured Slate
• Flagstone
• Fieldstone
• Medallions
While the textured surface improves traction, adding non-slip additives or paint further keeps a wet concrete surface slippery, making it among the safest garage floor ideas to consider.
Hardwood Flooring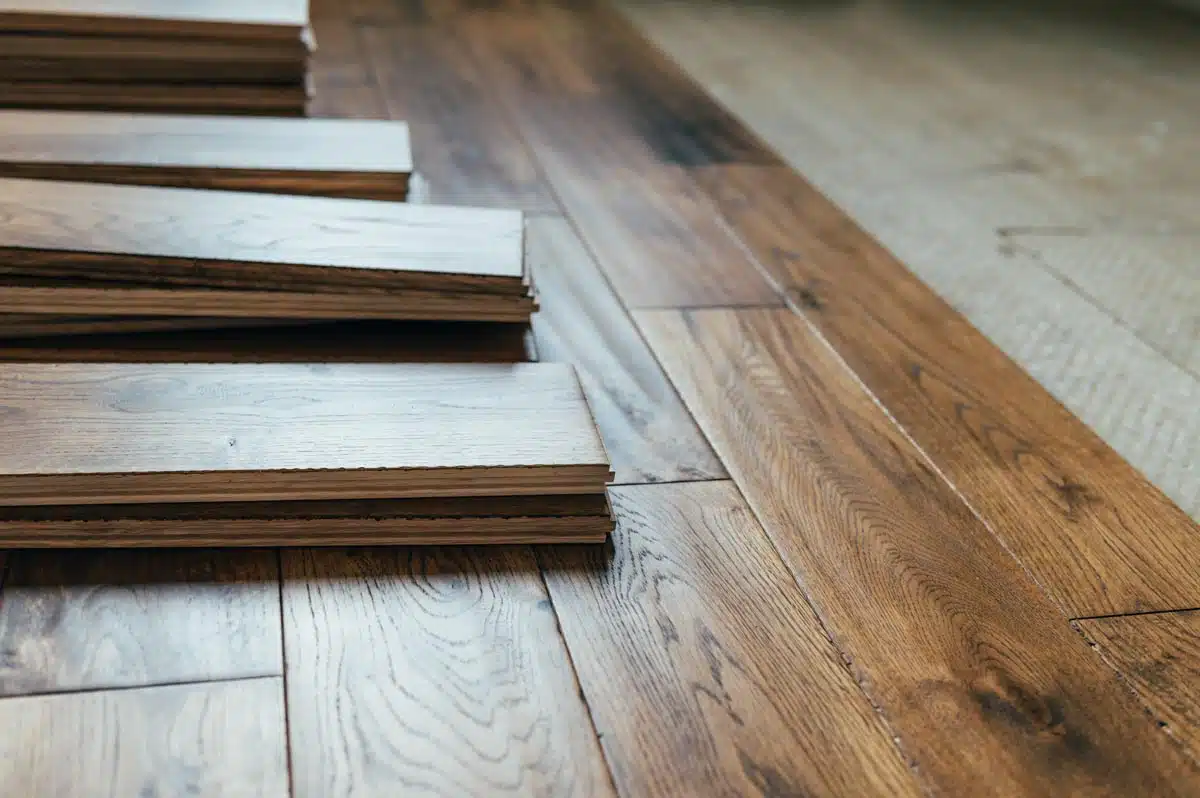 The use of hardwood floors is among the uncommon garage floor ideas, considering all the available materials that are already offered for a garage floor have better durability and aesthetics.
However, in a garage with the right species and source, the wooden floor can be very durable to last a lifetime especially when properly maintained.
Hardwood that has high density makes it more resistant to dents and scratches while being able to withstand heavy weight loads along with proper structural support.
Aside from its durability, organic material as flooring can be problematic when removing stains as most hardwood lumber is porous.
Hardwood floors are also known to buckle, shrink or expand when exposed to water or moisture. A garage with a hardwood floor garage will also likely collect dents and scratches especially if no proper surface treatment is used.
This is especially true if you have large cabinets, workbench, shelves, or racks for organization that are frequently moved around. In addition, oil stains from vehicles may also be a big problem with wood.
Despite the disadvantages of hardwood floors, the flooring material is still a desirable option as it can give a warm rustic look to a busy garage which can also be paired with contemporary or industrial-themed garages.
The hand-scraped finish, for instance, simulate the look of aged and distressed hardwood flooring. They feature textured grooves and marks, providing an authentic and rustic appearance.
This finish is popular for creating a vintage or farmhouse-style aesthetic. Other finishes include matte and distressed finishes.
Installing hardwood floor garages can be a DIY project but it is best to consult an expert especially when it comes to structural design. A structural engineer for instance will design a sound subfloor for hardwood flooring.
Considerations:
• Wood specie used for hardwood floors is crucial. The best hardwood species include oak, maple, and hickory.
• Check for Janka's hardness. The higher the Janka rating the more durable and resistant to wear and tear.
• Consider applying protective finishes such as aluminum oxide and polyurethane to protect the hardwood garage floor from stains and scratches.
• Proper installation is paramount. Suitable underlayment, vapor barriers, and substrates are needed to protect the wood from moisture seepage.
Polyurethane finishes are recommended for hardwood floors as it adds durability and water resistance to the surface. They are available in two types: oil-based and water-based.
Oil-based polyurethane provides a rich amber hue and requires longer drying times, while water-based polyurethane dries faster and has a clearer finish.
Both types provide a protective layer that helps prevent scratches, stains, and moisture damage. Other options for the finishing include hard wax oil, wax, UV-cured finish, and oil finish.
Carpet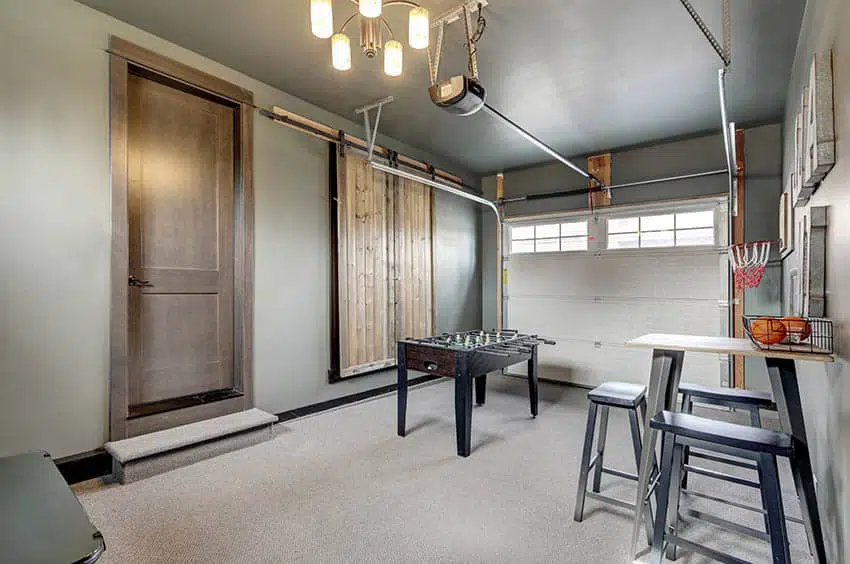 Installing a carpet on one's garage can be an unusual option, but some homeowners use their carports for purposes other than storing their car. In fact, many use the garage as a home gym or office.
Carpeted floors are very comfortable to walk on and are also easy on many objects. They can also give the garage a unique look, although cleaning and maintenance can be tedious.
Floor Resurfacing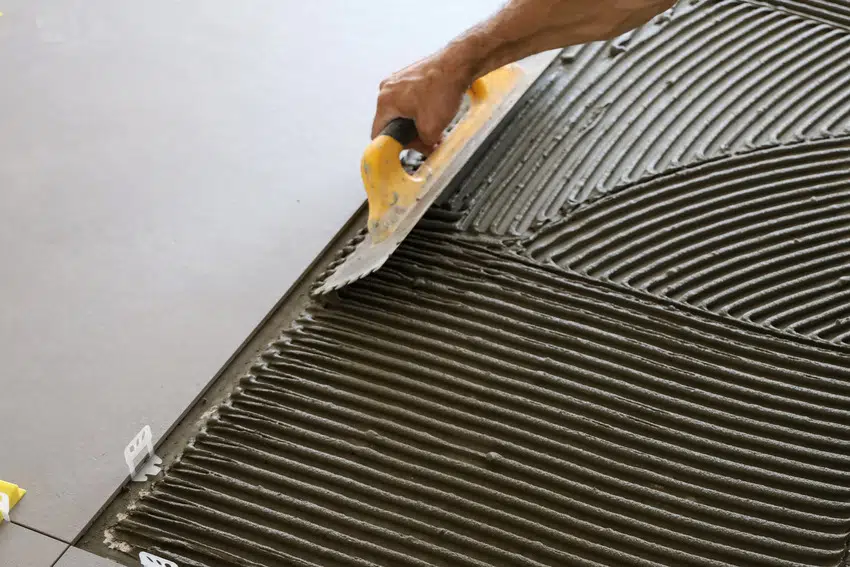 The foregoing garage floor options may not be suitable for heavily damaged carports. That is why the only solution may be to resurface it.
Garage floor resurfacing can be a tedious and expensive project, requiring a concrete cleaner, crack sealer, and resurfacer.
One must prepare the garage floor by cleaning it thoroughly, removing any loose concrete, and filling any cracks. Only then can the homeowner apply the floor resurfacer.
The results may not be as spectacular as one expects. That is why other garage flooring coating options may be necessary to cover imperfections.
For example, one can paint or apply epoxy coating over the resurfaced floor for added protection. Tiles and vinyl are always excellent choices to finish the job.
Easy to Clean Options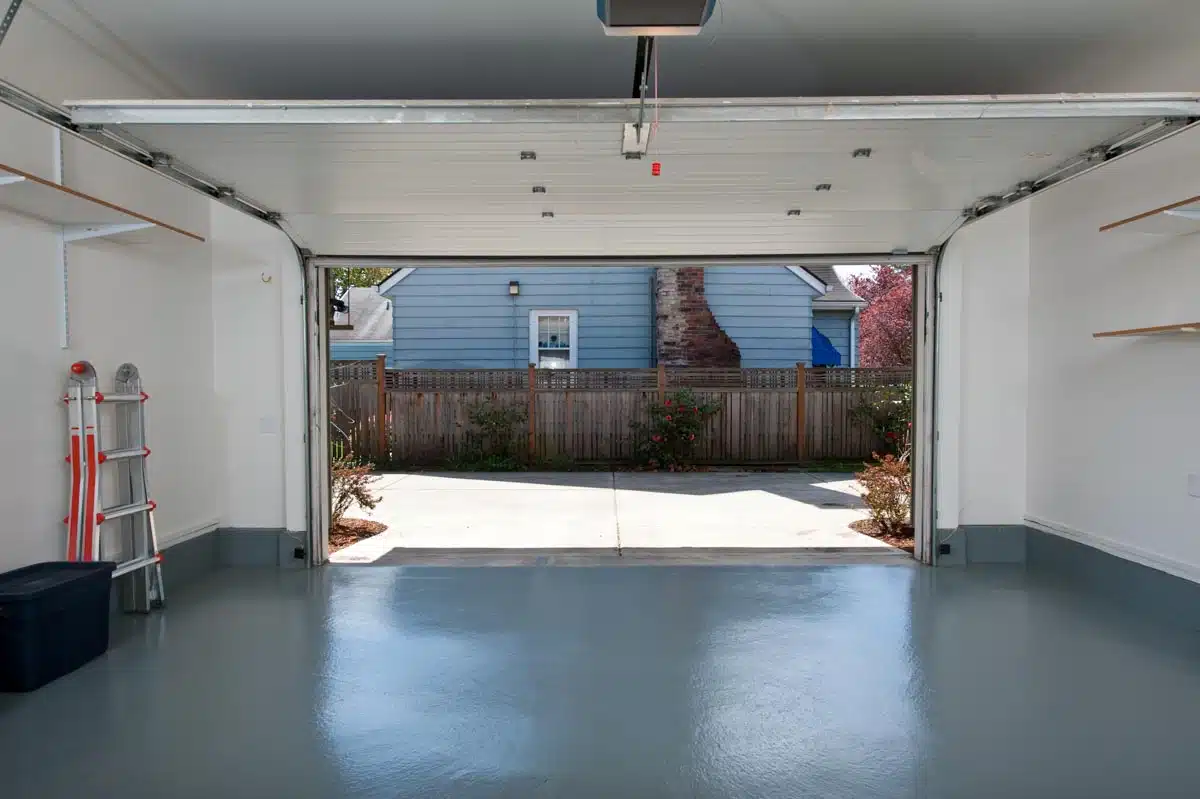 Epoxy Coating: The low-maintenance surface can be easily mopped or broomed on a daily basis and because it has a smooth and non-porous surface debris, spills and other form of dirt cannot penetrate through.
This advantage prevents mold and mildew to take hold in deep through the material. In addition, the seamless surface does not contain any grout. The grout can have potential crevices and pores to develop over time.
Ceramic or Porcelain Tiles: Just by using a mild detergent and regular vacuuming and sweeping a porcelain garage tile can always look pristine. While it has a non-porous surface make sure to use the proper cleaning agents. There are cleaning agents made specifically for porcelain tiles.
LVT or Luxury Vinyl Flooring: The LVT is a durable option that replicates the look of natural materials such as hardwood, stone, or tile covering a wide range of options to fit the look of a garage. It is resistant to stains, scratches, and water, making it easy to clean.
Regular sweeping or vacuuming, along with occasional damp mopping using a mild cleaner, is usually sufficient to keep luxury vinyl flooring clean and looking their best.
Laminate Flooring: It is known for its durability and low maintenance. Regular sweeping or vacuuming, along with occasional damp mopping using a manufacturer-approved cleaner, can keep laminate floors clean and free from dirt and debris.
Concrete Floors: Like epoxy floors, concrete floors that are poured on a slab can be very durable garage floors. Choose to have concrete garage floor sealers applied, as they provide a protective barrier, making it resistant to stains, oil, and other contaminants.
Sealed concrete is relatively easy to clean with a mop or mild detergent. Regular sweeping and occasional pressure washing can help maintain the cleanliness of the floor.
Best Flooring for Garage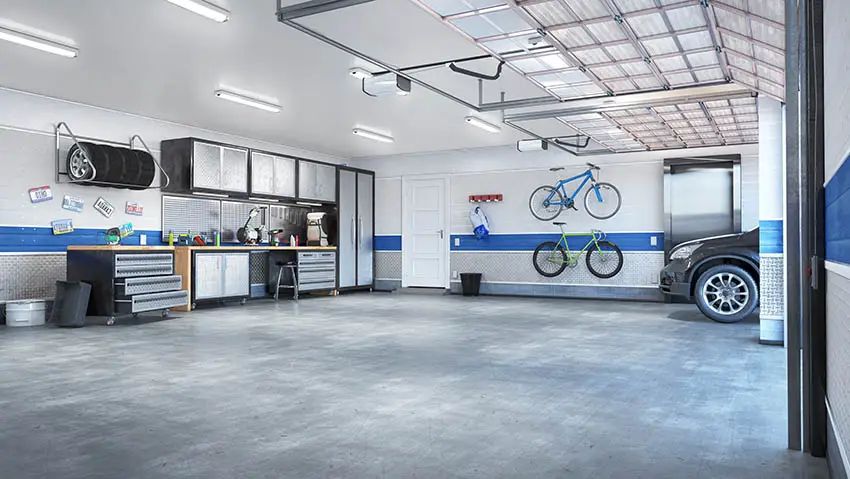 The best garage flooring depends on a homeowner's preferences and budgetary considerations. Painting remains the best option for budget-conscious families, while epoxy coating is suitable for households that want a durable and elegant-looking garage floor.
Vinyl garage flooring is always an excellent choice for people who want hassle-free installation and maintenance. Rubber floor tiles are also wonderful options.
If one wants a showroom-quality garage floor, ceramic tiles are the way to go. Resurfacing the carport floor may be necessary if severely damaged.
Carpet remains a good option for those who use their garage for purposes other than storing vehicles. Read more about how to turn a garage into a man cave here.
Conclusion
Modern homeowners have many garage floor ideas they can consider for their house. However, each method has its own set of advantages and disadvantages.
It would be wise to study the pros and cons of each technique and compare them to one's needs and preferences.
Visit this carport vs garage page for more content related to garage floor ideas.