Here's our how to turn a garage into a man cave design guide including flooring, lighting, wall texture, shelving, storage, furniture and decor.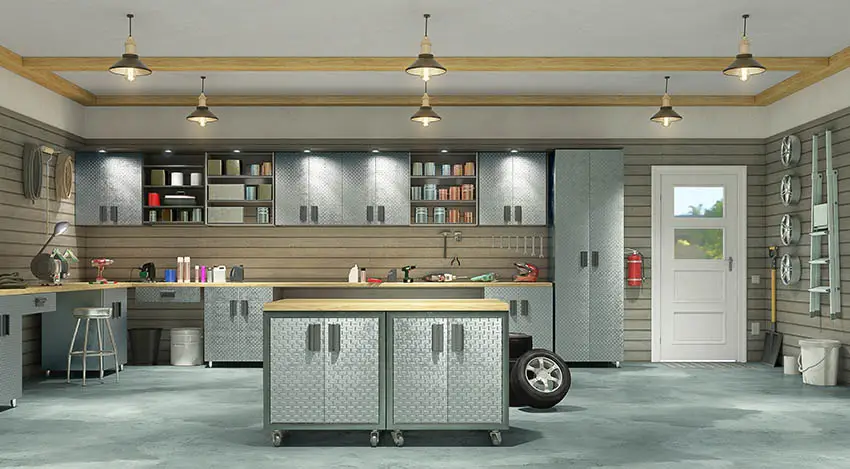 So you scouted locations for your man cave, and you've decided on the garage. It's a good choice, because the hardest and most expensive part of construction has already been done — building four walls, a roof, and floor.
With those basic building blocks, you can make a few other adjustments to the space and start enjoying poker night with your buddies as soon as possible. As long as you aren't increasing the footprint of your garage and all the work is internal, you should not need planning permission.
If you live in a housing association or a listed building you may need to consult with the local planning committee.
Converting your garage into living space without authorization can cause problems down the road if you want to rent or sell, so take the time to follow the proper process. See our full gallery of man cave ideas here.
Man Cave Garage Flooring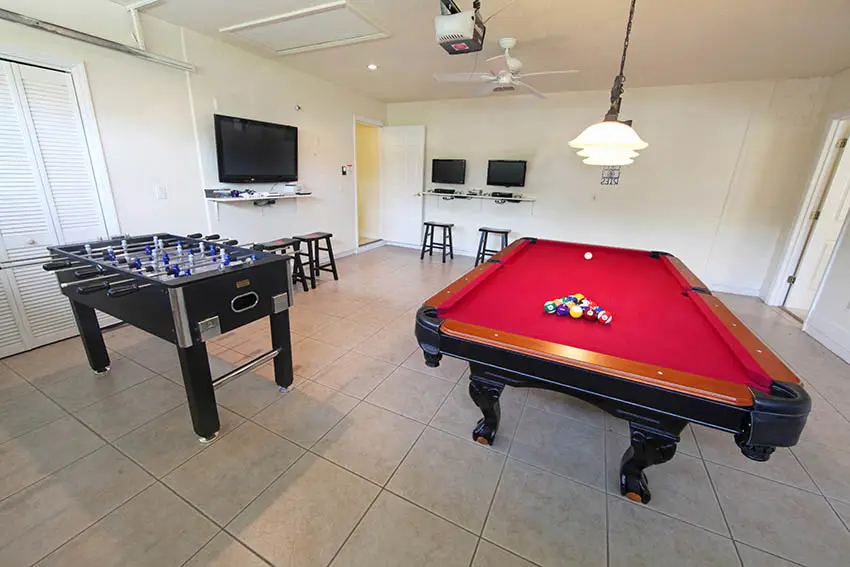 You have two options for that oil-stained, unfinished concrete garage floor. You can either spruce it up and add a finish, or cover it up. No matter what choice you make, power washing the floor is the first step.
The quickest flooring solution is to lay down interlocking rubber floor tiles. They're comfortable underfoot, and easy to source, clean, or replace as necessary.
Carpets can help you achieve a feeling of separation between garage space and living space.. Laying carpet padding and wall-to-wall carpeting will dampen sound, keep the temperature steady, and be more comfortable underfoot than bare concrete.
If you're going for a more polished and permanent renovation, you can also put in a subfloor. That gives you the option to lay down wooden flooring or snap-together composite floorboards.
Large area rugs are less labor-intensive and work well, but consider sealing and finishing the concrete first.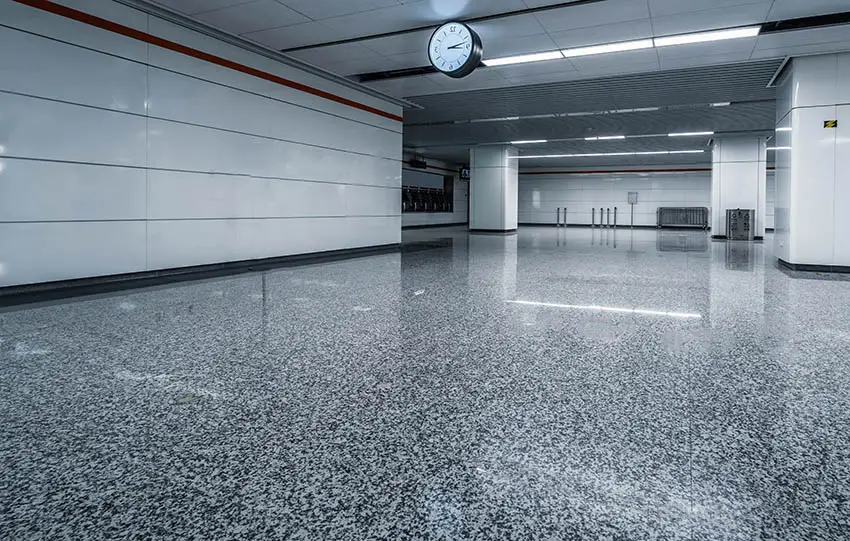 If you do nothing else to your garage floor, consider a layer of stone epoxy. This will hide imperfections and improve the visual appearance of the existing floor. Best of all, it can be completed by an amateur in one weekend. You can see more man cave flooring options here.
Man Cave Garage Lighting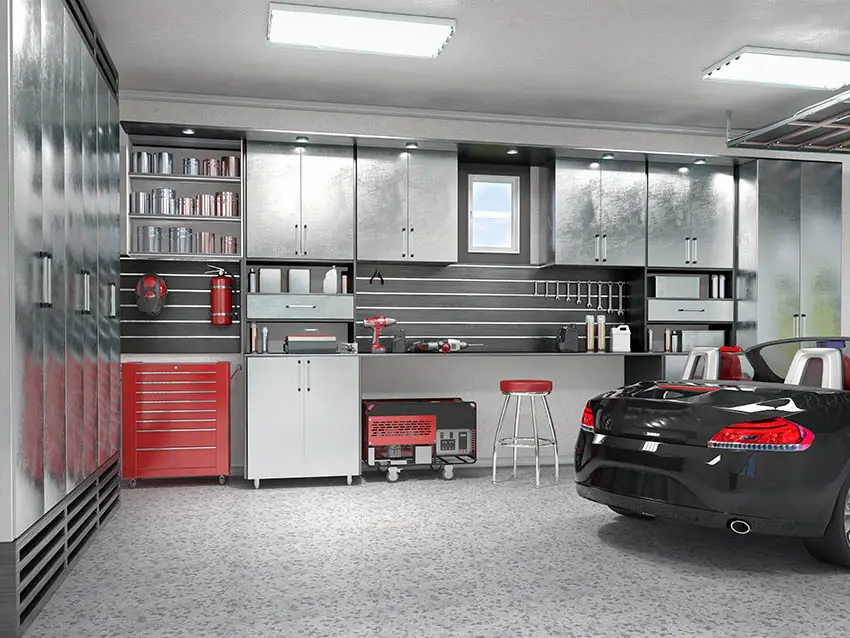 Most garages don't have windows, and are lit by bare bulbs, giving them an uncozy, interrogation room feel. Changing the lighting is one of the easiest ways to transform the feel of the space from 'storage area' to 'hang-out zone'.
There are three types of lighting you need to think about; ambient lighting, fill or task lighting, and accent lighting.
Start with adding a light fixture to the overhead bulb. A translucent semi-flush ceiling light fixture in a drum style will shed the most ambient light while taking up the least headroom.
If you have a choice, try to install this fixture closer to the back of the garage, away from the door, where it's darkest. To fill in any dark corners and make the room feel larger, add torchiere style floor lamps.
Next, add task lighting. If you're adding a wet bar, you'll want a wall-mounted light shining on the work area. For the poker table, hanging a pendant lamp overhead will ensure everyone can see their cards.
Texture the Walls in Garage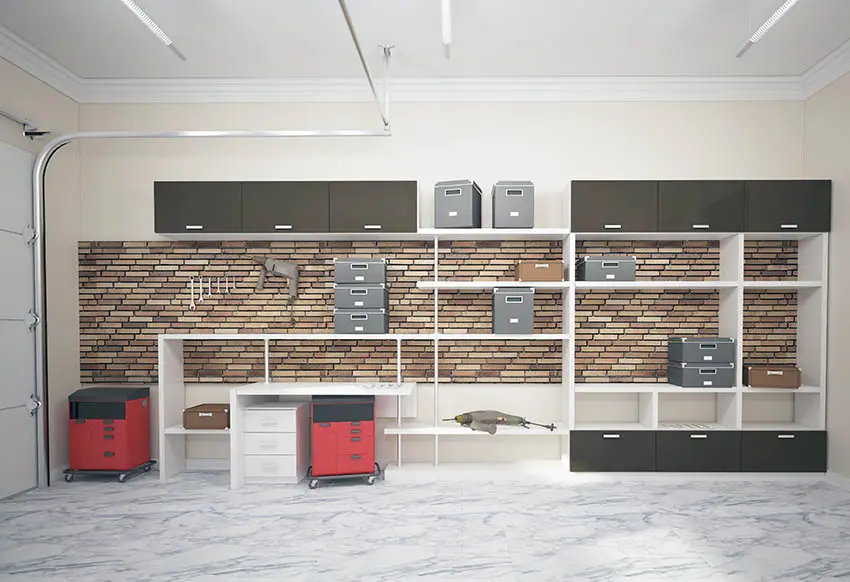 Throwing up a coat of paint will improve the appearance of your man cave, but to really take things to the next level, consider adding texture.
Brick or stone veneer is easy to install and will give the impression of sturdiness and solidity.
A textured wallpaper in a dark color adds instant sophistication to any room. You could even use pallet wood or wood paneling to achieve a lodge atmosphere. Check out our article about man cave paint ideas for more inspiration.
Man Cave Garage Shelving & Storage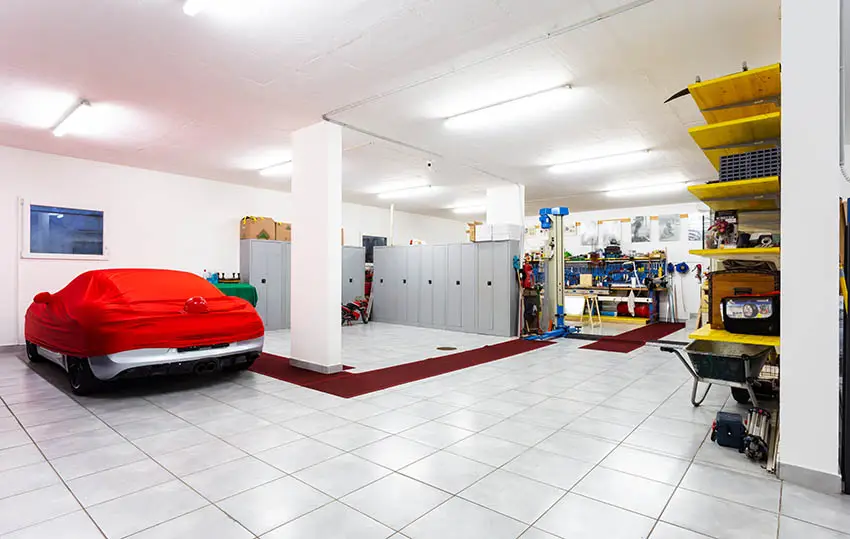 The main barrier to relaxing in your garage is clutter. If nothing else, purchase some cheap garage storage such as wire shelving, spray paint them, and get everything off the floor.
You'll be amazed at how it transforms the area from 'storage space' to 'living space'. If you don't have a ton of clutter, well-organized open shelving is perfectly acceptable.
You can also purchase freestanding storage and use it as a makeshift partition. A series of large cabinets or wardrobes gives you lots of space to hide away your tools and gardening supplies.
To the extent possible based on your space and circumstances, try to remove any visual reminders that you're in a garage.
Garage Partition Wall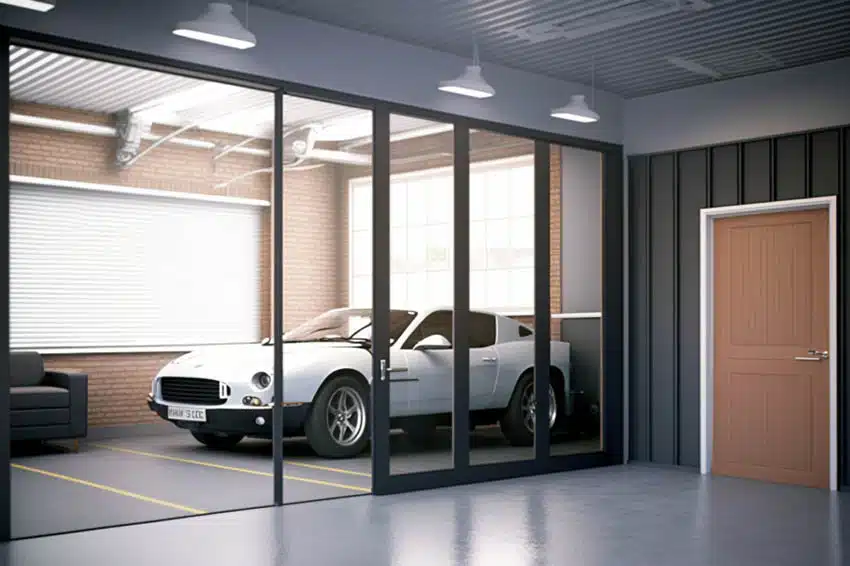 Adding a partition wall of any height is a great way to section off your man cave from the rest of your garage. Accordion walls and room dividers can be purchased and installed with minimal hassle.
For a more permanent solution, construct a timber frame. Before you cover it with drywall, put some insulation in to help regulate the temperature.
Another option for partition walls is cinder block. If you're comfortable working with concrete and have access to affordable cinder blocks, this is a decent solution, especially in warmer climates.
If you get cold weather where you live, you may regret passing up the opportunity to insulate your space.
Man Cave Garage Furniture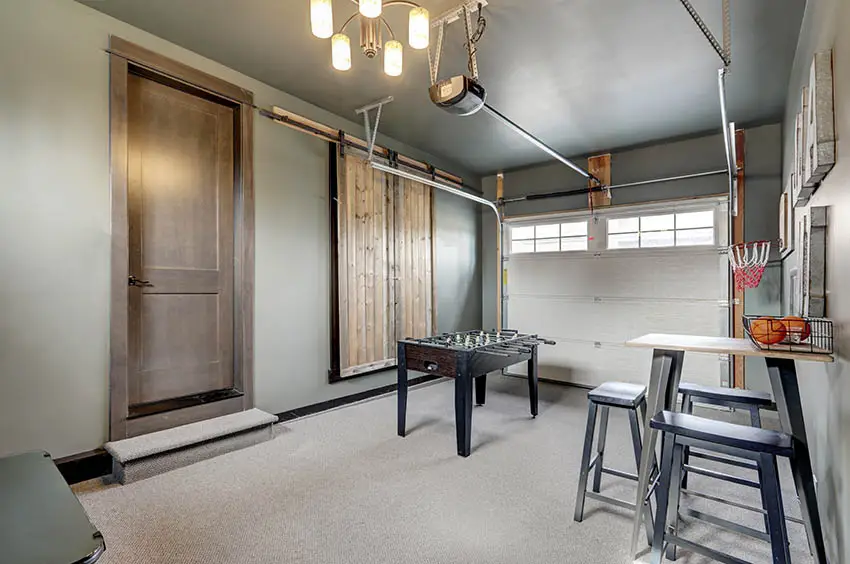 When it comes time to furnish your man cave, make your mantra 'seating and surfaces'. Are you planning to entertain in your man cave?
You'll need a seating area with enough room for all your buddies. A couch and a few chairs should do it — bonus points for including a plush recliner.
Chances are you plan to enjoy a beverage in your sacred relaxation space. No matter where you sit in your man cave, there should be a surface within arm's reach where you can rest your drink.
This will also prevent your guests from putting their drinks on the floor, where they could get kicked over and ruin that carpet you just laid.
If you don't have enough space for a living room set, consider a poker table instead. With comfortable, plush chairs, you may not miss the couch at all.
Depending on the beam structure of your garage roof, you could even install a swing chair or hammock. See more garage living room ideas here.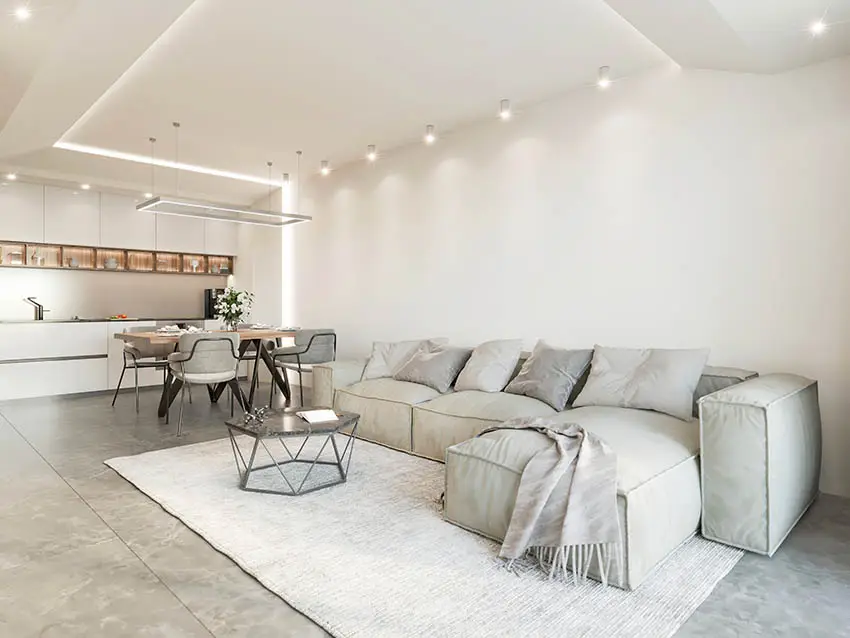 Man Cave Garage Decor
If you have memorabilia that clashes with the interior design of the main house, the man cave is the perfect place to display it with pride.
This room should make you feel happy and relaxed, so choose items for inclusion based on that criteria. Framing posters before you hang them will make the space feel more permanent and finished.
If you'll be purchasing decorative items or painting, choose one main color for the space and one or two accent colors. Try to ensure that at least one of these colors is present in any design element you add to the space.
If you're adding wire shelving, grab a can of spray paint in your accent color and make it intentional.
Buying a new couch or painting the walls? That's where your main color should be used. Need some extra cushions on the couch? Look closely at the colors in the pattern — even small details can help tie the decor together.
You can visualize your man cave garage more easily by using one of the garage design software programs currently on the market. These enable one to try our different elements such as flooring, wall paint, shelving and decor to get the design you like before purchasing anything.
A few technical notes: You'll want to use moisture-blocking paint, since the garage likely doesn't have the best air circulation. Consider running a dehumidifier when the weather is soggy — you want your man cave to be clean and dry.
What to Avoid for a Man Cave Garage
At the bare minimum, remove any toxic or dangerous chemicals from the space. A spill or leak could become dangerous.
Never smoke inside your man cave unless all fuel has been removed and no car is present. If you want to grill, you'll need to open the door and step outside — consider adding an awning or other protection to keep you out of the weather.
Never use propane, kerosene, butane, or charcoal indoors, even with the door open. Toxic gases can build up and become dangerous or even deadly. Better to brave the elements than the emergency room.
See more garage makeover ideas on this page.