Here are our polished concrete garage floor ideas, including its definition, cost, and if it is better than epoxy flooring.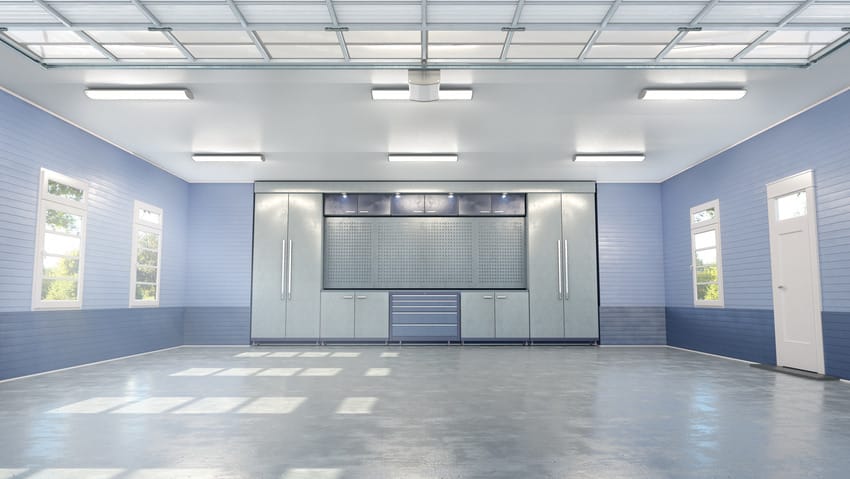 What Is Polished Concrete?

There is very seldom a one size fits all type of deal for flooring options. For the record, concrete usually gives just that.
However, what a lot of people don't realize is that concrete is one of the most innovative materials for flooring. Polished concrete is a bit of a game-changer, really.
Consider a flooring material that is polished and gleaming without constantly having the need to get waxed. This is what polished concrete is all about.
Still, the appeal of polished concrete can't just be attributed to the high luster flooring. In fact, it largely has to do with the sheer simplicity of getting it installed and maintained.
It's smooth and has a high gloss finish, is pretty easy to maintain, and is quite affordable compared to the other flooring options available on the market. Polished concrete has become increasingly attractive not just to commercial facilities and establishments but to homeowners, as well.
The look of this flooring is normally achieved through the use of heavy-duty machines. It's basically similar to sanding down a surface until it achieves the required level of smoothness and shine.
It's very similar to sanding wood down; only that polished concrete is done on concrete. Meanwhile, there are also a variety of uses for this type of flooring.
For commercial space, it is a favorite in showrooms, warehouses, retail stores, and the like. Nonetheless, it has now become a preference for residential areas, as well.
Is Polished Concrete Good For a Garage?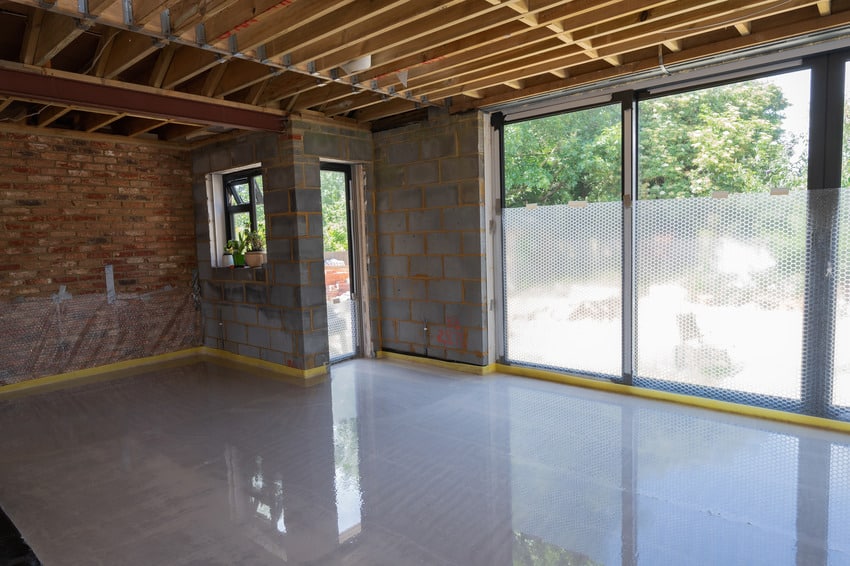 Polished concrete is definitely a great and viable option for garage flooring. It's essentially a natural concrete that has a similar finish to a smooth mirror which is rare and striking, making it a fantastic choice.
Moreover, it's pretty cheap. Traditional flooring or tiling materials can rack up pretty quickly, especially when it comes to garages that are pretty liberal with the square footage.
However, that isn't an issue with polished concrete since there are no special purchases that need to be made.
Meanwhile, this type of flooring is also sturdy enough and relatively has a long lifespan, which will save you big in the long run.
Polished concrete is also very easy to clean. Dust doesn't cling to it very much; just do a quick sweep and mop and it's already pretty much clean as new.
But if you still want an extra luster on your concrete floor, a little bit of mineral oil will do the trick.
Concrete is also highly resistant to foot traffic and doesn't degrade significantly over time. More importantly, it actually allows the floor to breathe as it isn't trapped in layers of adhesives compared to other types of flooring.
Cost To Polish Concrete Garage Floor
The main reason why polished concrete has become such a popular flooring option is because it's so easy on the pocket. Thus, its appeal is fairly reasonable especially if you're a homeowner who's almost always working with or on a budget.
It only ranges from $3 to $10 per square foot to successfully achieve the polished concrete look. But of course, there are other variables that need to be considered.
For starters, labor cost is an important factor, and this along with the current standing rates of a particular location would ultimately dictate the actual pricing.
Next, you would also need to consider the floor's gloss level—or alternatively, how much smoothness and luster you would like to achieve for the polished concrete floor.
The first category of polished concrete pricing is at a $3 to $5 range, where you will get a moderate shine with an additional single layer of stain. It seems pretty Spartan and simple, but you usually get your money's worth.
Meanwhile, the second category costs around $5 to $8, which is considered mid-ranged but allows for certain customization options.
Under this price range, you will get up to 2 stains with options of an add-on of texture or scoring patterns. Moreover, the floor's finish is so much glossier and has way better surface protection than the bottom-tiered category.
Lastly, the third category or the high-priced range is at around $8 to $12 per square foot. It allows for multiple stains and can be customized to virtually any type of stain or color you want.
Furthermore, elaborate stencils and patterns are usually incorporated. Nevertheless, extensive grinding and prep work is required to get this achieved but it all pays off eventually when you see the finished product.
Is Polished Concrete Better Than Epoxy?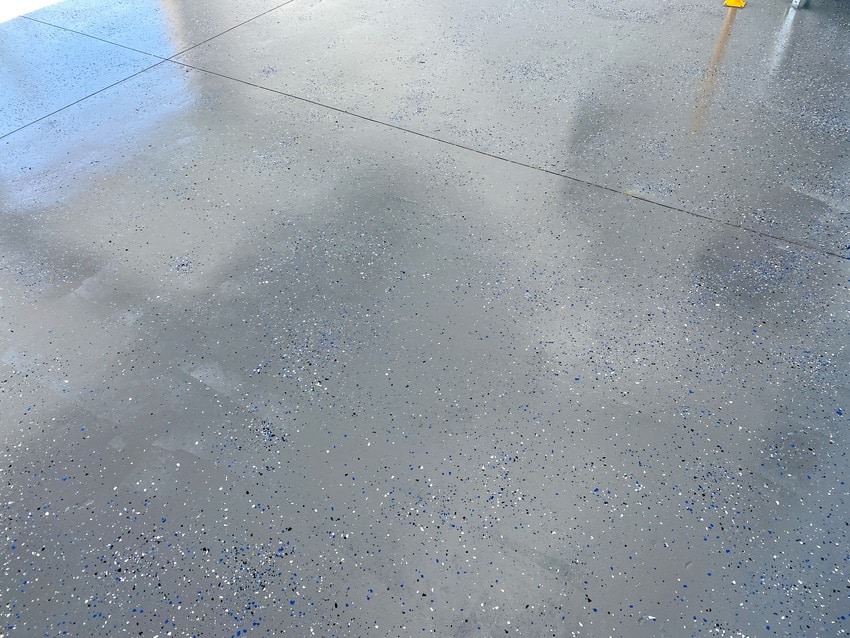 Polished concrete is definitely better than epoxy floors, or at least that's what the common preference is. Its aesthetic factor coupled with its impressive compressive strength has further enhanced its appeal.
More than that, polished concrete has a natural resistance to chemicals and other substances. Similarly, it's also resistant to spillages and stains.
In the case of garages, this type of flooring is just perfect and likewise highly recommended where various spillages such as oil spills, battery acids, cleaning substances, and more can easily find their way all over the garage floor.
Essentially, a polished concrete floor makes sure that all this gunk doesn't stick to it and makes for easy cleanup.
Another advantage of polished concrete to epoxy is that it is cheaper. Despite being on a budget, you won't ever need to feel like you're scrimping out looking for quality floors for your garage.
As far as the similarity is concerned, both types of floors are easy to clean. They can be easily cleaned with water and soap and you're pretty much good to go. Read this article on epoxy
Can I Polish My Own Concrete Floor?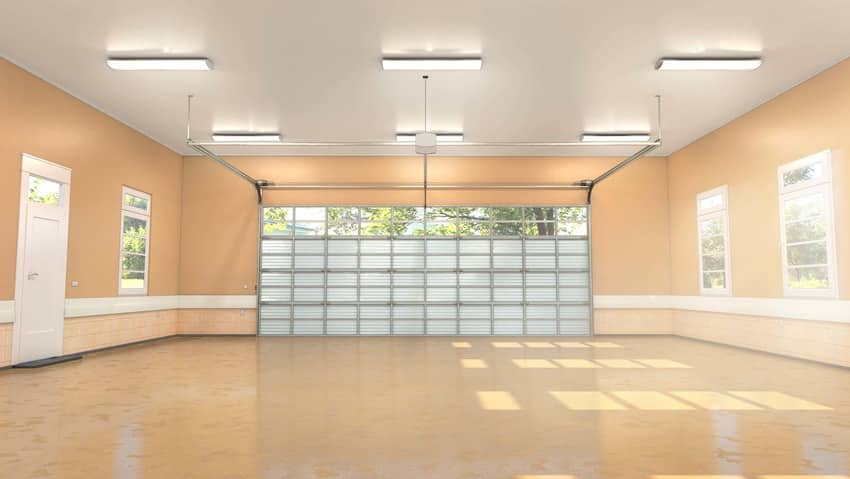 Doing it yourself isn't best recommended but if you've got your mind set on it, it can be done. There are two main ways to polish your own concrete floor, where you can either use the dry or the wet method.
The main difference between the two is the incorporation of water or some type of lubricant that reduces friction but usually means that the cleanup will be messier.
It's good to note that a chemical hardener is usually the main requirement before polishing the concrete floor down. You need to densify the concrete to make sure that it doesn't crack under all that pressure.
A stain guard also needs to be applied right after to maintain the smoothness and luster of polished concrete floors.
Visit this page on concrete floor finishes for other related content.