Floating bed design guide, including its definition, cost, advantages, and drawbacks, plus how to make a DIY floating bed frame.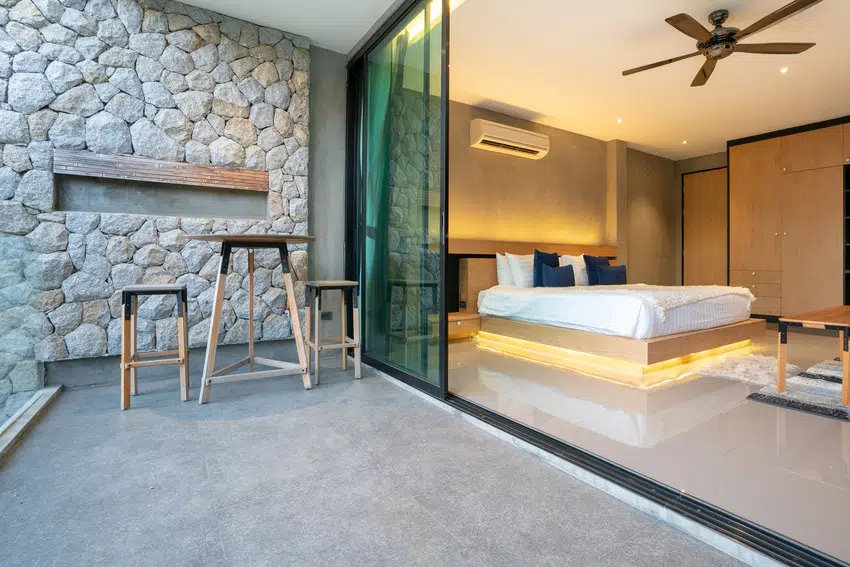 One of the essential aspects of house furnishings has always been bedroom design. It is vital to maintain your bedroom in good shape for inspiration and to avoid boredom and monotony.
Sleep occupies almost half of your life, which means you spend nearly half of your time in your bedroom.
Given that your bed frame takes up the bulk of your bedroom space, it's easy to understand why you want to stray from the norm and go for something more contemporary and trendy.
In this post about floating bed design guide, we will define a what it is and discuss some of its benefits and drawbacks.
What Is A Floating Bed?
Floating beds are a kind of low-profile platform bed that seems to float on top of the floor due to their hidden support system. Like any other bed frame, a floating bed intends to support a mattress and the user.
Some floating beds include a wall connection. They don't need box springs and typically have their slats on the interior.
The majority of floating beds are constructed of wood, with metal, foam, or cloth embellishments on occasion. These types, which are closer to the ground than most other bed frame types, may give a tiny space a feeling of spaciousness.
For a more contemporary appearance, floating beds are often fitted with lighting below. Meanwhile, headboards, nightstands, and storage drawers are among the optional extras. Read more about the different types of headboards here.
How Are Floating Beds Supported?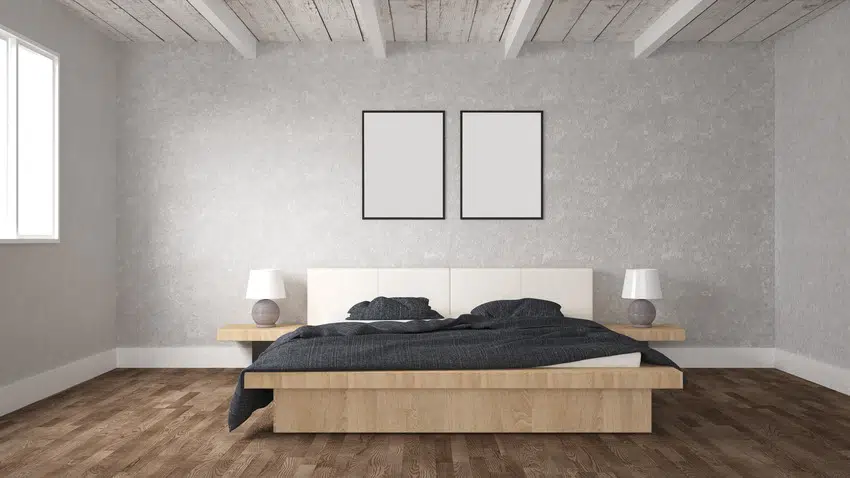 Some floating beds are attached to the wall and supported by a single support bed, while others are seated on a much smaller box platform.
The support box is a bit difficult to notice from a distance while looking at the bed. On another note, some designers employ Lucite legs to give floating mattresses the floating appearance.
How Much Does A Floating Bed Cost?
A floating bed's price varies depending on its size and manufacturer, but most cost between $300 and $1000.
However, additional features like adjustable size, headboards, LED lighting, and storage areas may raise the bed's price.
Floating Bed Frames
Most bed frames include slats made of wood or metal to give ventilation and support to the mattress. Floating bed frames show that the bed frame floats above the ground, requiring no additional support and allowing more space below for other decorations.
This kind of bed frame gives your bedroom a sleek and contemporary look.
Floating bed frames are comparable to daybeds with trundles in that they maximize space in a bedroom. In fact, the standard floating bed frame set will often include a headboard, nightstands, and even storage drawers, which is truly space-saving.
Floating Platform Beds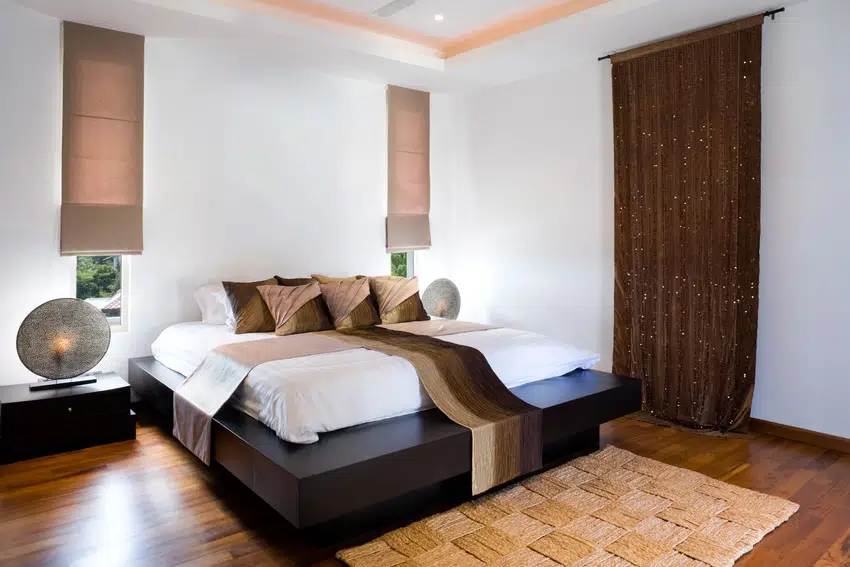 Platform beds feature at least four legs and use wood or metal slats to support the mattress. Most mattress manufacturers need additional support in the middle when utilizing a platform bed.
A strong wood slat structure supports the mattress and removes the need for a box spring. As a result, allergies, dust mites, and mold are reduced, resulting in a better sleeping environment.
Moreover, platform beds allow for a more contemporary, minimalist, and low-profile appearance.
DIY Floating Bed
It only takes a few steps to make a floating bed frame at home. While you have various woods to choose from, it truly depends on what would work best in your space, so it's best to consider it before you start building.
Any plywood would suffice on a budget, but we recommend pine or walnut if you want to go all out.
A floating bed platform isn't quite as magical as it seems. You can actually make one by constructing a basic plywood platform and wrapping a skirting board over it.
Then, by putting the legs near enough to the middle of the platform so that they can't be seen from above or appear hidden. If you are persistent and want to build a floating bed, check out the following floating bed design guide steps:

Step 1:

Take measurements for the dimensions.

Step 2:

Assemble the pieces

—

it's identical to putting together a regular bed, except that it doesn't have a stand.

Step 3:

Put together the foundation, which should be a box underneath the main bed frame.

Step 4:

Assemble the bed frame and boxes, while keeping in mind that this is a floating bed; therefore, the support must be concealed.

Step 5:

If desired, install LED lights.
Floating Bed With Lights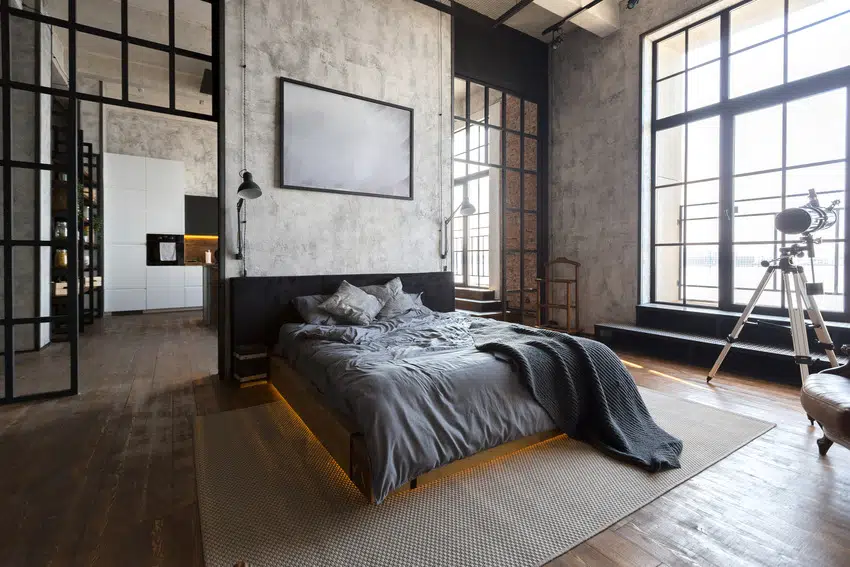 Add a string of LED lights beneath the overhang after the bed is built and in place. On the frame, use LED light strips with an adhesive backing.
For the best results, place them on the bottom half of the frame (below the floating area). Or put them at the top of the bottom section so that you can only see the beautiful glow, excluding the light fixtures.
Are Floating Beds Safe?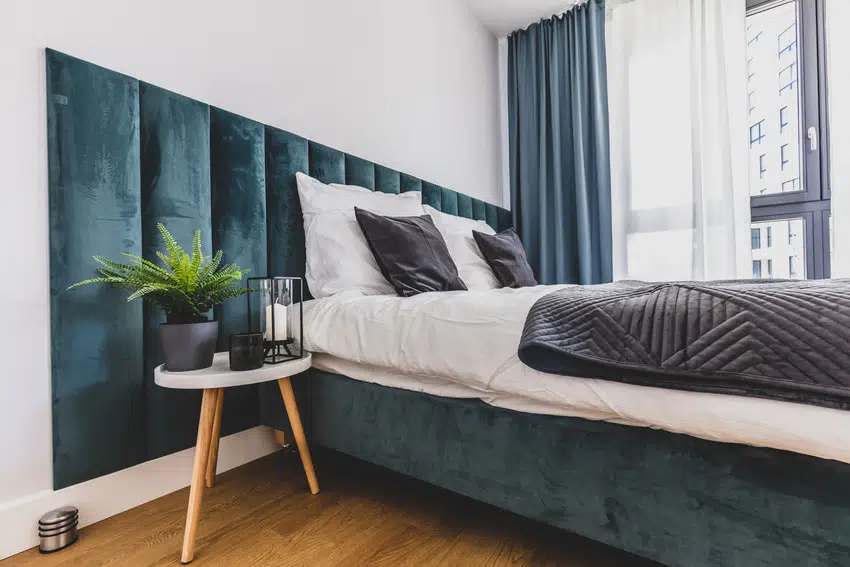 The floating bed is one of the finest sleep systems that you can have as a bed frame. When properly moored, floating platform beds are guaranteed safe.
Floating beds are firm and can securely support hundreds of pounds of weight. Users may rest and sleep securely on their bed without the danger of it collapsing, whether the bed is attached to the wall or has recessed legs.
Floating Bed Pros and Cons
Here's the pros and cons of floating beds starting with the pros.
Pros:
It is fashionable.

It provides you additional options for furniture arrangement and decorations.

Cleaning underneath it is simple.

It opens more room for you, allowing for extra storage or furniture space.

Because it has built-in slats, you won't have to purchase a separate box spring for your mattress.

It allows you to install under-bed lighting and other elements that contribute to the contemporary appearance and help brighten up the bedroom.
Cons:

Cheaper versions may not be able to sustain a lot of weight.

Many floating beds have little storage capacity and come in small sizes.

The low-profile frames make getting in and out of bed difficult, particularly for the elderly.

The frame's support endurance is directly proportional to its quality.

The majority of floating bed frames are only available in specific bed sizes and do not allow customization.
Floating Beds Frequently Asked Questions
Here are some FAQs in our floating bed design guide.
Is there a guarantee and sleep test on the floating bed?
Standard warranties for floating beds range from one to ten years. Some manufacturers provide a sleep trial in your own home.
What should be the dimensions of your mattress?
Floating beds tend to come in restricted sizes, so be sure the frame matches your mattress. Visit this page on bed sizes to help you choose the best bed mattress size for you.

Do you mind if your bed has a low profile?
Some people may find it challenging to get in and out of floating beds since they are near the ground.



Does the bed complement the aesthetic of your room?
It may be best to wait

for the arrival of your floating bed before buying additional items for the space to ensure that everything matches your preferences.



Does the floating bed support your weight?
Individuals who are very heavy or who have bulky mattresses should make sure that the floating bed can handle the weight of the mattress and the users.
For more related content, check out our different types of beds article.