Here's the best two color combination for bedroom walls including design tips on complementary, monochromatic, and neutral options, and which pair is the best choice for bedroom designs.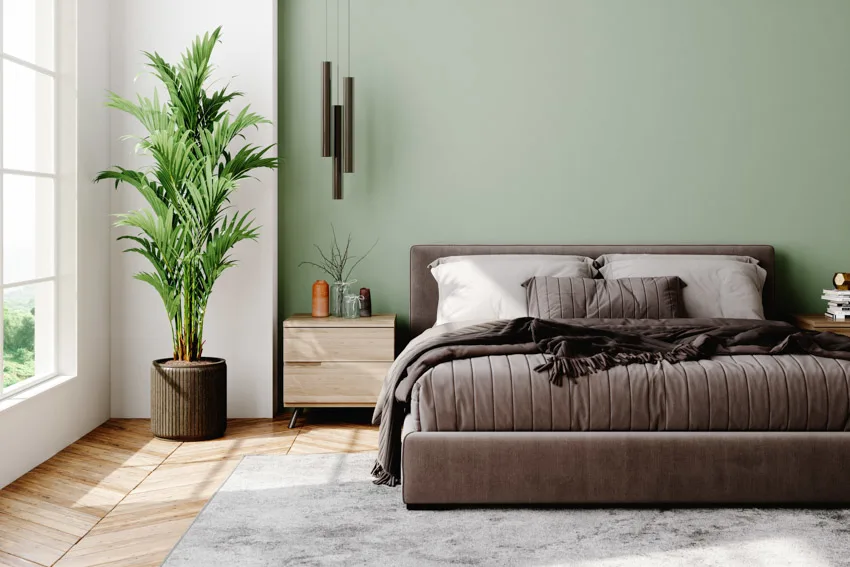 Designing your bedroom is one of the most personal projects you can take on. And considering the ideal colors to use for the room is part of it.
You can go monochromatic or you can get as quirky as you want and even choose rainbow colors if you want to. If you want something in between, you can try a two-color combination for your bedroom, either for your walls or a mix and match of colors for your furniture and accessories.
The bedroom is always a safe space for everyone. It is a private room where you can just be vulnerable and have personal time with your thoughts.
This means that it should be a place of comfort and peace for you. And finding the right color to bring this ambiance to you is important.
There are different colors that can be both calming and relaxing.
Choosing the right combination to produce a comforting ambiance is a must. Monochrome is a classic consideration and while it may only use one color, it uses two and more shades to add texture and personality to the style.
Bedroom Paint Design With Two Colors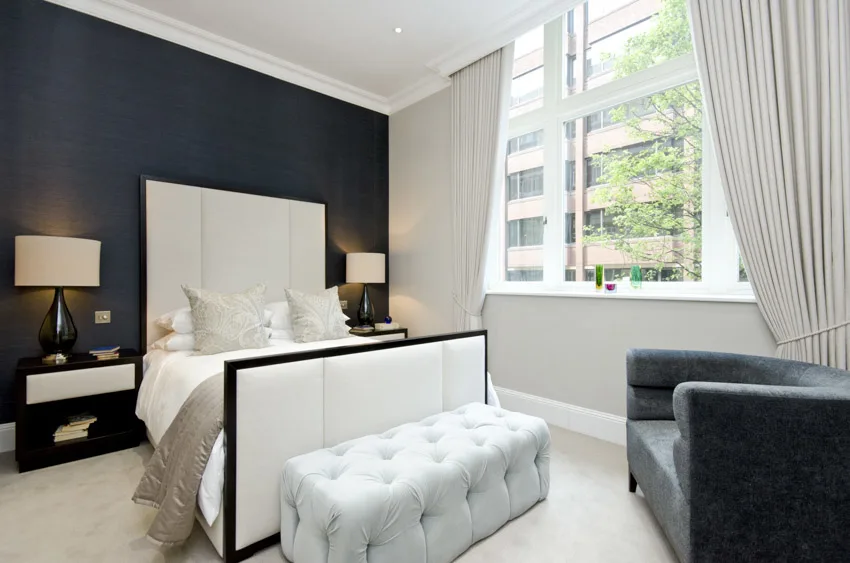 In embracing two colors to consider for your bedroom, it helps add more character to the room.
It will help you avoid having a monotonous feel in the bedroom and provide a more vivid look. Think carefully about the colors that help you sleep and give you a more relaxing overall experience.
While choosing one color is definitely easier and simpler, two colors for a bedroom have more depth and can be quite fun. Here are some of the choices you can check out.
Complementary Colors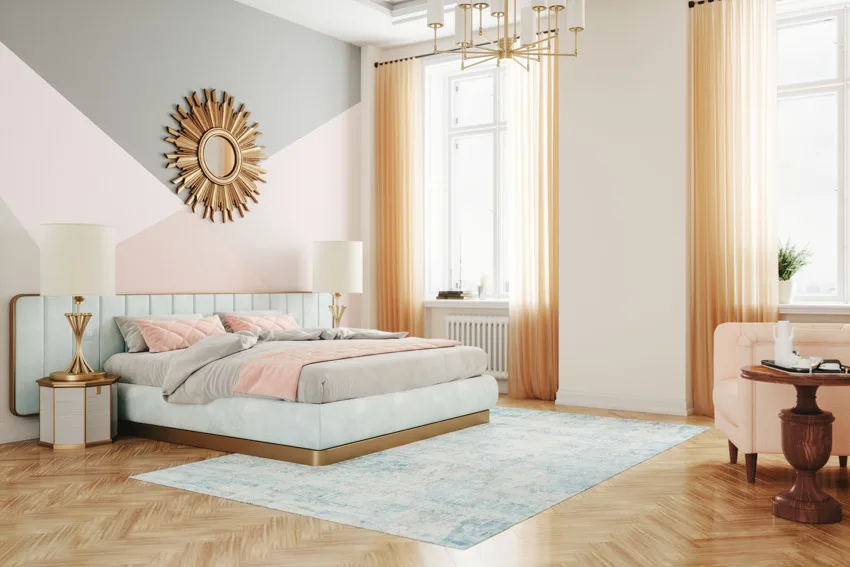 One of the color combinations you can is a complementary pair. This pair of colors can be found opposite from each other in the color wheel.
This actually means that they complement each other and look good together. They make each other appear more vivid and brighter when placed side by side.
These opposite colors cancel each other out once they are combined with each other.
Here are some of the popular complementary color pairs you can try out for your bedroom. Just make sure you like the colors in the first place before considering them.
Yellow And Purple
Yellow and purple are complementary colors considered in the traditional RYB color model, along with blue and orange and green and red. While there may be more colors to consider now, there's no harm in going for the OG.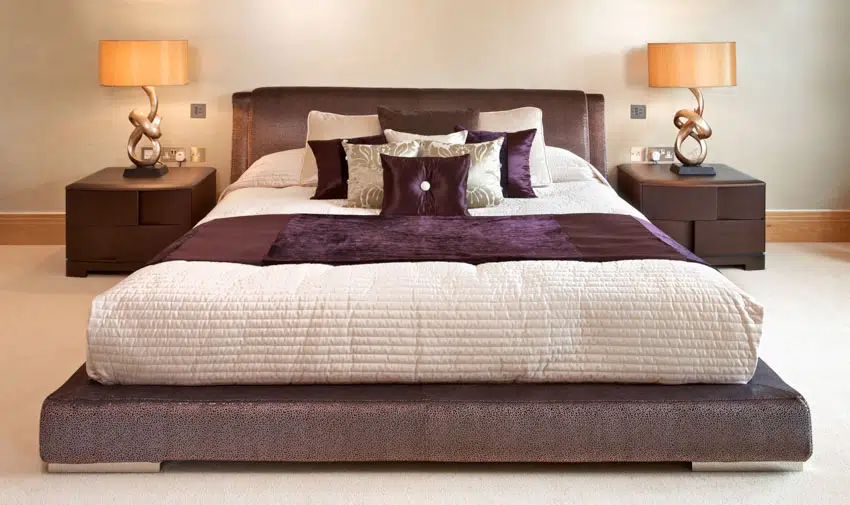 This bedroom uses the complementary colors yellow and purple. The colors are not bordered on the walls but on the room's furniture and accessories.
Purple is splattered all over the bed, through the pillows and duvet. Yellow can be seen all over the room, including the bed and lamp (It may appear lighter than the standard yellow color though).
Blue And Orange
Blue and orange are complementary colors similar to yellow and purple, they are part of the traditional RYB color model. This is different but close enough from the complementary pair blue and yellow, which uses the RGB additive color model.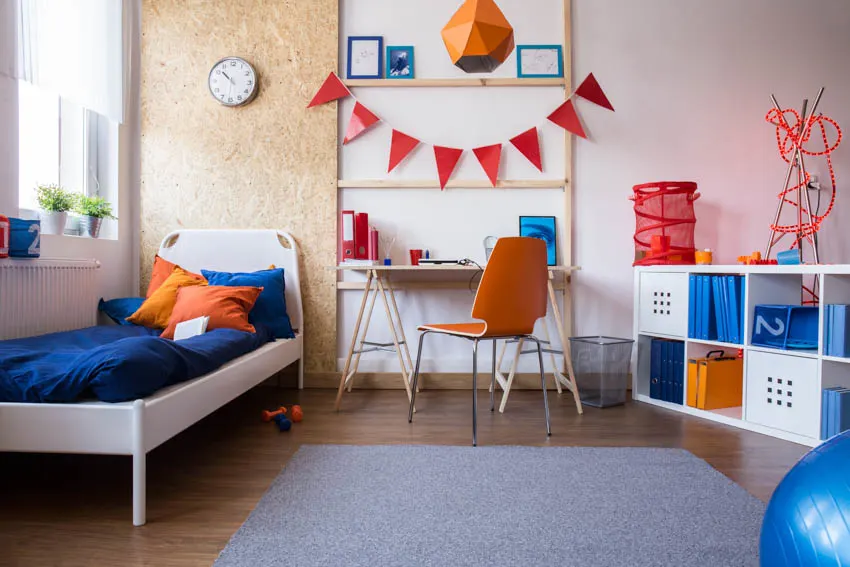 This blue and orange bedroom produces a vibe perfect for boys. Blue and orange look vibrant together, bringing out the best in each color. Blue is found in the bed sheets, pillows, books, and other accessories in the room.
Orange is used more as an accent and is found in the pillows and accessories like the flaglets and display on the shelf, as well as the chair in the middle of the bedroom. The grey carpet somehow unites everything up.
Red And Green
Green and red paint colors for bedrooms are considered one of the most contrasting color pairs, along with blue and yellow. This means that they make each other more vivid when put together.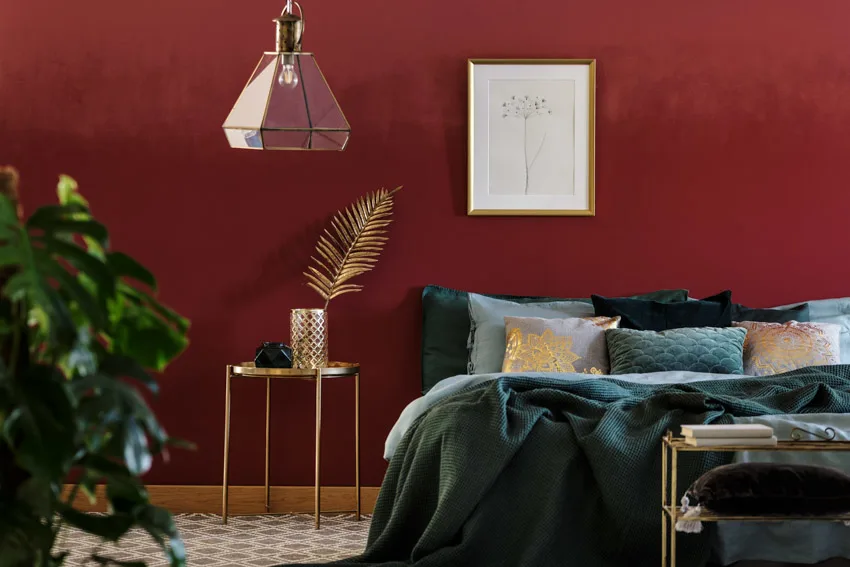 This bedroom elegantly shows the green and red bring out the best in each other. The red wall brings out the vividness in the dark green pillows and blankets.
The green color does the same for the red wall, making a perfect accompaniment to the red background.
Monochromatic Colors
Besides complementary color pairs, you can also try out monochromatic colors.
While technically having the same color, since they have different hues, they can somehow be considered as a pair of colors. And you can never go wrong with them since they are guaranteed to match each other.
Blue
Blue is pretty easy to use, considering it has many hues and shades to take note of. You can easily use a navy blue and pair it with a lighter shade of navy blue.
And there are also a lot of blues to choose from, including aqua and cyan which the color shares with green.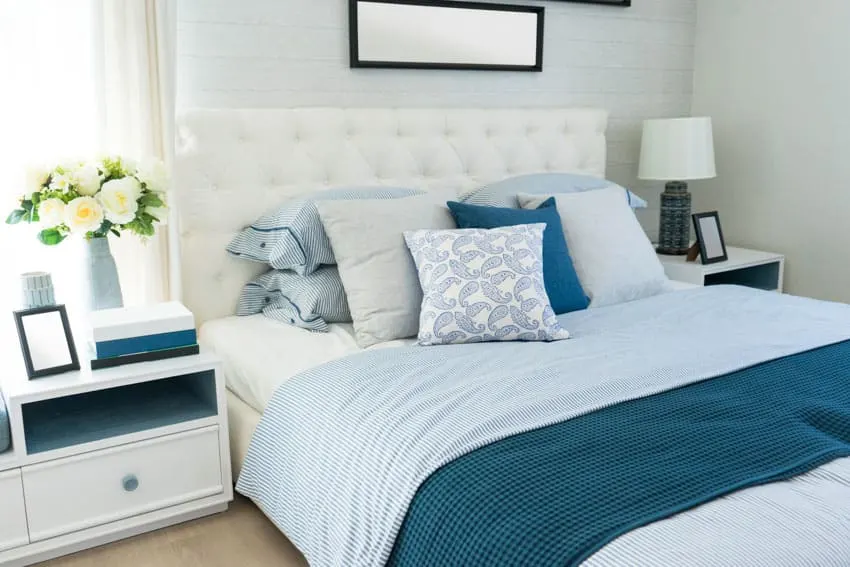 This clean and elegant bedroom shows the effect that the blue monochromatic style offers. In this case, the shades of blue are integrated into the different designs on the bed, including the stripes, checkered, and fish designs.
White and light blue dominate the color of the entire bedroom, with a few accent pieces of dark blue in the form of the pillow, book, and duvet.
The style used for this bedroom somehow delivers a calming ambiance, perfect for your personal bedroom if what you prioritize is comfort and relaxation above anything else. It can also be a good option for seaside homes.
Grey
Grey is an elegant color that offers an overall relaxing vibe. You can choose a dark grey hue and a lighter one to match them together.
These can serve as your pair and splatter the color all over your bedroom, along with some white and black to unify everything.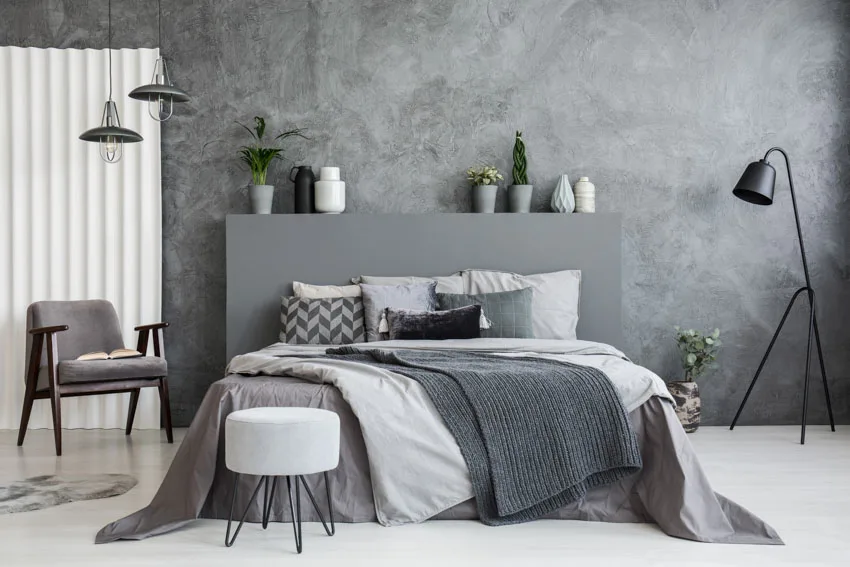 In this bedroom, you can easily see it dominated by different shades of grey. The different shades provide more depth and texture in the room, despite using a single color. And what rounds it up is the glossy white flooring.
Pink
If you're looking for something chic and feminine at the same time, pink is the ideal color. Pink offers a certain edge and vividness that is very unique in its color.
It delivers a trendy and catchy style you can get used to. So if you like vibing over pink, this might be a good option for you.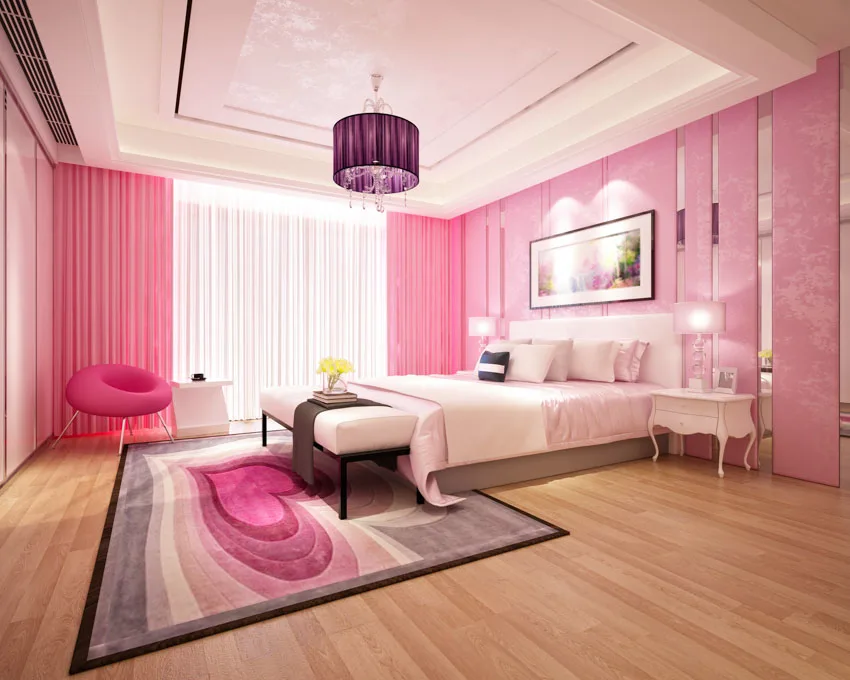 In this pink-dominated bedroom, you can see different shades in all four corners of the bedroom.
Light pink dominates the walls and curtains while darker shades of pink can be found on the carpet and chair. The wood flooring serves as the element that binds everything together.
Neutral Colors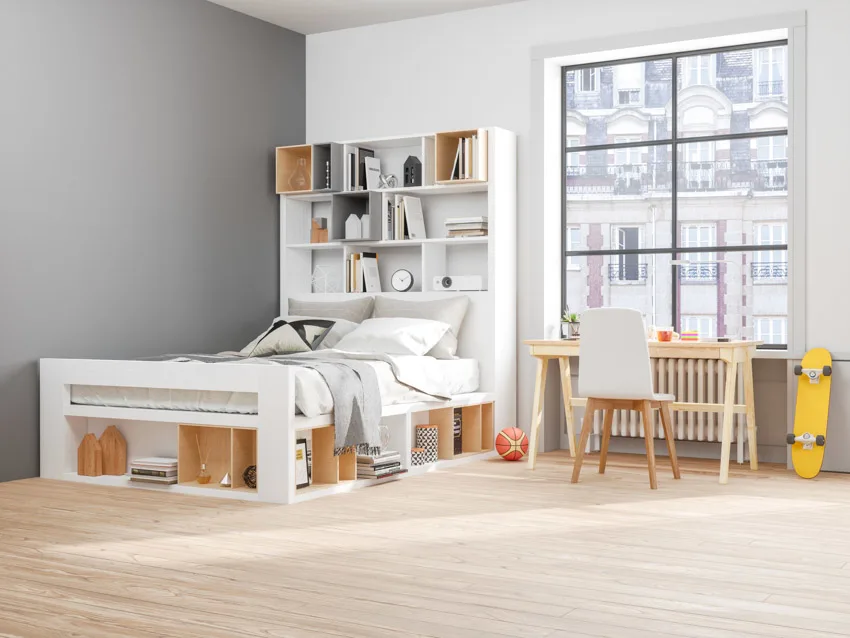 Are you looking for something more subtle yet comforting and not boring at all? You might want to check out neutral colors. Neutral colors are more subdued but it doesn't make them boring at all.
It actually gives you more creative freedom to style and accent your room. You simply need to choose a darker shade neutral color and pair it with a lighter one.

Here are some color pairs to consider.
Brown And Orange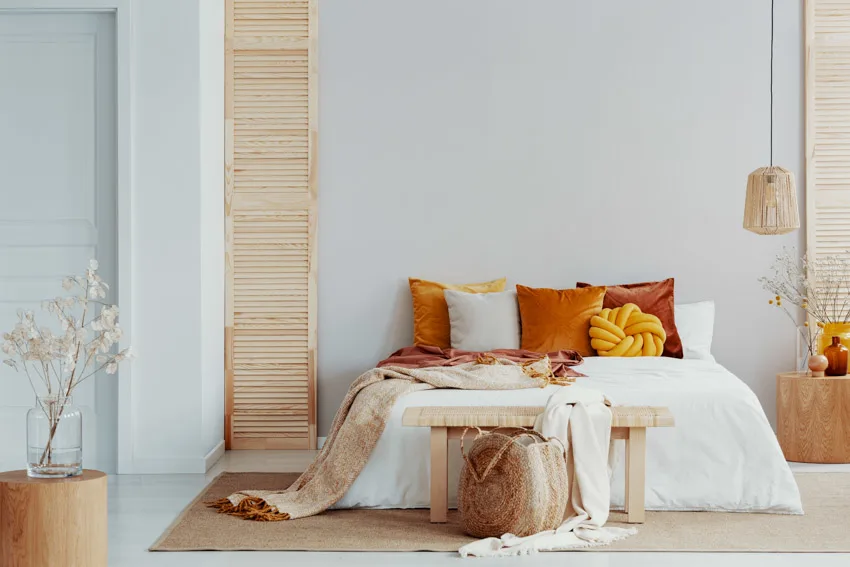 This bedroom showcases the neutral color pair brown and orange. Brown is more dominant in the entire bedroom with orange acting as an accent shown in the pillows and the vase.
Using white for the walls and flooring makes the colors pop more, and at the same time makes the room feel larger than it really is.
Black And Grey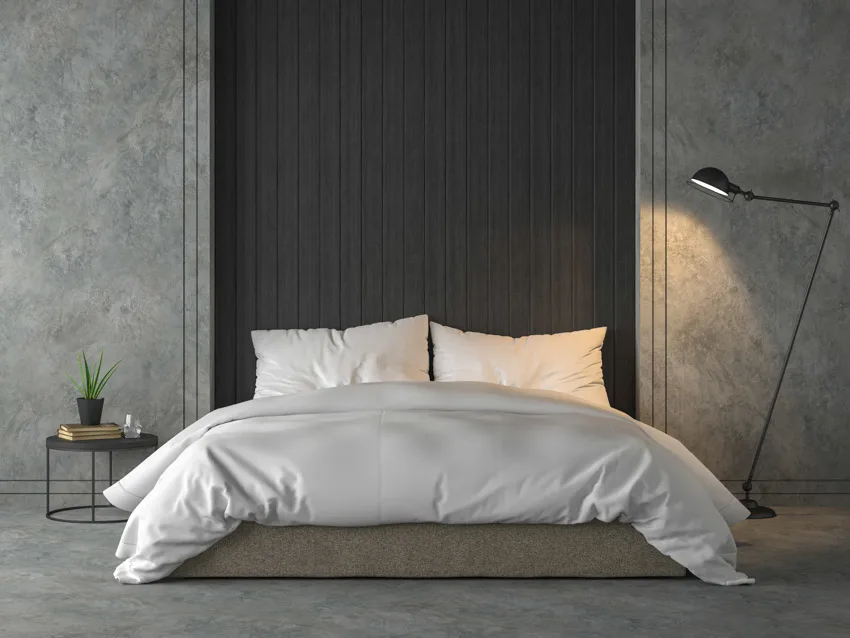 Black and grey are another neutral pair of colors to consider, and yes, they're different from each other despite how grey is described as a very light black. See more accent wall colors here.
In this bedroom, the lighter color, grey, is more abundant as it surrounds the entire room and the bed. The darker neutral color, black, simply acts as an accent in the form of a floor to ceiling headboard.
Which Two Color Combination Is Best For Bedroom?
It's difficult to pinpoint which is the best two-color combination for bedrooms. If you need to take a pick though, you can always go for the classic – black and white. This two-color combination is considered the most popular contrasting pair.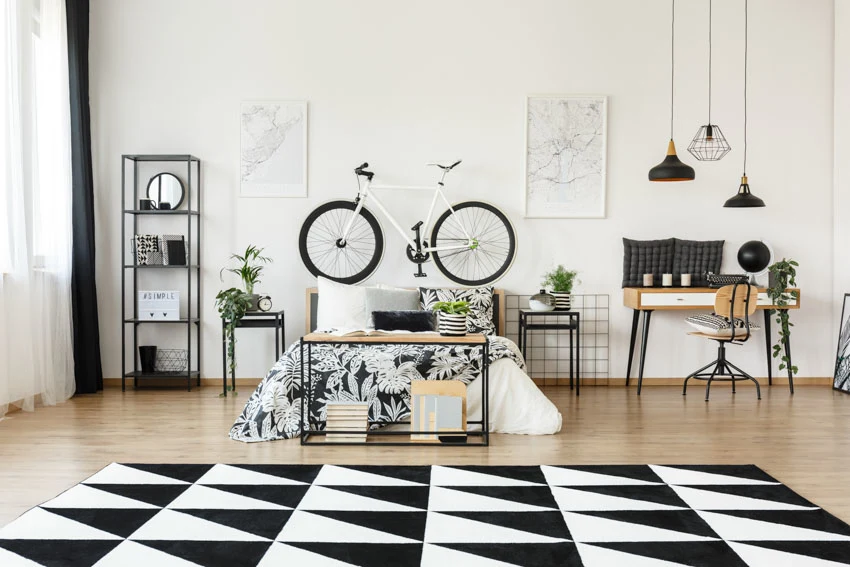 This bedroom uses black and white in the best way possible. The walls are white, which may seem to be the dominating color but it just has enough black accessories and furniture to emphasize the balance between the two colors.
And the color brown, for the flooring and furniture, acts as a unifying factor for the contrasting colors.
See more related content in our article about what colors go good with brown on this page.