The essential guide to red paint colors for bedrooms includes light and dark shades and the best red paint hues to choose for your bedroom designs.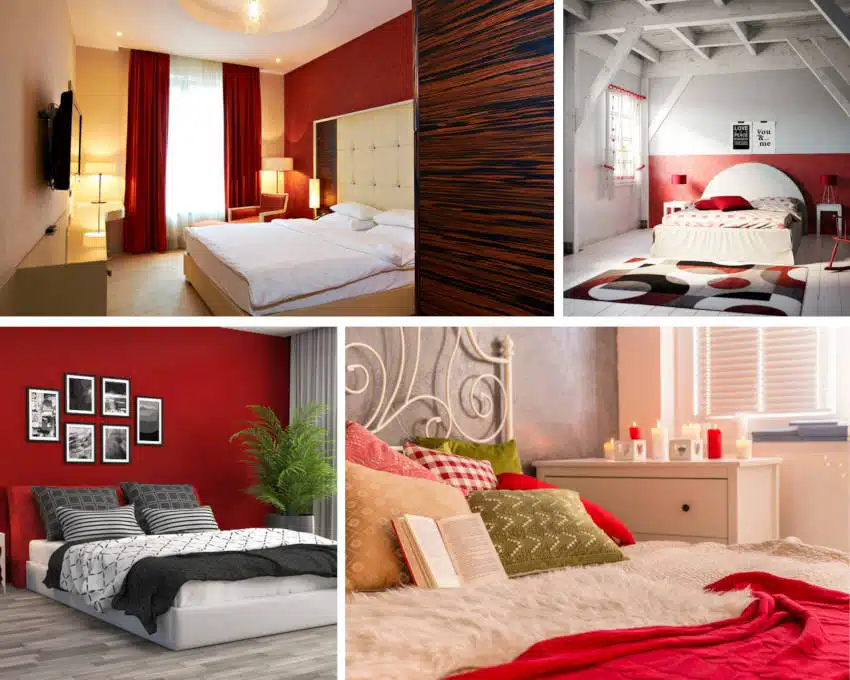 Nobody can deny that red is among the strongest and boldest colors available. It conveys intense emotions, including passion, power, courage, and love.
It has varying meanings and representations, depending on who you ask. This is the same case when using red paint colors for bedrooms.
If you've decided to paint your bedroom red and don't know where to start, below are some ideas and inspirations for your bedroom interior.
Quicklist: Tips on Adding Red Paint Colors for Bedroom
Use Small Pops Of Red

Red + Orange Color Combination

Go Full-On Red

Keep Ceiling Color Lighter Than Wall Color

Accentuate with Red Decor

Choose Different Shades of Red
Use Small Pops Of Red
To start off, you can use small pops of red in your bedroom. This will successfully emit bold and energetic vibes without being too much overwhelming.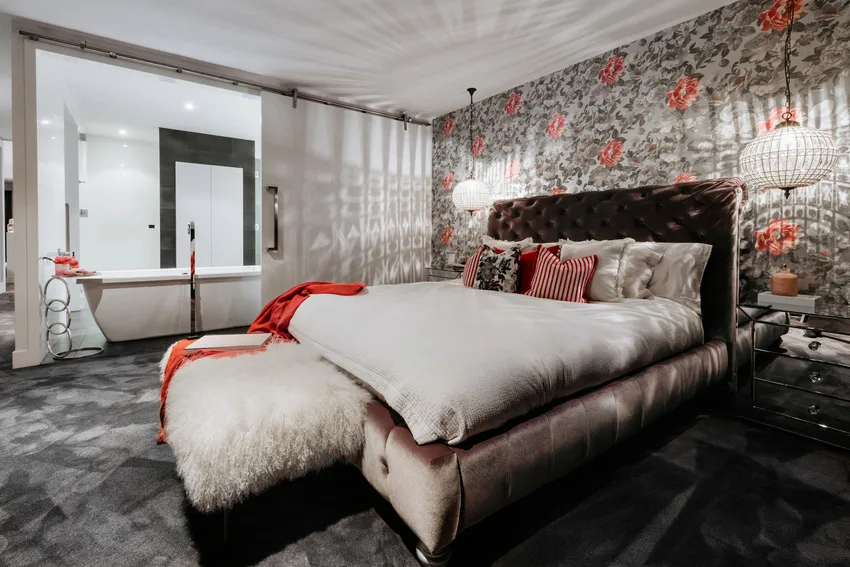 This bedroom uses small pops of red in different corners of the room. For one, the wallpaper behind the bed is decorated with red floral patterns.
The pendant lights on either side of the bed also provide a warm and comfortable atmosphere. There are also various red details on the pillow and silk blanket, which add continuity to the space.
Mix Red With Orange
Find red overpowering? Consider mixing it with orange! Check out various colors that go with orange here.
If you feel uncomfortable with the intense hue of red but still want to use it to paint your bedroom walls, pairing it with orange can help.
For example, you can mix and match a lighter shade of red with a lighter shade of orange for a less aggressive tone.
Go Full-on Red For Your Bedroom
"Use red in your decorating scheme to spark passion." – Skye Alexander, 10-minute Feng Shui Room by Room
Throw all your worries away and go full-on red for your walls. If red makes you feel good and positive in life, then go for it and surround yourself with it.
Keep the Ceiling a Lighter Color Than the Walls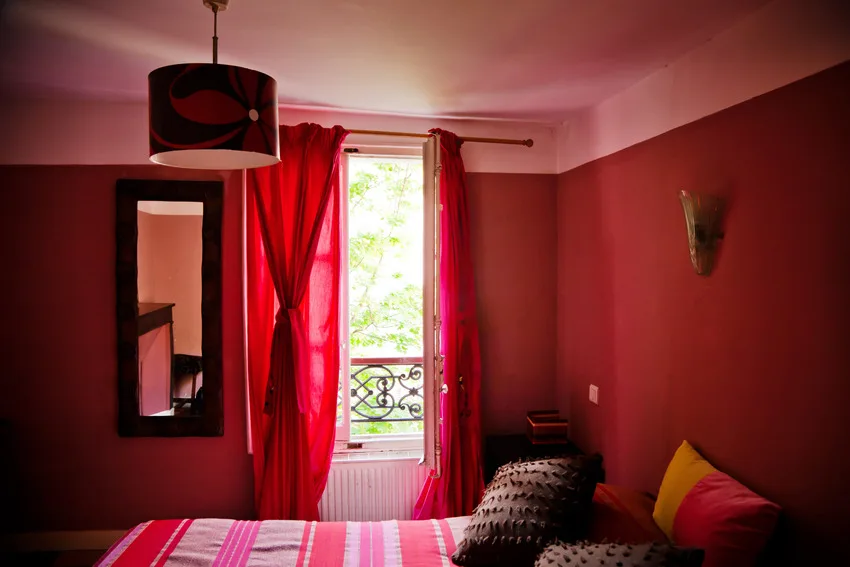 Creating a ceiling that is a lighter shade than the walls will help the ceiling feel taller than it is. Darker shades tend to make a room feel smaller, so if you have a small room or do not have a lot of natural light, the safe choice is to go with lighter shades.
Use Red As An Accent Wall In Your Bedroom
Not yet ready to go full red on your bedroom? Pick a wall in your bedroom that you feel can benefit the most from red.
You can start with an accent wall and allow that part of your bedroom to be the focal point of the room.
A little red can bring life to a room. However, too much red hues in your room can cause visual strain. [Source: London Image Institute]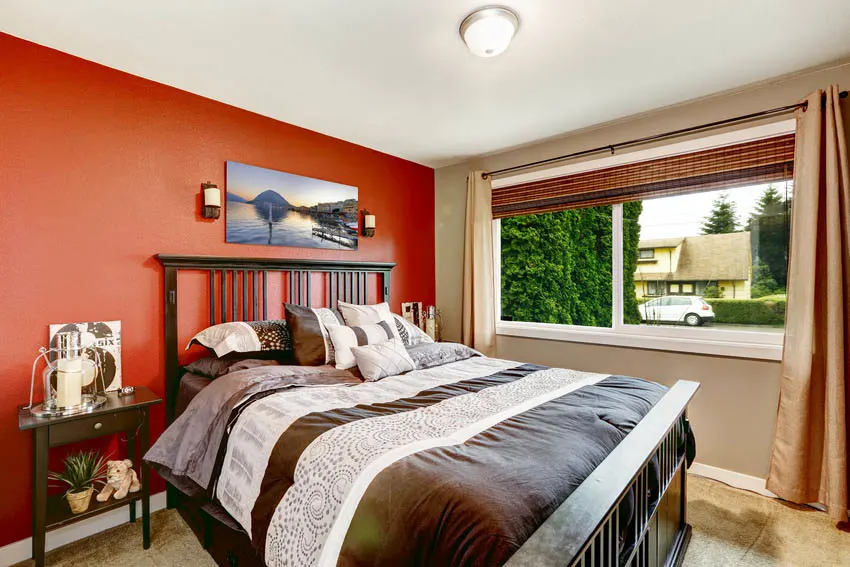 In this bedroom, the accent wall is located behind the bed. The interior of the bedroom is dominated by neutral colors like black, white, brown, and cream.
The red wall breaks the monotony of the bedroom and serves as its accent wall. The wall is also decorated with paintings and wall lamps, adding more personality to the room.
Different Shades Of Red Paint For Bedroom Walls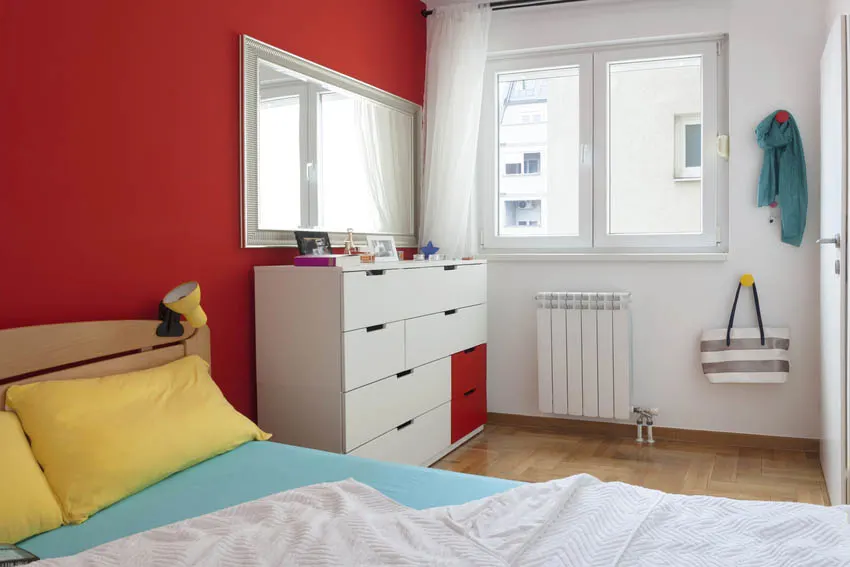 Red paint colors are certainly an interesting color scheme for bedrooms. Your bedroom can scream bloody red or be decorated with doses of red all over the space.
Whatever you choose, it'd still be a powerful move, especially since red is striking and easily commands attention.
This warm color is equally comforting and inviting, so, unsurprisingly, many people resort to red paint for their bedrooms. Red is also compatible with neutral and earth colors, especially green. It also matches well with other warm colors.
Like all adjacent colors, pairing hues that lie next to each other on the spectrum will usually look harmonious and feel right. – Martha Gill, Color Harmony for Interior Design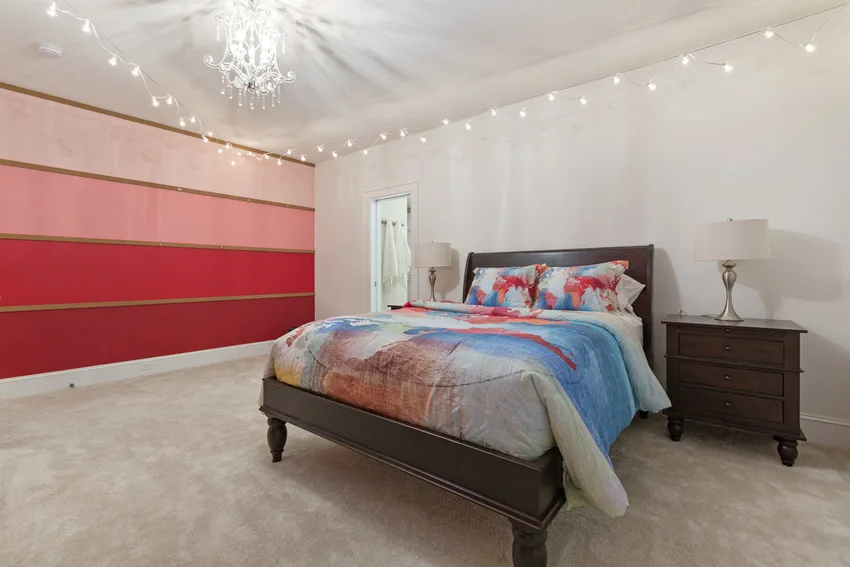 This bedroom uses shades of red painted on the wall adjacent to the bed stylishly and creatively—lining them up from light to dark shades.
The wall complements the neutral color of the floor, as well as the other wall. The hanging lights also give additional warmth and personality to the room.
Meanwhile, the bed, the pillows, and the comforter become a free space for paint and creativity. If you notice, the bed looks like an artwork made from splashes of paint.
Light Red Paint For Bedroom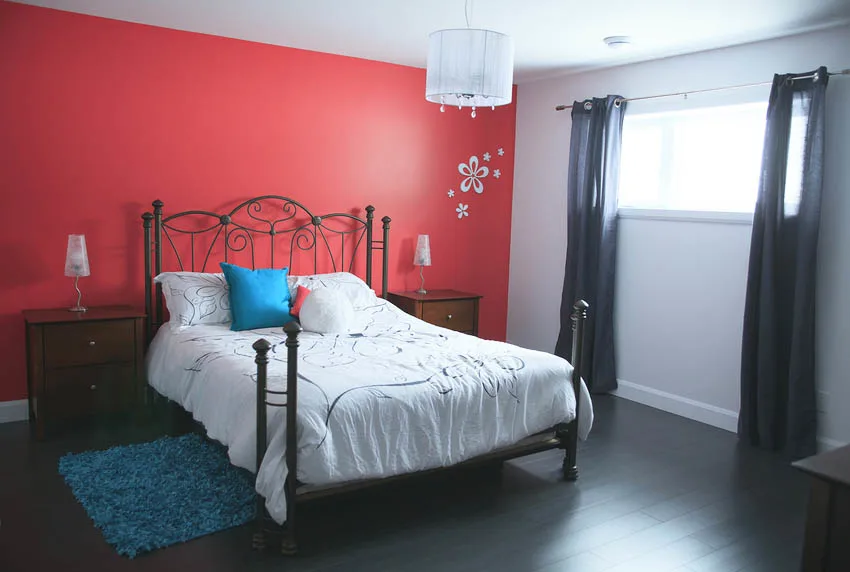 When considering the shade of red paint for your bedroom, you always have the option to go light or dark. This will ultimately depend on the style and vibe you want to create for your bedroom.
If you want to play it safe first, you can start with lighter shades of red and decide from there what direction you want to take. Here are some options you can consider for light red paints.
Benjamin Moore Warm Sienna 1203

Warm Sienna is a light red hue that may appear rustic, giving it an unusual yet unique appeal. Even if you choose this paint for a small bedroom, it will immediately give the room some presence and character you won't get in a typical shade of red.
The color feels warm and soft, making it one of the best red paint colors for bedrooms.
Portola Paints' Paprika 013

Paprika is a coral pink or light red hue that may appear dry. Yet, that same characteristic differentiates it from the other light shades of red.
Something about this color seems nostalgic and dreamy. Nonetheless, it has a warm and welcoming vibe to it.
Benjamin Moore Habanero Pepper 1306

Another option you can use for the color of your bedroom is the Habanero Pepper. This light shade of red has some sort of orange hue added to the mix, resulting in a color resembling dried chili peppers.
If you are into a refreshing shade of red, this paint color may be the perfect one for you. While it remains an energetic color, its light shade won't completely overwhelm you. It still creates an impact on a room but doesn't completely dominate it.
Dark Red Paint Colors For Bedroom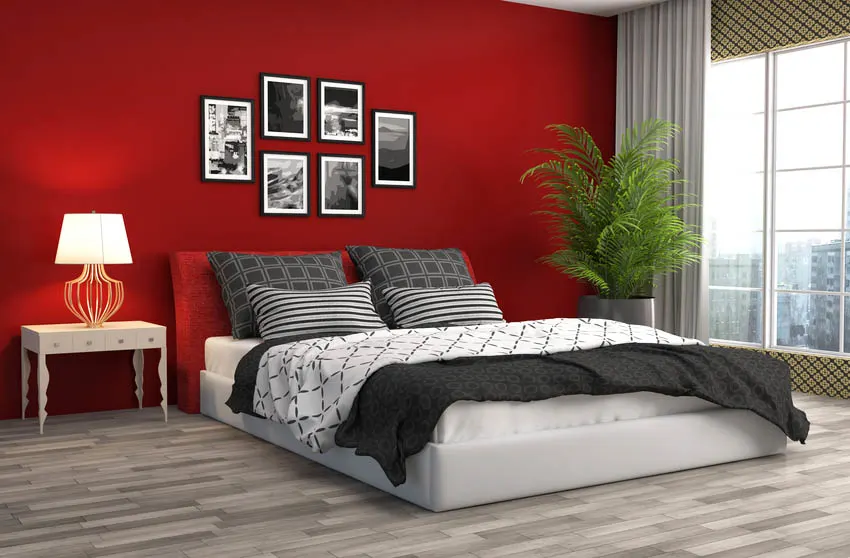 Now let's take a look at the darker shades of red. If you don't find these colors too aggressive or intimidating, consider the darker and deeper shades of red for your bedroom.
Compared to light shades of red, a touch of classic elegance and sophistication comes with darker red hues. Here are some darker shades of red you can choose from.
Benjamin Moore Red 2000-10
Benjamin Moore's red is what can be called the epitome of all red shades. When someone's talking about "true" or the purest color of red, this is what they probably mean.
Red is both bold and popping, as it is overwhelming and attention-seeking. The color warms you up and motivates you at the same time.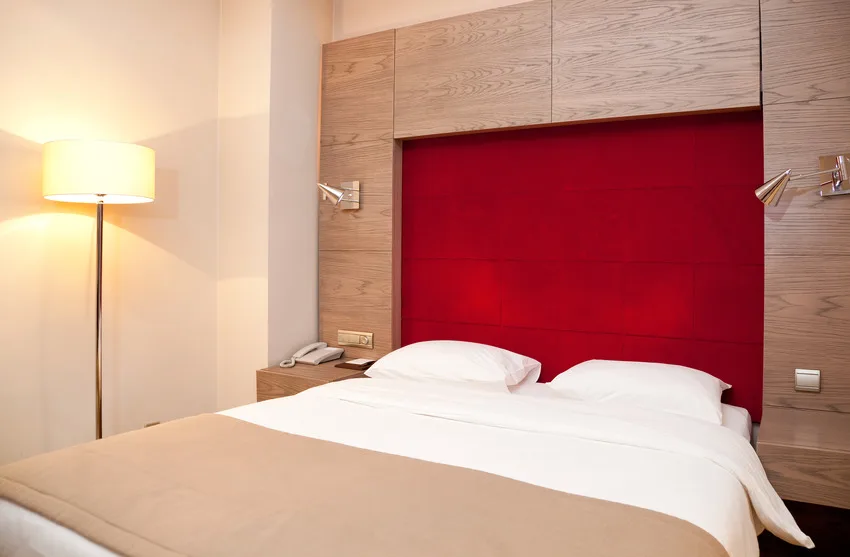 The red paint in this bedroom is applied to the bed's headboard. The color is, even more pronounced, especially since neutrals like white and tan dominate the room.
The wooden decor on the wall further emphasizes the red headboard. The red headboard gives life to the room's minimalist design, adding elegance to its simplicity.
Are you looking for the same elegant vibe for your room? If yes, this could be the red paint perfect for your bedroom.
Mythic Spring Cosmos 115-6

Spring Cosmos is a classic red-orange hue that is less bold than the other darker red shades. Yet, it is equally vibrant and popping.
This is one of the less daunting shades of red to choose from. So if you prefer something with a similar shade, then this is a good place to start.
Match of Scheuder-Holland Tulip Red 1001

Match of Scheuder-Holland Tulip Red is a vibrant red that guarantees to provide warmth wherever it may be painted. The shade has been described as eclectic and eye-catching, especially when paired with a neutral color.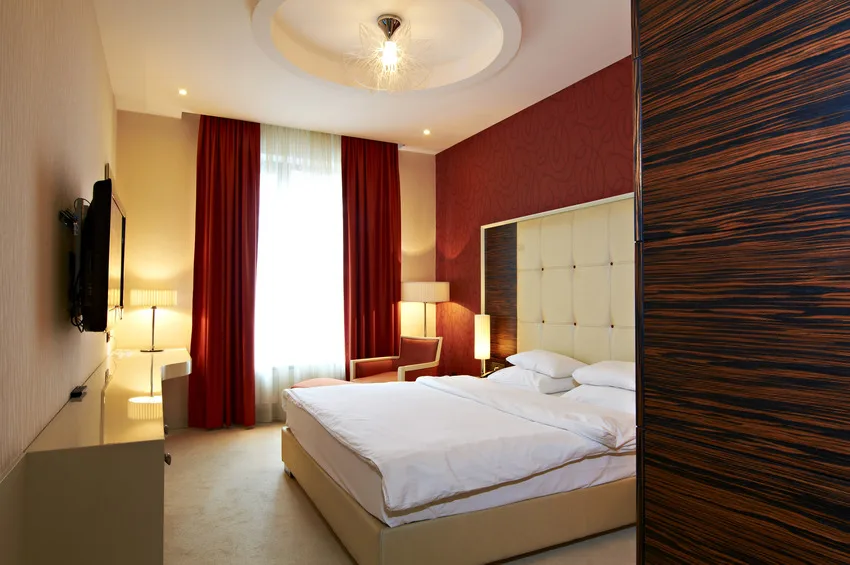 This elegant bedroom has three elements of red, which are found in the curtains, wallpaper, and sofa chair. Notice the simplicity in how the color was incorporated into the room, which is very seamless and classy.
The wallpaper also has patterns, adding texture to the backdrop and personality to the entire room. Moreover, the neutral colors balance out the intensity of the red, which also enables the red to pop out.
Best Red Paint Color For Bedroom
When deciding on the kind and shade of red paint for your bedroom, it'd be best to consider your preference and the ambiance you'd want to create.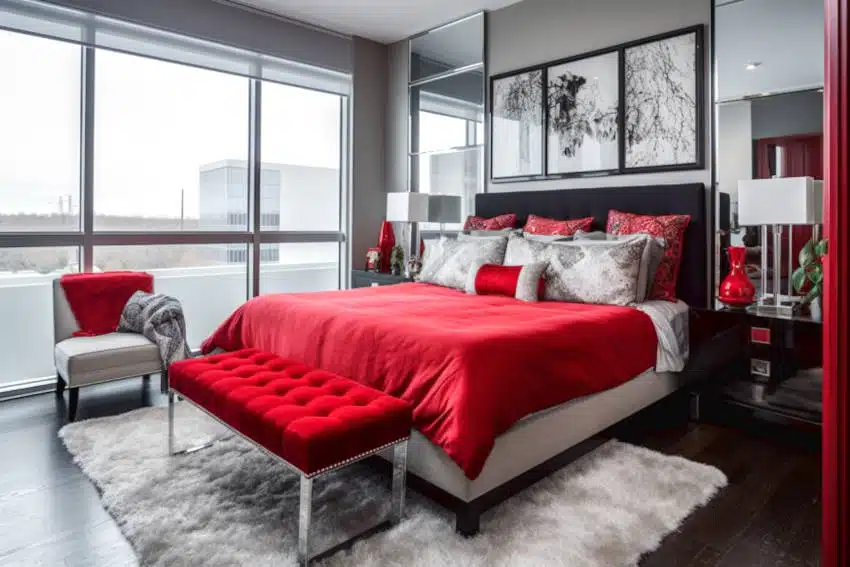 You can go bold with darker shades of red and enjoy the warmth and passion the color provides. On the other hand, you can also opt for lighter shades of red to give you a bit of warmth without being completely overwhelmed by the intensity of the color.
Finally, you can also settle for further integrating a bit of red in the various corners of the room to enhance the space's style and personality.
Use Red Decor

If you don't like red paint, you can settle for red accessories and decor for your bedroom instead. This can help you make sure if red is right up your alley.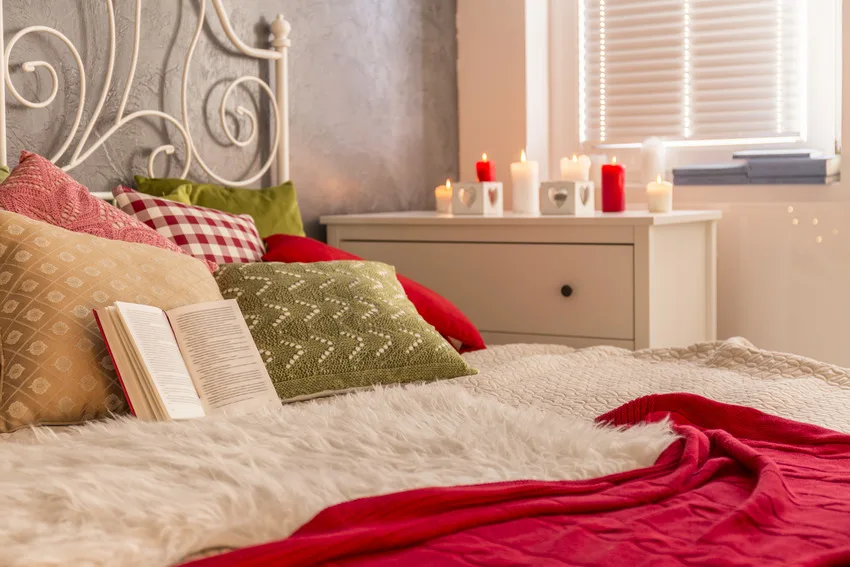 In this cozy bedroom, the combination of neutral colors and shades of green with red brings out a different kind of warmth you can enjoy. See more colors that go with green here.
The different textures of the blankets also add personality to the bedroom and create a welcoming ambiance. In addition, the red and white candles help you feel calmer and relaxed, which is the perfect mood when inside the bedroom.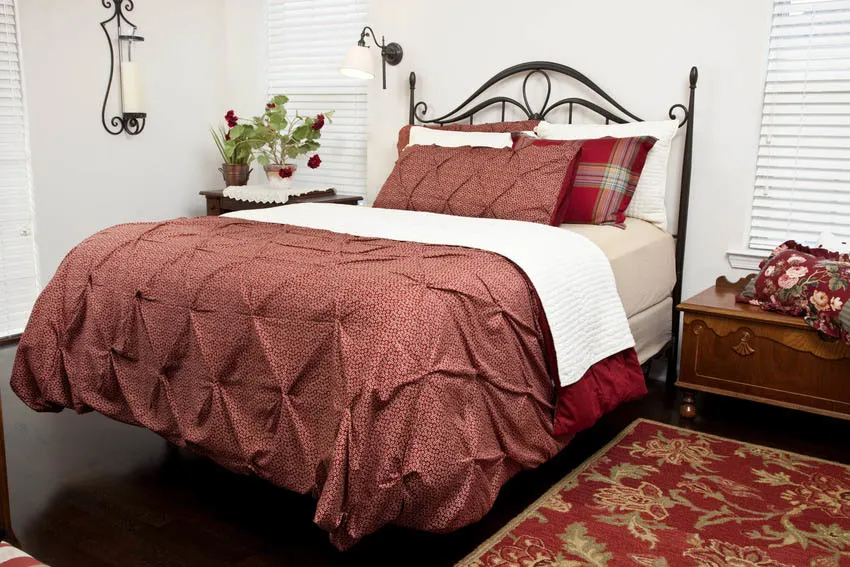 The splash of dark red in this bedroom offers a rustic feel. This is evident in the rug, comforter, pillows, and decor on the nightstand. Check out more rustic bedroom paint colors here.
The patterns on pillows, comforters, and rugs also add to the contemporary style of the bedroom.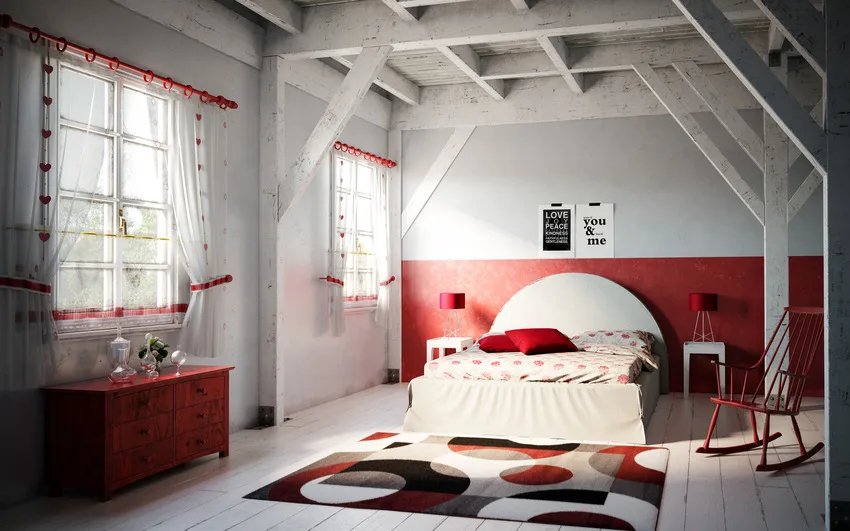 Red has always been compatible with neutral colors. And this is clear when you look at this bedroom's style and color theme.
Red complements the light colors of the floor, ceiling, bed, and curtains. The neutral colors act as the backdrop for the popping red found on the furniture, curtains, and posters on the wall.
The patterns on the bedsheet, pillow, and curtains add texture and personality to the room.
Is Red A Good Color For A Bedroom?
Where do you stand with all the options regarding using red as a bedroom paint color? Your bedroom is your personal safe haven, where you seek comfort and rest at the end of the day.
Thus, you need to feel a hundred percent sure about your color choices. Then, why should you choose red for the color of your bedroom?
It's a well-known fact that red is strong and intense. It can also represent intense feelings and emotions, including power, courage, love, desire, and passion.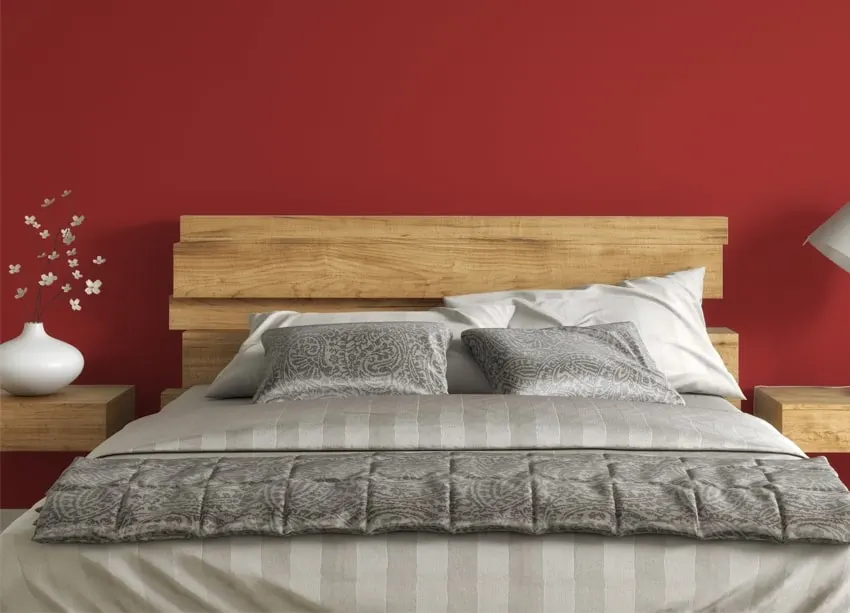 If you don't want your room to come on too bold or strong, you can always opt for lighter shades of red rather than pure or dark ones.
It Goes Well With Other Colors
One good thing about red is that it pairs well with other colors, including neutrals like white and black. These combinations can produce a modern, classic, and stylish look for a bedroom.
You can also go for a more rustic ambiance by combining it with muted colors.
Patterns Look Good In Red
The color red is meant to be bold. With red patterns, not only is the design bold, but it is also stylish and eclectic.
If you're not yet ready to paint your bedroom walls red, you can try out red patterns first. Either paint the patterns directly on the walls or use a patterned wallpaper as a trial.
Using red patterns for your bedroom makes it feel more alive and interesting. The patterns can add a touch of creativity and personality to the space.
Make sure that the patterns are cohesive and blend well into your bedroom interior theme.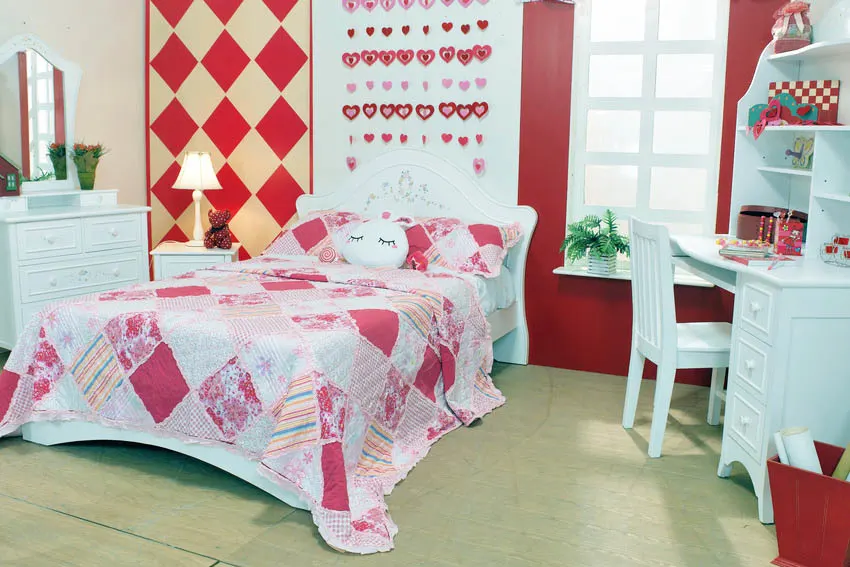 This bedroom is the perfect example of using red patterns for a more energetic ambiance, making the room feel more alive and creative.
The diamond, heart, and square patterns on the walls, blankets, and accessories add continuity to the space. The color white is also quite evident in the bedroom, from the bed to the walls and various furniture pieces, which provide the perfect backdrop for the red patterns.
Why Painting A Room Red May Be A Bad Idea
On the downside, red can also be a terrible paint color idea for your bedroom. Still, your personal preference is all that matters in the end.
Your chosen color can significantly affect your room's overall design and theme. So this is also an extremely important decision you have to consider.
Here are some reasons why picking red as your bedroom paint may be bad.
You Don't Like The Color Red
Spare yourself the trouble, and don't choose red if you don't like it in the first place. If you feel like being forced to choose it, don't.
At the end of the day, it's still your bedroom. Your space is your rule.
Red Somehow Triggers You Emotionally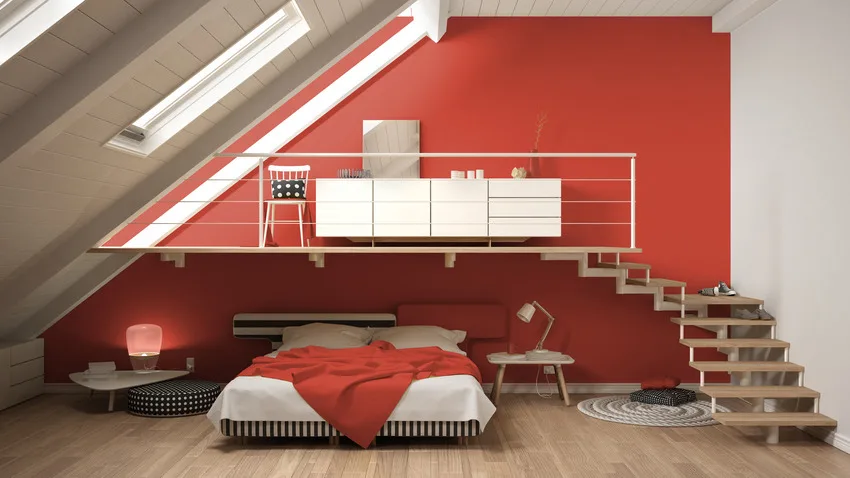 Red somehow has a certain emotional impact on some people. They may react intensely to the color due to its association with blood, rage, and danger.
If you are one of these people, red may not be the best bedroom paint color option.
You Can't Sleep In Red
One of the most important factors to consider when it comes to your bedroom paint color is comfort. Essentially, red is a bold, energetic color.
If you find it difficult to have a restful sleep in a bedroom dominated by red, then it'd best to skip it. Remember that your comfort is the utmost priority for your bedroom interior.
For more related content about red paint colors for bedrooms, check out this gold bedroom ideas page.