Here we share our office and bedroom combination ideas including how to setup a work area, room combo tips, layout designs, and the types of layouts to consider.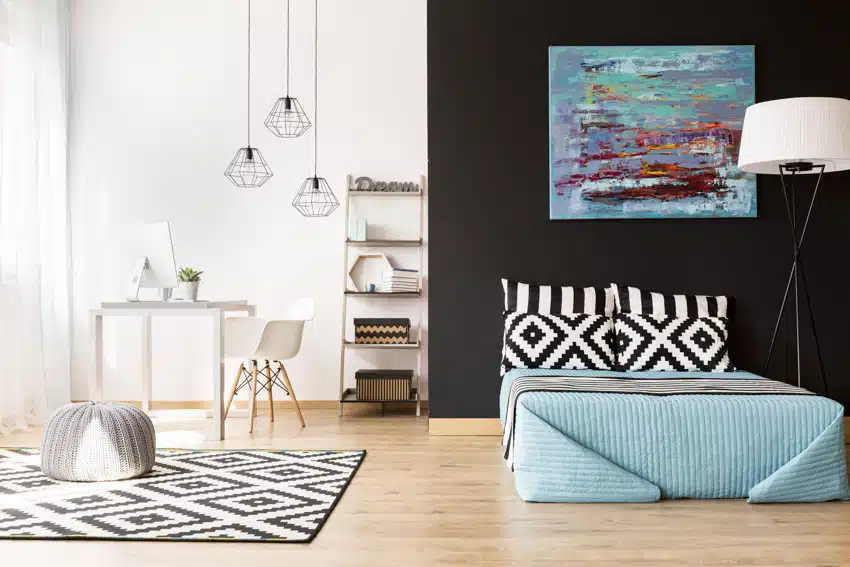 The pandemic propelled working at home into the forefront of many labor industries. Although it's safe to return to the office, employers are letting some staff members work from home. Benefits for employees include no commute time, saving on travel to and from the office, and fewer interruptions.
While some employees need to be on-site, employers also offer a hybrid situation, working at home several days a week and at the office or job site for the rest. Those working at home with an extra bedroom or designated home office space had no problem designing and dedicating the area to their office.
However, not everyone has the space available and turned to use their bedroom as an office bedroom combination. We've provided this informative guide to help you renovate or create an office in your bedroom that provides an efficient workspace that doesn't infringe on your sleep.
How To Setup An Office Bedroom Combination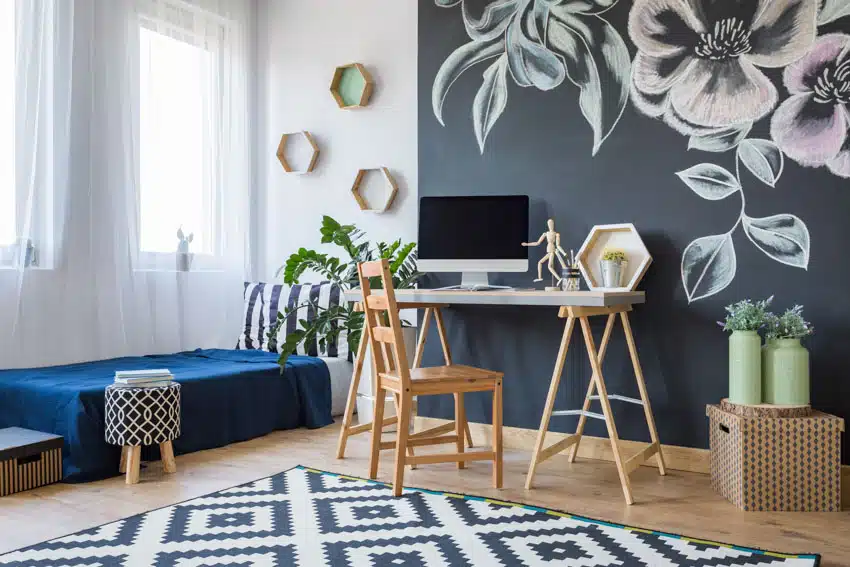 To get things started with your bedroom office plans, you'll need to decide how much space you'll need for your home office environment.
Why combine your bedroom space: Your bedroom is a place to retreat from the noise and activity of the day, so why would you want to combine your office and your bedroom?
Actually, if you work at home, a bedroom can be the quietest space with the least interruptions. It's typically the most private room in a home. For one person, a small alcove, desk, and laptop may be all you need to establish a mini office.
When a separate home office is impossible, an office-bedroom combination can be conducive to productivity and a place to rest with proper planning. Finding a balance between practicality and personal style is the first consideration.
Determine your office space needs: It's good to ask a couple questions such as, will you primarily be working or sleeping there? Do you need a separate workspace, or can it be integrated into your bedroom layout? Will it be bright & quiet enough for good productivity?
What furniture will you need: To make the best use of the space you'll need to consider your furniture. Look for furniture that serves multiple purposes, such as a desk that doubles as a nightstand or a Murphy bed that can be tucked away when not being used.
How will you create separation: If possible, you'll want to try and create some physical separation between the office area and the sleeping area. This could be done with a room divider, curtains, or even just positioning the furniture in a way that creates distinct zones.
Think about your storage needs: In a small space, it's important to make use of every inch of storage. Look for furniture with built-in storage options like drawers or shelves, and consider adding floating shelves or wall-mounted organizers.
How will you personalize the space: Just because it's a functional office space doesn't mean it can't also be a stylish and inviting bedroom. To bridge the gap between a sterile office space you can add personal touches like artwork, plants, photographs, and decorative accents to make the space feel warm and welcoming.
Adding a place to work to your bedroom is kept harmonious when you create a discreet space that blends into your bedroom's design. Use colors and finishes that coordinate with your bedroom's existing décor seamlessly.
Choosing colors that suprise and awaken can be especially liberating in a room like the bedroom, noted for its muted sensibilities. – Faux Chic, Carol Endler Sterbenz
When adding a desk and chair, find a style and color scheme that doesn't contrast with the rest of the room. Go for a cohesive look for your workspace while still designating it as a separate space by adding accessories and artwork on the wall above that complement the room's flow. You'll also benefit from the inspiration your own workspace provides.
Office Bedroom Combo Tips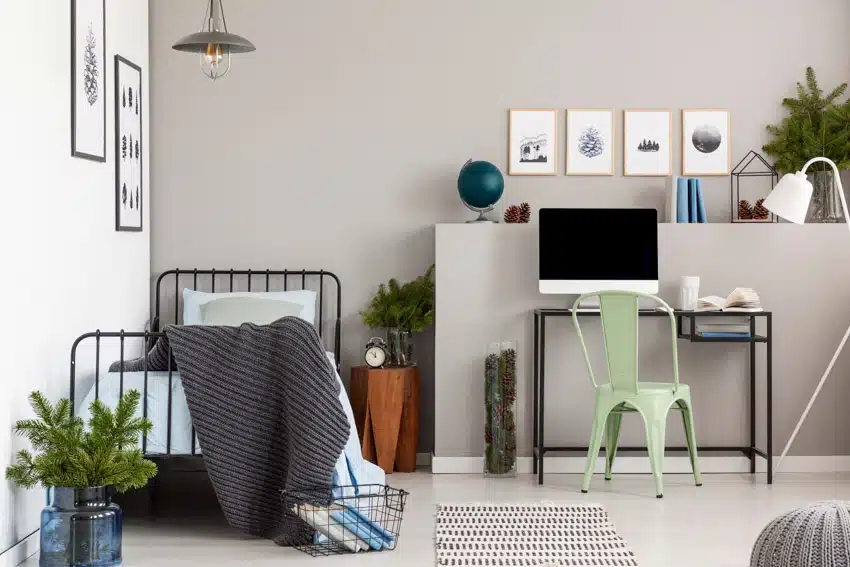 Incorporating a home office in your bedroom may not be the best solution for working at home. Still, with a bit of work and creative ingenuity, your office bedroom combo can become part of your overall bedroom size.
With the following tips, your combined work and rest space can be a place to be productive and get the rejuvenating rest you need.
• Chairs made from transparent acrylic or plastic reduce clutter.
• Use a bedroom desk instead of an office desk to keep consistent with bedroom décor.
• Use corners or alcoves in the bedroom to set up an office and establish a work zone apart from the bedroom zone.
• Use a room divider such as a three-fold partition, handing drapery, or cubicle panel to help you get rest when done with work.
• Setup the bedroom office in a closet to hide it when not in use.
• Make sure you have adequate lighting, especially in the area of your office workstation. Floor or table lamps should be used for task work in combination with ceiling lights.
• Use a rug under the office area to define the space and add some luxury.
• Add shelves or a storage system to your office area to separate it from the bedroom space.
• Position the work desk against a wall and choose a finish that blends with the wall color to make it less noticeable.
• Keep floor space clear by using a wall-mounted desk that flips open and closed and provides storage for notebooks, a tablet, and supplies.
• If your office desk is close to your bed, use one side to double as a night table with a lamp and phone charging station.
• Take advantage of natural light by staging your bedroom office near or in front of a window that can also provide fresh air.
• If you need privacy from neighbors or foot traffic outside, use decorative window film to cover the bottom half of the windows.
• Face your desk to the window or a wall, not facing your bed where you'll be tempted to take a nap.
• Be sure to get a supportive and comfortable chair designed with ergonomics in mind.
• If you have trouble with distractions from sound you can use different soundproofing tricks that can help insulate doors, floors and ceilings to eliminate bothersome sounds.
• Use a desk with lots of enclosed storage so you can put away all your work-related items at the end of your workday.
These tips should help you configure your bedroom office to meet your needs and add to your room's style and décor. See this page for an estimate of how much space you need for an office space.

Home Office Bedroom Layout Ideas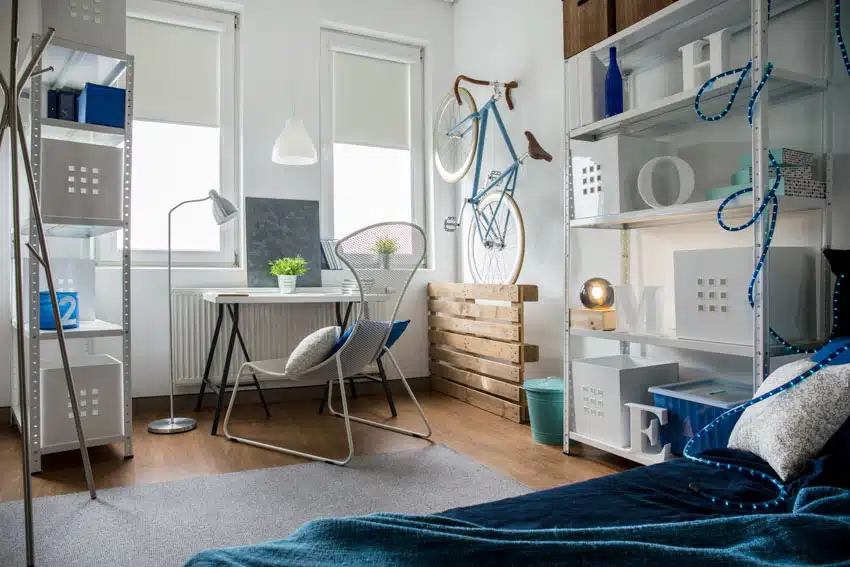 The layout will make all the difference when designing an office in your bedroom. If there's an unused space in a corner, alcove, or against a wall, the area could easily be transformed into a workspace.
It will allow you to have a bedroom office, and the space will morph into a new, stylistic workspace. A bedroom is typically the quietest space in a home, so making an office part of the layout is a good idea.
Bedroom Office Layouts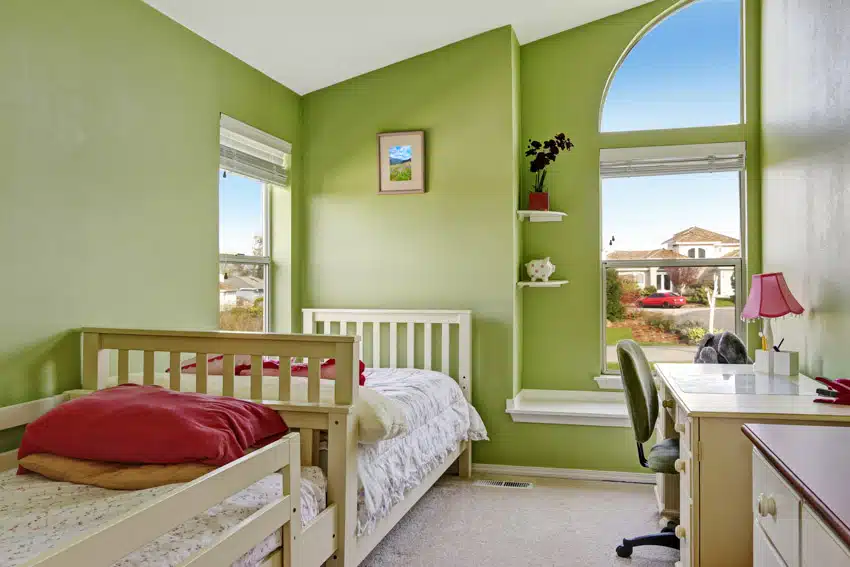 Use these ideas to lay out your bedroom office, keeping in mind that your design should reflect your style and create a productive office area.
The Corner Makeover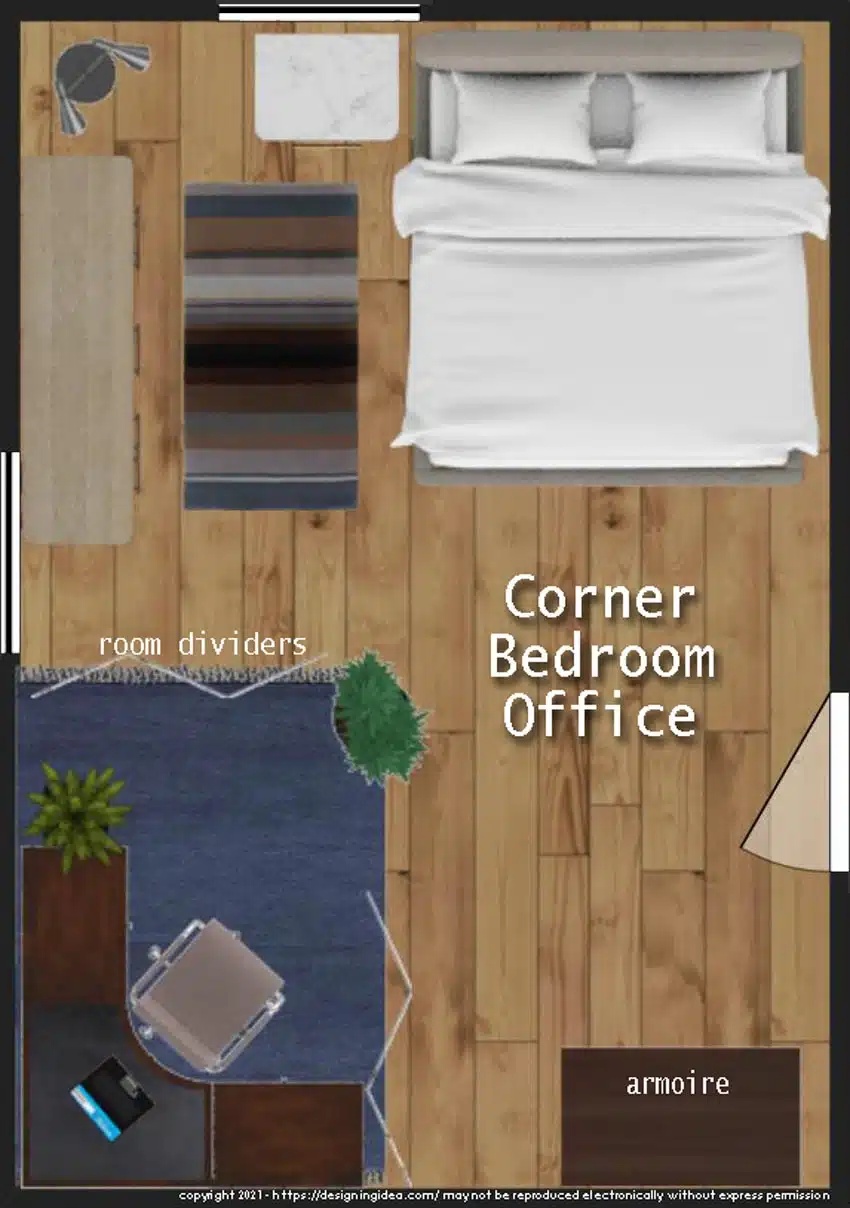 Often, corners are dead spaces in a room, especially a bedroom. Some people stand a floor lamp in a corner or a tall houseplant. However, a desk can be placed in the corner to create a functional space out of the area.
The desk can be placed on an angle, and you'll still have room for corner types of floor lamps. Choose a chair that's comfortable but supportive for long hours of work.
You could also purchase a corner desk to sit against the walls leaving more room for a chair. Corner desks don't stick out as far as angling a regular desk. But they don't hold as much as a standard desk.
Add a small lamp and soothing artwork on the walls to make the space its own. Use one of the walls to mount a whiteboard for to-do lists and a calendar.
The Stacked Design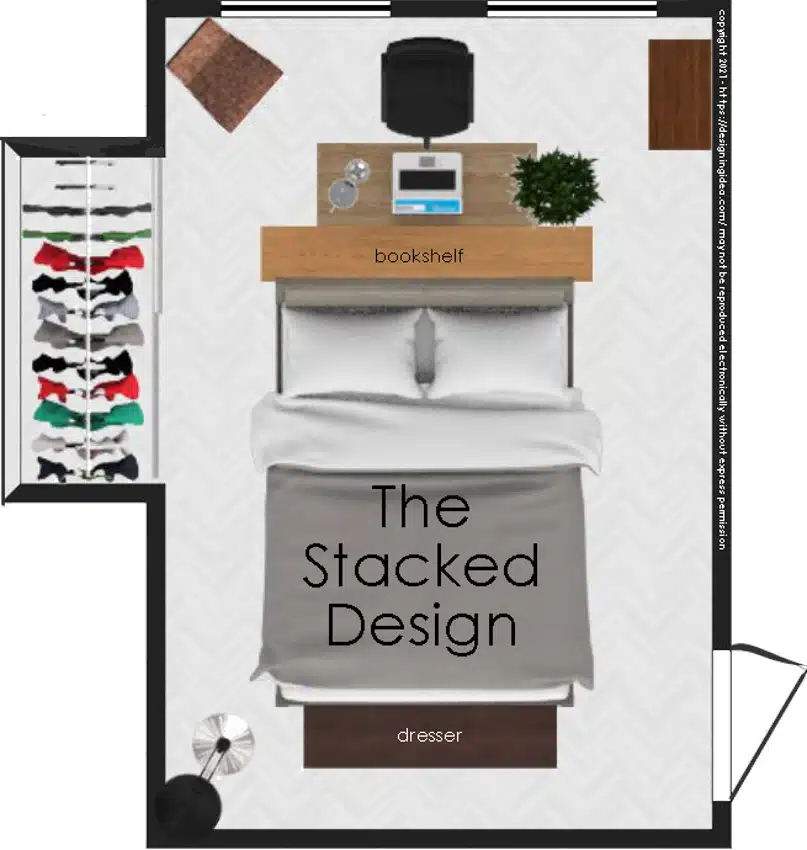 If your bedroom is on the small side, you can create a separate office space by stacking furniture horizontally. The bed is likely the room's largest piece of furniture in the room.
If the bed runs long-ways with the length of the room, leave enough space between it and the back wall to fit a bookshelf the width of the bed and a desk the same width or smaller. This arrangement creates a dividing line to create a faux wall.
Place the bookcase at the head of the bed, then the desk against the bookshelf, and leave room for a chair to maneuver without banging into the wall. The top section of the bookshelf can house your supplies, books, manuals, and devices, while the bottom half can be used for storage.
Match the shelf, desk, and chair as close to the bed as possible, allowing the two spaces to flow naturally. It helps the design and feel to use a tall bookshelf so the spaces are well-defined. The same concept can be used with a four-poster bed. Hang curtains at the end of the bed and use the area to create the same workspace setup.
The Loft Bed Repurpose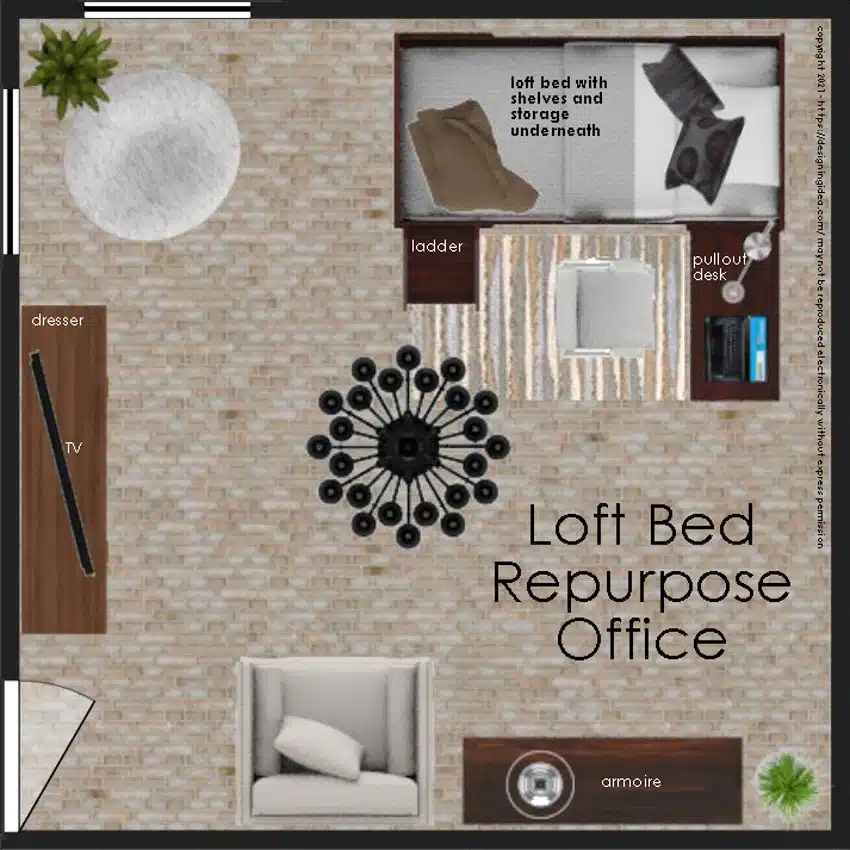 A loft bed is usually associated with a child's room, but if your bedroom is small, a loft bed provides a combination sleeping area and office alcove. The top of the loft bed can be sized for a double bed, while underneath can be left open to accommodate a desk and chair.
Some loft beds do come with built-in desk space underneath. This double-duty combination allows for a private work area and a bed to climb into after a long work day, all in one spot.
A Ladder Desk Workspace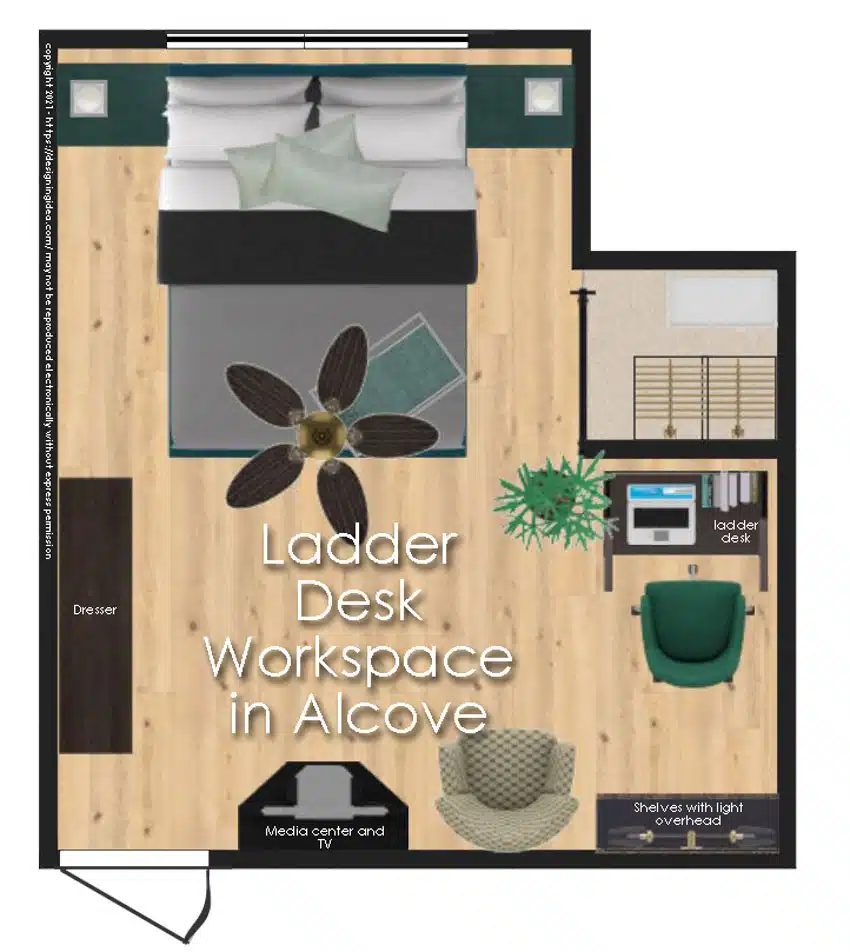 Ladder types of desks are an excellent way to use vertical space. They usually have a small floor footprint and come stand-alone or made to hang on a wall. The shelves can go as high as the ceiling giving you plenty of space to store office needs, and the desk itself comes in many sizes to fit your space needs.
These extreme space-saving desks are available in unlimited configurations, including having a draw and hooks under the shelves for miscellaneous items, and in they come in many different widths.
A Bay Window Hideaway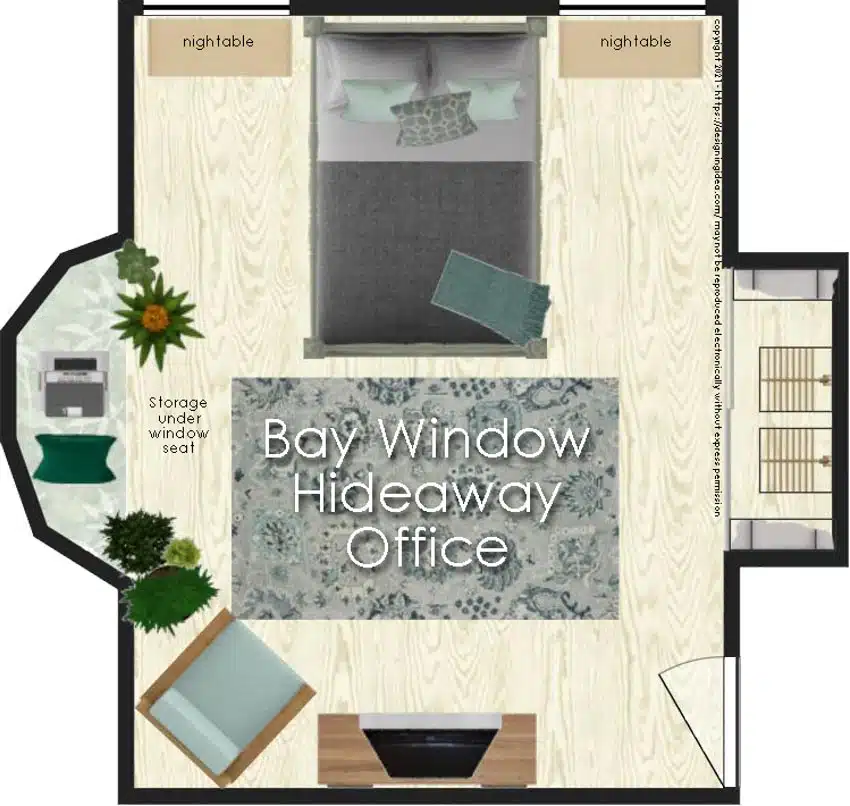 A bay window area is often used as a reading nook with comfortable cushions and storage under the bench seat. If you prefer a hideaway bedroom office, a bay window works when you add light curtains or drapery to pull across to hide it when you're using your bedroom to sleep or rest.
Without modifying the standard structure of a bay window, you could use a lap tray for your laptop and the storage built-ins for office supplies and electronics. Or you could gut the bay window area and redesign it to be more practical as a workspace.
The Closet Office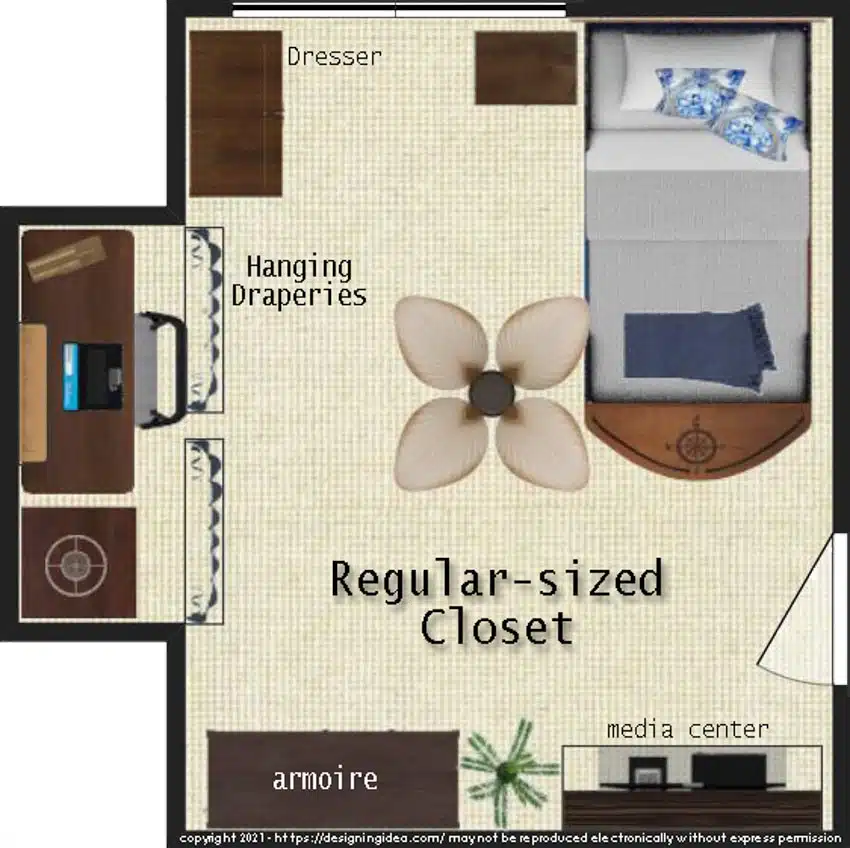 Although it may seem stuffy for an office, a walk-in closet or a regular-sized closet can be a great option when needing a bedroom office.
Smaller, long closet offices allow a desk to be placed against the back wall. With the right chair and a few accessories, you now have a separate workspace. The top shelf in the closet can be used for storage, and when not working, move the chair to an empty spot in your room and close the closet doors.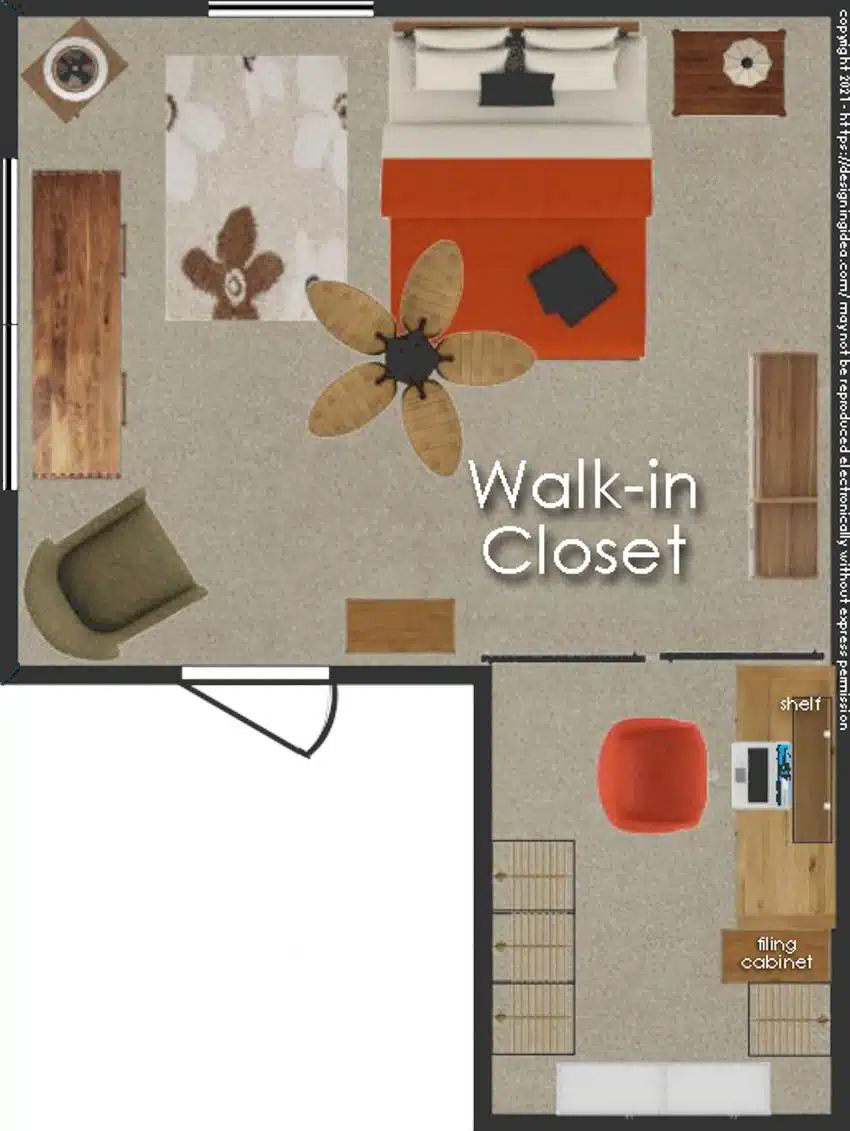 A walk-in closet is typically large enough to create an entire office space, complete with a desk and chair, filing cabinets, a printer on a stand, and much more. If you still want to use the closet for your clothing, use half of it as your office. When you're not working, the office is hidden away.
There are many layouts to use when setting up a bedroom office area. Remember to create a space that works for you and creates a flow that identifies your workspace but blends in with your bedroom.
See more related content in our article about the best living room office ideas on this page.