Here we share our types of floor lamps including the different models, styles, tips on how to choose lighting, and the best options for reading.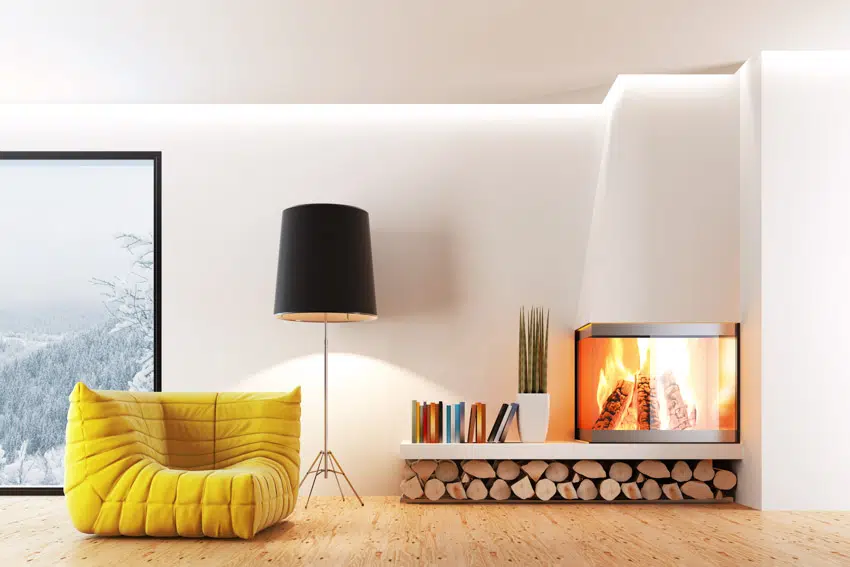 A floor lamp is an independent tall lamp with a base that stands on the ground and a pole that contains one or more light sources at or close to the top. You can typically find this kind of lamp in a living area, workplace, or bedroom.
These lights could also bring a lot far more than illumination to your room. Depending on the style of the lamp and the components used, you can deliver a significant impact on the general appearance of your space. Moreover, the lamp's position can alter the mood of any room in which it is placed.
Each style of floor lamp is intended for a certain purpose, such as task lighting or increasing the quantity of illuminance in a space. Certain lamps contain several light outputs, enabling you to distribute light to various areas of your interior space.
In this article, we will talk about the different types of floor lamps and discuss how you can select the best one for your needs.
Torchiere Lamp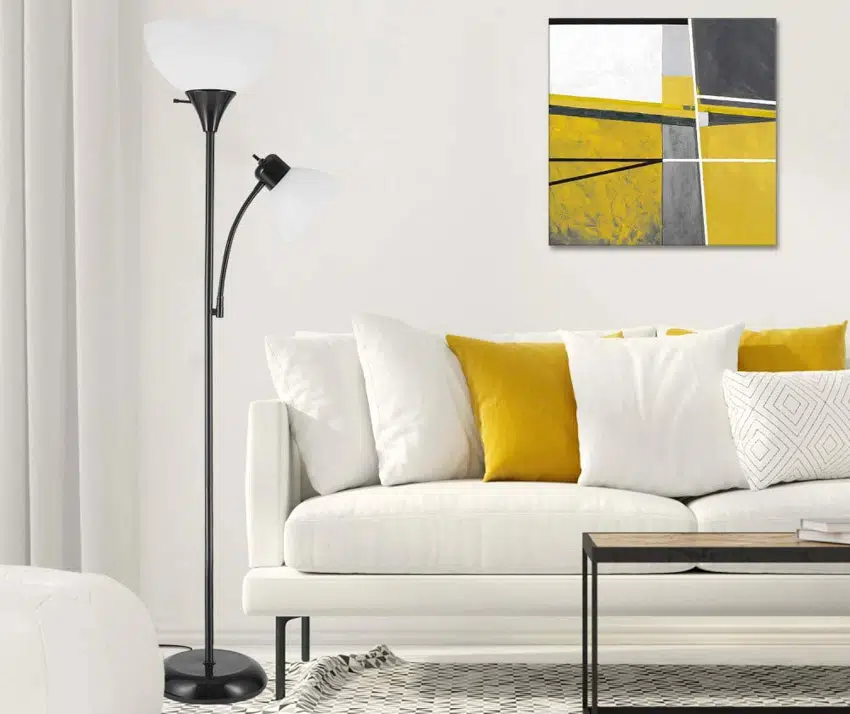 See this torchiere style lamp at Amazon [sponsored link]
A torchiere lamp resembles a club lamp. It features a sturdy foundation and a tall pole with one light output. The torchiere, on the other hand, distributes light up, whilst the club lamp has a shade that transmits light downward.
This lamp is minimalistic and neatly blends into the backdrop while delivering pleasant ambient lighting. The tilted shade directs light to the ceiling, which reflects it into the room.
These lamps are susceptible to tipping since the top of the lamp is pointed upright and the shade is usually made of steel or glass. Ensure the lamp's base is sturdy and durable to prevent it from falling due to bumps and wiggles.
If it is not fully sturdy but you still want to buy it, consider putting it in a corner or another out-of-the-way location to keep it protected. Torchieres, on the contrary, are poor alternatives for task lighting.
Club Lamp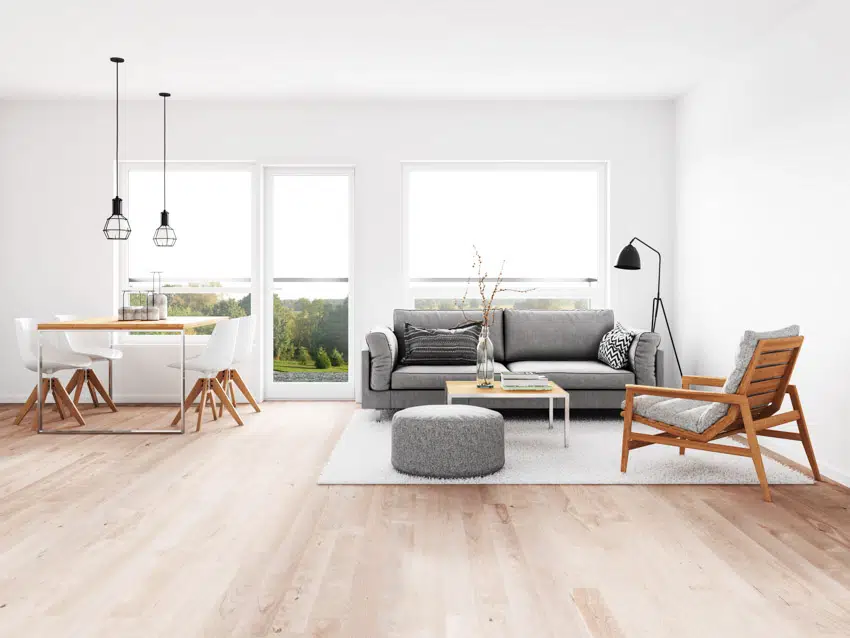 The appearance of a club lamp is minimalist but elegant. A high pole in the center supports one bulb with a bell shade. This kind of bulb is ideal for illuminating a large space.
The club lamp's shade is designed to focus light downward and outward, creating a broad sphere of brilliant light in one place.
A regular or typical floor light is another name for a club lamp. It is normally a thin column with a light above it.
Certain club lights have a stylish column, whereas others have a single, conventional pole that connects to a standard lampshade on top of the lamp.
Furthermore, this kind of floor lamp is very adaptable. A club lamp can be made to match almost every design aesthetic by using various materials and types of lamp shades.
If you prefer a lamp that can provide a lot of light while being discreet in design, this might very well be the lamp that will suit your preferences.
Task Lamp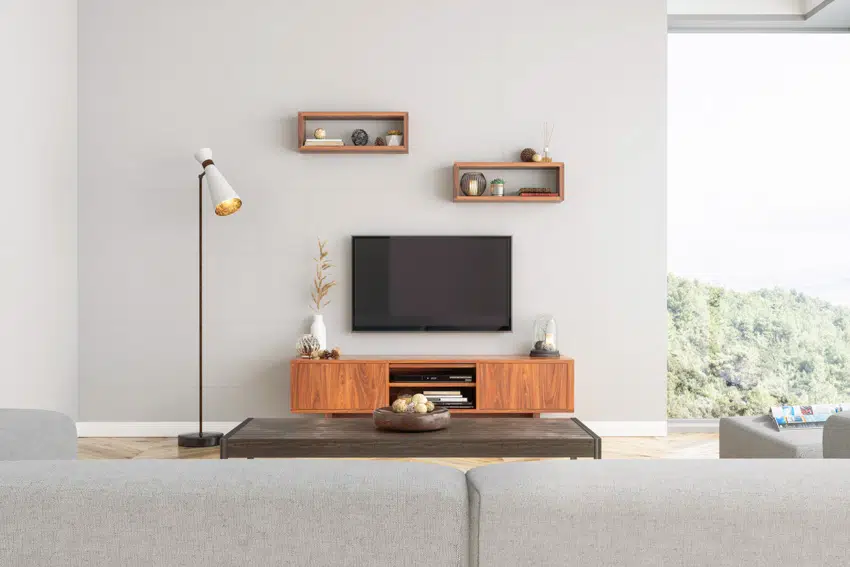 A task floor lamp often includes an adjustable light that you can adjust and aim toward the book you are reading or your working table. Furthermore, a task lamp is frequently known as a down-bridge lamp.
The primary distinction between these two is that a down-bridge lamp distributes light downward and lacks an adjustable light.
Candelabra Lamp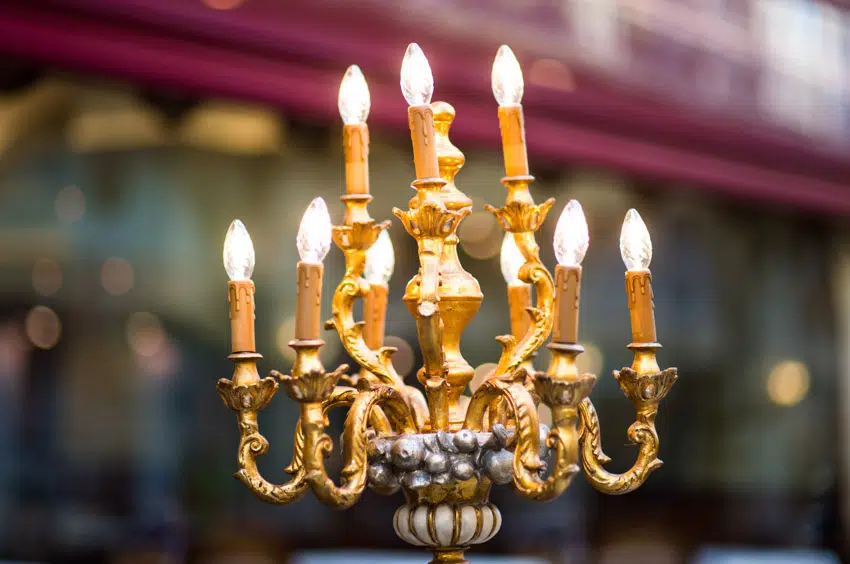 A candelabra lamp, which features various light bulbs, is similar to a multi-way lamp.
However, the bulbs in a candelabra lamp are typically smaller than those in regular multi-way light. Moreover, these lamps frequently resemble the electric counterparts of classic candelabras.
Indeed, you can consider a candelabra if you want something more exquisite than the floor lamps previously mentioned. Chandelier crystal ornaments or shades composed of organza or some light-reflecting materials are used in these floor lamps.
These lamps could be embellished masterpieces, but they can also be standard industrial-type lamps with a single uncovered bulb. The bulb, on the other hand, is a distinguishing element of a candelabra lamp. They employ types of light bulbs that look like candle fire.
Aside from that, it is crucial to consider the pricing and accessibility of bulb replacements when buying a candelabra lamp.
Overarching Lamp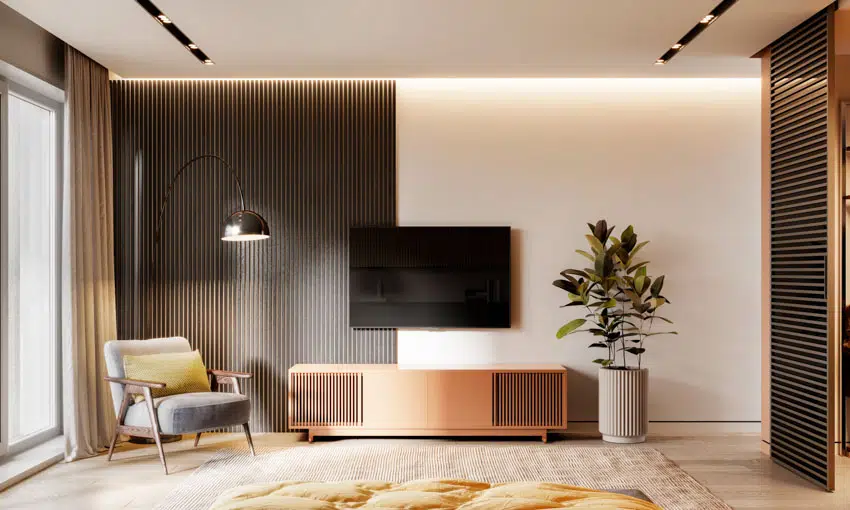 An overarching floor lamp has a lengthy arm that connects to the lamp's base. The lamp's extended arm enables it to reach out and over a piece of furniture.
If you are looking for a lamp that will give you your much-needed lighting assistance while you are working, this type of floor lamp could be the smartest option.
Overarching floor lamps are often highly striking and are an excellent technique to illuminate a whole lounge area including a couch. You can also place it above a dining table rather than using a chandelier or ceiling light to illuminate the table.
This type of floor lamp is comparable to a down-bridge lamp as they both provide concentrated light.
While the down-bridge has an arm that extends from the primary pole and carries the source of light, the central pole of an overarching lamp reaches up and arches over to dangle over a chair or workstation.
Tower Lamp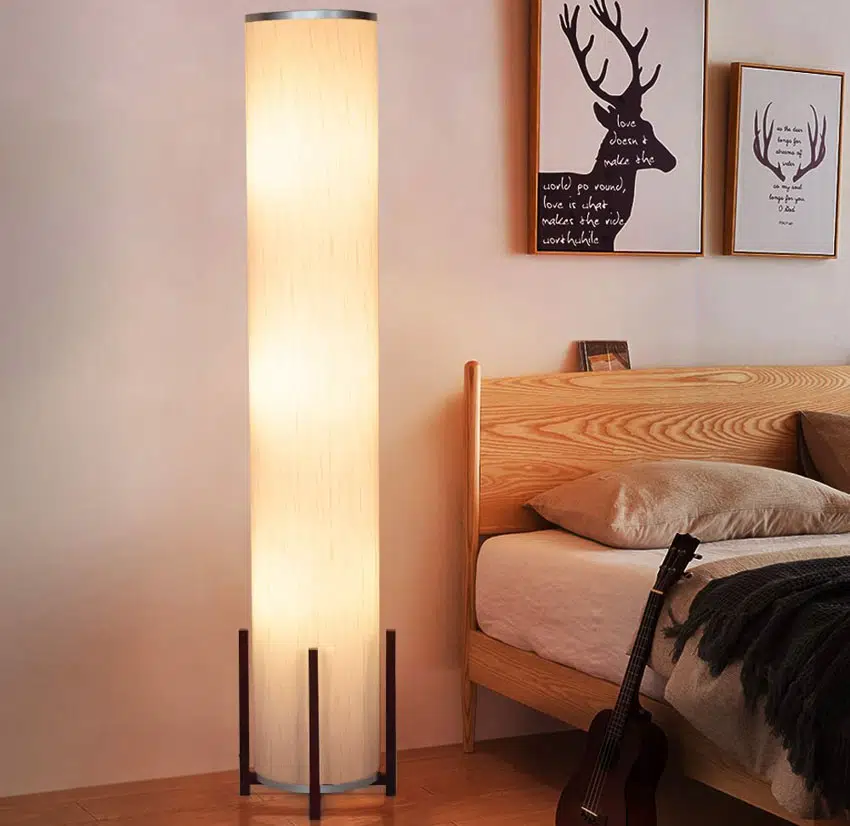 See this column tower lamp at Amazon [sponsored link]
A tower lamp is an excellent option for ambient lighting. These creatively designed lamps provide mellow, delicate illumination that might make it hard for you to clearly see if you wish to do anything like reading.
However, they seem to be useful for letting you see the object that your child has dropped on the ground.
As its extra advantage, when not being used, a tower lamp could be a lovely aesthetic contribution to your room's décor. Truly, using a tower lamp hits two birds with a single stone.
Aside from that, tower lamps are available in a plethora of designs, ranging from oriental paper lanterns to elegant modern designs. And tower lamps frequently have a wireframe covered in wrapping paper or a thin cloth.
Tree Lamp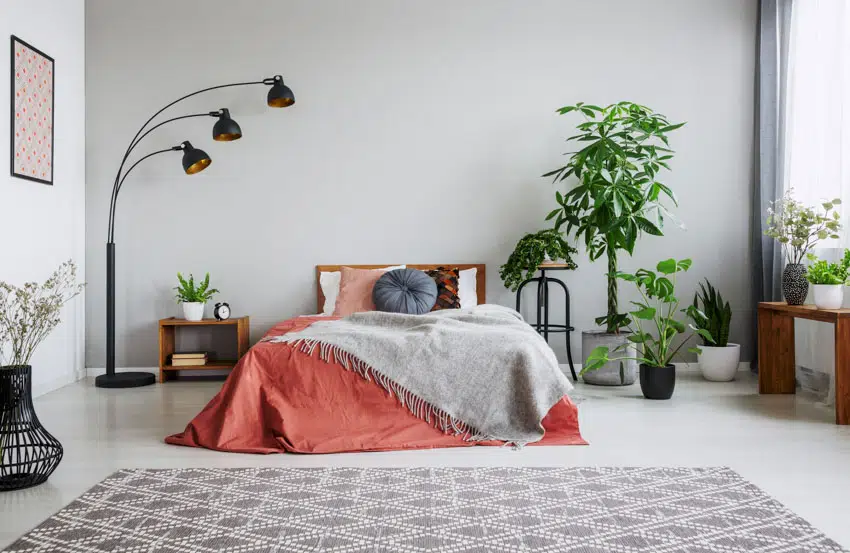 A tree lamp is a type of floor lamp with several light outlets that stretch from one pole. They can all be mounted straight to the middle pole, much like the light above.
Tree lamps, on the other hand, can borrow from overarching and down-bridge lamps by having arms extending from the middle pole. Depending on the type of illumination you would like in your space, the light shades might range from club lighting to torchiere.
Moreover, these lights are an excellent approach to effortlessly alter the lighting in a particular space.
Numerous tree lamps enable you to flex and bend the lights to precisely guide them wherever you want them to direct. This enables you to have targeted illumination, ambient lighting, or broad lighting as necessary.
Swing Arm lamp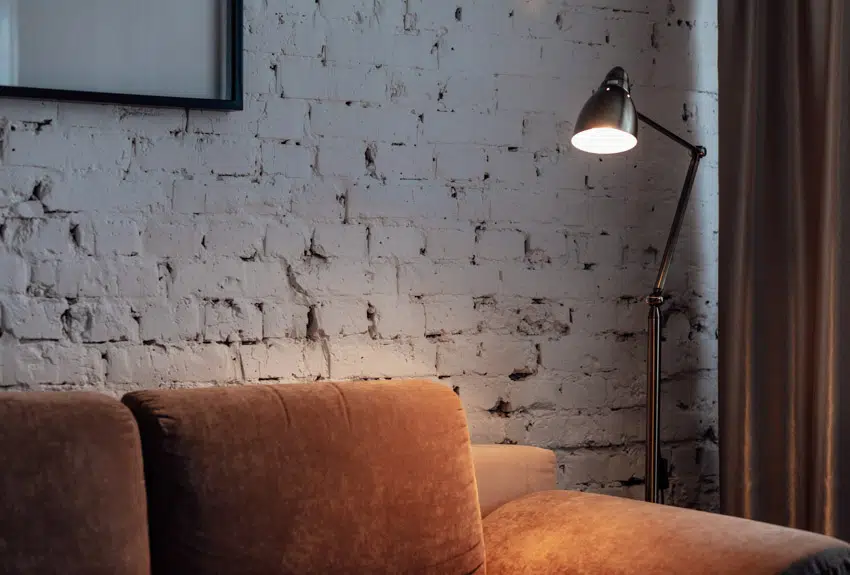 A swing-arm floor lamp enables you to modify the lamp's placement based on your specific illumination preferences.
Should you want the lamp to illuminate on a certain spot, you can simply adjust the arm rather than lifting and moving the full lamp inconveniently.
Additionally, a swing-arm floor lamp outperforms a conventional floor lamp in that you can move the arm to aim the light at the angle you choose. This makes it an excellent alternative for keen readers looking for a little more light in the night.
With so many styles to choose from, you will discover the perfect swing-arm floor lamp to enhance your décor. There are classic and modern styles obtainable in the market.
Novelty Lamp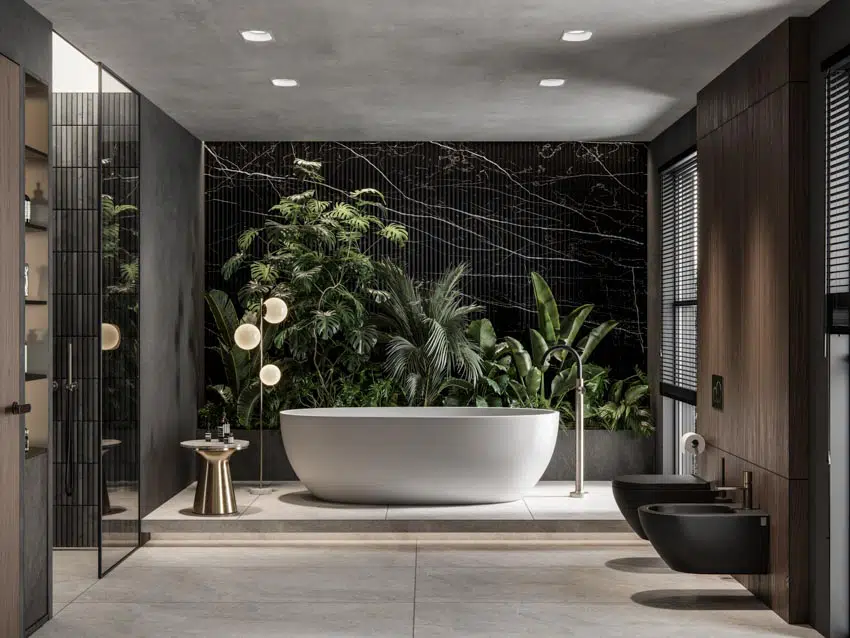 A novelty floor lamp could be any type of floor lamp with a state of the art or distinctive design. One version of novelty floor light, for instance, transforms into a cleaner, allowing you to keep your floors spotless and shiny.
In short, any floor lamp with an extremely unique appearance and functionality can be called a novelty floor lamp.
Lamp Styles
Now that you've determined which kind of floor lamp would fit ideally in your space, we can move on to the exciting part, which is the floor lamp style.
In a nutshell, a style is a combination of colors, materials, and textures, and also furniture components including patterns and line construction. It is what gives you the appearance you want.
Below are some of the different styles of floor lamps you can choose from:
Contemporary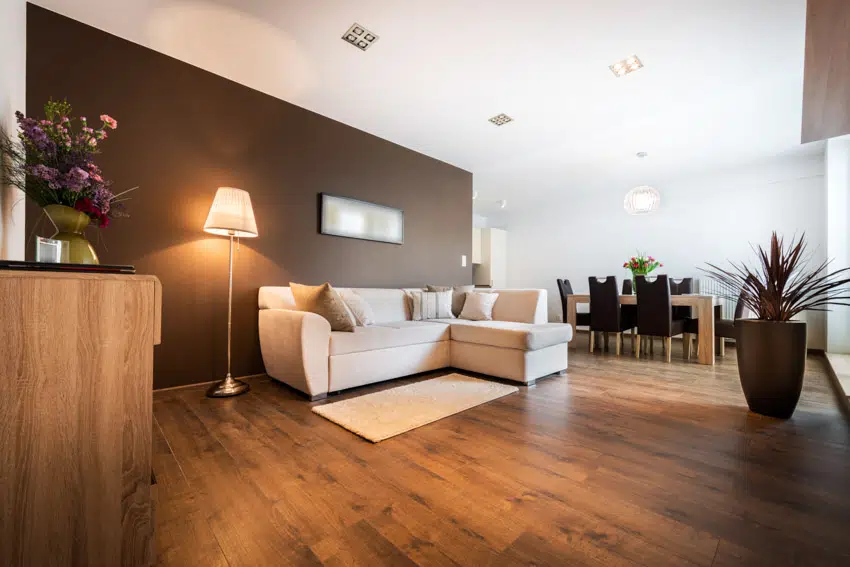 The word "contemporary" is frequently used as a general terminology to characterize styles from the later part of the twentieth century to the current day.
Minimalism, such as Mid-Century Modern and Scandinavian trends, is a trademark of contemporary style. Contemporary design lamps are typically made of neutral hues with sleek lines.
Modern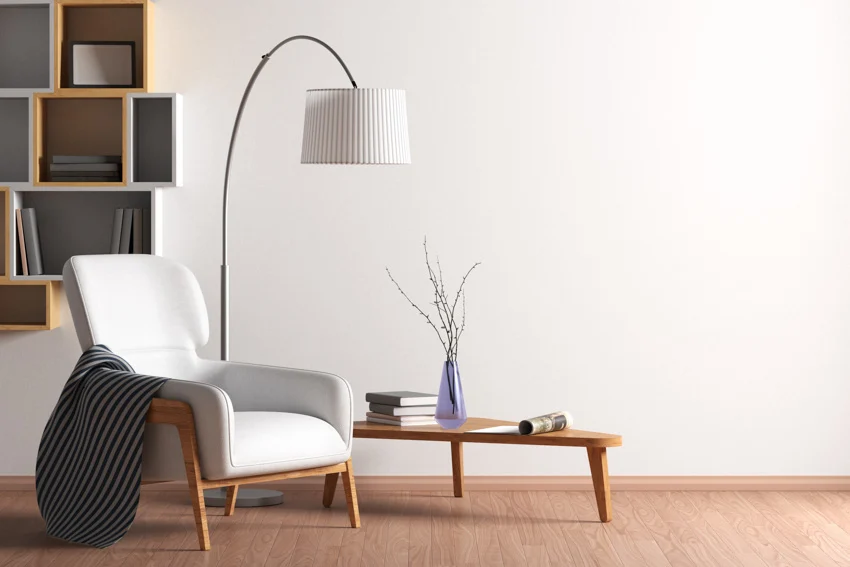 When applying a modern style, minimalist structure, sleek bold outlines, and creative appearances are unquestionably favorites.
Modern floor lights will be more oriented with utility than with appearance. Reflective components, like steel or glass, are also popular in this floor lamp style and aesthetic.
Minimalist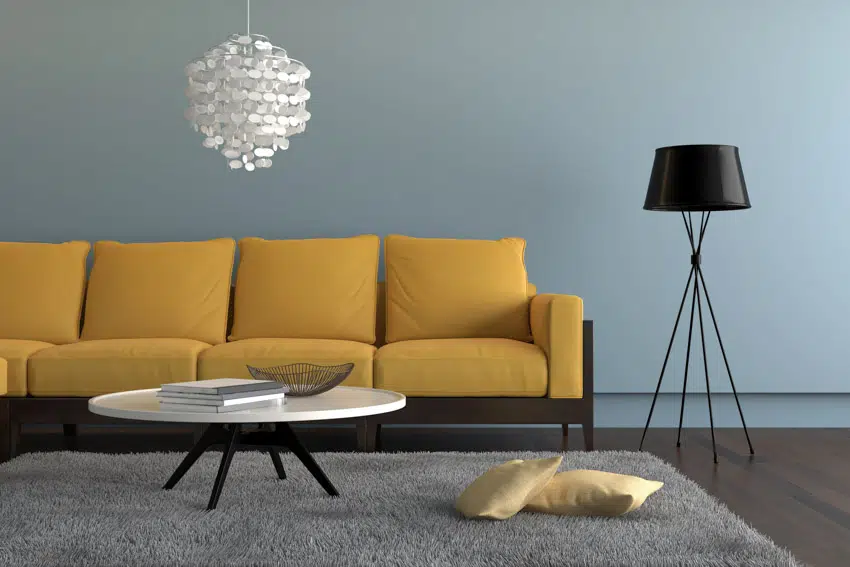 The minimalist style emphasizes the concept of "less is more." We are sure you want items that are both high-quality and efficient and come with neutral hues and a clean layout.
Minimal, clear spaces are essential in this design aesthetic, so select a floor lamp that is slender and does not overpower the area it is in.
Traditional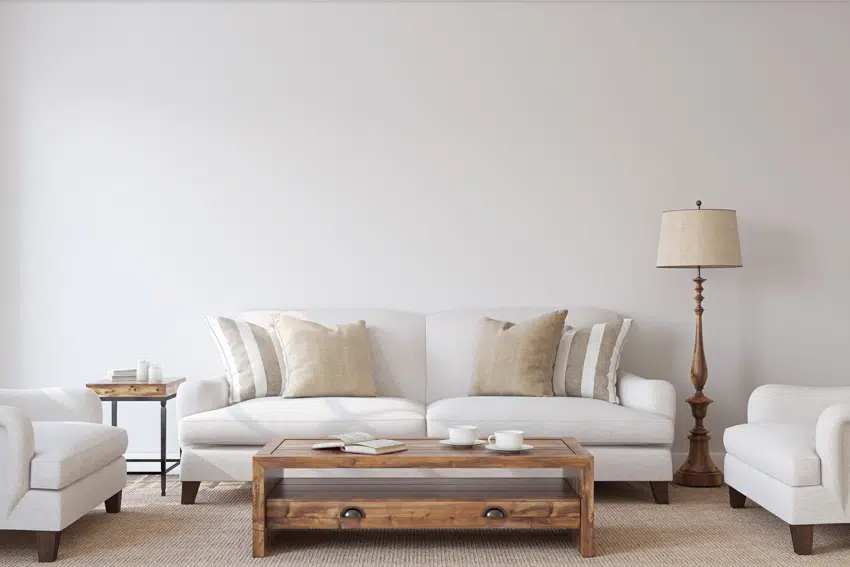 Traditional floor lamp types are typically associated with an earthy ambiance, subdued or soft hues, and an organized, antique appearance.
Furthermore, there are several features that define various lamps with traditional styles, such as neat lines and an unobtrusive appearance.
Rustic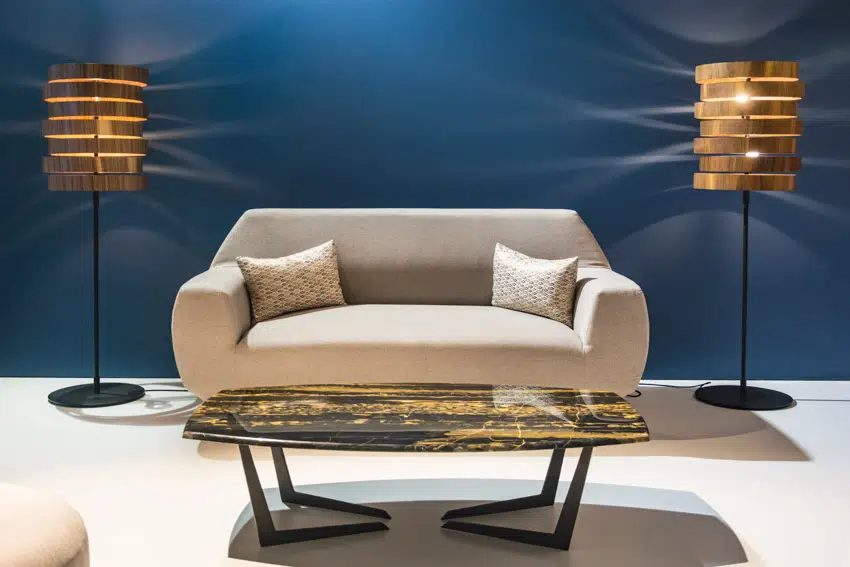 Natural materials, fabrics, and colors are fundamental to the rustic style. Hardwood or imitation wooden frames and poles, as well as rich brown, charcoal, or bronze, are excellent choices for a rustic floor lamp.
Basic designs are also fantastic for the rustic style, and if you can obtain anything with an antique touch to it, then you have discovered a spectacular lamp for this style.
Shabby Chic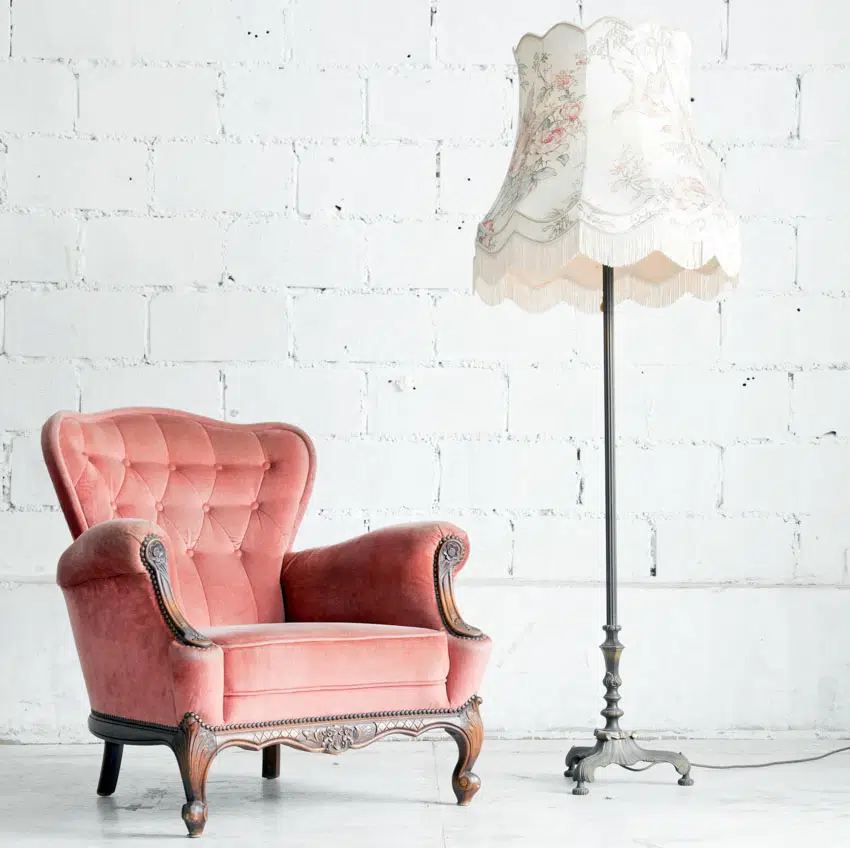 This stylish floor lamp style called the shabby chic is a gorgeous decoration style that favors weathered items and old finds for a cozy, well-loved aesthetic.
Calming hues, fresh pieces combined with vintage pieces, and feminine embellishments are all must-haves for this style.
When shopping for a shabby chic floor lamp, search for one with an antiqued finish. This satisfies your need for both aged and classic appearances. Tassels, lace, ruffles, flowers, ribbons, and plumes are perfect finishing touches for delicate pastel color palettes.
Boho Design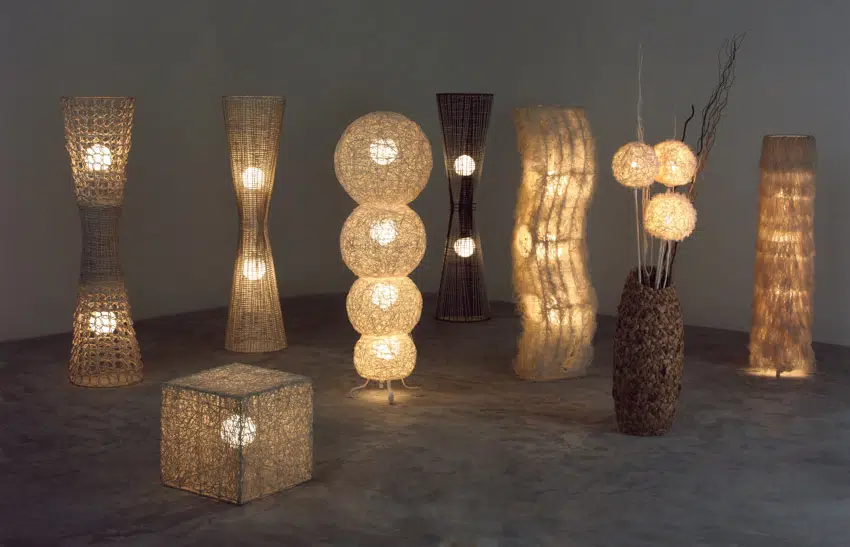 This extremely eye-catching floor lamp style known as the Boho design is as unique as the people who pioneered it. Boho design was established by travelers, performers, and authors using rich jewel tones and shimmers that contrasted out against earthy base hues.
Materials and motifs from all around the globe are commonplace in bohemian-styled homes.
Floor lamps that integrate these characteristics could make a tremendous impact. A lamp that employs Moroccan orbs in a tree lamp style could be a terrific choice for bohemian aesthetics.
Mid-Century Modern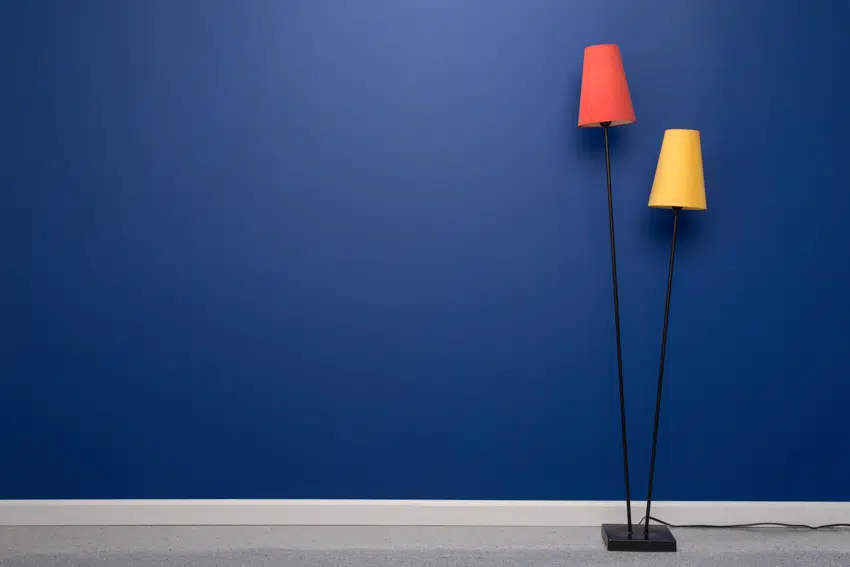 Mid-century modern style was popularized in the midpoint of the twentieth century. Mid-century modern styles are distinguished by multiple aspects including sleek lines, an uncomplicated aesthetic, and an emphasis on performance above fashion.
Industrial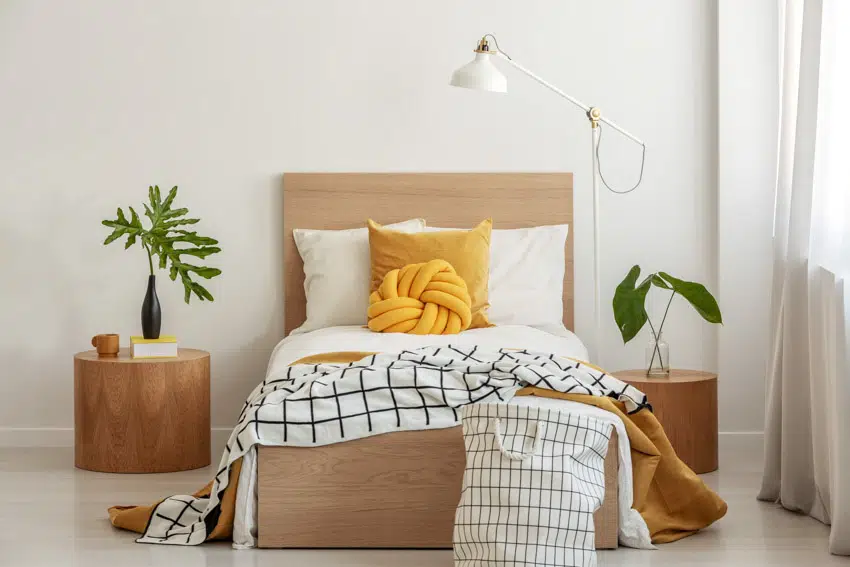 Features from historic industrial sites and warehouses are utilized in industrial styles. This style favors broad shades, cage types of lighting fixtures, pulleys, and cables. Incorporating various kinds of timber and metal around your space or property, as well as bare masonry or cement, is a perfect way to get an industrial-style floor lamp.
Generally, this type of floor lamp is composed of darkened bronze, a classic industrial finish, and has a pulley mechanism to produce the down-bridge light style. It also employs a large metal canopy, a nod to the ancient warehouses.
In an industrial floor lamp, you may see one constructed of cast iron or unpainted wood. A naked incandescent bulb is frequently a distinguishing component of the design.
How To Choose A Lamp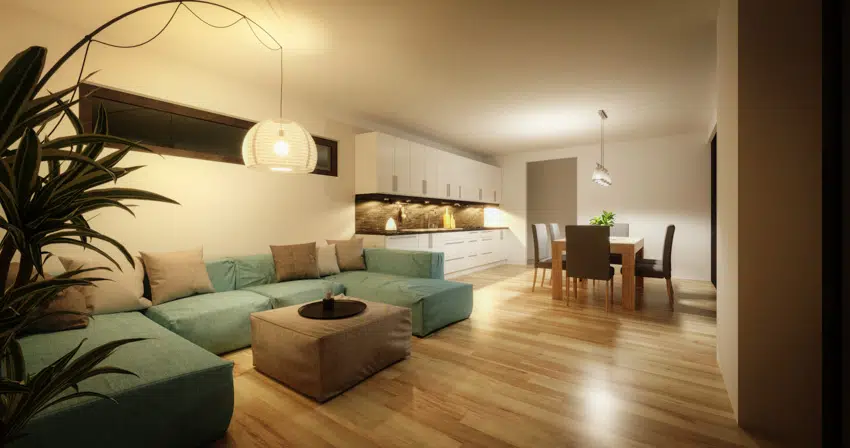 First, decide how tall you want your floor lamp to be. A conventional floor light will stand 1.5 to 1.8 meters tall. Nonetheless, some lamps are 2 to 2.4 meters tall, but they seem to be more challenging to locate and must be operated exclusively in big areas with high, cathedral, or vaulted ceilings.
In choosing a floor lamp, keep in mind exactly where it is to be located in your home. Floor lamps should harmonize with furnishings, and be care- fully scaled to space. – Planning Your Home Lighting, United States. Agricultural Research Service. Agricultural Engineering Research Division, 1968
However, here are the other important factors and principles that you have to take into consideration to help you find the best floor lamp that will perfectly suit your needs and preferences:
• Make use of the eye-level principle. To reduce glare, the base of the floor lamp shade must be at or slightly underneath the eye level of a seated individual.
• Use a higher lamp if you wish to position it further away from the sitting area.
• The greater the area illuminated, the taller the floor light.
• A particularly tall lamp will seem out of place in a room with a low ceiling. A short lamp will seem out of place against a high ceiling.
• If the types of furniture styles in your home are low, a quite tall lamp will seem out of sync. Similarly, large furniture overwhelms a little or slender floor lamp.
• There are lamps with adjustable altitudes that can address the height issue and allow you to use the lamp in a variety of situations.
• Determine how much capacity you have for the floor lamp you are planning to purchase.
• Traditional and torchiere lights may readily fit into a small area.
• Because of the horizontal expansion, overarched lights take up more area.
How High Should A Lamp Be?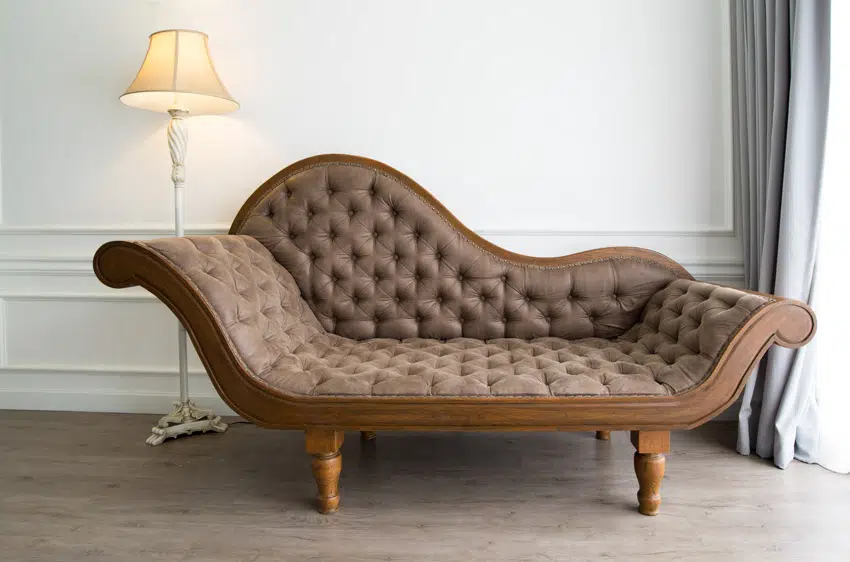 Once you have already decided on the type and style of floor lamp you want, let us now go into the specifics. Selecting a lamp that is tall enough is a crucial consideration. A 2-foot lamp on the floor and calling it a floor lamp is just not going to make it; it will be very awkward.
The height of the floor light is determined by what it is placed next to. While 58 to 64 inches (1.4 to 1.6 meters) is a decent overall height for a floor lamp, you can check it against the sofa or chair where you keep it close.
When you sit on your sofa or chair, the light from your lamp must be at or just over eye level. This guarantees that the person seated has enough light to read, write, or do anything they want.
How Tall Should a Lamp Be Next to a Sofa?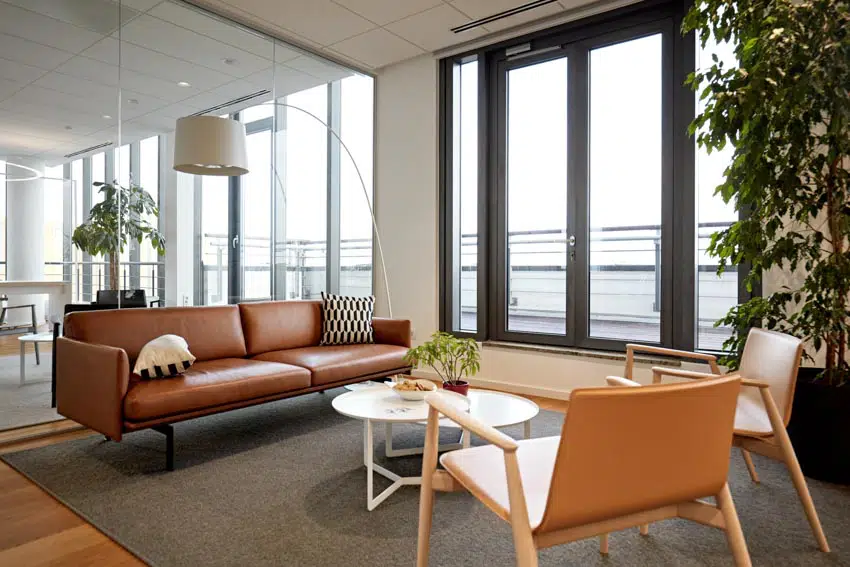 If you wish to place your lamp next to a couch or sofa to generate ample lighting, the bottom of the shade must be at eye level when seated, which means the peak of the lamp should be approximately 60 inches tall when it is measured from your floor.
Where Should a Lamp be Placed in a Room?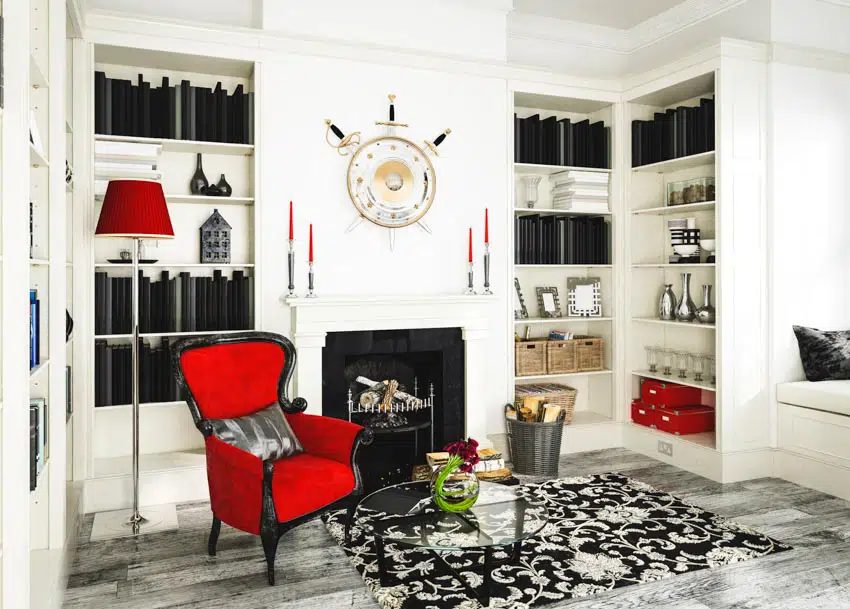 The most important aspect is to keep the lamp and its wire out of the path of any human movement.
It may appear nice, but if you stumble over it every moment you go into the room, you will now start to despise it, particularly if you or someone in your household got injured as a result of it.
Then, think about where you want the lighting to be distributed. You may prefer it directed only on the reading chair, or you could prefer it as a broad light to keep on at night for anyone going to the kitchen.
You might even place a tree lamp in the center of the room and direct the various lights to each area that needs to be illuminated.
Nevertheless, to help you know where should a floor lamp be placed in a room, here are some tips on how you can direct the light:
• Place floor lamps at one or more sides of the room to direct light toward the center of the space. This is helpful if you have central ceiling lights, chandeliers or ceiling fans.

• To create a focal point in the area, set lights on either side of a sofa or hearth. Use a dimmer switch so you can control brightness and save energy.

• To bring emphasis to an artistic statement, place a floor lamp alongside or right beneath it.
• To decrease visual fatigue, place a floor lamp next to a reading chair with the base of the shade at eye level.
• A floor lamp placed between two seats may provide a comfortable and welcoming environment for a conversation.
In terms of location, task lighting is rather self-explanatory; you set the lamp alongside the workspace. Accent lights, on the other hand, can be positioned wherever you believe they look best in your space.
But, do not be too concerned about where you position your floor lamp. The greatest thing about these floor lamps is how simply they can be moved and adjusted in a room.
How Many Lamps Should be in a Living Room?
A basic general guideline is that a living room should have 4 light sources to generate proper illumination. However, it will mainly depend on how huge your living room is.
The maximum number of floor lamps in a living room is most probably 6 light sources. Anything more than 6 could create an uncomfortable brightness and glares that could hurt the eyes.
What Type of Lamp Gives the Most Light?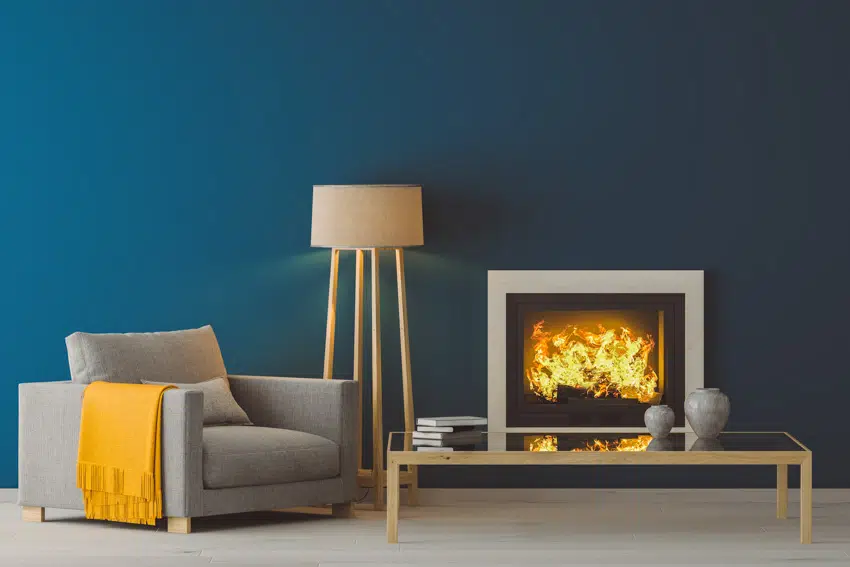 In terms of which type of floor lamp emits the most illumination, we consider a curved style lamp, such as a standing lamp with a swing-arm, or overarching lamp, as the best option. You would like a lamp that casts light into your room from numerous angles.
Moreover, you want a lamp that has an excellent arc so you will receive your much-needed lighting for a specific activity. An open shade arc lamp is also a terrific way to add elegance to your lighting since you receive the full effect of the bulb inside your room.
However, the amount of light a lamp could give will also depend on the wattage of the bulb used on the floor lamp. The higher the wattage, the stronger the amount of light.
Best Type Of Lamp For Reading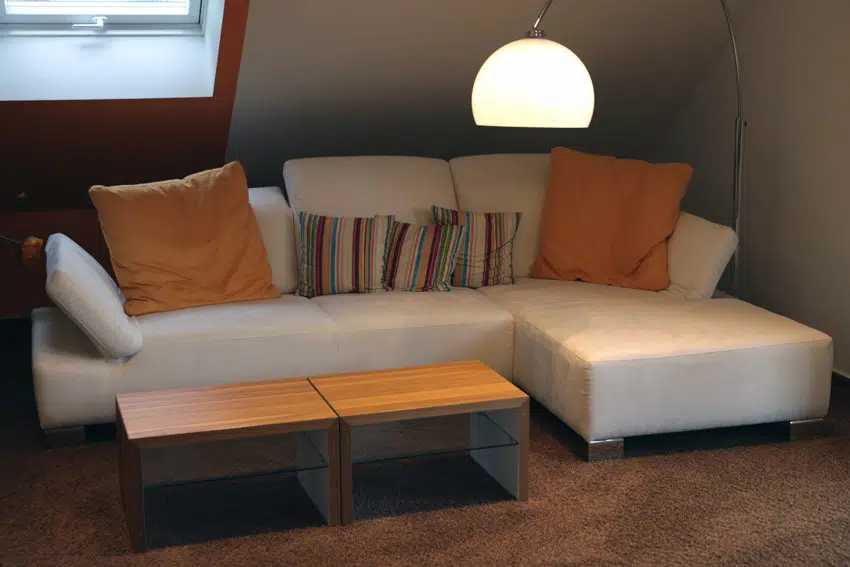 The best floor lamp for reading is a task lamp. This enables the lamp to direct light into a specified location, such as a desk, computer workstation, or a reading chair.
Aside from its excellent ability to distribute light to a particular spot, the slim structure prevents it from becoming cumbersome and occupying so much floor space.
Rather, it can be conveniently slipped into a corner or behind a chair, making it an excellent choice for providing adequate lighting whenever you are reading.
See more related content in our article about how to clean lamp shades on this page.