Here we share how to layer sheer and blackout curtains including tips on layering techniques, styles, matching window treatments, hanging, and answers to important questions.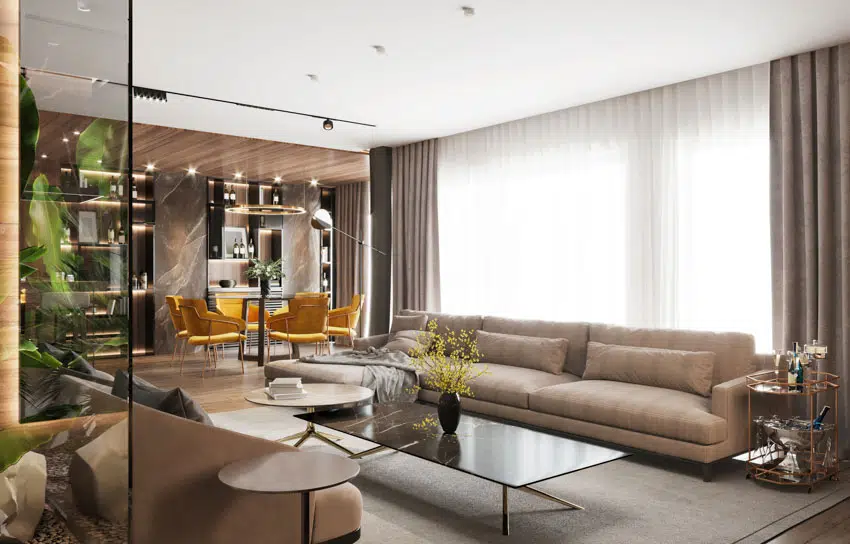 Curtains provide an assortment of functions. They look excellent, block out or allow in light as needed, and enhance the aesthetic of your interior space.
They are indeed a vital element in the interior design repertoire since they serve both appearance and structure inside the house.
Using blackout curtains is an ideal technique to reduce the amount of light entering a space. If you work unusual hours, are a deep sleeper, or want to sleep in comfortably, blackout curtains are essential.
Moreover, the application of blackout curtains is one of the best techniques to provide your house with a low-cost renovation or modify the color palette of a certain space.
You may, in fact, layer sheer and blackout curtains to boost shade and optimize the overall aesthetic of your space. Your curtains shouldn't be bland and uninteresting!
That is why, at this point, we will look at how to layer sheer and blackout curtains to personalize your windows and screen out light as necessary.
Choose Your Curtain Layers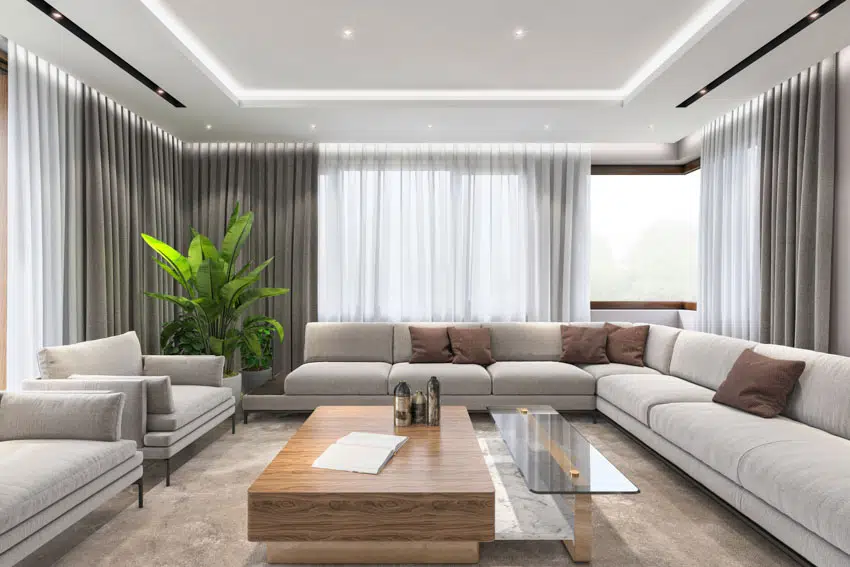 The primary task in curtain layering is determining whether to employ sheer curtains as the top layer or base layer of your window.
• Using a sheer curtain as the top layer: Your sheer curtains will hang above your blackout curtains if you utilize them as the top layer.
This creates a visually intriguing appearance for most types of windows, particularly if the two fabrics are well-matched in terms of design and color palette. Sheers are easily noticeable since they are the top layer.
• Using a sheer curtain as the base layer: If you are using sheer curtains as your base layer, they will be seen only when the blackout layer is pulled open.
When your blackout curtains are closed, they will be the focal point of the window design. This configuration provides a very adaptable alternative for both aesthetic and light regulation.
Choose Your Curtain Style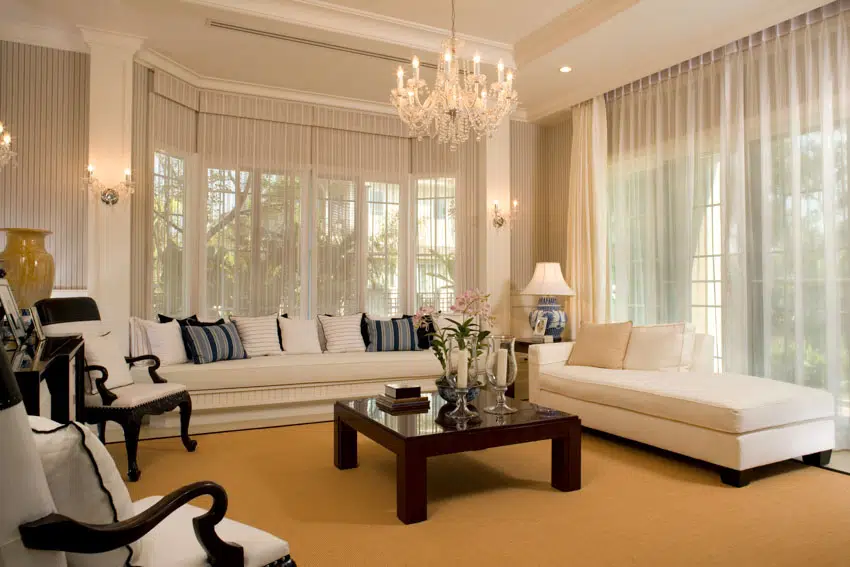 After you've picked on the layering sequence, it's appropriate to pick the fabric and design of your curtains.
This will be determined mostly by the décor concept, color scheme, and general atmosphere of your space.
Sheer Curtains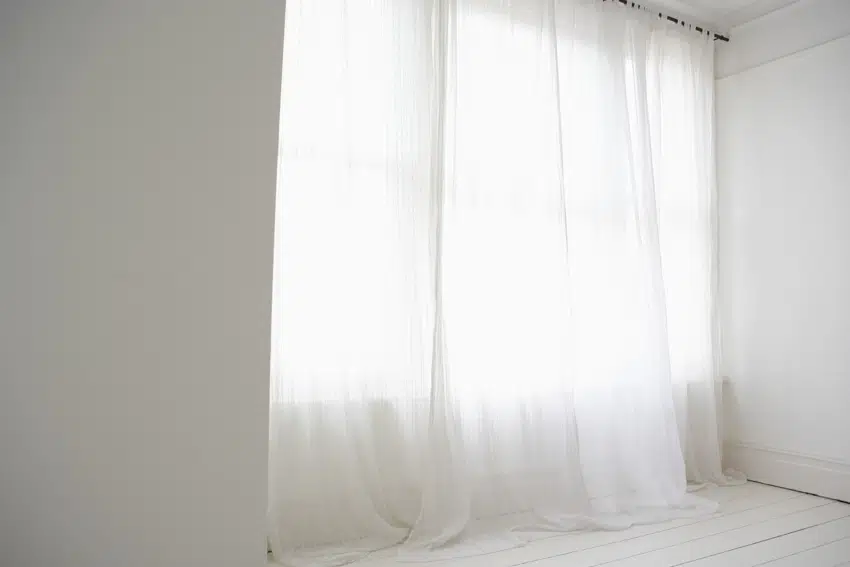 Sheer curtains aren't only for plain whites and neutral tones, but those are excellent alternatives too though.
You may explore various sheer curtain options to discover lovely designs and exquisite colors that will completely complement your interior space and blackout curtains.
Blackout Curtains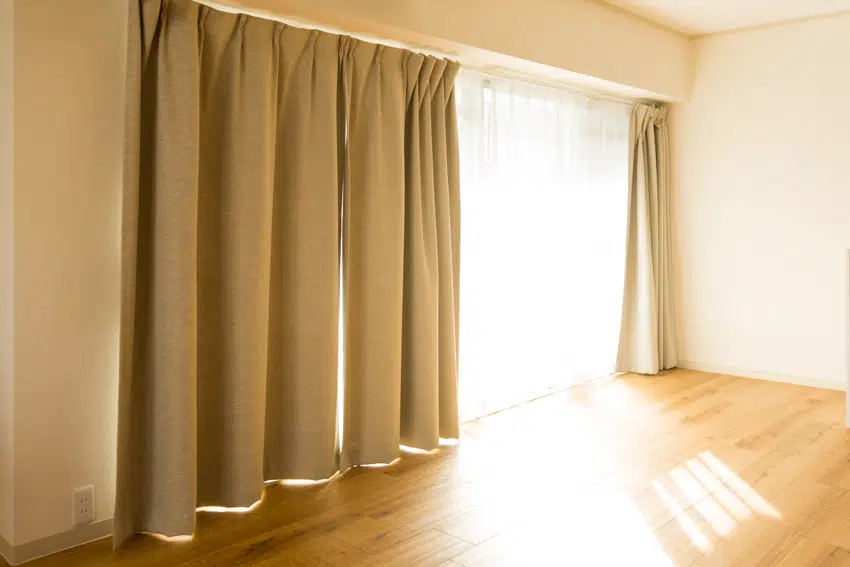 It is highly recommended to combine blackout colors with patterned sheers and conversely. Alternatively, to match the design of your space, establish a contrasting color scheme between layers.
There are several variations available in an unending number of curtain colors, styles, patterns, textures, and fabrics. Without a doubt, you can discover the curtains that perfectly suit your needs.
Either you choose a plain solid or a stunning floral pattern, there will be something that will meet your preferences.
Matching Curtain Heading Styles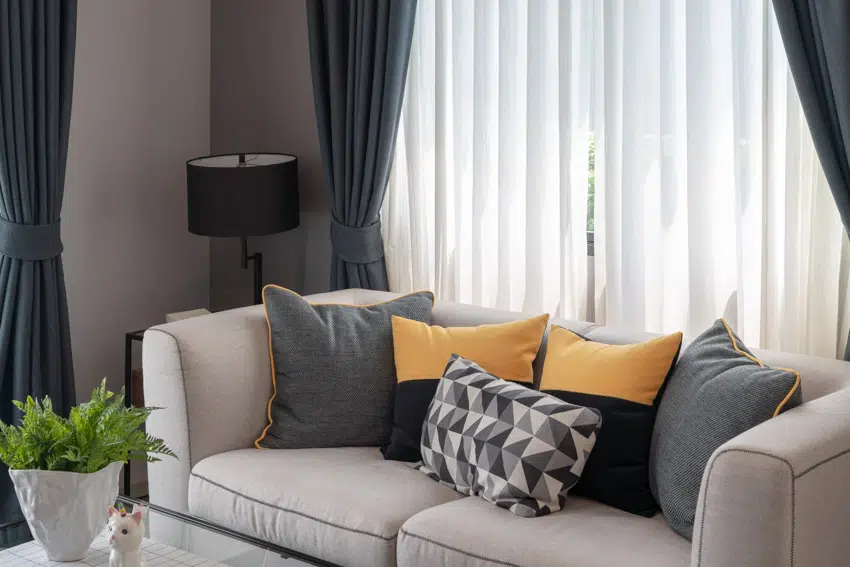 Although curtain heads may appear to be insignificant, they could have an impact on both the aesthetic and functionality of your curtains.
When layering sheer and blackout curtains, you have to be quite knowledgeable about some heading styles.
Heading Style for Blackout Curtains
Whether you're using blackout curtains as a bottom or top layer, it's critical to choose the perfect heading to achieve optimal light blocking.
Pinch pleat and pencil pleat styles are two of the greatest heading alternatives for minimizing ambient light.
Furthermore, these heading styles enable just a little amount of light to seep through the borders, as opposed to other styles, including grommet tops, which provide gaps for light to seep through.
Heading Style for Sheer Curtains
The options may vary as they will depend on the position of your sheer curtains. If sheer curtains are applied as the top layer, it is highly recommended to coordinate the heading style to the blackout curtains to maintain a uniform aesthetic.
On the other hand, if sheer curtains are used as a base layer, you have a greater opportunity to innovate with your heading style.
Because the sheer will be seen primarily when your blackout curtains are pulled back, the headers do not need to be uniform.
Hanging Curtains Above The Window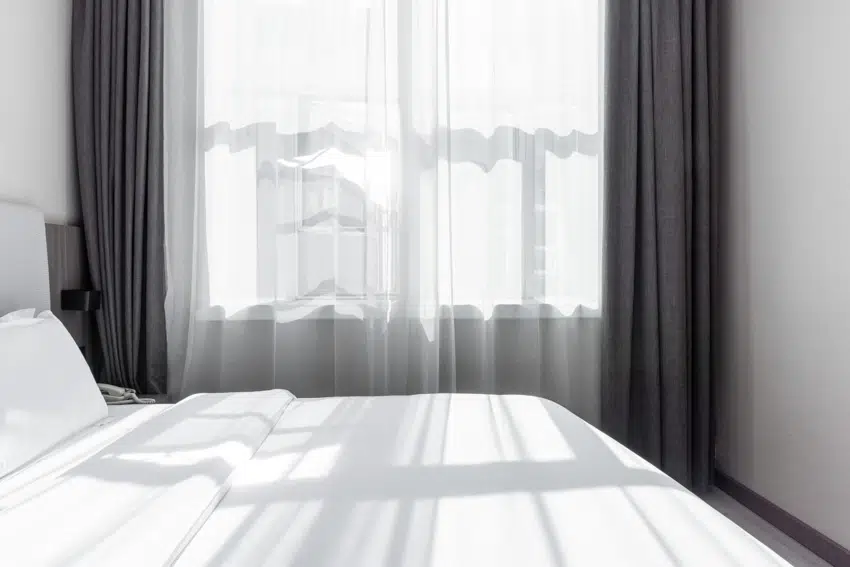 The appropriate height to hang your curtains is mostly a matter of fashion rather than functionality, and trends may vary from time to time. This is why it helps to learn how high to hang curtains so you can discern between style and function.
Although it was formerly common to hang curtains directly over the top of the window, nowadays, it is far more common to have curtains set a few inches higher than that.
That additional height could vividly enlarge your windows, making the ceiling look higher and the room feel wider. Curtains should be hung at approximately 4 to 6 inches above the peak of the windows.
Suppose you're furnishing a living space or bedroom with a standard ceiling height of 8 feet, an interior designer's general guideline is to install the curtain rod approximately a half-foot just above the top of the windowpane. Read more about curtain rod sizes here.

Curtains should be positioned within 8 inches of the top of windows if you have higher ceilings.

Can You Double Layer Sheer Curtains?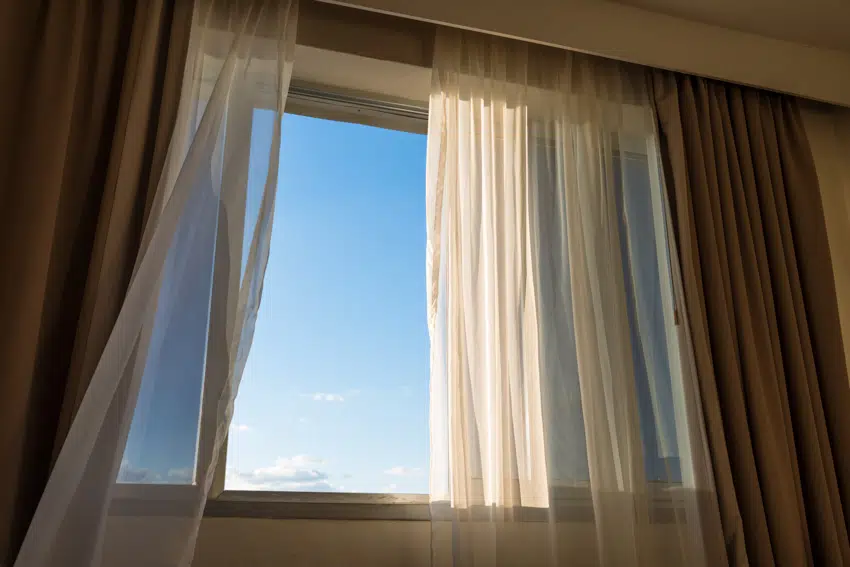 Double-layering two plain sheer curtains with the same style and color won't make a huge difference in design.
However, homeowners commonly overlay two distinct types of curtains. In most instances, this entails merging or double-layering primary curtains with uniform patterns or colors with sheer curtains.
Yes, you can layer a sheer curtain behind a dark or blackout curtain using two brackets and dual curtain rods. This method allows sunshine to shine through while retaining obscurity.
The primary curtains are hung on the right and left sides of the curtain rods, while the sheer curtains are hung in the middle. This type of positioning exudes a sleek, well-balanced look.
Panels that are positioned at the end of the rod frequently appear to be on a different rod and provide shielding from strong sunlight.
You can slide one of the primary curtains onto the rod to obtain this effect. Extend it to the far end to make room for more panels.
Afterward, attach one or two sheer panels to the rod. The amount you add is entirely up to you. Lastly, move the remaining main panel and arrange the panels to appear clean.
Do Sheer Curtains Go In Front Or Behind?
There are different ways to hang sheer curtains over its blackout counterpart. The ideal way is to lay over the sheer curtain over the blackout if it is in front.
This creates a visually fascinating appearance for your windows, primarily if the two fabrics, colors, or textures are matched perfectly or have contrasting colors.
Sheers are constantly noticeable if they are in front. So, if you want to improve the overall design of your interior space, we recommend putting it in front.
How Do You Make Blackout Curtains Look Good?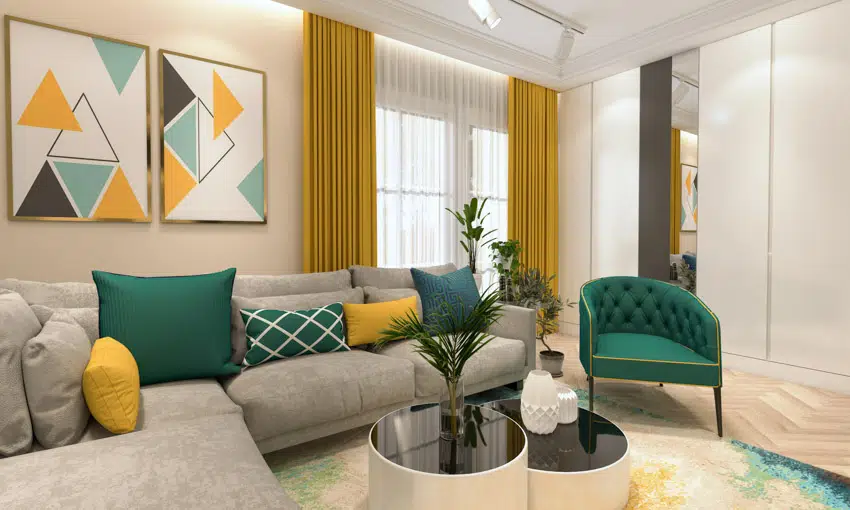 Here are a few steps on how you find good blackout curtains and how you can make them look good:
• Look for a Heavy-Fabric Blackout Curtain: A curtain's fabric may make it appear either rich or inexpensive. When searching for blackout curtains, you may come across those that are manufactured of cheap-appearing cloth.
You should look for curtains that are made of a heavier fabric. Since they flow and move, curtains made of a good, thick fabric tend to hang better and seem more opulent.
Numerous shops have model curtains displayed in the aisles so you can view the design, fabric, and how the curtain will drape. Spend some time looking into them.
• Mount a Double Curtain Rod: Sheer and airy drapes moving in a gentle breeze from the window may provide an outstanding aesthetic. To achieve this, you can use a double curtain.
Double curtain rods are attached to the same frame, allowing you to layer two groups of curtains.
With a double curtain rod, you could hang your current sheer curtain on the first rod and put your new blackout curtains over it on the second rod. You can have the perfect combination with this technique.
• Utilize Curtain Ring Clips: The major reason for using curtain ring clips isn't merely to make the room appear prettier. They can also be used to make it easier to move the curtains, make pleats, and modify the length of your curtains.
• Eliminate the Wrinkles of your Blackout Curtains Using a Handheld Steamer: There's no need to get out the iron as well as your ironing board from the cupboard. To enhance the condition of your blackout curtains, you can use an affordable hand steamer.
See more related content in our article about the different types of window shades on this page.