See the different types of drapery pleats including what they are, how to choose the ideal drapery pleats and tips for DIY curtain pleats.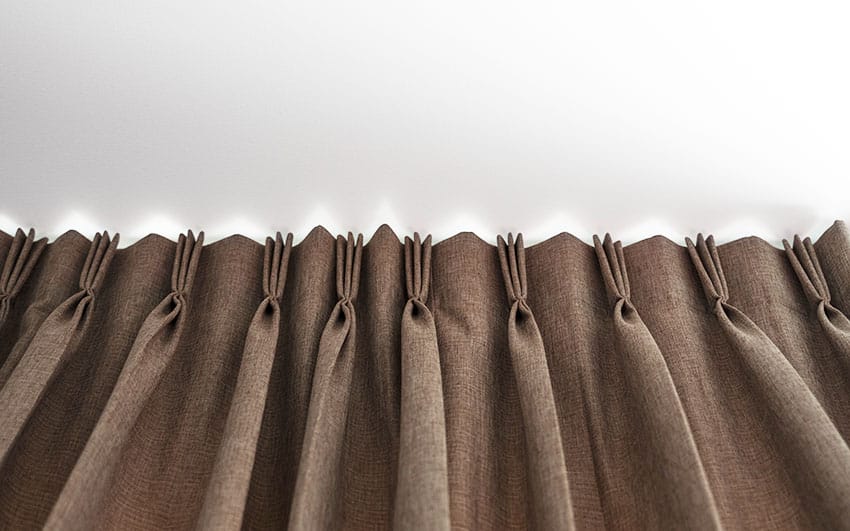 When you settle on attractive drapery sheets to decorate your windows, you have probably made the selection to have the most possibilities for window treatments. Coordinating the fabric, headings, and pleats to your décor might be tricky, but with the proper information, you can embellish your windows like an expert.
In customized window treatments, drapery pleats come in a variety of styles. Many appear great with certain fabrics, headers, drapery rods, or in the position they are hung. Each of these products can be customized to deliver you the particular look you want while still providing the functionality you need.
Custom drapes are another option for framing a window and highlighting the design of a room in any section of your home. As you read on, you will come to know more about the lovely realm of drapery pleats and the different options available.
What Are Drapery Pleats?
Drapery pleats are ornamental sections close to the top of a drapery panel that provides your window covering fabric and surrounding areas with a unique ambiance, which makes them feel demure and calm, dramatic and gorgeous, or anywhere in between. Not all types of drapery pleats are expertly sewed into the fabric, but some develop naturally as the fabric hangs on a curtain rod.
Drapery panel headers are found at the top of the drapery panel and indicate how the drapery panels should be positioned on a drapery rod. Certain drapery pleats necessitate drapery hooks and connect to a rod, while others obscure the rod totally and some unveil an extremely beautiful drapery rod.
Basically, drapery pleats provide shape and structure to drapery panels. Drapery panels that lack pleating can appear disoriented and uninteresting; pleating gives your drapery character.
Pinch Pleat Curtains (French Pleat)
The pinch pleat is a traditional pleat that certain designers refer to as a French drapery pleat. The fabric on the top of the drapery display is fashioned into a three-finger flute approximately two inches from the upper end of the drapery panels so that it is organized at the top and then unfolds as it descends to the floor with volume in the panels.
The creases of a pinch pleat create a lovely elegant drapery with pleats that spread out on top and spread out even more on the bottom for further aesthetic impact. A sewn-in fabric valance and ruffled fringe on the lower end of the valance can give further layers of appeal for home and business owners.
To make a less filled fanning at the upper and lower end of the pleats to the ground, you can stitch only two folds of the cloth together at the upper end of the pleats. This is the second most elegant and eye-pleasing design, and it is frequently used in the window frames of diners with fancy settings, nursing and assisted living facilities and hospitals, and also executive corporate boards of enterprises.
Furthermore, the top pinch pleat is a version of the pinch pleat wherein the fabric creases are sewed together at the topmost part of the drapery panel to produce a streamlined heading that regulates the volume flowing down the fabric.
Here are the different types of French pleats:
Two-Finger Pinch Pleat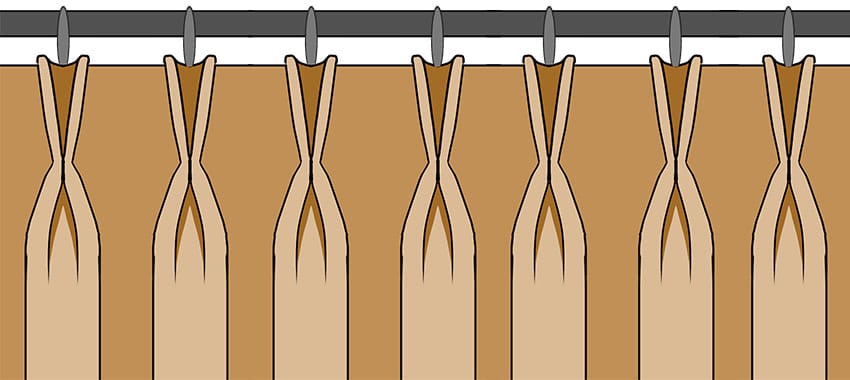 The two-finger pinch pleat design has uniform spacing to adjust the drape's fullness. A sturdy woven stiffener is used in this pattern to allow the distinctively collected pleats to develop and hold their shape.
At the bottom most part of the pleat, two pleats are also sewed simultaneously. This pleat is known by several names such as the two-point pinch pleat and the double French pleat.
Three-Finger Pinch Pleat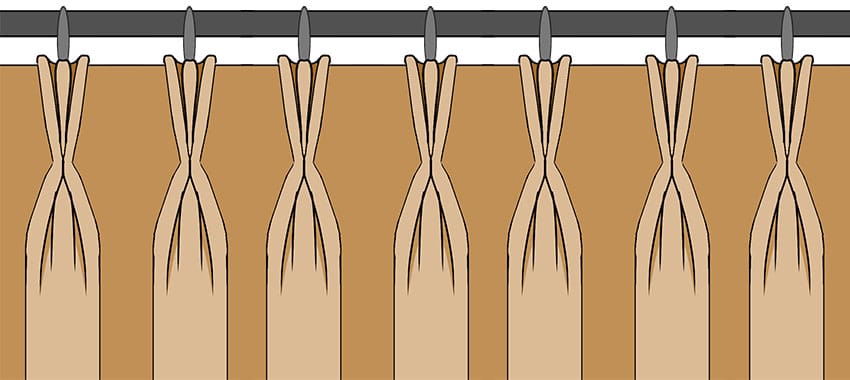 The three-finger pinch pleat drape has the appearance of a highly streamlined drapery panel header and the usefulness of controlled fullness.
This is a variation on the two-finger pinch pleat, although the pleats are more noticeable in this version. This pattern is also known as the three-point pinch pleat or the triple French pleat.
Four-Finger Pinch Pleat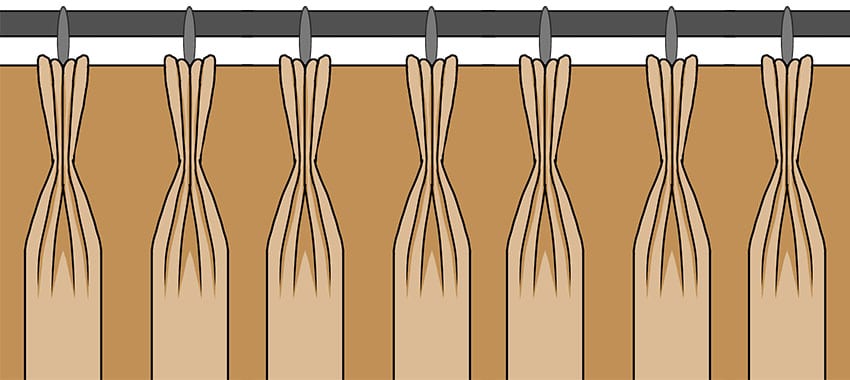 To make a flute-like appearance, four-finger pinch pleats are pressed together. This is one of the most fashionable and substantial drapery pleating styles currently offered. Unlined, lined, or self-lined four-finger pleated panels are often obtainable.
Five-Finger Pinch Pleat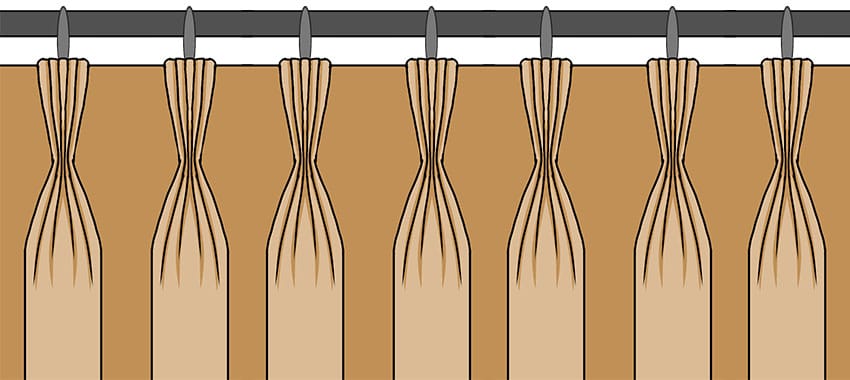 Five-finger pinch pleats are uncommon, but they are an underrated drapery pleating option. Some interior designers believe that the more pleats there are, the fuller the effect.
Hence, you'll find five-finger pinch pleats in luxury curtains, which are always present in formal entertainment rooms as well as master bedrooms.
Euro Pleat
A Euro pleat is compressed and sewed at the upper end but left open at the lower end to enable the material to start waving gently. A Euro pleat curtain, similar to a pinch pleat curtain, features pleats that are squeezed at the top but open at the bottom.
A double or triple Euro pleat is similar to a pinch pleat. Euro pleated curtains are a little looser and less rigid than pinch pleated curtains.
The two types of drapery pleats with a Euro style are as follows:
Two-Finger Euro Pleat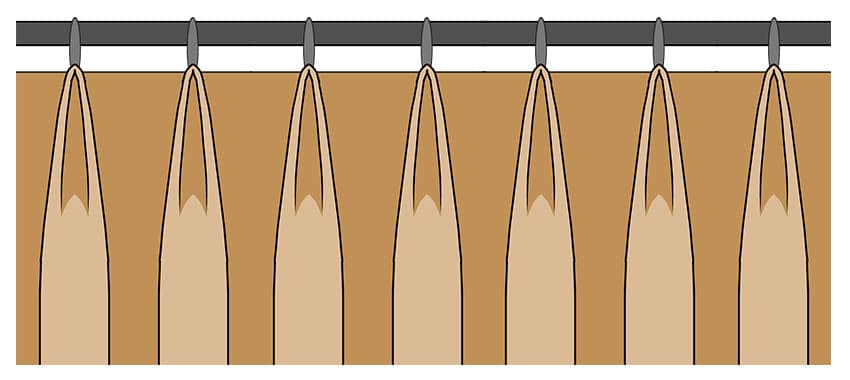 The two-finger Euro pleat style has precise spacing and volume that is sustained. The draped fabric generates nicely collected pleats that are sewed together at the top of the cloth heading with the assistance of the affixed woven stiffener.
This technique is very similar to the two-finger French pleat. In actuality, the pleats are sewed at the absolute top of the drapery heading rather than at the bottom. This pleating technique is also called European pleating, top tack two-finger pleating, and double-tailored pleating.
Three-Finger Euro Pleat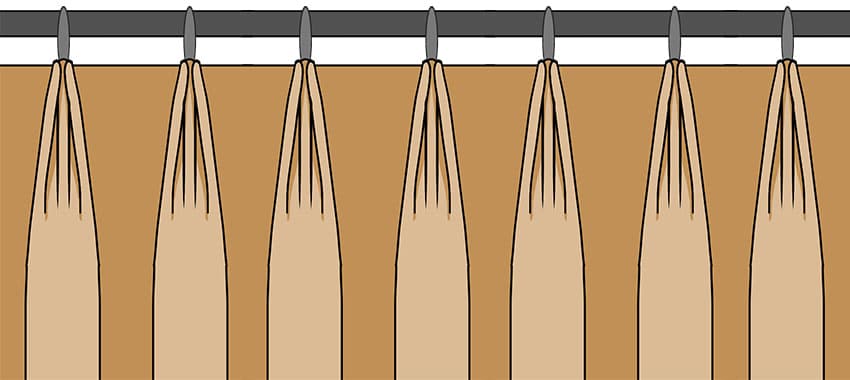 To produce a streamlined look, the three-finger Euro pleat employs a clever gathering process. To generate a rich thickness, three pleats are sewed together at the upper end of the woven stiffener.
This drapery pleat is identical to the three-finger pinch pleat, apart from the gathering being sewed rather than pinched. Triple fitted pleats, European pleats, and top tack three-finger pleats are some other names for these three-finger Euro pleats.
Goblet Pleat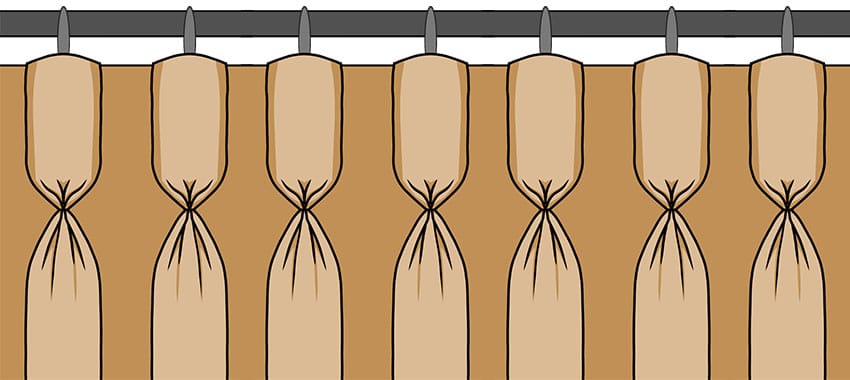 The goblet pleat type offers a cushioned upper edge that resembles a wine glass or tapered stemware, which is why that is its name. To do this, a fabric cone is produced and then placed with a solid woven backing to preserve its structure.
Goblet pleat curtains are appropriate for a formal area with high ceilings. The name comes from the shape, which is similar to that of a goblet. It has small pleats that are woven together about four inches from the top of the draperies to make a cup-shaped fabric pleating that looks like an upside-down wine glass.
Arguably, this is the most stately and stunning pleat you will be seeing. When using bulkier fabric materials, the fabric cup can be left open; nevertheless, if you are employing a lighter-weight fabric like linen or cotton, the cup would most probably require a filling of padding or tissue to preserve its form.
However, because the pleats are not firm enough, the goblet curtains merely surround the window. They remain stationary, implying that you cannot pull them open or closed.
Inverted Box Pleat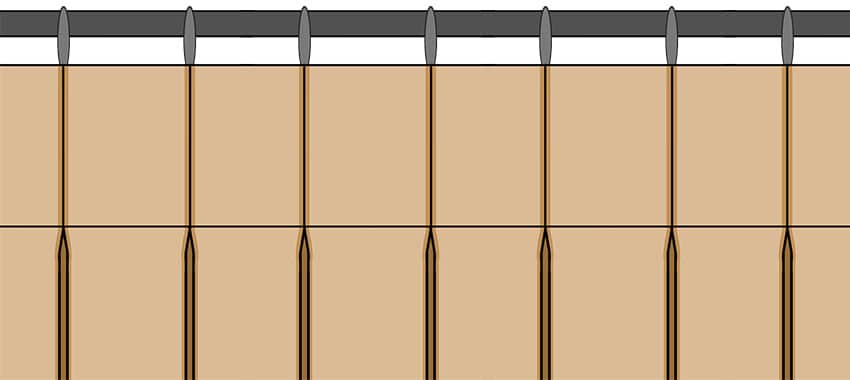 The inverted box pleat is a modern look wherein the fabric is masterfully pleated to create a smooth movement down the length of the drapery. Because the fingers of this type of pleat are reversed or inverted, the gathering is visible in the rear of the drapery, resulting in a lovely and seamless front.
This pleat design is nice and tidy, and it is thought to be a pleasant and comfortable method that functions nicely in an informal environment. It offers a decent level of thickness and it extends down to the bottom of the curtain panel. They have subtle folds that follow the length of the curtain, providing full covering and a clean, fitted aesthetic.
Pencil Pleat Curtains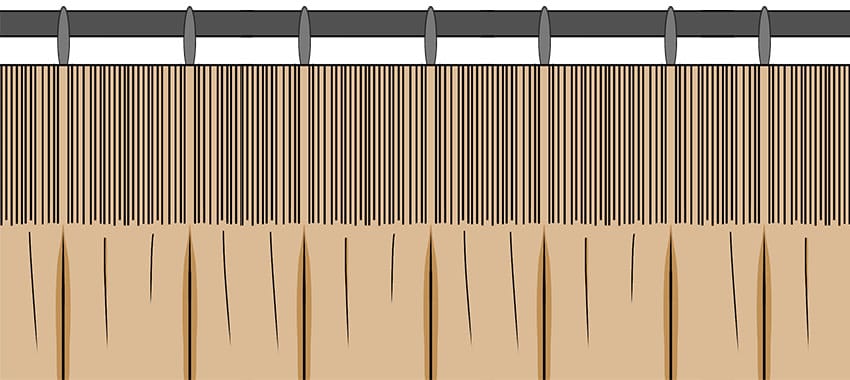 Pencil pleats are narrower, individual pleats that work nicely with various types of drapery rods as well as hooks. They have a relaxed appearance and usually match less formal settings. This form of pleat is fitted and it is typically perceived as feminine owing to its appearance.
The pencil pleating tapes are attached to the backside of the fabric panels with threads to tighten up the fabric to form exquisite and lengthened pleats.
The pencil pleat goes great with fixed panels that you would not be closing and opening frequently. This design is non-functional on a top drapery panel on a lofty window, with an operational drapery on the lower side.
Rod Pocket Curtain Pleat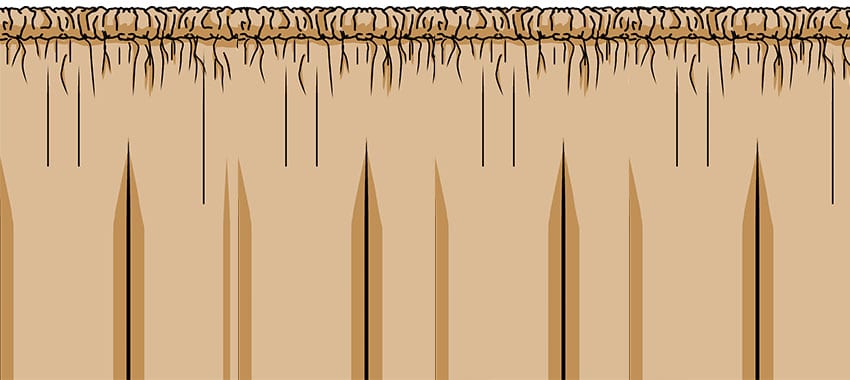 Rod pocket curtains are a classic kind of drapery. A pocket is sewed into the heading of the drapery in this form to accommodate your curtain rod. You can install a single-centered supporting rod bracket wherein the panels connect if you are utilizing one. This aesthetic emphasizes the textile. However, there is not much embroidery or hardware in this arrangement.
Moreover, the rod pocket is the most casual, timeless, and conventional pleating design for window curtains. The gathering of fabric material beneath the rod pocket adds thickness throughout the whole length of the panel in this pattern. The benchmark would be to use double the width of cloth, but if you want full curtains, you can make the drapery panels wider.
The typical rod pocket is sewed near the panel's extreme upper end. However, to give additional charm and distinctiveness to your rod pocket curtains with ruffles on top, you can leave a bigger flange of fabric material above the stitched part in the rod pocket.
Back Tab Pleat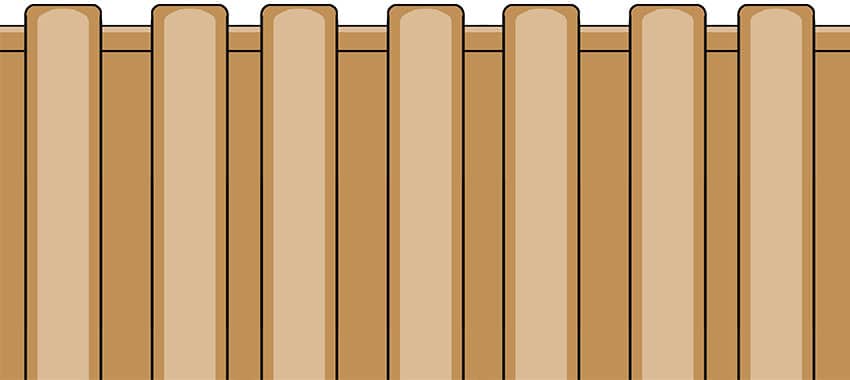 The back tab pleat drapery style delicately molds the fabric material with a firm gathering at the heading. Fabric tabs are held in position at the backside of the treatment by woven reinforcing bars or stiffeners. The curtain rod slides through these apertures, creating a clean and smooth appearance against your window frames.
Tab Top Pleat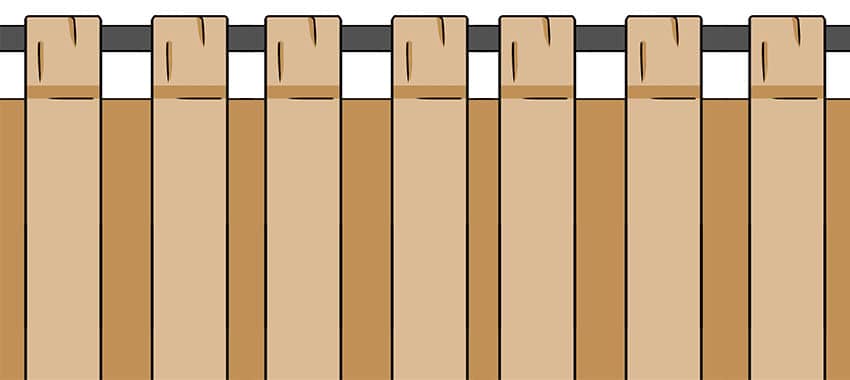 The tab top pleat is commonly encountered in a countryside or relaxed décor style. These drapery panels have tabs sewed on the top, and the curtain rod attaches through the tabs. For creative embellishment, you can use a complementary color for the tabs or employ the same fabric as the one seen on the panel.
Rather than stitching them on, the tabs can be fastened to the fabric material top with any form of adornment like buttons. This form highlights the curtain rod in between the tabs and allows you to showcase a magnificent ornate drapery rod.
Eyelet Pleat
Eyelet-pleated curtains are a modern curtain heading style that uses huge steel rings at the upper end of the curtain rather than the traditional heading tape. This contemporary style is frequently floor length, with smooth deep pleats going down the fabric material in eye-catching symmetrical patterns.
The rings allow you to simply slide open the curtains, rendering them an excellent selection for bedrooms. The rings or grommets also allow you to access your curtain components. Thus, visually beautiful curtain rods and finials are necessary.
Furthermore, eyelet-pleated curtains are simple to hang; you just have to easily thread the rod through every eyelet. They are suitable for usage in living areas, bedrooms, and dining rooms. They are not, unfortunately, suited for curtain rails, valances, as well as bay windows.
Grommet Top Drapery Pleat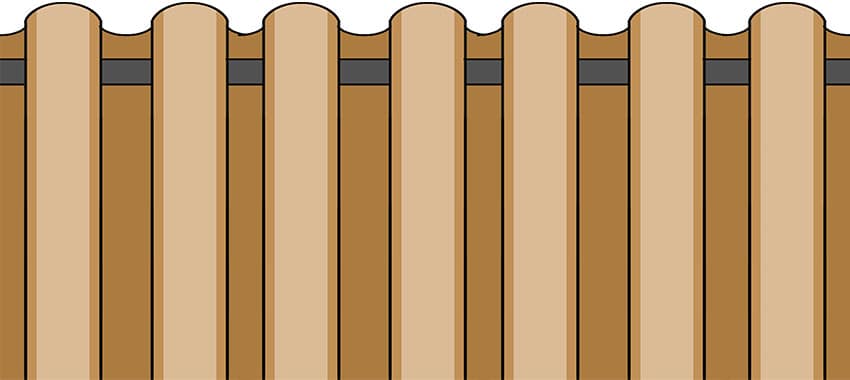 The grommet top is among the most well-known drapery pleating types. This pleat style is becoming more popular since it has a more modern appearance than its counterparts. This alternative also has a more minimalist heading that is less substantial than the others. It is also extremely simple to set up.
Parisian Pleat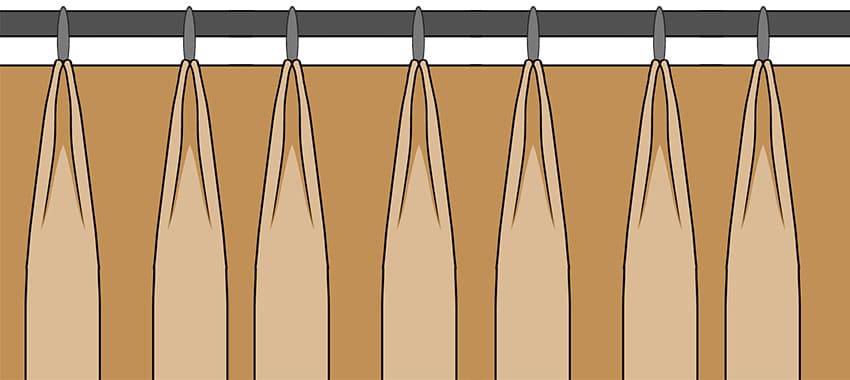 The Parisian pleat is a classic pleating design that is employed in stately settings along with fancy dining rooms or lounging rooms in a mansion. It is indeed similar to a pinch pleat, except the three top folds or fingers are tacked together at the flute's upper end.
Due to the general way the folds are hooked together in the Parisian type, there are no flutes on the upper end; instead, there are flutes underneath the pleats and along the course of the drapery panel.
Furthermore, the Parisian pleat is increasingly becoming a favorite selection among many homes due to its more sophisticated and streamlined appearance. The Parisian, like the French pleating, is merely pressed at the very top. The Parisian pleat headings allow curtains to flow gracefully.
Ripple Fold Pleat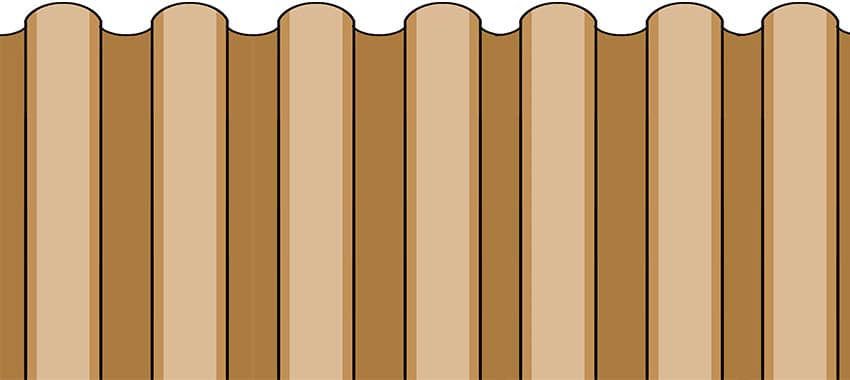 The ripple fold drapery pleat is named for the ripple impression it makes in the fabric. The end result is a sequence of delicate and minimalistic waves that create zig-zags to provide the same look on both the front and rear sides.
Whenever you slide this design's folds closed and open, they will remain stationary. You only need to ensure that the ripple fold tape matches the drapery tracks. This style of drapery requires the use of a particular ripple fold tape and track. This is what will ascertain that your draperies function efficiently.
The ripple fold pleat is streamlined and stylish, as well as simple to use and practical. It fits brilliantly on curtains that you open and closes on a daily basis in your office or house. When you open and close the drapery panels, they glide down a track, and this form of pleat and header is frequently used in healthcare facilities to divide rooms, separating patients decently.
Cartridge Pleat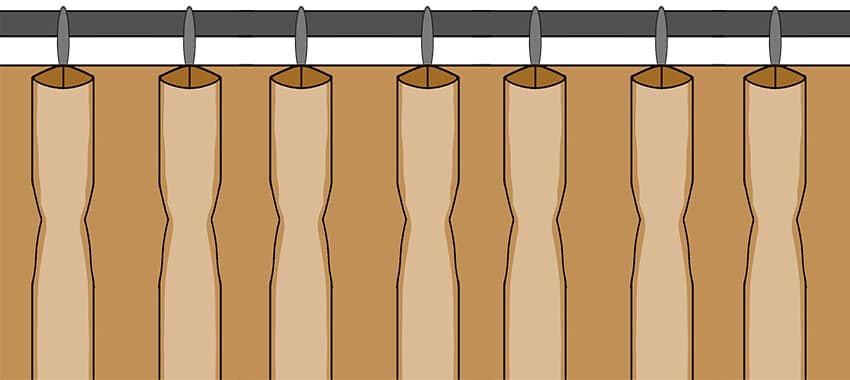 The cartridge drapery pleat offers a distinct and fashionable appearance. Rolling the fabric material into a cylinder at the upper end of the curtain panel creates the form, which also helps to produce volume along the entire length of the drapery panel.
This design is commonly used as ornamental fixed panels with shades behind them for a customized layered aesthetic. Aside from that, the cartridge drapery pleat is moderately stately and will look great in any situation.
Flemish Pleat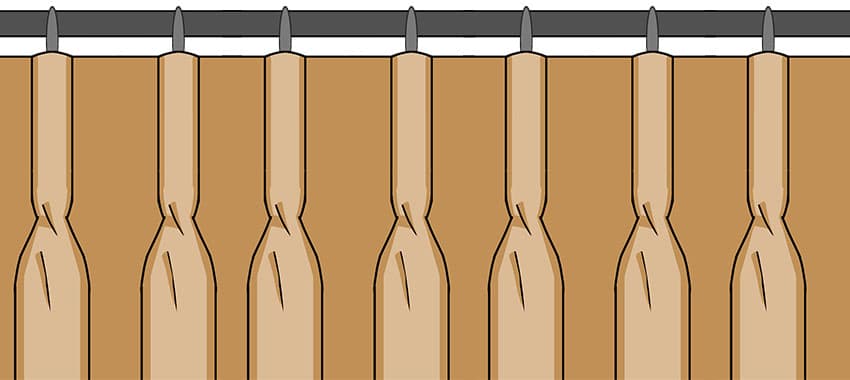 The Flemish pleat features fabric folds that run the length of the curtain panel. Pleat fingers that are reversed and move to the rear of the panel rather than the front are a modification of the Flemish pleat.
The consistent folds of cloth in Flemish-pleated curtains keep a seamless flow along the length of the drape. Pleat fingers are flowing backward rather than forward. Pleated sheer curtains, curtain panels, as well as valances are some of the available selections for these types of drapery pleats.
Folded Cuff Pleat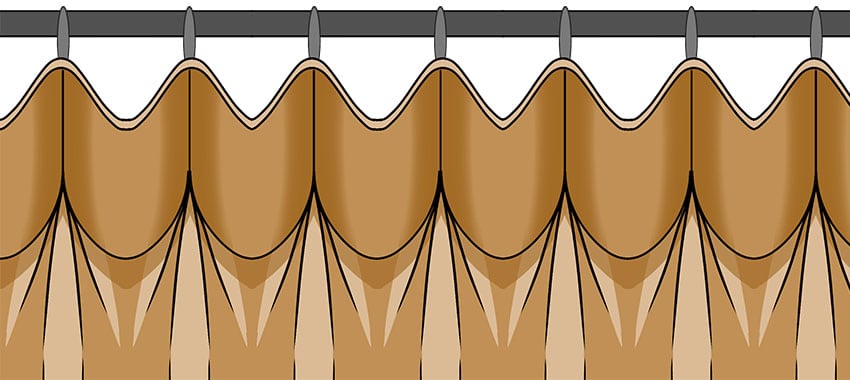 The folded cuff pleat is a widely known arrangement that may be used with a flat drapery piece that has a backing or lining for outstanding heat and light regulation in your windows.
Typically, the panel is placed on rings, with the matching backing fabric folding forward over the frontal panel between every drapery ring. This is indeed a pleasant and casual window treatment design.
Tailored Pleat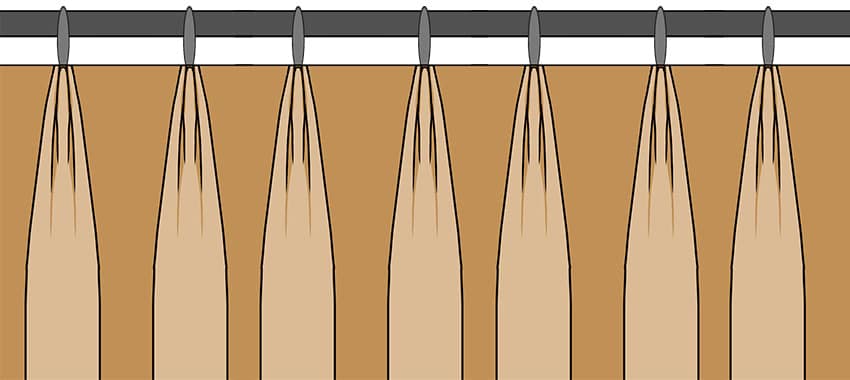 Tailored pleat draperies are comparable to pinch pleat draperies (as previously mentioned) in terms of appearance, but the pleat begins at the upper end of the fabric and descends from there. This is also known as a Euro pleat, which was also mentioned a while ago.
For some individuals, the tailored pleat is a less finicky and more fashionable pleat, but this is just subjective. Tailored pleat curtains look stunning when produced with a solid fabric; lighter-weight fabrics would almost certainly require lining if fashioned into tailored pleat curtains.
Flat Panel (No Pleats)
Flat panel drapery is basically drapery with a flat heading that hangs from drapery grommets or a traversing rod. It is not hanging from a rod pocket and has no pleats. As with most types of draperies, flat panel draperies could be placed on a drapery pole with grommets or a traversing pole.
When it pertains to placing the curtain on a drapery pole, the simplest method is to use clip-on hooks. You can use regular drapery rings that loop through a steel pin in the rear of the curtain to properly make the drapery look sophisticated and refined, as well as to decrease the space between the drapery and rod that clip-on hooks produce.
What Are Drapery Headers?
Draperies can be altered in an infinite number of ways. You can start by looking at the hundreds of thousands of drapery fabrics that manufacturers meticulously put together into sample books each year, and you might become overwhelmed by the options. However, the drapery header is an important technique to configure a drapery.
The drapery header describes the method through which drapery is sewed and placed on top. The simplest fundamental draperies usually feature a rod pocket or a flat panel heading. Pleated draperies are also popular, but necessitate more built-in fullness.
A customized workroom can also produce some other distinctive headers, which might involve linked valances, contrasting fabric, trims, and other elements.
Drapery panel headers are the apex of a drapery panel and indicate how the drapery panels should be positioned on a drapery rod. Most pleats need drapery hooks and latch to a rod, while others conceal the rod completely. Others reveal an extremely ornamental drapery rod
How to Choose Drapery Pleats
One of the first considerations you must make is whether you want your draperies to be fixed or operational, which means they will just be utilized for decoration or to open and close. You should take into account the length of the pleated drapery as well:
• Place half an inch off the floor for a customized aesthetic and achieve a more classic look. It is better to have them directly above the floor for traversing drapes.
• If you have immovable panels, the pleats should fall to the floor.
• Put an additional 8 inches beyond the floor for a more striking impact. This is ideal for puddle length as well as other stationary panels.
If you go to your local window treatment shop, a specialist will come over and measure all the necessary things. If you are purchasing customized draperies from an online seller, keep in mind that most of them include calculators that will assist you in determining the correct size for your drapery. So, be cautious when measuring.
Adding another dimension, because pleated draperies are an investment, you should maximize them by having them complement your drapery panels effectively.
The general guideline for determining drapery panel width is to make it twice as broad as the area you wish to hang it over, ensuring that it generates folds or pleats simply by being bigger at the top. The fullness is generated by the heading and how it is hung on the curtain rod as there are no pleats woven into the fabric material.
Taking precise measurements is critical, particularly when purchasing drapes to cover your whole window since most types of drapery pleats are custom-made for your window treatment. Thus, they are not modifiable, and everything is dependent on getting accurate measurements. The key is to make sure they are properly fastened and secured.
If you hired an expert to make them, simply let them install them as well. If you are hanging the drapes yourself, you will know the pleat is done correctly if the pinning hook is placed just next to each pleat. If everything is done perfectly, you must have extremely attractive pleated drapes.
Choosing Drapery Pleat Tips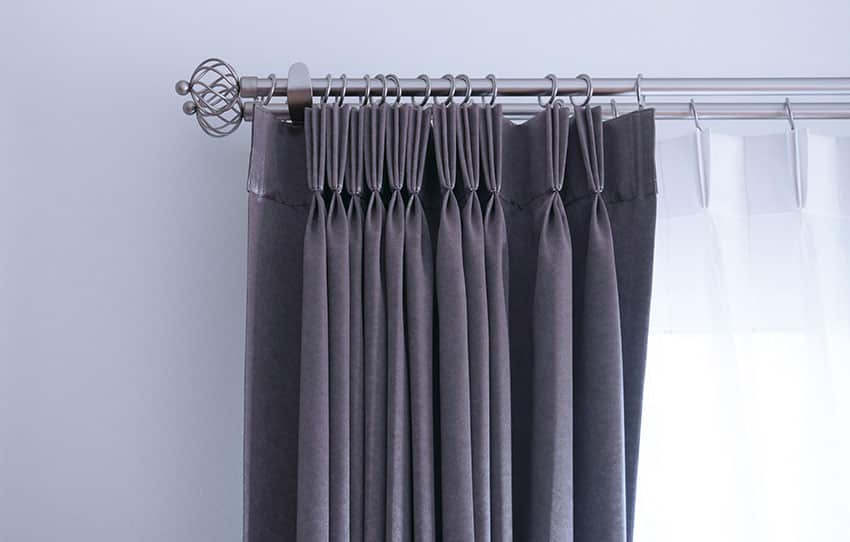 As previously stated, there are numerous types of drapery pleats. These draperies are also available in a variety of styles, hues, and fabric materials. To buy the best type of pleated draperies, you should first determine which style you want and decide what would look great in your house. Afterward, choose the types of curtains, fabric, as well as color, or patterning.
Draperies come in a variety of pleat styles, each defined by how the pleat is made as well as its aesthetic. Pleats are made by gathering or folding the material at the top of the fabric and sewing it together at that place. They resemble a fold in the fabric that begins at the top and extends to the bottom.
Moreover, some drapes are more tightly pleated at the upper end and lightly pleated deeper down the curtain, whereas others are strongly pleated from edge to edge.
When selecting drapery pleats, you must first determine the type of pleats you want for your window. Pinch-pleated curtains, which could be one, two, three, or four-finger pleated, are among the most prevalent. Looking at draperies in stores, publications, or online can help you select which sorts of pleats you prefer.
After you have decided on the type of drapery pleats you want, select a drape design, fabric, and color. Pleats are most seen in drapery or full-length draperies, but they are also present in sheers, swags, as well as valances.
Velvet, jacquard, rayon, and silk are just a few of the fabrics available. They are obtainable in a wide range of colors, from soothing earth tones to vivid jewel tones, and also a multitude of patterns such as stripes, plaids, and flowers.
Moreover, you must select drapes that match the colors and décor of the space in which they will be hanging. Airy and lightweight materials in light colors work beautifully in small, dark spaces, whereas large, bright areas can manage dark hues in rich curtain fabrics like velvet, in a shade of brown.
Solid colors complement textured walls or furnishings, while florals or stripes complement plain-colored walls and furnishings. When selecting drapery pleats, you should consider both the window as well as the room.
Finally, another critical aspect of selecting the best drapery pleats is ensuring that they suit the window. Take the width of the window framing into account.
Next, to establish the length, measure from the drapery rod to where you want the curtains to rest. Unless they are custom manufactured, the majority of draperies come in predetermined sizes, thus you must select the one that best fits your windows.
Tips For Do-It-Yourself Drapery Pleats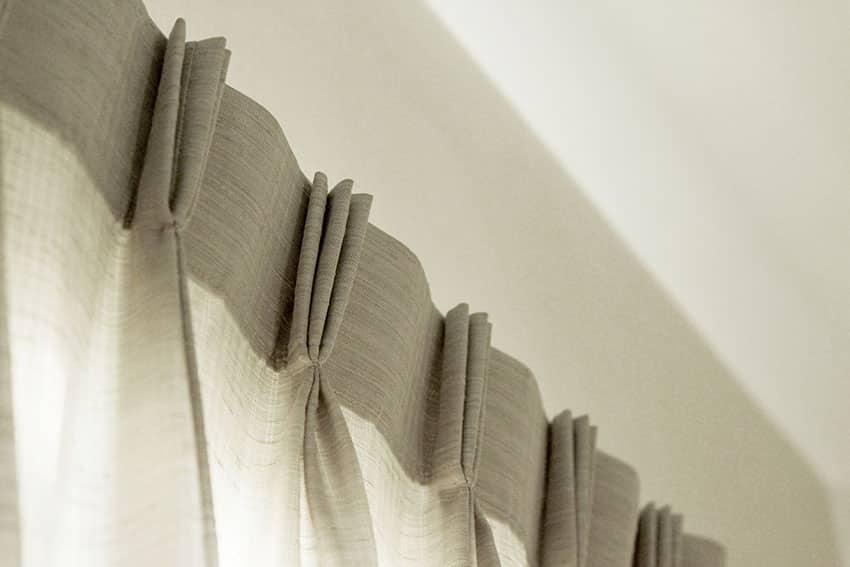 • To generate natural pleats and ruffles, make your finalized drapery panels twice the width of your window frame. This is based on the general guideline previously mentioned in this article.
• The rod pocket is the simplest drapery panel to make by stitching a pocket approximately 4 inches from the upper end of the drapery panels to attach your drapery rod.
• Because your curtain rod will be completely covered in fabric, you can select a less expensive model with attractive finishes on the ends. Since rod pockets are meant to fit the rods securely, they are more difficult to open and close. Therefore, even when you wish to open the drapery panels, you might make some lovely tiebacks.
• A novice in DIY window treatments might also try using a tab top header. Well, in this case, you just have to make sure that all of your tabs are about the same size, otherwise, they will look strange, and your drapery panels will not hang correctly.
Because it will be visible between the tabs while your curtains are closed and the full rod will be visible whenever they are open, you will most likely prefer a highly ornamental drapery rod.

• Any types of windows that receive a lot of direct sunshine during the summertime can gain advantage from an insulating liner or, if necessary, a blackout curtain liner sewn to the backside of the completed drapery panels.

Most Formal Drapery Pleat Style
Most types of drapery pleats are quite formal and look great in formal restaurants and extremely polished living rooms. However, the goblet pleat is arguably the most formal drapery pleat.
This type of drapery pleat is composed of small pleats that are sewn together around 4 inches from the upper end of the drapery panel to make a cup-shaped fabric pleat that resembles an upside-down wine goblet.
Thicker and more exquisite materials retain the goblet pleat shape without a filling, while thinner fabrics, such as linen and cotton, will almost certainly require a filling to maintain their shape.
The pinch pleats are the next most formal classification of pleat styles, with numerous variations to select from. The typical pinch pleat consists of three folds of fabric sewed together around two inches from the top of the curtain panel. This results in a lovely formal drapery with pleats that spread out at the upper end and fan out even more at the bottom. These look great in any formal or traditional setting.
Visit our guide to drapes vs curtains for more related content.