Welcome to our drapes vs curtains design guide including differences, popular styles & features.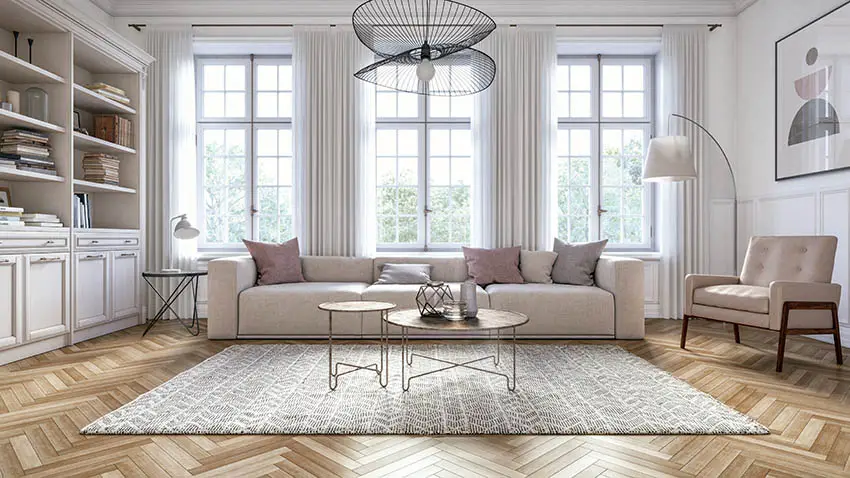 Drapes and curtains are both considered as window treatment since both are hung over a window. Most of the time the term drapes and curtains are being used interchangeably and is a common misconception which confuses most homeowners and even designers.
There are significant differences between the two types of window treatment which can affect the purpose and the desired feel for the room. This is why it is very important to understand the distinctions between drapes and curtains.
This article will help you figure out which type of window treatment is best for you, determine the difference between drapes vs curtains, and how to choose the right one for you.
Difference between Drapes and Curtains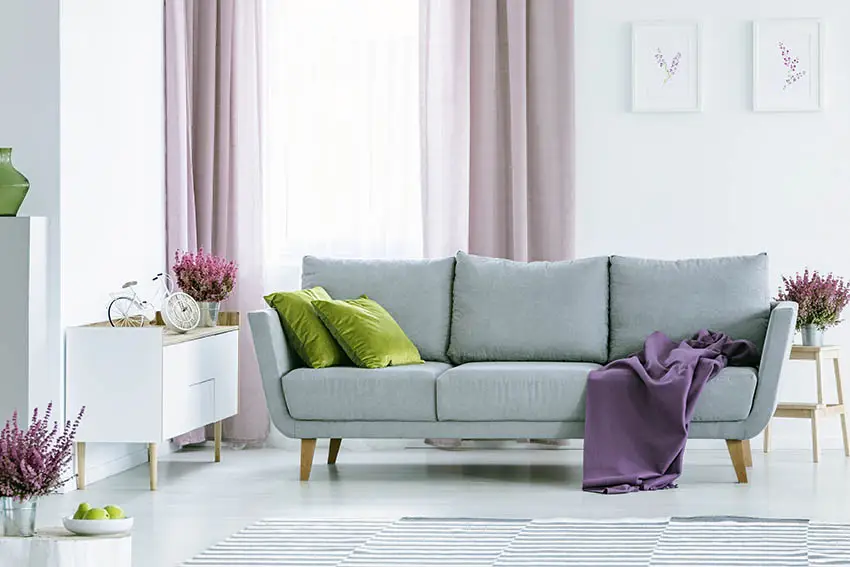 Window treatments in your home are very important as they provide privacy and help control the amount of natural light coming inside your home; as well aid in the cooling and insulating the rooms of your home.
Most popular window treatments are drapes and curtains; each has its own distinct characteristics; each has their functionality and each is made from panels.
However, there is a difference in the materials used in making each of these types of window treatments.
The most common difference between drapes vs curtains is that drapes have an interior lining. This lining can be a heavy fabric which makes them ideal for use in a bedroom for blocking light.
What are Drapes?
Drapes are made of heavier and thicker fabric than curtains, including velvet, silk, brocade, or damask and are seen in dining rooms, living rooms, bedrooms, high-end restaurants, and hotels.
Typically, drapes are made in pairs and are pleated making it more luxurious and adds to its aesthetic appeal. Mostly drapes are solid in color, rather than having heavy patterns, which provides a more formal appearance for window treatments.
Drapes are usually longer in length than the standard curtains which often hang all the way to the floor; some drapes are made extra-long to allow a puddling effect beneath the window.
Drapes have always a layer of backing on them, these lining can be light or heavy depending on the preferred use. These lining helps insulate the room as well as reduces the amount of light coming from the window.
Drapes can also be a great option for bedrooms since it helps to reduce the noise pollution outside your home and provides more privacy.
Different Types of Drapery Panels
Single Panel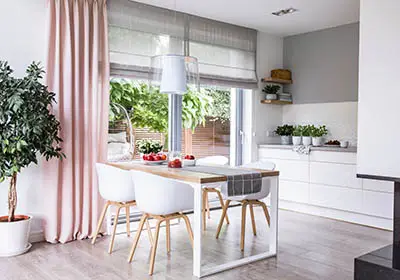 A single panel drapery will work perfectly for smaller windows where it can have an optical illusion of having a wide window without having any break.
Single panel drapery can also be hung or tied back on the right or left side of the window; and still provide privacy and allow daylight to come in and does not diminish air circulation.
This type of drapery is great for providing coverage for glass panels in sliding doors as well.
o Average single panel pleat width:
– Single Width – 24 inches to 30 inches pleated panel
– 1.5 Width – 34 inches to 38 inches pleated panel
– Double Width – 46 inches to 50 inches pleated panel
Panel Pair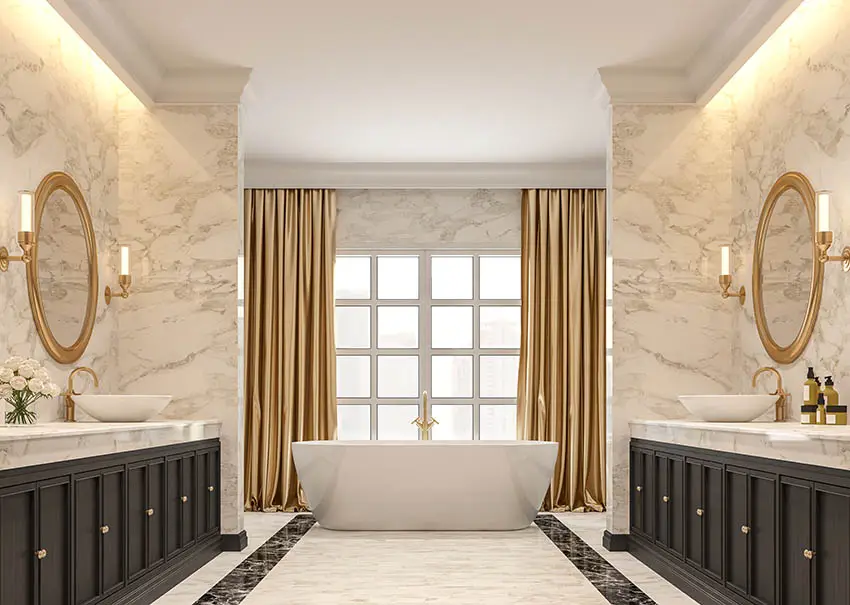 Also known as double panel, these panel pair draperies allow you to hang two matching panel pieces on both sides of your windows at the same time: giving your window treatment more fullness.
To ensure that the panels look full, when combined, the panel's width should be 2 to 2 ½ times the width of the window. This is the most common type of drapery panel.
Drapery With Valance Set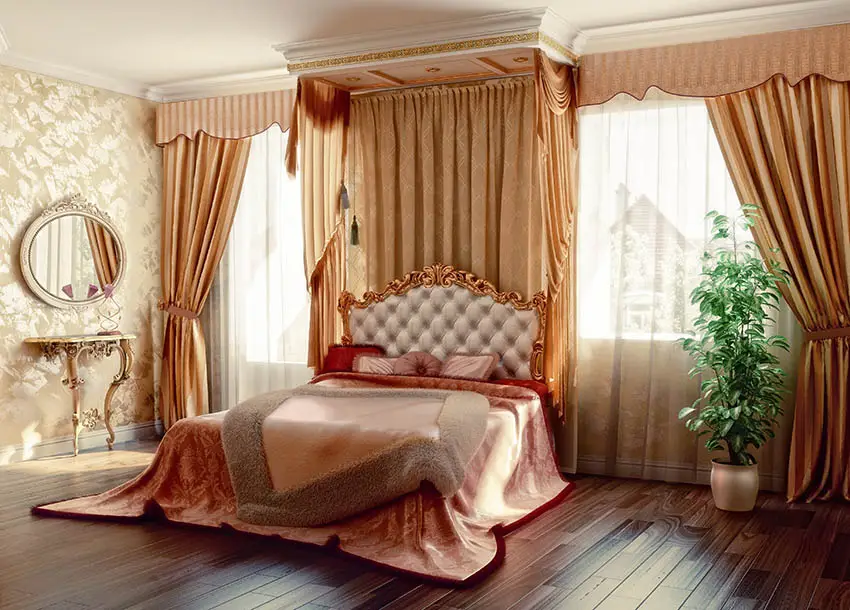 Drapery attached with valance are very decorative and traditional type of drapery panel which are often seen in kitchen windows, but now are commonly seen throughout the different areas of the home.
The valance acts as an accent to the drapery and create a perfect matching set making the drapery more dramatic, formal, and luxurious.
Window Scarf & Swag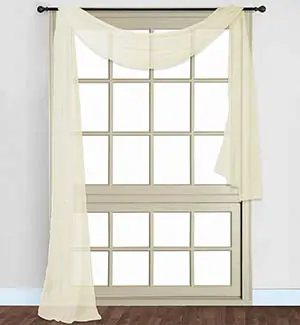 Window scarf or swag are designed more for decoration, creating a window treatment with a touch of drama and a whimsical feel.
Window scarf or swag usually are of a single panel drape which are made ready-to-hang over windows.
Unlike traditional drapes which are attached to curtain rods, window scarf is draped, or wrapped around the rod.
Window scarfs hang down to the floor on one or both sides of the window.
Different Hanging Styles of Drapery
There are several different styles for hanging drapes and how they attach to the curtain rod.
Ripple Fold Drapery
Ripple Fold Drapery is a sleek and modern style of drapery which is very functional and super easy to operate when opening and closing.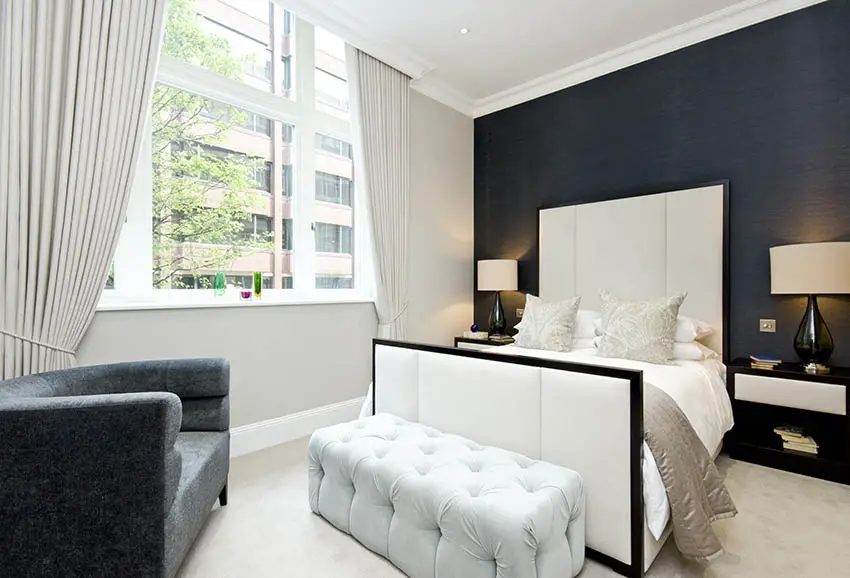 This is best to use when adding drapery for sliding doors as it glides along the drapery track.
This type of drapery style works well when paired together with a sheer layer material or combining with a heavier drape; because it adds depth and improves the visual appeal of the room.
Grommet Drapery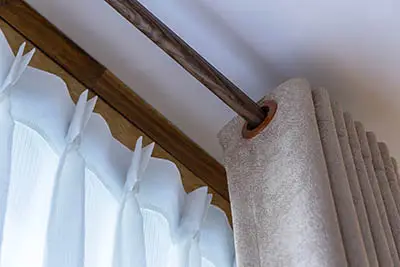 The Grommet Drapery is the most contemporary style for drapery.
As the name suggests, grommet drapery has large metal rings called grommet, punched through the top of the fabric panel, where the drapery rod fits through. This style of drapery is also known as "eyelet" drapes.
Since the drapery rod is quite exposed, we suggest matching the grommet color to the drapery rod as well as with the decorative finials on the drapery rod's ends.
Grommet drapery are easy to use and moving it on the rod is simple and effortless. Primarily, this grommet drapery is very decorative; and since this style has deep folds, it creates a dramatic appearance for the room.
Rod Pocket Drapery
Rod Pocket Drapery is a very classic, casual, and traditional style of drapery.
Some rod pocket drapery has a ruffled header that is created by the gathered fabric when these draperies are slid along the rod.
This type of hanging style works best as stationary panels since it can be difficult to slide the drapes along the rod on a regular basis.
Cubicle Drapery
This style of drapery is the most versatile and functional type.
It glides easily along the track with the use of small grommets attach to hook carriers.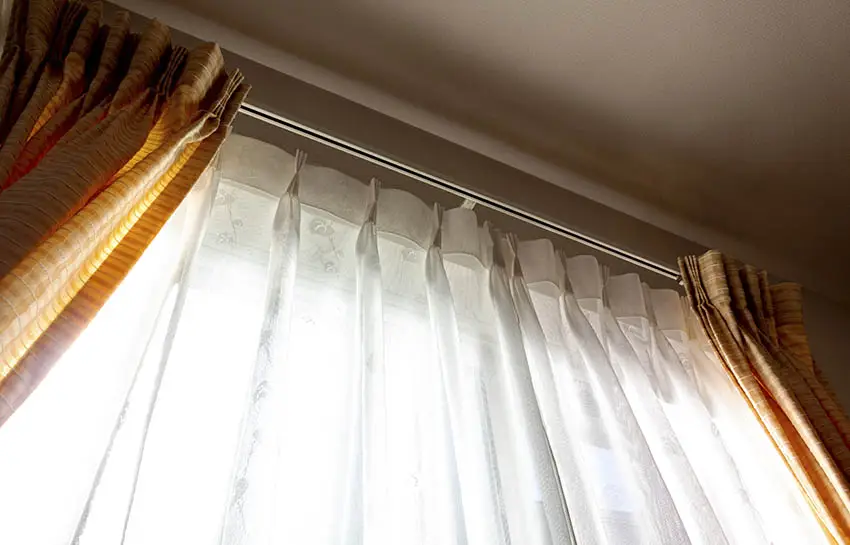 Cubicle drapery should be hung at least 12″ to 15″ from the floor to ensure they function properly.
Tab Top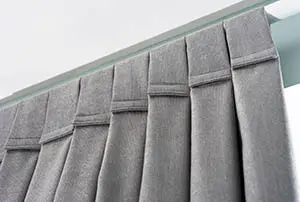 For a country or cottage are best choice of style for a casual decorating look since they showcase fabric prints and patterns such as florals, checks and stripes.
Considered as stationary style of hanging draperies, these tab top panels have natural pleats in them due to the way thy drape.
These drapes have loops that are spaced along the panel's top seam.
Different Pleated Styles of Drapery
Tailored Tuck Drapery
Tailored Pleat Drapery is also known as "waterfall pleat design" which is fuller and looks more elegant. This drapery style is very functional and easy to operate; its pleats are being held stiff with a buckram stiffener.
For those who prefer a lighter material for this type of drapery style, a linen can also be used and made into tailored pleat drapery.
Pinch Pleating Drapery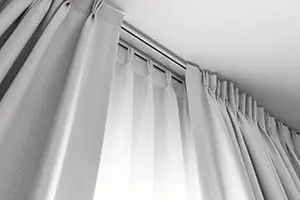 The Pinch Pleat Drapery is a traditional style of drapery and very similar to Tailored Pleat Drapery.
For pinch pleat only the pleats pinch 4 inches from the top of the drapes which provides a simple and exquisite shape.
This style of pleat is more traditional, but when applied to fabrics with bold patterns it can easily be made contemporary.
Inverted Pleated Drapery
Inverted Pleat Drapery is a casual and relaxed style of drapery more suited for decoration purpose since it is not ideal for frequent opening and closing.
This type of pleated drapery is best paired with a roller shade for better control of the natural light from outside.
Goblet Drapery
The Goblet Drapery is a more traditional and formal curtain style that looks great in a Victorian or Georgian design theme and homes with high ceiling.
With its sophisticated goblet pleat shape which has an interlining that runs along the top of the panels, it serves best as a decorative drapery and not ideal for everyday use.
Goblet drapery works best for large windows since it has in itself a large stack, which means more fabric will cover the window when it is open.
This style of drapery has draped hem on the floor, and it is usually pulled back on the side of the window with a tieback or a rope and tassel.
What Are Curtains?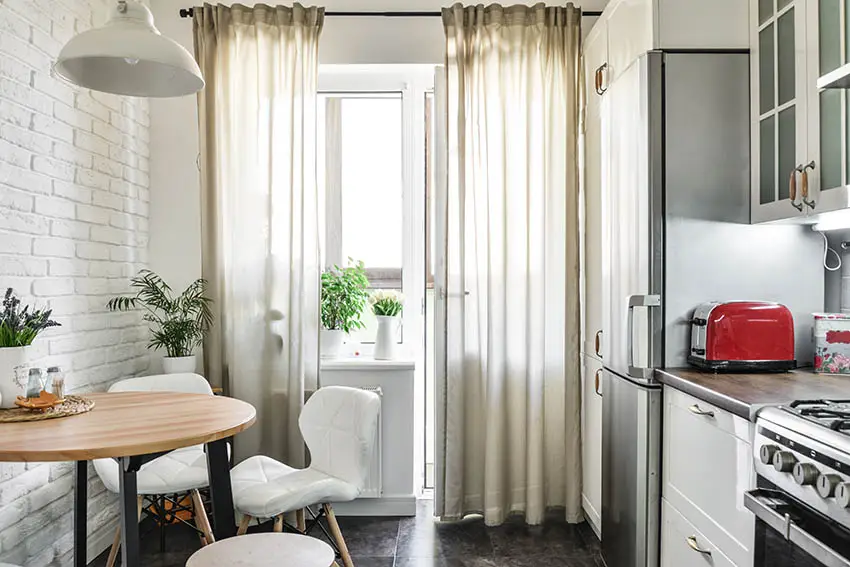 Curtains are the most common and popular window treatment and like draperies, curtains are made of fabric panels which are sold in pairs and come in a variety of customized lengths, widths, color, and patterns. See the most popular types of curtains here.
Curtains are of more sheerer nature and often times are less effective in blocking off light this is one reason why curtains are paired over blinds or shades thus, gives a room a more fashionable look.
Heavier curtains can also be installed by itself in spaces that needs to only filter some sunlight and does not really require a blackout effect.
Just like drapes, curtains have combined functionality which can be hang from rods, metal grommets, fabric sleeve, combined with valance and use as part of the design scheme giving a room its gorgeous aesthetics and a definite splash of style.
Different Style of Curtains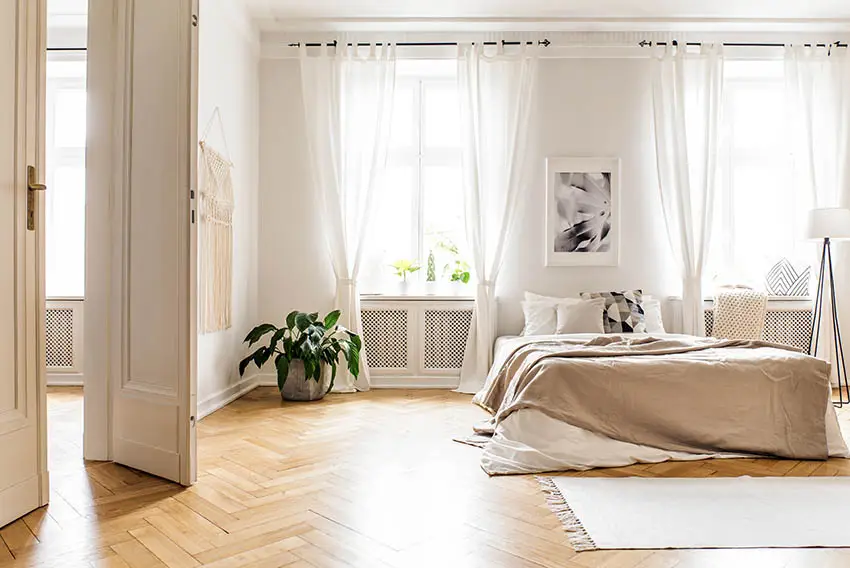 Most curtain styles have the same characteristics as draperies which was mentioned above, such as:
• Curtain Pairs / Curtain Panels / Door Panels
• Eyelet / Grommet Curtains
• Pleated Curtains
• Rod Pocket Curtains
• Tab Top Curtains
Other curtain styles are as follows:
Austrian Curtains
Austrian curtains are also known as Austrian panels, these styles of curtains have horizontal poufs of fabric that produces a scalloped pattern in a series of soft swags.
This style is used mostly in theaters wherein the curtains must be lifted across all lines at an equal speed and height.
Blackout & Thermal Curtains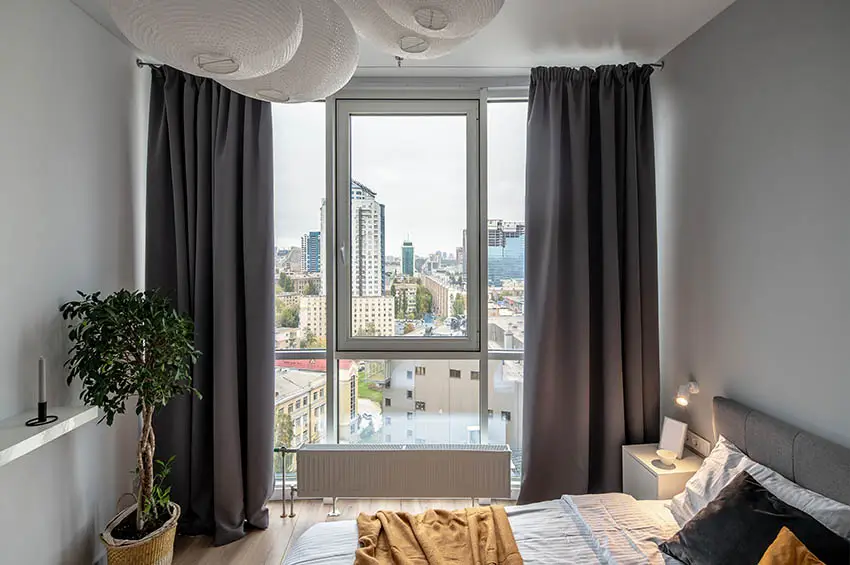 These curtains are made with lighter or semi-transparent fabrics that can darken a room and allowing only a small amount of light to pass through.
There are also blackout curtains with lining that blocks natural light, creating pitch black darkness when drawn shut and keeps the heat inside the room. Blackout curtains are ideal to use for windows during winter months.
Lace Curtains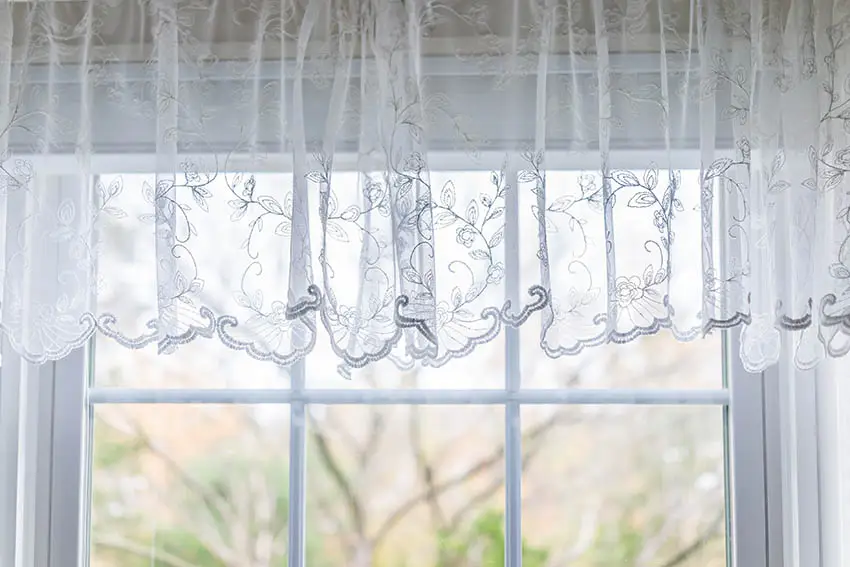 These window treatments are made of light fabrics with intricate patterns that are thin enough to let natural light pass, yet still gives some privacy.
Outdoor Curtains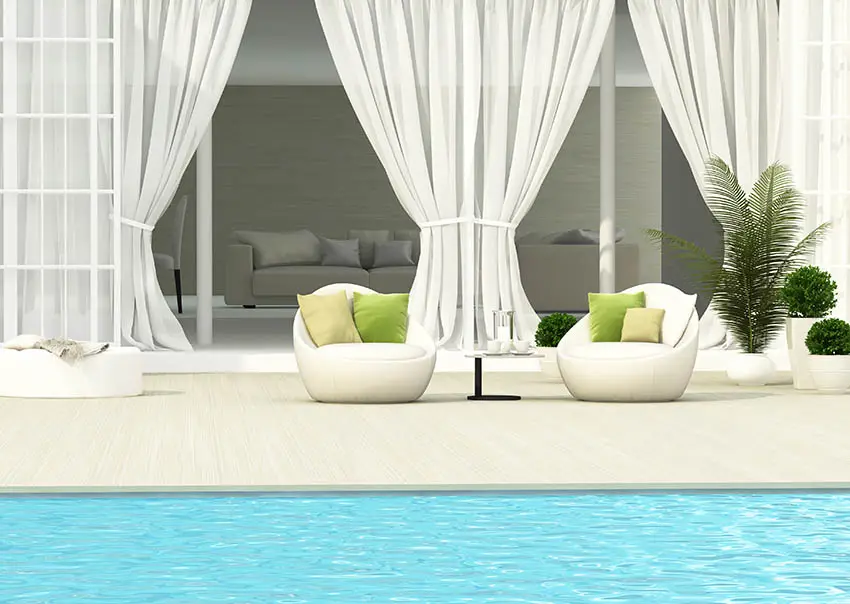 Outdoor curtains are often made of heavy, water and weather resistant materials which helps to reduce noise and absorbs or reflects sound vibrations.
A much lighter fabric can also be used for outdoors which helps limit bugs to a patio area or any area where insects are a concern. Outdoor curtains add beauty and drama in any outdoor area.
Priscilla Curtains
Priscilla curtains are ruffled curtains which comes in pairs and slipped onto two separate curtain rods thus, creating a criss-cross overlap effect.
Sheer Curtains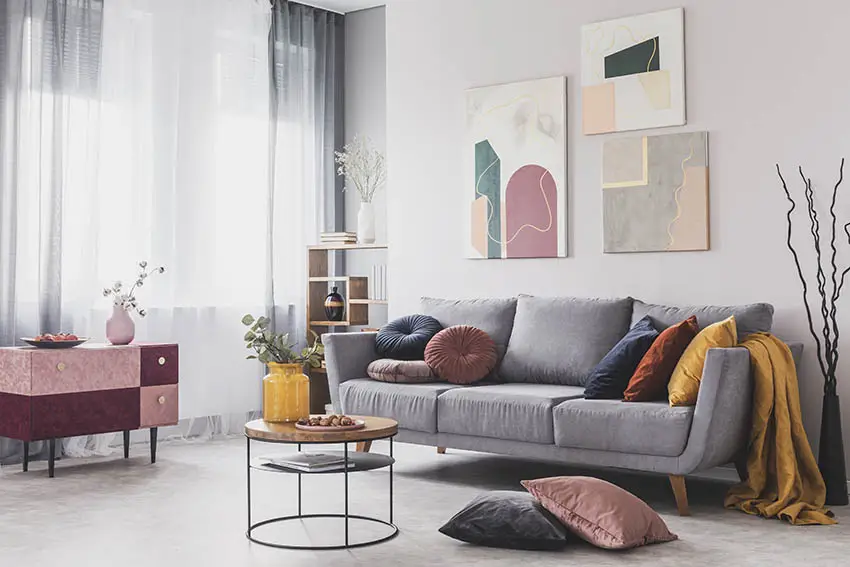 Sheer curtains are light and semi-transparent fabrics which provides the room some natural light even when the curtains are closed.
These type of curtains gives the least amount of privacy that is why it is commonly paired with heavier curtain fabrics or with draperies.
A liner or lining can also be added to sheer curtains or they can be layered with opaque curtains for more privacy.
These curtains are decorative in itself and are often used in living and dining rooms.
Tiers
Tiers are a curtain style which is also known as café curtains that are usually paired with a valance. It is commonly used to cover the bottom portion of bathrooms and kitchen windows.
Valances & Swags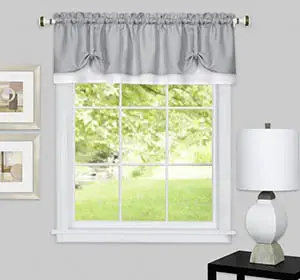 Valance is a type of window treatment that are mounted above the window and over the curtains in order to hide the curtain rods.
Valances can be used by itself as a separate window treatment or can be combined with other curtain styles.
A swag is similar to a valance, but comes in pairs, each side are longer than the valance and is designed to elegantly flow down on either side of the window.
Cost of Drapes and Curtains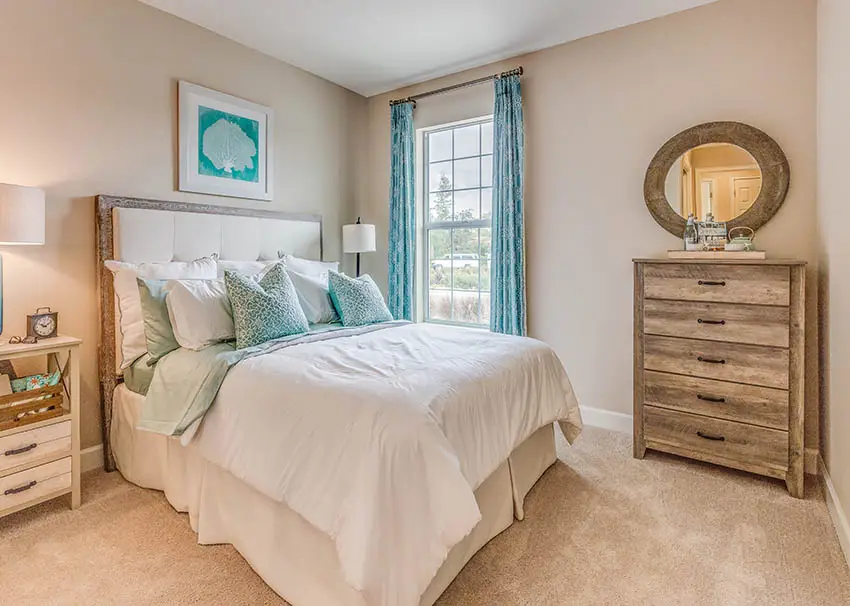 The average cost of drapes and curtains is around $100 to $250 per panel. Depending on the type of material, quality, style, and the size of each panel which can be between 15 to 50 inches wide, the overall cost can range between $7 to $1,500.
Low-end fabrics for curtains cost $7 to $20 per panel and curtain pairs costs $15 to $40.
On the other hand, high-end materials such as silks, brocade, linen and other fine fabrics can cost $20 to $150 per panel.
A set of two panels can cost up to $250. Sheers curtains typically costs $10 to $100 per panel at a minimum.
Custom-made drapes and curtains can cost around $250 to $1,500 per panel at a minimum and can even go as high as $500 to $3000 per piece due to the workmanship being put into making and installing these drapes and curtains.
Materials such as silks, cashmere and velvet with linings and interlinings and having extra accessories contributes to these price range.
Curtain installation cost around $20 to $50 per window, with a labor rate of $35 to $100 per hour. Installation of drapery costs $140 to $400 due to the time spent in placing the brackets evenly for support.
We hope you enjoyed our drapes vs curtains gallery. Let us know if you have any questions or share your favorite with us in the comments section below. For more related content visit our guide on how high to hang curtains.