Find out the different types of picture frames including their styles, materials, standard sizes, the best types for art and how picture frames differ from poster frames.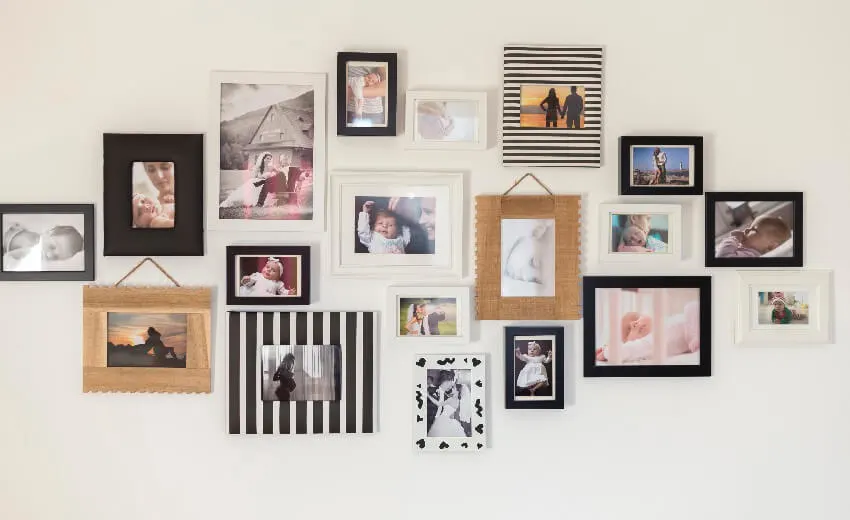 Pictures are a great way to capture memories. Yet, once you have those pictures in hand, you need a way to display them and keep them safe from harm.
The most common answer to this is a picture frame. In this comprehensive guide, we'll take a look at everything that you need to know about styles and types of picture frames and how to choose one for your own photos, works of art, documents, and more!
Types Of Frames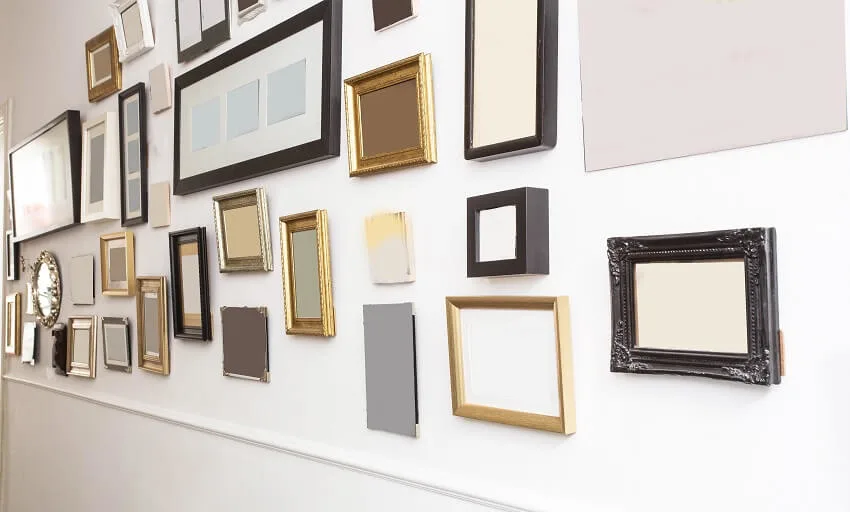 Standard Frame
With so many options available for picture frames out there, what constitutes a "standard" choice? Well, there actually is a style of frame that's commonly referred to as a standard picture frame.
These frames are typically very simplistic in design, allowing them to fit into almost any setting. This means that they're a great choice no matter if you're trying to frame a picture on your desk at work or hanging something more personal in the comfort of your own home.
They come in a variety of shapes and sizes but they tend to stick to a single solid color for the entirety of the frame. While you can look for brighter options, most use neutral colors like black to make them more versatile.
Gallery Frames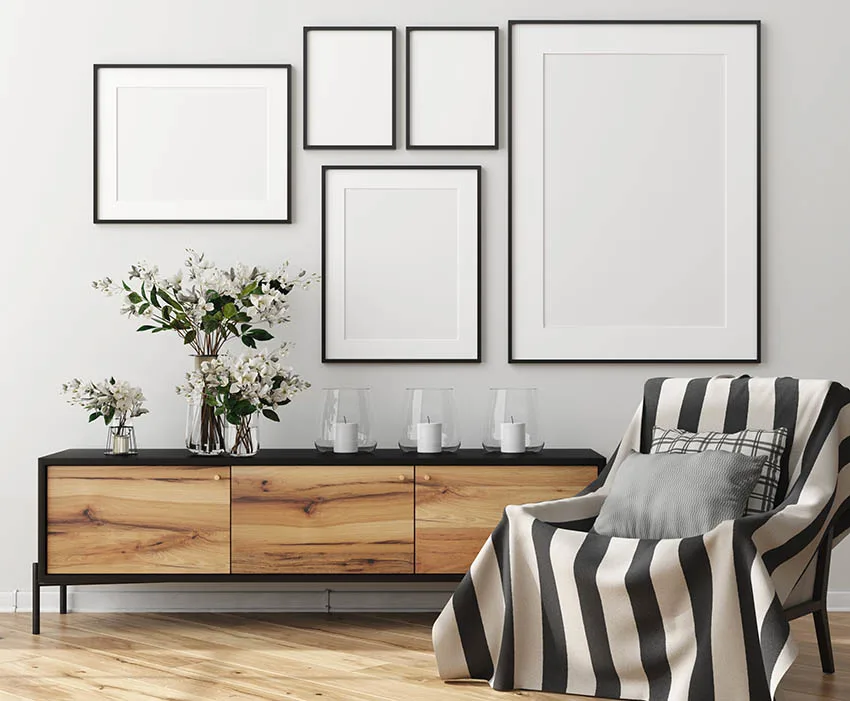 When you go to a gallery, the focus is on what's in the frames, not the frames themselves. As such, gallery frames often feature neutral colors and minimalistic designs. Yet, you can recognize them easily on sight by noticing the two-frame effect in which the item on display is framed by white space and then the actual frame itself.
These types of frames are usually aimed at display pieces like art prints, photography, and the like. All in all, it's a great type of frame to turn to when you want to use a framed piece as a design focal point in a room or space.
Floating Frames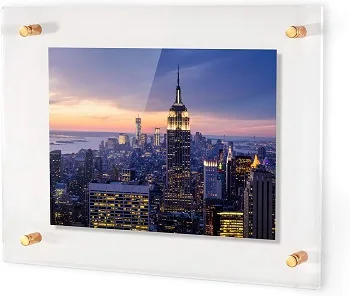 See this floating frame at Amazon [sponsored link]
Most picture frames give the image a defined border. After all, many frames aim to add something of their own to the display, even if that's just a solid black border rather than something highly stylized.
If you want to forego the look of a frame without the other benefits it offers, you might want to look into floating frames. These frames create an optical illusion that makes it look like your photo is practically floating in place rather than nestled into a more traditional option like a standard frame.
This is a great way to showcase your photos as well as the wall behind them instead of the frame. However, it won't work to hide any imperfections on the wall behind it.
Deep-Set Frames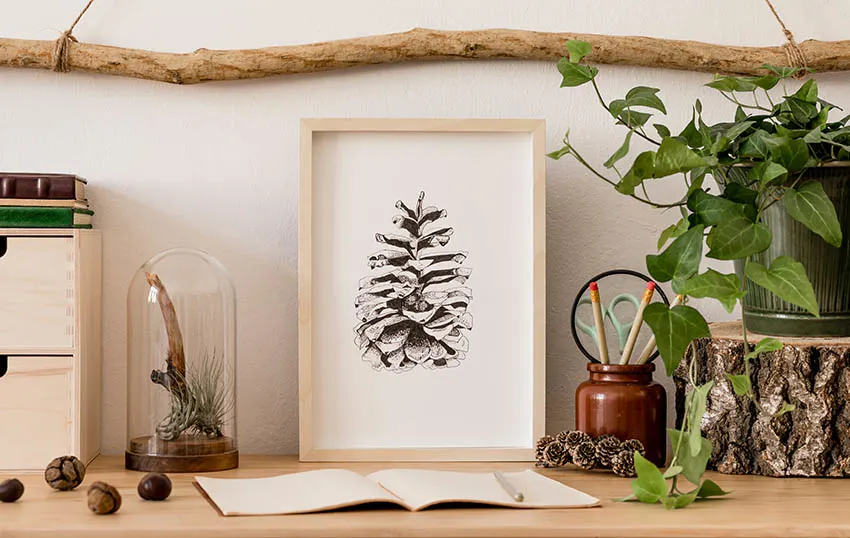 Deep-set picture frames are sometimes also referred to as shadow box frames. As the name deep-set frames suggest, though, these frames are set deeper than most frame styles. This helps with more than just aesthetics too.
These types of frames often give more room between the frame backing and the glass creating a 3D effect. This makes them a great choice when you want to frame something thicker or don't want the glass pushing directly against the object you're framing.
They're commonly used for items such as pins, badges, or other small, collectible items. Since these types of frames are defined by their depth, the visual design of the frames can vary.
Decorative Frames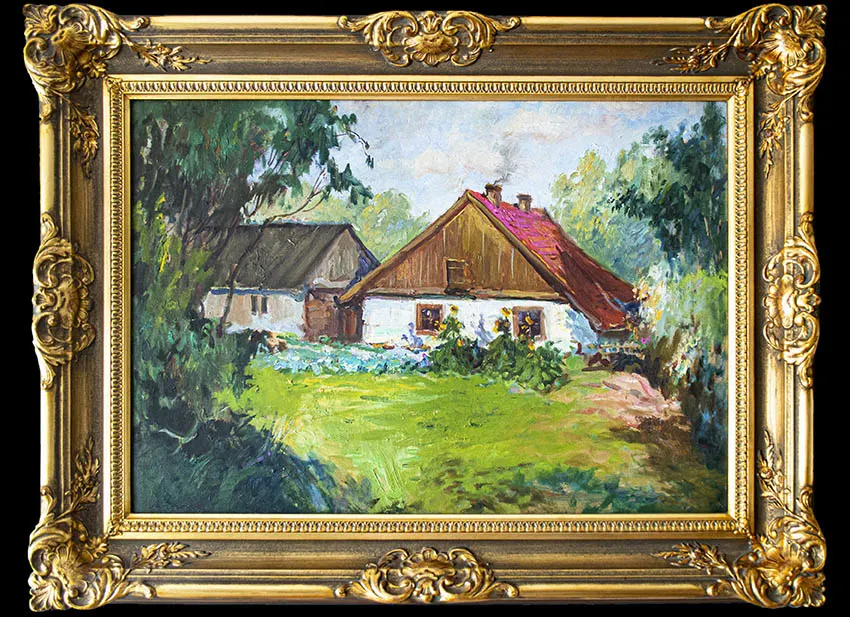 The name "decorative frames" is about as self-explanatory as it sounds. These frames aren't dedicated to just the utilitarian purpose of holding a picture and they might not fit into a strict minimalist style.
Rather, these frames are meant to serve a decorative purpose as well as a functional one. This could include textured design elements, fun patterns and colors, or even phrases and sayings.
It's hard to nail down exactly what one of these frames would look like because there are so many options out there. That means you can find something that suits your particular style with ease! You can have a lot of fun matching a decorative frame to a decor scheme and capturing a bit of your personality in the frame as well as the picture.
Collage Frames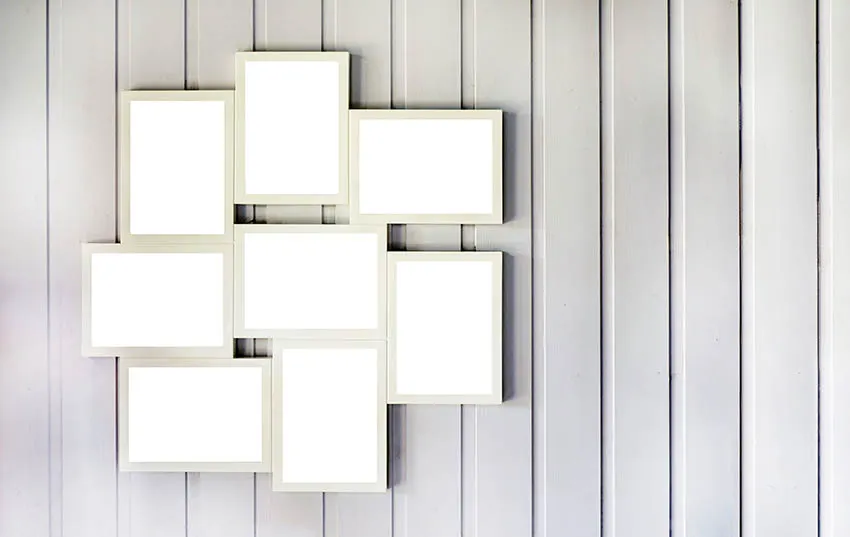 Sometimes, you need to display more than one photo or piece of art. In these cases, you might not want to opt for a huge collection of separate photo frames to solve the problem and that's fair.
Alternatively, you can consider collage frames. These frames have multiple spaces for pictures, helping give you a template to create a collage of all your favorite pictures to hang on the wall. Read our guide on how high to hang pictures for more related information.
Since this type of frame is defined by structure rather than looks, you have some options here when it comes to the style of collage frame you choose. Some may feature more decorative elements while basic ones will look more like a set of standard frames used in a larger arrangement.
Poster Frames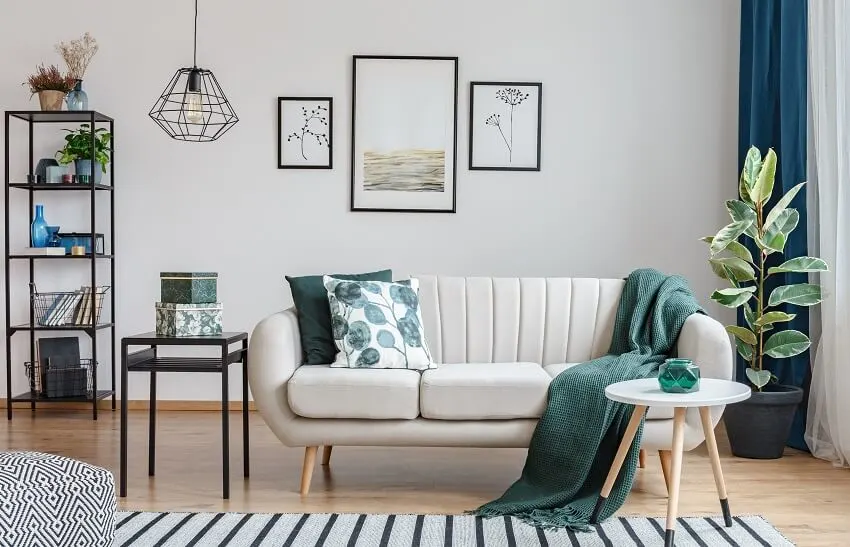 We all remember the teenage days of tacking posters to your walls. As an adult, you might still love some of those posters but want to elevate the look a little bit. Alternatively, maybe you just want some posters up without damaging either your walls or the poster as much.
The easiest solution is poster frames. These types of frames are usually sized to fit different posters but vary enough to find a solution for any style of the poster you might have.
These frames are beneficial for a few reasons. For one, they really help your poster pop off the wall and draw the eye. On the other hand, they don't require you to stick tacks through your poster or cover it in tape.
Document Frames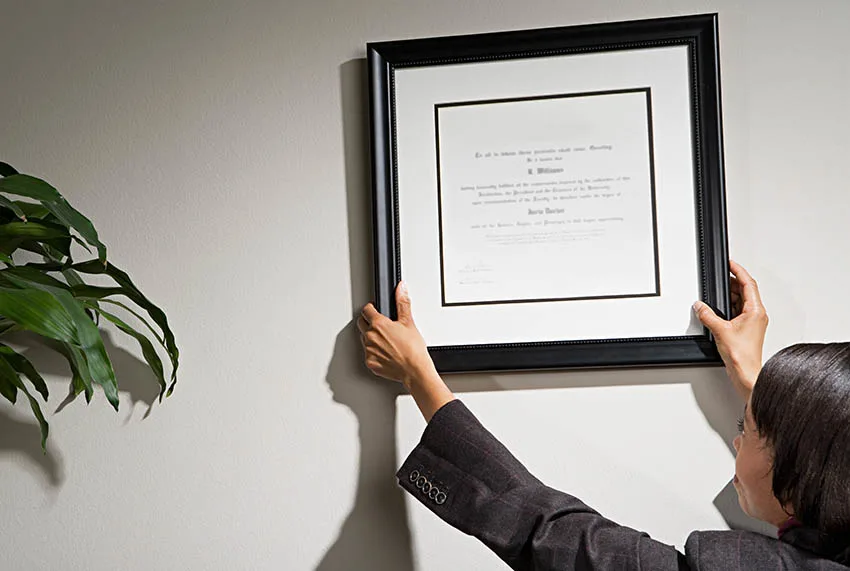 We've discussed a lot about frames to help you display your favorite images already. Yet, it's worth noting that art pieces and photos aren't the only things you might be interested in hanging.
Document frames are a type of frame that is designed to hold a document rather than a picture. You can use these for a variety of documents but the most commonly framed documents include items like diplomas or professional certificates.
Since these are often used in professional spaces, they often have a design to match. This includes a rather simplistic rather than decorative design, typically available in neutral colors. The idea is to draw attention to the document in the frame rather than taking any focus away on the
Tabletop Frames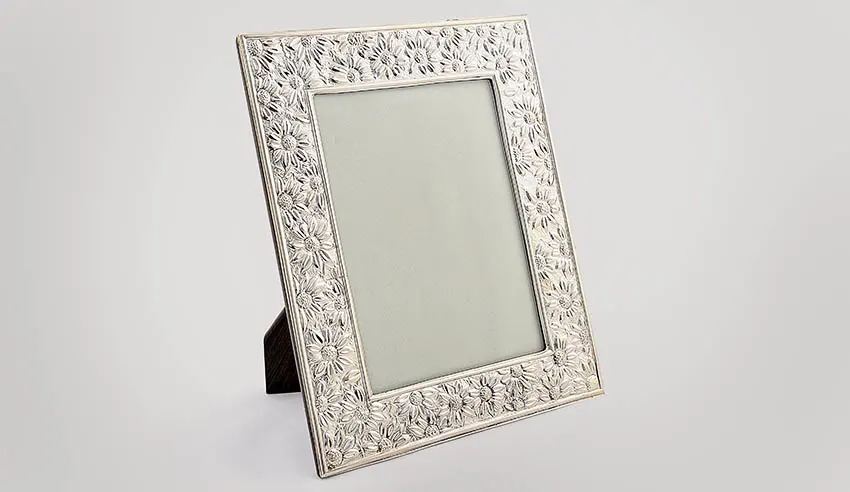 When you want to put a photo on display, there are still plenty of options as to where you can put them. If you don't want to hang something on your walls, another popular option is to set a photo on a surface like a side table or desk.
For this concept, you'll need a tabletop frame. These frames have an extra piece on the back. This piece is a foot that you can pop out to prop the frame up on the table.
However, this piece also means that you probably aren't going to be able to switch between using the frame as a tabletop frame and a hanging frame but that likely won't cause much of a problem.
Digital Frames
Just like many other things in your day-to-day life, even your picture frames can benefit from the addition of modern technology. For picture frames, this comes in the form of digital picture frames that will let you showcase multiple photos without taking up any more space than a single picture frame.
These frames can work in a few different ways. Some allow you to upload your photos to frame while others call for a memory card from a camera containing the photos you want to display. Then, they scroll through the pictures available to display them all.
The good news is that this technology has become more common and more affordable in recent years.
Photo Holders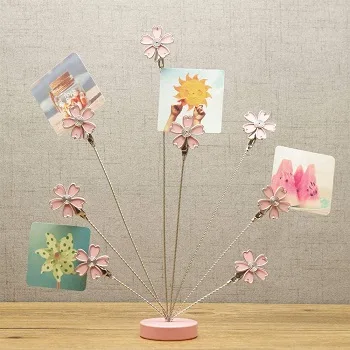 See this photo holder at Amazon [sponsored link]
While the term photo holders may sound synonymous with the term picture frames, this isn't actually the case. In reality, photo holders are an alternative to the more traditional picture frames options.
These are usually simple tools that are made to hold a printed photo in new and fun ways. This could include clips to display a thread of Polaroid photos across a dorm room or an item that looks similar to a name card holder for your photos to add some photos to a table arrangement.
At their absolute simplest, photo holders can just give you a place to prop a photo up. In the end, photo holders can give you a more out-of-the-box look to display your photos.
Floor Placement
Conceptually, a floor placement frame is very similar to a tabletop frame. However, they're often much bigger because they're suited to sit on the floor and still draw attention to what you're displaying without needing the added height of a table.
On the other hand, you can also find floor frames that use a collage-style concept to use that space to showcase a variety of images.
Since these frames are much bigger, it's common to prop them against something like a wall rather than use an attached foot like a tabletop frame. This does make them easy to move and rearrange whenever you move or just need to reorganize your space!
Frame Styles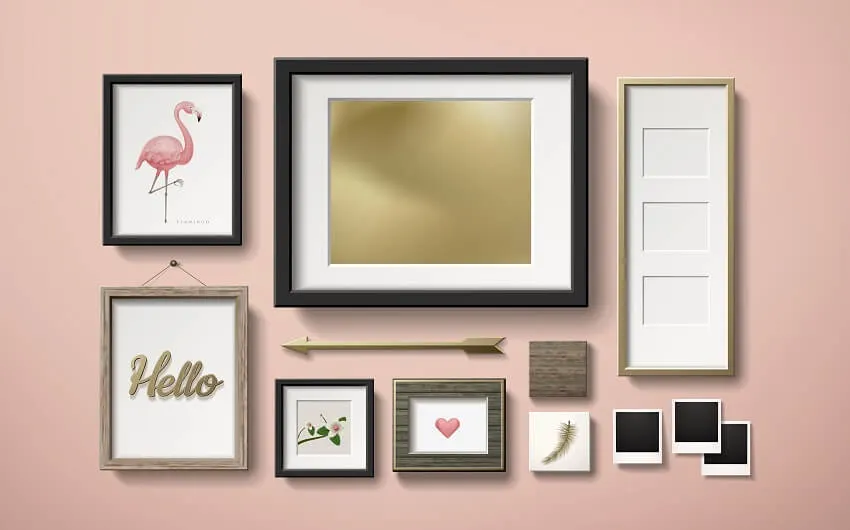 Modern Frame
Modern picture frames are frames that incorporate contemporary trends. This includes common features such as minimalism.
In other words, these frames might seem more simplistic in design than the average traditional picture frame and they're often sleeker.
The concept behind this is that the focus is on the image inside the frame while the frame itself is there to do just that – frame and showcase what's inside. As such, the frames themselves aren't meant to draw as much attention away from the piece and to itself.
You're also more likely to see materials like metal used in modern design although materials like wood definitely haven't fallen out of style.
Rustic Frame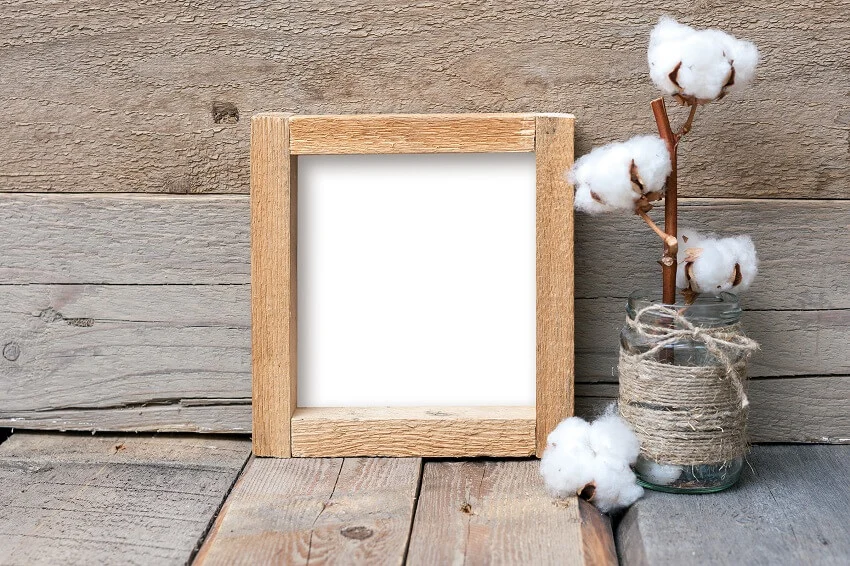 Rustic frames are meant to work with rustic and modern farmhouse designs, so it's important to understand the principles of that style. Namely, these decor themes often rely on raw, natural materials in their decor items.

With this in mind, it makes sense that wood is one of the most popular materials when it comes to rustic frames. Yet, the very polished, finished appearance that a traditional frame might have doesn't quite fit this style. Instead, look for frames that feature distressed wood with a more natural aesthetic than something more polished.
Traditional Frame
We've mentioned traditional frames twice now, so it's a good idea to consider what that entails. Much like a rustic frame, these frames are often made of wood. Unlike the distressed, natural look of a rustic frame, traditional frames are often more polished and finished.
In addition, traditional picture frames often feature more decorative features like beveling, beading, gilding, and more. We'll take a closer look at what those terms mean in a moment. In this way, traditional frames are meant to do more than just frame what's within them but add decorative elements of their own to the design such as traditional Baroque-style frames.
Frame Materials
What are the most popular picture frame materials?
Aluminum
Wooden
Bamboo
Leather
Plastic
Crystal
Glass
Ceramic
You have a lot of options when it comes to picture frame materials. If you want something classic, you can opt for a wooden frame while a metal frame will give you a more modern look. Aluminum is a popular choice for those choosing a metal frame material.

On the other hand, you can think outside of the box with some materials you might not think of right away. For example, leather, bamboo, and even crystal can make for some one-of-a-kind frames that will help the items that you're framing pop.
Another material you might want to consider that's quite versatile is ceramic. Not only is this a strong material that comes in a variety of design options but ceramic photo frames can also give you a chance to easily paint and decorate a frame of your own.
Frame Options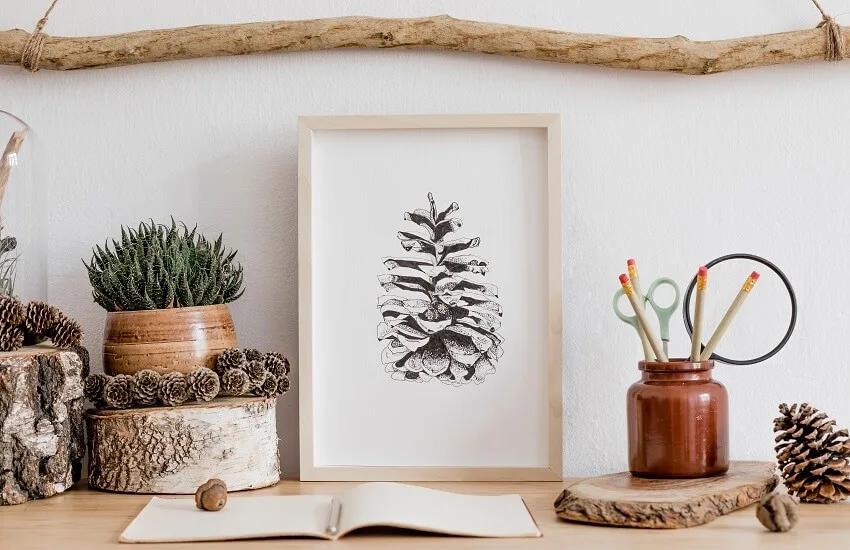 Mat
We mentioned earlier that when you use gallery frames, you'll notice that there is some empty space around your picture rather than just fitting into the frame perfectly. This "empty space" isn't simply blank – it's a part of the picture frame known as a mat.
The mat of a picture frame is usually done in a neutral color. This way, it works well not only with the frame it comes in but whatever pictures you add to the frame as well. It tends to elevate the design of the frame and give your photos an eye-catching look.
It's a great way to break up a collage of pictures as well if you don't want to use a frame that looks like several interconnected frames.
Slide-In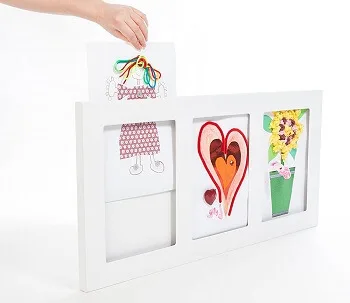 See this slide-in picture frame at Amazon [sponsored link]
Slide-in frames are meant to be easy to use by working with a basic design. Rather than removing the back in the way that you would most types of picture frames, slide-in frames have a back that slides down and out of the frame. Depending on the model that you have, the glass may slide out as well or it might be fixed into place.
The biggest benefit to this design is the ease of use. It's not difficult at all to switch out your pictures when you just have to slide them in and out of place. Even better, these easy-to-use picture frames are available in a variety of styles as well.
Snap-In
The overall concept of a snap-in photo frame is simplicity. They're made to be easy to assemble and disassemble because they just snap together and apart, hence the name.
This is good for a few different reasons. Firstly and most obviously, this makes it incredibly easy to add a photo to the frame and even swap it out later if you want.
On top of that, the ability to quickly and easily snap this type of frame apart or together makes it much easier to tackle chores like cleaning the glass of the frame. After all, who wants to deal with stubborn smudges detracting from the beautiful picture they're trying to showcase?
Folding
Many tabletop frames require a foot to help prop them up. After all, it's much less stable than relying on a picture frame to try and balance standing upright. However, there is another option.
Folding picture frames usually hold a couple of pictures and they're easy to store on a mantel, side table, or desk. Instead of relying on a prop, though, their folding design allows you to stand them up with the folding frame open slightly less than open flat.
With the two parts of the frame to balance on, the frame is able to stand out without needing anything to prop it up or hold it in place. Yet, these frames typically aren't meant to hang.
Matching Set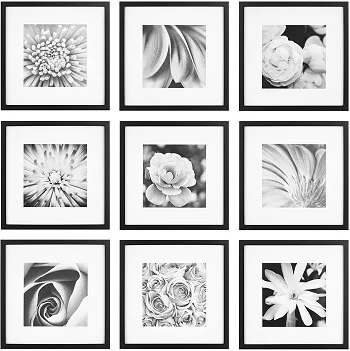 See this matching set picture frame at Amazon [sponsored link]
Naturally, you want all of the elements in your home decor to work well together to create a beautiful bigger picture. As such, you want to make sure that the different picture frames you use in an area work well together.
The best way to ensure that this works out perfectly is to check out matching sets of picture frames. These frames are meant to work well together because their designs coordinate with one another.
This could include a set of frames that matches perfectly or it could just be a set of picture frames that work well together even if they don't match one another's design exactly.
Personalized
Personalized photo frames are particularly unique and can include some elements of other frame types such as decorative and engraved frames. They come in a variety of forms and can suit a variety of design and decor styles.
These frames are decorated with sayings, names, dates, and other design features that will make your picture frame one of a kind. For example, maybe you want to add the names of the people in the photo or frame a photo from your anniversary or graduation with the date.
For a personalized frame, you should expect to have to order it slightly in advance for personalized elements that aren't mass-produced.
Engraved
If you have a one-of-a-kind photo that you want to put on display, why not pair it with a truly one-of-a-kind frame? You can nail down a fairly personalized design with an engraved frame if you wanted or you could just go for something visually appealing.
Since you can engrave almost anything in a picture frame, it's a versatile choice. You can engrave anything including names, quotes, coordinates, sayings, and more. Anyone can find something that suits their style.
Engraved frames are engraved with a variety of designs by a professional. Quite often, these types of frames are made of materials that are easy to engrave such as wood.
Beveled
Beveled frames are a classic choice that remains popular to this day. Even though they share a common design feature, they still offer you a lot of variety to choose from as well.
These frames have almost an illusion of extra depth thanks to the way that the frame is cut. Often made of wood, these frames often have a textured edge that slopes inward as the frame gets closer to the glass. It's worth noting that this depth is much more shallow than the deep-set shadowbox frames we looked at earlier.
The only thing you'll want to watch out for these is that they can really start to gather dust in the nooks and crannies if you don't regularly dust your frames.
Gilded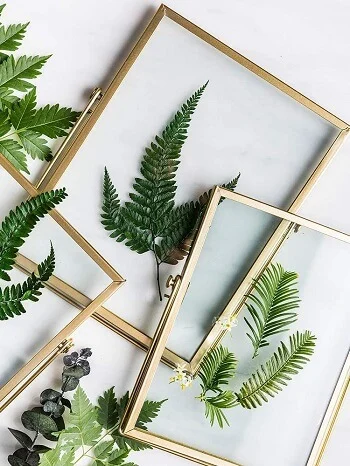 See this gilded picture frame at Amazon [sponsored link]
A gilded frame is a type of decorative frame that is meant to give you a luxurious or even opulent look for your picture frame. Gilded frames are recognizable for two features.
For one, a gilded frame is an incredibly textured option. They can feature highly decorative options like swirling patterns reminiscent of Baroque paintings or even smaller details on a more solid frame like you might see in decorative molding.
On top of that, gilded frames are often covered with a layer of gold or, at the very least, a gold hue, helping add to their more opulent aesthetic.
Beaded
Beaded picture frames are another design word that references texture rather than material. In other words, a beaded picture frame isn't just a frame decorated with beads.
Rather, the word "beaded" refers to the texture of the picture frame. These frames feature a textured pattern of bumps that feel like beads. This design feature is usually used in tandem with a beveled design and can include either one row or two of these beads.
On the other hand, for something unique, the entire frame can have a beaded texture as its primary design feature. Still, the beads usually take on a fairly uniform pattern that looks neat and tidy.
Mirrored
Sometimes you need a look that's unique and just as attention-grabbing as the photo you're keeping inside it. If you want to try out a picture frame style that's going to draw people's attention and offer a unique look, you might want to consider a mirrored picture frame.
These reflective frames look like a mirror. It's a good idea to make sure you look for a quality mirrored frame to ensure that the effect lasts. Not only is this eye-catching but it'll help catch the light in the room as well.
Just like a mirror, though, you might start to notice issues like smudges after a while if you don't make sure to maintain your frame.
Best Types Of Frames For Art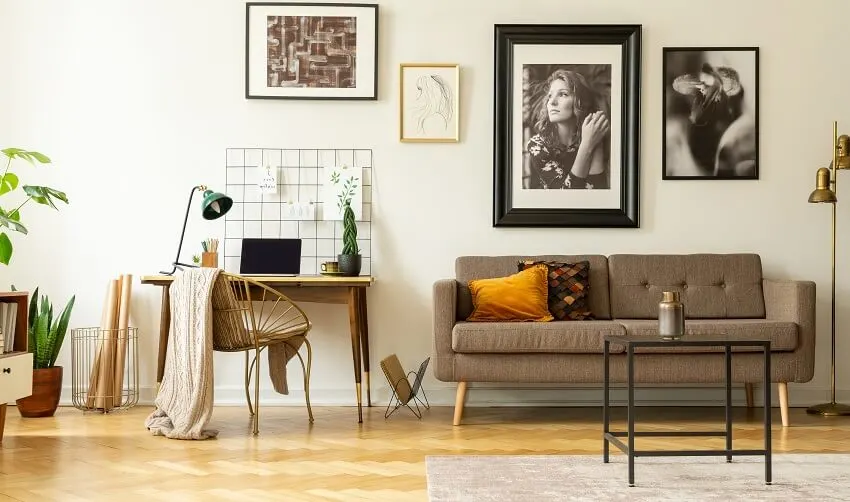 The right frame can help showcase and protect a piece of art but what's the best option out there?
First, you'll want to consider the art itself. The frame that you put it in should compliment it, not clash with it. This means taking into consideration the contents of the painting in question and helping accentuate them with a frame that matches.
Don't forget to consider everything we've looked at here including color, material, and texture.
To get more specific, gallery frames are a great choice for art, as their name might suggest. For art prints, you could also turn to a poster frame, in some cases, so long as the artwork fits in it properly.
Standard Frame Sizes Chart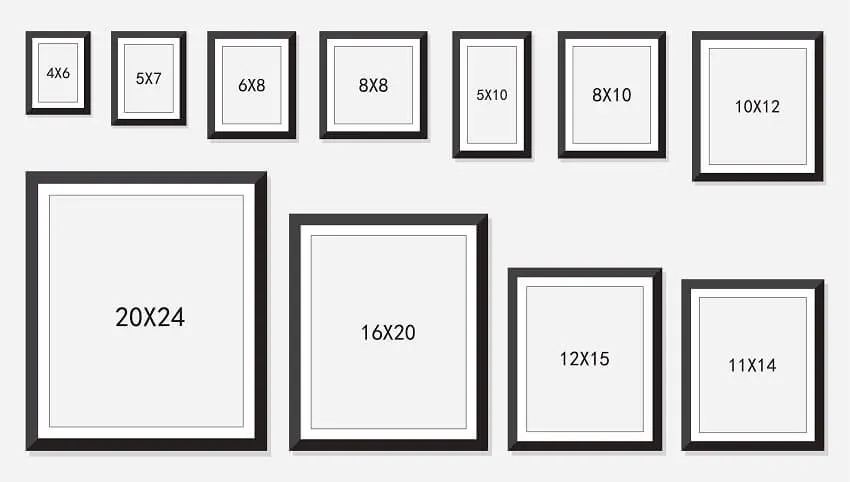 While you'll want to measure your specific print or photo before framing it, the good news is that there are some common sizes that you'll run into. This helps make it easier to find what you need and avoid any misunderstandings as you size and choose a frame for your photographs.
These are some of the most common sizes of picture frames that you'll run into:
• 5" x 7"
• 8" x 10"
• 8.5" x 11"
• 11" x 14"
• 16" x 20"
• 24" x 36"
It's worth noting that while these are the most popular sizes of picture frames, they're far from your only option. There's a picture frame out there for everybody, so don't get discouraged if you have an oddly-sized photo that you want to display.
You can also find photo frames in a variety of shapes as well, so you can find something even if the item you're framing doesn't have a standard rectangular shape either.
How To Know What Size Frame You Need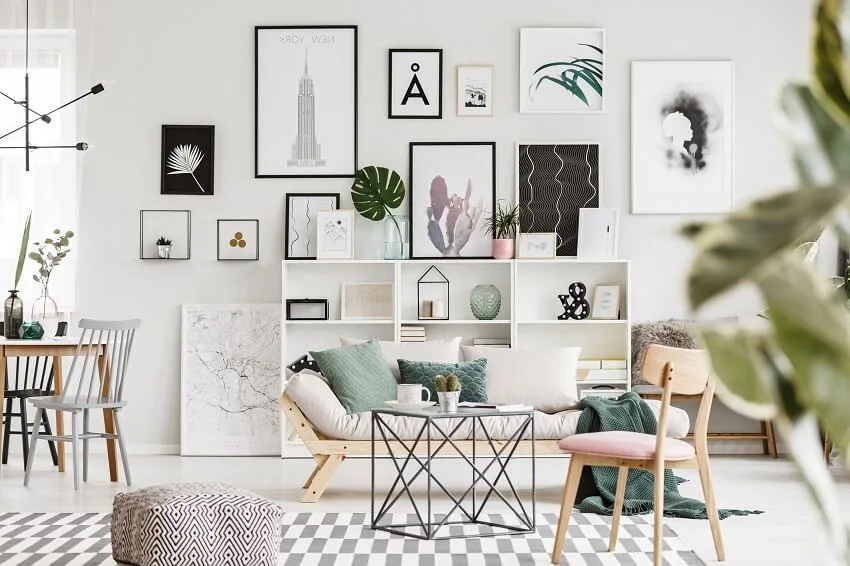 To ensure that you have a correctly sized picture frame, you need to make sure that you measure what you're framing. Picture frames are often labeled with the size item that they can hold, so you just have to know what that measurement is for the item you're framing.
More specifically, you'll need the height and width of the item you're trying to frame. Keep reading and we'll take a look at how to properly measure something to learn the picture frame size that you need so that you know exactly what wall frame design to look for.
How Much Bigger Should A Frame Be Than The Picture?
Naturally, you need to remember to choose a picture frame that's large enough to house the picture you want to put inside of it.
However, if the entire picture frame is the same size as the photo, things might not work out quite as smoothly. So, how much bigger should a frame be than the picture it's holding?
The good news is that when you're looking at picture frame sizes, they're talking about the interior perimeter. In other words, that measurement refers to the space inside the frame – it's not a measurement of how large the frame is in its entirety.
A general rule of thumb to keep in mind is to keep this spare space down to no more than an inch. This way, you have some space without it looking like the picture is in the wrong-sized frame and it won't allow so much space that your picture will slide around in the frame.
How To Measure Frame Size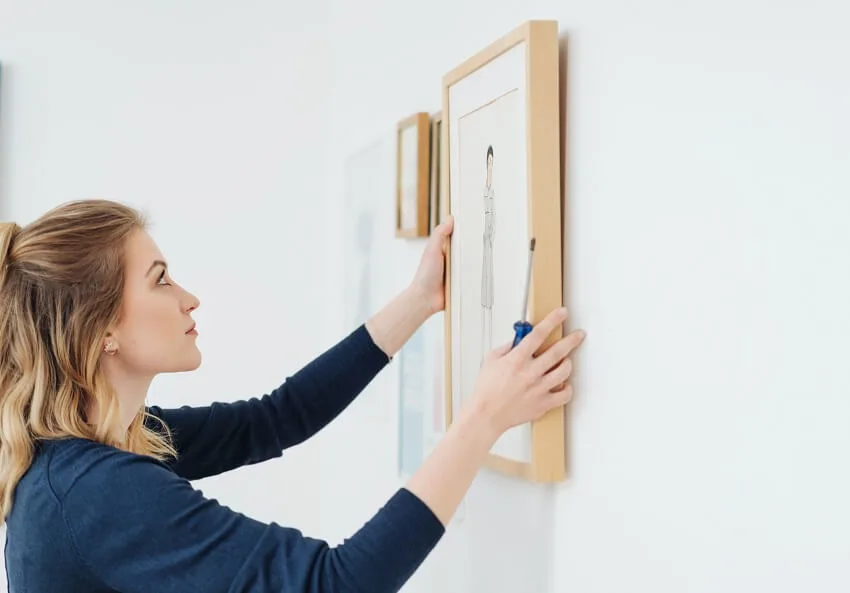 The first thing you need to do is lay the item you're going to frame completely flat. Remember, this a going to be a measurement of the wall art area that you want to be framed. So, if you plan on trimming your item down at all, do that before you start measuring.
From there, use a tape measure to measure the height and width of the item. It's a good idea to double-check all of your measurements to make sure that you don't make any mistakes.
From there, you can just use those two measurements to find a picture frame that matches what you need.
To make things even easier, the sizing for picture frames is straightforward and read in a "width" x "height" manner. For example, an 8'x10' frame is 8 inches wide and 10 inches tall.
What Material is Used For Frame Backing?
We've talked a lot about different types of picture frames so far, including some of the choices you have when it comes to materials. Still, the question remains as to what material is used for picture frame backings?
The backing is meant to do more than just hold the picture in place. It's also supposed to help support and protect the content inside, so it has to be made with a material that's conducive to that.
A lot of the time, the most common option is a mat board but options like foam board, easel backs, or even some cardboard can serve as viable options to create a picture frame backing.
Sometimes paper is used inside the frame as a matte for creating a barrier between the picture and the glass. In addition, backing paper or a dust cover can be used on the back of frames to keep dust from entering.
What's The Difference Between A Picture and A Poster Frame?
Earlier, we discussed that one of the options you have when it comes to types of frames is a poster frame. As the name suggests, these frames are meant to help display posters without forcing you to damage your poster or print with tacks or tape.
However, you'll likely notice that there are a few notable differences between poster frames and standard picture frames. For example, poster frames are quite often meant to hang on a wall since they're made to hold larger items. Visit our guide on how to hang up heavy frames for more related article.
On top of that, poster frames often lean toward a very minimalist frame that's thinner than most picture frames, especially ones with any decorative elements. This is because these frames often aren't meant to add to the design of the print or poster inside but rather showcase and protect them.
If you do want something to frame your posters in with a little more flair and personality, the decorative elements of a poster frame typically don't take up much space on their own. Rather, they often rely on different colors or materials to set them apart.
Can Frames Be Painted?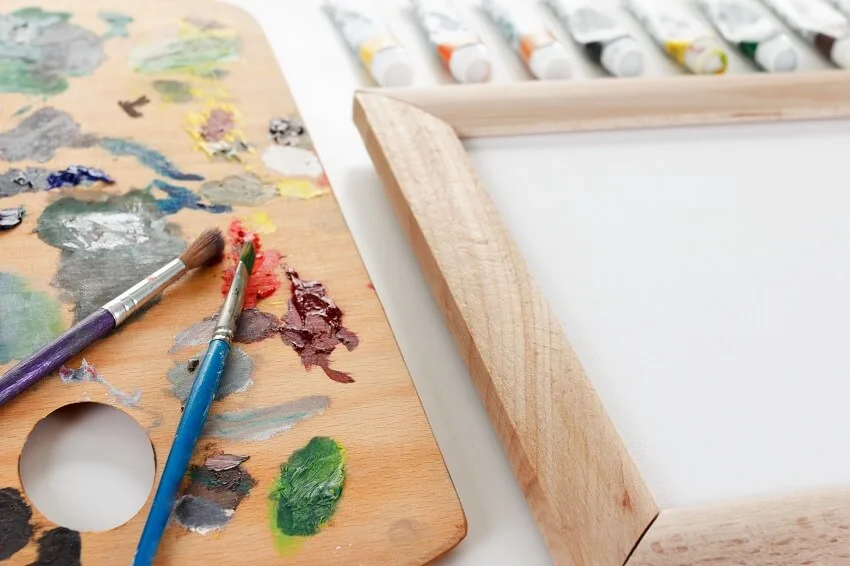 Yes, you can paint plenty of picture frames! It's a great way to revamp an old picture frame or to add a touch of your own style to the decor.
As we mentioned before, ceramic is one of the easiest options to paint and there are even frames out there designed for painting.
Another option is to paint your wood picture frames although this will have a few more steps. You'll have to start by sanding your picture frame to remove the finish and applying a primer before reaching for oil-based paint.
Fortunately, if you want to speed the process along, spray paint is a type of oil-based paint that takes minimal effort to cover the frame. Just make sure to use your spray paint safely!
How Do You Stop Pictures From Slipping In Frames?
A very common problem that people run into when they're trying to frame something is that it keeps slipping in the frame. Luckily, there are a few ways to solve this.
For one, always make sure that you're using the right size frame. Aside from gallery frames, the item should usually fit the frame so that it doesn't slide around a lot.
Another option to take care of this problem is to mount the photo so that it doesn't slide around in the frame. When it comes to the specifics of mounting a photo, there are a variety of methods to keep it in place.
The good news is that there are even methods that aren't as permanent as mounting might sound and there are methods as simple as using some tape to secure the picture in place.
For more related content, visit our guide to the types of picture hangers here.