Here's our piano bench dimensions guide including standard, baby, grand, upright and spinet grand piano bench sizes.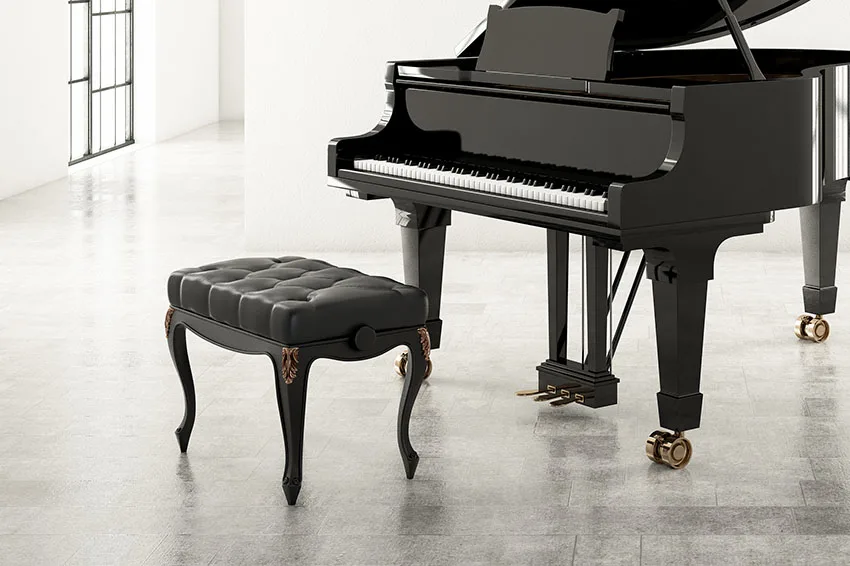 Pianos usually come with the ideal bench to complement it. Still, for a plethora of reasons, some people are generally buying piano benches as a replacement or just an added seating option since piano benches are highly versatile. So how do you pick the perfect piano bench?
This article will provide dimensions for different types of pianos and the benches that will be ideal for each piano, from upright to grand pianos to the spinet.
Standard Piano Bench Dimensions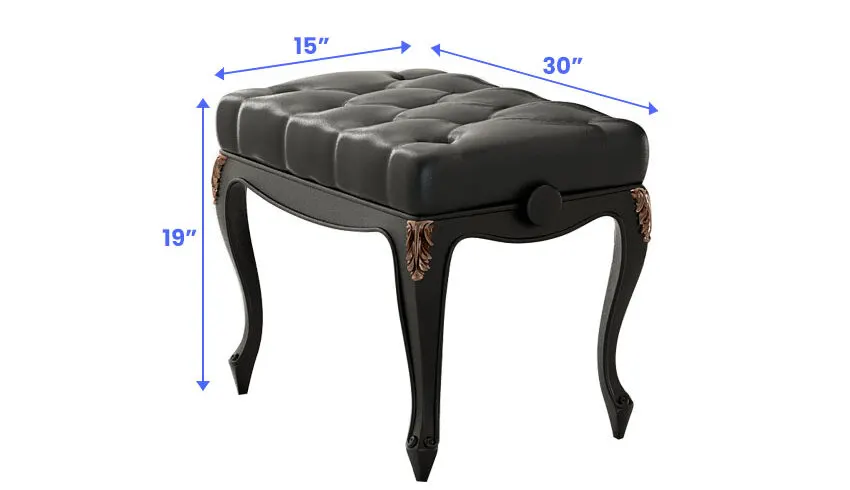 The consensus among piano players, young and old, is at least a half-hour of practice every day. Most people are concerned about the piano height from the floor to the white keys, but finding a suitable bench or stool for your piano is an easy, sure-fire way to ensure comfortable playing. So what is the standard bench height for pianos?
The standard piano bench has a dimension of 30 inches or 76 centimeters in width, a height of 19 inches or 48 centimeters, and a seat depth of 15 inches or 38 centimeters.
For people looking for a long-term bench to grow with, an adjustable piano bench is widely available with an adjustable height that goes from 17 to 22 inches or 43 to 56 centimeters. This bench would be perfect for beginners, especially for kids who take lessons until they are older.
Standard Piano Bench Height
The standard piano bench height is 19 inches or 48 centimeters. This height is perfect for pianos that are 36 to 52 inches or 91 to 132 centimeters high. There are also adjustable piano benches that are 17 to 22 inches or 43 to 56 centimeters tall.
Baby Grand Piano Bench Dimensions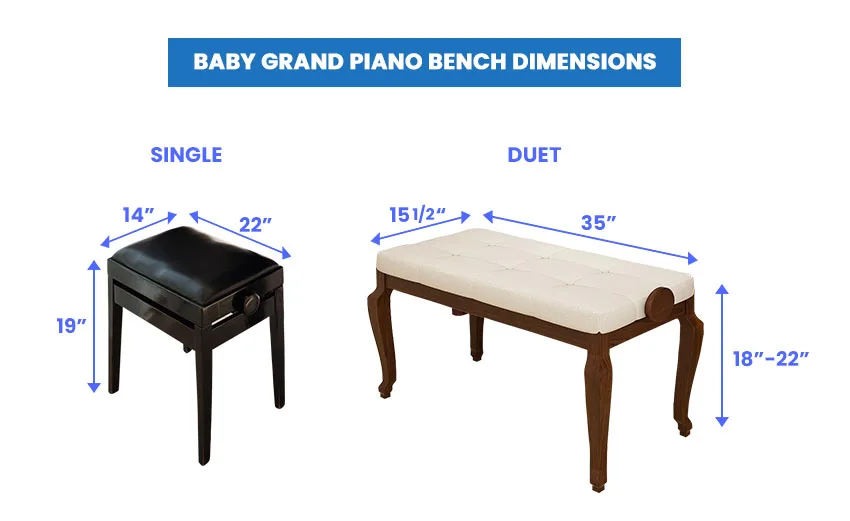 A baby grand is a usual piano in many affluent homes, and there is usually a wooden bench with leather or faux upholstery to complement the baby grand piano. Piano benches are a versatile piece of furniture that some households use the bench as an added seating option for living rooms and hallways.
A bench for a baby grand piano should be comfortable enough for hours of playing, and opting for a tufted one is an option with that factor in mind.
A standard one-seater bench that would be perfect for a baby grand with a height of 5 to 6 feet has dimensions of 22 inches or 56 centimeters seat width, a depth of 14 inches or 36 centimeters, and a height of 19 inches or 48 centimeters.
In comparison, a duet bench will be perfect for a learner and their teacher to have dimensions of 18 to 22 inches or 46 to 56 centimeters in seat height, a width of 35 inches or 89 centimeters, and a depth of 15 1/2 inches or 39 centimeters.
Grand Piano Bench Dimensions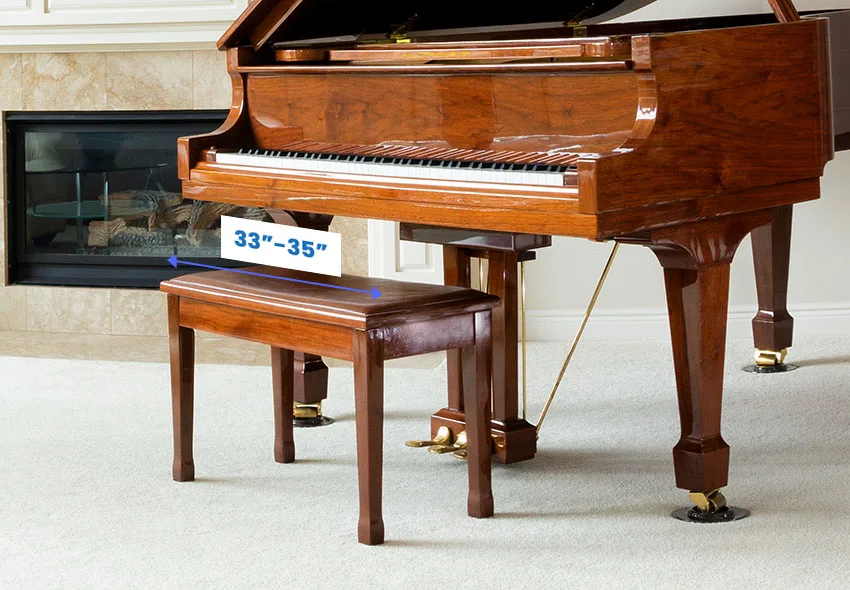 To complement a piano as grand and magnificent as a grand piano, only a duet bench will work perfectly. A duet bench is proportionate to the size of a grand piano's width. This bench is also perfect if you are fond of playing with other people on pieces that call for a duet.
There are also adjustable heights for duet benches perfect for growing children who will grow to be excellent musicians. The widths of duet benches could measure anywhere from 33 to 35 inches or 84 to 90 centimeters.
While duet benches with adjustable heights could range three ways: the long standard 21 to 22 inches or 53 to 56 centimeters, the long duet that is 32 to 33 inches or 81 to 84 centimeters, or the petite one with a width of 13 inches or 33 centimeters. As per their height, they usually stand 19 inches or 48 centimeters.
Duet benches for grand piano also have compartments for the many piano pieces a budding pianist will be sure to collect. They can be made of many materials like wood and even acrylic to fit any interior design. See more pictures of a grand piano in a living room here.

Upright Piano Bench Dimensions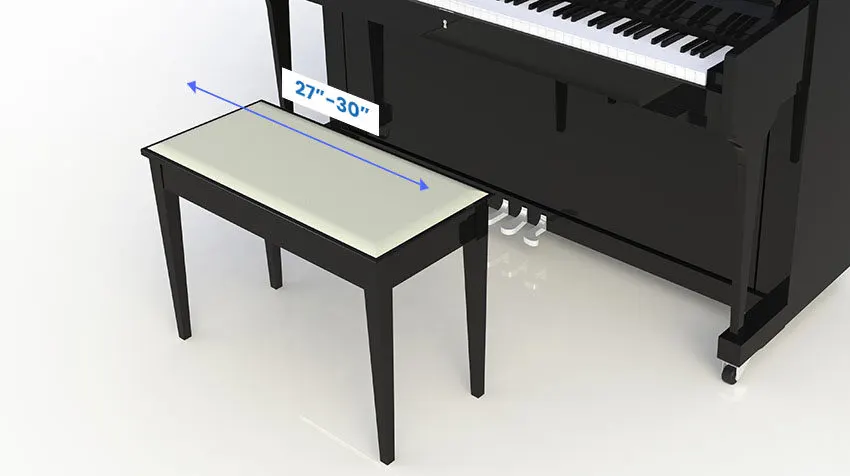 A standard upright bench could fit any upright pianos from the professional upright to the studio and console pianos.
Piano benches for upright pianos can accommodate any type of interior and are pretty versatile; there are wood top ones made of mahogany or maple or any other of your choosing, upholstered seat made with leather or faux leather, and even adjustable ones.

Standard upright benches are measured 27 to 30 inches or 69 to 76 centimeters in width and are usually 19 inches or 48 centimeters high, just like other benches for baby grand and grand pianos. This bench measurement will be perfect for upright pianos with heights ranging from 36 to 52 inches or 91 to 132 centimeters.
A spinet piano 36 to 40 inches or 91 to 102 centimeters long will be complemented by a spinet piano bench 25 inches or 63 centimeters wide.
How High Should a Piano Bench Be?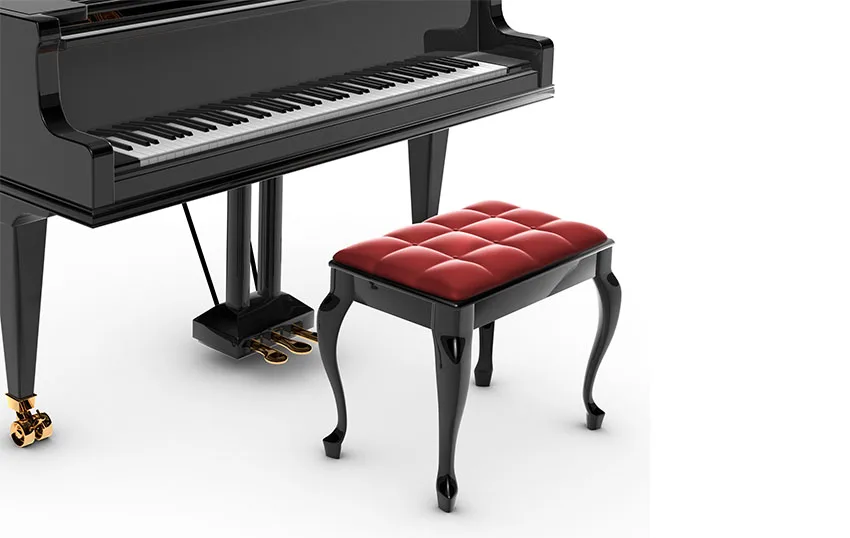 For optimum ergonomic comfort for hours and hours of playing, there are factors you need to consider. So how high should a piano bench be? For most piano heights, the perfect piano bench is 19.5 inches or 50 centimeters.
Although, in order to get a height that would be perfect for your particular piano, the key is measuring the distance between the floor and the top of the piano's white keys. This way of measuring will determine everything from the level of your elbows, which should be leveled at the key's height, to make sure that your feet fall flat on the floor and simultaneously be able to reach the piano pedals.
There are many piano benches available, from furniture stores to specific ones on the internet, and choosing one will involve many factors. These factors need to be considered because for people looking to play for long periods, a bench that offers the highest level of comfort is what they need.
You could go for one with a fixed height or opt for an adjustable piano bench to make the seat as versatile as possible for generations to come. Good luck and happy playing!
For more related content visit our piano dimensions guide here.