In this shower niche sizes guide, you'll find the standard recessed shelf dimensions for horizontal & vertical designs, how deep they are, and the best wall cutout size.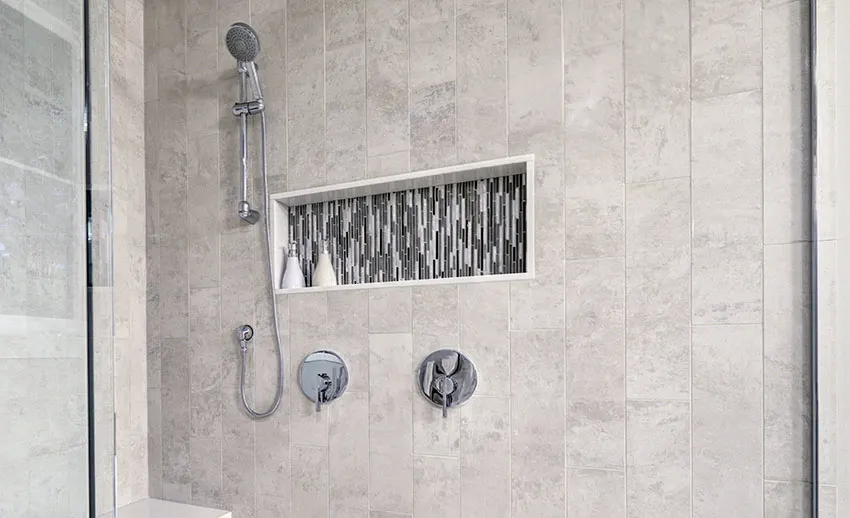 Suppose a homeowner is looking for an alternative to a generic plastic caddy to hold all their bathroom and showering products. In that case, building a shower niche into their bathroom walls is a great option. A recessed shelf can be camouflaged in the walls by matching its tiles to the one on the walls, or it can be a unique one with a different design.
A shower niche is the best option for every bathroom, especially in smaller showers. It can be sophisticated with minimalist and more contemporary styles or eclectic with a Moroccan tile pattern; the possibilities are endless.
Standard Shower Niche Dimensions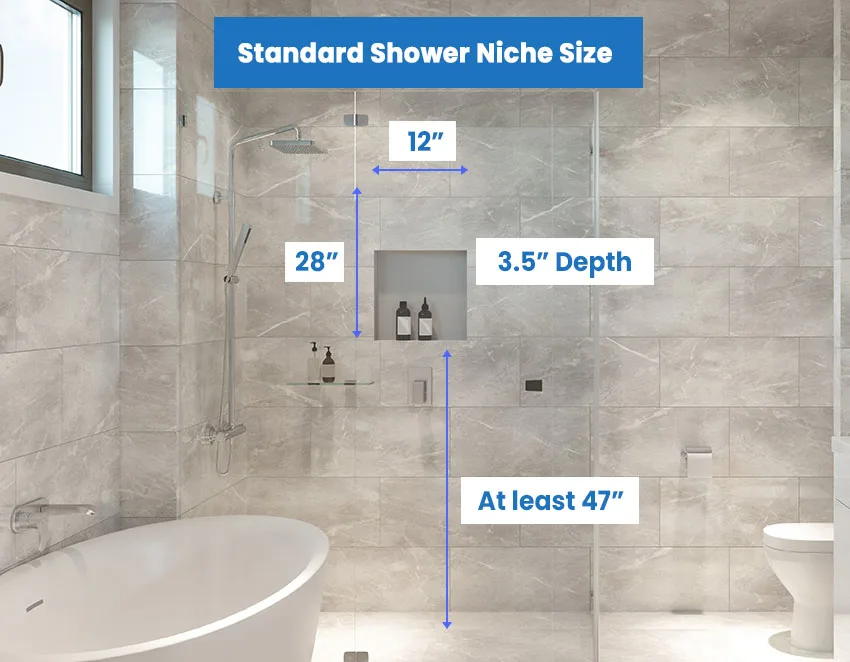 Most homeowners will install prefab and ready-to-install niches in their showers to make the size choice easy; they will often go for the standard sizes.
Common shower wall niches widely available for any home will come in the dimensions of 12 inches or 30 centimeters for width, a height of 28 inches or 71 centimeters, and a recessed depth of 3.5 inches or 9 centimeters.
Aside from this size, the other widely purchased and utilized compartments come in equal sizes of 12 inches or 30 centimeters for both width and height. This is a size excellent for smaller stalls.
Niche Height
Considering the height of any wall recess is essential because it needs to be tall enough for all the bathroom products a homeowner will need. An excellent way to measure this is by calculating the height of the tallest shampoo bottle or product you have to make sure that it will fit the chosen size.
Another consideration for height is if they have pump bottles, which will need more space above it for anyone to reach their hand in and pump the bottle.
Wall niches for showers, on average, should at least be 47 inches or 119 centimeters from the floor to ensure that anyone of average height can reach in for their products. For showers over a tub, lowering the height is preferred to ensure that it will be within access to anyone using the bath.
How Deep Are Shower Recessed Niches?
The standard shower niche depth is 3.5 inches or about 9 centimeters, the standard width of most wood studs. On the other hand, for people living in high-rise buildings where steel studs are installed, the maximum depth a recess might reach is about 2.5 inches or 6 centimeters.
These depths will be enough for most products and bigger bottles, so homeowners can opt for these standard sizes. This depth size can also be adjusted for a custom-made recessed wall shelf where it is considered simultaneously as everything in the bathroom.
Stud Bay Width For Shower Wall Niche
Stud bay widths will differ from house to house. Some homes must install their chosen wall recesses vertically since the stud frames will not allow them to be installed horizontally. In contrast, some homes will allow work better with a horizontal design.
Often, stud widths for existing homes will be slightly wider than the average 12 inches or 30 centimeters width for standard niche sizes.
If homeowners are renovating their bathrooms to include a wall recess, it will usually be vertical if they don't want any structural fortification done on the stud itself. The best thing about the vertical ledge is that it will allow custom shelving as high as any homeowner would want.
Stud bay width will usually be 14.5 inches or 37 centimeters, fitting standard shower sizes and their niches.
Standard Shower Shampoo Recess Niche Size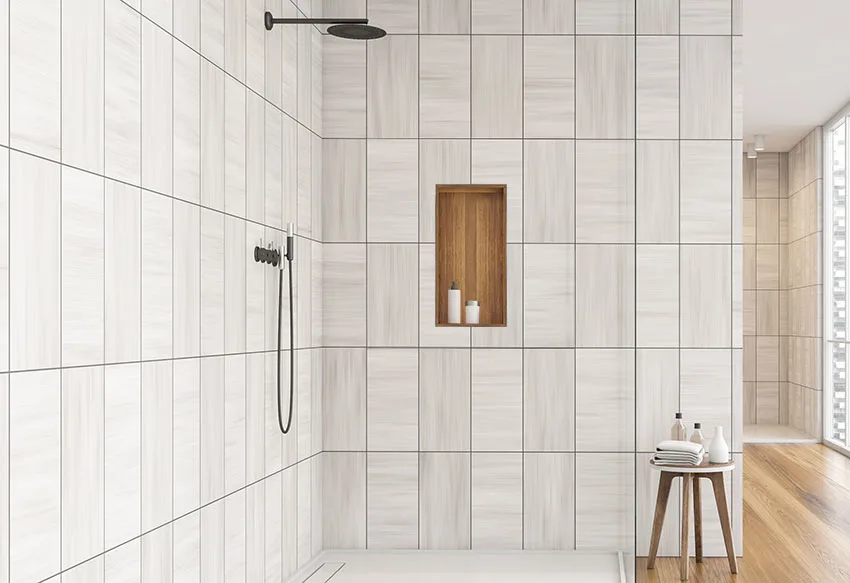 The niche size that will fit most bottles of shampoos, big or small, is the same as the standard recessed size. These are the most common since they will fit most standard stud bay widths at 14.5 inches or 37 centimeters.
These shampoo niches will come in dimensions of 12 inches or 30 centimeters in width, a height of 28 inches or 71 centimeters, and a niche depth of 3.5 inches or 9 centimeters. 3.5 inches for depth is the standard depth that will fit even most larger shampoo bottles.
Shower Horizontal Niche Measurements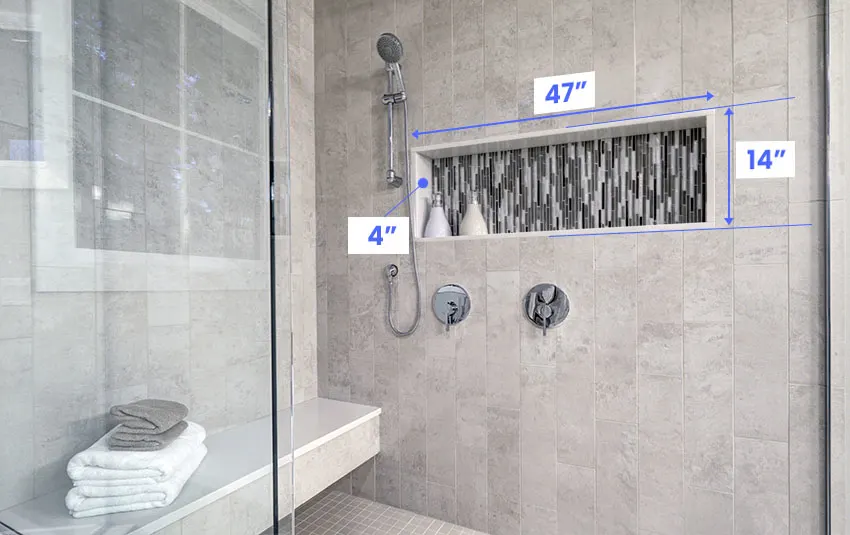 A horizontal niche will add another sprinkle of aesthetic to any bathroom and make it more modern with the added shelf space for more bath products and even décor. A horizontal wall ledge will span two or even more stud bays and require more than just renovation.
The most common horizontal wall shelf design has dimensions of 14 inches or about 36 centimeters in height, a width from side to side of 47 inches or 119 centimeters, and a depth of 4 inches or 10 centimeters. This size can easily be adjusted according to any homeowner's preference.
Vertical Niche Shelf Dimensions for Showers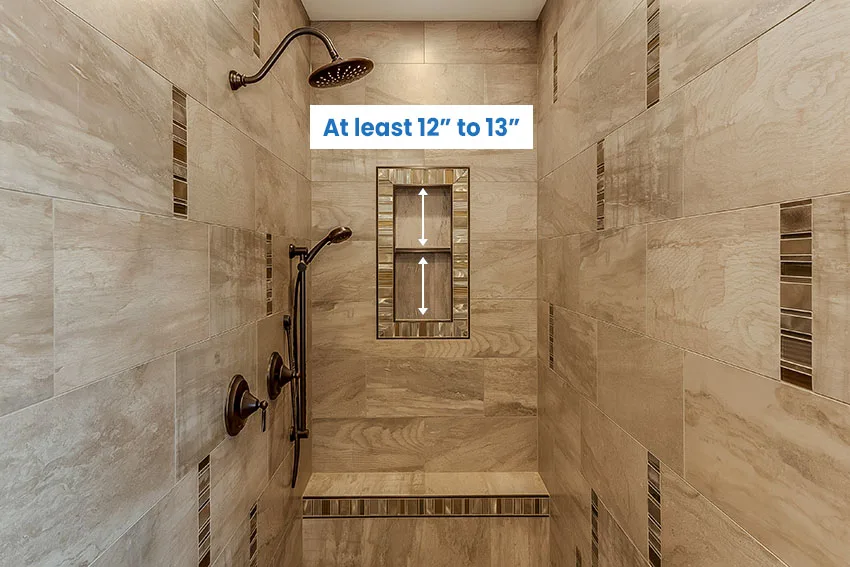 The best option for shelving for the shower niche is a vertical design. The higher the niche a homeowner wants to install, the more shelving options will be available.
Ensure that each shelf, especially the ones that will house shampoo bottles, will at least be 12 to 13 inches or about 30 to 33 centimeters. Multiple this height according to how many shelves one would like in their wall opening.
Soap Niche Sizing
Another common bathroom niche is the soap dispensers, often sold in stores as a duo with a shampoo niche built-in with a compartment designated for soap.
The most standard design will have a width of 7 inches or about 18 centimeters and a height of 14 inches or 36 centimeters. This duo will be perfect for smaller homes and people who use a minimal amount of bath products.
Best Size Niche For A Shower
The best size shower niche for any home is the standard size at 12 inches or 30 centimeters for the width, a height of 28 inches or 71 centimeters, and a niche depth of 3.5 inches or 9 centimeters.
These niches will be big enough for the standard stud bay width, which will require the minimum amount of effort when it comes to renovation.
Visit our open concept shower design guide for more related content.