See large format tile ideas with different tile types, patterns, layout, installation, cutting tips, and where large format tiles should be used in interior design.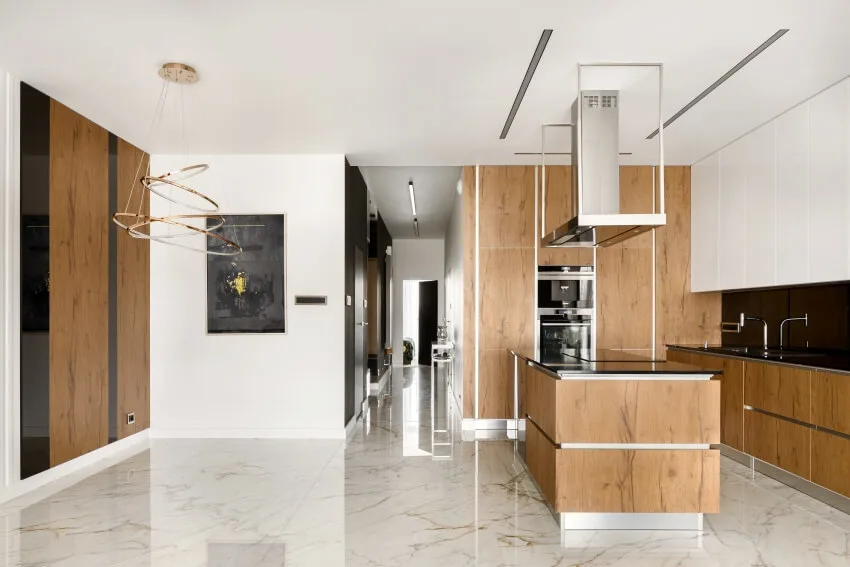 Large format tiles are becoming increasingly trendy and provide distinct benefits for all types of construction projects. The larger the tile, the bolder the impression you can generate in your house. Yes, large format tiles are no longer restricted to commercial applications.
These tiles are also becoming very fashionable in private settings. There are numerous factors why these tiles are in such great demand, ranging from minimal grout lines to reduced maintenance and providing a sense of vastness.
If you are interested in large format tiles, we will go through some features and perks that might persuade you to try them out. But first, let us know what exactly is a large format tile.
What Is A Large Format Tile?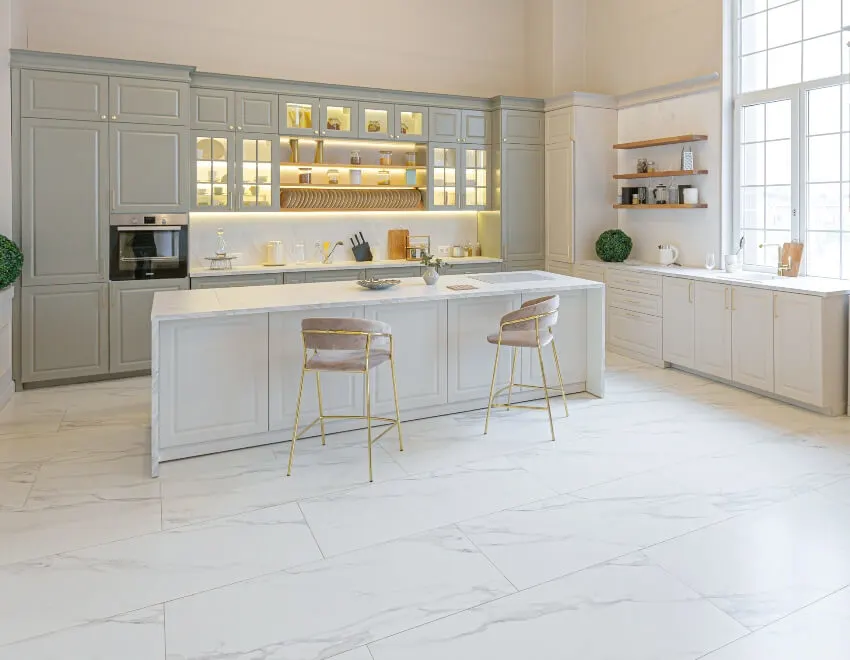 A 12-inch tile would have been called large format a decade ago. However, as tile manufacturing evolved with new technology, the definition of a large format tile expanded to include any tile with at least one edge larger than 15 inches. Large format tiles come in square or rectangular shapes and are composed of porcelain, ceramic, or stone.
Large format tiles are available in a multitude of colors and patterns, making them suited for a vast array of design styles. Large format tile includes popular wood-like porcelain planks in sizes such as 6 x 24 and 6 x 36.
Furthermore, large format tiles require fewer tiles per space due to their size, resulting in reduced grout lines, making cleaning and upkeep a snap.
Large format tiles can assist in visually enlarging your area and give a coherent sense whether used for flooring, accent walls, shower and tub borders, worktops, backsplashes, as well as kitchen islands.
Types Of Large Format Tiles
Here are the most popular materials used in the creation of these types of tiles.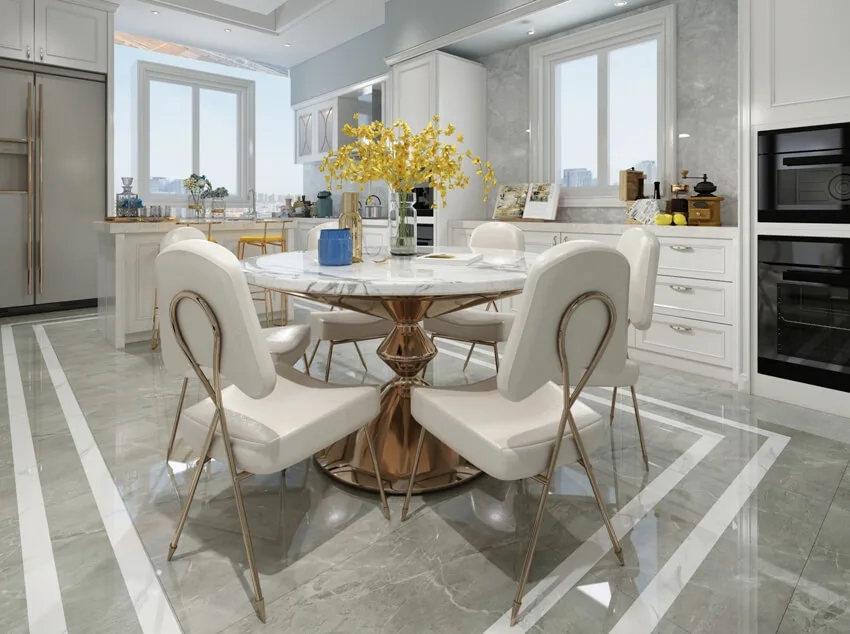 Porcelain
Large porcelain tiles have long been a prominent design aesthetic in Europe, but now that they have crossed the border, they are making a major impact elsewhere. When we think of porcelain tile, we usually think of little squares, or 4″ x 6″ or bigger subway-style tiles divided by grout lines.
Make the assumption you updated your home during the last decade. In that instance, you may have replaced your unsightly tile surfaces with granite or, if you have just updated, engineered stone such as quartz. Large format porcelain tiles that mimic the look of natural materials are now obtainable thanks to computer-assisted production technologies.
These large format tiles made out of porcelain have a complex pattern that is practically similar to natural marble, limestone, wood, linen, granite, or any other natural content you can imagine. Above all, these tiles do not have the natural material's complicated maintenance requirements and usage limitations.
Large format porcelain slabs are often available in two thicknesses and two sizes. The slab dimensions are commonly around 118″ x 69″ and 126″ x 63″. It is indeed a highly durable material that is considerably lighter and less expensive than genuine stone slabs and tile, and both are available in 0.23-inch thicknesses, with the 126″ slabs available in 0.47-inch thicknesses.
Large format porcelain tiles can be used in practically any setting. Such format tiles are an ideal selection for countertops, shower surrounds, backsplashes, bathroom flooring, fireplace surrounds, and anywhere else you desire a cohesive effect of continual material.
Moreover, these format tiles are a fantastic option since they have a vast array of natural finishes as well as the complexity of natural material patterning. Large format porcelain are an ideal buy when you consider the number of choices and their long-lasting durability.

Ceramic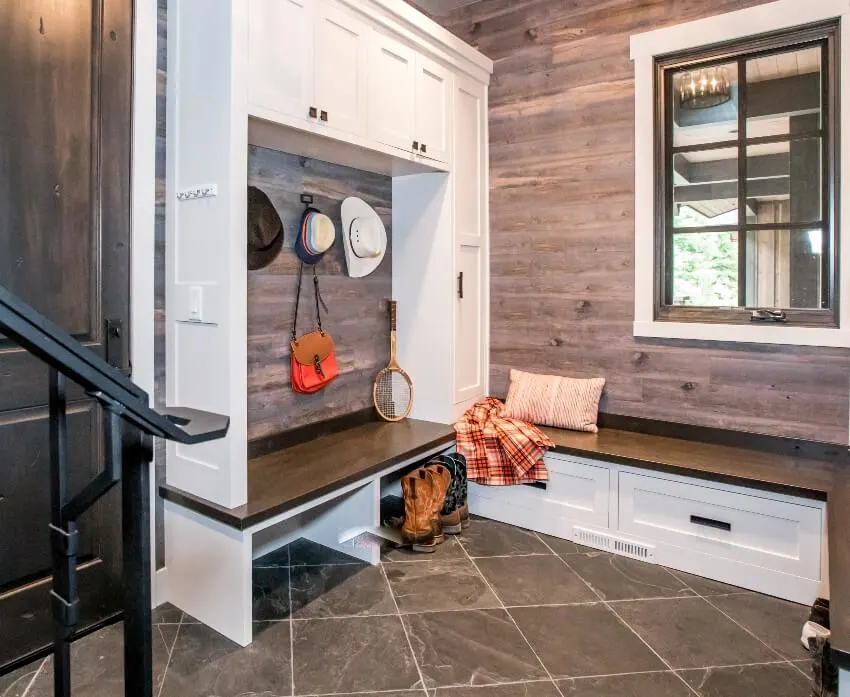 One of the most crucial developments in the ceramic industry in recent seasons has been the growth in tile size. Large format ceramic tiles alter the idea of tiling, both in terms of the massive surface area allowed for the display of the creative component on a single tile and the severe decrease in the visual partition of the whole floor due to the significant decrease in the presence of joints.
Large format ceramic tile is indeed a practical and widely known alternative for tile in home renovation projects since it is suitable for a wide range of purposes.
Ceramic is an excellent choice for every room in your houses such as the kitchen floors, bathroom, and entrance door due to its low cost and stability. Glazed large format ceramic tile is more resistant to stains and damage than hardwood, carpeting, or even vinyl panel flooring.
Marble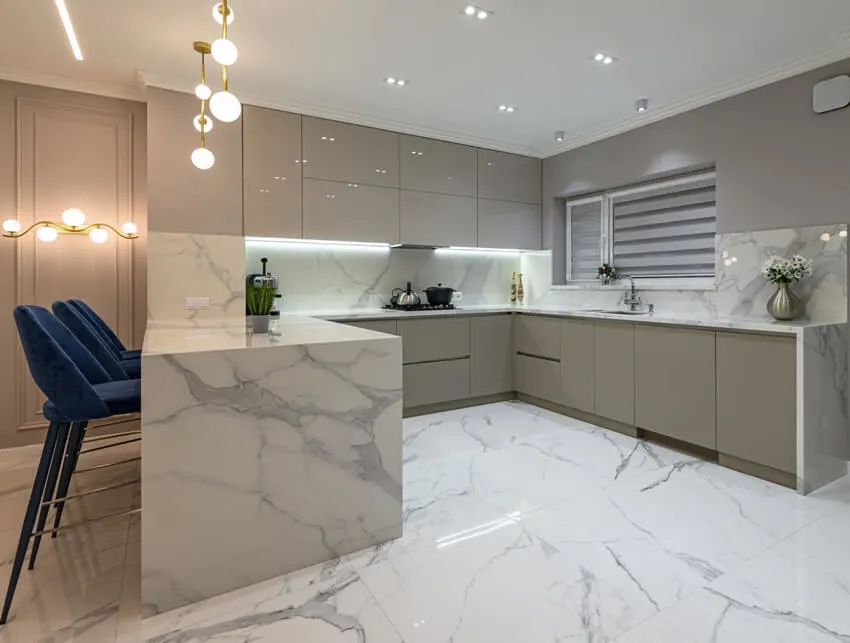 Format marble floors can be laid in massive slabs, but only in formal, corporate settings. Marble flooring is typically always laid in large format tiles for private applications. Traditional marble floor tile is typically square.
Large format marble tiles are an attractive and assertive option, as they emanate elegance and flair that is difficult to recreate with other large flooring materials. They are often regarded as one of the most premium and costly natural stone tile materials.
Moreover, large format marble tiles, which are finely veined with genuine mineral patterns, are formed under enormous pressure and temperature. They can withstand the heat and forces of daily life exceptionally well. Arguably, there is no other form of large format tile that can significantly elevate a place as large format marble tiles.
Ultimately, large format marble tiles provide tremendous depth and contrast, presenting a brilliant array of color speckles, and are inherently available in a wide range of colors, including emerald, gray, taupe, white, and black.
When choosing large format marble tiles or slabs, you should evaluate the material for any uneven spots that could necessitate extra sealing to prevent stains owing to its porous quality. See more marble flooring designs here.
Glass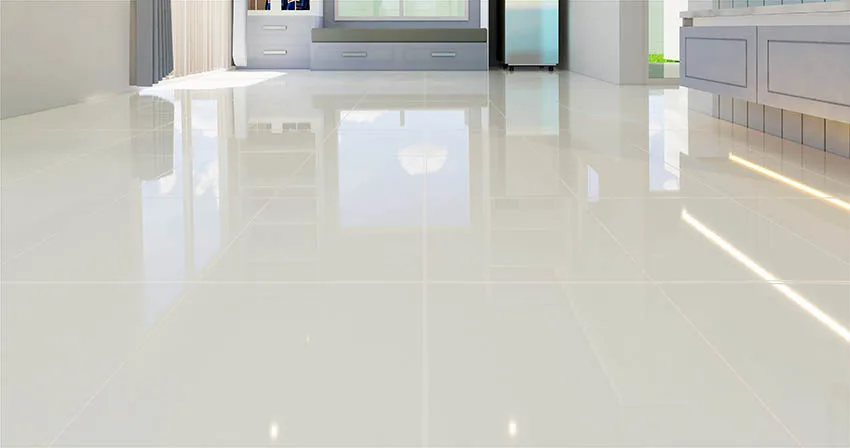 Large format glass tiles occupy greater space with minimal panels, leading to a streamlined, modern design with reduced seams. In contrast to mosaic tiles, which tend to be little and necessitate grout lines that cover a considerably bigger part of the surface, these giant glass tiles are vast and elegant, and they provide a more cohesive appearance with simple lines.
Their ability to cover huge areas gives you additional alternatives and versatility in areas where you would normally tile, such as the bathroom or kitchen, including those locations where tiles are less frequent, such as the lounge room.
Because of their structure, these large format glass tiles are as robust as they are adaptable, so you can expect them to survive for years even in high-traffic and heavy-use parts of the house like kitchen backsplashes.
The finished, modest result looks wonderful in a modern kitchen, contemporary bathroom, around an outdoor swimming pool, or in a family room full of distinctively attractive objects.

Shiny large format glass tiles are a beautiful backsplashes or shower tiling option. Compared to other tiles, glass tiles feature the strongest degree of stain resistance, even impenetrable to red wine and strong lime juice.
Coming subject to one drawback, a large glass tile can be relatively easy to crack and break if a heavy object is dropped onto it, hence this material functions best on your wall. See more pictures of bathroom floor tile ideas here.

Concrete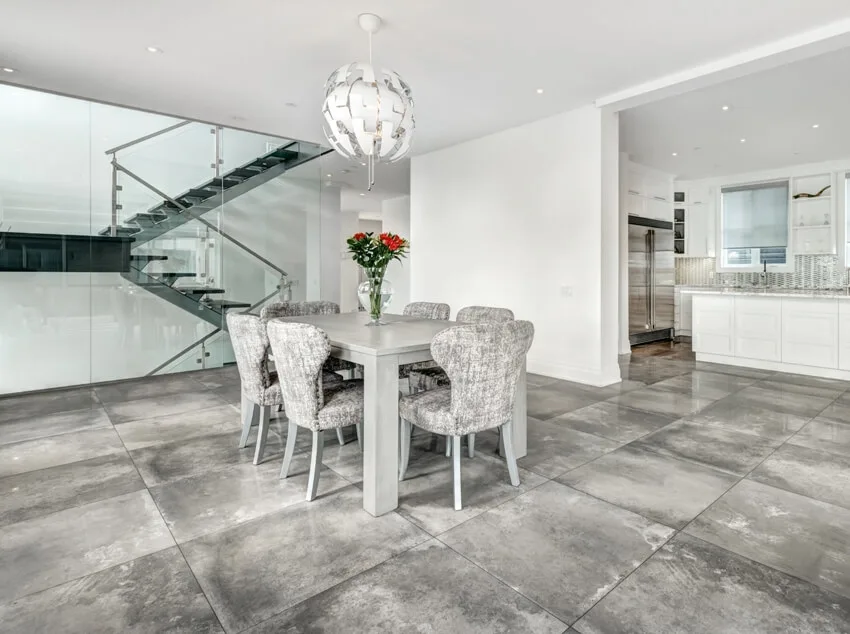 When it comes to placing large format tiles in your house, you are not restricted to factory-made large porcelain, ceramic, or glass floor tiles. Prefabricated large format concrete tile, which is custom-made for your project, is a new low-cost, adaptable, and long-lasting tiling option.
Large format concrete tiles can be applied almost anywhere, both indoors and outdoors, which include floors, walls, firebox surrounds, pools, patios, shower surrounds, counters, backsplashes, and building paneling. Large concrete tile sizes, finishes, and colors can often be tailored to meet your design requirements.
Furthermore, large format concrete tile patterns are available to fit any size of the room. You are not confined to using standard-sized tiles. Even though recurring squares can be used to replicate the appearance of tiles, concrete provides more flexibility for integrating cuts and embeds, embossed patterns, three-dimensional architectural forms, and more.
Terrazzo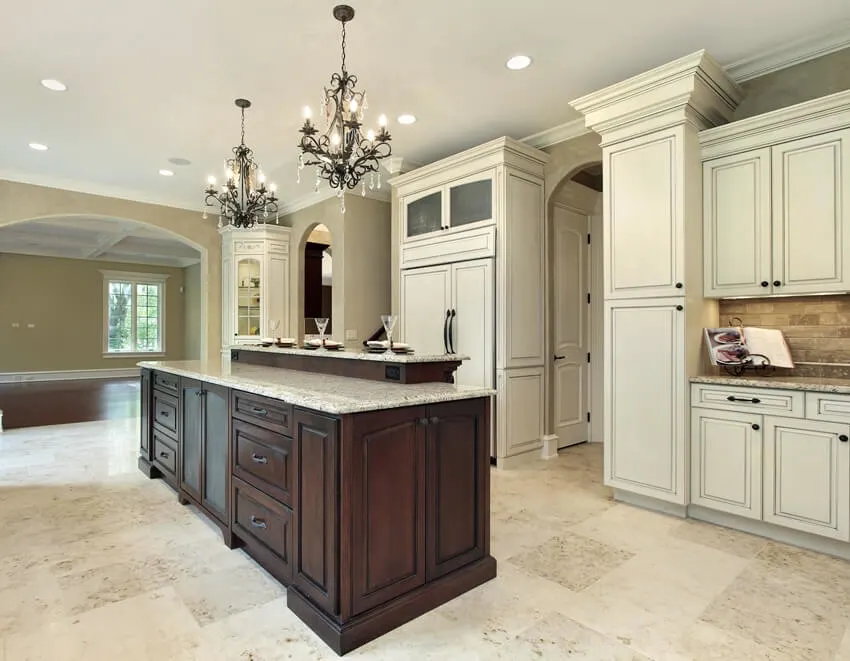 Terrazzo, a hybrid material made of marble granules embedded in cement, was invented in 16th-century Italy as a technique to utilize stone offcuts. It is either hand-poured in place or prefabricated in blocks that may be cut to shape. It is also available as ready-made large format terrazzo tiles that can be applied directly to walls and floors.
There are essentially no color or material restrictions — pieces might be anything from marble to quartz, glass, or metal – and it is highly durable. Terrazzo is an ecological decorating alternative because these large format tiles are manufactured from offcuts.
Once treated to provide waterproofing capabilities, large format terrazzo tiles can be laid to any interior flooring or walls, including bathrooms and kitchens. Terrazzo readily absorbs heat, making it an excellent choice for underfloor warming.
Furthermore, because it can be poured into any shape, it is increasingly being utilized to make furnishings and other household products. Find more about the different types of terrazzo flooring here.
Quartz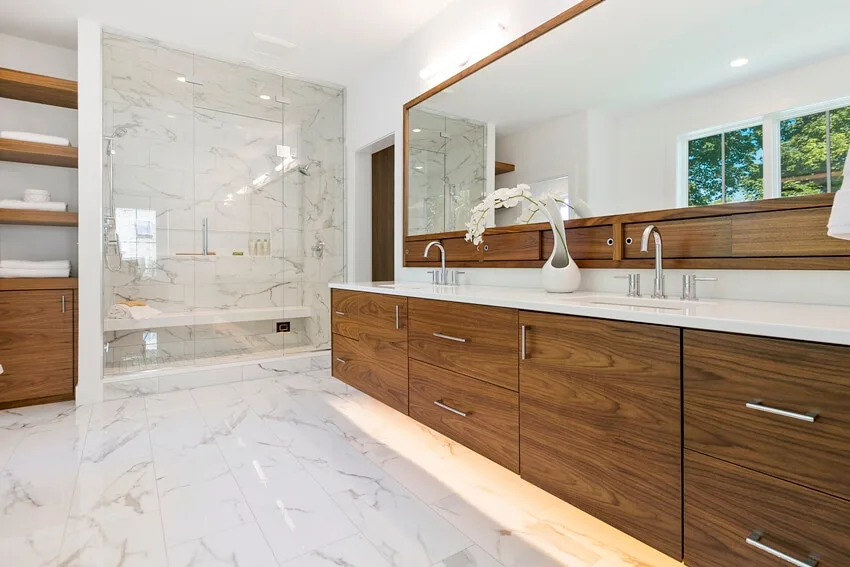 Large format quartz tiles are a man-made agglomerate constructed from genuine quartz stones, resin, pulverized mirror flecks, and color pigmentation.
Unlike large format ceramic and porcelain tiles, quartz is made in bigger slabs that are calibrated and polished. After that, the slabs are tested and cut into specific tile sizes.
In addition, large format quartz tiles can be used in any room of the house. Such large tiles will surely look beautiful whether you are trying to add some shine to your kitchen, free up your living area and provide your space with a sparkling impact, or tackle a new bathroom design.
Their high-gloss coating not only looks wonderful and reflects illumination around the room, but it also ends up making them very easy to maintain once installed. See more designs in our quartz shower walls pros and cons guide.
Where To Use Large Format Tile

Large Format Tile in Shower
Shower layouts with large format tiles are sought-after focus spots. In actuality, these large tiles have lifted bathroom aesthetic standards to unprecedented heights. Large format tiles would be a fantastic pick in the shower area, where water spills and discharge are a common occurrence.
Because of their stability and resistance to water, large format tiles are ideal to be used in the shower. Because large format tiles have minimal grout lines, it is indeed simple to maintain and appears stunning.
Numerous interior designers are producing styles that use large format porcelain tile to produce a richly elegant effect that runs from the floor up the walls in the shower surrounds. Nonetheless, including small and medium tiles into the overall design might help to counterbalance the extra-large tile of the shower walls.
Having an inclusive line of sight, large format tiles, and transparent glass shower doors can improve the elegance of your shower and coordinate your aesthetic. This can end up making the shower area appear larger while also highlighting the tile features in your shower.
Large Format Tile in Small Bathroom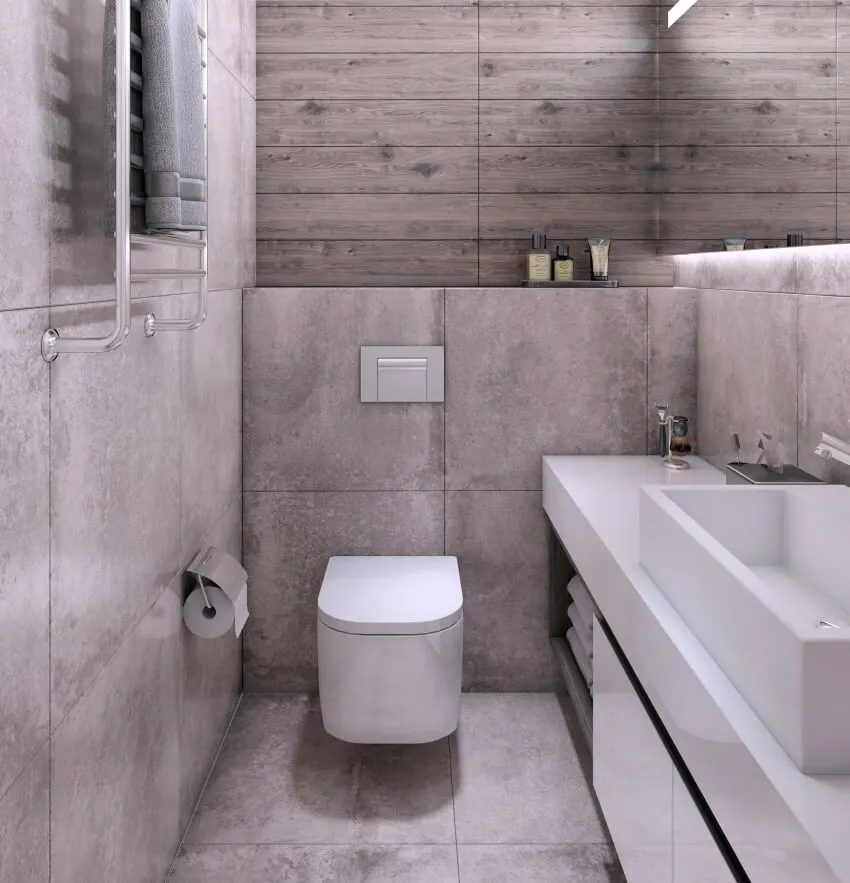 For small spaces, a large format tile would be ideal. The reason is due to grout joints. The larger the tile in an area, the more minimal grout joints you will have and the more expansive it will appear.
Large format tiles can make a small place look much bigger. The way it works is that our brain connects large format tiles with large spaces, hence seeing them in a smaller environment tricks us into believing the room is bigger than it is.
If you are ready to go with an extra-large tile solution on your flooring, consider extending it up the walls to the height of a chair railing for added emphasis.
Large Format Bathroom Floor Tile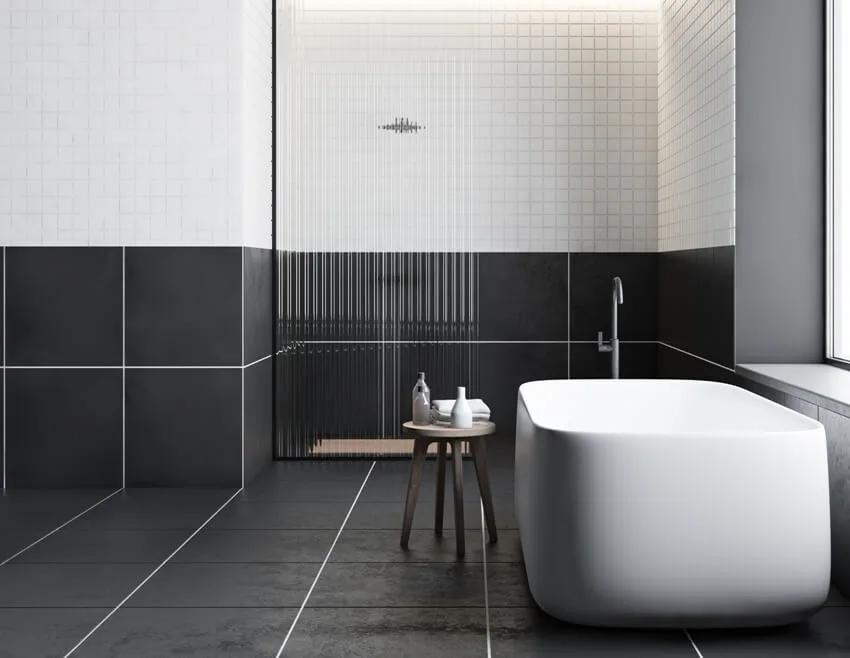 Luxury bathroom designs are frequently based on tiles that are at least 12 × 12. Large format tiles, on the other hand, can transform any wall into a modern design. You can experiment with different tile layouts and configurations.
You may want to try a staggered classic giant subway tile pattern with vertical lines to make the ceiling appear larger. Another option is horizontal rows of light and dark tones to generate oversized stripes. You can even finish the appearance by incorporating accent tiles for emphasis.
Furthermore, large format tiles necessitate fewer grout lines. If you like a more minimalistic aesthetic in your bathroom, large format natural stone or stone-effect tile is an option. The final effect of matching the tile to the grout is an architecture with cohesive precision and continuous grain patterns or subtle shading.
This dramatic aesthetic provides outstanding elegance in your bathroom, but it, as with any large format tile design, necessitates a specific installation and a professional touch for maximum accuracy and safety.
Large Format Tile Countertop
In the past few years, an increasing number of customers have expressed interest in using large format tiles for their kitchen countertops for a variety of reasons. The increased demand for larger tile sizes for flooring projects has resulted in more countertop solutions. Tile producers are currently creating tiles in sizes ranging from 24 to 32 inches, and 36 to 48 inches.
In addition to expanding in size, many of these materials' general visual look is more inclined to make a statement in the kitchen. With the ongoing growth of large format tiles, the tiles can be fitted very firmly on the countertops, reducing the grout joint between surrounding tiles.
Large format tiles are a less expensive option. Although the cost of genuine stone for countertops has decreased in recent years, tile surfaces have become quite competitive and provide a surface that is as durable as any rival material, notably granite. Indeed, larger format tiles provide a one-of-a-kind and aesthetically pleasing surface alternative for kitchen countertops.
Large Format Tile Backsplash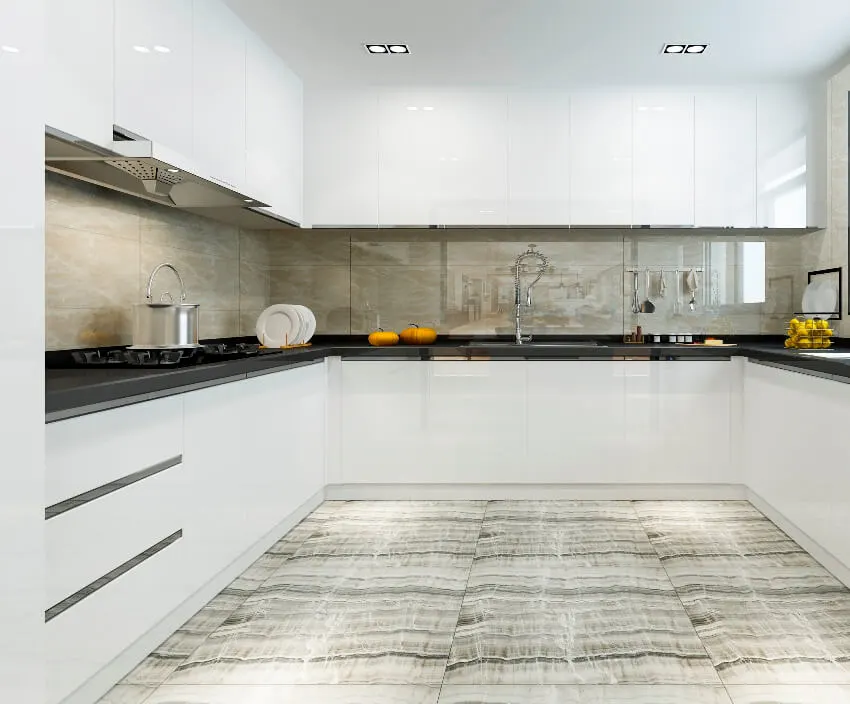 If keeping up with the latest interior design trends is one of your goals, using thin-sheet large format tiles for your kitchen backsplash will help you get there. This is because large format tile backsplashes can help make a big statement.
Larger tiles have fewer grout lines. With fewer grout lines, you will spend less time maintaining and cleaning them. With a larger tile, you can quickly wipe them down and be ready to go.
Furthermore, large format tiles for kitchen backsplashes open up the space, making your kitchen appear larger, yet a smattering of little tiles and many overlapping grout lines might end up making the space appear cluttered, keeping your attention switching from tile to tile.
Additionally, utilizing rectified large format tiles will elevate the backsplash to the next level. The grout joints are practically unnoticeable due to the fine cut of these tiles. The end effect is a sleek, practically continuous surface with precise lines that not only make your backsplash stylish and modern but also elegant and sophisticated.
Large Format Tile Fireplace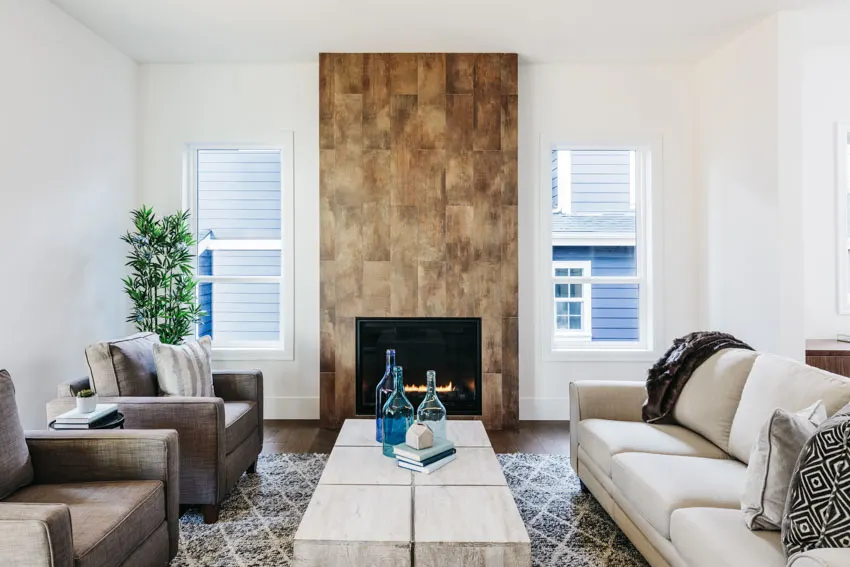 Because of the size of large-format tiles, you can use precise, sharp grout lines to produce the sense of a larger space. In an attractive fireplace configuration, large format tiles can simply create a more open, transitional atmosphere.
Large format tiles can be used on your fireplace to produce a clean and cohesive aesthetic that is tailored to your unique style. See our gallery of fireplace tile ideas here.

Large Format Tile Patterns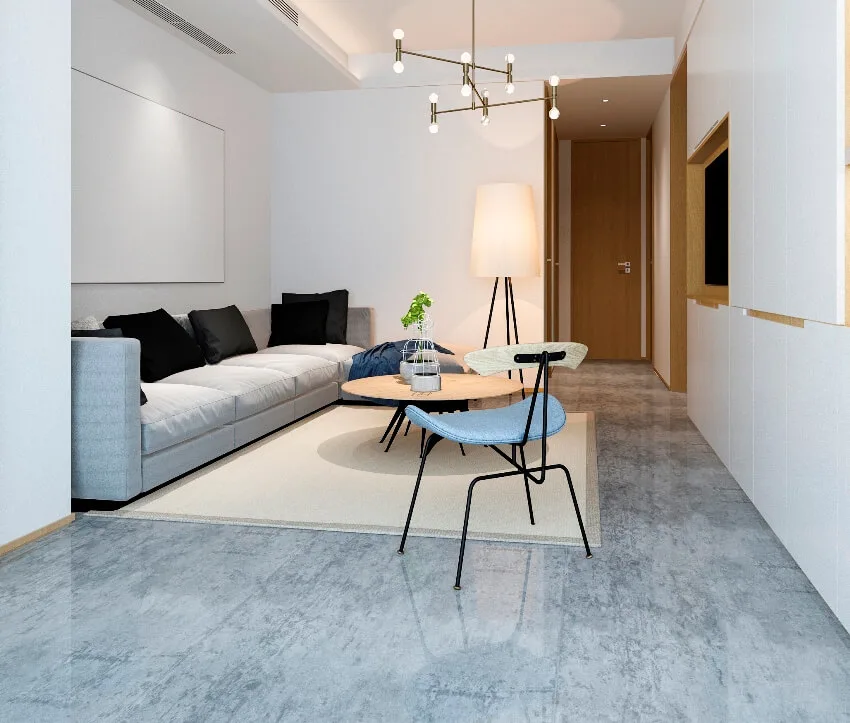 • Grid. This is a basic-looking tile pattern in which large format tiles are put in a straight line to give a simple and uncluttered effect. In this configuration, the tiles appear modern and sleek.
• Brickwork. This layout's brick-looking large format tiles give an industrial vibe to your environment. This design also enhances the look of handcrafted tiles while providing authenticity.
• Stacked Vertical. Large format tiles are layered vertically in this design, accentuating the height of your area by making your walls appear higher. In this pattern, subway tiles bring on a new vibrancy and geometric interest.
• Basket Weave. This classic design incorporates a mosaic of large format tiles with little squares that mimic the over-under stitching action of a woven basket. Basket-weave tiles provide delicate patterning and can be designed in a classic or modern manner contingent on the neighboring tiles and décor.
• Herringbone. This design is composed of V-shaped lines of 45-degree inclined tiles. This design is a traditional but more graphic approach to laying large format tiles. Subway tiles, which are popular for backsplashes, reach new heights of design in a herringbone pattern. A contrasting grout color draws attention to the distinctive design.
• Chevron. This pattern, like herringbone, has shorter ends of the tiles lined up to form a mitered 45-degree joint. Unless your tile was built expressly for this style, it will need to be trimmed to fit. You can experiment with different color combinations to create a striking chevron design.
See examples of more types of tile shapes and patterns on this page.
Large Format Tile Layout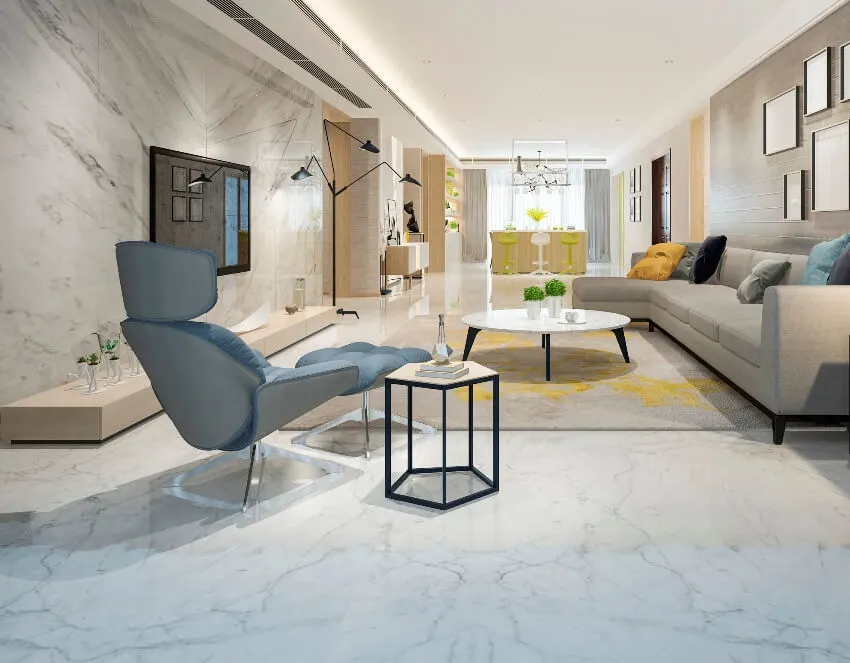 It is critical to lay out the tiles before the installation. It assists you in selecting the ideal pattern for the room.
Traditional brick designs, herringbone, linear joint, chevron, cobblestone, basket weave, and circular rectangle are all possible with large format tiles.
Large format tiles can also be cut into specific shapes for the floor, resulting in a unique tile arrangement pattern that an ordinary-sized tile would not be able to create.
• Large Format Tile Sizes
Large format tiles are larger than the standard 12" x 12" tile. A large format tile is defined as any tile with one side that is longer than 15 inches.
This kind of tile has expanded in popularity and size since its introduction into the tile world. These tiles come in square or rectangular forms and sizes ranging from 24" x 24", 24" x 48", to 40" x 120".
• Large Format Tile Cost
Large format tiles typically cost around $7 to $50 per square foot. The cost per square foot may vary as it depends on the size and quality of the tile.
The cost of large format tile installation will vary depending on the area it covers. It is also worth noting that large format tiles are far heavier than regular tiles, making them more difficult to cut, carry, and deal with.
This may cause the procedure to be slightly slower than if regular tiles were used. We would not suggest trying to do it just by yourself unless you are a tiling specialist.
Large format tiles are highly expensive and weighty, and a poor DIY operation will result in an expensive and potentially harmful mistake. Although you can get a quotation from your nearest tiling expert, employing a tiler for a day will cost between $180 and $220.
You can expect to pay $20 to $25 per square foot for the installation of large format tiles and other materials.
Installing Large Format Wall Tile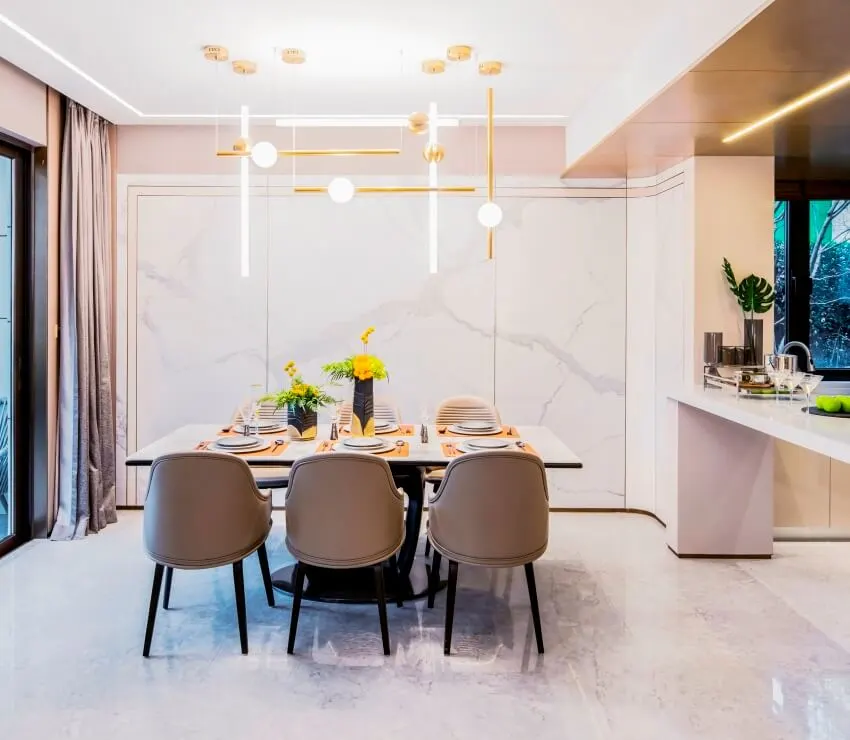 1. Prepare the Surface
Most structurally solid substrates can be tiled over if they are spotless, flat, dry, and devoid of wax, soapy residue, and grease. Any sections that are damaged, loose, or irregular should be fixed, repaired, and balanced.
Eliminate any moldings, trimming, appliances, or other anything that may hinder installation. Tiles can be slipped under door jambs that have been undercut.
2. Create the Layout.
Start by identifying the center point of each of the four walls. Draw chalk lines connecting the center points of opposing walls, which will meet in the middle of the room. Examine for squareness and make any required adjustments.
Afterward, in both directions, place a series of loose tiles along the center lines, leaving room for equal joints. You can use tile spacers. By snapping extra lines parallel to the middle lines, divide the room into smaller grids of about 2′ x 3′.
3. Apply Adhesive
Choose the appropriate adhesive for the substrate. Read and observe all directions and warnings on the adhesive or mortar container thoroughly. Simply mix enough to last for 30 minutes.
4. Use a Trowel
Distribute a 1/4″ coat on the surface of one grid area with the flat part of the trowel, using the type of trowel specified on the adhesive packaging. Eliminate excess adhesive, leaving a consistent, textured setting bed. Do not distribute a wider area than can be set within 15 minutes.
5. Start Cutting
Measure and indicate the tiles to be cut using a pencil or felt-tip pen, then use a tile cutter to create linear or diagonal cuts, a nipper to make curving cuts, and a rod saw to create complete-length curved cuts.
6. Set the Tiles
Begin with the initial tile in the grid's corner and work your way outward. Lay tiles one at a moment, bending them slightly as you go. Tiles should not be slid into position. Put tile spacers between each tile as they are installed, or provide equal joints between tiles.
Pound all tiles with a rubber mallet once the grid is entirely fitted to achieve a solid bond and flat plane. The extra adhesive should be removed from joints with a putty knife and from tile with a wet sponge. Do not step on the tiles until they have hardened.
7. Start Grouting
In general, you must wait around 1 whole day before grouting. Read and observe all directions and precautionary measures on the grout package.
Mix only enough for 30 minutes of use. Discard the tile spacers and apply the grout to the tile or wall surface, pushing it down into the joints using a squeegee or rubber grout float. Tilt the float by 45 degrees.
Quickly remove extra grout from the surface using the edge of the float or squeegee. Allow curing until the grout is hardened and a mist forms on the tile surface before polishing with a clean cloth.
If required, rinse with a cloth and warm water. For heavy usage, wait for 3 days. Apply sealants and polishes only after 3 weeks, and then only as directed by the manufacturer.
Cutting Large Format Tile
There will be instances when large format tiles must be cut to fit your walls and floors throughout the installation. This requires a heavy-duty cutter that is capable of reconfiguring your large format tiles.
However, because each tile's thickness varies seemingly, it is indeed recommended to contact tiling specialists to understand which equipment they can recommend for your specific tile preference.
Furthermore, the type of cut you want to make will decide which cutter you need. You will need a score and snap dry cutter for straight cuts. A water-cooled tile saw, on the other hand, is required for shaped cuts.
Large Format Tile Trowel Size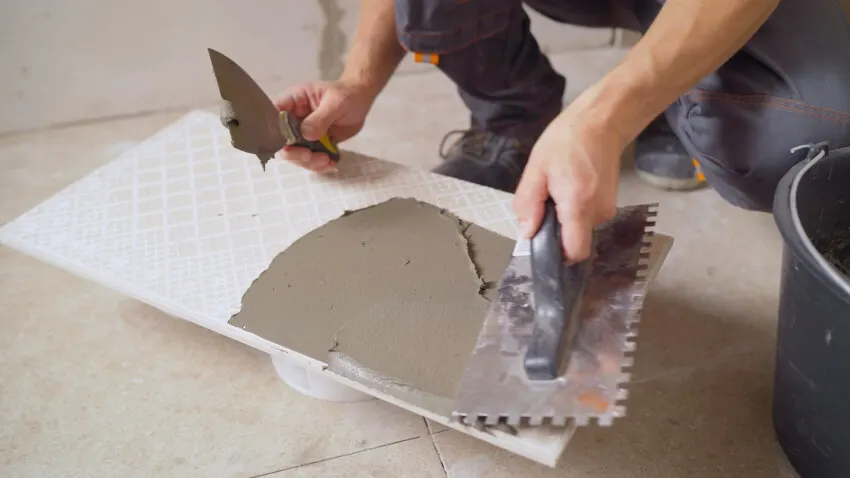 A bigger trowel, such as a 1/2″ x 1/2″ square notch or a 3/4″ x 3/4″ rounded notch, will help achieve enough coverage for numerous large format tile applications. A U-notch trowel could be required for proper coverage on larger tiles.
Large Format Tile Mortar vs Regular
Large format tiles, defined as those with one or more sides more than 15 inches, necessitate the use of a specialized large format tile mortar designed specifically for large and heavy tiles. The extra weight is supported by large format mortar, which also minimizes inconsistency between tiles. Regular mortar will not work efficiently with large format tiles.
See more related content in our article about fully tiled bathroom walls on this page.