Welcome to our gallery of gorgeous bathroom floor tile ideas. See various bathroom flooring options including ceramic, porcelain, slate, granite, vinyl, linoleum and marble.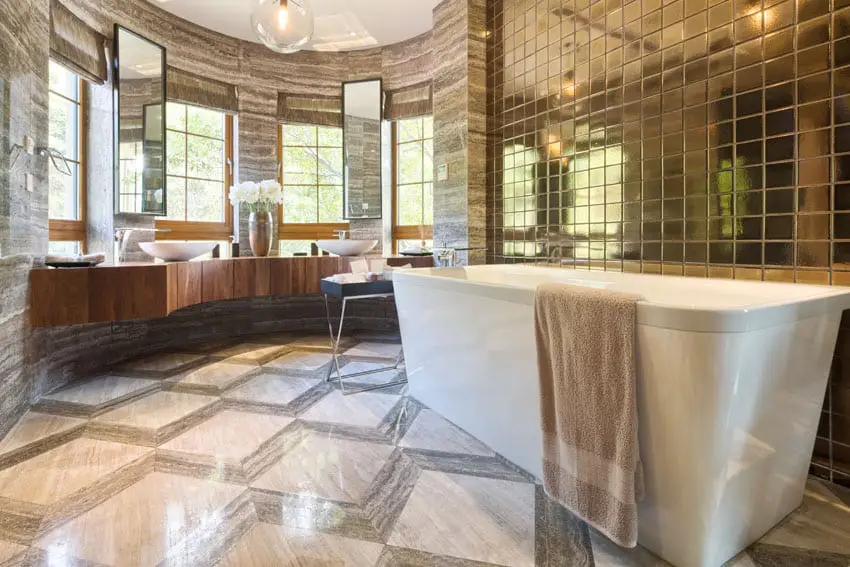 Historically, tiles were used as a decorative finishing for significant public structures and house of the noble and rich. Its origin dates back to the ancient times, were clay and mud tiles have been used as the main material for production. Throughout the years, the art of tile making has evolved into a fine craftsmanship that boasts of beautifully handcrafted and painted decorative tiles.
The increasing demand and popularity for the material led to mass production and industrial manufacturing. It was during the 1950s when tiles reached its peak as a finishing material for bathroom floors and walls. Most homes in America where adorned with glazed ceramic tiles for different parts of the house. The practicality, functionality and aesthetics of tiles led it to become the most well-loved bathroom finishing material up to date.
Join us as we explore different bathroom floor tiles to help you decide which is best for your home or next bathroom remodel project.
Types of Tiles for Bathroom Floors
Most of us are just familiar with ceramic tiles when it comes to bathroom flooring options. However, there are a lot more materials which can be explored for this type of application. Each one gives off a different overall look and character to bathroom spaces, while serving different practical functions and benefits.
The most common materials for bathroom tile flooring are ceramic tiles, porcelain tiles, terracotta tiles, cement tiles and natural stone such as slate, travertine, marble and granite. Aside from such, there are still other flooring materials which can help you build a stunning bathroom design without compromising quality and functionality.
Here are some more types of bathroom flooring materials which can be used as tiles: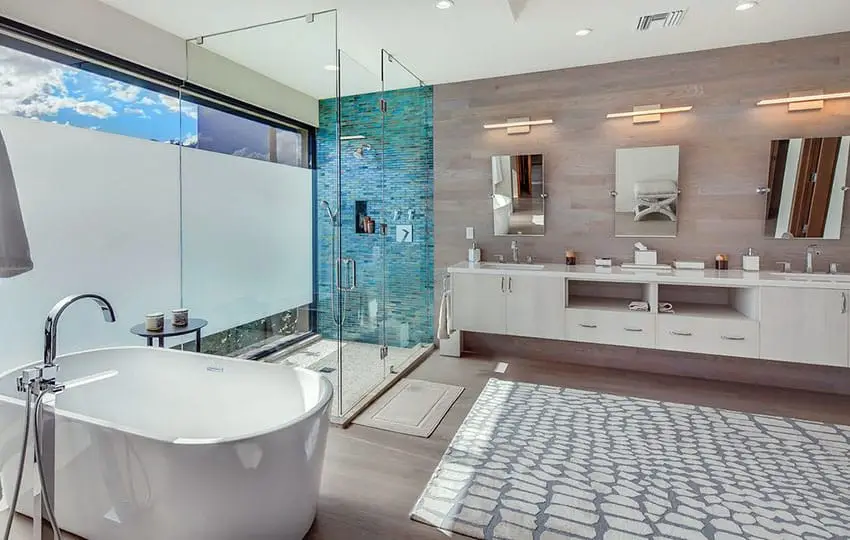 Elegant wood like ceramic tiles accentuate the walls and floor of this sophisticated luxury modern bathroom. The light colors of the wood like ceramic tiles and the white bathroom fixtures look brighter as natural lighting passes through floor to ceiling glass walls. The simplicity of the finishes is contrasted with the use of attractive aqua blue glass mosaic tiles for the shower area. Glass mosaic tiles also look more exquisite under natural lighting as they give off a shimmering and lustrous effect. While its refreshing blue color contributes a cool, calming element to this serene bathroom.
Ceramic Bathroom Tiling
Ceramic tiles are a popular choice for bathroom finishes because of their diversity and durability.
Its material composition is generally made from natural products like sand and white or red clay that is molded into a shape and baked in a kiln. They can either be finished with glazing which gives them a shiny surface, or they can be left unglazed.
There are a lot of benefits to using ceramic tiles for bathroom surfaces. Aside from being inexpensive, ceramic tiles are highly customizable. This material is easy to handle and can be cut into different shapes to fit into different areas and parts of a bathroom design. Ceramic tiles are easier to cut compared to porcelain tile and require only a wet tile saw or a snap tile cutter. It is less brittle than porcelain tiles and can be cut without the help of an experienced tile setter.
It is also versatile and can be used in many types of applications, whether it may be as a flooring material, as a wall cover, for chair rails, wall niches, accent walls or even for nosing and edgings. In addition to that, ceramic tiles are widely available in the market and can be bought from local tile suppliers and home improvement stores.
When it comes to design, ceramic tiles can surely deliver. The number of choices that it presents when it comes to designs, patterns and color are endless. In addition to that, even its size is widely diversed too. Aside from variation in color and design, most ceramic tiles come with a unique texture such as waves, an eased edge, 3d designs. This is an edge if you want to add depth and dimension to your bathroom. Textured ceramic tiles can also be used as an accent for walls, making the overall look of a bathroom more interesting.
Installation wise, ceramic tiles do not require much time and effort to install. With a few materials and basic know how, tile setting can be undertaken as a "do it yourself" project. Directions for installation of ceramic tiles are pretty straightforward – lay in a desired pattern with even spacing using a tile adhesive and fill the gaps in between with grout.
However, if you are hesitant with the way your project might turn out, you can always hire a professional to do the work for you. Labor costs for tile installation is fairly affordable and with professional installation, you get an assurance with the quality of work and maximize the lifespan of the material. Professional help is also required especially if your ceramic tiles are big because they can get heavy thus making installation more difficult.
Ceramic tiles are also low maintenance. It can be scrubbed easily using brush and some mild household detergents or cleaning agents. However, textured ceramic tiles are more difficult to clean because they tend to catch up the dirt compared to flat and smooth surfaces.
The seams and grout used to fill in the gaps between tiles are also one of the roots of cleaning problems. Dirt, grime and mildew can get easily stuck in between the grout and would require extra scrubbing.
However, there are still a few drawbacks to using ceramic tiles. Ceramic tiles lack in durability compared to porcelain tiles. They are more susceptible to water damage due to their porosity. During the winter, ceramic floor tiles can get pretty cold and most homeowners prefer a well heated flooring especially when it comes to bathrooms.
Cost : Ceramic tiles are very affordable, running an average of $7 to $9 per square foot. The cheapest ceramic tiles can go as long as $2 per square foot while those that fall on the high end category can take as much as $20 to $40 per square foot.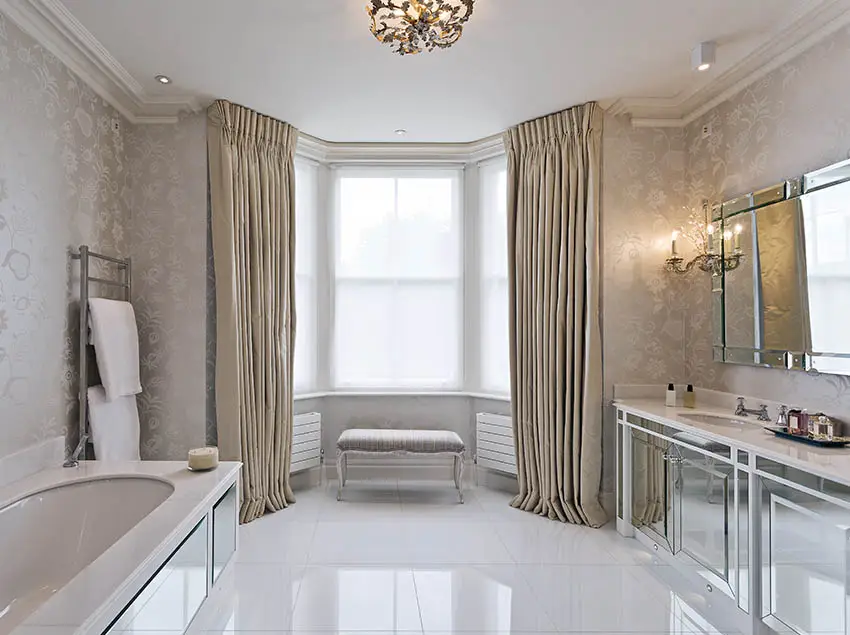 High gloss white porcelain tiles are a classic choice not only for bathrooms but for most residential interiors because of their timeless appeal. The simple yet striking aesthetics of white porcelain tiles illuminate this classic bathroom space and at the same time, makes it appear more spacious, airy and clean. The shiny and glossy texture of the floor is complemented by mirrored furniture pieces with gorgeous details, while the walls are accentuated with charming brocade pearl wallpapers.
Porcelain Bathroom Tiling
Porcelain tiles are a type of ceramic tiles and when it comes to material composition, they are essentially the same. Porcelain tiles are also made from natural products like clay that is molded into shape and fired in a kiln. However, the main difference between porcelain tiles and ceramic tiles is that the clay used for porcelain tiles are more purified and refined. Compared to ceramic tiles, porcelain tiles are baked at a higher temperature making them highly dense and hard. As mentioned earlier, porcelain tiles also have a through body color, an attribute that sets them apart from ceramic tiles They can also be finished with glazing which gives them a shiny surface, or they can be left unglazed.
Porcelain tiles are known for their high quality. In order for a tile to be classified as porcelain, it needs to undergo a specific testing process. This testing process measures the amount of water it absorbs. Thus, if tiles is classified as porcelain, you can be assured that its durability and imperviousness to water is backed up by a proof. It is resistant to stains, impervious to water, do not get damaged easily from constant exposure to moisture and are suitable for heavy duty applications.
Porcelain tiles are naturally stain resistant and can repel any liquid penetration. Glazed porcelain tiles are even harder to stain and won't discolor. Liquid resistance is also another main advantage that porcelain tiles present. Again, this can also be reinforced with the use of a glass glaze which makes it extra water resistant. Porcelain tiles are also fire-resistant and can prevent the spread of flames in the event of fire. Another advantage is that it is also crack resistant. Unlike other tiles, porcelain do not get damaged easily.
Maintenance-wise, porcelain tiles can be easily cleaned with a damp cloth and a simple water – mild detergent solution.
When it comes to design, porcelain tiles also offer flexibility and versatility. It comes in different colors, shapes and patterns. Its size ranges from small mosaic tiles 1 inch by 1 inch up to big slabs that can reach 2 to 4 feet.
Unlike ceramic tiles recommended for "do it yourself" projects, porcelain tiles can be more difficult to handle. Installation is laborious, physically straining and takes a lot of time. Due to its hardness and density, porcelain tiles are more challenging to cut and would require a special porcelain diamond blade and wet saw.
Its low porosity also requires for a special compound when it comes to setting. In order to adhere fully to a surface, latex-modified thinset mortar must be used. The weight of porcelain tiles can also be an issue as it would demand an extra hand for help. Professional help is required but note that it will amount to an added labor cost
Cost: Porcelain tiles are more expensive compared to ceramic tiles.The average price range for porcelain tiles is $3 to $6 per square foot, depending on the size and design. The difference of their cost is about 40% more, but it is considered to be a wise investment as it can last for decades provided that it is properly installed and cared for.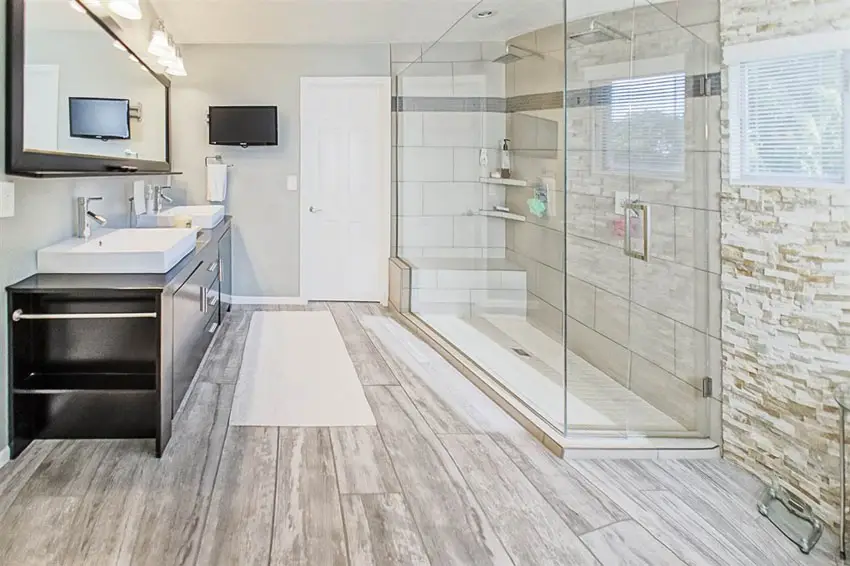 Wood Look Tile Bathroom Floors
Wood is one of the most well loved materials for both interior and exterior applications. It is also one of the most popular materials for flooring. However, wood is not suited for all areas of the house, particularly for those exposed to high moisture and humidity. Wood has the natural tendency to rot, become susceptible to mold and mildews and warp when constantly subjected to wetness and water exposure.
New technologies and designs have developed a way to incorporate the beauty of wood to more appropriate bathroom surface materials such as tiles. Together the result is a longer lasting, water resistant flooring that bears the same beauty of natural wood. With wood like tiles, you get the aesthetics of natural wood without the need for high maintenance.
Wood look tiles come in a variety of materials. It can be porcelain, ceramic or even engineered and laminated. The most common types being porcelain and ceramic. Porcelain wood look tiles are resilient, easy to clean and maintain, durable and versatile. Most importantly, it is also water resistant, won't decay, rot or get damaged by molds and mildew. Wood look tiles can stand up to wet locations and last for years.
Hardwood floors have always been a favorite for most homeowners and designers alike, and the use of wood look tiles offer a great way to update the look of a bathroom space. Wood look tiles make bathrooms feel more cozy and inviting. This type of flooring material is prevalent in "spa like" bathrooms.
Wood look floor tiles come in a variety of sizes, shapes and color which one can choose from. Ranging from square tiles to plank like tiles which have a broad spectrum of shades which resemble the real thing. Wood look tiles are available in traditional shades like maple, cherry, oak, walnut, wenge, pine, bamboo and also have light colored varieties which have a more rustic and distressed look. Wood look tiles also offer flexibility as it can be matched with any design style, whether traditional, contemporary or modern but works specifically well if you want to give your bathroom a more home like look and ambiance.
Best Tile for Bathroom Floor Porcelain or Ceramic?
Ceramic tiles and porcelain tiles are often interchanged as they have very little difference when it comes to appearance. The main difference between the two relies on their material composition. These materials cause a slight change on how their attributes and the way they perform after installation.
Porcelain and ceramic tiles both fall under the category of tiles known as "ceramics", but they both have their own corresponding positive and negative attributes. It has also been a popular question for most homeowners as to which one works better when it comes to bathroom application.
Generally, porcelain tiles are considered more suitable for bathroom flooring use compared to ceramic tiles. The main difference being that porcelain tiles are more impervious to water infiltration compared to ceramic tiles.
Below we breakdown each reason as to why porcelain tiles are more favorable over ceramic tiles for bathroom flooring:
Porcelain tiles have a lower water absorption compared to ceramic tiles. Bathrooms are highly exposed to moisture, humidity and water. With that, bathroom finishes must be able to withstand constant wetness and everyday use. Porcelain tiles have a water absorption rate of 0.5%. This rating was backed up by a test which subjects the tile to firing, 5 hours boiling and 24 hours soaking in water. A change in the tile's overall weight determines the amount of water absorption. If the tile weighs less than one percent more, it is classified to be porcelain.
Porcelain tiles are nearly waterproof. So when it comes to bathroom installations, they ensure better protection against moisture.
Porcelain tiles have a homogeneous composition. A homogeneous body means that the material composition of an object the same all throughout – from the top, center and bottom. If a ceramic tile gets chipped, a different color shows underneath the top glaze, while for porcelain tiles, the color is uniform making the chip less visible and noticeable. The through body composition of porcelain tiles makes it suitable for heavy use.
Porcelain tiles are more durable than ceramic tiles. Porcelain tiles are denser in terms of composition, making them less porous than ceramic. It is also harder compared to ceramic, thus more resistant to water thus won't get easily damaged. The reason being is that porcelain has a higher feldspar content and is fired for a longer time at a higher temperature.
Porcelain tiles can be used as a walking surface. Porcelain tiles are considered to be one of the most toughest flooring materials available in the market. Due to its higher durability and reinforced strength, porcelain tiles can be subjected to high traffic. Unlike ceramic tiles which are more suitable to be used as a wall covering or as a accent finish. As mentioned earlier, porcelain tiles are more dense giving them a long term resistance to scratches.
Vinyl Bathroom Flooring and Tiles
Vinyl flooring is a practical alternative to natural stone tiles and ceramic tiles. Vinyl has a dense structure and is made up of integrated layers. It is composed of PVC or polyvinyl chloride chips formed into sheets by pressure and heat. These sheets typically have a thickness of ⅛ inches.
Vinyl flooring usually comes in three forms: sheet vinyl, vinyl planks, and vinyl tiles. Vinyl tiles are most commonly used for bathroom installations. Under vinyl tiles, there are two more classifications, namely solid vinyl tiles and luxury vinyl tiles. Luxury vinyl tiles are a high-quality or premium type of vinyl tiles. Typically 2 to 5 millimeters thick, luxury vinyl tiles or LVP have a lock-and-click technology, making installation easier. Some of its variants are also self-adhering and can be easily but using a simple utility knife. The ease of installation that vinyl floor tiles provide makes it a highly suitable material for do-it-yourself projects, which allows homeowners to save on labor costs.
Luxury vinyl flooring is available in a wood-like design that captures the natural distinct beauty of real wood. They add an element of warmth and sophistication to spaces without the need to spend as much for natural wood floors.
Vinyl tiles are highly ideal for bathroom use because it is water resistant. Low maintenance and comfortable to use, vinyl flooring is antimicrobial because it does not rot, or grows molds, or mildew when exposed to high moisture. Vinyl tiles are also warm to the touch compared to natural stone and has a cushioned feel that is comfortable to walk on even when bare feet. Aside from that, vinyl tile flooring is also durable and does not easily break.
Regarding design, vinyl flooring captures the appearance of natural stone, ceramic tiles and other finishing materials for the bathroom. So it is a good option if you have a limited budget but do not want to sacrifice aesthetics and functionality. Vinyl floor tiles re also available in a wide array of colors and patterns, which offers endless design possibilities. Vinyl floor tiles can also be applied with grout to mimic the appearance of ceramic tiles.
The price of vinyl floor tiles for bathrooms is very cheap and has a minimum cost of $1 per square foot.
Plastic Laminate Bathroom Flooring
Plastic laminate flooring is a man made product that is made up of multiple layers of synthetic materials that are fused together using a lamination process. Its inner core is made up of a combination of fiberboard materials and melamine resin. It is then given a photographic applique layer which gives it a design and is then topped off with a clear protective layer.Its material composition is similar to that of laminates used for covering kitchen counter tops. Plastic laminate flooring is typically available in plank form and typically simulate the appearance of wood or sometimes, stone.
One advantage of plastic laminate flooring is that it does not cause much change in floor level because of its thickness. This makes it highly suitable for creating transitions between two areas. Although not available in the same limitless options that ceramic or vinyl tiles offer, plastic laminate tiles have different colors and patterns which can suit different bathroom styles.
The major drawback of plastic laminate flooring is that it has the tendency to buckle or expand when subjected to too much moisture. Laminate flooring does not stand up too well to water as it can easily permeate to its fiberboard core. Some do not recommend it for bathroom use, however this issue can be rectified through the use of caulking. Gaps along the walls, around bathroom fixtures such as the tub or water closets must be treated with caulking to prevent water from seeping in between.
Alternatively, waterproof laminate flooring can also be explored. Waterproof laminates have a plastic thermocore, rather than a fiberboard base,. Fiberboard bases absorb water easily and expand up to 8% in size when in contact with moisture, but plastic is completely resistant to it. When choosing laminate flooring for your bathroom make sure that this factor is considered. Waterproof laminates typically have an 8 millimeter thickness.
The cost of plastic laminate tiles is very affordable, starting at around $.49 per square foot.
Linoleum Bathroom Tiling
Linoleum is a type of artificial material that is made up of linseed oil, ground limestone, ground wood, cork powder, resins and pigments. Not all linoleum is suitable for bathroom use, so it is very important to know the background of the material before use.
Linoleum flooring is available in three types namely: self-adhesive backed tiles, floating linoleum floors and sheet linoleum. Among these, sheet linoleum is the best choice for bathrooms. It is highly suitable for wet environments. Typically sold in rolls which are twelve feet long, sheet linoleum flooring can be cut into any size to specifically fit into your bathroom size. And since it can be custom cut, it has less seams which means less room for water penetration. For this type of flooring, professional installation is required to ensure that all sheets are properly laid in a tight manner and that all seams are carefully aligned and matched.
Floating linoleum floors are tiles or planks which have a cork cushion beneath the surface. Although comfortable underfoot, floating linoleum floors are not advisable to be used for bathroom floors because water can penetrate through the seams and cause mold and mildew growth under the surface. This can also cause potential harm and damage if your linoleum flooring is set above another material as the flooring beneath may collapse due to the unseen deterioration.
Self-adhesive backed tiles are also another type of linoleum flooring but just like the former, this not advisable for bathroom use. Although easy to install, seams once again make it vulnerable to water penetration and damage.
Linoleum flooring is water resistant, but it is not waterproof. Excessive moisture can penetrate through its surface which can later on expand, warp or distort the material. However, this can be addressed through waterproofing. The seams can be heat welded to make sure that they are merged tightly and impervious to moisture. Another method, known as flash coving, may be used for sheet linoleum wherein the material is installed slightly up the wall to make the seams around the edge impenetrable to water. Once the adhesive is dry, a clear acrylic sealing agent may also be applied on top of the floor. For wet area, make sure that multiple coats are applied to protect your linoleum floors from water damage. Periodic maintenance and resealing every 6 to 12 months is also needed.
Professional installation is also recommended for linoleum floors. This is mainly because the material is highly vulnerable to water damage. Any surface where linoleum floor tiles are to be installed need to be carefully examined and repaired first. The surface has to be completely dry, free from any leak and moisture.It also has to flat, even and free from any damage.
Provided that linoleum floors are properly installed and well maintained, they offer many benefits. Linoleum floors have a lifespan of 25 to 40 years, again provided that it is sealed properly and given the right upkeep. It is resistant to stains and easy to maintain, requiring only a damp mop for cleaning. In addition to that, linoleum floors are anti-microbial and naturally resistant to molds, mildew and bacteria growth.
Cork Bathroom Tile Flooring
Cork flooring is made up of natural shed cork oak barks. Typically sold in tile or plank form, cork flooring is available in a range of colors and patterns. It can either be in "glue down" form or "click in place" form.
Cork tiles are naturally resistant to moisture, but they are not waterproof. It is naturally resistant to mold and mildew growth and easy to replace once damaged. Cork floors are also eco friendly and highly renewable. When it comes to design, they are very stylish and lends a warm and cozy look to bathrooms. It is suited for both modern and traditional style bathrooms and provides a soft cushioned flooring that is comfortable to walk on, thermally controlled and sound proof.
Cork tiles are generally not recommended for bathroom use as it is very soft and has the tendency to bend when walked on repeatedly. The seams usually break and the sealer cracks once cork floors are used daily. These damages can later on cause moisture and water to seep into the material and cause potential damage to the floor underneath. Humidity can also cause cork floors to expand.
However, there is another type of cork flooring which one can explore for bathroom floor use. A premium quality of cork flooring. Click together floating cork bathroom floors are 3 millimeter thick planks and tiles with fiberboard backing. The surface is treated with a UV cured polyurethane top coat finish, making it waterproof. A vapor barrier underlayment and a seam sealer coating can also be added to make cork bathroom floors completely impervious to water. The flooring perimeter can be sealed with silicon to close any gaps. The durable wear layer and high quality sealer are required to ensure your cork bathroom floors last long.
The nature of cork flooring material needs to be carefully researched first and verified with its manufacturer before use. Some manufacturers can void its warranty once installed in high moisture environments. Also, installation for cork flooring for bathrooms is a bit tricky and has to be done by a professional. Edges around bathroom fixtures such as the tub and the water closet are hard to work on and is only advisable to be undertaken as a DIY project if you have the skill and experience.
The average cost of cork flooring is $2 per square foot.
Engineered Wood Bathroom Flooring
Natural wood is not commonly used for bathroom floors simply because it can warp and expand when exposed to excessive moisture Aside from that, once water gets spilled on wood, it can potentially stain the surface for good. Typically, 2 coatings of polyurethane is added over solid wood to give it protection. However, the added cost and regular upkeep that it requires can be a concern that is why most homeowners explore other alternatives for natural wood.
Since natural wood is not really advisable to be used as a flooring material for wet areas, engineered wood is a good alternative to explore. Engineered wood is made up of a plywood base that stand up well to moisture.
The main advantage of engineered wood flooring for your bathroom is that it possess the distinct natural beauty that real wood has. It is also more stable for bathroom use compared to solid hardwood floors.
Glass Bathroom Tiling
Glass tiles are small pieces of tiles which are typically ½ inch by ½ inch in size. The most common shape for glass tiles are square but they also come in other forms like rectangle or circle. Glass tiles are more popularly used as an accent for walls, but this type of material is also used for flooring in swimming pools, shower areas and bathrooms.
The main benefit that glass mosaic tiles offer is its striking aesthetics and the bold statement that it renders to bathroom spaces. Glass mosaic tiles bring in a sense of luxury to bathrooms as they look effortlessly elegant, stylish and sophisticated. It is available in a wide variety of colors and finishes which can be arranged in any pattern. Glass mosaic tiles are also highly suited for creating interesting floor pattern designs like flowers, geometric shapes, etc. Glass mosaic tiles also look exquisite under lighting as they reflect and produce a shimmering effect. Glass mosaic tiles are the only flooring material that offers this unique luminosity and radiance.
Glass mosaic tile flooring is non porous and does not get damaged from high exposure to water. It is resistant to stains, molds, mildew and chemical damage. It is highly durable and does not crack or break even when subjected to daily traffic and use. Aside from that, glass mosaic tiles are easy to clean and can be wiped down using a damp cloth and a mild soap and vinegar solution.
Although durable, glass mosaic tiles are prone to scratches and this can show over time. If a piece breaks, replacement and repair can get quite expensive.Its smooth surface can be a slip hazard. The use of an area rug can prevent accidents and slips. Proper selection of the finish for your glass tile will also ensure that you get a non slippery variant.
When it comes to installation, glass mosaic tile flooring are best left to professional. It is difficult to install compared to standard ceramic or porcelain tiles. Its small size and the perfect grouting and seems it requires prove to be the greatest challenge it presents.
The price of glass mosaic tile flooring is also one of its major drawbacks as it is very expensive. Low end glass mosaic tiles cost around $7 to $8 per square foot. Those on the mid range are $30 to $40 per square foot, while high end variants and repeating mosaic patterns can run up to $100 per square foot.
Terra cotta tile flooring contributes a rustic appeal and renders warmth to bathroom settings. This traditional country inspired bathroom made use of square terra cotta tiles which are arranged in a unique pattern. The use of an irregular patterns adds interest to the design of the space while drawing attention towards the floor. When mixed with warm wood finishes, terra cotta tiles look extra warm and inviting. This type of floor tiles is perfect for Mediterranean and rustic inspired bathrooms.
Terracotta Bathroom Tiles
Terra cotta is a type of ceramic that is made up of special brown and red clays. The production process of terra cotta tiles involves shaping and molding the clay into a desired shape or design and the allowing it to dry. Dried clay is then fired in a kiln, making it hard and durable. Just like most tiles, terracotta tiles can be treated with glazing to make it resistant to stains and to give it a lustrous look. Aside from that, it can also be left in its natural finish sealed.
The material composition of terra cotta tiles give it an inherent reddish and earth colored hue which is popular to many. Terra cotta tiles contain large iron deposits and contribute to its distinct natural color as well. This distinct beauty makes it a popular choice for flooring material.
Terra cotta floor tiles carry a number of advantages. Visual aesthetics being one of the primary reasons as to why they are prized as a bathroom flooring material. Terra cotta lends a unique look to bathrooms. Terra cotta floor tiles are popular for rustic-inspired bathrooms. It is also great for Mediterranean, antique and log cabin-style interiors and bathrooms. They give spaces an old world feel, lending a rugged or timeworn feel and a warm, inviting feel to a space. If you want to give your bathroom an accent color that isn't too overwhelming, then this is also one of the options you can explore.
There are a few low downs to using terra cotta tiles for bathroom floors. The main reason as to why terracotta tiles can be problematic as a bathroom flooring material is that they are highly porous. In its natural state, all ceramics can easily absorb liquids thus making it prone to permanent damage, discoloration, mold, rot, mildew and stains. Terra cotta is a form of ceramic thus when left untreated it gives up in high moisture areas.
However, this issue can be addressed to make them suitable for use to high moisture areas. Periodic treatments using sealants protect terra cotta tiles from potential damaging elements and reduce the possibility of water seeping through its core. A quality ceramic sealing agent blocks the tiles' pores and give it a protective layer. But this sealant needs to be reapplied regularly. Surface burnishing is also another preventive measure which makes terracotta tiles less porous. This method involves firing the clay in a way which makes the pores smaller. Another simple solution is to use rugs or bathroom mats to cover flooring nera shower areas or bathtubs to prevent water build up.
Although some may not recommend it to be directly installed in bathrooms, terra cotta may be used as accents for surrounding areas such as half baths, powder rooms, changing rooms or walk in closets. If you still choose to use it for your main bath, just ensure proper sealing.
There are several forms of terra cotta tiles which can be used as bathroom floors namely machine cut terracotta tiles, handmade terracotta tiles and glazed terra cotta tiles. Machine cut terra cotta tiles are manufactured in factories and have a precise and uniform shape and size. On the other hand, handmade terracotta tiles have a more rough finish and inconsistent size and form. Appearance wise, they both have the same rustic quality of terracotta but handmade tiles are more expensive and unique.
Glazed terra cotta floor tiles are known for their glossy appearance. Glazing the tiles means pouring melted glass over the material's surface. Glazing gives terra cotta tiles a protective layer, making them impermeable to moisture, liquids and stains. Glazing also primarily makes terracotta suitable for bathroom use.
Cost : Terra cotta floor tiles cost anywhere from $1 to $6 per square foot, while those at the high end range can mount to $15 per piece.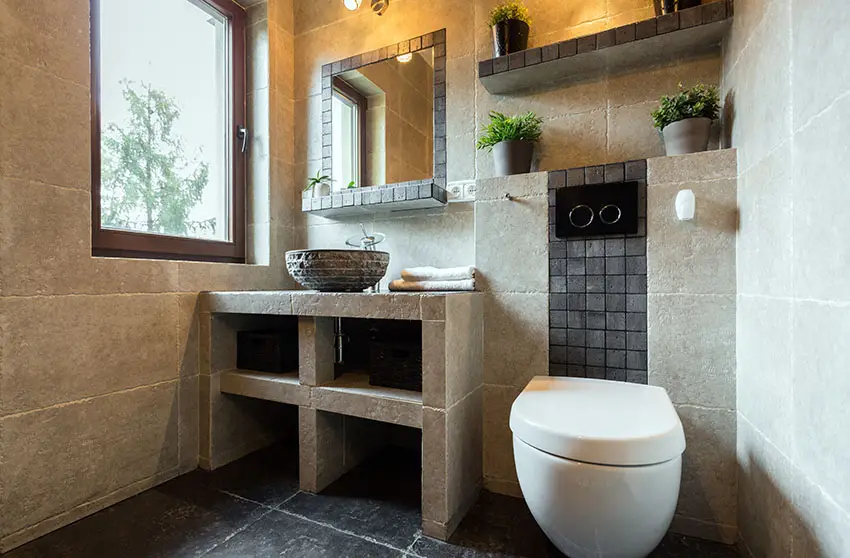 A combination of natural stone finishes create variation of textures and an interesting aesthetic appeal for this rustic contemporary bathroom. The abundant use of stone renders natural coziness to the space and contributes a warm atmosphere. The tasteful combination of leathered travertine tiling for the floor and leathered black granite for the walls add contrasting elements that break off the space's monotony. Black granite mosaic tiles are tastefully used for the water closet accent wall while the same stone is used to create a matching wall mirror and a natural stone basin sink.
Natural Stone Bathroom Flooring
Natural stone encompasses different types of materials such as marble, limestone, slate, travertine, sandstone and granite. Each type of natural stone flooring possess different characteristics when it comes to material composition, appearance, color along with some positive and negative features.
Natural stone bathroom flooring is durable and can withstand the wear and tear of everyday use. When it comes to aesthetics, natural stone has a distinct beauty which makes spaces feel more warm and give them a rustic appeal. Natural stone has imperfections like pits, striations, flecks and veining, making it unique. In addition to that, natural stone ages beautifully. Its timeless beauty does not go out of style. The distinct natural beauty of stone is also the main reason as to why it is often imitated by tile manufacturers.
Another benefit of having natural stone bathroom floors is that it can increase the resale value of your home. Natural stone bathroom flooring are more appealing to potential home buyers and are valued more than other flooring materials.
The main drawback of using natural stone flooring for bathrooms is that it is naturally porous. They tend to absorb water and thus liquid seeping into its core can cause significant damage. Moisture is one of its biggest threats, and since bathrooms are constantly exposed to it, natural stone flooring needs to be regularly protected. As for any application, natural stone needs to be periodically sealed to give it protection. Regular upkeep can be a major concern for most homeowners, because sealing is an additional cost aside from the added effort to maintain. Natural stone used in shower areas or locations near the bathtub must be treated with more attention because they are more exposed to high moisture. Aside from that, natural stone can also get scratched easily, while some are brittle and tend to crack or chip.
Natural stone with smooth surfaces can sometimes cause a potential slip hazard. Natural stone may be comfortable to walk on when dry, but stability can be an issue once it becomes wet. So in choosing natural stone flooring for your bathroom, check its coefficient of friction and avoid using honed finish as its smooth surface is highly slippery when wet. Textured stone or those with a chiseled or bush-hammered surface are more appropriate for bathroom flooring application. Natural stone is also cold to the touch and may require an additional floor heating system.
When purchasing natural stone flooring for your bathroom, consider important factors and know a few characteristics of each material. Some of these include the stone's absorption rating, the coefficient of friction, its grade and oxidation. Just to give a quick overview, the absorption rating determines how porous a tile is – vitreous tiles have the highest absorption level and are not recommended for damp areas while impervious tiles are resistant to liquid absorption. The coefficient of friction measures how slippery a flooring material is – the higher its coefficient rating, the higher its resistance. The grade of a natural stone determines its quality – grade 1 being the superior quality and grade 3 being those with major flaws. Lastly, oxidation or a process known as rusting – generally, the higher the iron content is, the more prone the stone is to oxidation.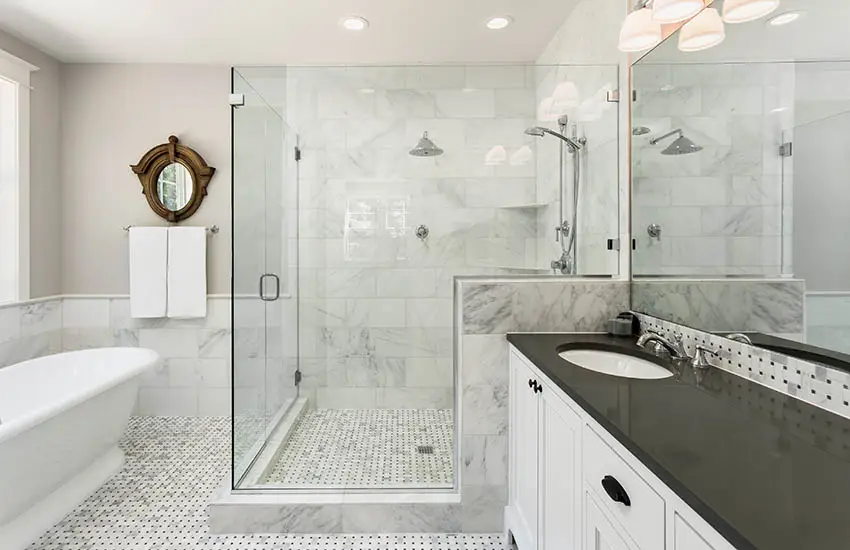 Marble is the perfect finishing material to accentuate a predominantly white bathroom as it breaks the monotony of the space without deviating from neutrality and formality. This gorgeous white marble shower with dramatic gray veining highlights the floor and walls of this classic inspired bathroom. The use of white marble renders a luxurious feel that complements the elegance of classic inspired bathroom fixtures and statement accessories. This bathroom also appears bright because of the light colors used in the palette.
Marble Bathroom Flooring
Marble is a type of natural stone which is formed from limestone that is heated and subjected to the pressure of metamorphism. Primarily composed of calcite, marble is also composed of other minerals such as clay, mica, pyrite, quartz and graphite.
The distinct elegant beauty of marble floors is one of the primary advantages that it can offer. Each piece of marble is unique and features a special blend of colors and veins in its surface.
Marble is one of the most elegant flooring materials for bathrooms. Its unique veining pattern gives it a luxurious look which renders an ultra-rich and opulent feel. This is a great choice to add sophistication and a classic flair to your bathrooms. In addition to that, the light color of marble and its translucent quality gives it a glow which makes bathrooms appear brighter and more illuminated. This makes it also well suited for small bathrooms because it can create an illusion of space.
Marble also comes in multiple color mixes and stunning veining patterns, providing a vast design opportunity. It fits most bathroom design schemes but is more prevalent in classic and ultra stylish baths. Marble tiles are also flexible as it can be cut into different shapes and size which provide more room for experimentation in floor pattern layouts and design.
Another unique property that marble floor tiles posses is that they are an effective conductor of heat. It has a natural insulation property which can keep in warmth well. Once you set foot on marble tile floors, you get a cozy warm feeling, making it even more suitable for bathroom use.
Some drawbacks of using marble bathroom floors is that it is softer and more porous than other natural stones. Marble floors are not resistant to stains and chemical reactions can cause a discoloration in its surface. Marble floors can also be easily scratched and is prone to cracks and chips due to its softness. Weak points in marble flooring systems have the tendency to break. Once it gets damaged, repair can get quite challenging. It is difficult to remove and is easier to put another material above it rather than replace it.
Like any natural stone material, marble must be properly sealed before use to give it a protective layer against scratching, staining agents and moisture. It is recommended that marble bathroom floors are resealed every six to twelve month to maintain its appearance and to enhance its longevity.
During installation, the grout lines between marble floor tiles must be considered. Grout lines and seams are the most vulnerable part of flooring materials as they are susceptible to water seepage and dirt build up. For all types of floor tiles, the bigger the size of your tile, the fewer grout lines. The fewer grout lines means less maintenance is needed to protect your flooring against water damage and stains.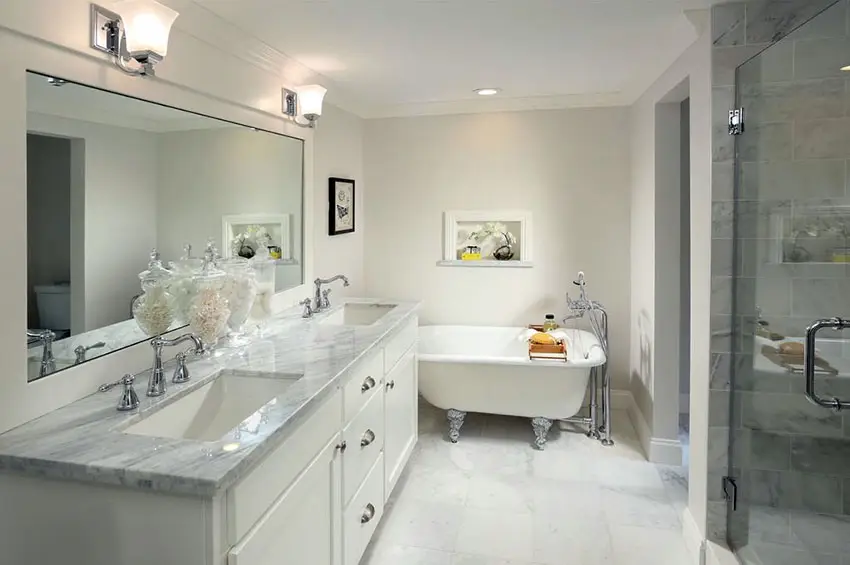 Marble tiling come in different types, sizes and colors. Regarding colors, marble is generally classified into two, solid marble and multi-colored marble. Solid color marble is made up of one dominant shade like beige, white or red, while multicolored marble has a mix of different colors and some interesting undertones.
Finishes of marble flooring range from polished, honed or tumbled. Polished marble falls on the high end range and is most prized because of its glowing and perfectly smooth appearance. Polished marble tiles may look attractive but is not suited for wet applications as they are highly slippery. Also, polished tile squares tend to show marks and scratches more easily, especially if it is dark colored. Polished marble flooring is also very slippery and is therefore not recommended for bathroom use. When using marble for bathrooms, opt for unpolished variants.
Honed marble tiles have a flat and smooth finish but unlike polished marble, it is not ultra smooth more slippery. So essentially, this can be used for wet applications without worrying about slip hazards. The only drawback that hone marble tiles have is that its color looks more faded and washed out.
Tumbled marble tiles are subjected to a process that gives them a weathered or distressed look. Scratched or broken tile squares are placed in a machine, left to tumble for a specific period, giving the tiles a striped surface and a natural rustic appearance. Tumble marble tiles are uneven and not uniform in size and appearance. Since tumbled marble tile squares vary in size, matching may be a bit difficult.
The size of marble tiles also vary, making the application flexible and suited for different interior or exterior space. The standard size of marble tile squares is 12 inches by 12 inches with a ⅜ inch thickness. Some other variants are 16 inches by 16 inches and 24 inches by 24 inches. These tiles can be modified into any shape to make installation easier. Aside from this, marble flooring are also available in mosaic form. Mosaic marble tiles are usually cut into small shapes, formed into different patterns and laid on a mesh backing. This is well suited for adding an accent for bathrooms or for creating interesting wall and floor pattern layouts and designs.
Cost: In general, marble floors are one of the most expensive materials in the market and can cost $5 to $15 per square foot for 12 inches by 12 inches pieces. Marble flooring that does not fall under the standard size such as mosaics or large tiles cost higher. Installation is also expensive as it takes a lot of work, time and effort.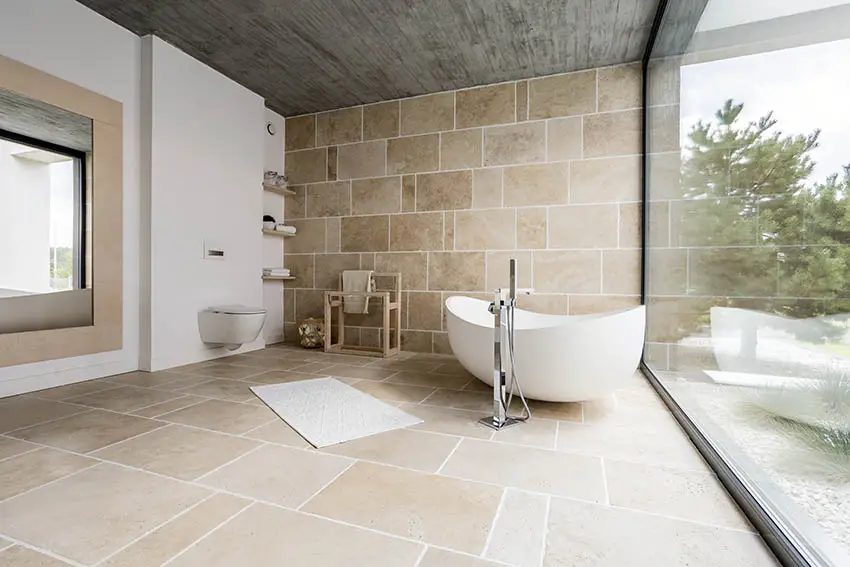 Travertine bathroom tiles have a rustic feel that contributes a sense of warmth to a space, but when finished to a honed or semi polished state, it works not only for traditional inspired bathrooms but for modern setting as well. This sleek, elegant modern bathroom has gorgeous travertine wall and floor tiles which contrasts beautifully with the weathered wood like gray ceiling. The variation of the tile cut, shape and size, gives the design a more interesting visual appeal while the continuity of the finishes for the walls and the floor make the bathroom appear bigger.
Travertine Bathroom Flooring
Travertine and limestone are two other types of natural stones which can be used as a flooring material for both interior and exterior applications. Travertine is a form of limestone that is made up of different mineral spring deposits. Travertine has a distinct earth color which has a combination of beige and cream tones, shades of brown, tan and rust.
Most people often think that travertine is a form of marble, but when placed side by side, these two materials are exactly different. Travertine has a hazy appearance and a swirling pattern that is accentuated with mild and subtle. Its surface has a natural mottled and pitted texture. It has numerous small holes.
Travertine has a rustic appearance. It gives bathroom spaces a dignified old world feel and a timeless appeal. Travertine flooring also contributes a subtle and subdued accent to interior color schemes because of its mild tones. Another unique quality that travertine flooring has is that it ages gracefully and turns into a distinct beautiful color over time.
Travertine is commonly produced in tile form and is well suited for rustic inspired, historical, traditional or antique bathrooms and other spaces. It is also a common finishing material for Tuscan style homes. This flooring material gives emphasis on texture rather than color and can be used to add depth to the overall look of bathrooms.
Travertine bathroom flooring can stand out to everyday use, does not get chipped easily and scratches or cracks are not highly visible in its surface. Another advantage that travertine bathroom floors have is recyclability and sustainability. If you ever decide to change your flooring, you can salvage your old travertine ties for new use. Travertines tiles are also completely biodegradable and disintegrates naturally when disposed. Travertine floor tiles can also be easily removed and replaced, unlike marble tiles which are harder to handle.
In addition to that, travertine ties have perfect edges, making matching and joints easier to attach together. Since the ends are perfectly at 90-degree angles, there is no need for gaps between the tiles, thus grout is unnecessary. See more pictures of travertine shower ideas here.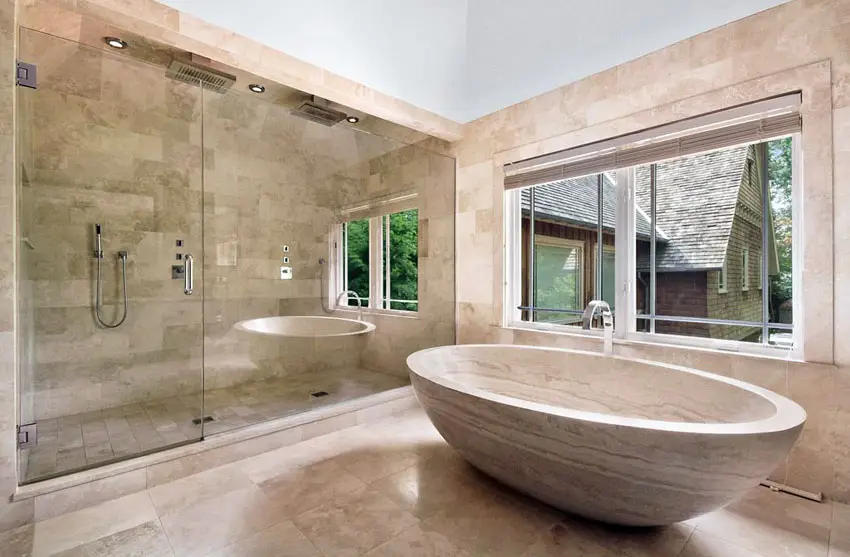 There are still a number of disadvantages to travertine flooring. Just like any other natural stone, travertine is naturally porous. Looking closely enough its surface, you can notice small pores that can absorb any liquid spilled over it. As for any flooring, this can be prevented by using an effective sealing agent that prevents moisture from penetrating its body. This is usually done in two steps which involves the application of a penetrating sealer and a barrier surface sealer. Typically applied during installation, this treatment is also done periodically to ensure the stone is adequately protected and to maintain its original finish.
These small holes can also cause the stone to crack over time, especially when filled with scum or soap. And once they become clogged, the cleaning process is difficult. So ensure this is also addressed before installation by using an epoxy resin as a filler for the holes.
Natural travertine tile flooring also does not retain heat well and can be cold. This can be quite uncomfortable for some people, especially during the winter. If to be used for bathroom floors, a heating system can be used to lessen its coldness. Rugs can also serve as a quick fix to address this problem.
When it comes to the installation process of travertine tile flooring, it is generally laborious and time-consuming. Travertine tiles are quite heavy and typically require professional assistance during handling and installation. Its heavy weight can be an issue especially if the project is located at a high storey building.
Travertine tiles can be used for bathroom and shower floors, however they can be hard to maintain and lacks hardness. Although it can be used for wet locations, using it for dry locations can ensure a better-looking stone. So make sure that all necessary treatments are made prior to installation. When using travertine flooring for your bathroom, opt for natural finish tiles as they are more resistant to damage compared to the polished and honed variants. In addition to that, polished tiles present a slip hazard because of their shiny, smooth surface.
Cost: Travertine floor tiles are classified as a high end finishing material, however when compared to other natural stone options, it falls on the mid range, costing about $2.50 to $5 per square foot.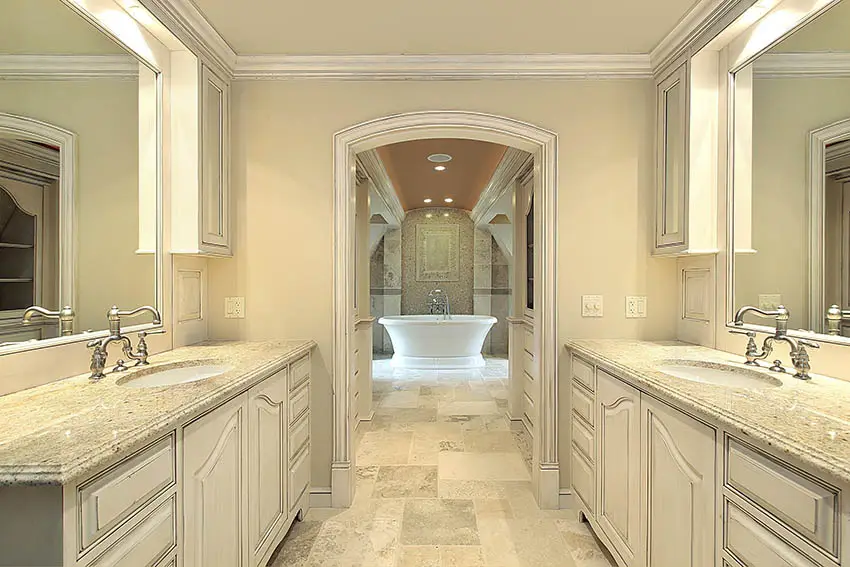 Limestone flooring is the perfect material for classic inspired bathroom settings as they contribute a sense of timelessness, sophistication and luxury to a space. The serene elegant look of this bathroom is composed of gorgeous limestone floors cut into varying sizes and arranged in a mosaic like pattern. Looking closely, each piece of the travertine floor tiles have a different look and distinct color, making the floors more appealing and adding character to the space. The classic look is completed with distressed antique white paneled cabinetry for the vanity sink, antique brushed metal fixtures, beautifully crafted decorative moldings and a monochromatic cream-colored palette.
Limestone Bathroom Flooring

Limestone is a form of natural stone made of calcium carbonate. The high mineral content of limestone gives it extreme durability. Provided that it is properly sealed, limestone floor tiles are suitable for bathroom use and will last for years.
Limestone has a neutral beige base with undertones of cool gray, ivory, white and warm gray. This neutral color makes it easy to match with any interior scheme and bathroom design style. It adds a rustic appeal, old world feel and gives a spa like character to a bathroom space. This bathroom flooring material is a classic, understated option for bathrooms.
Limestone tiles are soft compared to other natural stones. They tend to get chip, crack or get damaged if subjected to heavy use. And as for any stone, its strength can be reinforced using a quality sealer.
It also comes in three different finishes : polished, honed and brushed. The most common tile size for limestone is 12″ x 12″, 16″x 16″ and 18″x 18″, although it comes in a smaller mosaic tile size which is commonly used as a an accent for bathroom floors and walls.
Cost : Limestone floor tiles are cheaper than granite and marble, costing around $3 to $10 per square foot, depending on the size, color and finish.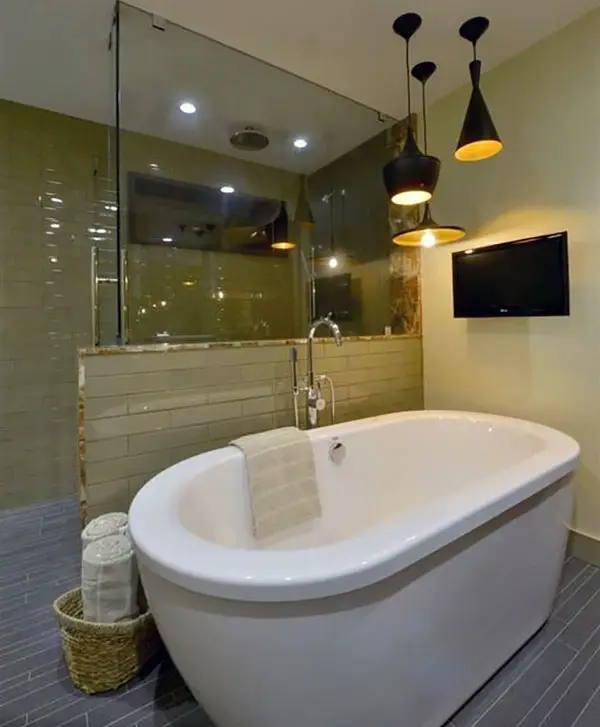 This contemporary master bathroom made use of slate strip tile flooring and polished porcelain tiles for the walls. The cool gray color of the bathroom floor tiles contribute a subtle contrast against the elegant freestanding bath tub. Black pendant lights are placed just directly above the tub, serving as stylish decors while providing ambient lighting to the space. It is also noticeable how the light gives the polished tiles a lustrous effect and a radiant glow.
Slate Bathroom Flooring
Slate is another type of stone made up of a mixture of minerals and sediments formed over long periods of time through heat and pressure. The material composition of slate includes calcite, quartz, mica, muscovite, pyrite, chlorite, hematite, feldspar, ceramic and some other minerals. Slate is a homogeneous, finely grained, brittle stone that has a wide range of colors. It is quarried in slabs, cleaved along its natural graining and sold in tile form to be used as flooring, wall finishing, backsplash, roofing material or pavers.
Slate has a very unique color which has a dominant black, dark green, bluish, gray base that has occasional undertones of red, purple and gold.
Slate tiles are classified into two general types : ungauged tiles and gauged tiles.This classification is unique to slate tiles. Ungauged tiles is slate in its natural state which has rough, uneven surfaces and is not uniform in size. Both sides of an ungauged slate tile can be used a flooring but installation is difficult. Adhesive needs to be applied liberally on the tiles to ensure they lay flat. Ungauged tiles are typically used for outdoor applications.
Gauged tiles, on the other hand, have even surfaces and a uniform size with a typical thickness of 1'/6 inches. Unlike ungauged tiles, gauge slate tiles have a consistent flat back, making installation easier. They are generally more expensive because of their finer appearance.
Aside from these, slate tiles may either be polished, honed, clefted or crafted. Clefted slate is slate that is left to its natural state – rough and uneven. The natural appearance of cleft slate contributes a rustic vibe to spaces. It is uncomfortable to walk on, but prevents slip hazards. Crafted tiles are a more refined version of cleft slate. It is cut into tile form but maintains the bumpy and coarse appearance but with better edges. Crafted slate has great friction but is uncomfortable to walk on too.
Honed slate has a polished, smooth surface. It is glossy, flat, and well suited for contemporary style applications. The only disadvantage of honed slate is that it shows chips, cracks and dirt more than cleft slate. Thus honed and polished slate tiles require extra maintenance. Lastly, polished slate is the most refined type of slate with an ultra-glossy and shiny appearance. Polished slate is not common because this type of natural stone is not suited for a well-refined look. Among the four, the honed finish is the most recommended type of slate for bathroom floors.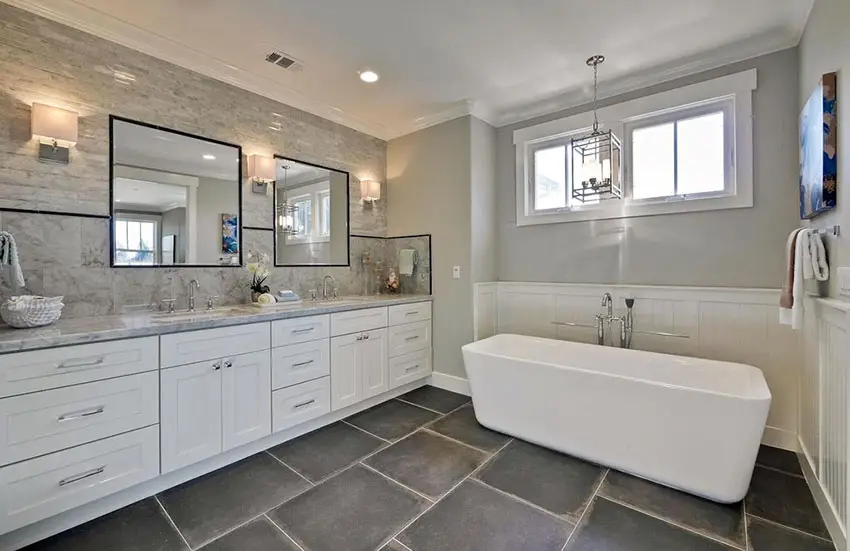 The primary advantage of slate bathroom flooringis their distinct natural beauty. Slate flooring are very versatile and flexible when it comes to application and can suit several design styles, be it traditional, contemporary or modern. Depending on its finish, slate flooring can adapt to both ends of the design spectrum as it can either look very rustic when left in its natural finish, or elegantly modern when honed or polished. Its distinctive appearance that is characterized by a unique combination of colors and striation patterns help contribute a strong accent to a space. It has the ability to blend and render a strong statement at the same time as well.
Flexibility in terms of application is also another advantage. The use of slate tiling is not limited for bathrooms alone, but instead, it can be used for any area of the house, both indoor and outdoor. As mentioned earlier, slate tiles can also be used for both floors and walls.
Slate tiles can also be used for shower areas. It is water- and stain-resistant, provided it is maintained and sealed properly.It is not prone to molds and mildew build up. It is also resistant to bacteria and cleaning is also not an issue. Durability is also one of its key factor. It can be used even in high traffic areas or for rooms in the house that are constantly used, like the bathroom, as it can stand up to daily abuse.
Some drawback of using slate tile floors is its hardness can sometimes be uncomfortable standing on for long periods if barefoot. Slate tiling are also brittle and have a tendency to crack if something is dropped on it, so make sure to take the necessary precautions. Lastly, just like most natural stones, slate tiling are cold to the touch, and some people may find this uncomfortable, but can be rectified through the use of an area rug in strategic places or an additional floor heating system.
As for any natural stone, slate also needs sealing during installation. It is not resistant to stains and is permeable to liquids. Aside form a sealing agent, a color-enhancing sealer may also be used to improve the natural color of slate. This will result into deeper, more vibrant colors.
During the first three months of installation, slate tile flooring is prone to spalling. Spalling is a natural process because slate is flaky and is inherently coarse. This needs a bit of sweeping to prevent the dust from building up. But once this process settles, slate flooring will require less maintenance.
Cost: Slate flooring costs more than ceramic tiles but is the cheapest among all natural stone options. The cost of slate tiles range from $5 to %20 per square foot, depending on the type and finish.
Granite Bathroom Flooring
Granite, in general, is one of the most popular materials used for counter tops and flooring. It is one of the most durable natural stones available in the market. Granite is crystalline and comprises minerals such as quartz, feldspar and mica. It is formed under very high heat, giving it a very hard and dense structure. When it comes to strength, granite is at par with porcelain.
Granite is quarried from the earth in large blocks, divided into slabs, and processed to show their unique, distinct beauty. Aside from slabs, granite is sold in tile form, allowing for more possibilities in interior and exterior applications. It is a reliable finishing material which can be used for any area in the house, including the bathrooms.
Aesthetics is one of granites' most prized attributes.The unique composition of granite gives it an inherent visual appeal with speckles, striations, veins and flecks.Some granite even have a glittery appearance which comes from quartz crystals and feldspar particles. Each slab has a unique appearance and it comes in a wide range of colors, making the possibilities for design endless. Granite floors add visual interest to a space, making it appear more elegant and sophisticated. It works for most design styles and is the perfect material to use to create a statement for your bathroom floors.
The primary advantage of granite is its durability. Its hardness gives it a natural stain resistant and scratch resistant quality. Granite floors do not get damaged easily from water or soap scum. Suited for daily use, granite tiles can work for both low and heavy traffic areas and can withstand wear and tear. It is long lasting and very dependable as a flooring material. On top of that, a bathroom with granite flooring can significantly increase the value of your home because of its premium quality.
Granite tiles are heavy, thus not recommended for "do it yourself" projects and self installation. Since weight is an issue, handling the material also requires an additional helping hand. Hiring a professional to install your granite flooring for your will also ensure that your granite floor and bathroom will last longer and will have a better visual appeal.
Maintenance for granite tile flooring is a bit time consuming. It needs periodic sealing to give it an added protection against potentially damaging elements. Sealing granite floor tiles on a regular basis will help granite retain its luster and will help reinforce its sturdiness, making it last for a longer period of time. Granite flooring can also be treated with an additional coating of anti slip agent which protects it from falls or slip hazards.
Granite tile flooring is available in four main types of finishes, polished, honed, flamed or brushed. Polished granite has a shiny, glossy appearance and is often recommended for low traffic indoor areas. Honed granite has no sheen, is matte and is appropriate for use in high traffic areas. Flamed or brushed granite has a textured surface and is typically used for outdoor application. Among the four types, the most recommended type of granite for bathroom flooring is the honed granite or finish. Granite can be slippery to walk on and has the tendency to stain if not properly cared for. Choosing the right type of finish will ensure that your granite bathroom floor can last for years.
Cost: Granite is considered to be highly economical. They are proven to be a good investment because of its lifespan which can last for decades.The average cost of granite is $7 to $15 per square foot, depending on the size, color and quality. Premium granite tiling can cost as much as $10 to $40 per square foot because of their special colors and finishes. Professional installation for granite tile flooring can run from $6 to $22 per square foot including labor and material costs. Regular upkeep and periodic sealing for granite bathroom floors is not that expensive as most sealers typically cost $15 to $50 per container.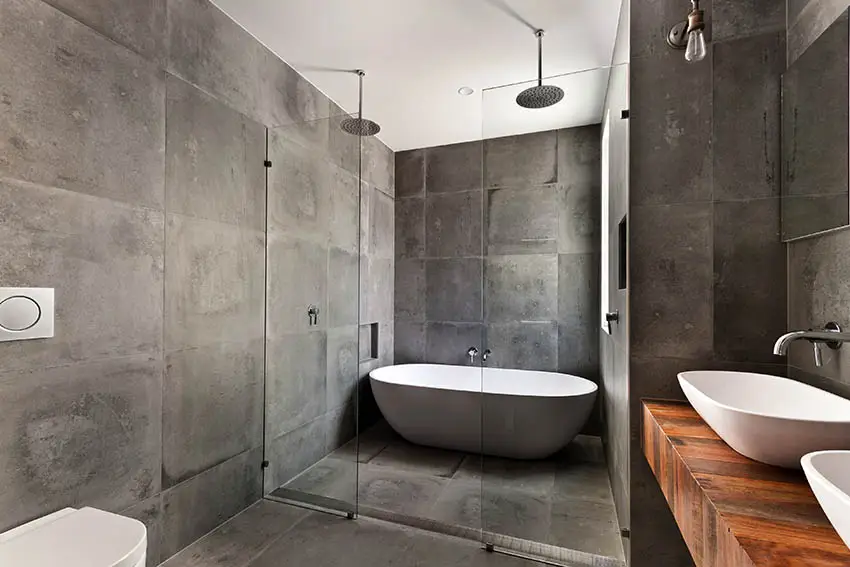 Concrete tiles render a rugged and grungy aesthetic that works well for ultra modern bathroom spaces. This concrete tiles may appear rough, but are smooth to the touch and its warm gray color works perfectly well in creating a subtle statement for the space. White bathroom fixtures also stand out against the background while the use of contrasting wood finishes for the floating vanity sink create variation in texture and color the space. The use of the same material finish for the floors and the walls also keep the look more streamlined while giving the bathroom a more expansive space.
Concrete Bathroom Flooring
Concrete tile bathroom flooring is a cost effective and long lasting alternative to concrete flooring are made up of a mixture of fine aggregates of sand, coarse aggregates of gravel, cement and water. Color pigments and marble powder are sometimes added to this mixture. Production includes pouring into metal molds and compression under 2000 pounds of pressure.
Decorative concrete tiling, otherwise known as cement tiles, are common during the 18th century and is commonly used for Latin, Mediterranean and European-inspired bathrooms and spaces. These are also known as Cuban tiles, Victorian tiles, Mission tiles or hydraulic tiles. Traditionally, these were made to create one design by interlocking four pieces together. The tile squares are usually rotated 90 degrees to form the pattern.
Another form of concrete tile is precast concrete flooring which is usually custom made depending on the design or shape desired.
Concrete tiling outlast ceramic bathroom tile squares and wood when it comes to life span. Just like any tile, concrete tiling offer versatility as it can be used for both the walls and floor, whether for indoor or outdoor application.
Customization is one of the main advantages of concrete tiles. Concrete can be molded into any form, size and color. It can also be finished to mimic the appearance of other materials. Solid color tiles are also available to fit modern aesthetics. Concrete flooring have exquisitely beautiful and highly decorative patterns. Concrete tiling may be used as decor for most bathroom styles, from subtle solid colors to bold patterns. Most suppliers alo take customized orders which allow you to create a design that caters to your own personal needs and style. In addition to that, decorative concrete tiling are also timeless.
Concrete flooring typically have a ⅝ inch thickness and are thicker than standard wall and floor tiling. The top layer alone of concrete and cement tiling is usually ⅛ inch thick, thus giving the material more stability and sturdiness. It is also non slippery, making it a safe flooring material for wet locations such as bathrooms and shower areas. It is also easy to maintain and requires minimal effort to clean.
Installation for concrete or cement tile bathroom flooring follows the same method as ceramic and porcelain tile squares. However, for concrete flooring, two coats of penetrating sealer is needed instead of the single coat. This must be done before grouting to prevent the tile surface from absorbing the grout.
Cost: The average cost of concrete tiles is $3 to $5 per square foot.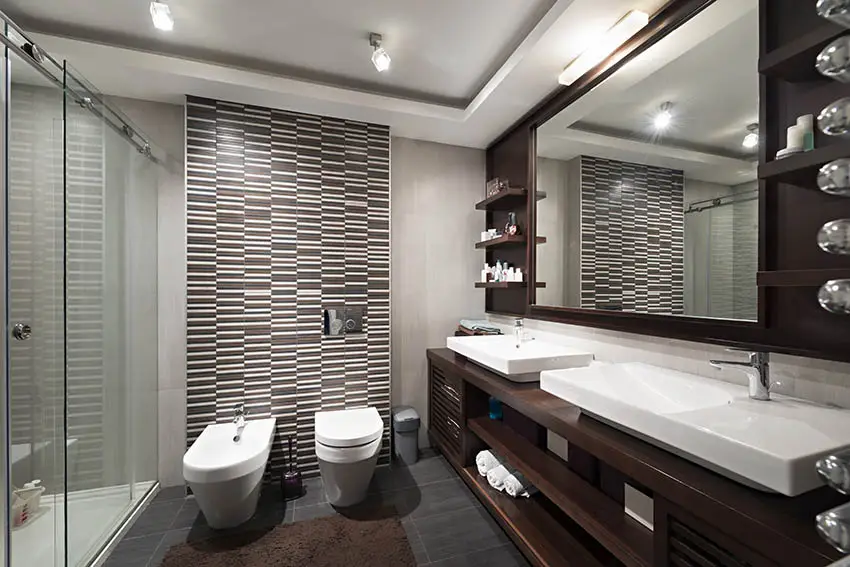 This elegant contemporary bathroom makes use of charcoal gray porcelain tiling which blends beautifully with the neutral color palette of the space. Contrasting beige colored porcelain square tiles are used for the walls. An interesting combination of warm earth tones was displayed through the use of rectangular mosaic porcelain tiles which accentuate the water closet wall.
Keeping the patterns subtle suits the modernity of the design and gives an eye catching visual aesthetic to the space. The vanity sink and built in shelves are finished with dark wood , keeping the ambiance more inviting and home like. See more pictures of modern bathroom designs here.
Best Tile for Bathroom Floors
There are several factors to consider in determining which type of tile is best for your bathroom floors:
Durability. Durability and performance will determine how long your flooring material will last. As bathrooms are constantly subjected to everyday, they are prone to scratches, breaking and being worn out. Bathroom floor tile squares must be resilient and must be able to withstand wear and tear. When it comes to durability, nothing beats porcelain tiling. While for natural stone bathroom flooring options, granite is the strongest and most stable option.
Maintenance. Bathrooms are prone to dirt, scum and soap build up and since it is exposed to high moisture, bathroom floors are also prone to harboring bacteria. Bathroom flooring must be easy to clean and maintain. Among all bathroom tiling, ceramic, porcelain and vinyl flooring require the least maintenance.
The 4 levels of absorption for tiles. A specific type of measurement is used to determine the amount of moisture a material absorbs. The absorption rate of tiles is divided into four groups namely : non vitreous, semi-vitreous, vitreous and impervious tiles. Impervious tiles are low density tile squares which have a water absorption rate of more than 7 percent. Semi vitreous tiles have medium density and a 3 to 7 percent water absorption rate. Vitreous tiles are high density tile squares which have a water absorption rate of 0.5 to 3 percent. Impervious or extremely dense tile squares have 0.5 percent or less water absorption rate.
Non vitreous tiling will not be able to stand up to extreme moisture because they will eventually break down due to high water absorption. Vitreous and impervious flooring are suitable for wet areas and bathroom floor applications. An example of material which falls under this classification is porcelain tile. Among the natural stone tiling the most porous material is sandstone. Limestone, slate and travertine have medium absorbency while granite is almost waterproof. When it comes to tile finishes, polished flooring absorb less water compared to honed and cleft surfaces. From these, it is safe to say that porcelain and granite tile squares are two of the best bathroom flooring materials with regards to water resistancy.
Coefficient of friction. The coefficient of friction measures the "slip resistance" of a tile. This rating is derived from the force an object requires to move along the tile's surface, divided by the tile's weight. No need to do the math as most tile squares already indicate this rating. The recommended coefficient of friction rating must be above .50 foot pounds for all residential installation, including bathroom floors. The higher the coefficient of friction, the more slip resistant it is.
PEI rating or Porcelain Enamel Institute rating. The PEI rating measures the tile squares' ability to resist scratches, abrasions and the effects of wear and tear from everyday use. This rating only applies to glazed tiles. This is expressed in roman numeral forms, usually beside the letters "PEI".. The higher the number is, the greater its wear rating and scratch resistance. Tiling rated PEI III or higher are suitable for residential flooring use. Those that fall under the PEI I and II rating are not suited for flooring applications. When choosing a tile material for your bathroom, look for the PEI rating.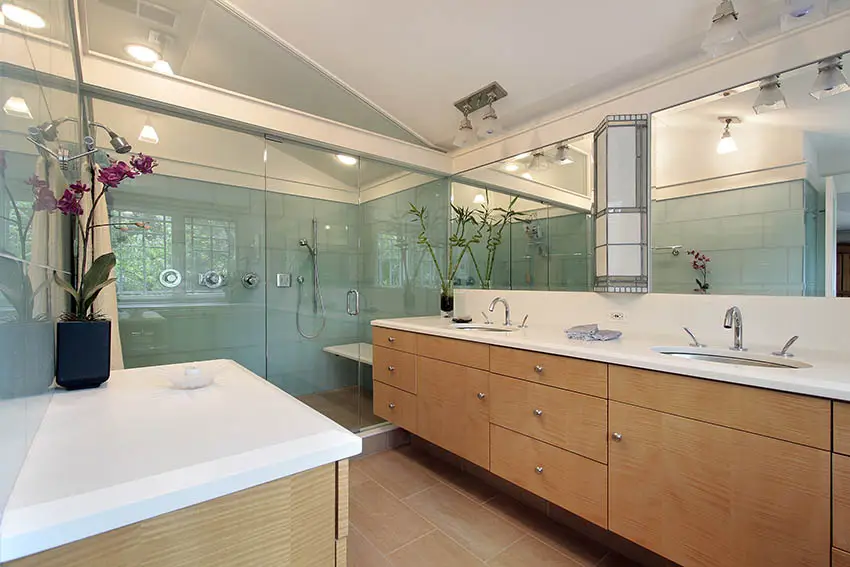 The wide variety of ceramic tiling make it one of the most well loved and polar bathroom flooring finishes. This contemporary bathroom made use of wood like ceramic tiling which complement the wooden vanity his and her sinks. The wood like finish of the ceramic tile squares closely resembles that of natural wood planks but give the practical benefits of ceramics. The abundant use of wood finishes create a cozy, warm and inviting feel for this bathroom. The walls for the shower area also make use of rectangular white ceramic tiling which make the space more airy and bright.
Best Tile for Small Bathroom Floor
Any flooring material mentioned above can be used for small bathrooms, whether natural stone, concrete, porcelain or ceramic tiling, vinyl or epoxy floors. The right material and finish will greatly depend on your personal style and preference, the design you want to achieve, your budget and the flooring material's practical benefits or functionality.
Limited bathroom space is advantageous for your flooring budget because it provides the perfect opportunity to amp up your materials. Due to the lesser amount of tile squares needed to furnish small bathroom spaces, you can try to explore more options that fall on the high end price range like natural stone tiling like travertine or marble, luxury vinyl flooring and waterproof laminate.
Most homeowners still find that tile squares are their best bet for small bathroom flooring. It is practical, budget-friendly, waterproof, durable and long-wearing. A small bathroom space also allows homeowners to try their hand in tiling. Most DIY projects that involves tile setting starts with small areas of the house, like a splash board, a powder room, or a guest bathroom. The small size is a good "practice size" to develop one's skills.
Although there is no exact general rule or material to use for small bathroom flooring, there are several design guidelines that one may explore to improve the look of the space and to maximize its limited area. Here are some tips for choosing the best tile for small bathroom floors:
Choose light colored flooring for small bathrooms. Light colors can make small spaces appear bigger, whether it may be through the use of paint for the walls, a specific material for the floor or through the use of furniture pieces and other specialty finishes that make up your home's interior color scheme. The same thing goes for small bathrooms, light colored flooring tends to create an illusion of a bigger space while making the area appear brighter, more airy and open. Opt for white, beige, cream, light brown, pastels or any light colored flooring materials.
Pay attention to the seams. Small areas makes every design detail visible, and the same thing goes for your flooring. Prominent seams and grouting are more noticeable on small spaces. The more seams , the more your bathroom looks boxed up.
Do not choose a highly contrasting grout color for your tiles. The color of your grout also plays out a significant role for flooring design in small bathroom spaces. Highly contrasting grout can give your flooring a more heavy appearance. For example, using white squares with black grout can create a grid like or bordered look. If you want you to create an illusion of a bigger space, make sure that the color of your grout closely matches the color of your tiling.
Choose a single tile color for the walls and the floor. Choosing a single tile color for the floor and the walls create continuity and a smooth transition that tricks the eye into seeing a larger space. Alternatively, you can also use a tile tile color for your main bathroom floor and the shower area. Choosing different flooring materials to delineate and section off areas in your bathroom can make a space feel more crowded.
Tile as much area as possible. Again, this design approach creates continuity in the space. Instead of tiling just a portion of the bathroom, like a shower area or half of the ceiling height, tile one full bathroom wall or go for a floor-to-ceiling height when tiling. Aside from improving the aesthetics of your small bathroom, this is also beneficial when it comes to maintenance, as tiling is much easier to clean than painted walls.
Try a diagonal tile pattern layout for the flooring of small bathrooms. Diagonally arranged tiling give an illusion of a larger floor area while keeping the aesthetics of a bathroom more interesting and lively. A diagonal floor pattern layout tricks the eyes, plays with the subconscious and makes people think that a space is larger through a simple math trick. 90 degree laid tiles or horizontally and vertically arranged tiling are easier to count, but when it is arranged in a diagonal pattern, the quantity is harder to pick up.
Opt for large tile sizes for small bathrooms. Large planks can also make small bathrooms appear more spacious and less cramped than small mosaics. In addition to that, the larger your tile is, the fewer grout lines are shown. It is recommended that a typical 3/16" spacing or gap is maintained between large tiling; anything bigger tends to look off for your floors.
Make sure that there is a proper balance and right proportion between the size of your flooring material and the area of the space. If your flooring are too large, they can look a bit off and overwhelming for a small bathroom. However, if large tiling do not suit your taste, you can still use small squares for a small bathroom. Just make sure that your grout color resembles the color of your flooring to create continuity in your flooring.
Some more tips to enlarge bathroom spaces using wall tiles:
Take advantage of heights. Aside from making a small bathroom feel expansive, you can also make it appear taller. Incorporate vertical strip tiling or go for printed tiles which have a striped design as they tend to create sense of height.
Go for striped tile patterns for the walls. As mentioned earlier, vertical stripes tend to make small bathrooms appear taller. Horizontal stripes, on the other hand, can widen spaces. Striped flooring can also be used for the back of your water closet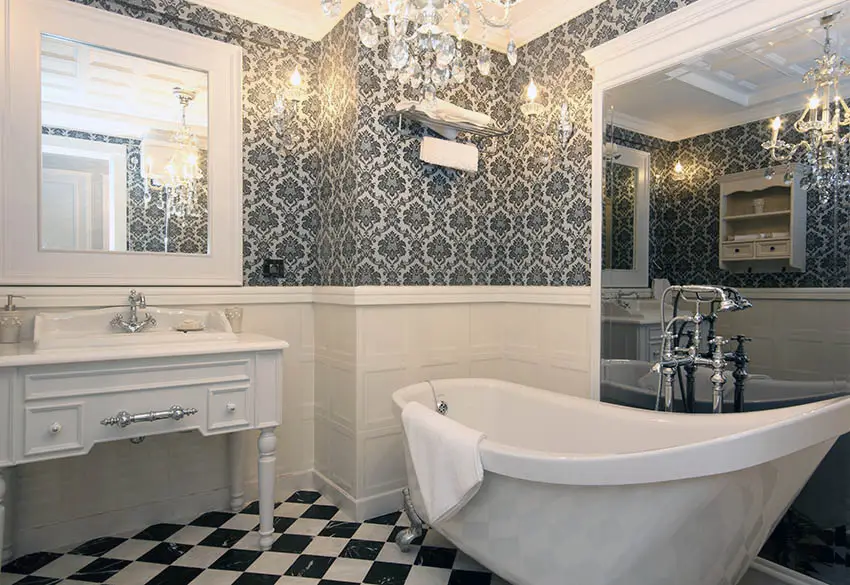 To give classic themed bathrooms a modern twist, this setting made use of a mixture of small square black and white marble which are arranged in a diagonal checkerboard pattern. This unique design keeps the look updated while providing an accent to the space which draws the eyes to the floor. The marble flooring add a touch of luxury, making the space ultra chic and stylish. Complementing black and white wallpaper in a classic brocade pattern and a wainscot paneling also give the walls an interesting appeal, while keeping the fixtures such as the bathtub,vanity sink and mirror simple and white creates balance within the space.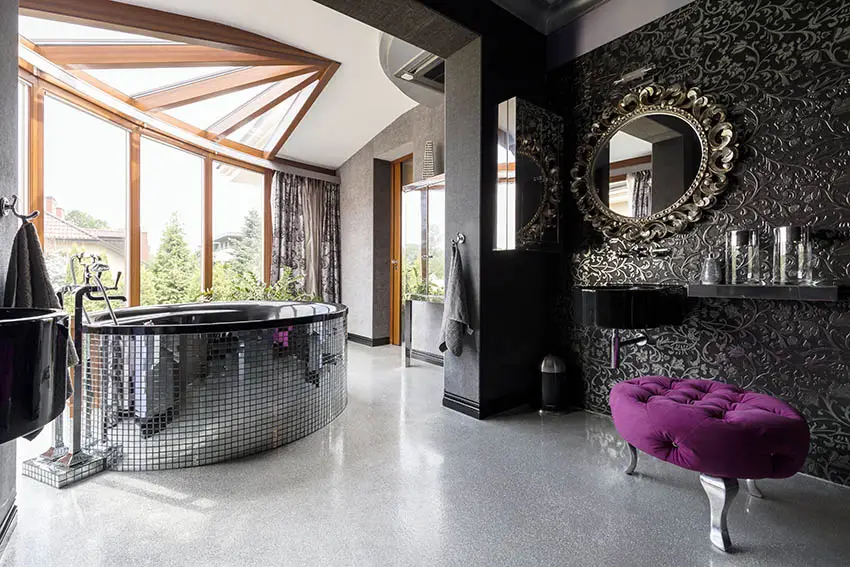 This stylish contemporary classic bathroom boasts of a combination of luxurious materials and lustrous metallic and mirrored finishes. Epoxy floors create a sleek and smooth surface which perfectly suits the design aesthetics of the space while providing a durable and long lasting walking surface. Mirrored mosaic flooring were used for the bath tub and metallic-colored patterned wallpaper highlight the walls as they add a chic flair. These finishes, especially the shimmery epoxy floors, look better under the natural lighting that passes through the glazed panels as they shine brighter.
This charming cottage inspired bathroom made use of round mosaic tile flooring. The use of an interesting flooring material breaks off the monotony of the "all white" color palette of the space while drawing the attention towards the floor. Bead board wood panels are used for the walls to complement the classic aesthetics of the space while elegant marble flooring accentuate the walls of the shower area. To top it all off, antique inspired bathroom fixtures were used for this lovely and homey small bathroom design.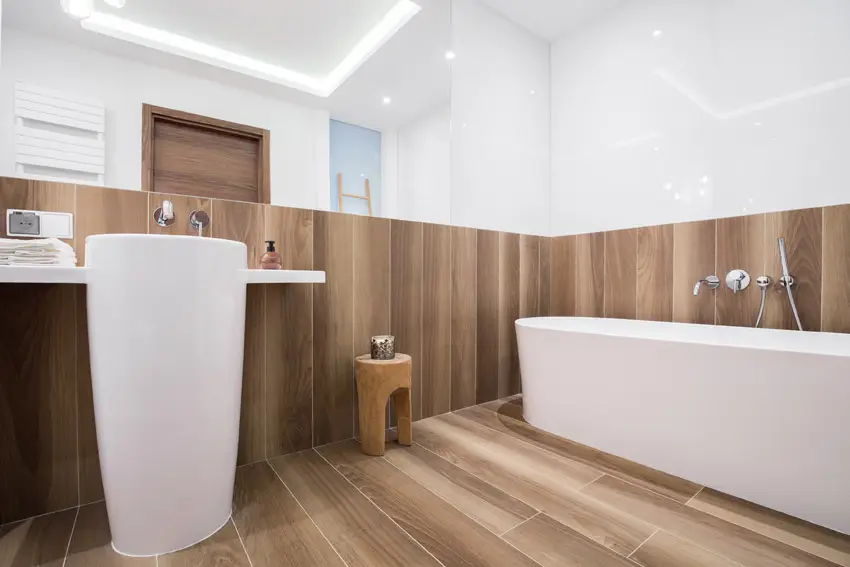 The distinct warm aesthetics of natural wood is one of the reasons why most homeowners consider it as their favorite finishing material, however, wood is not that suitable for use in wet areas because it tends to warp, rot or grow molds under extreme moisture. The use of ceramic pavers which simulate the look of wood allows homeowners to capture its natural beauty without having to worry about its drawbacks.
This contemporary bathroom made use of stunning wood like planks for the floor and walls, rendering a relaxing "spa like" feel to the space. When mixed with white colored bathroom fixtures, the result is a well balanced look and color palette which can work for most design styles. Visit this page for more bathroom design ideas you can use for your home.