Welcome to our page dedicated to bathroom remodel ideas including popular tips, cost and DIY designs.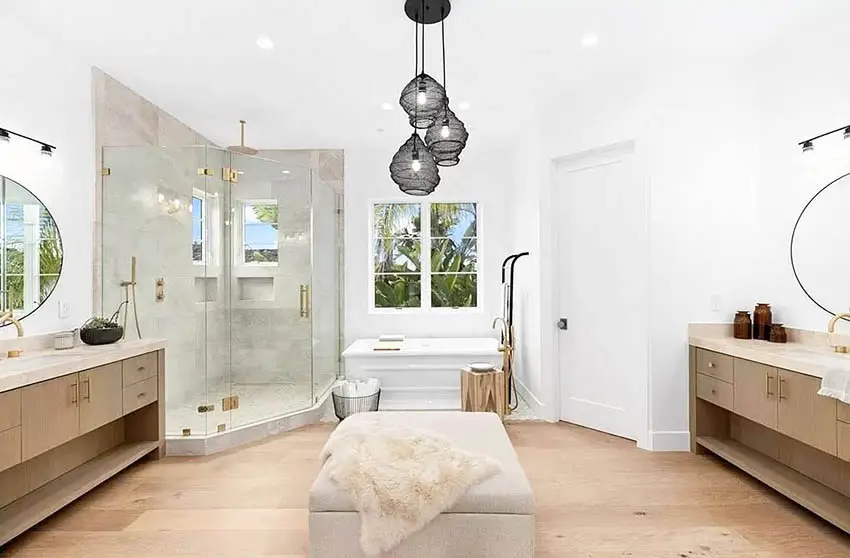 Nowadays, remodeling the kitchen and the bathrooms are two of the best ways to add money to a home's resale value. Below we cover some of the most important bathroom remodeling tips to get the most bang for your buck. You'll get bathroom ideas and creative ways to add beauty and efficiency to your remodel project.
The bathroom is not only a place for daily hygienic activities but also a space to unwind after a long tiring day. The way your bathroom is designed has a huge impact on the comfort level of your home as well as its value. Remodeling your bathroom on the other hand, would require a keen attention to detail and careful planning. Your skill sets, budget and time are some of the major factors to consider when planning to remodel your bathroom.
What to Remodel in a Bathroom
Some of the most common things included in a bathroom remodel are:
Fixtures. Fixtures include all "furniture" used inside the bathroom. These are the tub, sink, water closet ,urinal and bath tub.
Fittings. Fittings pertain to all plumbing and sanitary hardware such as shower heads, faucets, hygienic sprays. In choosing bathroom fittings, be sure to get rust proof ones because they will last longer. They serve as a good investment and assure quality in the long run. You may also choose hardware which has double functionality such as telephone shower heads, which allows you to bathe using a steady shower position or a directional spot.
Shower heads come in different types such as rain shower head, hand shower, body spray or multiple heads. Faucets are also available in different shapes and finishes. Sink faucets may either be single-hole, center-set, wall mounted or widespread mounts. A single hole faucet combines the lever and spout into one unit. Center-set faucets have a single or 2 lever handles mounted on plate. Wide spread mounts have three separate pieces : two handles and a spout. Wall mounted faucets are integrated into the walls and work well with vessel type sinks.
Furniture. Some bathrooms require either freestanding or built-in furniture. Vanity tables with a stool are good for fixing oneself, a stunning accent chair serves a cozy spot to relax in the middle of bathing, storage units and shelving are necessary to keep towels, toiletries or robes. Keep in mind standard heights and universal design guidelines in designing your built-in counters and storage.
Countertops. Bathroom countertops are often replaced to update the look and feel of the space. Outdated, worn or stained tile can really effect the room and there are many new contemporary materials available to remodel your space without spending a lot. Popular countertop materials include granite, quartz, marble and modern solid surface materials.
Shower enclosure or partition. Shower enclosures do not only keep your whole bathroom from being wet, it also functions as a divider for space. A separate toilet and shower area works well for providing privacy to bathrooms with multiple users at the same time. Check out our article on types of shower doors for more ideas about different options for design styles and frameless vs framed showers.

Tiles. Tiles is the most common wall and floor treatment for bathrooms. They are easy to maintain and require little effort to clean.
Lighting. A well lighted bathroom has both general and accent lighting. Daylight or cool white bulbs are recommended as general lighting while warm white works best for accent lighting. For vanity mirrors, make use to put lights on both sides and on top.Use ceiling mounted light fixtures.
Electrical. Convenience outlets may either be re-positioned or added in your bathroom depending on your need.
Special finishes. Special finishes include wallpaper, specialty paint, synthetic or natural stone counter tops.
Layouts. Planning your bathroom layout is essential to ensure you have a proper flow and give yourself enough space. Some things to consider are the positioning of the toilet. you don't want the toilet to be a focal point of the room and it should be positioned accordingly.
You will want to carefully measure the bathtub dimensions as well as shower, vanity and other fixtures to ensure you have the required room for your layout. In addition, adequate storage space, vanity space, number of sinks, shower and tub position, floor space and ventilation are all important considerations.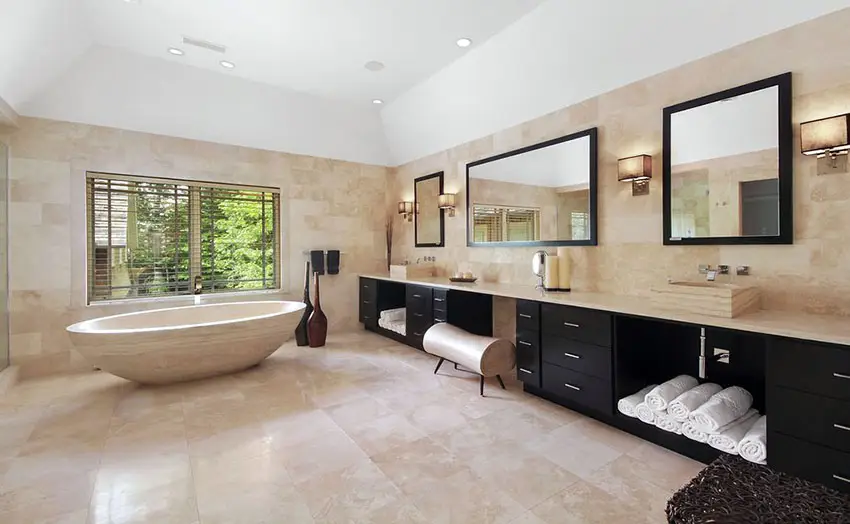 How to Remodel a Bathroom
Remodeling a bathroom can be divided into 2 phases: the "Planning Phase" and the "Construction Phase". The planning phase is preparation of everything that is needed before construction is commenced. Construction phase, on the other hand, includes all the "dirty" work, from demolition to the styling of the space.
Here is a step by step guideline of a bathroom remodeling project plan:
PLANNING PHASE
1.Assess the space. First and most important step is to assess your bathroom. Know the existing site conditions such as structural elements, electrical and plumbing layouts. It is important to know the locations of pipes within the walls to avoid any damage if ever there is a need to demolish partitions. Make sure to position all fixtures at one side to ensure an efficient lay -out. If you also need to expand your bathroom, determine the directions where you can extend and move the walls.
2.Assess the need of the users. Review how you use the space. Your daily routine inside the bathroom will determine what specific areas need more attention to. Evaluate each user to make the space more personalized. A checklist of the following also comes in handy for deciding on the layout and design of your bathroom:
Number of people using the space
Ages of the users (to know if you need a child friendly bathroom)
Profile of each user (differently able and older users require universal design)
Number of users using the space at the same time
What are the activities done inside the bathroom? (this will determine the areas within the bathroom)
Do you need a dressing room?
Do you need a tub or a shower?
Do you need a single vanity sink or a 2 sinks for his and hers?
Do you want to enlarge the space?
Do you want privacy? (to determine if you need separate toilet rooms or shower enclosures )
Do you want to add any features to your bathroom?
Do you want to remove any features from your bathroom?
Is there enough convenience outlets for your appliances, such as a hand blower or automatic shaver?
Is your bathroom well lighted? Do you need additional lighting?
What items do you need storage for?
Do you have any color preferences?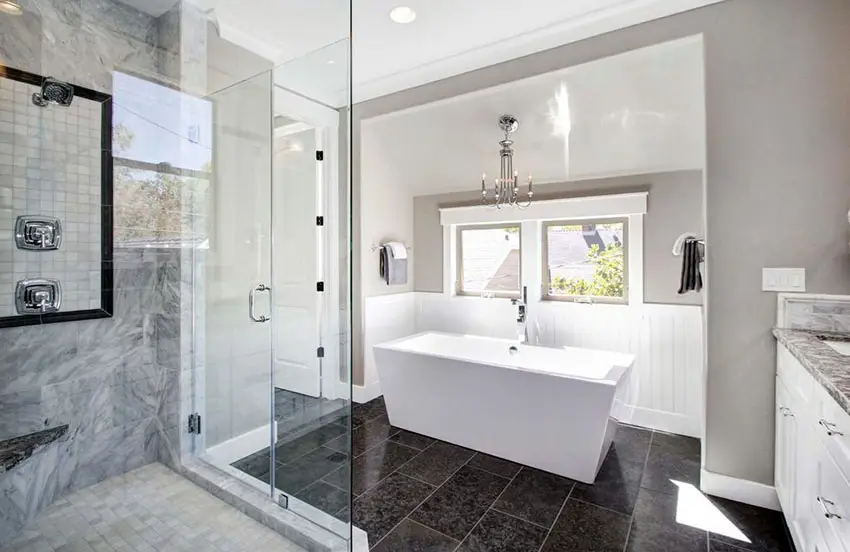 3. Determine the concept you want for your bathroom. Is there a particular style and color scheme that you want to apply to your bathroom? Brainstorm for ideas by researching unlimited resources. Save a picture from a website you came across while browsing the internet, cut out pictures from a magazine or pin that concept you want. These materials will also be helpful for designers as it gives them a full idea and vision of what you want to achieve.
4. Decide if you need to hire a contractor or a designer. Renovation is a difficult and messy job. Unless you have previous experience in laying tiles or a know-how on plumbing, bathroom remodeling must be left to hands of a professional. Plumbing and electrical works require the skills of an experienced contractor. To know whether you need to hire a contractor or a designer, first determine the scope of work that needs to be done.
Minor renovations will include changing a number of tiles, repainting the walls or ceiling, installing a built-in shelf, or changing your faucet and shower heads.
Major renovations on the other hand are more labor intensive. These includes plumbing and electrical revisions, re-tiling the whole bathroom and ceiling works .
In choosing your designer/contractor, choose one which has a good record. Ask friends and other homeowners for referrals. Make sure to do a thorough research on the professional. You may request for sample of works or even ocular visits of previous projects to see the quality of their work. Also, hire someone you can get along with because they will be working in your house for days or even weeks depending on how extensive the project is. Consulting more than one is also an advantage because you can compare proposals and get the best offer.
5. Create a plan. Choose a lay-out for your bathroom by determine whether you want a half bath, a full bath or a three quarter bath, a powder room. The lay-out needs to be well adapted to the plumbing and existing conditions of the space to lessen the cost and to avoid any damage ensuring an effective work flow during construction.
Strategically place all fixtures to avoid messing up traffic flow within the space. Also remember to place the water closet, shower and sink at one side for a more efficient plumbing lay-out.
In creating the plan for your bathroom, you can start first with the schematics then develop it into a full working drawing. The schematic plan is just a simple diagram of space planning. It shows how you will divide the space depending on the activity of the users.
A schematics plan for a bathroom can reflect the words "wash area", "shower area", "toilet", "dressing area", etc. Using your schematic plan, a preliminary plan can now be developed.
The preliminary plan is a more detailed drawing of the bathroom. Prepare a plan using the exact measurements of the existing space. This will serve as your guide in renovating as it reflects all the fixtures that need to be purchased and prepared before construction commences.
Approval of the preliminary plan will also make way for the design development phase. The design development phase includes all detailed working drawings and the final floor plans and elevations. These drawings will serve as a guide for you, the contractor or the designer in creating the estimates.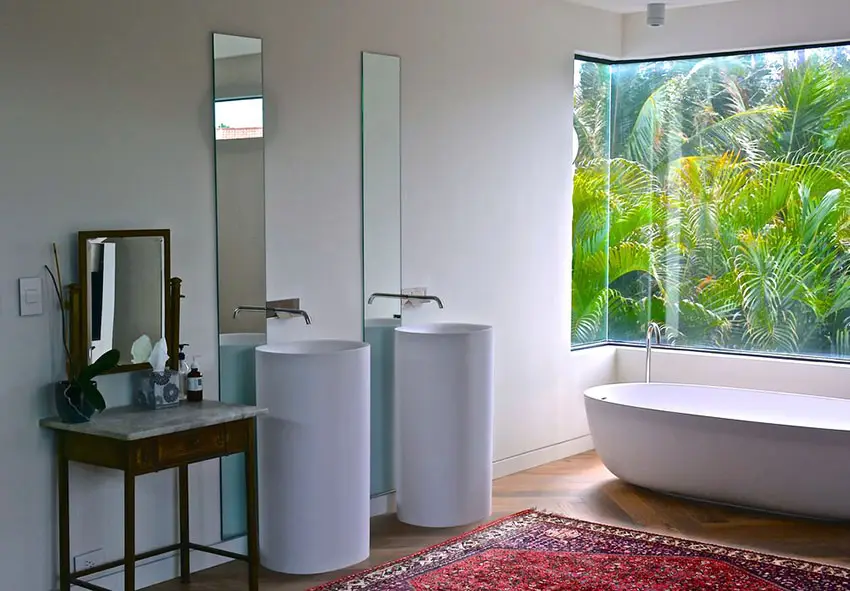 6. Assess the costs. Once the measurements,sizes and the position of the fixtures are nailed down, you can now determine the amount of materials you need to finish your bathroom, like how many square footage of tiles you need to cover the floors, how much countertop material is needed for the vanity, etc.
A detailed list of the furniture, fixtures, fittings, special finishes and other materials is also very handy for assessing the cost of the project. If you are planning on a "DIY" for your bathroom remodel, this can serve as your shopping guide in preparing the materials.
If you are working with a contractor, it is always good to have a specific budget in mind because this gives them an idea of what they can recommend in terms of the materials because they can look for more practical options if you are following a tight budget. It is also recommended to get 3 estimates from separate contractors so you can gauge if you are getting the best price.
7. Plan for delays. Renovation can take days. Always be prepared for any delays. Allow leeway because bathroom renovation is a complex process. Unforeseen circumstances such as the availability of materials, a change in your contractor's work schedule, weather conditions of any other forces of nature may affect the duration of the project.
8. Prepare a contingency plan. Bathroom remodeling can be a messy job. Whether it may be the grinding of tiles, ripping out an old tub, sanding, removing old fixtures, dust and noise will always be present throughout the duration of the project. Secure all items which can be damaged within the location of the construction. If you have health concerns, it is best to scout for a place to stay in during the remodeling process. Another thing that you have to consider is if a makeshift bath. If you only have a single bathroom in the house, you can request your contractor for this but it will cost you extra.
9. Prepare all materials. Collect all materials needed for the construction beforehand. Be sure that everything is on site to lessen delays and avoid repetitive trips to the store. This will not only save you money but also time and effort.
It is also best to research on the availability of materials ahead of time so you can plan your schedule efficiently too. Some tiles, for example, are for indent order and would take at least 30-45 days to be delivered. Keep in mind that lead time is very important.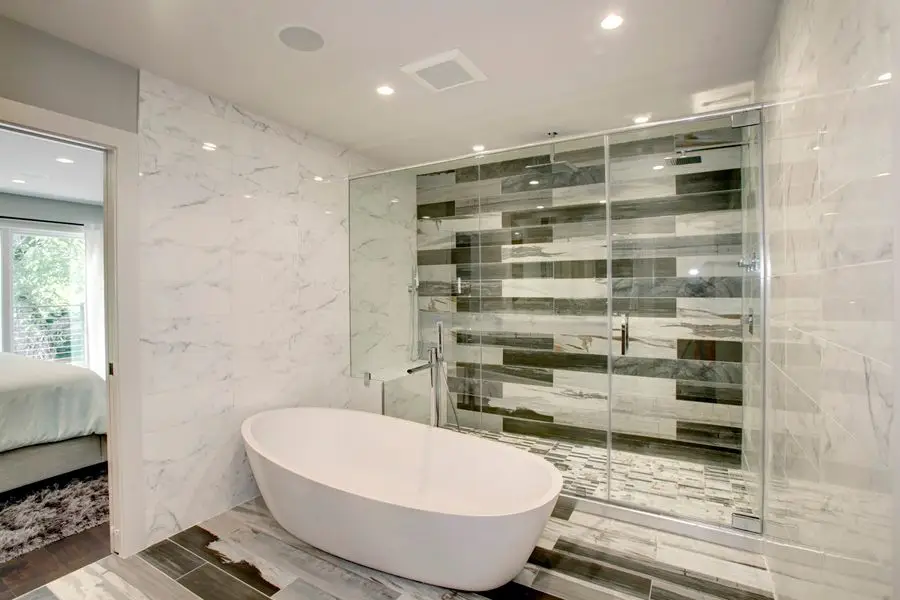 CONSTRUCTION PHASE
1. Demolition. Demolition involves taking out the old stuff including tearing down walls, uninstalling old bathroom fixtures, ripping out an old tub or removing tiles.
2. Installation. Installation is consisted of the whole construction process starting with the electrical works, plumbing works, cabinetry, tiling of walls, flooring, installation of fixtures and accessorizing.
3. Clearing. Upon completing the construction of your bathroom, clearing of the space takes place. This includes hauling of debris and full clean up of the space.
4. Styling. Styling is the final step in remodeling your bathroom. This is when you make the room ready for use by putting finishing touches in the space.
Bathroom Remodelling Costs
Determining the cost for a bathroom remodeling project can be a bit tricky that is why a guide would come in very handy. There are a number of different factors that can affect the cost of a bathroom remodeling project. General factors include, the size of the space, lay-out, scope of work, type of project, labor and materials.
The size of the space may either be a small bathroom, to a full master bathroom. Generally, a small bathroom remodeling project would cost less because they require less materials. Smaller bathroom fixtures are also less expensive.
The lay-out also plays a significant role in determining your bathroom remodel cost. Changing the lay-out may mean adding a partition, extending the space or moving around fixtures. Plumbing is a very critical aspect which must be considered in finalizing the layout of your bathroom. Make sure to choose the best adaptable lay-out which will suit the existing plumbing of your bathroom in order to lessen additional pipes and labor costs.
The scope of work for your bathroom remodel project may either be a minor renovation or a major renovation. This will also determine the type of professional you need and the amount of labor cost in the project. A minor renovation includes simple work such as repainting walls, replacing or fixing bathroom faucets, tiling a part of the bathroom, regrouting, installing a knock-down shelf or storage unit and installing accessories.
If you have previous experience or knowledge on such, you may pursue it as a "Do It Yourself" project. This also cost less in terms of labor since it eliminates the need to hire subcontractors. Major renovations on the other hand are more labor intensive and is best left to the professionals. This includes plumbing and electrical work, tiling of an entire bathroom, taking out all old bathroom fixtures and installing new ones.
In terms of cost, major renovations fall on the higher end, labor and material wise. Skimping on skilled labor, especially when it comes to plumbing, may cost you more in the long run because of its complex nature. Hired professionals may either charge on a per hour basis or a lump sum amount.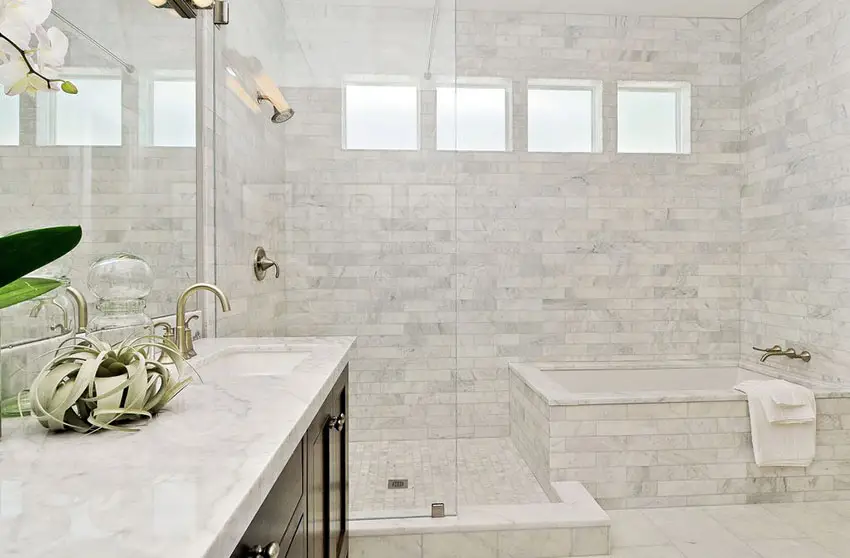 How Much Does It Cost to Remodel a Bathroom
The total cost for remodeling a bathroom may vary depending on the type of bathroom remodel project:
Low end bathroom remodel. The average price of a low end bathroom remodel ranges from $3000 to $12000. This works well for people with limited budgets. The basic bathroom remodel updates fixtures and other materials. It is exclusive of relocating or extending plumbing lines or major electrical works. Most of the items which will be installed are "off the rack" items from home improvement stores.
Tiling work, for example, may be done in parts only using standard ceramic tiles. To cut on costs, walls may be repainted. Counter tops for vanity sinks are finished with low end granite. Cabinetry may either be repainted or replace with easy to assemble units. Low end bathroom remodels are often a "do it yourself" project that's why labor costs less. It also does not require permits..
Mid to Upper Range Bathroom Remodel. A mid to upper range bathroom remodel project costs $10,000 to $30,000. This type of project can get you better fixtures with features, new flooring, tiling work for an entire bathroom and customized built-in furniture with special finishes.
Change in layout may also accommodated as well as several plumbing and electrical modifications. However, the price range is still dependent on the location of the project. Example finishes which are included in mid to upper range bathroom remodels are a higher grade of granite, marble, quartz or engineered stone for the countertop.
Cabinetry may be customized and finished with glazing and adorned with more intricate details. Vanity sinks may be divided into his and hers and may feature a bigger counter space. Fittings such as faucets and shower heads have more sophisticated finishes and have higher quality,making them last longer than the low end kind. The tiles may be porcelain, a much expensive option than the ceramic ones. You can also get a new glass shower enclosure.
Aside from these, you can also add more special finishes to the space. Labor costs in mid to upper range projects are higher because it requires the service of professionals such as a designer, plumber, tiler, painter, electrician, cabinet maker and other specialists.
High End or Luxurious Bathroom Remodel. High end bathroom remodel projects cost around $30,000 and above. These projects come with deluxe and premium features. It is a full "everything must go" job which includes taking out all existing features in your bathroom and recreating a new lay-out.
Finishes are more expensive and it also features special amenities such as floor heating, steam showers or a whirlpool bath. Luxury showers often consist of custom mosaic designs, benches, or other features that meets the homeowners exact specifications. Luxury bathtubs can be constructed of exotic materials such as travertine or be a reclaimed antique claw-foot tub depending on the style desired.
Labor costs are definitely on the higher end than the first two types because the project is more labor intensive requiring more expensive materials and the services of a designer, architect or engineer and specialty sub contractors.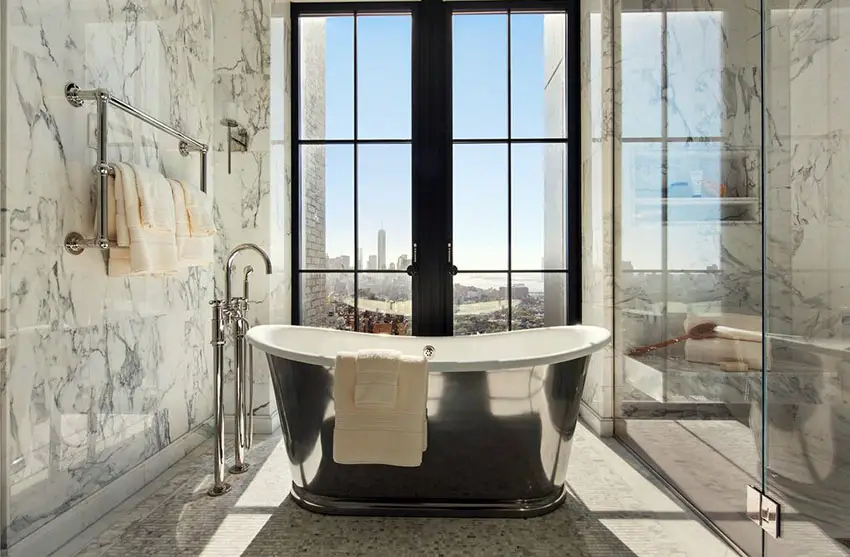 Cost of Materials per Item
This cost breakdown by the National Kitchen and Bath Association may serve as a guide in planning your budget in remodeling your bathroom. Installation and labor costs take up majority of the budget at 20%.
Cabinetry and hardware come in next at 16%, followed by fixtures at 15%, faucets and plumbing at 14%, flooring at 9% and countertops at 7%. Lighting and ventilation, walls and ceiling, both take 5% of the budget.
Doors ,windows and design fees cost 4% each and the remaining 1% of the budget goes to other expenses. Of course, you may plan your budget according to your preference, the possibilities are endless but having a guide is important especially if this is your first time to engage in this type or project. It is also a wise to reserve a contingency fund for any unforeseen costs.
The list below shows the average price of each material involved in remodeling a bathroom. This covers prices ranging from low end project to high-end projects, including the installation cost for each type:
Water Closet or toilet : $130 to $780

Sink : $190 to $6,500

Shower: $450 to $10,000

Lighting fixtures: $120 to $4000

Flooring: $800 to $7,000

Countertops: $900 to $6500

Cabinetry: $1,200 to $13,000

Bath tub: $400 to $ 8,000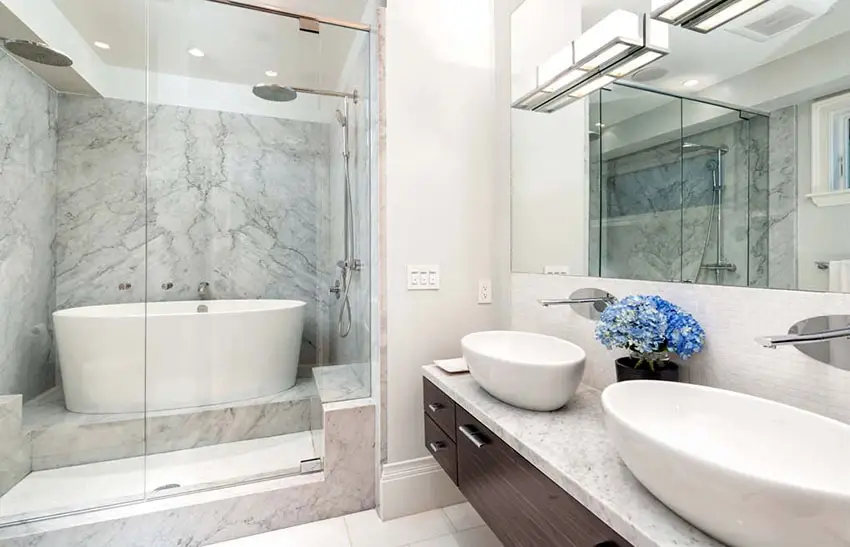 Small Bathroom Remodel Ideas
Space constraints and existing site conditions may sometimes prevent you from expanding your bathroom to a bigger room you envisioned it to be. However, there are still several practical styling solutions you can follow to make the most out of your small bathroom design.
Here is a simple remodeling guide you can follow in maximizing your small bathroom space:
Choose a light color palette for your bathroom. As a general rule in design, light colors make a room appear bigger. A color scheme consisting of crisp white tones, a cool shade of gray or a dreamy powder blue hue, make spaces appear bigger as compared to darker tones. They do not only add a fresh airy feel to a space but works well with any design style. You may also opt to choose one paint color for the walls and the ceiling to create continuity.
Use the right type of bathroom fixtures. A pedestal sink or corner sink do not take up as much space as a full-sized vanity sink counter. Also, choosing the right shape and size if your water closet can improve work flow within the space.
Use a shower curtain instead of a shower enclosure. A shower curtain functions the same way as a shower enclosure does for privacy. It also allows you to explore more on design options when it comes to patterns and prints. Just remember to stick with large patterns.
Emphasize vertical lines. The prominent use of vertical lines in a space creates an illusion of height. A striped wallpaper or floor to ceiling tiles will make your bathroom feel more expansive.
Incorporate wall niches in your bathroom. Wall niches do not only add visual aesthetics but serve for great purpose as well. If placed within the shower area, it can be used as a storage for toiletries.
Incorporate smart built-in storage units. Hanging storage and open built-in shelving frees up floor space.
Use reflective surfaces. Mirrors tend to trick the eye by giving the illusion of doubling up the space.
Keep the area well lit. Allow natural light to pass through the space by using sheer curtain for the windows. For windowless rooms, a small skylight will instantly brighten any dim bathroom. Contemporary bathroom chandeliers in gold, copper or brass finish can create visual interest of opt to go with stylish pendant lights to get the lighting just right.
Use the same tile for the walls and the floor. A current design trend in bathrooms is the use of the same design for the wall and the floor. Bathroom tiles now come in faux finishes such as veined marbles or coarsely flecked stone which work best for this design principle. To add character and depth to the monotony of your color scheme,create contrast by combining different textures of surfaces and finishes.
Splurge a little. Adding a little extra such as a unique natural stone vanity counter top to your small bathroom, can create a big impact in term of design. Do not skimp on key materials. You may consider on upgrading some of your finishes since you are buying less materials.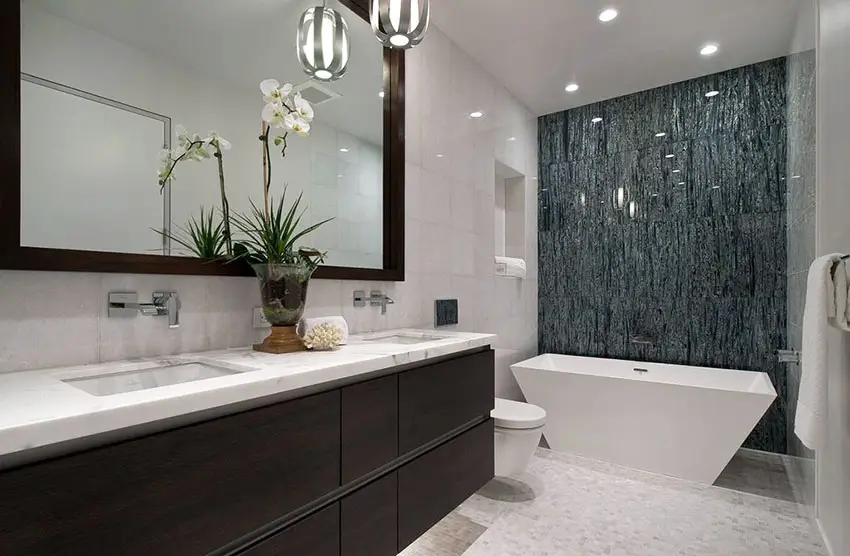 Cost of Remodeling a Small Bathroom
The typical range for the cost of a small bathroom remodeling project can range from $1000 to $15000 a prices may still vary depending on the materials used and the labors contracted. For example, using a high quality fixture may naturally cost more than using a standard one. Special finishes and fixtures with special features are also more expensive. But on the average cost for remodeling a small bathroom can amount to around $9000 per project.
There are two general factors which contribute to the cost of remodeling a small bathroom, the material cost and the labor cost.
Material Cost. Materials alone can cost a hefty amount of money. These includes your finishes such as the floor and wall tiles; new fixtures such as the sink, a water closet, bath tub or shower enclosure; hardware and bathroom fittings such as faucets and shower heads; electrical works such as lighting, waterproof convenience outlets, lighting and special materials such as the sink counter top. These can cost about $8000 to $10,000 depending on the type. Making your bathroom accessible and compliant of the universal design standards will also cost more, adding about $2000 to $3000 to the average price.
Labor Cost. As a general rule, the cost of labor is usually twice the amount of the cost of materials. This may vary but this gives you a simpler way to estimate how much of your budget goes to the fees for your contractor and workers.For a small 100 square foot bathroom, labor can cost an average of $12,000 to $ 13,000 if the project runs on a high end range. This already includes the full scope of work form plumbing, electrical to installation of fixtures.
Sample breakdown of cost for small bathroom remodels:
The numbers reflected below is just a general estimate based on a small full bathroom space with new basic fixtures such as a bathtub, sink and water closet.
Plumbing materials and labor : $3000

Non plumbing labor: $ 9000

Sink : $100

Tub: $450

Toilet or water closet: $175

Floor tiles : $800

Countertop and mortar: $200

Cabinetry (storage and vanity): $550

Miscellaneous building materials and other supplies: $500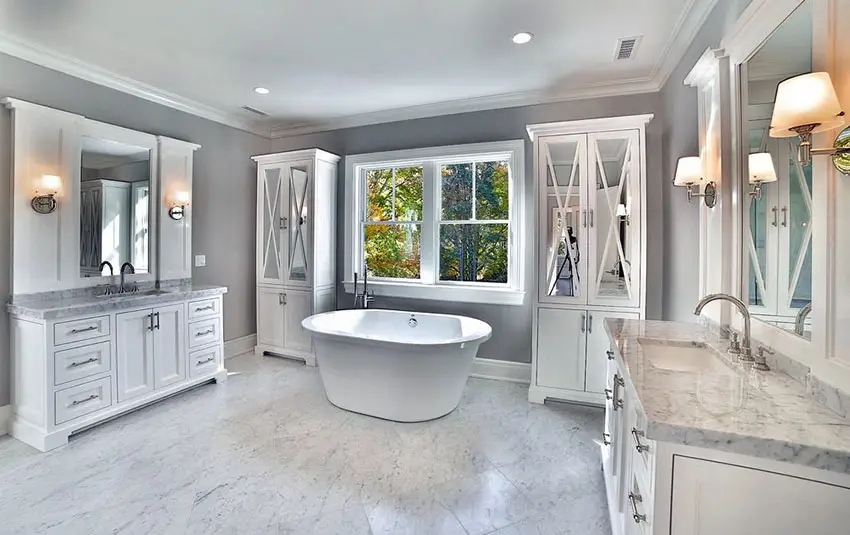 DIY Remodeling Ideas for the Bathroom
If you have sufficient knowledge on minor renovation work for remodeling your bathroom, you can try on accomplishing the project on your own. However, keep in mind the possible downsides of engaging on a DIY project.
Upgrading how your bathroom looks doesn't always need to involve the complex, dirty work. Simple improvements can transform your bathroom into a relaxing space without damaging your budget. Here are some practical solutions you can apply in a "do it yourself" bathroom remodeling project:
Re-grout your tile. Caulk and grout are often neglected in a bathroom. Dirt and grime usually get stuck in between them making them unsightly especially if they come in white or a light color.Cleaning and reapplying grout between tiles can cause a significant difference if you want your bathroom to look fresher. It also an inexpensive way to liven up tiles.Re-grouting is an easy task, requiring only a sponge and a palette to apply.
Paint.

Repainting is the most effective and easiest way to give your bathroom a new look. Applying a cool green hue or a powdery shade of blue to the walls can transform your bathroom's ambience into a light, relaxing space.

Just take into consideration the moisture present within the bathroom. Due to temperature changes, mildew tend to develop faster, so make sure to invest on high quality or specialty paint products such as a mold resistant paint.
Use the appropriate surfaces when choosing your materials.

Aside from the aesthetic value,bathroom surface contribute to the lifespan of your bathroom.

Choosing the right material finishes could save you money in the long run in terms of maintenance.

Since the bathroom is exposed to humidity changes and high moisture, choose tiles which are impervious to water and slip resistant. For countertops remember to use surfaces which are non porous, well sealed and stain resistant. Be sure to select materials which can survive the wear and tear of everyday use.
Change lighting fixtures.

Proper lighting significantly changes the ambience of a room. It includes the right color and layering. It can be as simple as changing your bulb to a warmer or cooler color, or refurbishing an old ceiling light.

If you want to add accent lighting, simply change the color of your secondary lighting fixtures to warm white. If you want to make your bathroom more modern, look for a simple, streamlined ceiling light.
Improve the small details.

You can always redo your existing bathroom fixtures and accessories instead of buying new. Instead of buying a new wooden vanity, refurbish an old one by using wood stain.

Glass enclosures or windows can change from clear to frosted just by using stickers. Frame old mirrors with the use of ready made molding.Refurbish hardware using spray paint. Change the placement of a toilet paper holder for easier access. Instantly add accent walls to the back of your water closet by using stick-on wallpaper.Add wall decor to make the space more lively. Incorporate indoor plants for a fresher look. Explore your creativity. A little extra goes a long way.
Use Bathroom Remodel Software. There is an assortment of bathroom remodel software that can help you visualize your DIY project based on an existing image or by constructing your own design from the dimensions of your space.Many of these programs are user friendly, inexpensive and can be learned without any prior experience. They can be extremely helpful for idea generation as well as determining your future bathroom layout.
We hope you enjoyed these bathroom remodel ideas. For more bathroom design ideas with pictures, check out our design gallery for creative ways to remodel your home.