Welcome to our guide to the best bathroom countertops, including design ideas and popular materials for your space.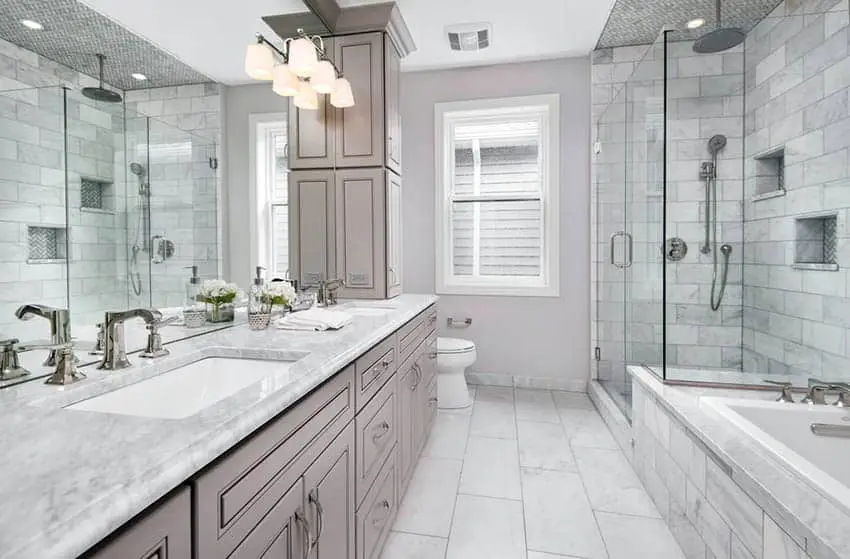 When designing a home, a bathroom is a room that you will use every day, multiple times, therefore making it quite important! Countertops are high use areas that need to be both durable and attractive.
There are many options when choosing which materials will be the perfect fit for the space. These materials include laminate, tile, wood, granite, solid surface or quartz.
Best Bathroom Countertop Material
Choosing the best material for your bathroom countertop often depends on your taste and the style you are going for. Below we cover the most popular materials for bathroom vanities as well as some pros and cons of each type. To read more about bathroom faucets visit this page.
Granite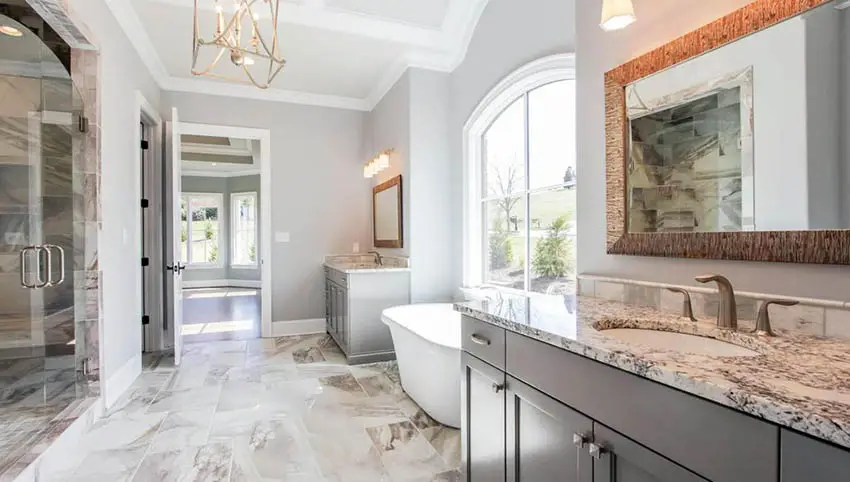 Granite has quite a lot of pros that make it a very valuable resource for countertops in general, but specifically bathrooms. Granite is a strong surface that will be a reliable countertop, even when wet. It is solid and there are not worries of cracking or breaking.
Granite is a natural stone, not a man-made product such as laminate or solid surface. This puts it in a small environmental impact category as long as one isn't shipping it halfway across the world.
This stone can be changed into almost any color, making possibilities of uses and designs endless. In the category of granite, one can pick slab, tile, or modular counters. Slab will be the largest, tile the smallest, with modular as the in between.
Bathrooms with granite will need maintenance and sealing, but it is a natural stone and the appearance is a higher quality then man-made counters.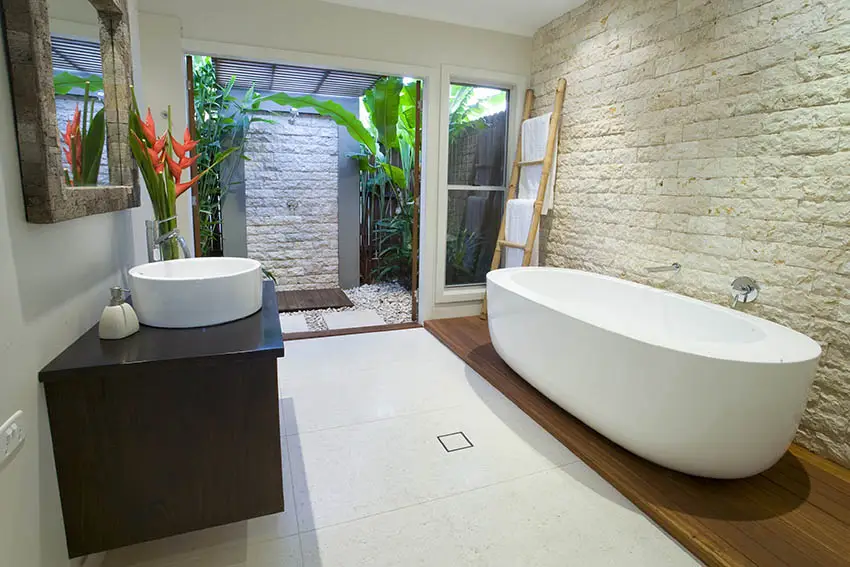 The only thing stopping anyone now is their imagination (and the size of their bathroom). Some downsides to granite though are the extreme weights, which drive shipping and installation prices.
You need to put into consideration the limitation of available slab sizes, as different types of granite are only available in certain sizes, therefore those who want to have a seamless stone on a very long countertop surface might need to reconsider or double-check on size availability of their preferred material.
Granite must also be sealed and requires regular maintenance to keep looking beautiful. The average price of a granite slab ranges from $40 to $200 per square foot depending on quality, thickness and size.
Granite tiles would cost around $5 to $15 per square foot while modular ones would be around $25 to $50. On average, one should expect to spend an average of $2000 to $4500 for material and installation of a granite countertop.
Quartz
Quartz is quite similar in appearance to granite, while being 90% organic with only 10% being pigments and binders needed to create the counter.
Some popular brands of quartz include Dupoint and Cambria. Keeping in mind that as a natural stone, process will be on the higher side compared to laminate or solid surface.
Some people would prefer quartz countertops because unlike granite and other natural stones, it is non-porous as it is binded by resin, making cleaning and maintenance easier.
Additionally, because the surface is non-porous, it is very hygienic as there are no tiny pores for bacteria to thrive. Another advantage of quartz is its heat resistance – it doesn't bend or warp even in direct contact with heat, and burn marks can be easily sanded off.
Quartz is also lauded for its scratch and impact resistance – it is more durable than natural stones because of its binders.
Perhaps the most important take-away from selecting a quartz countertop would be its cost. It is a little less expensive than granite, but costs more than twice as much as solid surface.
Depending on the brand, the average cost of quartz would be around $75 per square foot, up to $100 per square foot for the higher end quartz.
Another factor to consider is that quartz is not a good outdoor material – prolonged exposure to sunlight and other natural elements would fade the color/pigments over time.
Marble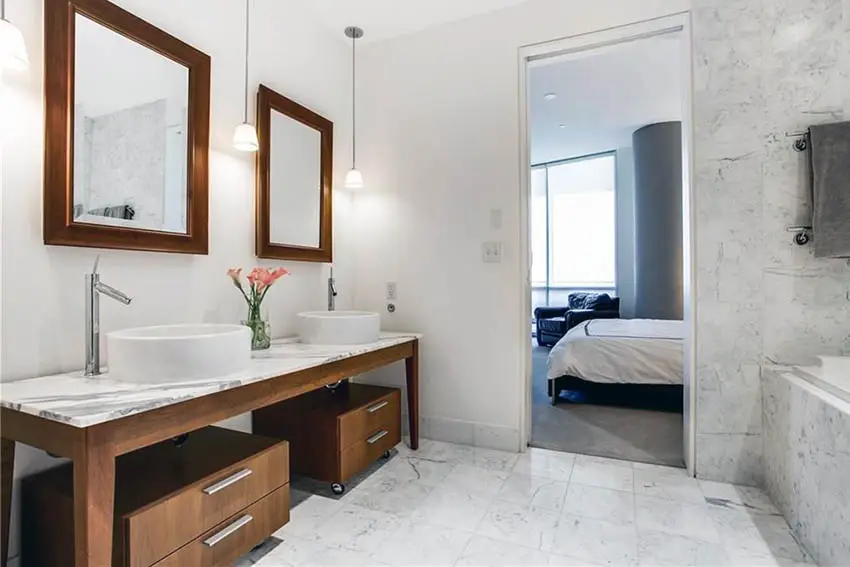 Marble is one of the most beautiful and elegant pieces of stone one can get in their home. Marble comes in a large variety of colors including: black, white, rose, yellow, gray and many more.
No two pieces of marble are the same therefore, each piece is its own work of art. Marble is also a heat resistant material which can make it good for people that use heated hair products (straighteners, curlers, etc).
It is also a very widely available material, and can be one of the cheaper natural stone option, provided that you select a common variety like the Carrara marble.
Marble is often used throughout a design including the countertop, flooring bathtub surround and bathroom shower with excellent results.
Some downsides to marble though is that it is a porous material, meaning liquids do penetrate the stone. This can be rectified with sealing, which you have to do with most other materials anyways.
As a natural stone, marble is also susceptible to scratches which may mean this particular material should be saved for the master bedroom versus the kid's bathroom. It is also prone to chipping, so it is best to keep it away from hard, heavy objects that could possibly break it.
On average, a marble slab would cost around $40 to $250. The installation cost would largely depend on size, area of installation and design, so do keep that in mind.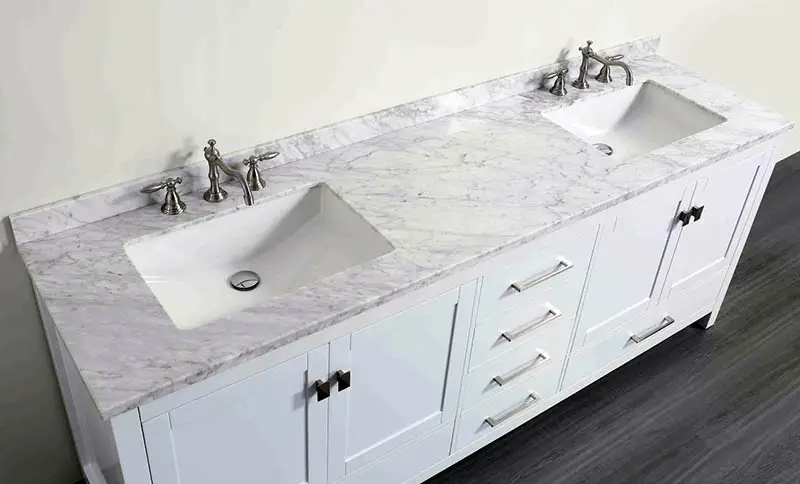 Bathroom vanity with Carrara marble countertop
Laminate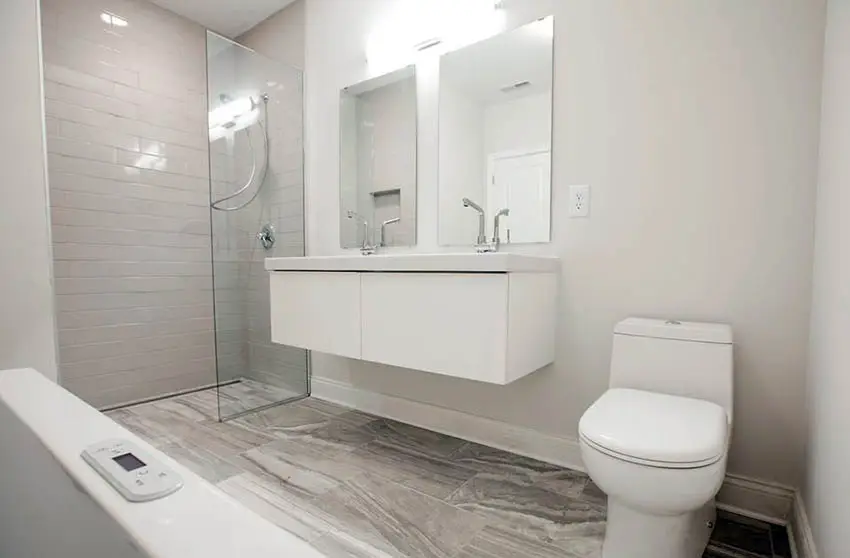 Laminate is a cost saving substitute over using natural stone or solid surface materials like Corian, and has come a long way in the last several years. Wilsonart and Formica are some of the top laminate manufacturers and have some beautiful options that can make a low budget countertop look expensive.
The selling point of laminate counters would be the cost. It costs around $20 to $36 per square foot, making it an ideal choice for those on a tight budget.
It also has a wide variety of color and design options. Higher-end laminates have designs that can mimic natural stones as well. Installing professionally can give you a countertop that looks just like its more expensive counterparts. It is also very lightweight and is very easy to install.
Because laminate is thin, do keep in mind that it is not as durable as stone or quartz. They are easy to damage and scratch, and once you "wound" a laminate surface, the only way to fix it is by replacing the whole laminate cover.
Higher end laminate manufacturers make laminates that are much more heat and scratch resistant, but once a laminate is damaged, the only way to fix it would be to replace it. If you are looking to resell a property, it is also important to know that laminate countertops doesn't add value to resale.
Solid Surface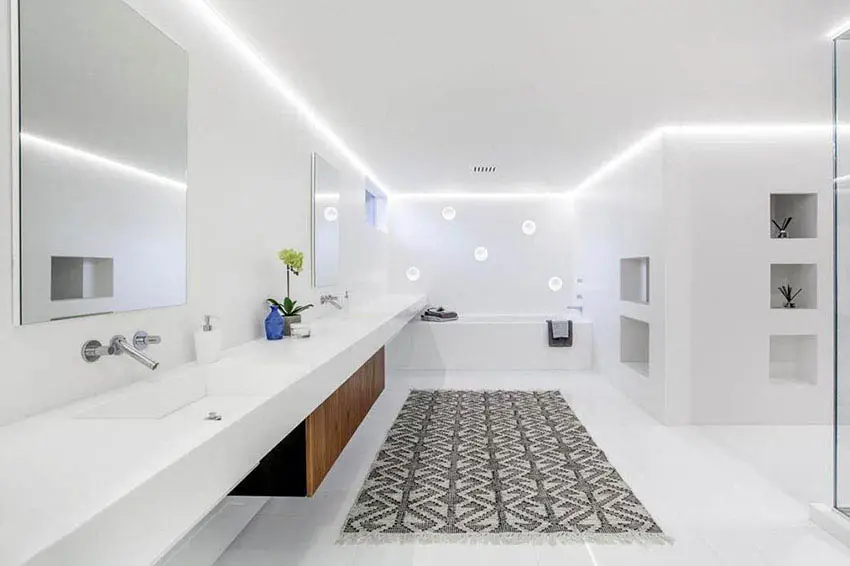 Solid surface is a good happy-medium when choosing between appearance and price. Solid surface is a man-made product which keeps the price down and availability up.
Solid surface are also non-porous like quartz, so upkeep and hygiene is not much of a worry as it is easy to clean and maintain.
Another selling point of solid-surface would be its size availability. As it is a man-made material, you can easily find it in sizes which are usually not available in natural stones, helping you create a seamless countertop surface,
Unfortunately, solid surface countertops are susceptible to scratching and scorching from small appliances. Scratches and burns can be sanded off, however. Another factor would be its expensive installation cost.
On average, the material would cost around $45 to $150 per square foot, but the installation would be around $50 to $200 per square foot.
Wood Surfaces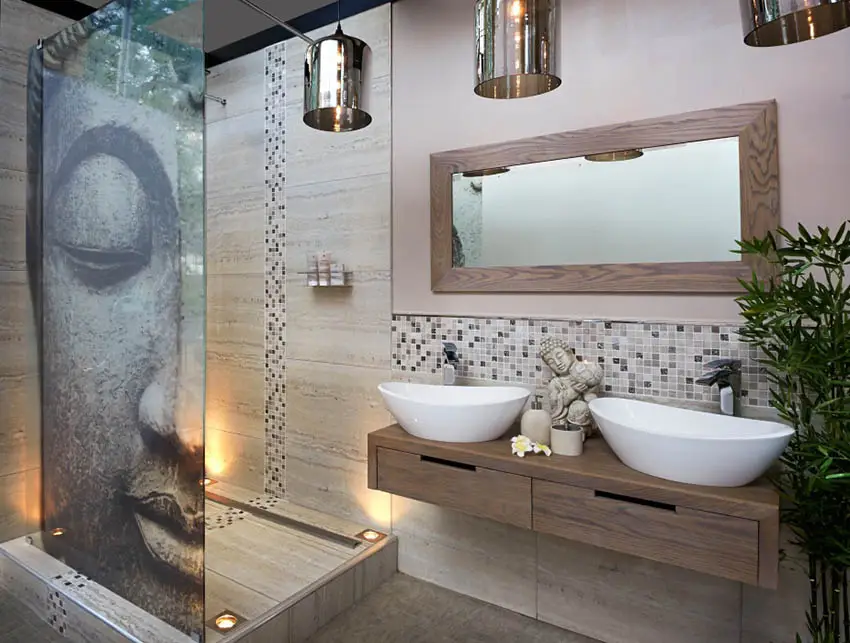 Wood is another choice but a little tricky and must be done right in order to avoid a mess. Wood is a natural material that is extremely susceptible to water damage and molding.
When choosing a wood countertop in a space with as much water splash as a bathroom counter, extra care must be taken to assure proper sealing of the material.
An exciting advantage of wood countertops is that it can help minimize noise even if you end up dropping hard, heavy objects on it. Damages can also be easily sanded and repaired, just keep in mind to use a sealer appropriate for your purpose.
Ceramic & Porcelain Tile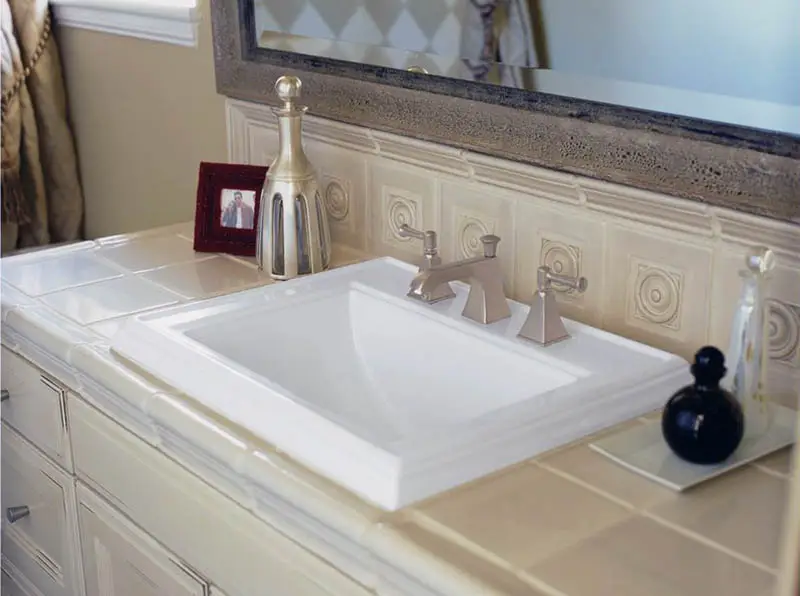 Bathroom with ceramic tile and drop in sink
Ceramic tiles are a good choice for countertops in the sense of cost, however, you won't find many tile countertops being installed in new home construction.
Tile is on the lower end of the expense list due to one's ability to do it themselves, not having to pay for the labor to have someone else deliver and install.
It is also important to note that ceramic tiles can be tricky to install, and might require cutting & trimming. Moreover, ceramic tiles need grouting, and will naturally accumulate dirt and grime especially when not maintained properly. Cost-wise, a ceramic tile counter would only cost around $1 to $30 per square foot.
Best Stone for Bathroom Countertops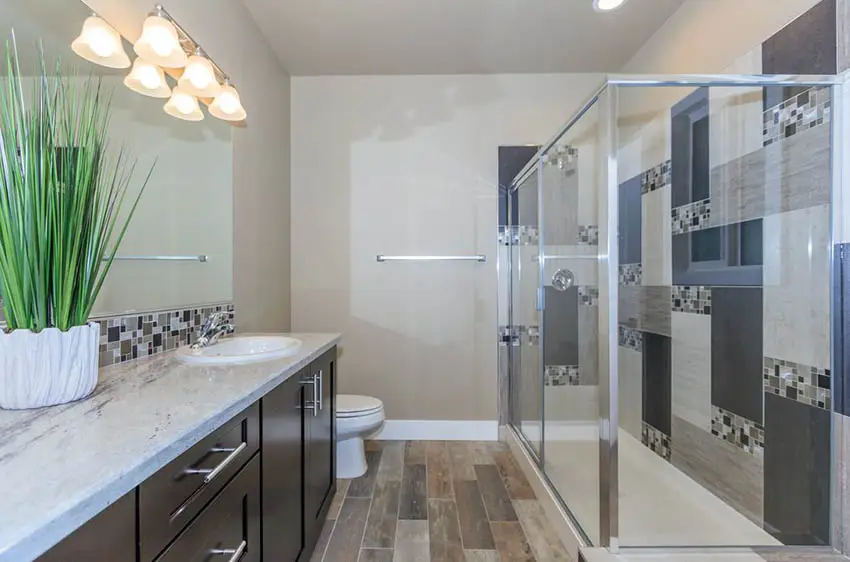 The best stone for a bathroom countertop largely depends on your personal taste. We've previously discussed its average cost and some of it's pros and cons, but here are some of the best stone choices available of bathroom countertops:
Granite: classic material of choice that comes in up to 3,000 colors/varieties. Very durable material, but is porous and can be susceptible to cracks and other imperfections. While expensive, it is a material that can increase the resale value of a home.
Soapstone: this is a natural stone that has recently made a comeback in home applications. These are usually dark gray and has a smooth finish, and have qualities similar to granite, which is why it is often used as a substitute. However, this stone tends to darken/develop patina over time.
Slate: Slate is a great natural stone alternative to granite and marble, as it is more affordable and has the advantage of being a non-porous material.
It has same pros as granite with its durability, scratch and heat-resistance, but with an added benefit of being non-porous, making it easier to maintain.
However, unlike marble and granite which you can give a high shine polish, slate counters are known for its distinctively matte appearance.
Unlike granite and marble, this stone is non-porous, and has a more uniform colorization. It is also very durable and heat resistant.
You cannot expect a very uniform colorization on any kind of natural stones. However, when compared to granite and marble, slate has a more subtle shift in colorization, making it easier to create a more uniform look.
One of the largest drawbacks would probably be its minimal color selection. It costs around $60 to $200 per square foot, including installation cost, making it a beautiful natural stone alternative.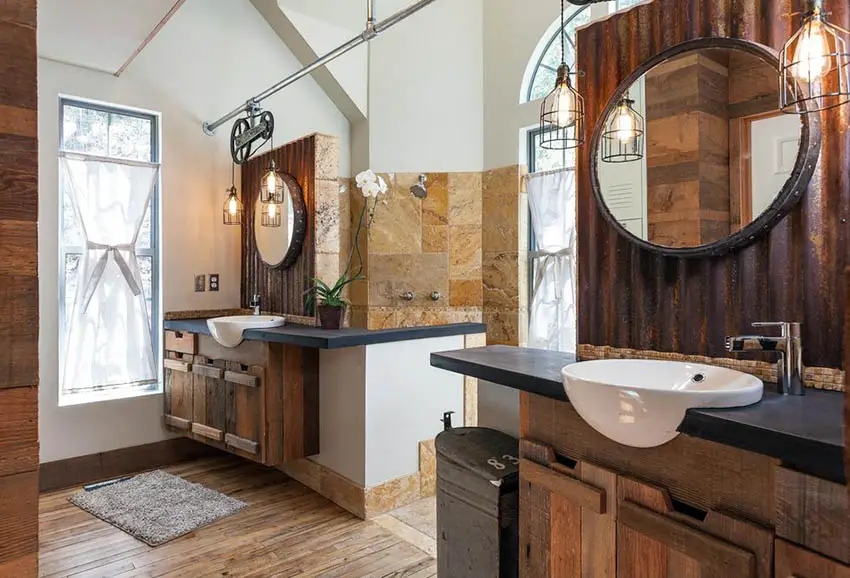 Marble: instantly gives a classic, timeless look to any space. While quite susceptible to stains and scratches, with the proper sealants, you can help maintain any marble surface to keep it looking as good as new.
Quartz: also known as engineered stone. It is highly durable, but is can also be quite expensive. However, it gives you the most flexible application as it can be custom-made into any size or shape.
Best Wood to Use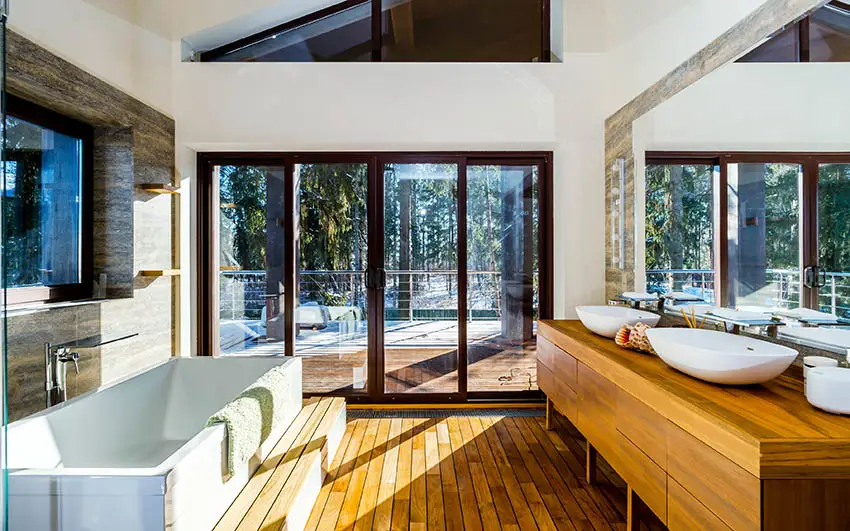 As briefly mentioned above, wood countertops are a completely viable option for bathroom counters. Many people are scared off by the thought of having water anywhere near wood, and they are right to be a little bit skeptical.
Wood is a natural material, and this means that if not appropriately sealed things such as rot, mold, and scratches can bring the counters to a less than pristine shape.
Sealing the wood countertop is the most important part to maintaining a long lasting surface. Sealing may be something that someone doesn't want to do regularly.
However, most surfaces including all natural ones will need to have a sealer to protect it and maintain it natural beauty.
The best wood to use in a bathroom counter setting will be a hard maple wood, this will create a butcher block look to the counters. Hard maple has a straight grain and is one of the stronger woods regarding its resistance to scratches and overall durability.
If the butcher block style is not desired, hard wood will be suitable for a bathroom countertop. The harder the wood, the more resistance to abrasions and the better the durability qualities the wood will possess.
Often the harder woods are used on furniture so looking for woods typically used in that sort of construction can be a good start.
Popular wood bathroom countertop materials include:
Hickory: As the strongest American wood, Hickory could find itself right at home in a bathroom that is assumed to have a lot of wear and tear headed its way.
Teak: Offers an exotic color, with natural oils that make it more moisture resistant.
Black Walnut: Color can vary with walnut, but has a great grain pattern to it as well as it is a tough wood.
Tigerwood: Being another one of the hardest woods available durability is not in question.
Bamboo: Eco-friendly top on the wishlist? Bamboo is modern and an ecofriendly renewable resource that can be a perfect countertop.
Beech: For affordability, aesthetics, and a widely available wood, beech holds up strong. Beech can also easily be stained to fit to any look a bathroom desires.
If you would like to see a variety of countertops materials in a design there are bathroom remodel software programs available to help with visualization of your ideas.
Many of these programs allow you to upload a picture of your space and try out different finishes, materials and colors to see what you like best for your design project.