Below is our guide to laminate bathroom countertops including their cost, how long they last, if they are waterproof, and how to update, paint and protect your laminate countertops.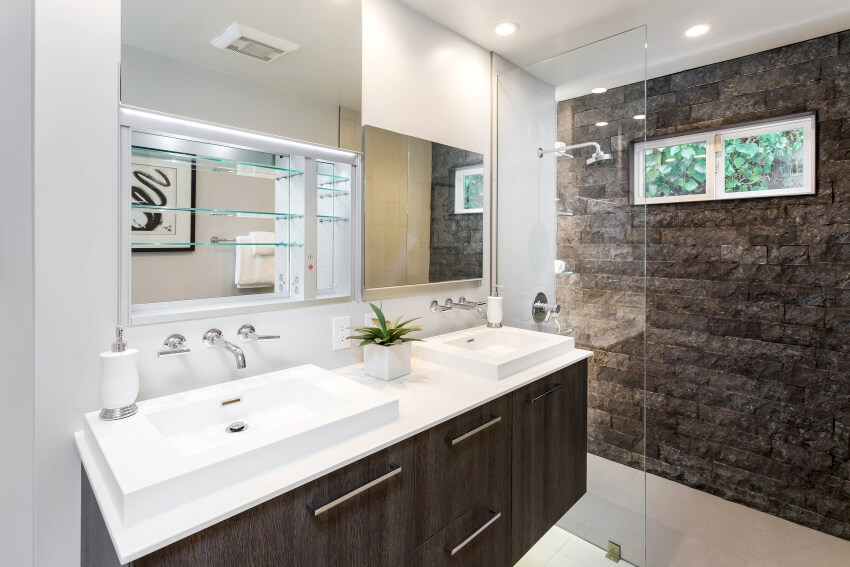 Many in the interior design industry are on board with the revival of laminate as it is seen that the new, improved features make the "cheap" material a cost-effective alternative for budget-conscious homeowners.
With longer-lasting surfaces, quality edging, and improved material simulation, we're eyeing laminate, especially for the high-pressure laminates, as a practical material for bathroom countertops.
Dubbed as the "great imitator," laminate bathroom countertops can simulate the look of natural wood, stone, or any texture inexpensively. This offers an opportunity for homeowners to have the look or style they need without compromising quality.
This article lets us know more about what is laminate bathroom countertops and the features of the modern laminate material.
What Are Laminate Countertops In The Bathroom?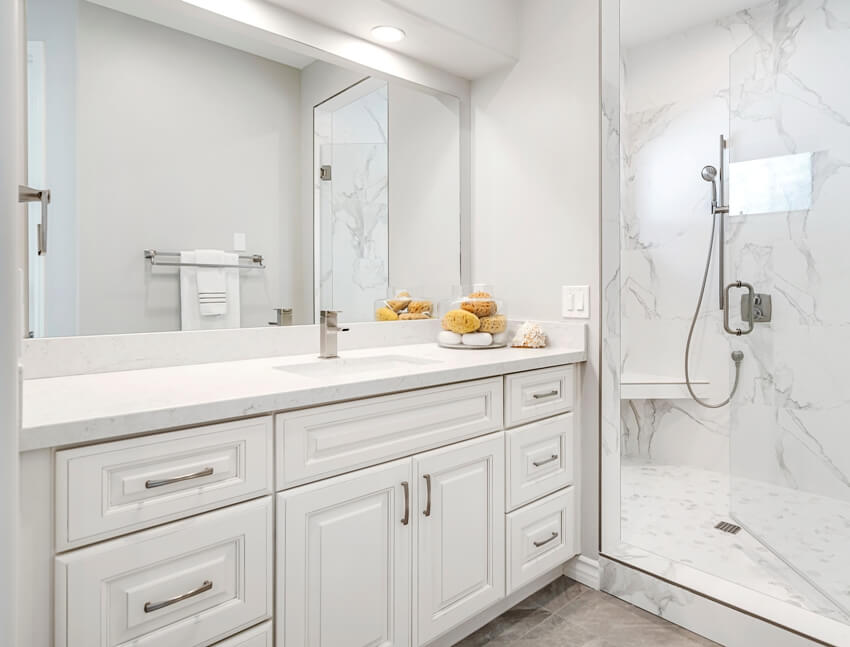 Laminate countertops used in the bathroom are basically constructed by bonding two or more layers of materials to create a strong flat board. Laminates used as a bathroom countertop will typically have an overlay to protect the decorative layer which bears the design or print. The rest of the layers in a typical laminate countertop will have substrate layers.
The bonded layers are subjected to high pressure of 1000psi to 1400psi. The sandwiched layers are now fused together under heat and pressure resulting in an impermeable surface and durable structure.
High-pressure laminates, which are manufactured by saturating multiple layers, are a very good option for heavy-use and high-traffic bathrooms because of their increased durability. While most laminate bathroom countertops are impermeable, which means you don't need to worry about water stains or mold build-up, the HPL ensures a scratch and dent-free surface.
One of the improvements we see in today's laminate countertops is the evolution of their edges, where they cannot be peeled easily and are impact-resistant. The evolution of the material also includes the availability of even the most complicated edge designs.
You can now have laminate bathroom countertops with bevels, ogees, squared edges, and bullnoses that complement both modern and traditional styles.
Are Laminate Countertops Waterproof?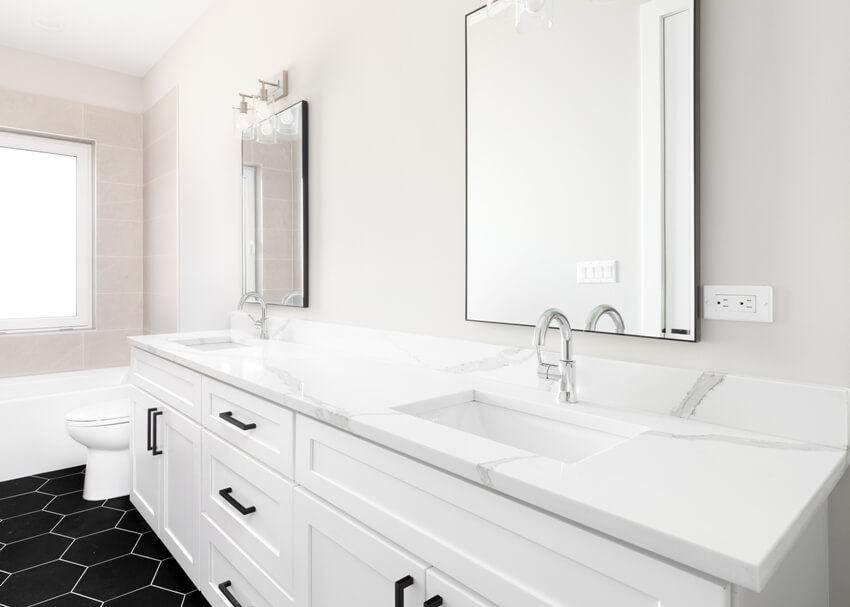 The surface of a laminate countertop is made from plastic that is impermeable or does not have any pores where water can seep through.
As not all laminate countertops are made equal, in general, laminate countertop as a whole can withstand moisture but does not mean it won't receive water damage.
Depending on the brand and quality of your laminate countertops, water and moisture can seep through exposed folds or joinery. To benefit from a total impermeable surface for your bathroom countertop, especially for under-mount bathrooms, apply a laminate countertop sealant.
The sealant can consist of resin, acrylic, or polyurethane components. For smaller bathrooms such as a powder room, you can use acrylic for surface protection, the more affordable option. An epoxy-based sealant is a great option when sealing larger bathroom countertops as it leaves a thick, glossy, and durable surface.
How Long Will Laminate Countertops Last?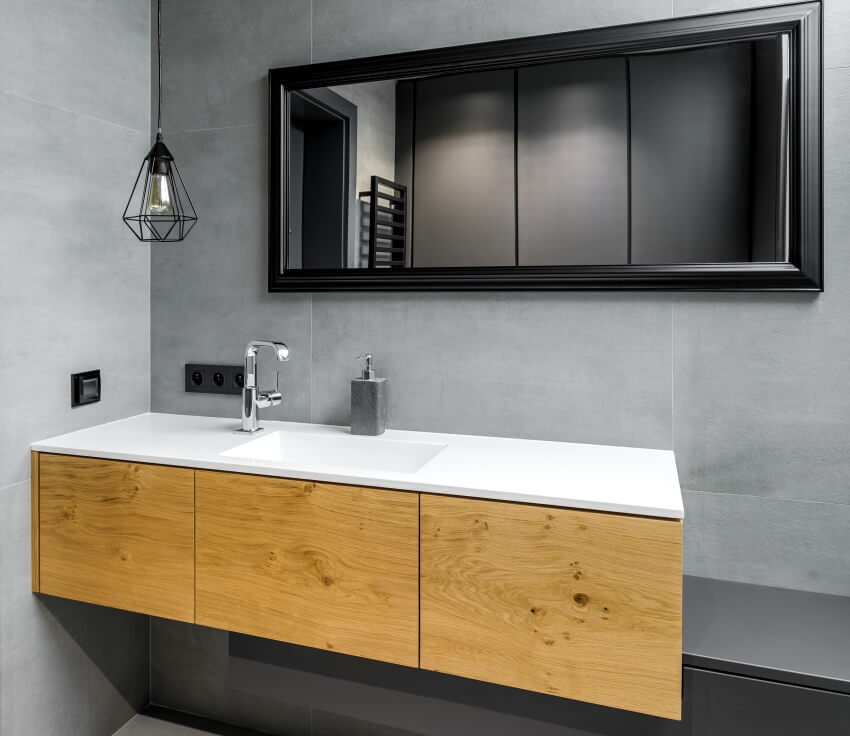 Laminate countertops, when properly sealed and cared for, will last an average of 20 to 30 years. The service life of laminate countertops will also depend on the composition and quality of your materials, as well as the quality of installation. Generally, the noticeable damage that manifests is the fading of the color surface.
Is There A Difference Between Laminate And Formica?
Formica® is a brand name similar to another popular laminate brand, the Wilsonart®, while laminate is the material itself. The terms are typically interchanged because of the popularity of Formica as the go-to brand of laminate, similar to how fiber cement board and Hardiflex are interchanged.
How Much Do Bathroom Countertops Cost?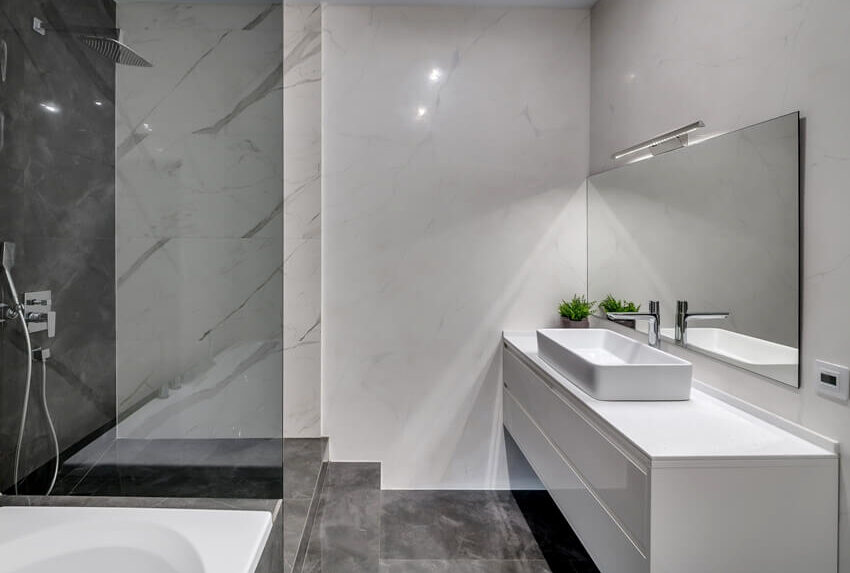 As of March 22, 2022, the cost of a laminate countertop is $10 to $40 per square foot for the material alone, which makes it a sensible DIY project. For the cost of material plus labor, bathroom countertops made of laminate will cost around $40 to $80 per square foot.
The affecting factors for the cost per square meter for laminate countertops include the laminate brand, location of the project, the size of the project, and the design complexity of your bathroom.
Laminate bathroom countertops cost half of the price of granite. Quartz, another popular bathroom countertop material, will run from $40 (entry-level) to $100 per square foot. Know more about quartzite bathroom countertops here.
When you choose natural stone materials for your bathroom countertop, expect to spend $2,000 minimum.
How To Update Laminate Bathroom Countertops?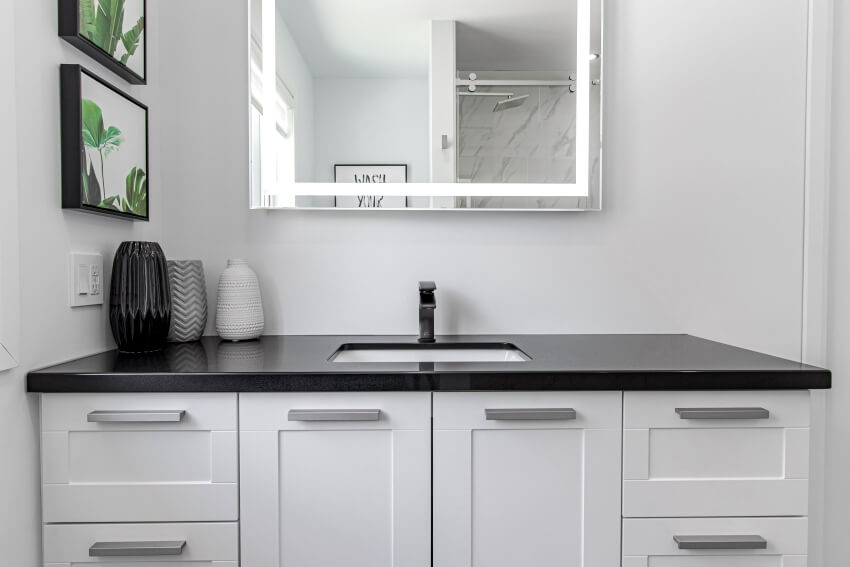 Paint and concrete overlaying your laminate bathroom countertop can update the look of your bathroom. See our concrete bathroom countertops design guide for more ideas.
Glossy Paint. You can achieve a solid color with a glossy sheen with paint. After surface preparation, apply paint. Both acrylic paint and water-based paint can be used.
Acrylic paint is recommended for heavy-use bathroom countertops due to its harder surface, while water-based paints are known to provide a surface that can be easily wiped off and is less odorous compared to acrylic-based paint. Add a glossy top coat for a more polished and professional finish.
Faux Paint. To simulate the look of textured surfaces such as granite, apply acrylic paint using the faux sponge painting method and an epoxy finish that is a boring cream.
The great thing about faux painting your laminate bathroom countertop is that you can have the look of granite with your color choice. Check out granite bathroom countertops here.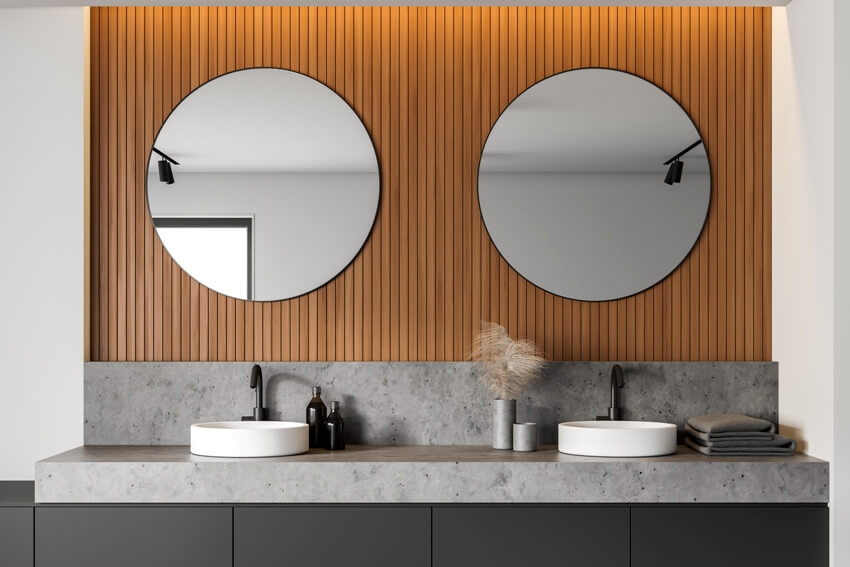 Concrete Overlay. A popular trend today, the concrete overlay technique can transform your laminate bathroom countertop into an inexpensive modern, and chic look. You can achieve a clean, sleek look by applying a gloss sealant finish.
To achieve a glass-like surface for your overlayed laminate, use a grinder with an 80 to 150 grit metal-bonded diamond. (The higher the grit, the smoother the finish).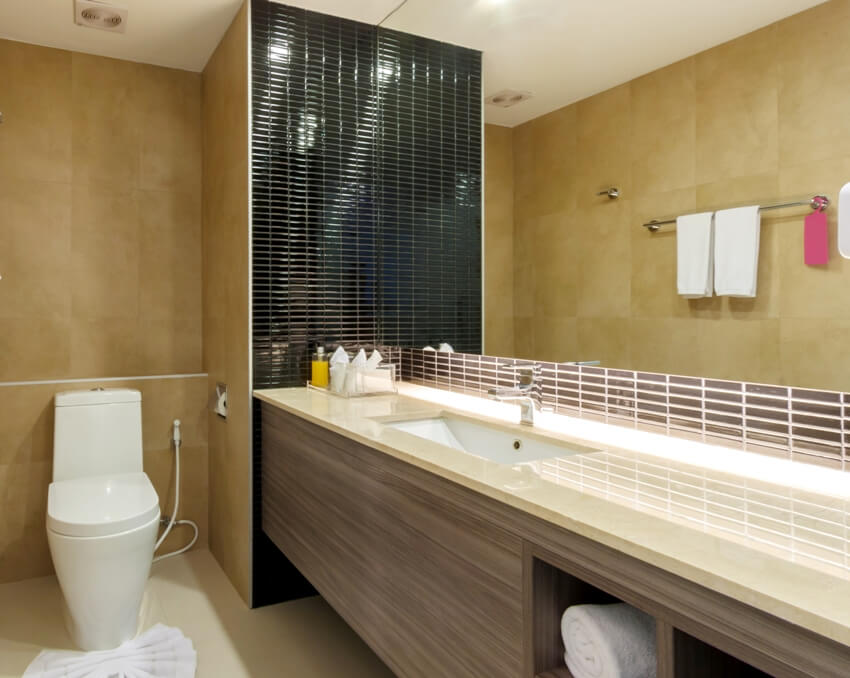 Tile Overlay. Over an old laminate countertop, ceramic or natural tile can be used, but surface preparation, particularly with rolled edges, might be challenging. So that the tile adhesive sticks to the plastic laminate, sand it with coarse (50-80 grit) sandpaper.
How To Paint Laminate Bathroom Countertops?
The general procedure in painting any surface is to sand, cover parts that won't be painted, apply primer, apply paint (2 coats recommended), apply top coat, and apply sealer.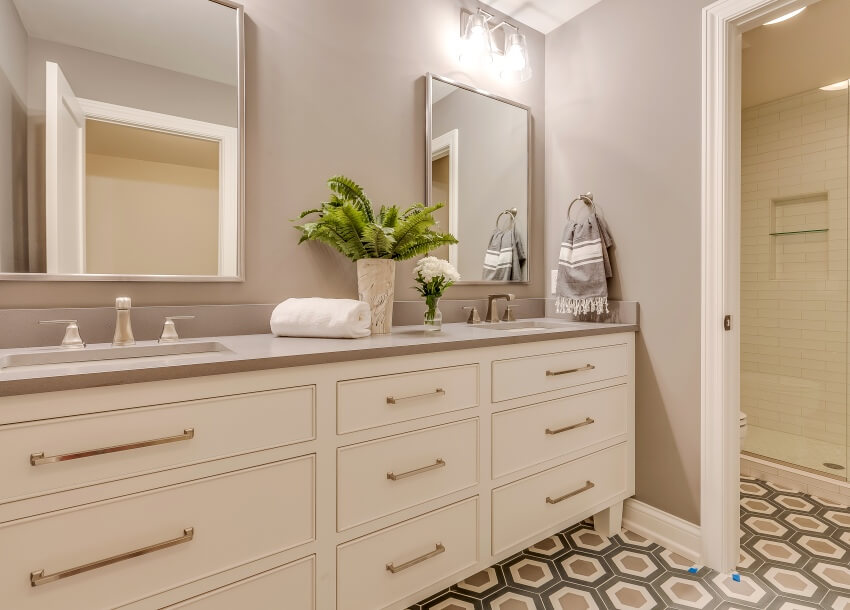 Step 1. Sanding the Surface. Using sandpaper with grits of 200 to 220, smooth the surface. For smaller countertops, you can use sandpaper, but an electric sander will make the process easier and faster.
For the edges or hard-to-reach areas, use a sanding block after sanding the whole laminate bathroom countertop dust off the surface.
Then, apply mineral spirits using a lint-free cotton rag. Let the mineral spirits dry and inspect the surface for any dust left on the surface. Uncleaned dust can lead to a rough and bumpy surface.
Step 2. Surface Preparation. Use paint strips or tapes to cover areas that won't be painted. For larger areas such as a laminate floor, wall or furniture, cover them using plastic or newspaper.
Step 3. Apply Primer. Apply an even coat of primer paint to the surface using full roller strokes starting from front to back. As your wet paint edge approaches the area surrounding the sink or the little backsplash surface, prepare to use a trim brush to paint the surface. Give your primer at least six hours to dry.
Step 4. Apply Paint. Then, apply the chosen paint by following the same process as above. Keep a wet edge (simply means keeping the surface wet so as not to apply wet paint to the dry surface).
Allow for an inch of overlap between paint rolls, and don't let the painted edge dry before rolling on the next portion of paint. Depending on the paint manufacturer's application procedure, you'll need to wait for the first coat to dry. The typical drying period is 4 hours.
Step 5. Apply Top Coat. After the final coat has dried, apply a high-gloss top coat for a glossy surface, this serves as an added layer of protection. Roll on the topcoat same as step 4.
Once cured, apply a second layer of the topcoat once the first has cured for four hours and the entire surface has been coated.
Two coats of topcoats should be enough to get a beautiful and durable countertop surface. Allow 24 hours before utilizing your countertops once the final topcoat has been applied. The full cure time for a water-based acrylic topcoat is around 14 days.
How Do I Protect My Laminate Countertop From Water?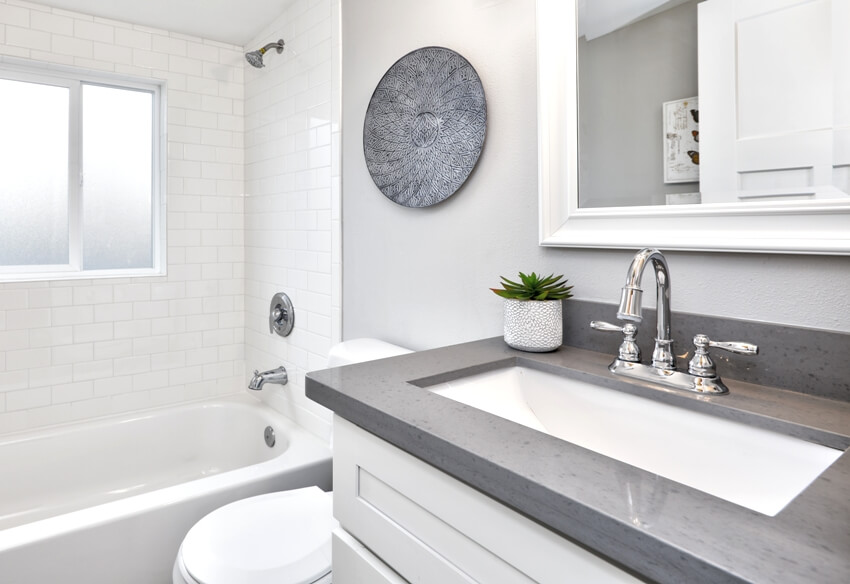 After the final application of paint has dried, give the counter a final coat of high-gloss topcoat to add shine and protection. Apply a second layer once the first has cured for four hours and the entire surface has been coated.
Two coats of topcoats should be enough to get a beautiful and durable countertop surface. Allow 24 hours before utilizing your countertops once the final topcoat has been applied.
It is also advised to clean spills immediately. If you spill or drop a pool of water on your laminate, clean it up immediately as the water when left long, will warp and take on a different shape. You will then have to replace it to restore it to its natural beauty.
A liquid resin and hardener are included in an epoxy laminate countertop sealer. Pour the epoxy over the tabletop and guide it to the edges with a paint stick or other flat implement like a wide putty knife. Because this will solidify within 20 to 30 minutes of being blended, work in small quantities.
These must be blended right away before being applied to the countertop. Because this will solidify in 20 to 30 minutes after being combined, work in small quantities.
To protect countertop seams. Allow caulk to dry for twenty-four hours after rubbing it all over the raw board seam area make sure you don't use too much caulking. Apply a thin application of caulk to the laminate countertops seam area, but make sure it is well coated. Next glue aluminum foil using the same method as described above.