Laminate flooring pros and cons including what it is, if it is good for the home, and its advantages over hardwood and vinyl flooring.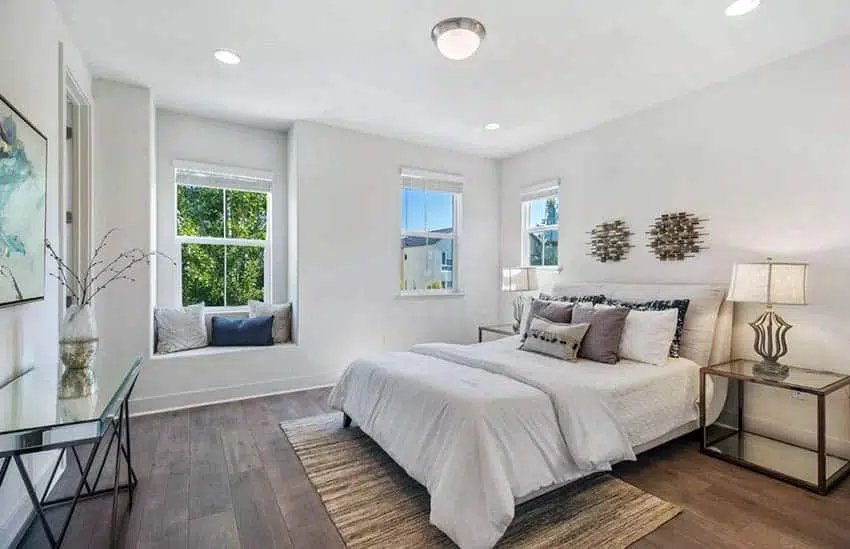 Since solid wood flooring can be difficult to maintain at times, many people have turned to something that will make their cleaning and maintenance tasks much easier—laminate flooring.
But what is laminate flooring? Read on to find out what it is, including its pros and cons.
What Is Laminate Flooring?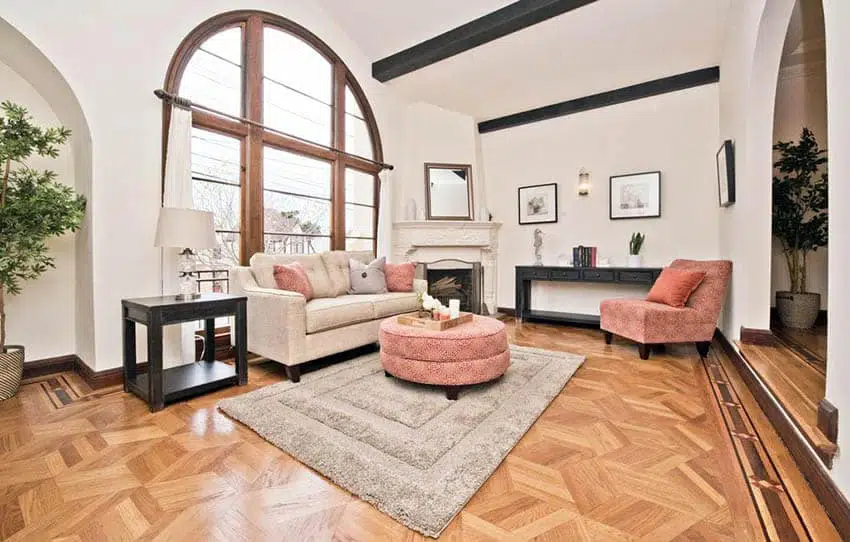 Laminate flooring is one of the most well-known flooring options that are readily available at any hardware store. It comes in a wide variety of choices, including natural wood, rustic, exotic, and antiqued look.
This type of flooring creates a relaxing ambiance in any room. It's also very ideal for places such as entrance-ways, hallways, bedrooms, and living rooms.
Laminate flooring is the perfect alternative to hardwood floors for those who want natural wood but can't afford it. Read more about laminate vs hardwood flooring here.
However, a lot of people are still doubtful about laminate flooring because they think that it's made out of plastic.
Laminate flooring can somehow look like it's plastic-based because of its appearance, design, and affordability. But that's not really the case.
Numerous manufacturers have begun revamping the quality of laminate flooring, while still remaining quite affordable. Most of them already look like natural stone, wood, or solid hardwood.
It's no wonder more consumers prefer this type of flooring to its more expensive counterparts.
But why does laminate flooring look exactly like it's made out of natural materials? If laminate flooring isn't made out of plastic, then what are the materials used to produce such durable and high-quality flooring?
The reason why laminate floors look like pure wood or stone is that they underwent an advanced photographic process that's used to generate the design layer of the flooring.
In this case, this is a high-resolution picture of realistic genuine wood.
The picture is then printed and attached to the center of the fiberboard with a treated bottom layer to avoid moisture detriment. Overall, the flooring is covered by a durable, clear, and scratch-resistant wear layer.
To put it simply, here are the 4 layers that complete the laminate.
The laminate's back layer functions to protect the plank against moisture. It also keeps the floor balanced.
Meanwhile, the core layer found at the top of the back layer is a high-density and tough board that keeps the floor protected from dents and moisture.
Moreover, the laminate's design layer, found at the top of the core layer, is made out of a very high-resolution image of the floor's surface.
Lastly, the wear layer, found at the top of all layers, is a clear layer that's made out of aluminum oxide to protect the flooring against stains, scratches, dings, and fading.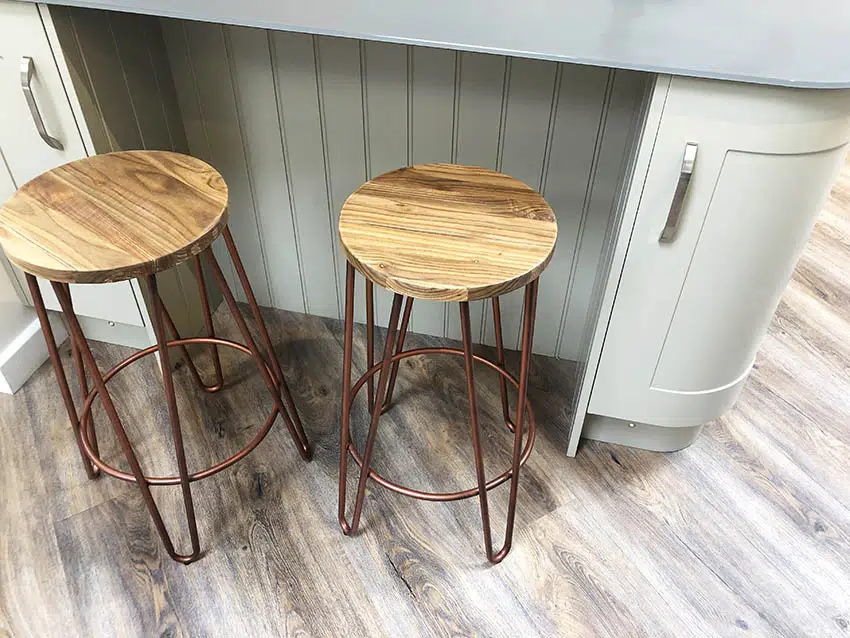 Laminate Flooring Pros
• The ends and edges of laminate flooring are created to snap and connect. Installing it does not require nailing and other complicated processes. Laminate flooring installation allows for a practical DIY task.
• The construction and process where the laminate underwent provide stability to its pieces. It also stops the layers from breaking and opening during humidity changes.
• Laminate floors are easy to install. They are very lightweight and they're installed over an attenuated cushion underlayment. This is a very ideal choice for those who want to change their home flooring but don't want to tear it out. Laminate floors can be easily installed over the existing flooring.
• There are laminate flooring variations like snap-together that are much easier to install. They can be installed even without glue application.
• Using laminate flooring is environmentally friendly. You can apply natural wood-like flooring in your house without using actual wood. This means there's no need to sacrifice old-growth, huge, and exotic trees just to revamp the look of your house.
• The wear layer (top layer) that's used in every laminate floor is exceedingly durable. It's also very easy to clean and maintain. There's no need to use specially formulated cleaning solutions to clean it. Sweeping and gently mopping it regularly are already enough to keep it in its best condition.
Laminate Flooring Cons
• Laminate floors are extremely moisture-resistant. However, persistent moisture problems may lead to water-damaged floors. Thus, laminate floors are not really recommended to be installed in moisture-prone areas like the laundry room and the bathroom—unless they are waterproof.
• Unlike hardwood flooring, laminate flooring cannot be refinished once it has worn out. It has to be replaced with a new one. When you're thinking of installing laminate flooring in your house, ensure that it has a high warranty and quality for great longevity.
• While laminate floors truly look like natural wood or stone, they're still synthetic. It may feel unusually hard on your feet and it may create hollow sounds when you walk on it.
• Cheaper laminate floorings are potentially dangerous since some of them use materials that are made out of harmful and toxic chemicals.
Is Laminate Flooring Good?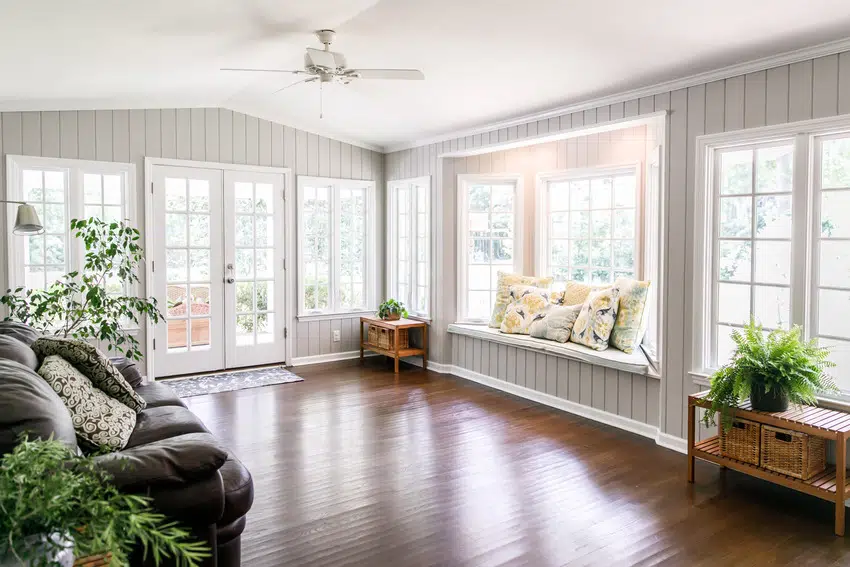 In a nutshell, we can say that laminate flooring is an excellent option in terms of its durability. Moreover, its multilayer structure makes it an excellent flooring selection.
High-quality laminate floors are long-lasting and can highly withstand moisture. Not to mention, they're also very easy to clean and maintain.
Most of these flooring types can resist scratches, fades, and dings, making it a great option for families that have playful kids and pets.
Hardwood vs Laminate vs Vinyl
Hardwood flooring is doubtlessly an outstanding option. It is made out of solid, durable, and natural wood that can be refinished if it gets damaged.
It also enhances the interior of the house because of its elegant and natural look. But since it's made out of pure wood, it cannot withstand moisture.
Laminate flooring, on the other hand, is also an excellent option. Just like what we've discussed earlier, laminate flooring is one of the preferred choices of many since it's scratch-free, fade-free, and easy to maintain.
It's also much cheaper than hardwood flooring. However, what makes it truly amazing is that it can perfectly imitate the look of natural wood or stone!
Vinyl flooring is the most inexpensive choice out of the three. Nonetheless, it is also an excellent option since it can withstand moisture and can be installed effortlessly.
High-quality vinyl floors can also be durable, although not as durable as laminate floors. Moreover, it does not give a realistic wood or stone appearance, unlike laminate flooring. Read more about laminate vs vinyl flooring here.
Is Laminate Flooring In The Kitchen A Bad Idea?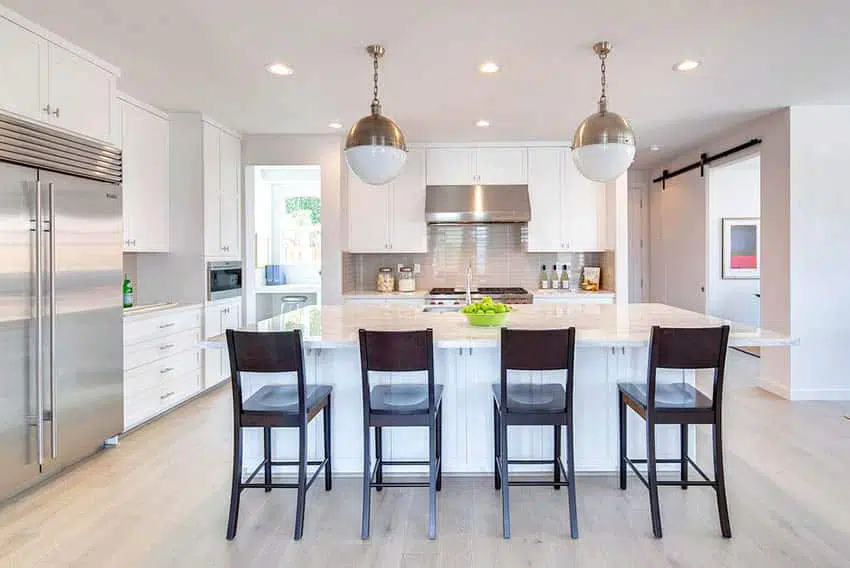 As long as you can immediately clean water spills on the floor, laminate floors can still be a great option for the kitchen. Read more about kitchen flooring ideas here.
If your kitchen is prone to excessive moisture, make sure to seal and glue all the edges and perimeters of the flooring during installation. Adding a moisture barrier is also recommended.
Check out this how to replace flooring without removing tiles article for more related content.