Here we share the laminate vs hardwood flooring pros and cons including which is best for installation, maintenance & durability.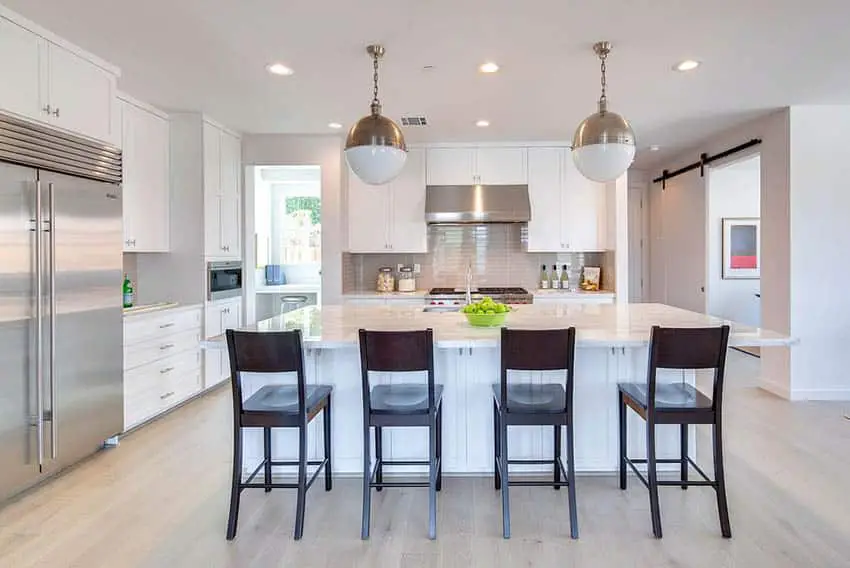 These days homeowners are left with more than one choice when it comes to design solutions regarding flooring options. Two of the most popular flooring choice today are laminate and hardwood flooring. Each have unique advantages and disadvantages which we will cover below.
Laminate is suitable for modern homes for a lower cost than many other flooring types, including hardwood. Nowadays laminate flooring can expertly imitate many of the most sought after wood species available. It is durable and able to resist an abundance of scratches and nicks and comes in planks or tiles depending on your preference.
On the other hand there's no denying that hardwood flooring is beautiful. It can provide the perfect atmosphere through its rich, dense tone of natural wood. Available in planks, strips and parquet design, hardwood is sought after by home buyers and enjoyed for its long life when properly maintained.
What is Laminate Flooring?
Laminate flooring consists of four layers namely wear layer, design layer, inner core and backing. Each layer is assigned to serve a certain task such as the wear layer protects the laminate flooring from scratches and fading. Whereas the design layer mimics the image of a high resolution graphical imagery of a wooden texture. Inner core is a dense fiberboard that provides acoustical absorption, moisture resistance and stability. The backing layer makes sure the flooring is contained with extra resistance to moisture and other hazards. Armstrong, Mohawk and Pergo are considered the top laminate flooring brands as of 2018.
Pros and Cons Of Laminate Flooring
Pros of Laminate
Installation – Laminate Flooring installation process is a matter of putting the laminate flooring boards together on the floor and snapping it over each other which is a very DIY task. There is no requirement for special tools or glues of sorts or professional skills.
Cost – Lamination flooring is seemingly less costly than hardwood in every other way. For instance, the price of hardwood may depend on the choice of exotic trees, or the manufacturing process could be complex to begin with. Unlike in laminate flooring where synthetic layers are merged and topped with a laminated layer, the process is far less costly and simpler than any other hardwood.
The cost of laminate Floors can vary depending on the quality of the grain, texture, stability of the laminate Floor board. Overall as an average, a square foot of laminate Floor would cost $3.00 on-wards.
Durability – The average lifespan of laminate Flooring is calculated up to 10 years if properly taken care of. External elements such as UV, exposure to water or other hazards may lessen the lifespan of laminate Flooring and will distort, eventually.
Moisture Resistance – Laminate Flooring is made out of pressed wood, being the reason it owns characteristics of scratch resistance, durability and resistance of moisture. Laminate Flooring can be performed well even in semi moist areas such as in kitchens or pantries.
Pets – Laminate flooring can serve exceptionally well at houses with pets. The wear layer of laminate Flooring is specifically designed to resist scratches from pets. Laminate Flooring that can be installed in households with pets are wider in range over the rating of Abrasion Class 3. Sticking into these specs will not only serve you with a best Laminate Flooring for pets, in return your pet will have to most comfortable laminate floor board to move about.
Maintenance – Laminate Flooring is generally a very easy going material that can be kept very well if you know what is right to do. For an example, it is highly advisable to purchase laminate cleaner in regards with vacuuming the laminate floor board. It is not advisable to use a damp mop, to sweep or to dress the floor with different kinds of waxes/ abrasives that can risk the lifespan of laminate Flooring.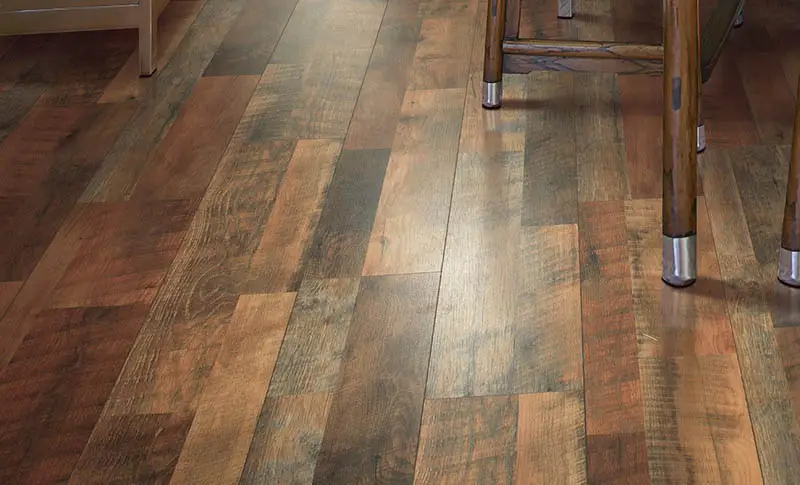 (See this hand scraped style oak laminate flooring at Wayfair)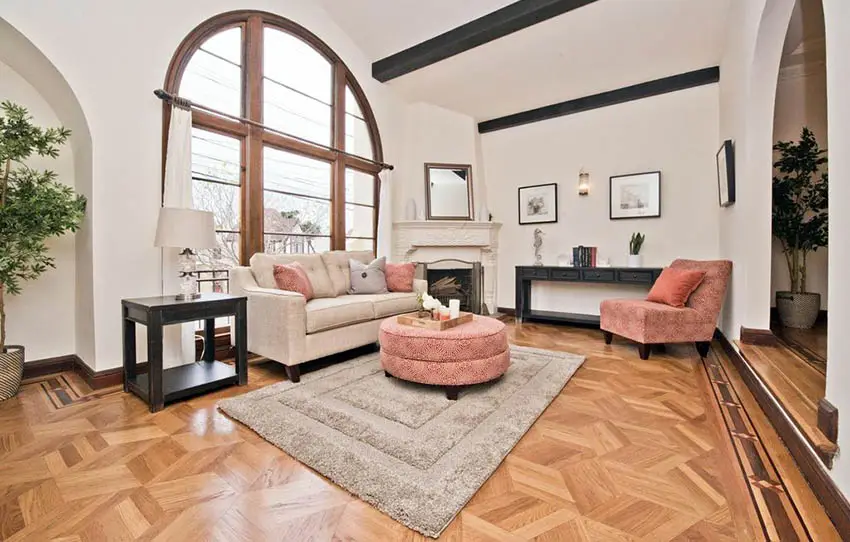 A parquet laminate floor offers a decidedly French look to this room's design. Parquet floors are often used for smaller enclosed spaces such as bedrooms and hallways.
Cons of Laminate
Replacement – The major drawback of laminate flooring is that the floorboards can't be repaired in terms of refinishing or sanding. Though you can opt for replacement of individual laminate floorboards, the new floor laminate flooring would have a considerable mismatch with the existing laminate flooring because of wearing due to age. Thus, it is advisable to replace the whole laminate flooring.
Not biodegradable – Wear layer of the laminate Flooring can contain materials that are not biodegradable. Some laminate Flooring may even use formaldehyde or other hazardous chemicals that has the ability to release toxic elements such VOC.
Synthetic – Although the Laminate Flooring shares many similar attributes of an organic hardwood, the laminate Flooring can be extremely hard and unnatural. Supposedly, laminate flooring quite lacks the organic warmth.
What is Hardwood Flooring?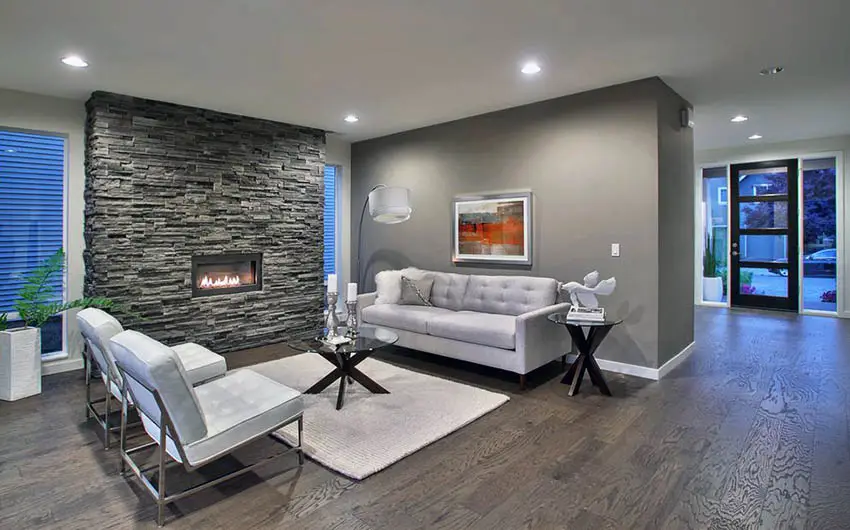 Hardwood Flooring is extracted from solid timber. Solid hardwood flooring is a popular flooring option for the purists and perfectionist who do not want to settle for less. Hardwood Flooring is a long term investment with a good pricing that adds up to the re sale value. With an endless amount of textures and variations of types of hardwood flooring in the market, consumers are only gaining the better. Bruce and Hearne Hardwoods are considered the top brands in hardwood flooring lately.
One of the first considerations to make is whether to buy engineered hardwood floors or solid hardware floors. Engineered hardwood floors often look exactly like a solid piece of wood, but instead of being thick are made of a thinner veneer with other layers beneath. Solid hardwood on the other hand is a complete piece of solid wood from top to bottom. You can read more about the types of hardwood floors here.
Pros and Cons of Hardwood Flooring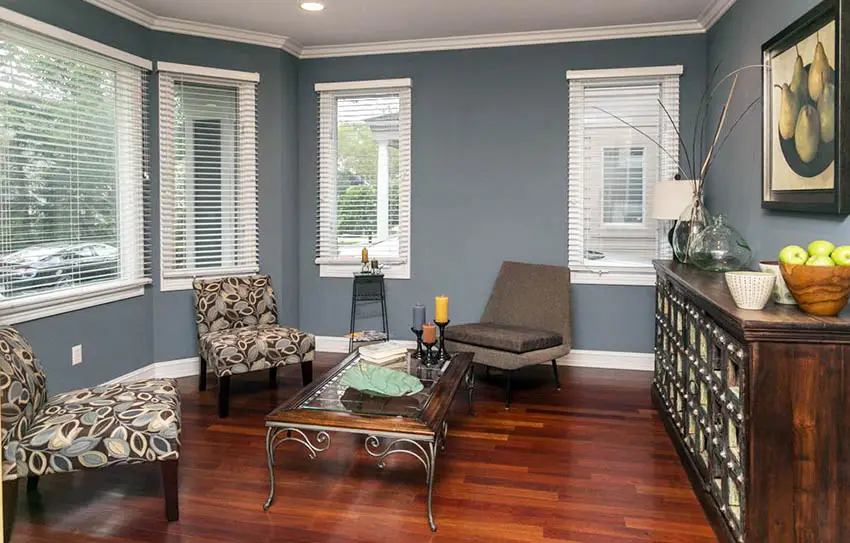 This living room features Brazilian cherry hardwood floors. While exotic looking, the prices for cherry woods from South America have become much more affordable over the past several years. Visit this page for more living rooms with hardwood floors.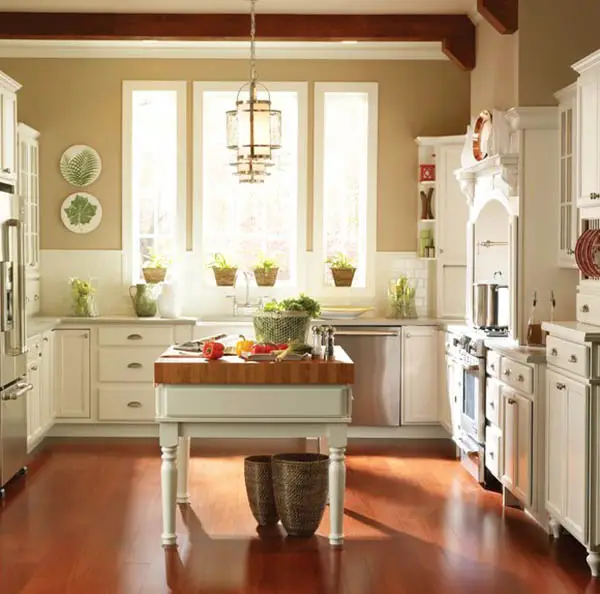 (See this engineered Brazilian cherry wood floor at Wayfair)
Pros of Hardwood
Organic Attributes – Hardwood Flooring is a natural material that is of 100% wood which varies in unique textures and colors. The rich density that solid hardwood flooring offers are in no way comparable to other synthetic materials.
Appearance – Hardwood flooring carries the most elegant outlook and a very rich tone to the whole house. Even the lesser exotic versions of hardwood has a more of elegant outlook than many of the premium selections of laminated flooring.
Re-sale Value – Usually, well maintained hardwood flooring inherits a premium resale value other than many other types of flooring out in the market, but, the lesser exotic ones may have a lower resale value, even than some of the premium selections of laminated flooring. The re sale value highly depends on the type of wood, usage and the well maintenance.
Impact Resistance – Hardwood Flooring is one of the excellent choice when it comes to the scale of hardness, Solid tropical hardwood flooring can be well tolerated given in any condition. The impact resistance of the hardwood flooring could vary depending on the selection of the hardwood.
Maintenance – Although hardwood tends to be of somewhat a vulnerable material, it is retouchable. Maintenance wise, hardwood flooring can be sanded or refinished eventually. This will be of high benefit over other types of flooring, to last a long time.
For the daily maintenance, you can opt to sweep the floor on a regular basis including the treatments of a no wax wood cleaner and a floor restorer that is well suited for the type of the hardwood floor finish. There are smart tips on maintaining the hardwood flooring on a day to day basis, when met with sudden blunders on a daily basis.
Cons of Hardwood
Price – Basically, hardwood flooring is extracted from natural resources that are exotic trees. The main disadvantage hardwood flooring carries is the variation of the price that might depend on the value of the tree, per se. Usually, hardwood flooring such as maple, oak varies in price from $3-$5 per square foot whereas the prices may vary depending on the width of the plank or how exotic the tree is. You can read more about the cost of wood flooring here.
Installation – Hardwood flooring installation requires professional knowledge, special equipment and practice and by no means can you consider it a DIY task like laminate Flooring.
Durability – Even Though hardwood flooring has the ability to last lifelong, Hardwood is generally considered as quite a vulnerable material, prone to scratches and damages. And could easily wear or distort when exposed to UV, or other vulnerable conditions and by no means fights against moisture.
Moisture Resistance – Solid Hardwood Flooring is not the best choice to be installed in moist conditions. It is advisable not to install solid hardwood flooring in environments that are often exposed to water since hardwood flooring tends to warp or discolor, by the time. Although, the conditions are such that hardwood flooring is adaptable to be installed in kitchens but we cannot forget the maintenance that it requires then.