Find out what color curtains go with brown furniture including choosing the ideal shades, color ideas, and matching hues for dark wood, light & dark brown.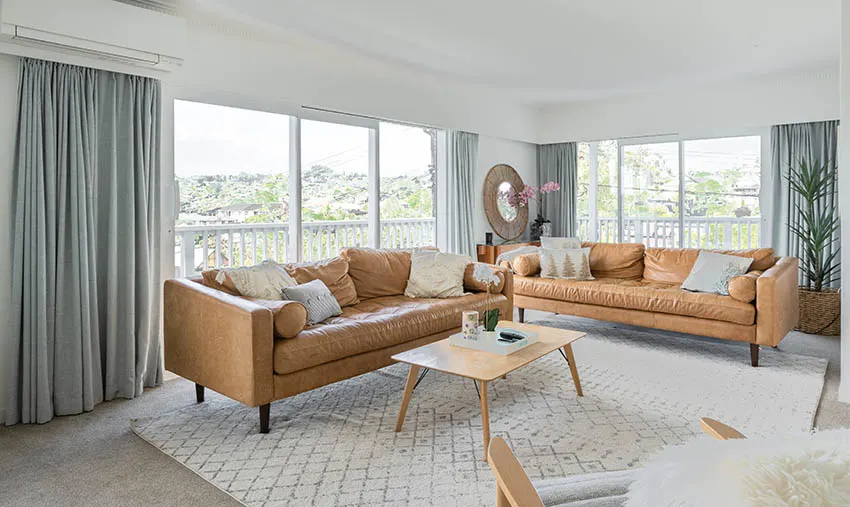 Often, it only takes a simple change of color to spruce up the look of your living space, and one of the most challenging yet rewarding endeavors is finding the right curtain to go with your furniture.
Furniture in brown hues is common as wood and leather are favored furnishing materials due to their look and durability. Moreover, brown furniture, especially in dark tones, is often picked because it won't' easily show stain or damage.
As a neutral hue, brown, just like gray or cream, can complement a lot of primary and secondary colors. The following are color curtains to go with brown furniture.
Choosing Curtain Color With Brown Furniture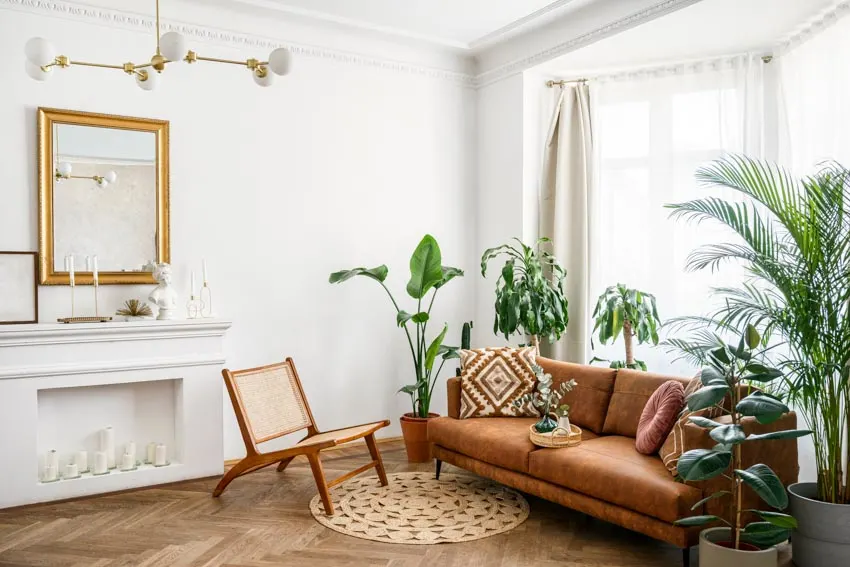 While brown furniture can go with most colors, only a few curtain colors can make that impressive look, that is, with other elements such as the colors of the wall, ceiling, and floors.
The ambiance and theme of your interior are another consideration when picking the right curtain colors to go with brown furniture.
White-colored curtains are both versatile and timeless, making them the most sensible option when you're unsure of what color scheme to go forward with. When matched with brown furniture, especially with yellow and red undertones, the white color balances the color temperature.
In addition, white curtains give an illusion of space which offsets the overbearing presence of a lot of brown furniture in your interior or when layering brown tones.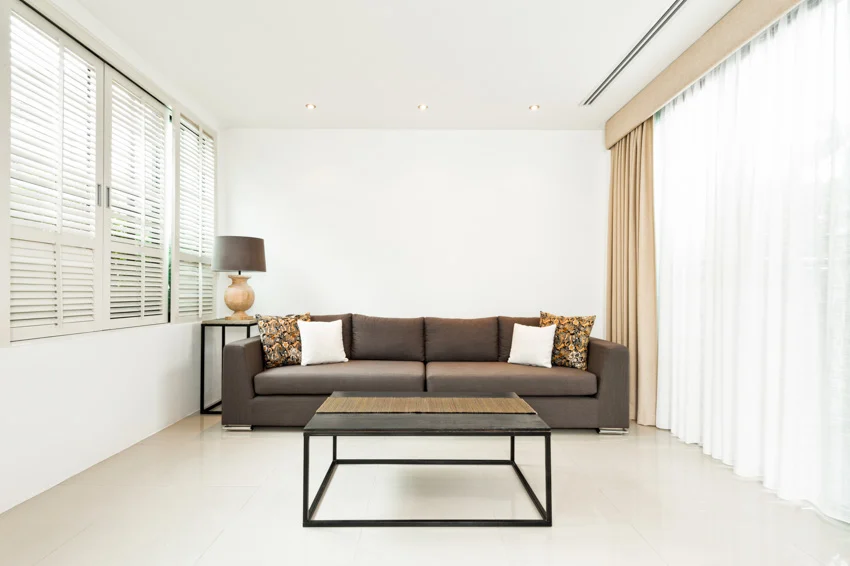 The disadvantage of white curtains is it is higher in maintenance, as white can easily show dirt or damage. Depending on the curtain fabric types you're using, white curtains can darken over time.
The following are other colors that look great with brown furniture.
Autumn Colors: From rosewood tones to muted forest greens, the autumn colors create a casual and inviting ambiance. The color scheme is usually rich in nature's earthy tones with muted forest greens.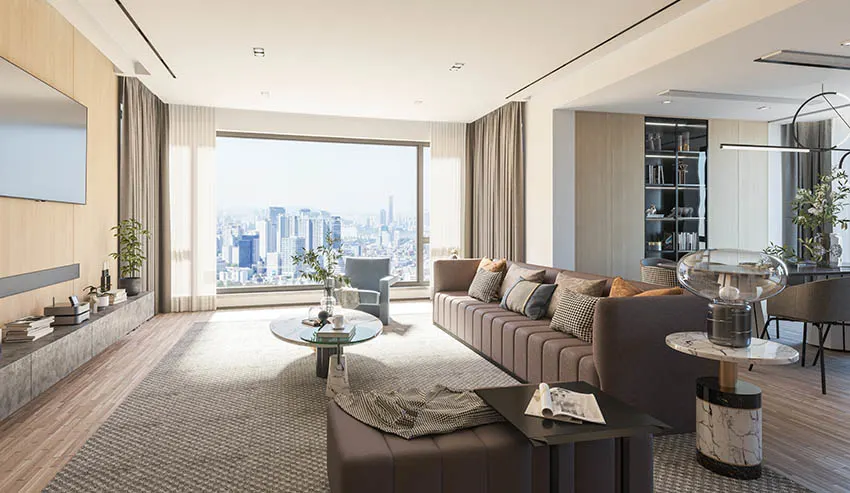 Lavender, gold, and autumnal yellows or oranges are great options for your curtains. Autumn Colors work well with white to light beige walls.
• Red-brown
• Burgundy
• Muted oranges and yellow
• Rosewood
• Dusty lilacs
• Golden shades
Cottage Home Palette: A cottage home color scheme often uses a layer of browns in white shiplap wall cladding, which gives off that rich traditional vibe.
The crafted wood furniture and stone-clad architectural features can look overbearing, and a cool and light-colored curtain color is a great option to put off the visual weight. Palette colors are lavender, pink, mint, and tan.
• Lavender
• Tan
• Mint
• Pink
Shades of Gray: A simple way to add that modern air to your leather brown sofa is to choose a gray tone that's lighter in tone compared to your brown furniture. The softer gray works well in contrast with your wall color, so white, beige, tan, or a light gray backdrop gives your elements a neutral canvas.
When you want a blackout curtain where your gray curtain is in one solid color, use a different texture for your curtain in contrast to your furniture. With a plethora of gray shades, it is easy to mix and match with any brown shade.
Popular Gray Shades:
• Ash #564C4D

• Dove #7C6E7F

• Pewter #696880

• Silver #ADADC9

• Charcoal #232023

• Cloud #C5C6D0
Haute Bohemian Palette: Orange, yellow, or buddha gold; madras or yellow-green; and orange or tawny are certain colors that can create a carefree and fun bohemian vibe. A bohemian palette is an opportunity to explore curtain options with different patterns and colors.
Choose curtains with patterns or a textile that has a unique texture. Furniture in Bohemian themes mostly uses lighter and rustic quality wood for their furniture, and having a vibrant and bold color to go along with it makes the room feel more energetic and contented.

• Buddha Gold #C39800
• Madras #504500

• Tawny #CD5700
Curtain Colors To Go With Dark Wood Furniture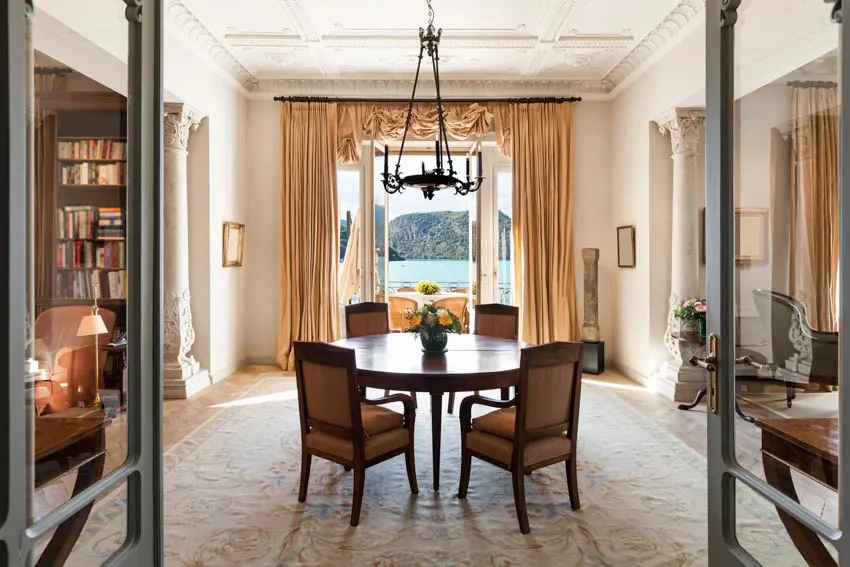 Cherry, mahogany, walnut, and dark stained furniture goes best with lighter colored curtains to provide contrast and allow light to enter the space. Dark wood furniture, especially with a matte finish, can make a room look gloomy as there are fewer reflective surfaces for light to bounce off.
However, if you have a room with a dominant light color, a dark-colored curtain will do fine as it balances off the light elements.
Remember to consider the intended mood or the room function when choosing the curtain color that goes with your dark wood furniture. Bedrooms will desire a moody and relaxing atmosphere, while a living area will require a lighter and welcoming vibe.
Ebony-colored wood is considered one of the darkest wood furniture, which can appear dramatic with light beige or white types of curtains, especially when it has a glossy finish.
Pastel colors such as peach, teal, or baby blue can be pulled off with very dark, almost black wood furniture as it allows each element to pop out when placed together in one scene.

• Vista White #F8ECF0

• White Lilac #F0F3FA

• Snuff #dbdcec

• Soft Peach #F6ECEE
See more ideas for pairing paint colors for dark brown furniture here.
Curtain Colors To Go With Light Brown Furniture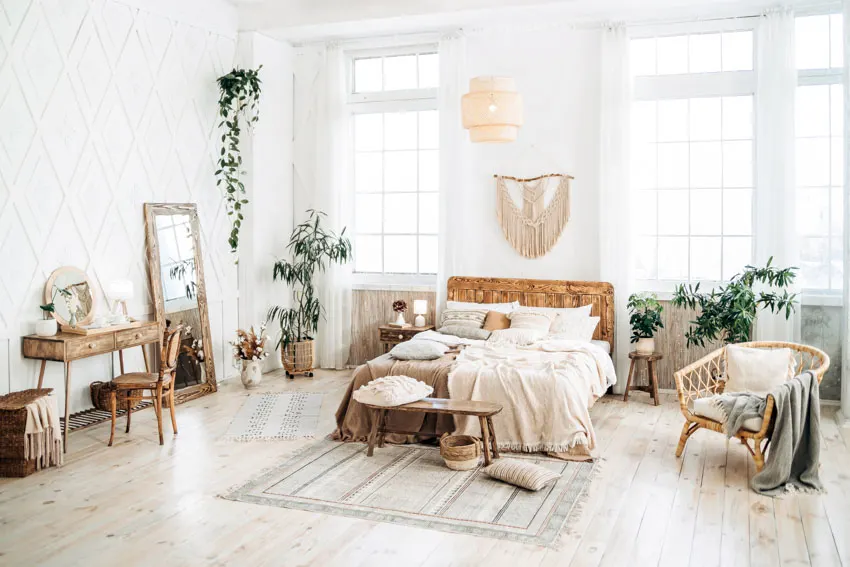 For light brown furniture, light and soft colored curtain is a great combination but make sure one should be lighter or darker in tone than the other element. Having the same color family helps in layering the colors, especially when aiming for a monochromatic look.
Light brown furniture is common for the Nordic or Scandinavian themes where there's less use of window treatments, if not less use of flamboyant curtains. White is a great option, but you can look into lighter shades such as baby blue, indigo, light green, and deep sage.
• Perano (Indigo Light) #a2b4f0

• Sage #9aa48b

• Rose Fog #EABEC3
What Color Curtains Go With Brown Leather Furniture?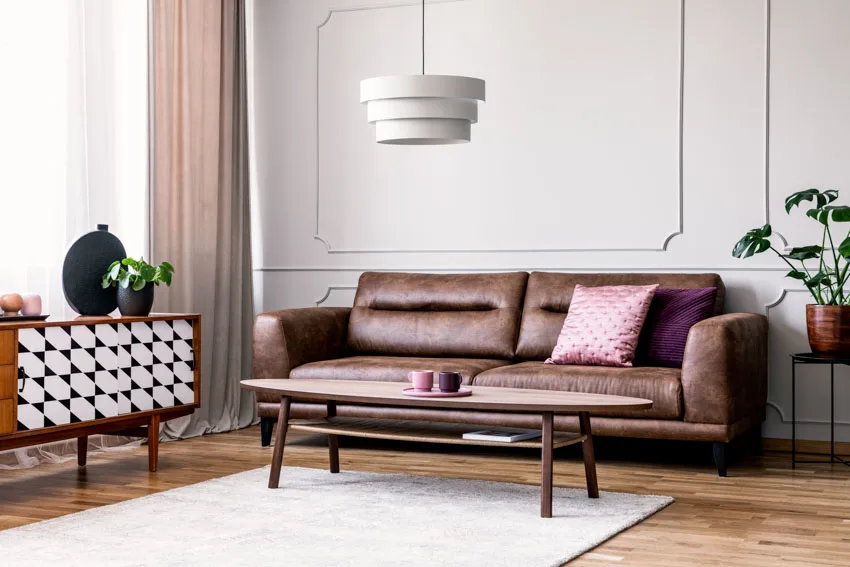 Leather is a material often associated with the more traditional or classic look, which is great for formal areas such as the living or study area.
Velvet fabrics with darker colors can make your room look more sophisticated and elegant, while a curtain with a very light color and a wispy quality makes it a great option for living or dining rooms.
Both cool and warm tones are perfect compliments to the relaxed tones. Terracotta and rusty red have that earthy quality, which will match easily when layering your earthy tones. Cool marine shades such as blue and aqua are other curtain colors that go with brown leather furniture.


• Falu Red #87161D

• Roof Terracotta #AF321C

• Navy Blue #000087
What Color Curtains Go With Grey Walls And Brown Furniture?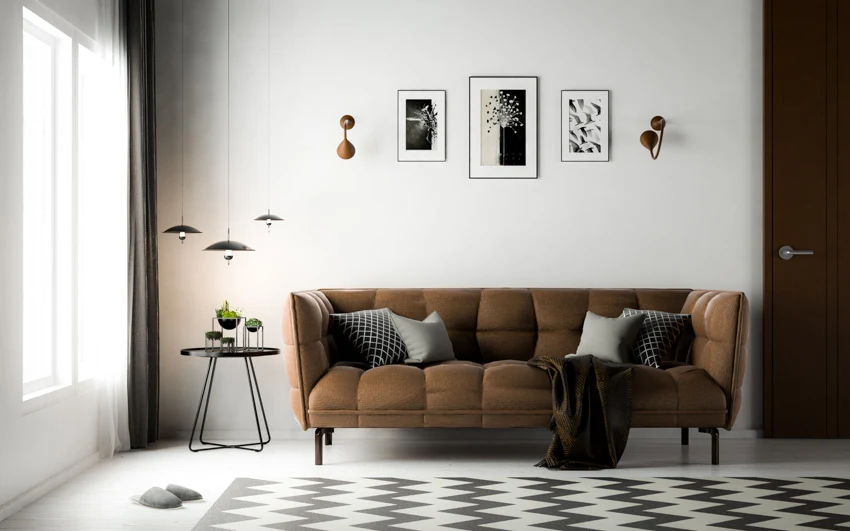 A room with gray walls and brown furniture already has a muted quality which means adding a color that contrasts against the neutral tones will complete the color scheme.
A bright yellow is a great option with its positive and bright quality. Pink hues are a fun way to add a chic vibe to your gray wall and brown furniture as well.
Ombre-colored curtains are another great way to add color to your gray walls and brown furniture while having a dominant white color.
The ombre design has gradient coloring, usually at the ends or hem of your curtain, creating a blend of different colors. Pastel and light colors or sunset or beach-themed ombre designs are trending today.

• Light Yellow #fff4c2

• Sea Pink #F19990

• Vivid Tangerine #fff9486

• Sahara #C0A10D
See more pictures showing what color curtains go with gray walls here.
What Color Curtains Go With Beige Walls And Brown Furniture?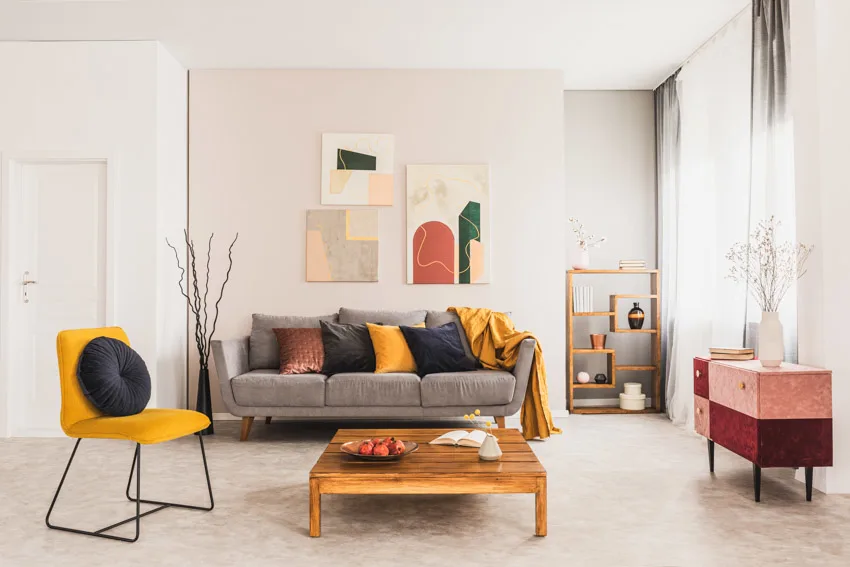 Earthen tones are great backdrops for accent elements and can be mixed with both bold and soft colors depending on the mood you are aiming for. A beige wall with brown furniture will look great with their complementary color, which is purple.
You can also explore cooler tones to balance the warm vibe, such as green or blue. The darker shades of green can easily be matched with a beige wall and brown furniture as they have earthy colors. White is another staple for earthy-toned rooms, which provides a light and cool character to the space.

• London Hue #b098c1

• Blossom #deb8c2

• Scampi #6877AD
See more pictures of what color curtains go with beige walls on this page.
What Color Curtains Go With Cream Walls And Brown Sofa?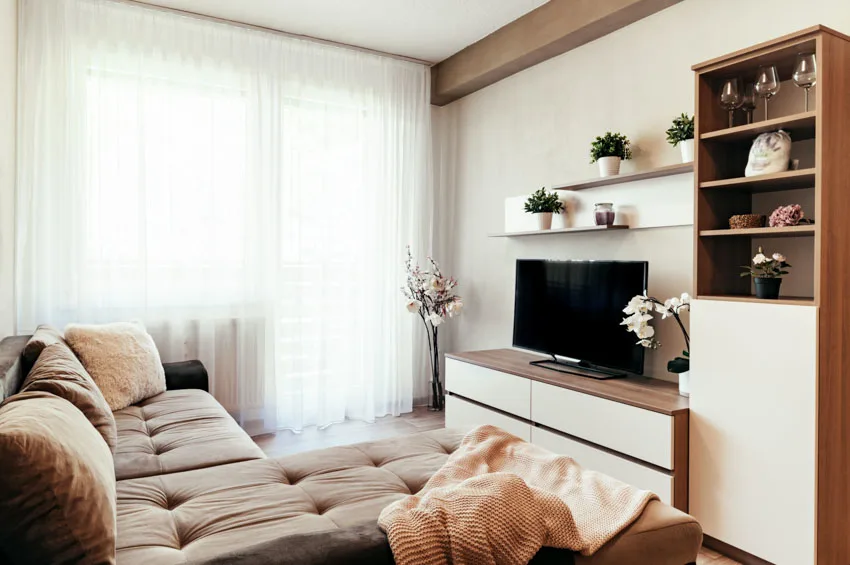 Cream and brown belong to a similar color family, and such go together well. The color match invokes a comfortable, friendly, and relaxing atmosphere, but too much brown can make a room look dull and lifeless.
Cream and brown are both excellent base colors as they go along with almost any color, tone, and shade. For dark-colored curtains, black is a great window treatment color as it provides an elegant and contrasting effect to your earthy tones.
A red velvet curtain can also add a more energetic hue to your muted tones. This will emphasize your windows and are great for the floor-to-ceiling windows as it is it can be a striking element, especially when the light comes through the vibrant color.
Close to the red wine color, burgundy-colored curtains also give off the same elegant look when paired with cream and brown. They are less vibrant but have similar energy and quality as red.
When you want a cool nautical theme to go along with your cream walls and brown sofa, a navy-blue curtain is the perfect curtain color. Don't forget to add white accents to add a fresh look to your interior.
• Dark Burgundy #74090c

• Milano Red #9e3332

• Dark Brown #654321
See more related content in our article about curtain rod sizes on this page.