This comparison of floating floor vs glue down installation shares their pros and cons, types of floors that are best for these flooring procedures, and brands for glue down flooring.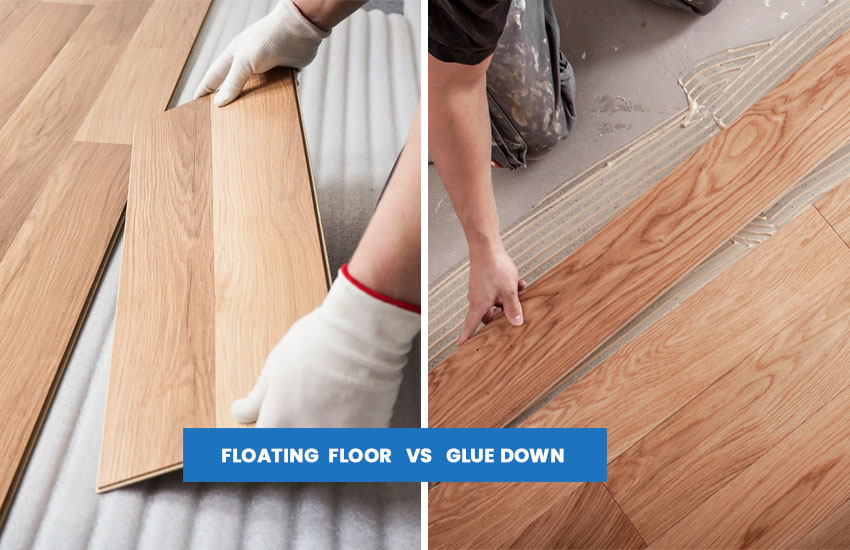 Homeowners typically select between the floating or glue-down installation technique for their floors when undertaking home renovations. However, it is critical to select the appropriate technique since the outcome of the project is reliant on how materials are installed in the structure.
Therefore, should you have your home's flooring glued down or floating? Well, the flooring installation procedure is almost as essential as the flooring material itself.
There is no quick answer between the two options because of various considerations. Some of these include the installation method, durability, convenience of replacement, noise, flooring quality, pricing, and potential issues.
You can read about some of the most significant benefits and drawbacks of floating and glue-down flooring below. You will also see some of the factors at the end of the article to assist you in determining which flooring procedure is ideal for you so you can choose the suitable product.
What Types Of Floors Can Be Floated?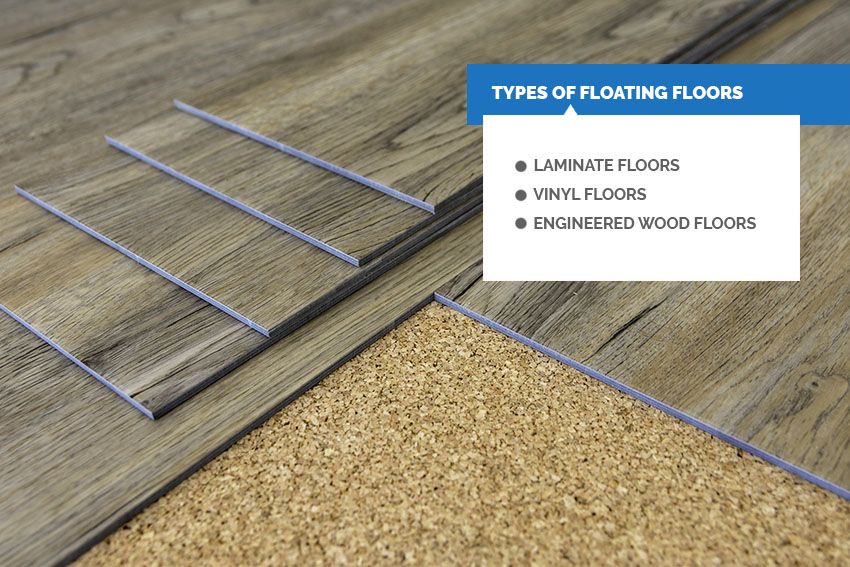 The most prevalent types of floors that can be floated are laminate, vinyl, and engineered flooring, with laminate as the most frequently selected floating flooring option on the market.
The following are some of their descriptions to help you get a closer look at each one of these floating floors.
• Laminate Floors
Laminate floors are usually never attached to the subfloor; rather, they are almost always placed floating. Hence, a laminate floor can expand and contract in response to temperature variations inside a house or room. The components easily snap together, leading to an installation that most homeowners can easily complete.
• Vinyl Floors
Luxury vinyl floors are also intended to be attached to the substrate, although they are more commonly engineered to snap together. They have small tongues and grooves that, with a little finesse, lock one board to the other.
• Engineered Wood Floors
Most engineered wood floors are stapled or nailed to wooden subflooring. Nonetheless, a rising number of models, such as the modern versions like Armstrong's Lock & Fold, can be placed without any attachment to the substrate.
Pros And Cons Of Floating Floors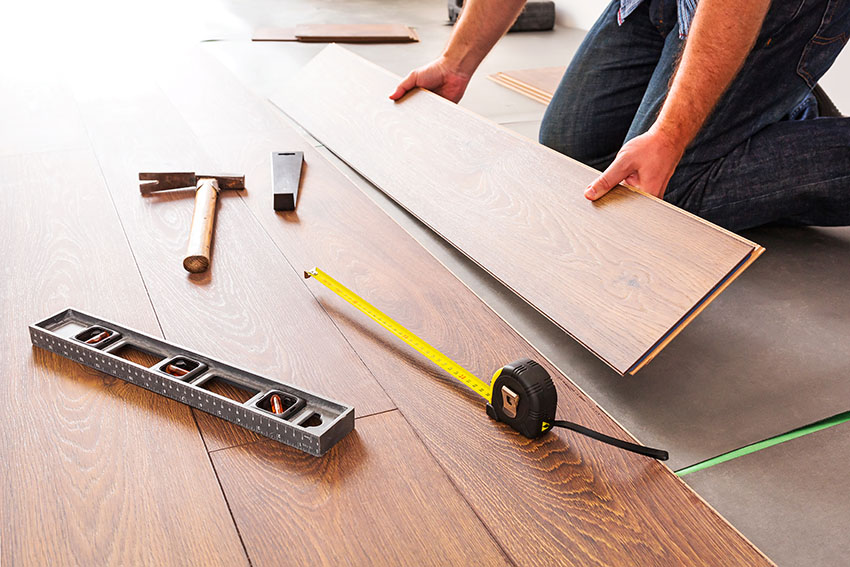 Pros of Floating Floors
Floating Floors are Easy to Install. The snap-together technology allows the installation of a floating floor much simpler and faster than laying a glue-down floor. You will not have to deal with deciding on and administering glue or other fasteners, which can be challenging, particularly if you want to install the floor manually by yourself.
Even though your floating flooring necessitates a small amount of glue on the tongue of each board, this method would still be a lot quicker and easier than gluing the floor firmly.
Most Floating Flooring Materials are Durable. Engineered wood flooring is normally used in rooms where it is intended to float. This implies that it is often made up of numerous layers of compacted wood that would provide increased durability over natural wood, particularly on the surface finish.
Suitable for a Variety of Environments. A floating floor leaves a slight gap around the room's perimeter, which is concealed beneath the trim. This space allows the flooring to expand and shrink in response to changes in humidity and temperature without creating any issues.
Floating floors are an excellent alternative if you think you have a diversity of conditions in your home.
Uncomplicated to Remove and Replace. If you renovate frequently or are installing flooring in a rented house where you anticipate regular damage, a floating floor can be useful as you can quickly remove several boards for repairs or the entire floor. It is just a matter of detaching the boards' connecting tongues.
Cons of Floating Floors
Floating Floors are Not as Rigid as Glue-Down Floors. When walking on a floating floor, you may experience a little hollow or feeble sensation. This is due to the large puzzle of interconnected boards shifting fractionally underfoot. This is primarily a personal preference.
Lightweight pieces of furniture may wobble mildly over time, particularly if you have children or pets roaming around them each day.
A Flat Subfloor is Required for Floating Floors. If you are installing wooden floors in a room with a slope or an uneven floor, you may not be capable of floating the floor. To prevent the flooring from sliding about, the floating system should be put above a flat surface.
Concrete subfloors with ramp-like slopes or hardwood subfloors with considerable high or low areas might cause issues.
These Floors Are Not That Stable Under Different Home Objects and Appliances. Since the floating floor relies on friction as well as its weight to keep in place, it can convey issues in rooms containing large appliances, particularly laundry spaces and dining rooms.
Moving appliances around may cause the flooring to shift, and the considerable weight may cause the locking tongues to separate at the edges.
What Types Of Floors Can Be Glued?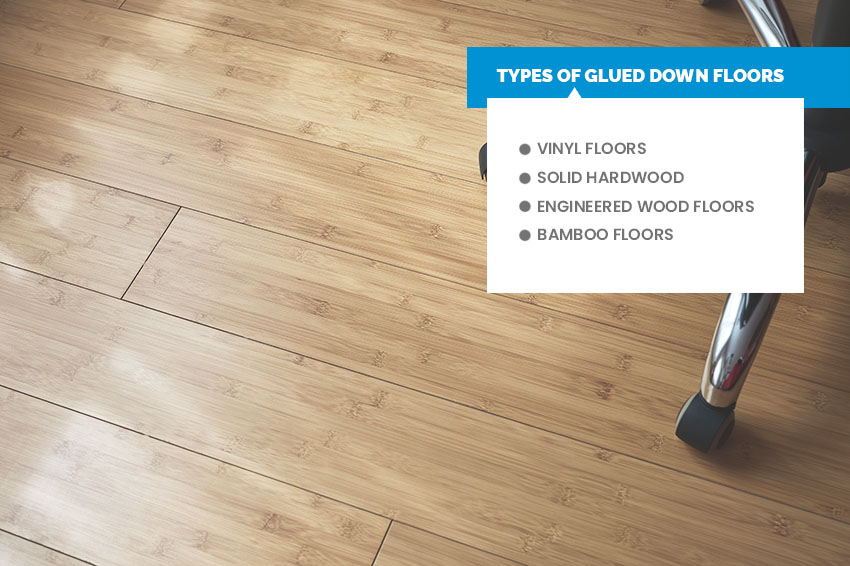 Vinyl, solid hardwood, engineered hardwood, and bamboo are the most common types of glue-down floors. Vinyl is the most popular glue-down flooring material in the industry. The details that follow will give you a more accurate overview of each of these glue-down floors.
• Vinyl Floors
Vinyl or LVT flooring is a cutting-edge material, which is available in planks that resemble hardwood or tile. It is incredibly waterproof, gorgeous, and far more robust, which means it can be glued down wherever inside your house.
Vinyl flooring that is installed using glue-down adhesive to the subfloor or underlayment has greater performance and durability. In general, glue-down vinyl plank flooring is sturdier than floating vinyl flooring.
• Solid Hardwood Floors
The majority of the finest hardwood floors can be glued down. When it comes to hardwood, meanwhile, there are other factors to consider. For starters, hardwood floors are significantly more pricey than glue-down vinyl flooring.
In addition, unlike vinyl, wood is not waterproof, although water-resistant wood flooring is occasionally available. Furthermore, if you want to heat wood flooring, be cautious if you use glue—certain types of glues can deteriorate or even emit harmful chemicals when heated.
• Engineered Hardwood Floors
In comparison to solid hardwood, the finest engineered wood flooring is generally less costly and simpler to install using the glue-down method, while still being beautiful. It is also more impervious to temperature and humidity fluctuations.
• Bamboo Floors
The glue-down approach can also be used to lay the best bamboo flooring. Bamboo flooring can be refinished like hardwood, and it is available in a variety of typical wooden floor hues and patterns. Bamboo is a considerably more eco-friendly glue-down flooring option than vinyl.
Pros And Cons Of Glued Floors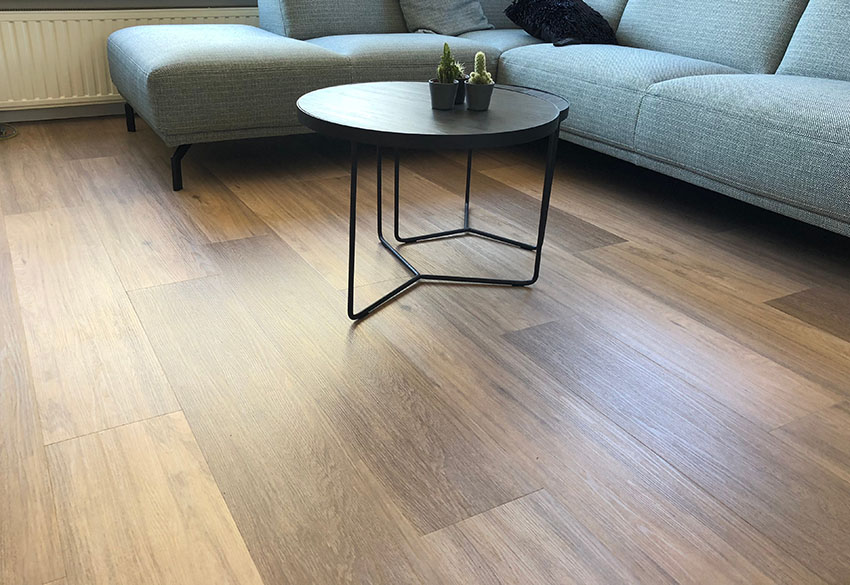 Pros of Glued Floors
Glue-Down Floors Have Stable Feeling Underfoot. If you are worried about floating floors seeming hollow or mushy, you will likely prefer glue-down flooring. There will be no movement or vibration between the flooring as well as the subfloor. Every movement will be firm and comfortable.
These Floors are Suitable for Irregular or Slanted Surfaces. If your home has a walkway that slopes up by one level towards another or a hardwood subfloor with some high or low sections, you will need flooring that can be secured straight to the concrete or wood underneath, and glue-down floors just do the trick. This installation technique prevents the floorboards from shifting around the space.
Floors That Have Been Glued Down Firmly Remain in Place. Glue-down floors are ideal for laundry rooms, kitchens, and other areas where weighty objects, such as appliances, will be stored. No amount of weight placed on top will cause the floors to shift or be damaged because every floorboard is firmly secured to the subfloor.
Cons of Glued Floors
Glue-Down Floors are Hard to Remove and Replace. Glue-down floors are tough to remove since each board is attached to the floor with a thick flooring adhesive. You will need to spend several hours cleaning the residues from the subfloor after pulling and lifting the floorboards. Hence, you have to remember not to install glue-down flooring that you intend to remove in the future.
Glued Down Floors Are Not Ideal for Changing Environments. Whenever the temperature or humidity changes, glue-down floors will have very little space to expand and shrink. Although the glue functions as a moisture barrier to restrict these elements, keep in mind that a glue-down floor may not change as easily as a floating floor if your residence has a highly unpredictable environment.
Floors That are Glued Down are Hard to Set Up. Glue-down floors necessitate a uniform layer of the appropriate flooring adhesive. It requires considerable expertise to use effectively, and it is not a particularly forgiving technique once you commit an error. Unless you have previous knowledge of troweled adhesives and flooring, you must consider avoiding attempting a glue-down floor DIY project.
Can You Glue Down A Floating Floor?
Floating flooring, in general, is not meant to be glued down. Floating floors can shift due to temperature changes, and gluing the boards down can degrade them. However, if installed in a humid environment such as for bathroom floors, you can glue the boards to protect the tongue and groove seams against moisture.
In some cases, it may be necessary to glue down a floating floor. Thus, before gluing down your floating floor, you have to check the manufacturer's instructional handbook to avoid voiding your warranty.
You might choose to use glue for a floating floor for a variety of good reasons, including strengthening the connections of the click-lock mechanism of floating floors or eliminating squeaking and cracking noises, which are frequent in floating floors.
Furthermore, while attaching floating flooring is a bit illogical, certain manufacturers justify the necessity to glue down their floating floor materials. But if your floating flooring installation is faultless, there is no strong justification to try to glue down your floating floor. Additionally, when it comes to installation, gluing down your floating floor must not be your main choice.
Unless your floating floor is precisely level, you must avoid gluing it. Furthermore, with soundproof insulation beneath your floating floor, you are unable to glue the flooring down. As a result, by gluing the floating flooring down, you will lose the advantages of insulation, such as noise suppression and temperature barrier.
Is It Better To Glue Down Or Float Engineered Wood Floors?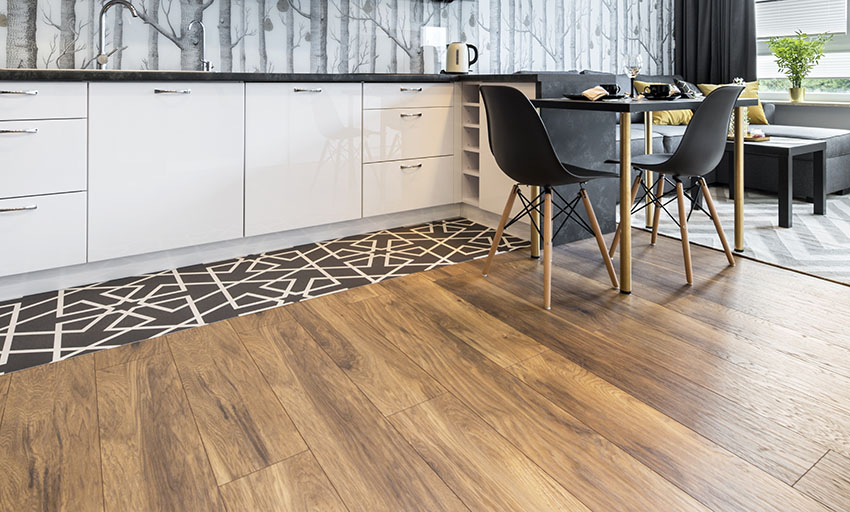 Floating is when the floorboards are not attached to the subfloor and instead rely on the weight of the floor to hold them firmly in position. This technique works effectively for engineered wood flooring and can give the wood some underfoot flexibility.
If you are deciding between these two installation options, we recommend going with floating engineered wood flooring as it is typically the most cost-effective option. You can install it swiftly and without having to worry about which glue to use or how long it will take to dry.
Glue For Floating Engineered Wood Flooring
Floating flooring necessitates a flexible adhesive that allows the boards to gently expand and shrink with variations in relative humidity throughout the seasons. Specialized floating floor adhesives are available to glue the tongue and groove securely.
Titebond Tongue & Groove Floating Floor Glue is specifically designed for floating engineered wood flooring installation. This adhesive's flexibility distinguishes it from ordinary wood glue and will avoid cracking from repeated stress on the flooring joints. We recommend using this glue brand for gluing floating engineered wood flooring.
Is It Better To Glue Or Float Vinyl Plank Flooring?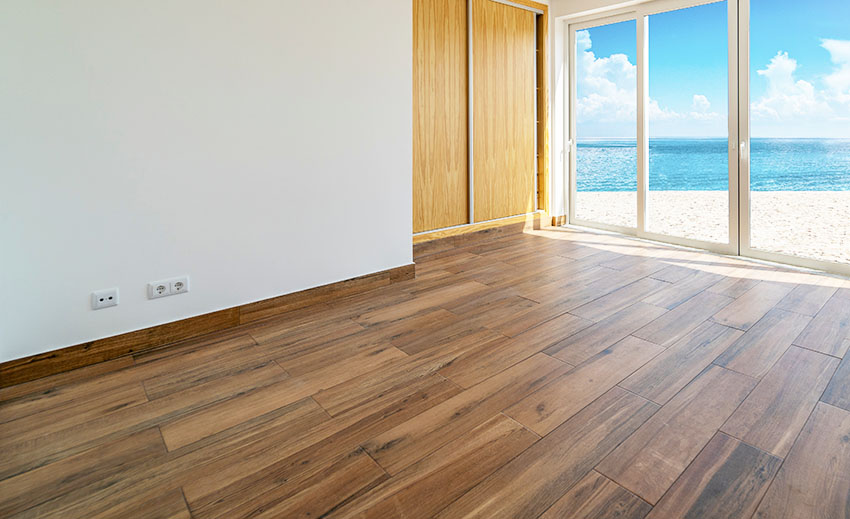 Primarily, it depends on where you will install the vinyl plank flooring. For example, kitchens, bathrooms, laundry spaces, and bedrooms all benefit from floating vinyl plank floors. A glue-down flooring solution, on the other hand, can provide additional durability if you are installing floors in a vast and expansive space. Glue-down techniques are also suitable for smaller rooms.
In terms of durability, gluing vinyl plank floors would be a better option. But in terms of cost and ease of installation, floating vinyl plank floors would be a smarter pick.
Glue for Vinyl Plank Flooring
When it comes to attaching vinyl floors, acrylic-based glues are extremely effective and durable. Acrylic-based adhesives are heat-resistant, can withstand temperature variations, and do not become crumbly when exposed to moisture. Hence, they are very much ideal for gluing vinyl plank floors.
The versatile, premium acrylic glue brand named Roberts 1407 is appropriate for a wide range of floorings, particularly vinyl plank floors. The solvent-free composition has a minimal odor and emits extremely minimal VOCs.
Visit our laminate vs vinyl flooring comparison guide fore more related content.