In this gallery of reclaimed engineered wood flooring ideas you'll see the pros and cons, durability, lifespan, and tips on where to buy reclaimed wood for your flooring.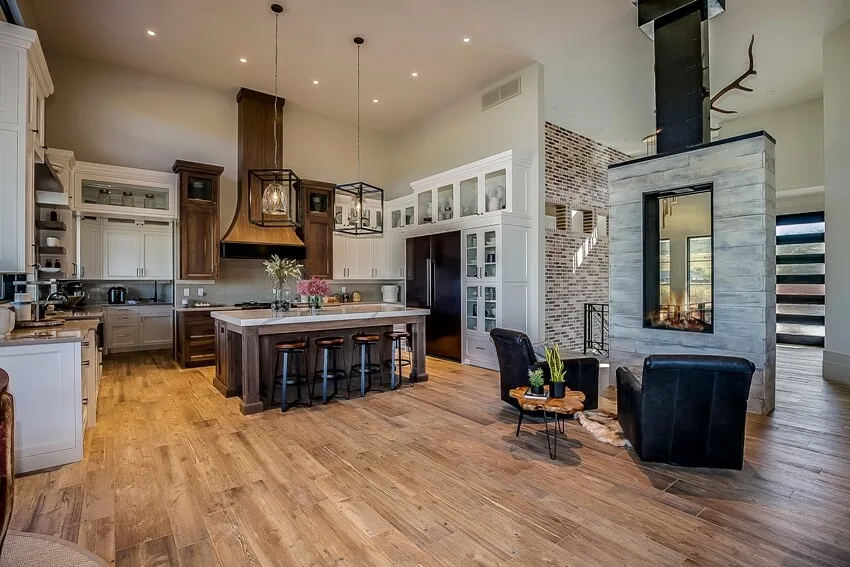 Reclaimed and engineered wood flooring may sound like opposites. However, engineered wood flooring is made of 100% natural wood, just in layers, making it much more durable.
Reclaimed wood is a green, sustainable use of wood found on old barns, horse fences, rural structures and abandoned buildings. Some reclaimed wood may date back as far as 200 and 300 years, seen through its deep character, weather-worn design, and unique antiquity.
Many homeowners prefer reclaimed engineered wood flooring in part due to the wood's environmentally friendly sourcing, and for the beauty and history behind the distinct look it brings to your home.
What Is Reclaimed Engineered Wood Flooring?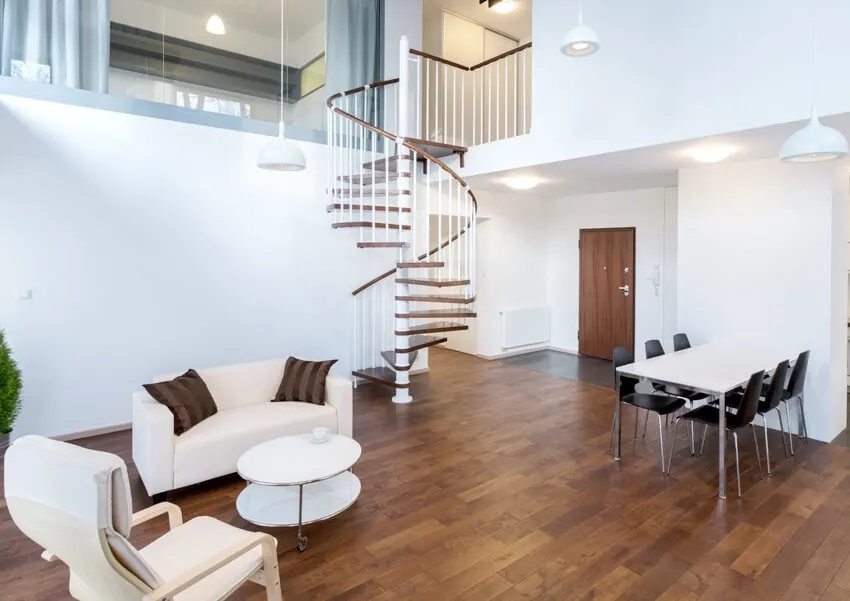 Often, homeowners mistake reclaimed engineered wood flooring for laminate flooring—but the two materials are entirely opposite. Laminate flooring is mostly melamine resin, a material made with formaldehyde and synthetic fiberboard particles compressed into floor planks.
The top of laminate flooring is imprinted with an image that looks like wood. Laminate flooring is inexpensive, but it's not durable or nearly as beautiful as natural wood.
Reclaimed engineered wood flooring is made with multiple cross-section layers of plywood that are pressed tightly under high heat and pressure to create a robust and long-lasting floor material.
The layers are called plies, and the top layer is made from a thicker piece of wood veneer known as a "wear layer" that can be sanded and refinished when worn or to change the color. Read more about matching wood floors here.
These types of wood floors can be installed the same way as a hardwood plank floor by nailing it to an existing sub-floor. Planks made thinner than ¾" can be glued down.
The top layer of wood can be made from any type of wood, making engineered wood flooring look exactly like sold wood flooring. The process of creating engineered wood flooring works well with reclaimed wood planks that may already be a certain thickness according to their source, making the process of layering simpler.
The original reclaimed wood planks, taken from aged buildings and structures, are typically the proper thickness for the top layer of engineered wood flooring planks. Engineered wood flooring is more durable than solid wood flooring and lasts just as long with proper care and regular maintenance.
The EPA recognizes the use of reclaimed materials through its US Green Building Council's Leadership in Energy and Environmental Design (LEED) program. Although this is a voluntary program, LEED certification, along with the Forest Stewardship Council's forest management certification,https://www.epa.gov/smartgrowth/us-green-building-councils-leadership-energy-and-environmental-design-leedr may provide eligibility for your home or building to receive unique benefits.
Pros and Cons of Reclaimed Composite Wood Floors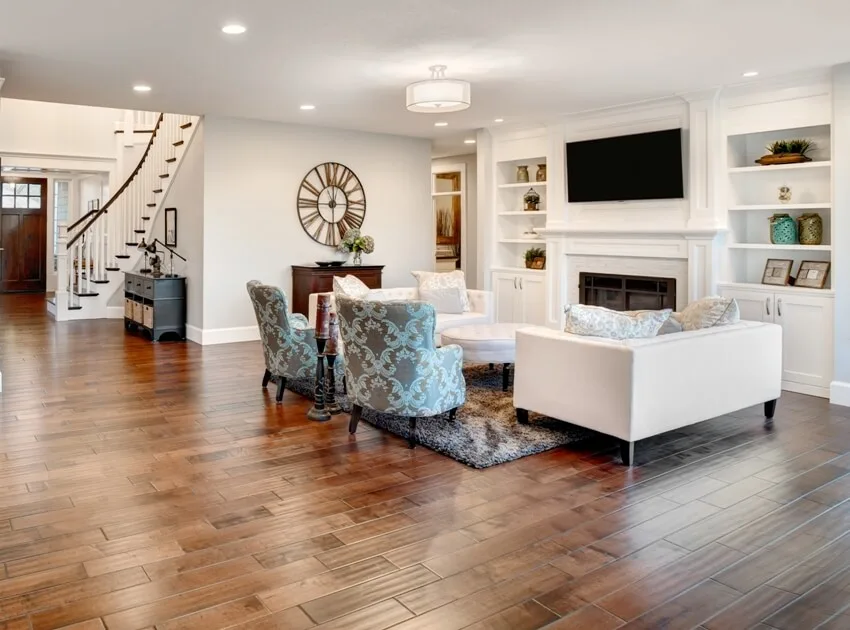 As with any flooring option, reclaimed wood flooring has its set of pros and cons. Homeowners may want to consider all the options when deciding on which type of flooring to install in their home.
Factors such as foot traffic, pets, and rooms that often encounter liquids, such as bathrooms, kitchens, and laundry rooms, may not make engineered wood flooring the best choice.See our gallery of kitchens with engineered flooring here.

However, engineered wood flooring can be a viable option under the right conditions. Review the pros and cons below to help you decide.
Pros
• Reclaimed engineered wood flooring does not shrink or expand: While some homeowners may be hesitant to install any natural wood flooring in wet rooms, reclaimed engineered wood flooring has already been exposed to weather, causing it to expand with moisture and contract when the atmosphere is dry.
The years of exposure allow the reclaimed wood to already be in a settled state and resistant to warping or buckling. Being sure the top layer of flooring is sealed correctly ensures moisture will not get in between the layers and the planks, causing the planks to deform.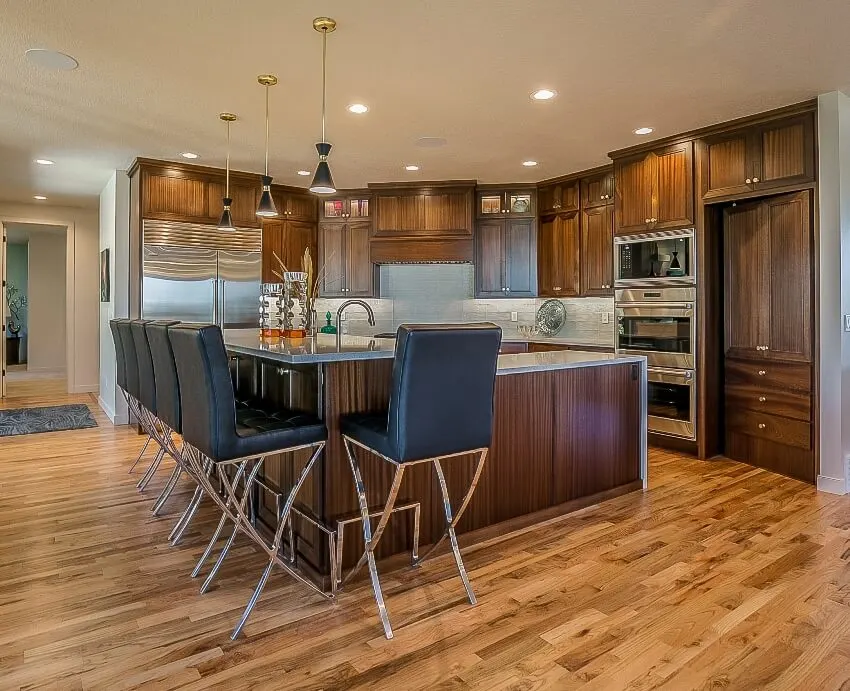 • This type of wood flooring can be used in wet rooms, on radiant heat, and on concrete slabs: As long as the engineered flooring is high-quality, properly sealed, and maintained, it can be used in wet rooms, on sub-layers with radiant heat installed, and concrete slabs. Read more about bathrooms with engineered flooring here.

• This type of wood flooring is eco-friendly: There is a minimal environmental impact when processing reclaimed engineered wood flooring, unlike processing new wood. New wood engineered flooring entails cutting down trees, sawing, transporting, stripping the bark, and processing.
• Reclaimed engineered wood flooring is sturdy and durable: Not only is engineered flooring durable due to the pressed layers but reclaimed wood also makes engineered flooring even more sturdy and long-lasting.
Reclaimed wood likely comes from timber that grew in the forest without methods to accelerate its growth. Timber grown naturally and slowly on its own is considered virgin timber and creates a wood with a denser grain.
Cons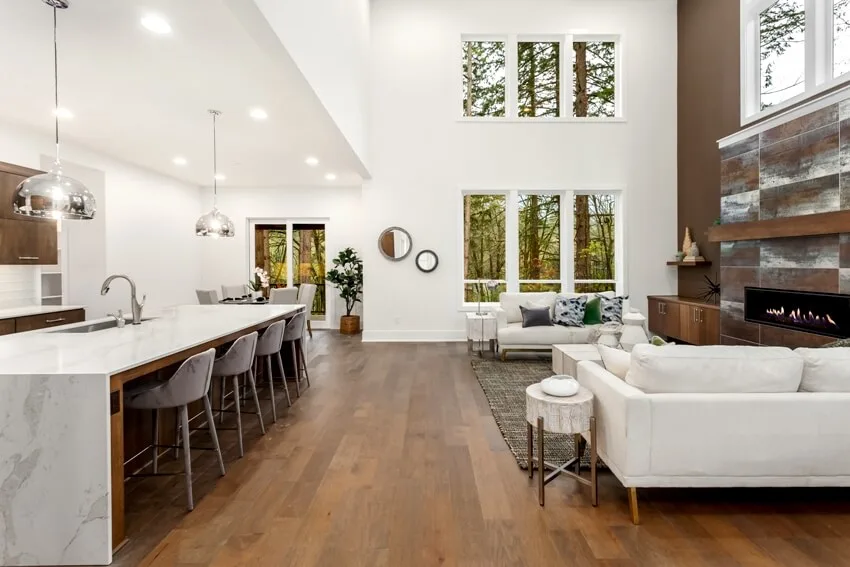 • Reclaimed engineered wood flooring is difficult to find for purchase: Reclaimed engineered wood flooring is a highly sought-after material and is difficult to find. And it does come at a much higher price than other types of hardwood flooring.
• Reclaimed wood may contain chemicals or toxins: Reclaimed wood taken from barns, fencing, old buildings, commercial buildings and other sources may have been treated with chemicals.
Not every company that procures reclaimed wood knows the exact conditions the wood endured for its lifetime. This includes paints with lead, preservatives such as creosote or pentachlorophenol, and fungus caused by moisture that may be difficult to detect due to the age of the wood.
Reclaimed wood from commercial manufacturing buildings may contain particles of heavy metal or other chemicals based on the product being manufactured and could be very toxic. Only buy reclaimed wood from distributors who guarantee the safety of the wood and can supply you with their testing methodology and results.
• Reclaimed engineered wood flooring is more expensive: Due to the labor required to process reclaimed wood and its scarcity, reclaimed wood is more costly.
Do Engineered Wooden Floor Boards Last?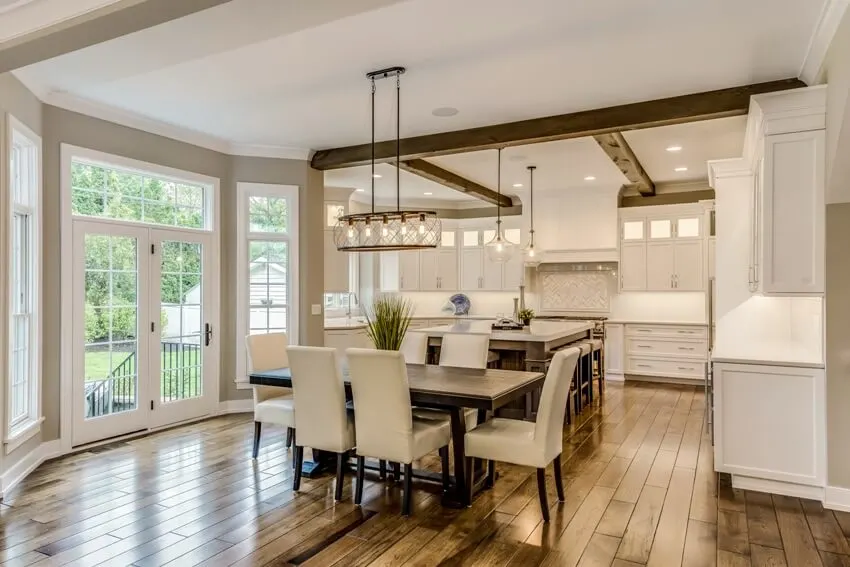 Engineered wood floors that are made from a quality process and kiln-dried can last from 30 to 50 years or more. Several factors may affect the lifespan of engineered wood floors, including the thickness of the top layer, whether the wood was kiln-dried, and if the top layer is finished with a proper sealant. See the pros and cons of prefinished hardwood flooring here.
Whereas reclaimed wood typically doesn't need kiln drying because of the years of weathering, kiln drying may still be a good idea to kill any bugs that have nested within the wood and to eliminate mold that may have grown due to moist conditions. The kiln-drying process is critical for wood engineered flooring to ensure the boards are clean, dry and moisture-free.
The thickness of the top wear layer is essential, and regular maintenance will also help engineered wood flooring to last longer. Any large spills or exposure to water leaks must be cleaned up and dried thoroughly to avoid damage to the top layer and the under-layers of plywood.
Can You Sand Back Manufactured Wood Flooring?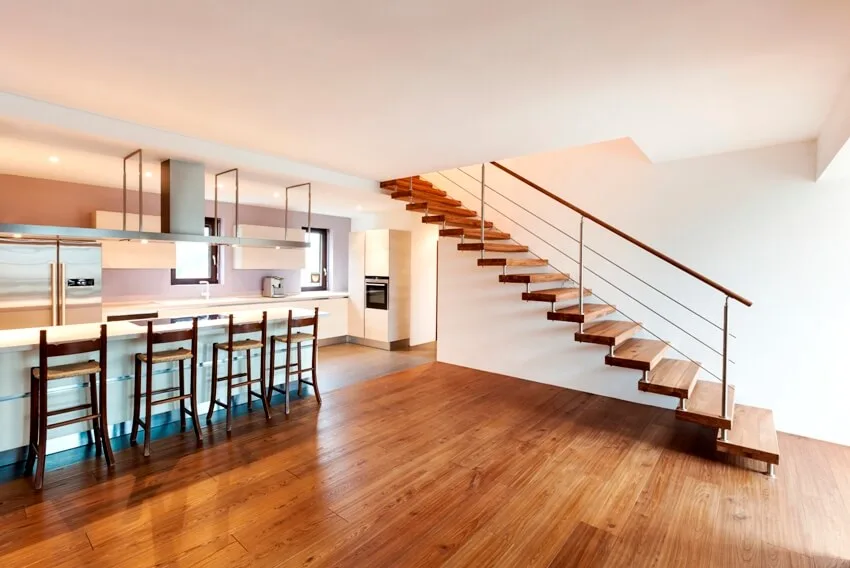 Engineered wood flooring, with a natural wood surface much like solid wood flooring, can be sanded back and refinished under particular conditions. Sanding allows the surface to be smoothed down to conceal scratches and dents, and when re-stained, the color can be changed. But this all depends on the thickness of the top layer, or the wear layer.
The top layer should be at the least 3mm or .12 inches in order to sand it, and even so, if the top layer is uneven, you could end up sanding down to the plywood layers. Engineered wood flooring commonly has a top layer that is 4 to 8mm or .15 to .31 inches thick, making it safe for sanding and refinishing at the most three times.
Any flooring with only a 2mm or .08 inch thick top layer should not be refinished more than once and the process needs to be done carefully or by a trained contractor. Sanding and refinishing also flattens the top layer each time, making it important to take off less for each sanding. Once sanded and refinished with stain, always remember to reseal the surface.
Where to Buy Reclaimed Composite Board Flooring
It's challenging to find companies or manufacturers that sell reclaimed engineered wood flooring. Larger building supply stores do not commonly carry reclaimed wood. Instead, smaller, brick-and-mortar stores are more likely to have reclaimed wood.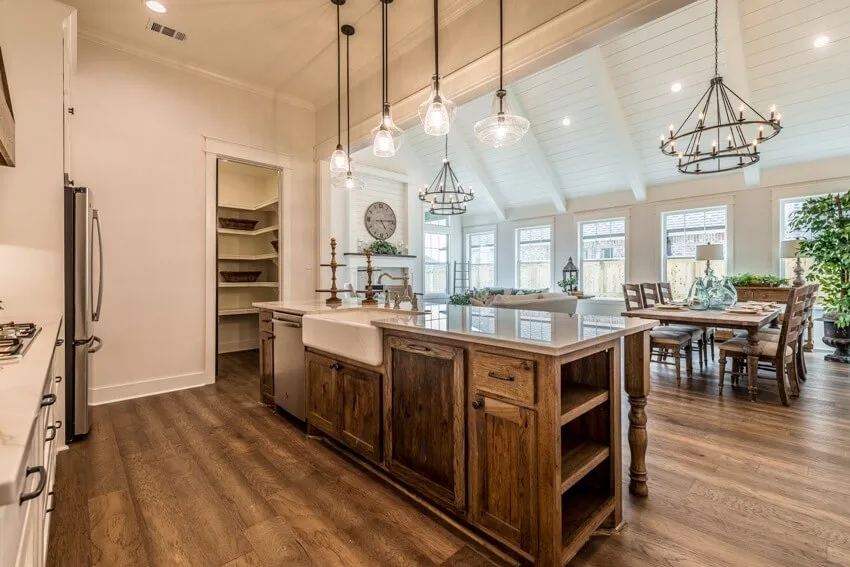 Also, many consumers aren't familiar with reclaimed engineered wood flooring and may find it sloppy or too rough-looking. The neatly stacked and newly manufactured wood flooring may look more appealing. The lack of sales can thwart a business's attempts to stock this natural resource.
The most likely places to find reclaimed wood engineered flooring are:
• Reclaimed lumber dealers
• Online reclaimed lumber dealers
• Architectural salvage dealers and retailers
• Etsy, the online shopping site where you can find reclaimed wood products that include lumber
• Some large building supply stores, such as Home Depot
Reclaimed engineered wood flooring is likely to continue in popularity and possibly become easier to find at building supply dealers. It's a natural, sustainable, and beautiful option for your flooring needs.
Visit our guide to distressed hardwood flooring for more related content.