Here's our guide to the types of black marble including countertop, floor and wall design varieties, if it is natural, where to use it, maintenance and black marble finishes.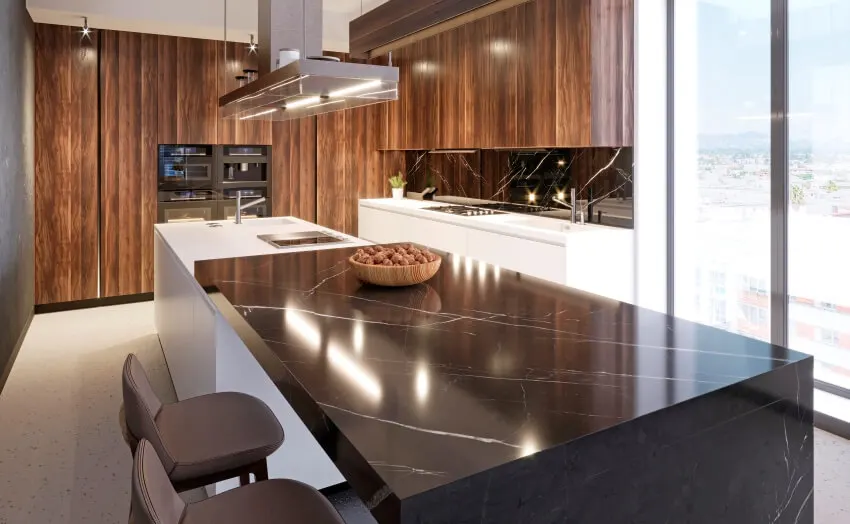 Marble has long been noted as a touch of luxury in any home. Not to mention, you have a lot of options in what your marble looks like!
This includes taking advantage of the beauty and timelessness of choosing a black marble option to decorate your home. Keep reading and we'll go over everything you need to know about your options when it comes to black marble.
What Is Black Colored Marble?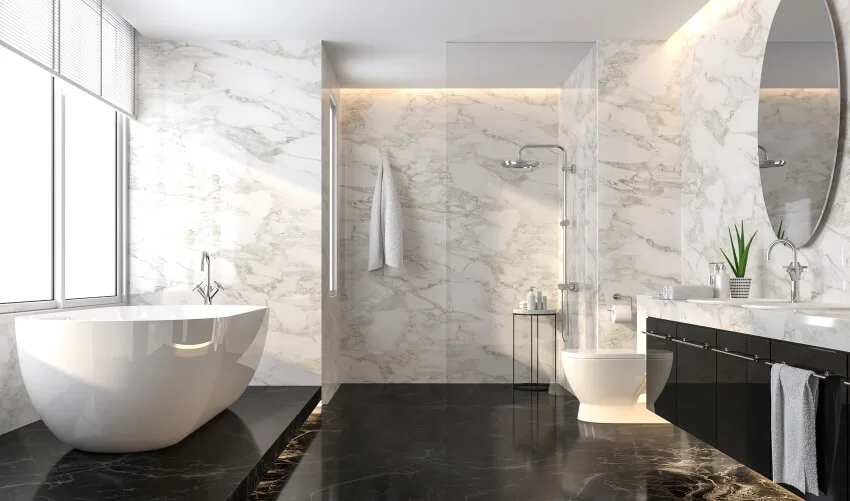 Marble is a popular material in design that's often associated with a sense of luxury. It offers durability, versatility, and longevity that you can rely on. What sets black marble apart from any other type of marble, though?
Black marble actually goes through a natural process that gives it its dark hue. Thanks to a lot of sediments, organic matter, and carbonates on continental platforms. Once these materials meet in these low-oxygen conditions, they start a process that eventually leaves the marble black.
There are a few different types of black marble around the world. Read on and we'll take a look at a few different types of black marble and what sets them apart from one another.
Black marble has a variety of uses around the home as well. It's found uses both as an indoor and an outdoor material and you can incorporate it through a variety of mediums.
Black Color Marble Stone Varieties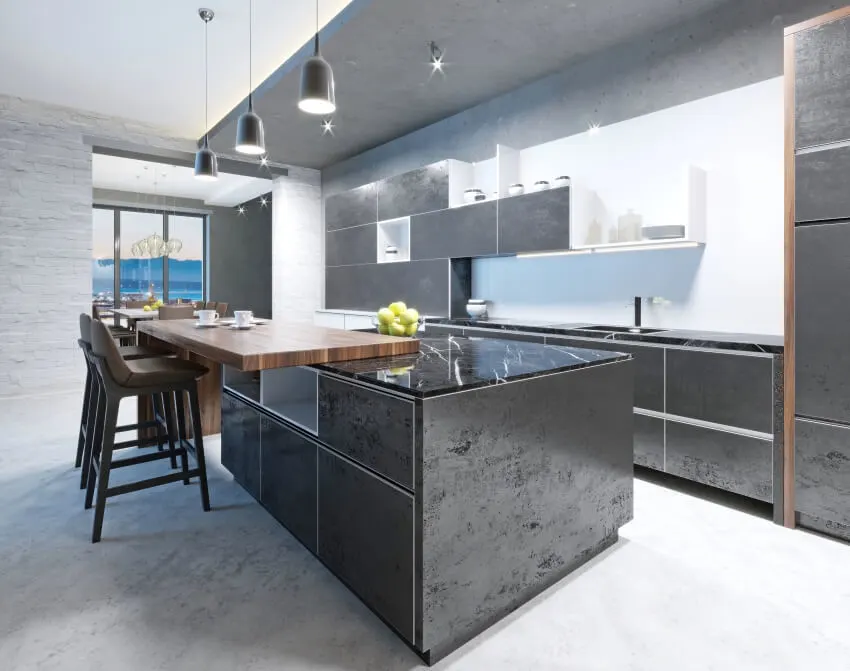 There's more than one type of black marble out there and they each bring their own unique benefits to the table. Let's take a moment to look at a few different types of black marble.
Black Marquina Marble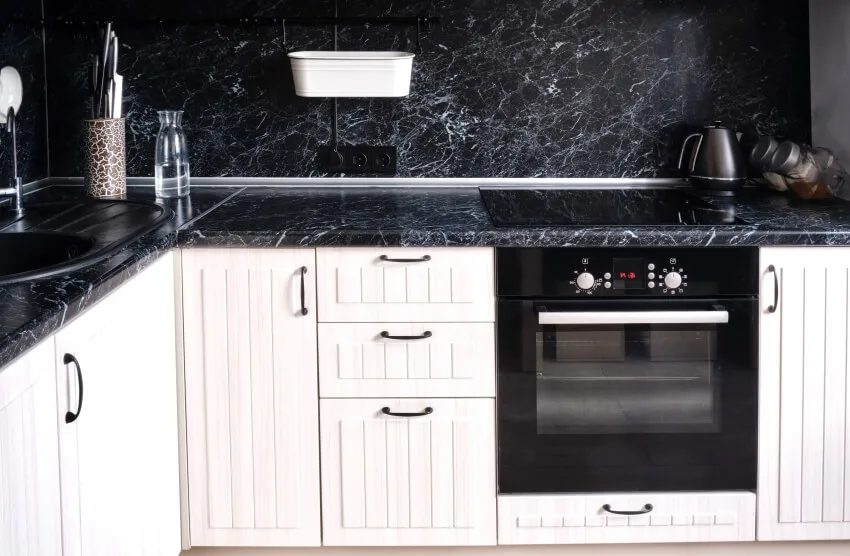 Black Marquina Marble comes from Markina in Biscay, Spain. It's also one of the most widely recognizable renditions of black marble on the market. This comes from not only its characteristic look but how widely available it is as well.
This marble option is made up of black reef limestone. The veining it features is made up of white calcite.
This marble is primarily black or a dark gray color which is broken up by white veining. The different colors make this option rather versatile.
These veins are irregular as well, giving you a one-of-a-kind look no matter how you use your Marquina Black Marble. Once in a while, this type of marble even features fossils within its fine grain.
Noir Saint Laurent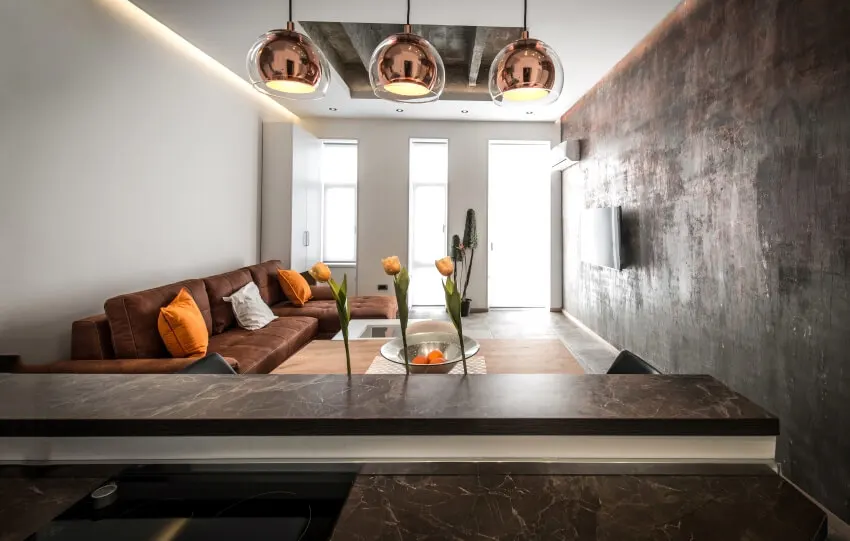 Jumping from Spain to France, you find another option for black marble. Noir Saint Laurent Marble comes from Laurens, France. Made up of black limestone broken up with a mixture of white, gold-brown, and sometimes even coral veins, this option has been around since 1885.
Much like Marquina Marble, Noir Saint Laurent Marble features a dark background with irregular veining. Again like the previous option, it occasionally features fossils in the stone.
This is another option that's widely available. This makes it a rather popular option when it comes to black marble. With the variety in its veining, it can even add some colorful touches without straying from the concept of black marble. Best of all, it's even known for its durability.
Port St. Laurent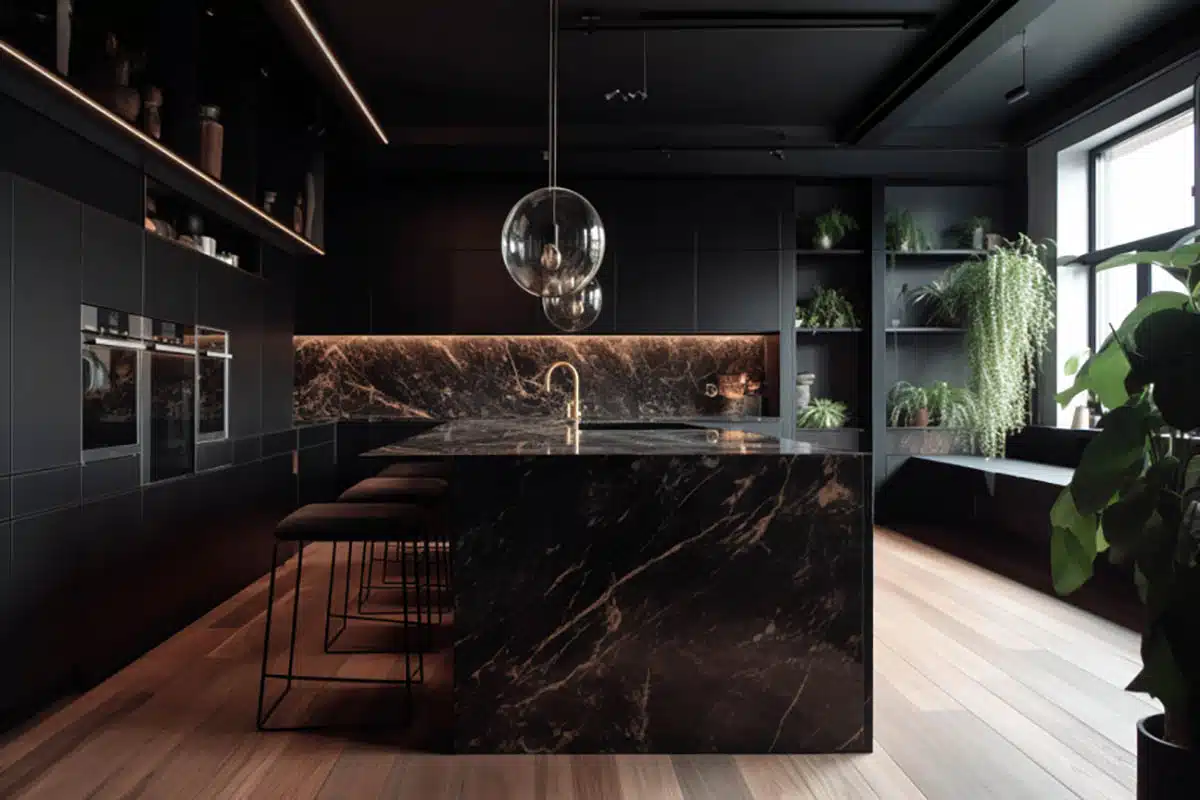 Similar in name, Port St. Laurent doesn't come from France but from Morocco. More specifically, it comes from a quarry in Agadir-Biougra between the High Atlas and Anti Atlas mountains.
The base background for this fine grain marble is dark brown, dark gray, or black with the occasional fossil. As for the veining, this offers gold veining made up of golden calcite. When it's polished, this calcite even has a bit of a shine to it, making it all the more eye-catching.
You might notice minor white veining in your Port St. Laurent Marble as well. It's a great choice when you want to add a touch of sophistication to your decor.
Fossil Black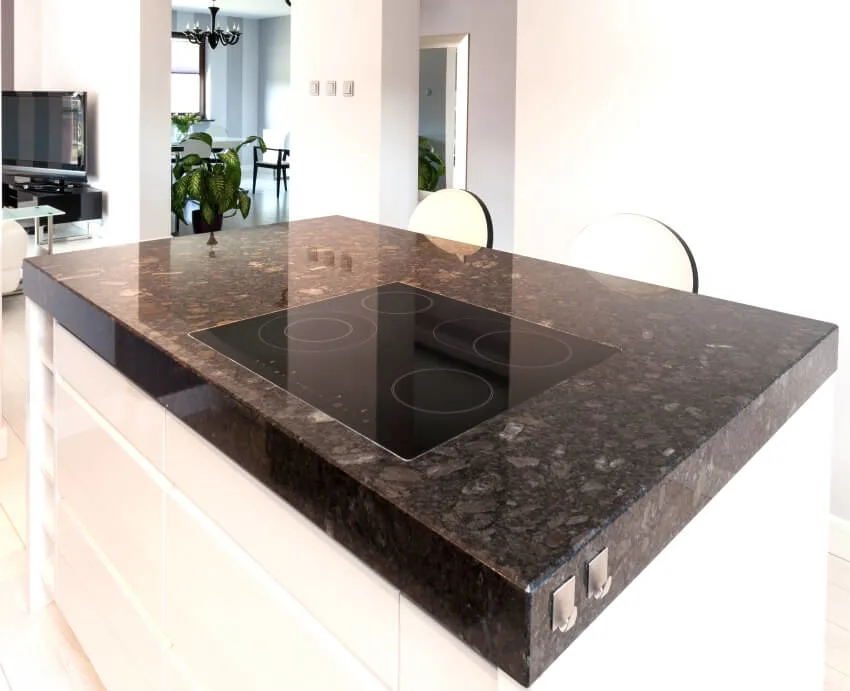 Port St. Laurent isn't the only black marble that Morocco offers, though. Morocco is also the home of origin for Fossil Black Marble. Rather than Agadir-Biougra, you'll have to go to Erfoud, Morocco to find a quarry where Fossil Black Marble is extracted.
This marble gets its name from the fossils within it. As we've seen, plenty of different types of marble features the occasional fossil.
As for Fossil Black Marble, though, it usually heavily features fossil content. These fossils mostly include evidence from the Upper Devonian Period including orthoceras and goniatites.
Other features of this type of marble include a medium to thick grain and white veining alongside the presence of fossils. The background color of the marble is typically dark gray to black.
Nero Portoro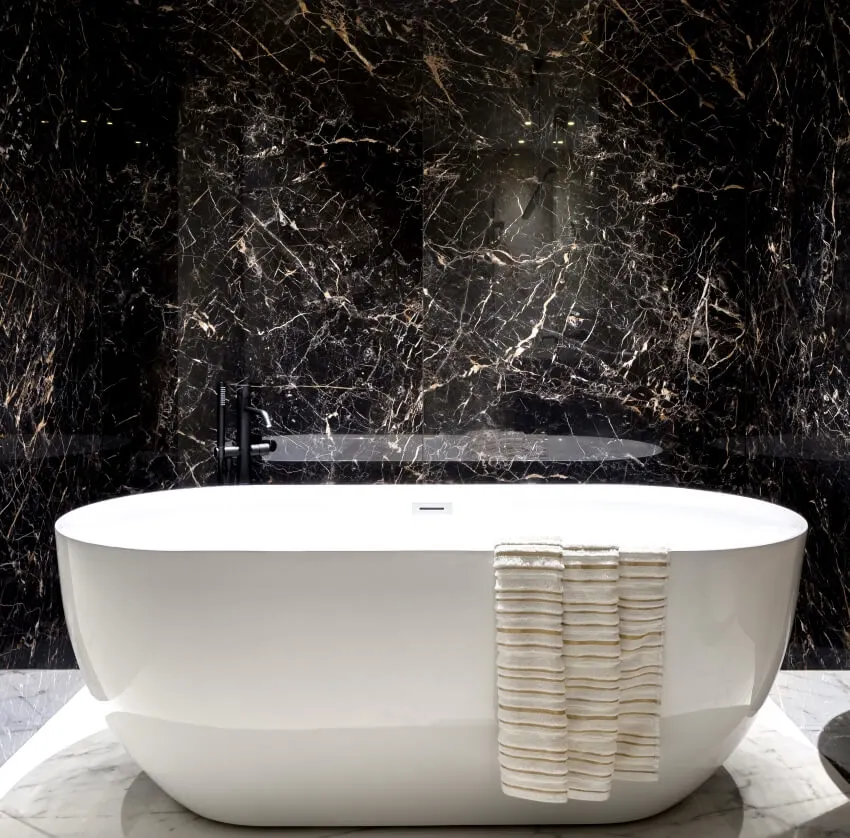 Nero Portoro is among the rarest choices for black marble in your home. However, it's highly valued for good reason.
This type of black marble comes from Spain and it's been around for quite some time. This luxury option has been around as far back as the 7th century. The marble is made up of black micritic limestone. As for the veining, the limonite and sulfides veins take on a rich, golden hue.
This irregular gold veining sometimes even features thick, filled-in areas. This breaks up the dark background with dramatic gold sections much thicker than the usual thin veining.
This gold veining is sometimes accompanied by smaller white veins as well. All in all, it offers a really unique and elegant touch to your home.
Nero Dorato
Nero Dorato is a type of black marble that you might have heard of by another name or two. Aside from Nero Dorato, you might hear it called Sahara Noir, Nero Sahara, Nero Tunisi, Nero Berber, and Aziza Marble. All of these options refer to the same thing.
Nero Dorato is found in Zaghouan, Tunisia. The extracted stone actually comes in a range of colors. Aside from the given option of black marble, Nero Dorato Marble can come in gray as well. Most of the veining seen in Nero Dorato Marble is white but you might also see veining come in gold or brown too.
The grain of this marble is very fine and the slabs may occasionally contain fossils within them.
Black & Gold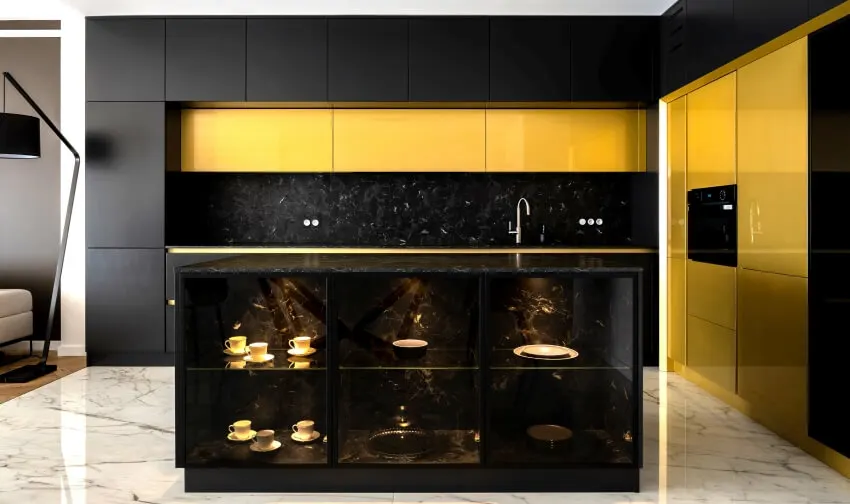 Black and Gold Marble comes from Southwest Pakistan. Specifically, the marble comes out of Balochistan, an area also known for the extraction of other natural stones often used in building and interior design such as granite and onyx.
One unique feature about this type of marble is that it doesn't feature fossils at all. Since this is geologically marble, it has undergone its metamorphosis. During this process, the fossils are lost.
This fine-grain marble always has a black background that's broken up by either white or gold veins. The renditions with gold veining are often more highly valued than white-veined options but both offer a unique sense of splendor.
Is Black a Natural Form of Marble?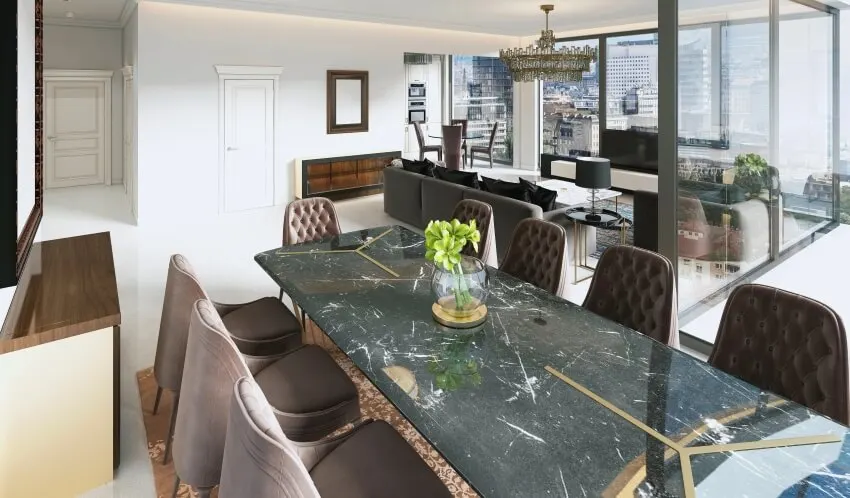 Yes! Just like any other type of marble, black marble is a natural stone. Like other natural stone materials, it's mined from a quarry where that stone naturally forms.
Where to find these materials depends on the type of black marble slabs you're considering. We'll take a closer look at the types of black marble and where they come from in a moment.
Where To Use Black Stone Marble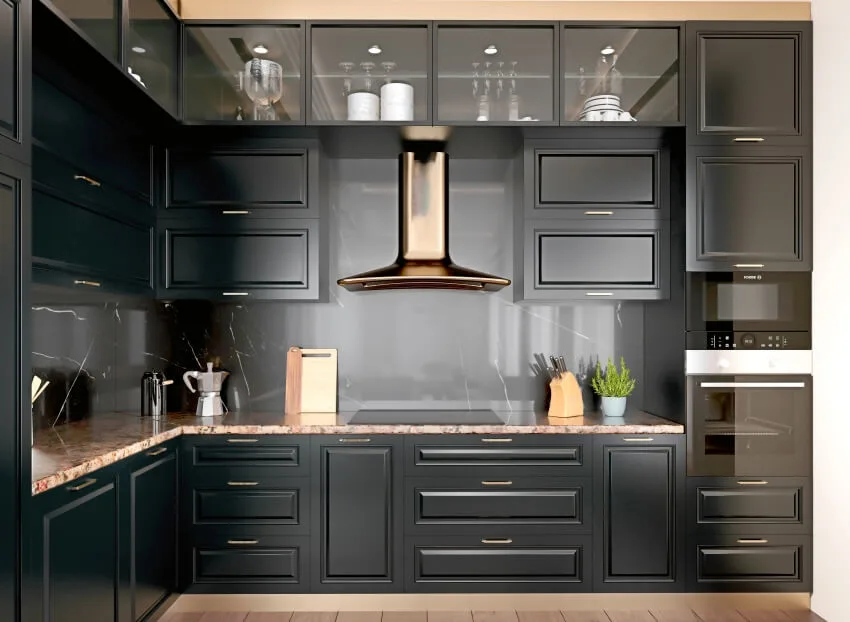 If you love black marble but don't know where to put it, don't feel intimidated! It's more versatile than you might think and can fit into a lot of different uses in your home.
Kitchen Countertops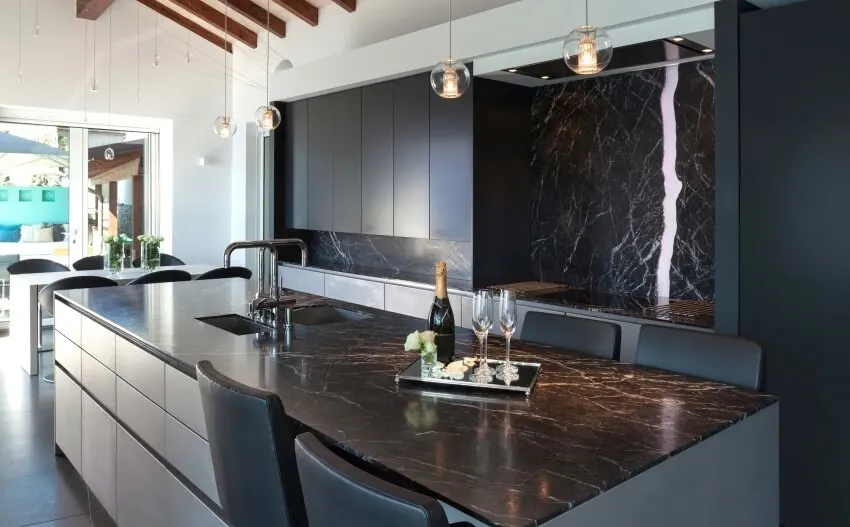 Marble countertops are a classic choice when it comes to renovating your kitchen. So, why not use black marble, in particular?
Black marble lends itself particularly well to modern or minimalist decor. In these cases, they're great to pair with stainless steel appliances or a starkly contrasting cabinet color.
On top of that, there are some general benefits to dark countertops. They're resistant to stains and the messes you regularly run into in a kitchen compared to a lighter countertop.
Even further, black countertops are a timeless choice that won't go out of style anytime soon either. You can pair a black countertop with a white Carrara marble backsplash for an alluring contrast. See more kitchens with marble countertops here.
Black marble backsplash slabs are another option that looks impressive and luxurious in the kitchen. Taking the slab all the way up the wall creates a beautiful focal point.
Matching the counters with the backsplash can also look cohesive and combining them with lighter color cabinetry can help the space form feeling too dark.
Bathrooms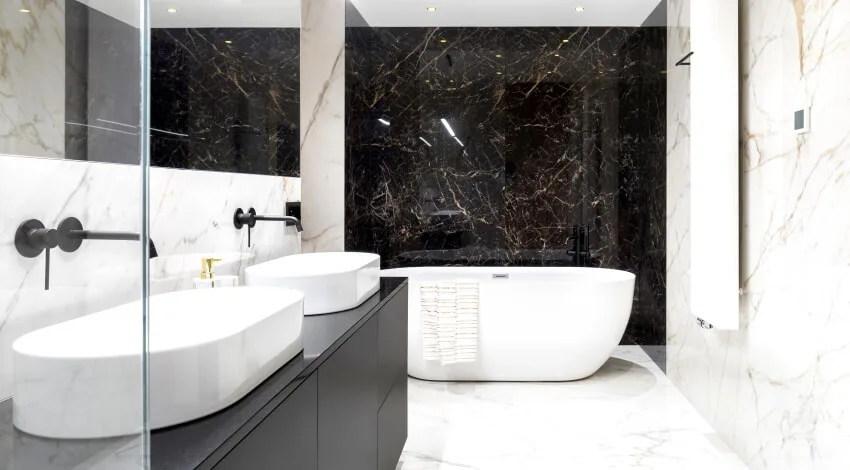 You can use black marble in a bathroom in a variety of ways. To start with something we've already covered, it's a great choice when it comes to your bathroom countertops. Once again, it offers durability, versatility, and beauty.
Your floors in a bathroom are also a great place to use black marble. Alternatively, you can use marble on your walls for a different look.
With the proper maintenance, you can even use marble in a shower. This means that if you're looking for a modern, sleek look or just want a dramatic accent wall to finish things off.
Flooring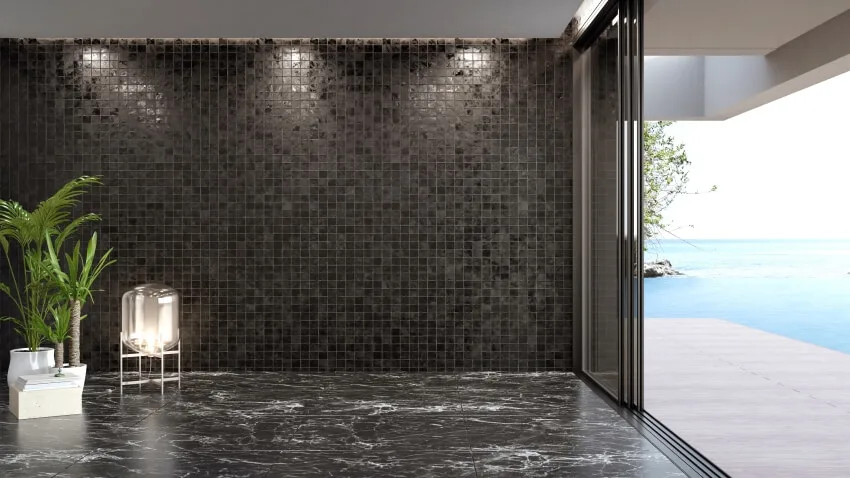 Nothing says luxury quite like a marble floor. It can add a touch of elegance to any home and black marble flooring is a great choice if you want something a touch more dramatic.
The primary drawback is that they get slick when they're wet, so you might want to throw a few bathroom rugs down if you opt for it there.
Wall Cladding
Wall cladding refers to using a layer of one material on top of an existing wall. This can be decorative or, particularly in exterior use, to add some extra protection to your walls.
Marble wall cladding is a great way to add the characteristic look of marble to your walls without requiring a more expensive replacement.
You have a few options here as well. Aside from the type of marble you use and the finish, you can use marble wall cladding in a variety of ways stylistically. For example, it makes a striking accent wall!
Black Hue Marble Finishes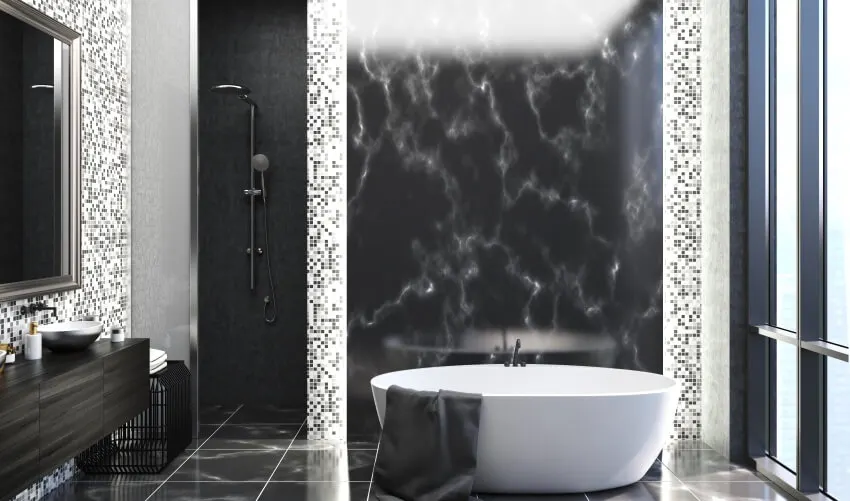 Another concept that affects how your black marble looks is the finish on it. There are a variety of marble finishes available for marble including;
• Sand-blasted marble
• Linear marble
• Chiseled marble
• Fine-honed marble
• Rough-honed marble
• Polished marble
• Split-faced marble
• Flamed marble
• Bush-hammered marble
• Antiqued marble
Sawed marble is sometimes referred to as raw marble. This option has a rough finish with visible cut marks.
Linear marble features, as the name suggests, linear grooves on the surface. These run parallel to one another for an even appearance. Similarly, chiseled marble features grooves but they aren't as even or as large as the pattern in linear marble.
For a smooth, matte finish, you'll want to consider a fine-honed marble finish. Rough-honed marble is close to the same concept but slightly less smooth but still without visible line cuts.
Rough-honing precedes fine-honing which precedes polished marble. Polished marble has a smooth finish that's glossy rather than matte. Read more about the differences between honed vs polished marble here.
If you like a rustic appearance, split-faced marble is well-suited to the style. Using a chisel gives your marble a more textured appearance.
Bush-hammered marble is achieved with a bush hammer, hence the name. The result is a fairly uniform, pitted appearance.
For something a bit more uneven but with the same coarseness, a flamed marble finish is great. This finish gets its name from the technique used to create it which includes exposing it to sudden but brief high temperatures.
Antiquated marble is made to look aged. This is usually accomplished by using brushes to make the marble look smooth but worn with time.
Marble Maintenance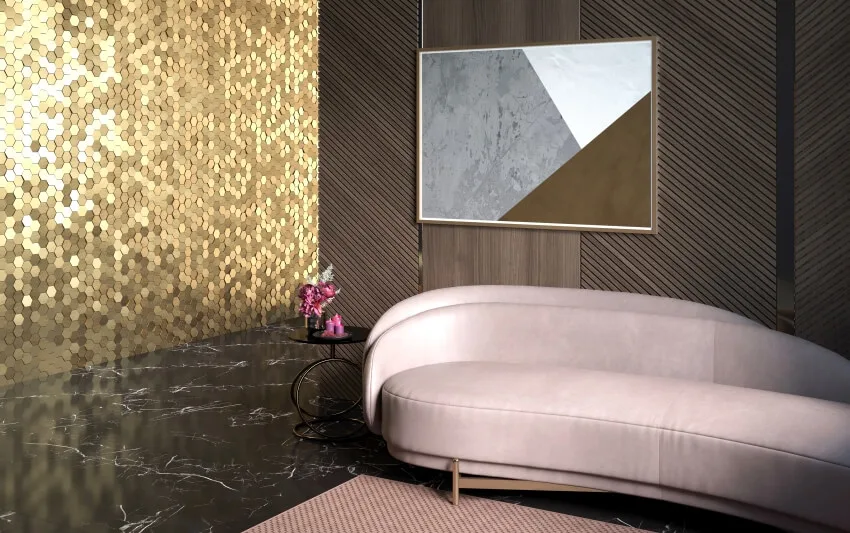 To keep your black marble looking great throughout the years, it's important to maintain it properly. To start, it's a good idea to protect it from hot pots and pans when possible, even though it's heat resistant. If you spill anything – especially anything acidic – make sure to wipe it up as soon as it happens.
As for regular marble countertop cleaning, use mild soap and water in a spray bottle. From there, just wipe it down with a soft cloth – you won't want anything too abrasive. Remember, acidic cleaning products will do more harm than good.
It's a good idea to seal and reseal marble as well. The manufacturer can tell you exactly how often but if you spill water on your marble surface and notice that the water doesn't bead up like it used to, it's time to reseal your black marble
Black marble is a useful, versatile, and luxurious choice for any home. With everything you've learned here, you can find the perfect black marble look to suit your space!
Visit our guide to artificial marble for more related content.