Here's our guide to french door sizes including how to measure for french doors and our dimensions guide for exterior and interior french door sizes.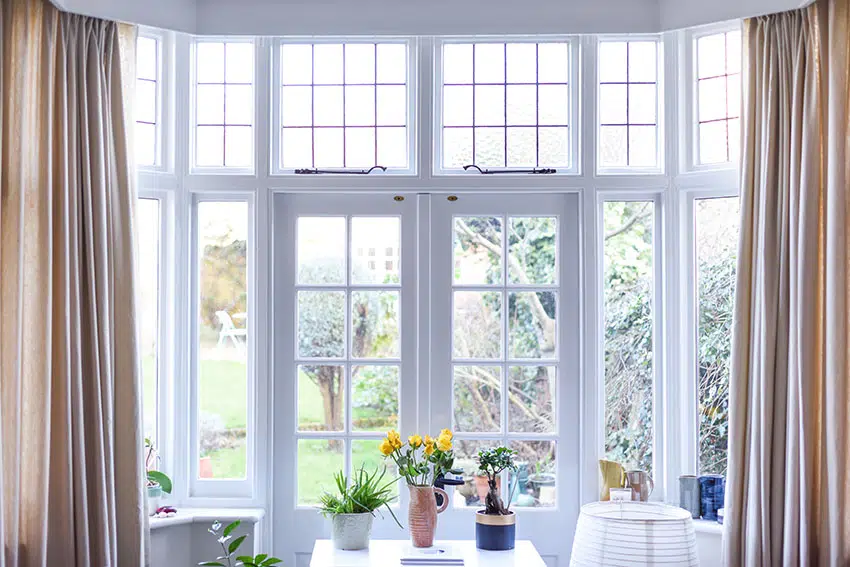 Incorporating French doors into your open layout will undoubtedly enhance the look and ambiance of your house. Installing French doors is also an ideal way to boost a tremendous amount of natural lighting inside your house.
French doors can give several benefits in terms of security, functionality, energy efficiency, design, and convenience. However, you might ask, what is the size of a standard French door? What are the sizes of the other types of French doors?
Let us discuss these questions in this article.
Standard French Door Size
The size of the French door will typically just follow the size of the door opening. Meaning some sizes of French doors are modified by the designer. However, there are still some standard French door sizes.
The size of standard French doors is customarily 80 inches in height and 72 inches in width. French doors, however, can also be available with a measurement of around 5 and 8 feet in width.
French doors can be used for room entryways of different sizes.
In several cases, the sizes of French doors will only depend on what the manufacturer has set. But, generally, most French door dimensions are between 5 and 8 feet in width for each door. They are also mostly available with an additional measurement of 2 inches.
Exterior French Door Sizes
The size of an exterior French door may vary. It mostly depends on its manufacturer. It will be based on the size of the door frames. But usually, the height of a standard exterior French door is either 6.7 feet, 7 feet, or 8 feet.
As mentioned, the average French door size is 80" high by 72" wide.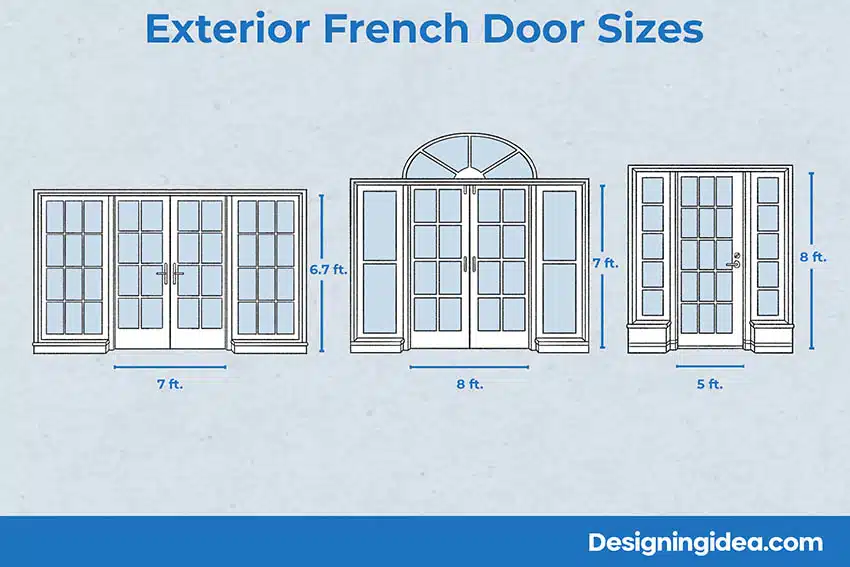 Exterior French doors are usually 5 to 8 feet wide. The overall door size may increase by a few inches at a time. Because French doors are mainly created to transfer more natural light into your indoor space, they customarily function as exterior doors.
Some huge houses with massive door openings need massive exterior French door sizes. If this is your case, you won't have to worry, as you can select exterior French doors that measure up to 10 feet in width.
Interior French Door Sizes
French doors aren't only for exterior uses but can also be installed in small, tight spaces. French doors can also function as interior doors. Many homeowners can't resist including them in their interior space because of the French doors' attractive appearance.
However, if you're thinking about installing a French door in your interior space, you need to remember that it's also necessary to create sufficient room for the doors so that they can be swung freely.
Standard interior French doors measure 80 inches high by 36 inches wide per door.
Interior French doors side by side usually have a width of 36 inches. This size will create an overall door opening that's 72 inches wide. The standard door thickness is 1 ¾".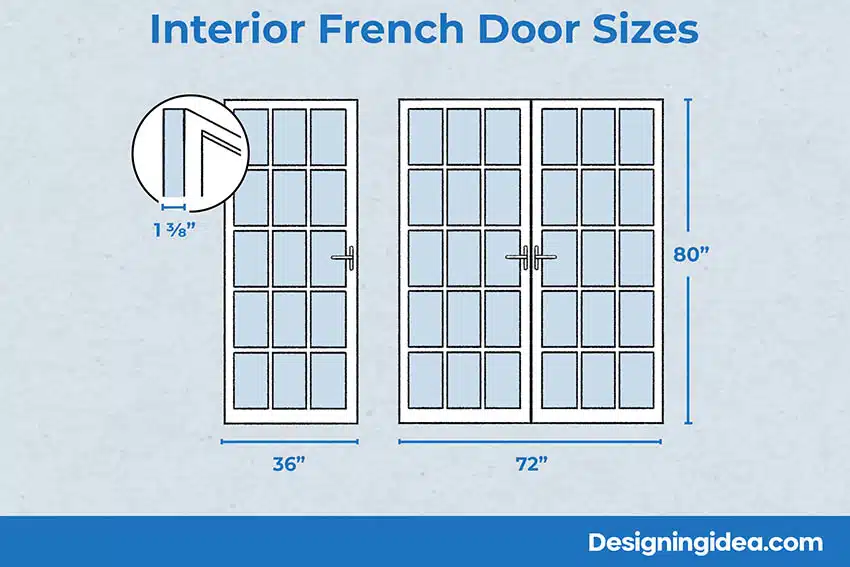 Some door manufacturers create individual doors that measure from 24" to 42" wide. Read more about standard interior door size here.
French Door Rough Opening Size
The size of the French door's rough opening must be precisely ascertained so that the French doors will be installed correctly and without hassle.
Moreover, this ensures that the doors will be opened and closed fittingly once built and installed. A correct rough opening size also ensures there won't be uneven surfaces and gaps in the door.
To accurately determine a French door's rough opening, you must measure each door's size. To get the overall width, you'll need to multiply each door's width by 2 and then add 2 inches.
For example, if each door has a measurement of 30 inches in width, the width of the French door's rough opening must be 62 inches.
Regarding the rough opening's height, you'll need to add 2 and a half inches to the door's height. As an example, if the height of your door is 82 inches, then the French door's rough opening's height must be 84 and a half.
How to Measure For French Doors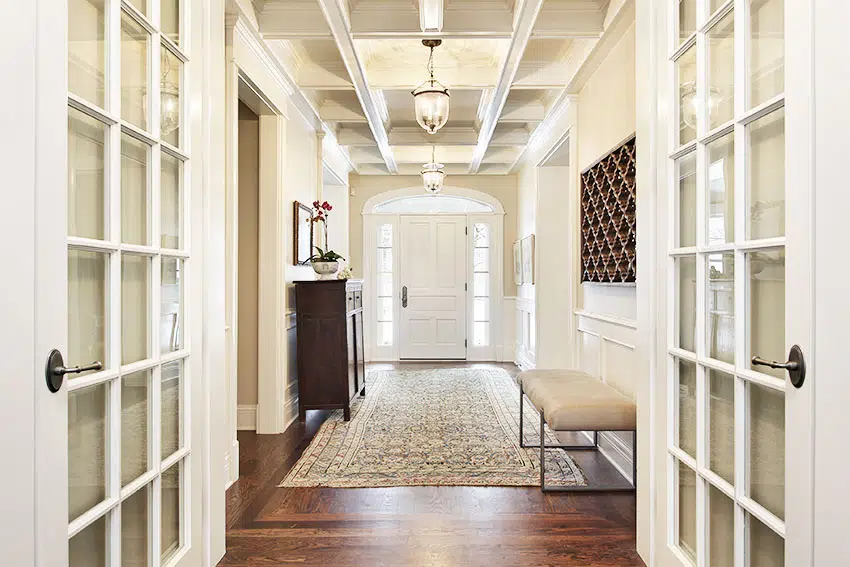 To measure your French doors, what you need to do first is to remove the molding from the door frame's interior. It can't be possible to precisely measure the door space's rough opening if the molding is in the area.
After that, you must start measuring the opening's width and height. Start measuring from the threshold to the header's bottom to get the height accurately. To get the actual width, measure from one side of the opening to the other.
It is also recommended that you get the measurement of the depth of the jamb.
Furthermore, you'll have to identify if your French door is opening outswing or inswing. You must also go stand on the outside of the door to determine if it opens using your right or left hand.
Read this article to learn more about how to measure a door.
Do French Doors Open In Or Out?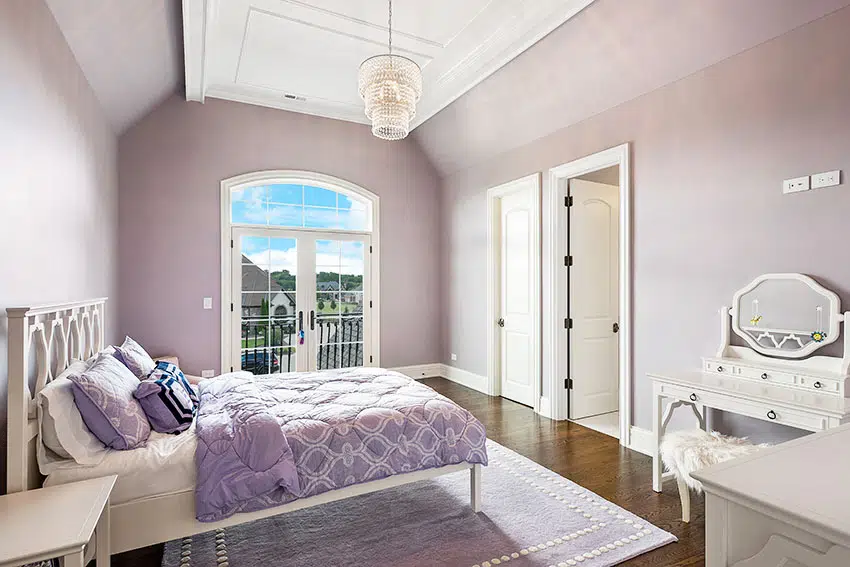 There are only 2 selections when choosing which way your French door opens, and it's either in or out. However, these 2 choices have their pros and cons.
For example, if you want to replace your French door, then you'll also have to install a French door that can open similarly to the old door. To modify the door's opening direction, you must also change the door frame and casing.
Moreover, french doors need an extensive space away from blockages. You must also leave sufficient space to stand conveniently and comfortably while pulling or shutting the door.
Several residences only provide enough room for the French doors to be opened in full range in a single direction.
Doors that are swinging outward can withstand several types of weather. If it's the rainy season, this type of door will prevent water from leaking. Even so, outswing doors can be very difficult to open if the snow outside is thick and massive.
If you live in a place or country that's snowing too much, inswing doors are a much better option.
In terms of safety, outswing doors can be less effective against thieves. Because the hinges are outside, thieves can detach the entire hinge. So if you're using an outswing door for your exterior space, putting security pins into the hinges is advisable.
For another detailed article about French doors, see our french door designs guide here.