These are the different saucepan sizes for medium & large and 1, 2, 3, & 4 quart pan dimensions, reference chart, how to measure saucepan size, and the best pan to use.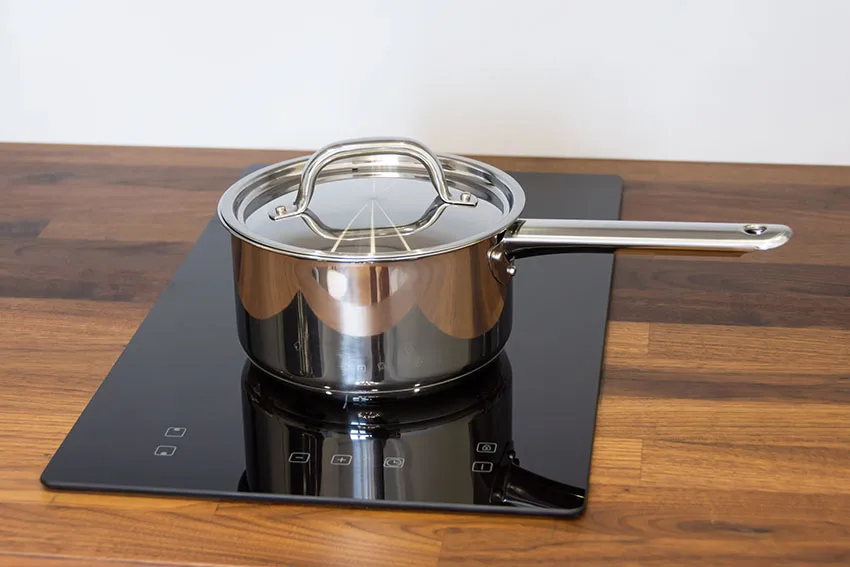 One of the most thrilling things for any homeowner is buying home appliances and accessories, and one room in the house requires a lot of specific ones, and that is the kitchen.
From frying pans to stockpots to casserole dishes and saucepans, there are a lot of sizes to cover, and choosing the suitable saucepan can make sure that sauces and steaming can be done with the right size for a family.
Saucepans are large in diameter and are best for making custards and sauces. They have a well-fitting lid, a flat base, and a sturdy handle. Depending on the type, they can be made in stainless steel or aluminum.
Medium Saucepan Size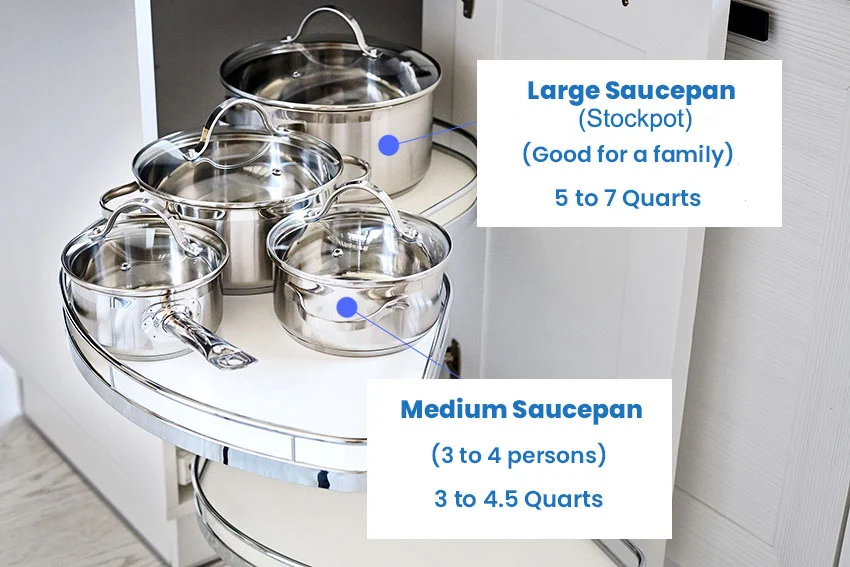 Saucepans are primarily circular, with a high side and a long handle. It is a broad piece of cookware that can have multiple features and be highly versatile for various uses and options. Different factors will determine a saucepan's size, from the diameter to capacity to shape.
Medium-sized can be the most used for a household since it provides any users with a bigger amount without being overly large. Many brands offer this size of a saucepan with small and large available because it can provide the most flexibility to any kitchen.
The capacity of many medium saucepans is 3 to 4.5 quarts, perfect for any home with up to three to four persons. This size is ideal for blanching vegetables, cooking grains, and cooking large mashed potatoes.
Large Saucepan Size
For a family with more members or any homeowner who loves to host and throw dinner parties to make serving en masse a little easier, a large capacity saucepan is the one they need and should get. Other sectors that would benefit from a large saucepan are restaurants or pizzerias that require a lot of sauce throughout dinner service.
Most larger saucepans (stockpots) will have a capacity of 5 to 7 quarts, a saucepan perfect for making large batches of sauces, stocks, or any soup. Anything larger than 4 quarts is often referred to as a stockpot, rather than a saucepan.
Getting two saucepans is the ideal option for many homes since it will provide more flexibility, whether the homeowners are planning to cook for the family or cook for more than it.
1 Quart Saucepan Size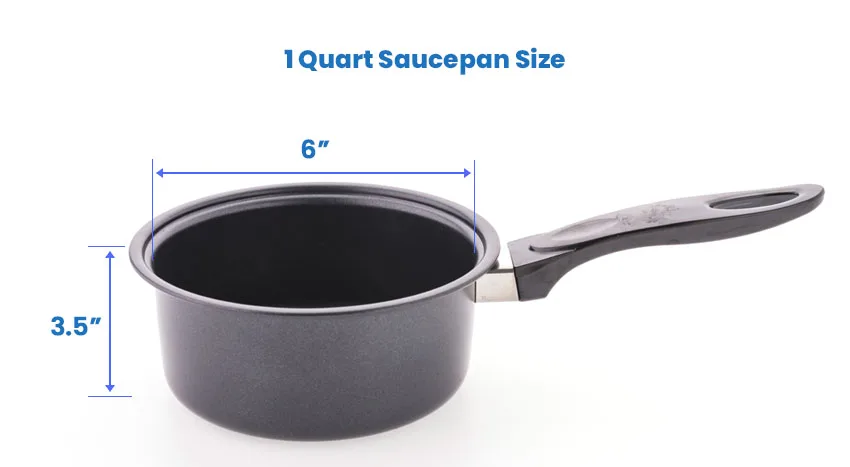 If the user is anyone living alone and is planning to prepare meals in a saucepan perfect for one, the best saucepan size to get is the one ideal for a 1 to 1.5-quart capacity saucepan. These pan sizes are perfect for any single serving cooktop meal preparation, from soup to gravies to sauces or preparing custards and dessert sauces for the night.
A small saucepan is also best for individual meals to avoid cross-contamination. Many fine dining restaurants also use these pans to ensure that every one of their meals is cooked perfectly. This size can also work for a couple trying out what saucepan size will work for them.
Most 1 to 1.5-quart saucepans will be 6 inches or 15 centimeters in diameter with a pan height of 3.5 inches or about 9 centimeters.
2 Quart Saucepan Size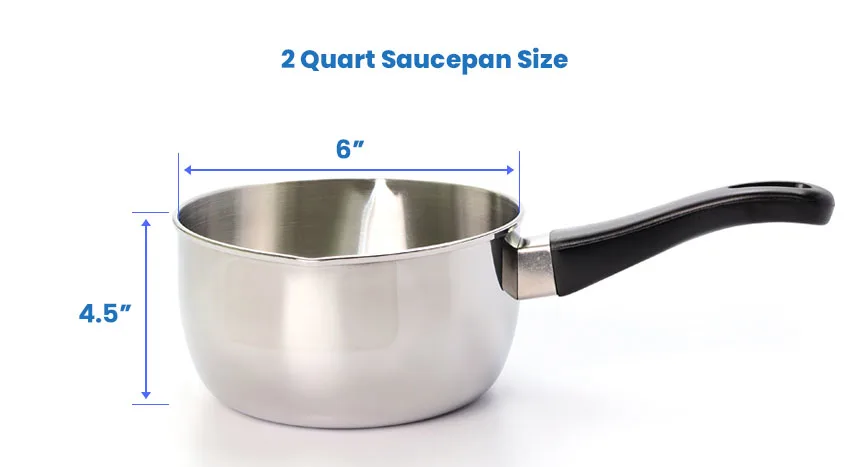 Another saucepan excellent for a household with one to two people is any saucepan with a capacity of 2 to 2.5 quarts. This saucepan size is perfect for smaller batches of sauce, soups, and small servings of rice and vegetables.
These sizes are also easy to wash and store on many kitchen cabinets, from apartments to bigger homes wanting a smaller saucepan over a larger one to use for breakfast or any smaller meals in between. This size is also fantastic for a nightcap of heated milk or any tea or coffee, plus boiling or poaching eggs for any meals.
Most 2-quart saucepans will be 6 inches or 15 centimeters in diameter with a pan height of 4.25 inches or about 11 centimeters.
3 Quart Saucepan Size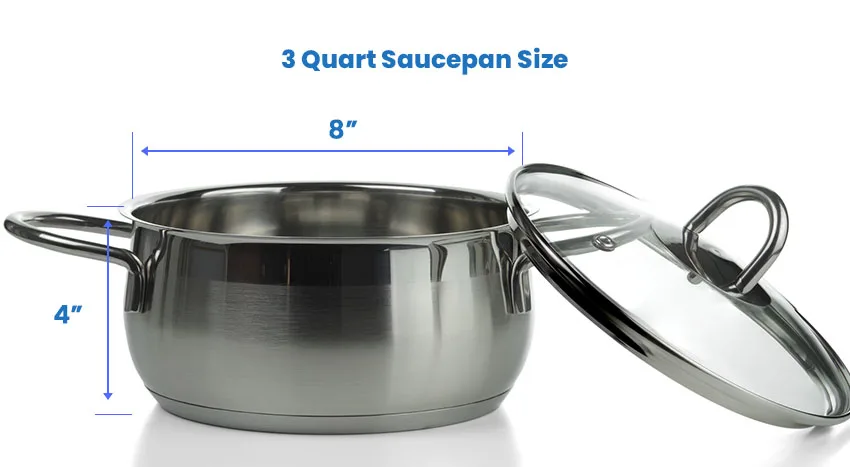 A 3 quart saucepan is roughly the same size as a medium saucepan at 3, 3.5, or 4 quarts. These sizes have already been established as the most versatile since they are not too small to work for only a single to a couple of people, and it is also not too big that they could be used for everyday use and can be stored easily.
From reducing to simmering to boiling to steaming to melting to warming food and liquids, this size is perfect because of its deeper sides and its handy size. Although you cannot cook a full meal with a smaller saucepan, the 3 quart saucepan is actually big enough to do so.
Most 3-quart saucepans will be 8 inches or 20 centimeters in diameter with a pan height of 4 inches or about 10 centimeters.
Saucepan Size Chart
Here is a handy cheat sheet of the most standard sizes for homeowners looking for the best saucepan size.
| | | |
| --- | --- | --- |
| Saucepan Size | Saucepan Diameter in Inches and Centimeters | Saucepan Height in Inches and Centimeters |
| 1 to 1.5 Quart Capacity | 6 inches or 15 centimeters | 3.5 inches or 9 centimeters |
| 2 Quart Capacity | 6 inches or 15 centimeters | 4.25 inches or 11 centimeters |
| 3 Quart Capacity | 8 inches or 20 centimeters | 4 inches or 10 centimeters |
| 4 Quart Capacity | 8 inches or 20 centimeters | 5 inches or 13 centimeters |
How To Measure Saucepan Size
For homeowners looking for a more straightforward solution to knowing the size of any saucepan outside of knowing its capacity in quarts, measuring is easy as pie. Knowing the size of a saucepan will ensure that no mistakes are made in the kitchen regarding a particular recipe.
The first thing is taking a ruler and holding it straight up to measure the depth of a saucepan. This is also the same process for measuring the diameter, and you do that by placing the ruler on top of the saucepan and measuring from one edge to the next.
Best Size Saucepan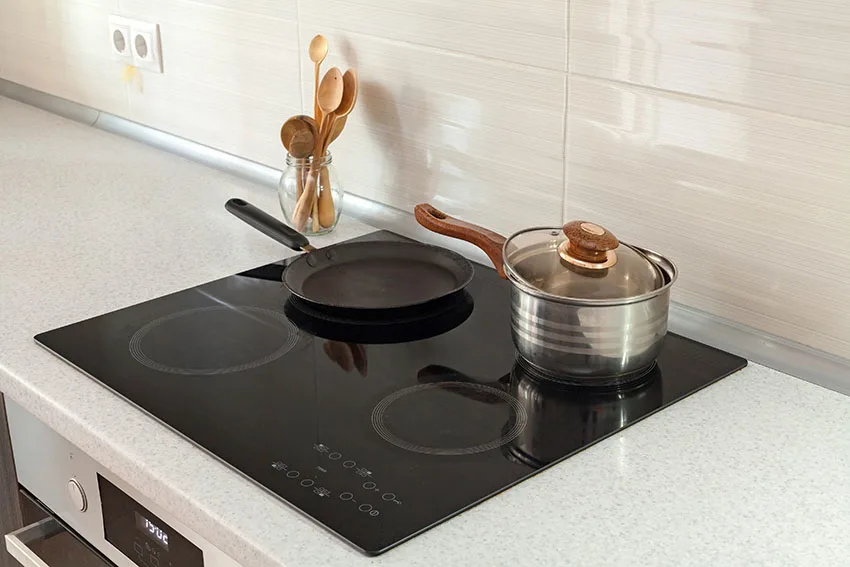 The best saucepan size will consider a lot of factors and the most essential thing is household size.
The safest option is going for a medium-sized saucepan (2 quarts) since it can be small enough to serve a single person but big enough for an occasion that calls for a bigger saucepan. The most frequently used saucepan sizes are generally the 2 quart and 4 quart sizes.
What saucepan sizes do you use the most in your home? Share your thoughts in the comments below to let us know what you think. For more content like this visit our dinner plate size guide.