These wavy tile backsplash designs share what it is, the different types, such as wavy subway tiles, 3d format, geometric & glass and what are considered wavy tiles.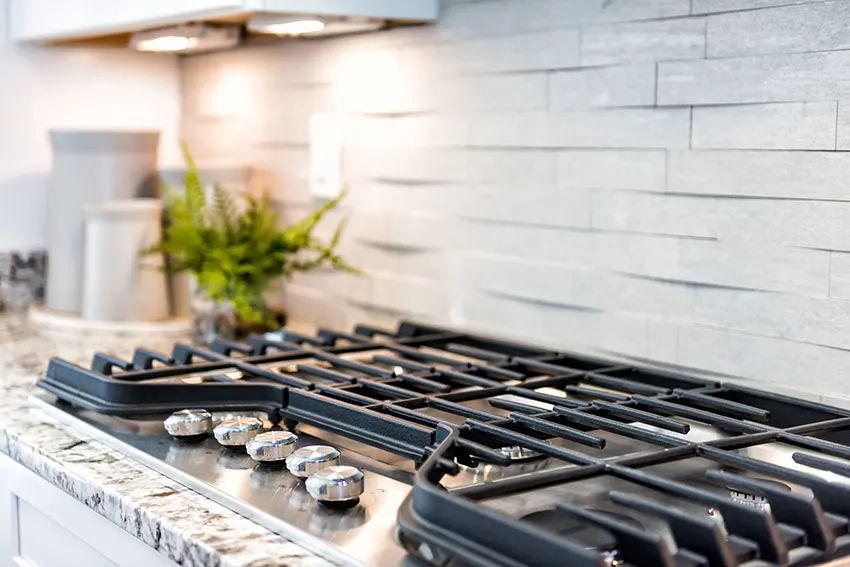 A fresh diversion from the rigid lines of modernism, the wave pattern echoes the flow of water or wispy clouds that can be an eye-catching feature on any wall. The undulating lines surprisingly blend well with modern and even the more minimalist ensemble. Whether traditional, transitional or modern themed spaces, wavy tiles are versatile.
Textured tiles provide dimension and character, lending a soft and organic look to any kitchen or bathroom space. A wavy tile backsplash can give much character effortlessly without breaking from the simplistic tendencies of a modern or contemporary theme.
What Is Wavy Backsplash Tile?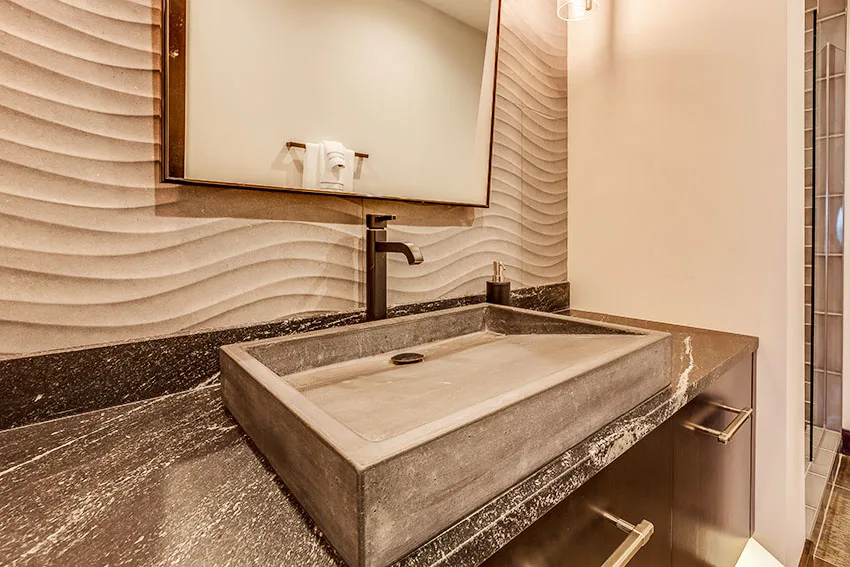 A wavy backsplash tile is a textured finish with a waving pattern across or diagonally on its surface. There are different versions of wavy backsplash tiles with variations in their wavelength, material, color, width and height. Like your other types of backsplash tiles, you'll find them in matte or gloss finish.
The textured surface showcases its 3-dimensional effect, yet the bumps and indentations still make a surface for items to rest evenly. So, an artwork, a floating shelf, or a fixture can be flushed against the wall.
Wavy backsplash tiles come in different materials, such as ceramic, glass, stone, metal, and vinyl, which is the more popular choice. Hard-wearing ceramic and backed clay are other wavy backsplash tile materials.
While the homogeneous white wall predominantly owns the wavy tile, medium to large tile formats can have a gradient effect or multi-colored effect.
Wavy tile backsplashes are typically installed with the waves parallel to the horizontal line. You can opt for a vertical installation that can draw the eyes upward instead. The bathtub surround is a perfect way to apply your vertical waves as it makes a space look larger and taller.
The ripples in these white bathroom tiles used on one wall add a wave-like look to the wall but are close enough to the style of the flat tiles to make the combination work. Careful selection makes the wavy backsplash tile work even with busy patterns in space.
Wavy tile patterns are not exclusively for your bathroom. Other rooms in the house can benefit from these tile patterns. Your wall furnishing options should not be limited to the usual choices you have on hand. Interior designers and other professionals are now more open when it comes to ideas for living spaces.
Creating modern interiors for other rooms using these wavy patterns is an idea that we can always imagine. These wave tile patterns will provide a more dramatic effect when added to ceramic, porcelain, or other materials for wall finishes.
Types Of Wavy Kitchen Backsplash Tiles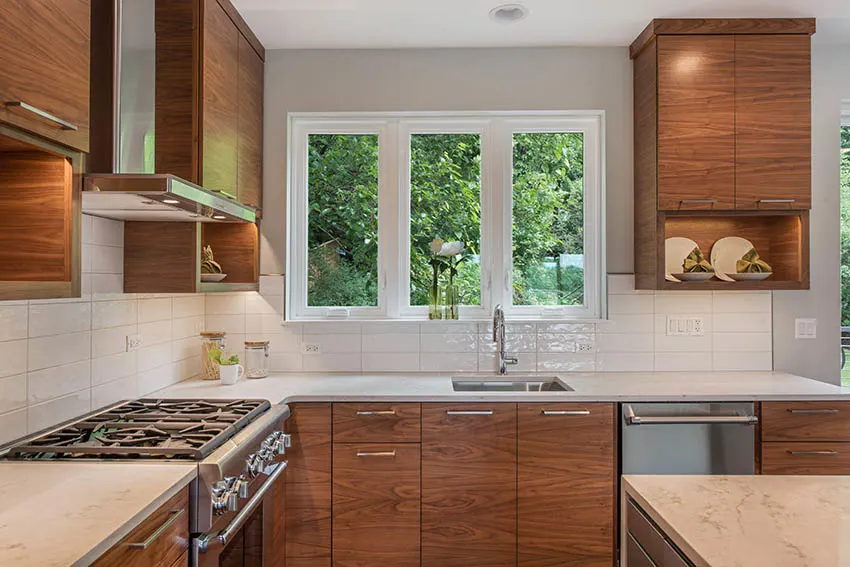 As mentioned, wavy kitchen backsplash tiles can come with different materials, and the repeated wave pattern has no fixed length or width. We've collated the most popular wavy kitchen backsplash tiles.
Wavy Subway Tile Backsplash
Subway tiles or metro tiles have been a trend in interior design and now come as a timeless and versatile tiling option for contemporary interiors. Unlike the subway tile, which has a sleek surface, wavy subway tiles display a surface with repeated waves running across.
Similar to your typical subway, wavy subway tile comes with 100mm x 200mm dimensions that can be laid out together to create different patterns with the brick bonds' running and stacked layouts.
An English layout will need squarish or smaller pieces, wavy subway tiles with smaller dimensions (75mm x 150mm), which makes them a suitable wall finish for smaller areas.
3D Wavy Backsplash Tile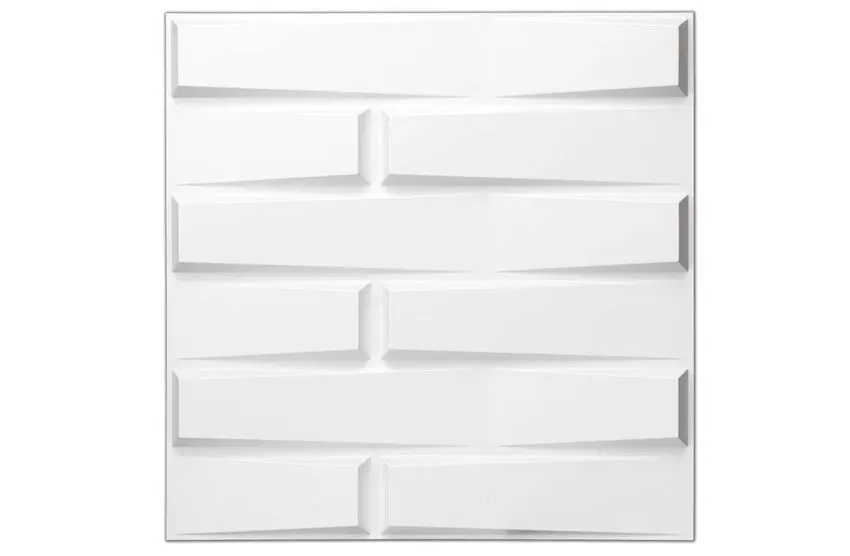 See this tile at Home Depot [sponsored link]
With the popularity of injecting pattern and texture in modern spaces, homeowners are happy to welcome three-dimensional tiles. The texture has also become a resurging design statement as flamboyant themes such as maximalism and Haute-bohemian are popularized.
The calming effect of the 3D wavy backsplash tile juxtaposes the sleek surfaces of the kitchen space, and the rippling effect can easily add that much-needed "oomph" in bare-clad bathrooms.
The advantage of 3D tiles, in general, is the easiness of installation as their large format and lightweight vinyl options merely need liquid adhesive to attach the surface covering to the wall.
As white is a favored backdrop for most kitchen and bathroom interiors due to its clean and sleek effect, the white 3d wall tiles are perfect for adding personality and texture without breaking the theme.
Gypsum panels with 3D waves are another great option for a seamless and quick installation of expansive walls.
Wavy Geometric Tile Backsplash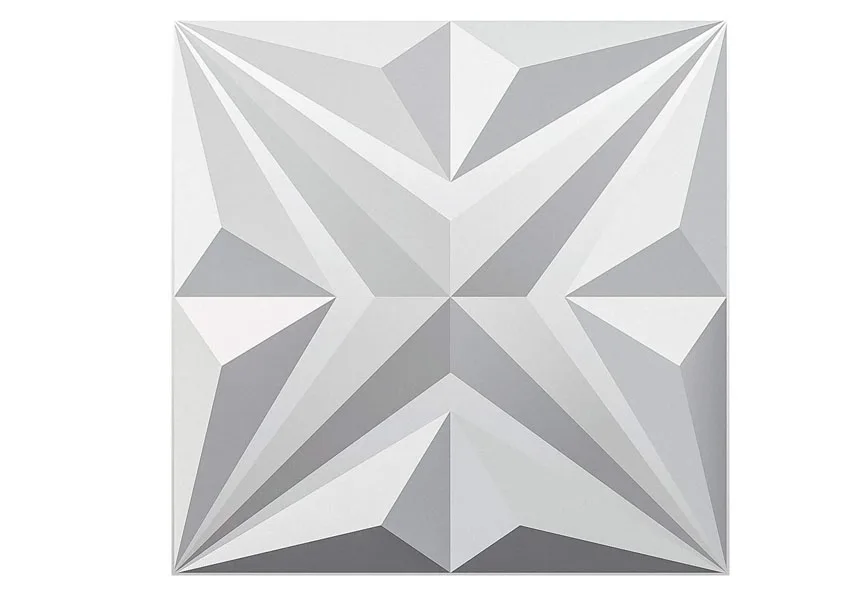 See this tile at Home Depot [sponsored link]
This version of wavy tile has a more defined and edgy look than your typical tiles. They are great at adding depth and character to the space while keeping the fresh and updated look.
A wavy geometric tile backsplash is usually made from lighter materials such as PVC Aluminum Plastic Fireproof Composite Tiles. This affords the geometric designs and makes it an easy update project for homeowners with their peel-and-stick installation procedure.
A wavy geometric tile backsplash is great for kitchens or bathrooms that have a modern or contemporary theme.
Wavy Glass Tile Backsplash
There's something ethereal about glass tiles against a surface, and with a wavy glass tile backsplash, you create a backsplash with personality.
The wavy tiles in glass make a great option for small spaces such as shower rooms as it opens the spaces with their reflective surface multiplying the light available in a room.
Wavy glass tiles provide a luxurious feel to a space especially when infused with varying colors. Visit our glass tile shower ideas for more designs.
Large Wavy Tile Backsplash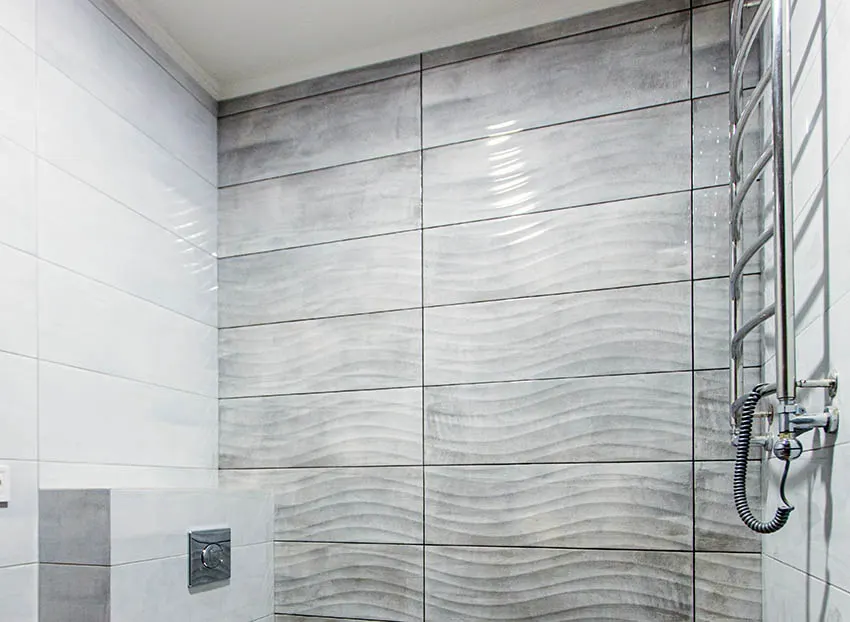 Any wavy tiles that are 12 x 12, 16 x 18 x 18 inches or more are considered large format tiles. The large wavy tile backsplash provides continuous and usually seamless waves across the wall. They can be showstopping tiles, especially on a large wall, creating a beautiful backdrop of undulating waves.
There are also rectangular formats that can perfectly run through narrower backsplash spaces. Large format tiles, in general, can transform a space in no time with fewer joints which means creating a continuous cover of waves stretching through the wall.
While gypsum and vinyl materials are the recommended choice for large format tiles, more hard-wearing options are made from porcelain or ceramic. Porcelain is harder to scratch and cracks, making it a durable surface and suitable for commercial spaces.
What Design Style Is A Wavy Tile?
Wavy tiles are considered a modern or contemporary design that fits perfectly with modern elements but can get along as well with traditional and transitional-themed interiors. As wavy tiles are versatile, they can work with minimal patterns and textures as well as layered designs.
The wavy tiles were considered to appear during the 1930s when the Art-Deco-inspired textured tiles were extensively used. Today's wavy tile texture is more downplayed but uses the theme's 3-dimensional look and looks great in white.
Are Wavy Tiles Difficult To Clean?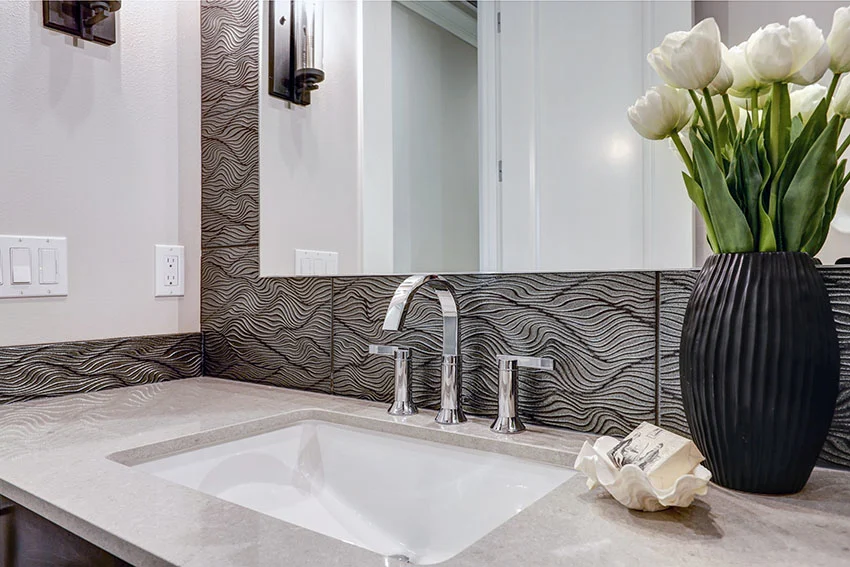 Like most textured tiles, the wavy tiles will have nooks and crannies, but with the smooth wavy pattern, it's slightly easier to run through a brush. However, remember that the rougher the tile, the harder it is to clean, so waves that are closer together and have a smaller height can get trickier to clean.
Dust and mildew get stuck in between, and having a cleaning solution of detergent can brush off most of the dirt surface. Stronger cleaning agents can damage your wavy tiles, so it's best to follow the suppliers cleaning recommendations which usually depend on the material your wavy tiles are made of.
There are cleaning solutions dedicated to the particular material. Damp Microfiber cloth can easily buff away the surface for stubborn dirt and is a good final step in cleaning off wavy tiles thoroughly.
See more related content in our article about wood tile backsplash here.