This gallery of maple kitchen cabinets showcases the different types, designs, durability, suggested colors to pair with maple cabinets and how to update them.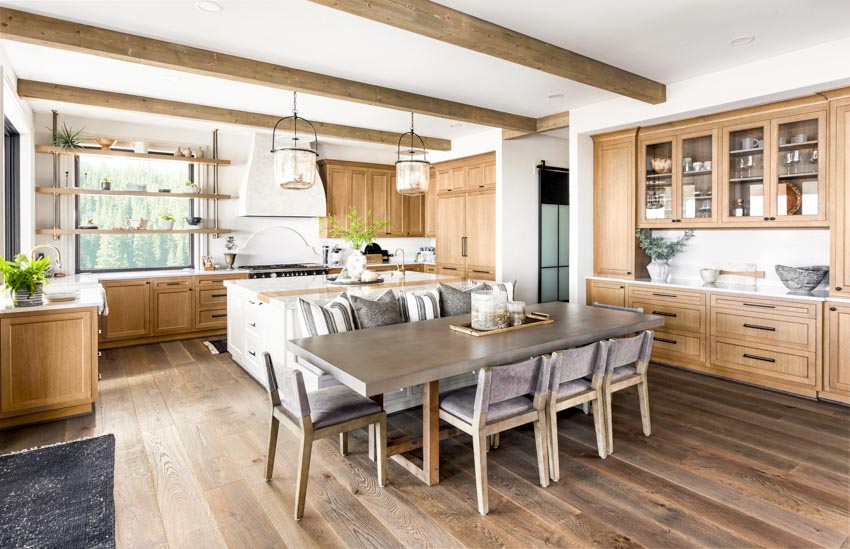 With its natural water resistance, durability, and unique appearance, coupled with a more affordable price for wood lumber, maple kitchen cabinets are a sound investment. Thanks to its dense and close-graining, hard maple are likely to get dented or damaged easily, making it a great option for busy kitchens.
In a recent survey, maple dominates the list of the most popular wood species used for cabinet doors, garnering 36%, with cherry wood at second place (29%), birch wood (16%), and oak (12%).
Through superb craftsmanship, maple kitchen cabinets are a stunning feature in your kitchen that works well with any theme in mind. Maple wood showcases a variety of light to warm hues. Read on to know more about the gorgeous maple wood and what makes it a great option for your kitchen cabinets.
Natural Maple Kitchen Cabinets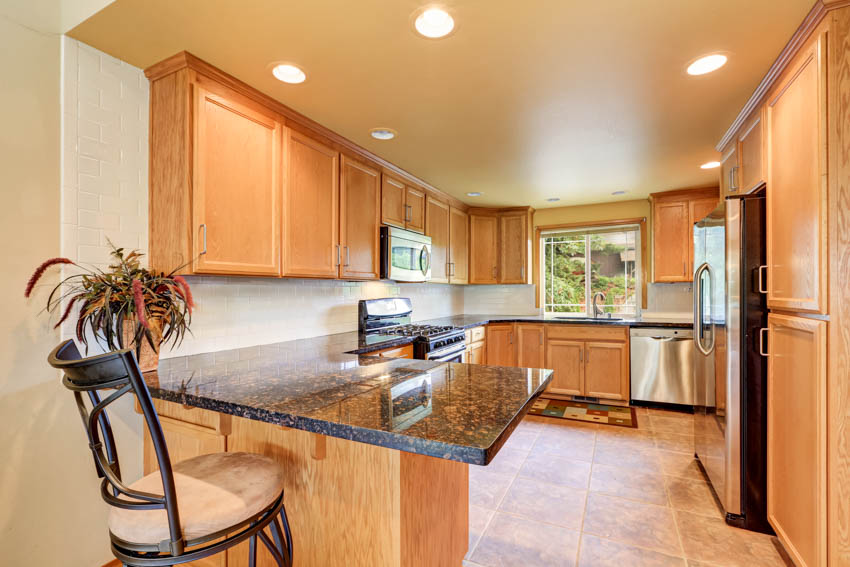 Without stains or paint, the natural look of maple kitchen cabinets makes them a great option for a rustic, country, or industrialist-themed kitchen. The raw look also works with a minimalist style, providing an interesting contrast to a whitewashed backdrop.
While most hardwood species are sourced from the heartwood for its high-quality lumber, quality wood for furniture is actually sourced from maple sapwood with a fine, light, creamy color. The heartwood of maple, meanwhile, is characterized by its brownish-red coloring.
Over time, natural maple kitchen cabinets will naturally darken when exposed to oxygen and UV light. Light-colored maple, such as white, will eventually turn into a honey-gold patina. Due to the changing color, purchasing from one batch of lumber is recommended when assembling your maple kitchen cabinet.
You have an option to apply three or more coats of clear oil-based polyurethane on your natural maple kitchen cabinets with sanding in between coats and apply a finish of tung oil or linseed oil. These oils will expose the curly or tiger look graining of maple.
Honey Maple Kitchen Cabinets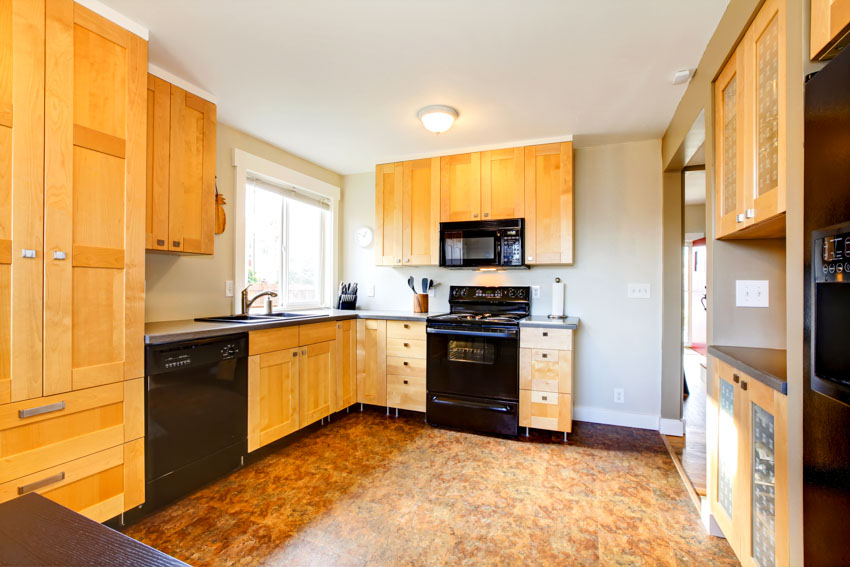 As rich and inviting as it sounds, honey maple kitchen cabinets effortlessly bring a luxurious and warm air to any kitchen space. The eye-catching wooden hue is perfect for kitchens that need added texture and character while functioning as a tough material for the demanding space.
Since its popularity in the 1950s, honey maple kitchen cabinets remain one of the top choices for traditional themed homes while having enough versatility. With a well-thought-of design, the rich and warm hue of honey maple kitchen can effortlessly make a kitchen look cozy and inviting.
You'll commonly find shaker, beadboard, craftsman, and other styles of traditional kitchen cabinets made from honey maple. While maple kitchen cabinets are perceived to fall under traditional cabinets, maple wood can work with any style in mind.
The key is the cabinet's design and other elements that make up the whole kitchen look, such as the countertop, walls, ceiling, and floors. The much-favored white wall is visually pleasing against a honey-colored cabinet as it balances the color temperature of your honey maple.
If you still plan on having a dark wall or plan to layer different wood elements, a light-colored floor will create a balanced look if the eyes can rest on the light-colored flooring.
Remember thought that maple cabinets exposed to the sun can deepen the wood coloring. Neutral colors such as white or light gray can brighten the atmosphere and look modern and updated at the same time.
Sleeker and less ornamented kitchen cabinets will make your maple wood look modern. You also have an option to apply a light stain to your cabinets that also serve as an added protection to its surface.
Light Maple Kitchen Cabinets
Compared to honey maple color, light maple kitchen cabinets are less tricky when it comes to looking for colors to match your wood since the mid-tone orange color is less prominent.
Naturally, light maple types of furniture styles will tend to darken, and this should be considered; even the lightest maple wood will eventually darken over time. For stained light maple wood, expect to have a permanent color change as long as the staining process is properly done.
Light maple kitchen cabinets are favored for contemporary themes, where Nordic or Scandinavian designs are popular inspirations as light wood is dominantly used for both furniture and architectural elements.
You'll find the light color easily blends well with other light neutrals and can easily make a kitchen look airy and light. Light maple kitchen cabinets are recommended if you lack natural lighting in your kitchen. The light color also makes a great backdrop for bold and dark colors such as black or green.
Maple Shaker Kitchen Cabinets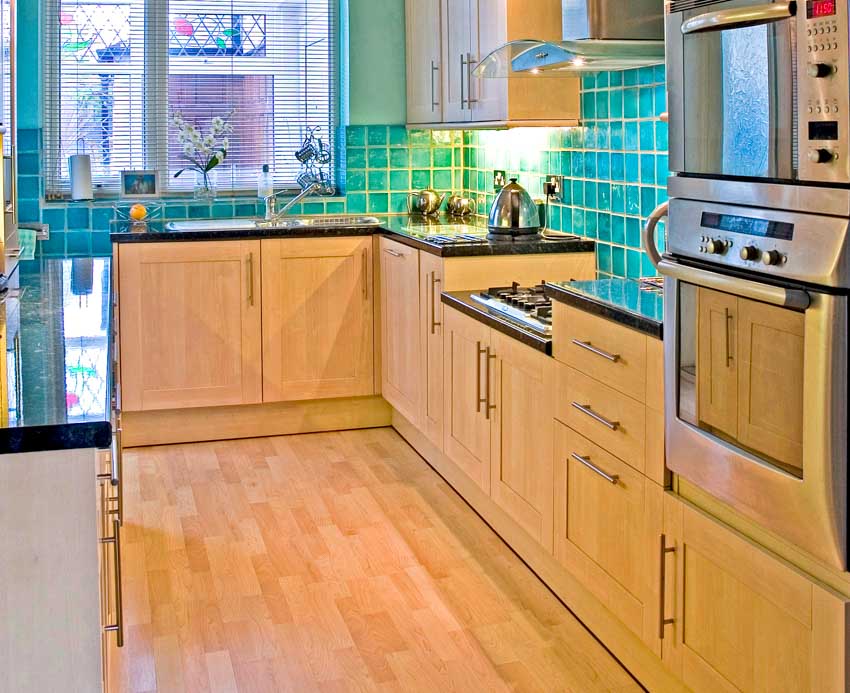 Aside from oak, maple wood is a common option for the traditional style of furniture. Shaker cabinets are characterized by the cope-and-stick construction with recessed panel doors. The shaker cabinet will also have horizontal rails that fit between the vertical stiles as frames and uses 90-degree angles.
A shaker furniture style is a great option if you want a timeless maple kitchen cabinet. While they are considered to have a sleeker look with less ornamentation than other traditional themes, maple shaker kitchen cabinets can add visual weight and personality to a room.
Common wood hues that look good with shaker kitchen cabinets are light tones and basic hardware. They look good with hardware pieces that are colored black or brass inside a kitchen.
Stained Maple Kitchen Cabinets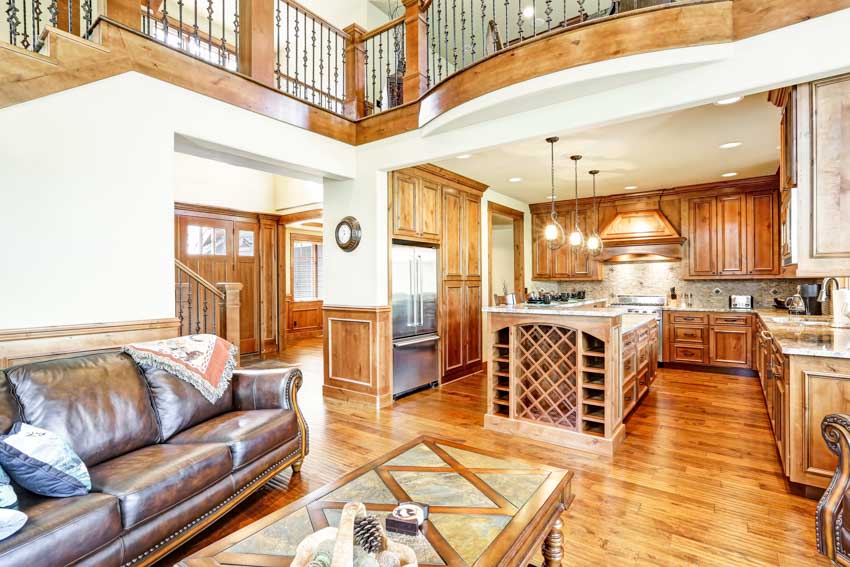 Maple kitchen cabinets can be stained, but that's not without its challenges, as the closed-grained wood can leave blotches. To achieve even staining throughout your maple kitchen cabinet, use proper surface preparation, such as sanding with 220 grit of sandpaper to get rid of the burrs.
Conditioning your maple surface also helps your wood accept the stain, but note that these pre-stain conditioners can cause your wood color to be lighter. Two coats of oil-based stain are recommended for your maple cabinets, and with the proper application, you'll be able to preserve the rich color and provide it with an added layer of protection from dents or damage.
Purchasing an unfinished maple kitchen cabinet can save you money, but a staining procedure is highly recommended for a professional application to prevent uneven surfaces.
What Kitchen Designs Go With Maple Cabinets?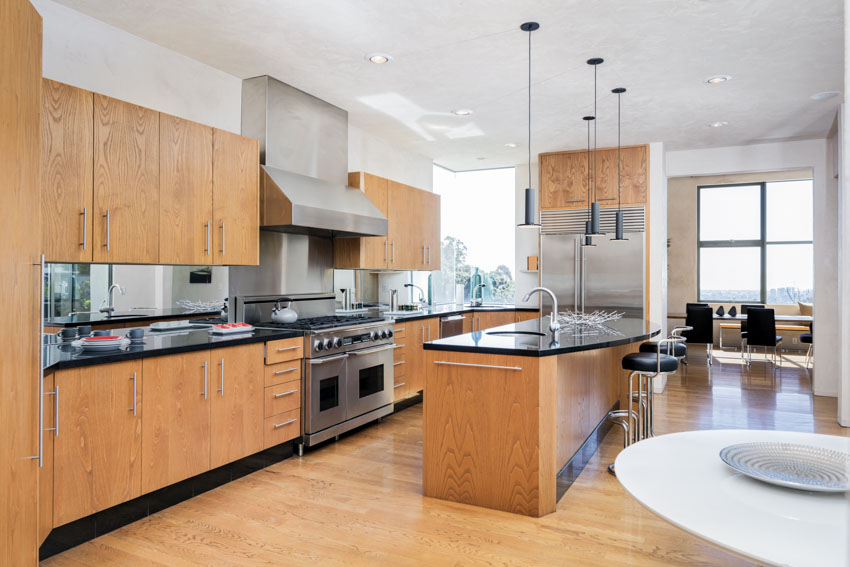 Contrary to the notion that maple cabinets only look good for traditional designs, maple cabinets are versatile and can look great as modern kitchen cabinets and other contemporary themes. The final look of your furniture will depend on its construction.
For instance, a slab door cabinet made out of light-colored maple will look good in a Scandi-inspired kitchen interior, while a honey-colored maple door front with framing beads and carved door panels will look traditional.
As it works in different kitchen design themes, maple cabinets do give a warm and luxurious quality to an interior. If you plan to layer your kitchen with various types of wood, you'll have to consider other elements such as color, texture, and existing patterns used to create a cohesive design.
Maple kitchens look overbearing when not balanced with a neutral hue, and natural and artificial lighting should also be planned.
Maple Kitchen Cabinet Durability & Hardness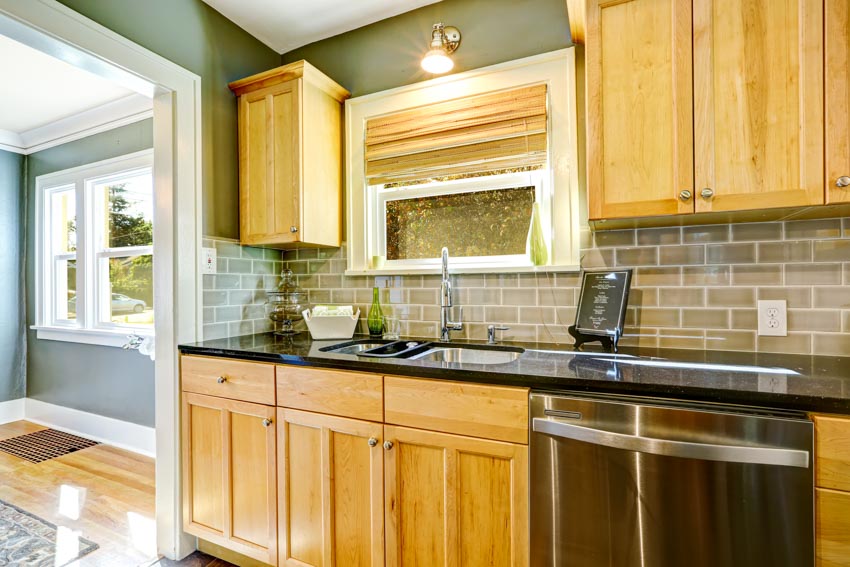 Despite being a softwood, maple has very hardwood lumber and excellent durability, making kitchen cabinets a great option for a long-term furniture install. Along with its dense and close-grain structure, maple wood has a Janka value of 1,450 lb/f, making it one of the hardest domestic wood. As a reference, white oak has a Janka hardness of 1,350 lb/f and mahogany1,350 lbf.
Maple wood surface does not dent, making the hard-wearing surface an excellent kitchen cabinet piece of furniture. Treating with a protective is still recommended as maple cabinets can have minor scratches.
There are wide varieties of maple specie, such as striped maple, box elder, red maple, paperbark maple, Japanese maple, soft maple, and hard maple or sugar maple, which is the hardest among the varieties.
Kitchen Colors With Maple Cabinets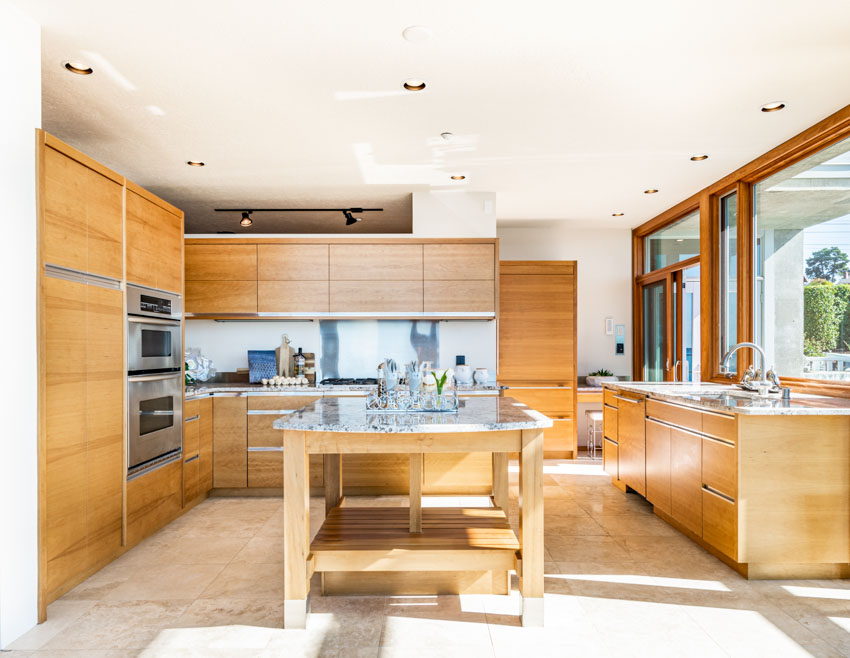 Maple cabinets have a good range of colors, undertones, and highlights, with blue (cool) and yellow (warm) as major base colors. Knowing the colors of your maple cabinets will help determine which color to contrast and whether to use a complementary or analogous tone from the color wheel.
Neutrals are the easiest colors to match with your maple cabinets. Variations of gray, such as slate gray, make an excellent countertop or wall color that can be matched with bolder colors. White or off-white are also in great contrast to a darker maple hue.
If you decide on a light-stained maple cabinet with white walls and backsplash, avoid using dark trims, as they can look outdated and dull looking, especially when paired with a honey-colored cabinet.
White or Cream: Small kitchens are hard to work in, especially when it becomes busy. A countertop like cream or white contributes to the alleviation of a claustrophobic sensation. These colors and light colors all have the same effect.
While the perception of a wide space is great, sometimes it can be too much. If going for a pure white room can be overpowering and painful to the eyes. This can be reduced by providing alternative things to look at.
A countertop is likely where homeowners will spend their most time preparing meals for cooking, so having it textured, such as veined, can help reduce strain on the eyes.
Black: If space is not an issue, black countertops are great as using them in small rooms will have the opposite effect of bright colors and will darken the room. Dark or black types of kitchen countertops can make the location look modern; the stainless-steel color of pots, pans, and other utensils can reduce the darkness and highlight them better.
A darker color can also cover plenty of kitchen stains. Black charcoal color with textures can help reduce the darkness if it becomes overbearing, just like how a veined white countertop can do the same.
Green: Green is a color often associated with nature. It's neither neutral nor intense. Maple and the color green are the perfect matches when trying to achieve a more nature-centric aesthetic with your kitchen.
While at it, homeowners might as well go full blast and start adding potted plants, flowers, succulents, and spices are all in. Flowering plants can also be a fine addition as the colorful flowers can supplement an all-green environment while matching with light maple cabinets.
Other Bold Color Options: Not mentioned yet are purple, orange, and yellow. These colors also work with maple cabinets as a pairing color.
Whether it's dark or light maple, these colors have no problem harmonizing. It does, however, work best with modern kitchens as opposed to traditional ones. See more kitchen paint colors to go with maple cabinets here.

Are Maple Cabinets Outdated?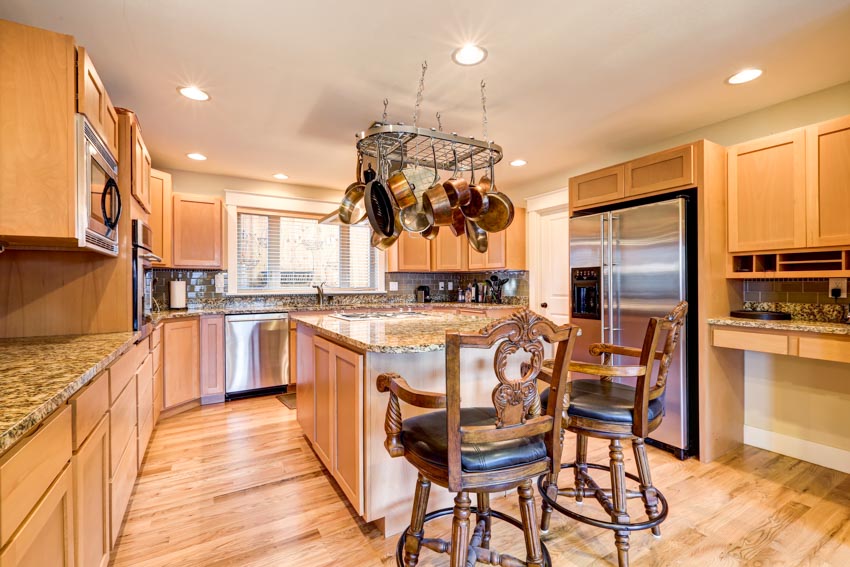 Maple cabinets were a popular fixture in the 1950s, and most honey-colored cabinets were also a staple during the 1980s and 1990s. This association with the luxurious wood color with the vintage theme created the notion that maple cabinets only work for traditional kitchen designs.
However, maple cabinets are far from outdated, and this is seen with many maple wood kitchen cabinets that have sleeker built and less ornamentation that's crafted for the modern aesthetic.
The popularity of maple cabinets for kitchen homes remains as evident with the recent survey of the durable wood topped as the most favored specie for cabinet doors.
How To Update Maple Kitchen Cabinets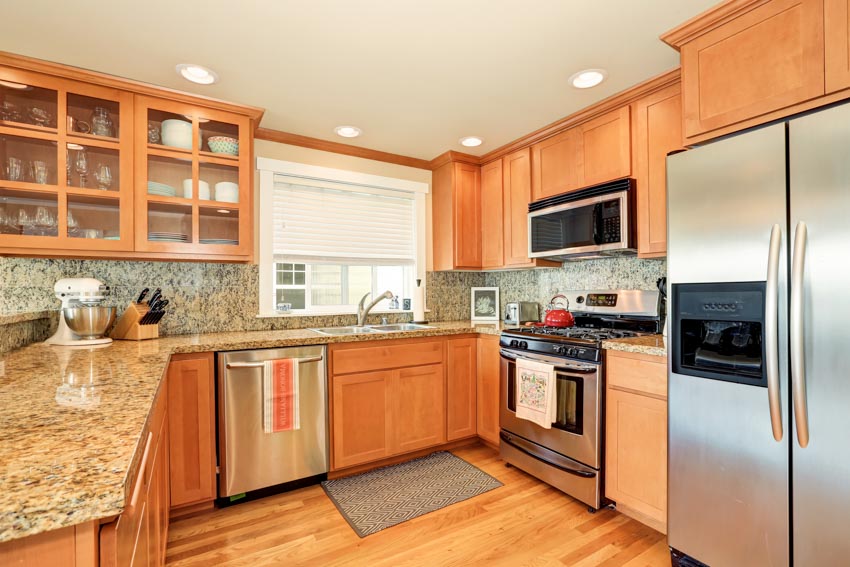 Updating a maple kitchen cabinet starts with checking and repairing any damage to your furniture. While maple wood is very hard-wearing old wooden furniture will likely have minor damages such as mineral streaking, curling grain, raised wood, or mineral streaking.
You can stain your maple kitchen cabinets to hide away these imperfections with sanding and conditioning as pre-staining procedures to maintain an even application of your stain.
Ways to update maple kitchen cabinets:
Remove cabinet doors. One of the features of maple kitchen cabinets is that they can look heavy. You have an option to remove some cabinets to create depth and lessen the bulky look.
This way, you also create an airier feel by having open shelving, especially if your cabinets take up much visual space in your kitchen.
Update Countertop. Switching surrounding elements such as the backsplash and kitchen countertop to a more modern aesthetic can help update your maple kitchen cabinets if you want to retain your furniture.
A lighter-toned countertop with a sleek quartz slab or white subway tiles is great for balancing the look. Read more about what color countertops go with maple cabinets on this page.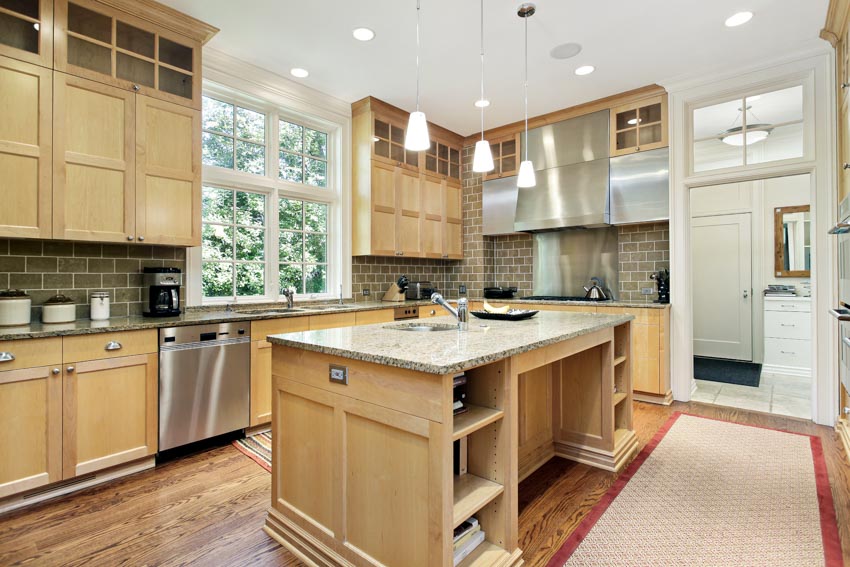 Update Hardware. One of the easiest ways to update your maple kitchen cabinets is to update your hardware with modern hardware. Use sleek and simple pull handles with a black matte finish or chrome-colored towel bars and brackets.
Refinish the Surface. When you want to remove scratches and revitalize the look of your maple without changing its color, you can use a lacquer thinner. Apply the solution lightly sprayed on the wood surface and lightly brush evenly throughout the lumber.
See more related content in our article about how to update maple kitchen cabinets here.