In this farmhouse kitchen flooring guide you'll see the different material designs like wood, slate, tile, brick, advantages, how they are used, and rustic kitchen flooring ideas.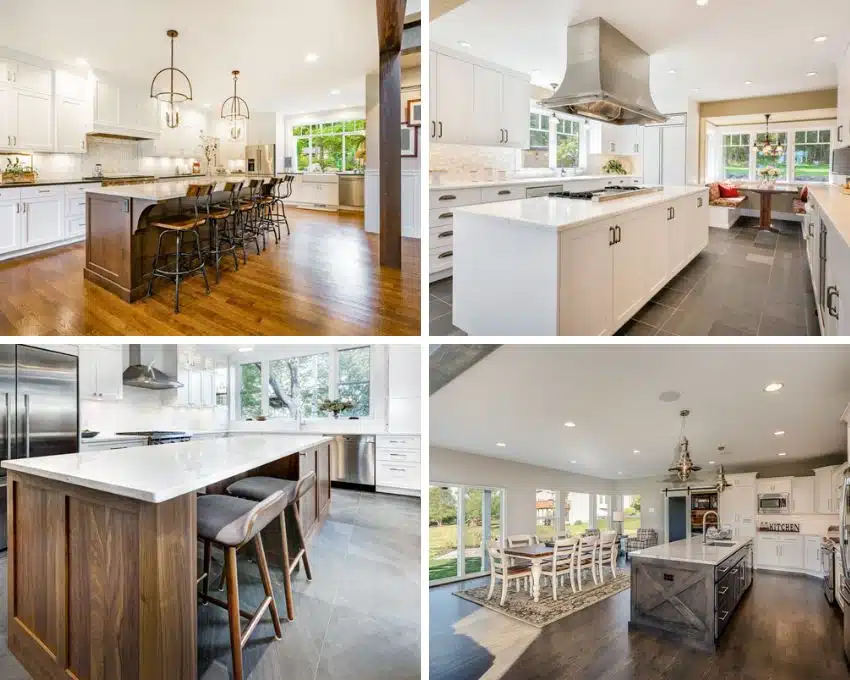 Farmhouse kitchens are known for their rustic and cozy atmosphere. Lots of wood and stone, usually focusing on their natural colors and texture. It has a very relaxing ambiance, so it's a great choice if you prefer a homey atmosphere.
In recent years, farmhouse-inspired kitchen designs have become popular in modern houses. Classic farmhouse elements, materials, and motifs replicate the uniquely "farmhouse" ambiance. Material choice is one of the most important steps in designing farmhouse-style kitchens. Creating a good balance between colors and textures is essential.
Flooring material covers the most significant area of the kitchen. You can choose to make it subtle and act as a "supporting role" in your design, or you can also make it the "star" of your kitchen.
Quicklook: Different Farmhouse Kitchen Flooring Materials
• Wood
• Slate
• Brick
• Tile
Types of Farmhouse Kitchen Flooring Materials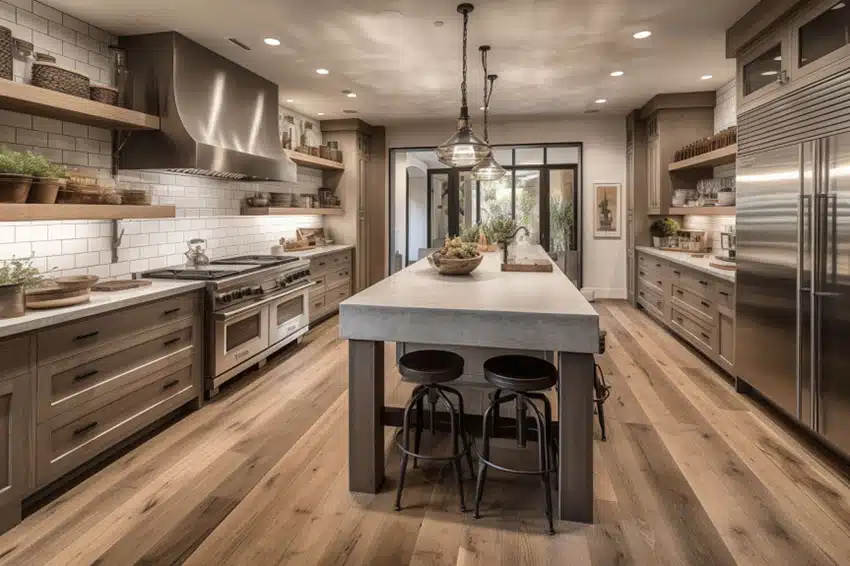 Here are a couple of flooring options popularly used for farmhouse-style kitchens.
• Wood: the classic flooring choice for farmhouse-style kitchens is definitely wood. Usually, a natural finish or at most, satin finish is preferred. Wood planks give the most textbook farmhouse look.
If you can find old wood planks to be repurposed for your floors, that would be the best choice. A little imperfection, bores, and aging add to its charm. Just make sure the wood color complements the other materials and elements in your kitchen.
• Slate: This material is quite uncommonly used in more modern builds, but slate flooring gives a really bold and rustic look. They're quite sturdy and have a rugged appearance. Because of its dark color, stains, dirt, and minor imperfections are hardly noticed.
Do note, that slate is quite an expensive material, but it can last for decades so it will definitely add value to your home. Slate is usually best used when you want it to be the "main character" of your kitchen, as it is considered a luxury material choice.
• Brick: This type of flooring gives a very warm look to the kitchen and is also a durable material. It definitely sets the authentic farmhouse ambiance. It does have its drawbacks, though. Such as the porosity of the material and its inherent hardness.
Water spilled on brick floors can seep into the subfloor, and stained liquids can also permanently stain the bricks, so sealing with a high-quality sealing agent is necessary. Bricks are hard, so if you plan to spend long hours standing in the kitchen, it might hurt your feet and legs.
Also, depending on where you're installing it, make sure the subfloor can support the weight of the bricks, as traditional bricks can be very heavy, so a very sturdy subfloor is needed.
• Tiles: Ceramic tiles are a budget-friendly flooring option that works really well, especially on modern buildings. They have good cost performance and come in a wide array of colors, textures, shapes, and sizes.
When using tiles in farmhouse-style kitchens, a more matte finish is preferred so that it quietly sits in the background to help emphasize other details in the kitchen. Tiles are also a good choice if you want to wood, slate, or brick flooring, but don't have the budget for it.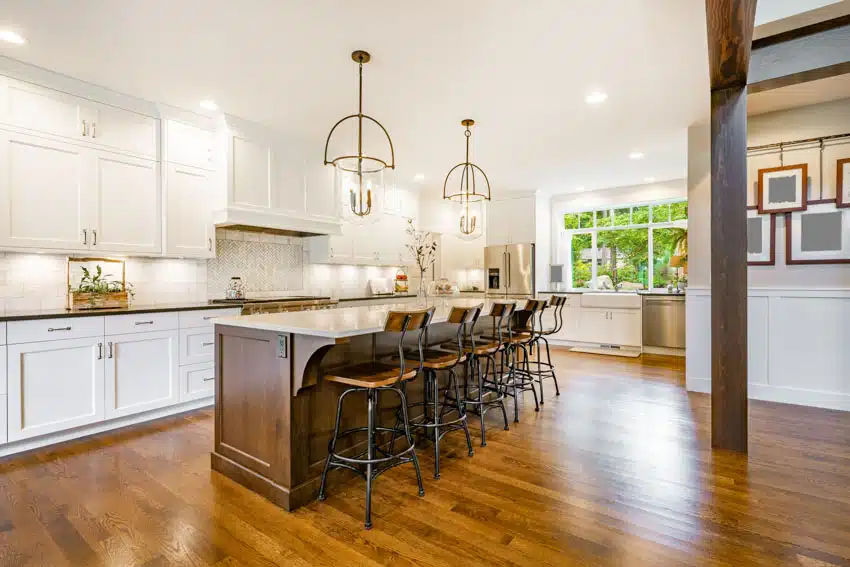 There are a lot of tiles that mimic the materials mentioned, so they're a good alternative if you cannot afford the real thing. Furthermore, here are some great examples of farmhouse kitchens with a variety of flooring choices.
Wood Floors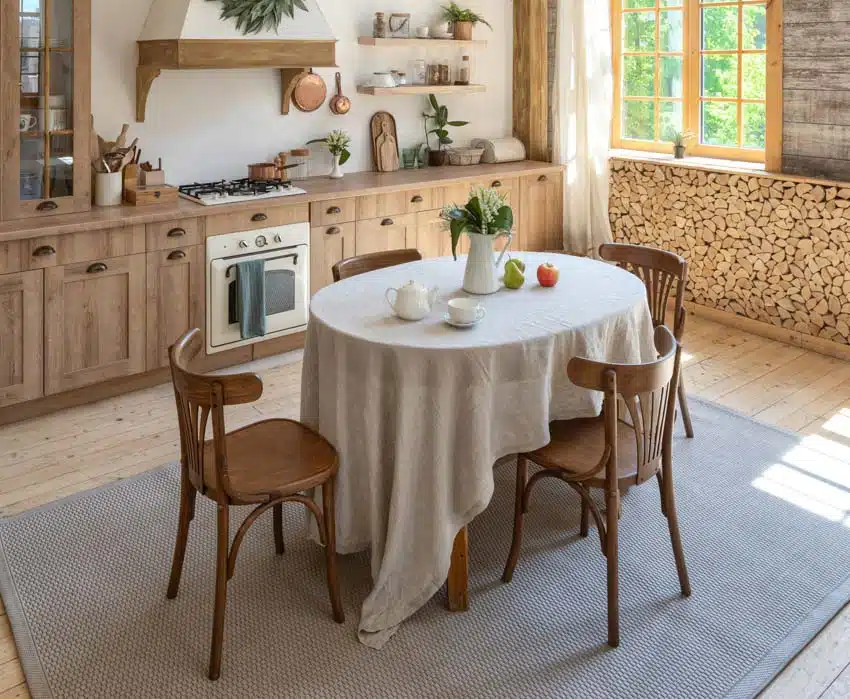 For a bright yet rustic ambiance, natural maple was used for the flooring of this kitchen. This complements the darker natural walnut kitchen cabinets and the faux wooden beams. You can also see an area rug was used to frame the small dining space and give it a visual separation.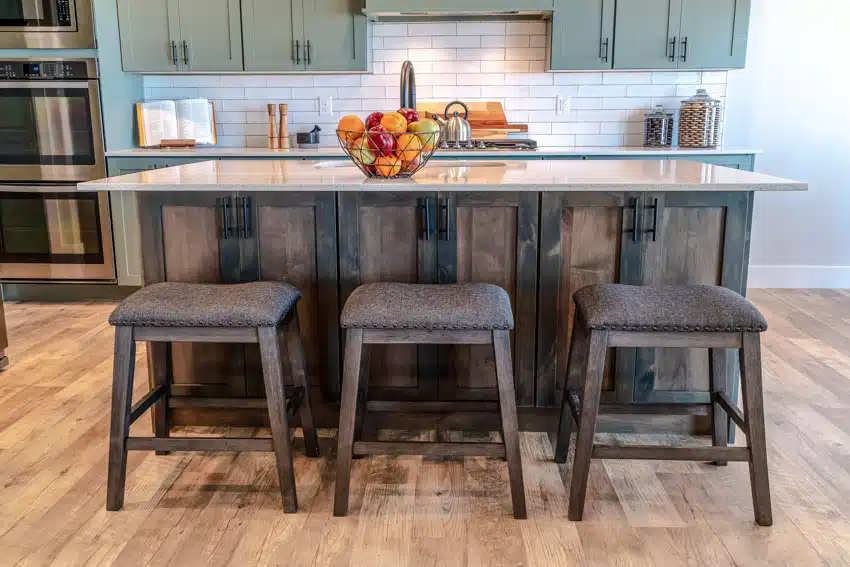 This kitchen combines a variety of material textures and colors: a mix and match of modern elements and classic farmhouse-style details.
Whether it's all-wood strip or plank flooring or laminate (synthetic wood flooring, it'll be beautiful and durable and should serve you for years. – Home Improvement All-in-One For Dummies, Roy Barnhart, James Carey, Morris Carey, Gene Hamilton, Katie Hamilton, Donald R. Prestly, Jeff Strong
For the flooring, natural maple wood was used with a little bit of a satin finish. The light color of the flooring helps complement the darker aged wood of the kitchen island base and the modern sage green paint of the main cabinets.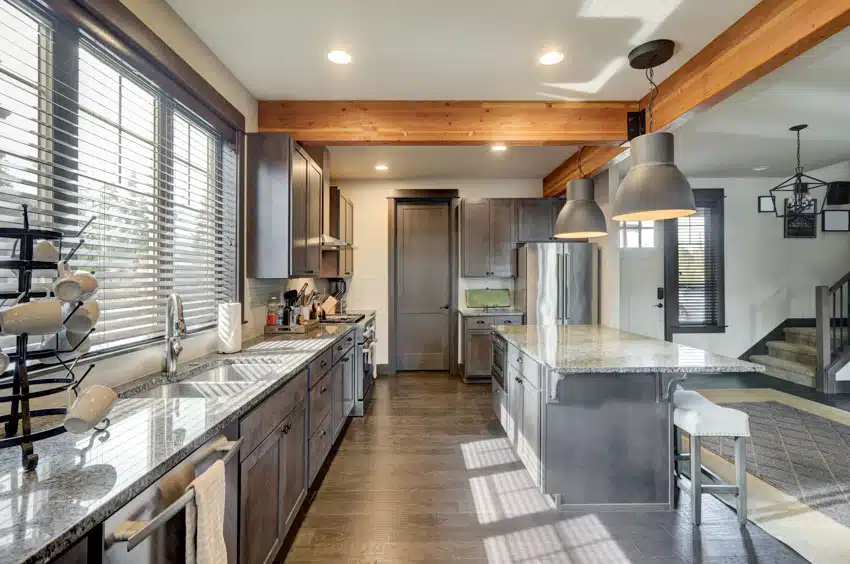 This is a great example of a modern farmhouse design for kitchens. Faux wooden beams from Teak wood were used to give the ceiling some of that signature farmhouse look, while the flooring uses darker wood planks to complement the gray-toned laminates on the kitchen cabinets.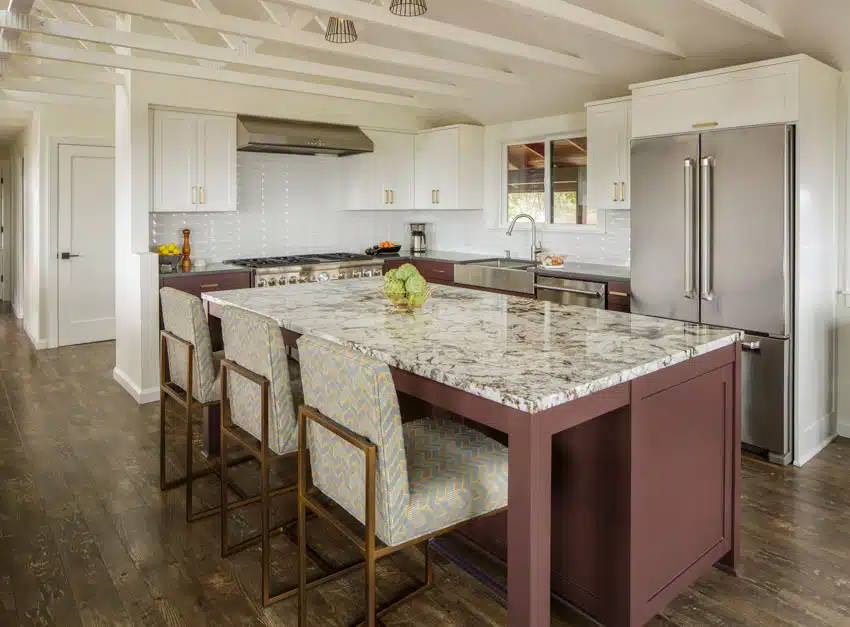 This is a great modern interpretation of a farmhouse-style kitchen. It has classic wooden beams and trusses on the ceiling but is painted white for a more modern look.
The burgundy-painted cabinets are also a modern touch, but still have that rustic color tone that would make it farmhouse-esque.
The flooring used is modern tongue and groove wood planks in a dark Chestnut color, helping add contrast to the lighter surfaces in the space.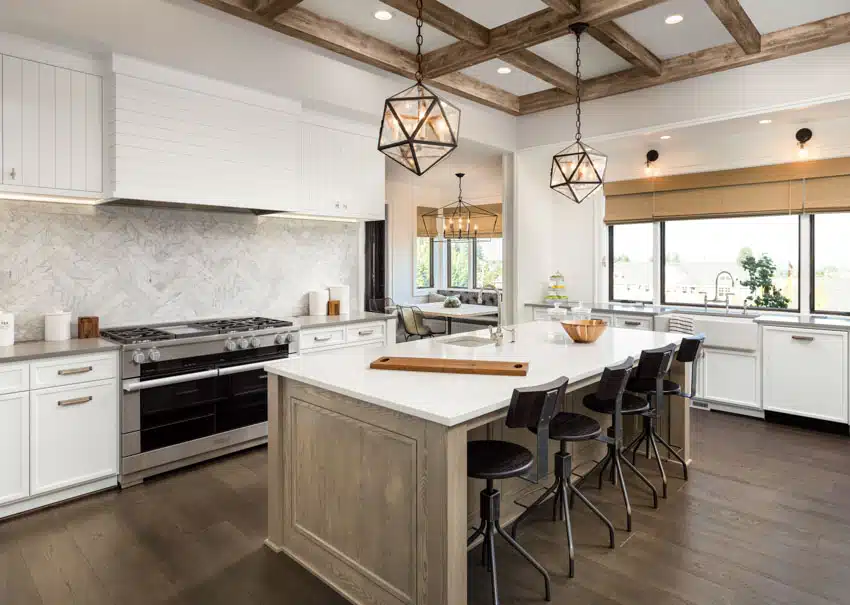 This is another modern take on the farmhouse-style kitchen. The ceiling has been installed with faux wooden beams with walnut stain and uses a darker walnut flooring to add a rustic feel to the kitchen. Industrial-style bar stools were used to add to the rustic look.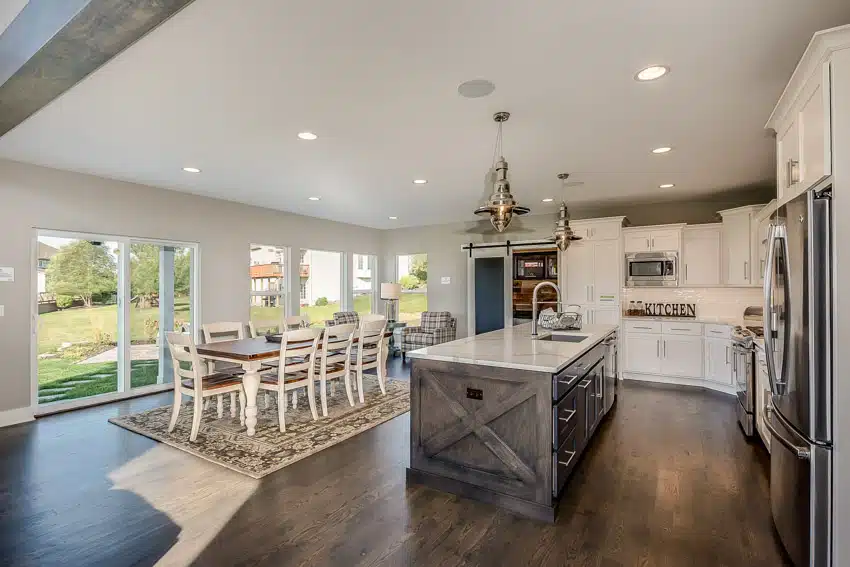 Dark walnut wood floors complement the antique stained farmhouse-style kitchen island in this contemporary farmhouse kitchen.
Dark kitchen floors with white cabinets give a good balance and furniture pieces in the room provide a subtle rustic look to the space while keeping a contemporary appeal.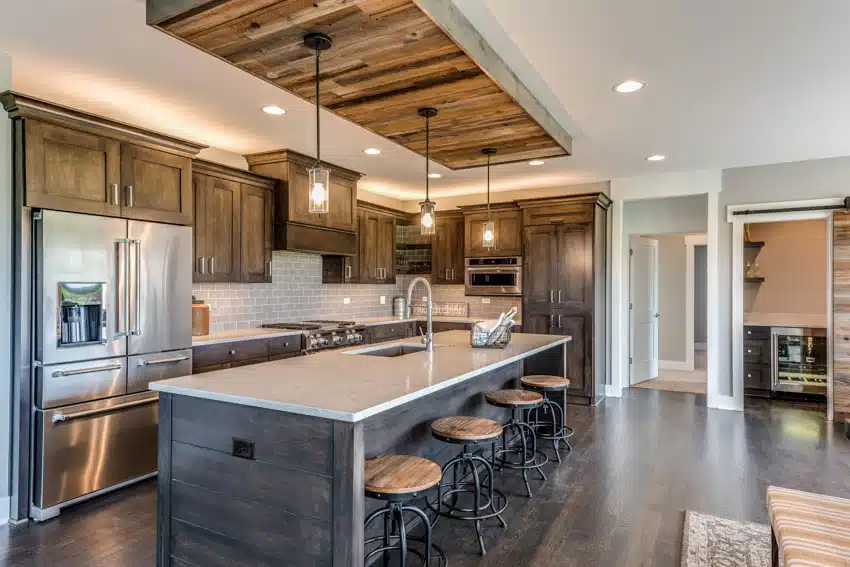 A modern take on farmhouse style, this kitchen uses repurposed wooden planks on a dropped ceiling as the kitchen feature. The Walnut classic style cabinets are paired with dark walnut hardwood flooring and a matching farmhouse-style kitchen island and stools.
Slate Flooring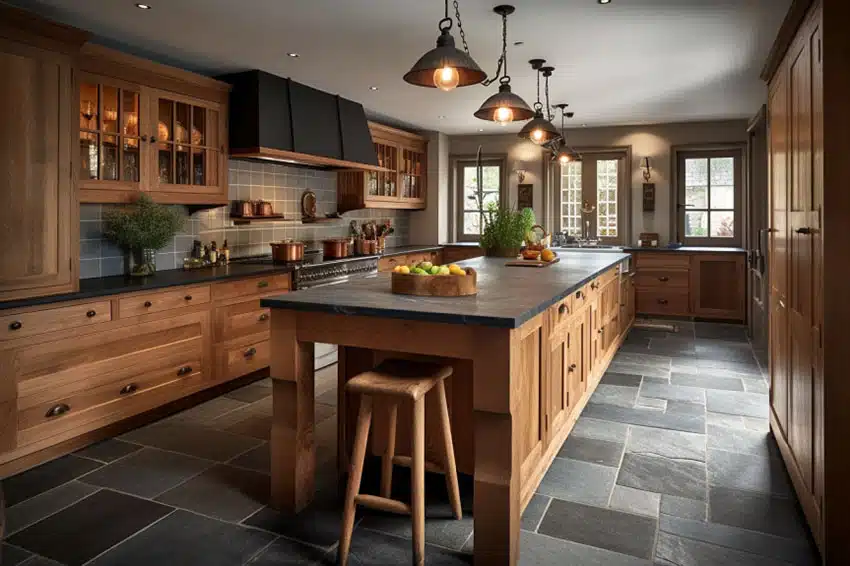 This beautiful farmhouse design kitchen features slate flooring combined with slate countertops and solid wood cabinetry. Black lighting fixtures, range hood and cabinet hardware help tie in the color and create cohesion.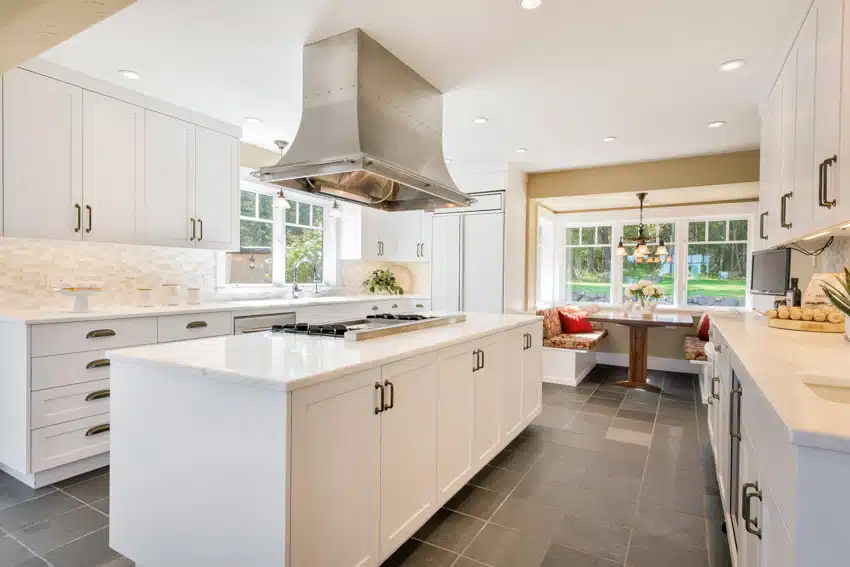 For this kitchen, the focus was placed on emphasizing the slate flooring. All white cabinets were used to give it a more modern feel and to give center stage to the flooring. It still uses classic cabinets and furniture, maintaining that classic farmhouse look.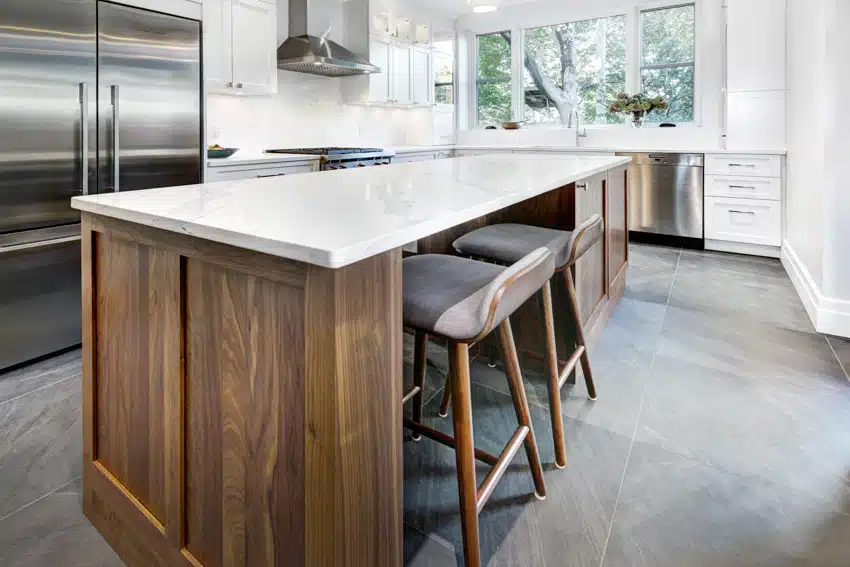 Even modern kitchen spaces can take farmhouse-inspired elements. For this white modern kitchen, slate tiles were used to give that rustic and earthy look, and the walnut kitchen island adds more warmth to the space. Bigger but thinner slate tiles were used for a more updated look.
Tiles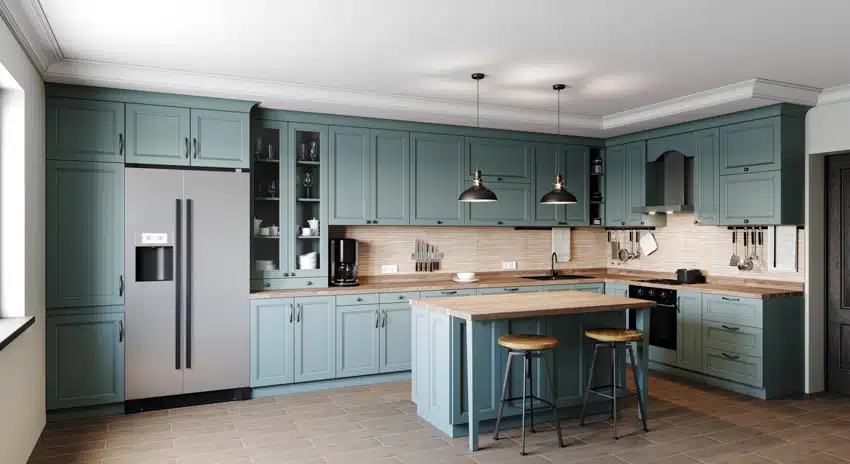 For this modern farmhouse-style kitchen, the cool blue classic cabinets were paired with a light woodblock countertop for a rustic look. For the flooring, beige ceramic tiles were used. The color used is slightly darker than the countertop material for a coordinated look.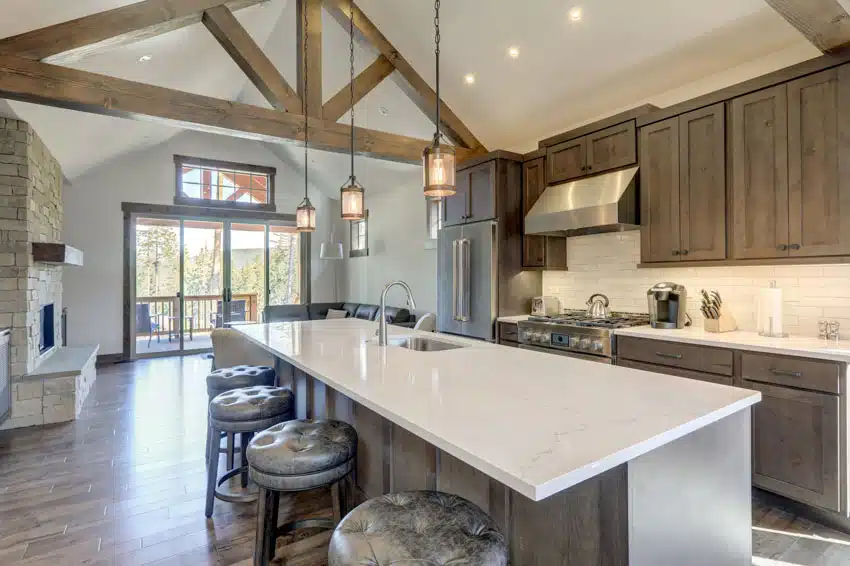 This is a great example of ceramic tiles with a wood design that really looks natural. The walnut wood ceramic tiles added are slightly lighter than the washed walnut finish on the kitchen cabinets and the trusses. The slight sheen on the floors also adds contrast to the more matte texture in the kitchen.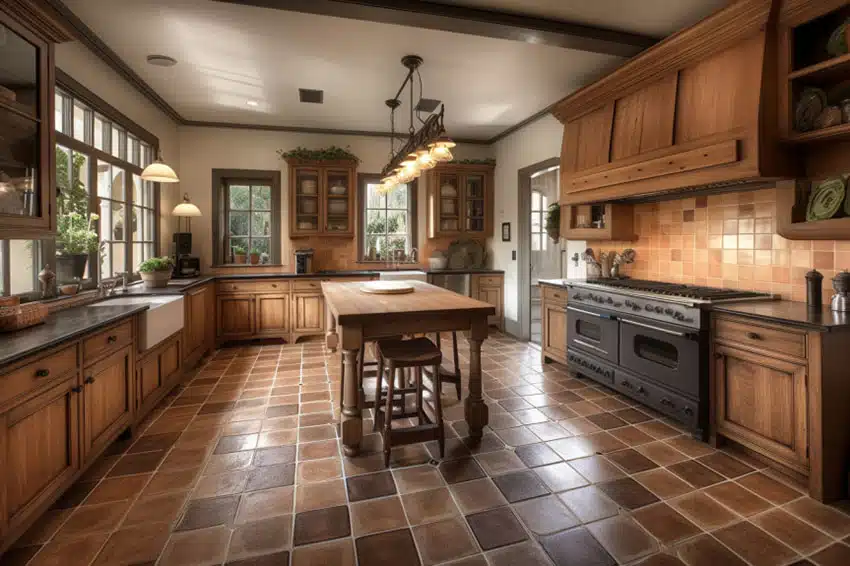 Classic farmhouse style kitchen with rustic cabinets, and ceramic tile floors.
Brick Floors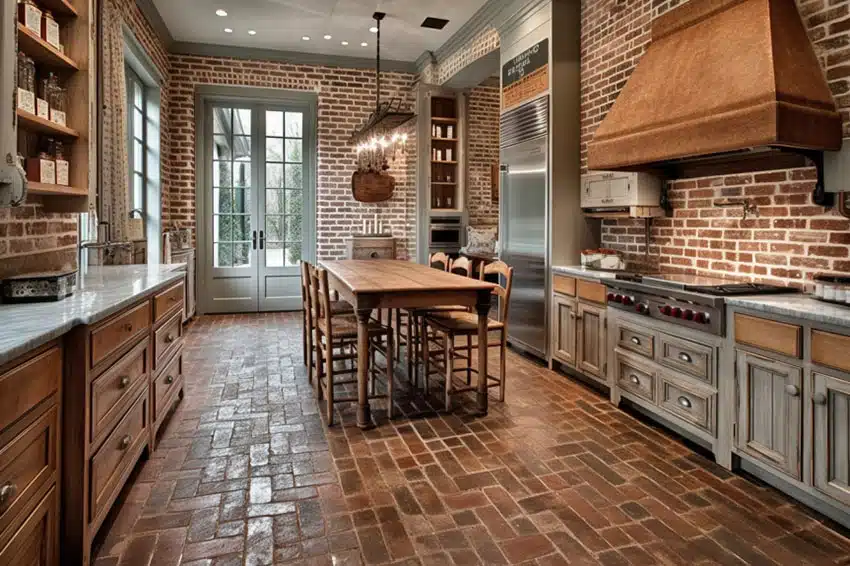 This farmhouse kitchen design embraces brick materials with brick flooring and walls. Two tone distressed wood cabinetry and a rustic kitchen table helps to reinforce the style.
Classic farmhouse style kitchen with a little bit of a Mediterranean influence, this kitchen's aged brick floors give it that very authentic antique look.
You can see a couple of bricks darker than the others on random spots which only gives it more personality. The slight sheen lets you know that this brick flooring has been well-sealed.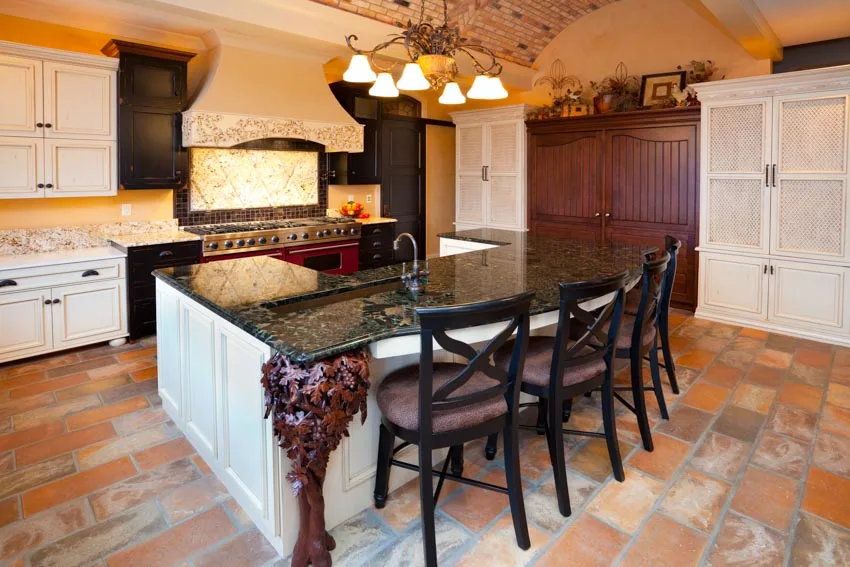 Different regions have different bricks available. For this kitchen, the bricks were in various colors and shades, and have imperfections which give it a very antique look. The flooring matches the very classic silhouette of the cabinetry and furniture pieces in the kitchen.
See more related content in our article about the different types of kitchen flooring on this page.