In this brick floors pros and cons guide including see the benefits, different types, cost, installation, maintenance, and if brick flooring is a good idea for your interior design.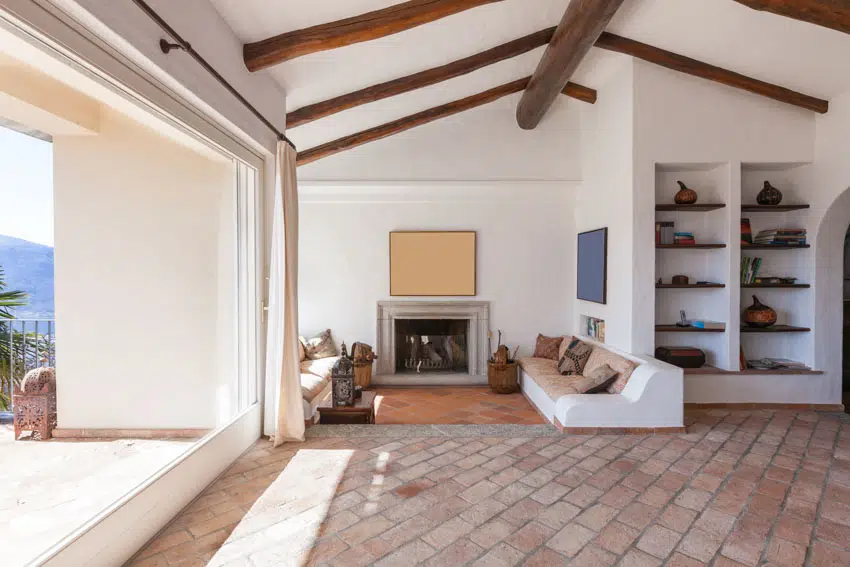 Brick is a material of the old world, where it naturally showcases a rustic appeal and makes you feel like you're back in the past. It was traditionally made from earthen clay, but evolved and became constructed from varied materials over time.
Brick construction made use of iron and shale, even resulting in a new kind of clay including China clay that offers a denser and finer texture.
Brick flooring became popular because of the distinct appeal it offers. If you are also considering brick flooring in your home then it's necessary to explore this option and see if this type of flooring is right for your home.
Advantages of Brick Flooring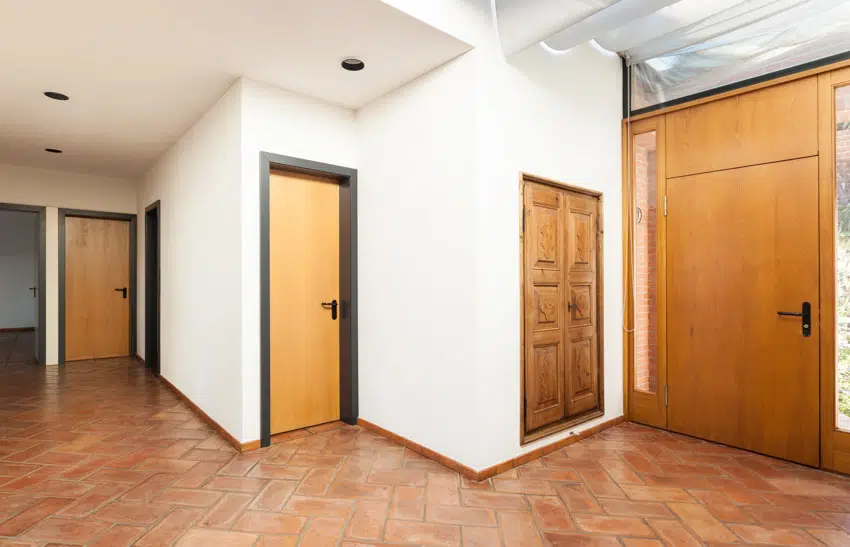 Brick floors are popular because homeowners enjoy the benefits that this flooring offers.
Some of the notable advantages of brick flooring include the following:
Incredible Durability: Brick flooring is highly durable and can withstand heat and wear and tear without falling apart. It has a hard and strong surface that's not easy to damage. It even lasts for a long time, taking out the need to replace it every now and then.
A Wide Variety of Options: Choosing brick flooring means you get to skim through a wide selection of colors, styles, and patterns. Colors range between different shades of brown and red, from soft tans to dark crimson hues, depending on your preference. Stains can also be used, including the colors black, blue, silver, and green.
Another element that opens up many options is the arrangement of the brick floor. Every arrangement is unique and you can actually create your own style but if you want help with floor patterns, some of the popular ones are herringbone and basketweave.
Retains Warm Temperature: Brick flooring retains temperature so that your floor can remain warm even when the cold season arrives. In the winter, when your brick floor is combined with radiant floor heating, it results in a steady, warm, and comfortable experience. Since it is fire-resistant, this type of flooring is ideal for areas near your home's fireplaces and stoves.
Adds Drama To Your Home: Bricks have this rugged rustic look that transports you back in time. It adds drama and can give a wonderful twist to the aesthetics of your home. Instead of aesthetics that regress through time, the aesthetics of brick flooring actually increase through time, adding a raw and natural rugged appeal.
Brick flooring is best compatible with homes with a rustic ambiance like a modern farmhouse design and cottages. The design can be very bold, depending on the pattern you choose for the bricks. You can choose a more subtle pattern or something that's more eye-catching.
Non-slip Textured Surface: Brick flooring has a non-slip surface that provides enough underfoot traction, making it entirely safe to walk on the floor even if it's wet. Reinforce this characteristic by turning the grout lines to have a sandy and rough texture.
Make sure you know that using a wax treatment on brick flooring can negate this non-slip textured surface, which can make it less safe and more susceptible to slipping.
Economically Friendly: If you choose brick flooring, you get to cover less surface area compared to when you use other materials. This means that you also get to use fewer materials which results in spending less on them. Of course, the cost of your brick flooring will depend on the quality and class of the bricks you choose for this project.
Easy to maintain: Brick flooring hides away many dirt and stains that you don't have to deal with. Its rough and mottled look does not require meticulous cleaning and maintenance.
Usable Indoors & Outdoors: Bricks can be used both indoors and outdoors unlike other materials used for flooring. The material is durable enough for outdoor wear and tear and aesthetically pleasing enough to be added to the home's interior decor. See pictures of outdoor brick patio designs here.
Drawbacks of Using Brick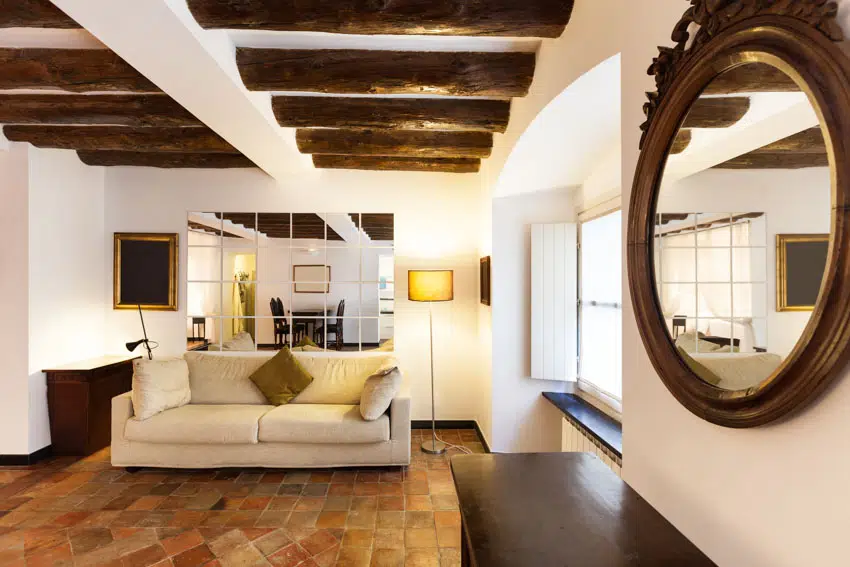 More than just the benefits of using brick flooring, you also need to be familiar with all the concerns you would face. Here are some disadvantages that you need to know.
Hard and Cold Surface: Bricks are known not only for their incredible durability but also for their hardness. Kneeling or lying down on the brick flooring is a bad idea, especially since the bricks can also get cold. So when it comes to comfort, this type of flooring is not an ideal one to choose.
One way to add some form of comfort to your brick flooring is to place gel mats or padded types of rugs, especially if you're going to stand or sit on the floor for a long period of time. The major downside though is that you also cover the stunning patterns of the bricks which will render its aesthetics useless.
Can Be Heavy: Bricks can be heavy but that's if you choose full-thickness bricks rather than the standard rectangular-shaped bricks. Full-thickness bricks will require a concrete subfloor to be installed first just to be able to support the bricks.
The solution to this weight concern is to choose thin bricks for your flooring. These bricks function similarly to other flooring materials and also have similar requirements in their installation.
Vulnerable to Fungal Growth and Stains: Considering bricks are porous materials, they will have issues with fungal growth and stains. Without enough surface protection, moisture will seep through the bricks and can cause fungal growth and staining in the long run. The solution to this issue is frequent and updated sealing.
Requires Frequent Sealing: Brick flooring requires frequent sealing to protect it from long-term damages brought by moisture and other weather elements.
Possibility Of Water Damage: Since bricks are porous, water damage is a real possibility unless properly and frequently sealed. If an untreated brick is somehow penetrated with water, there will be damage to the subfloor and stains will appear deep in the brick. The only solution is to use a high-quality and effective sealer that can protect the surface from outside elements.
Types Of Brick Used For Flooring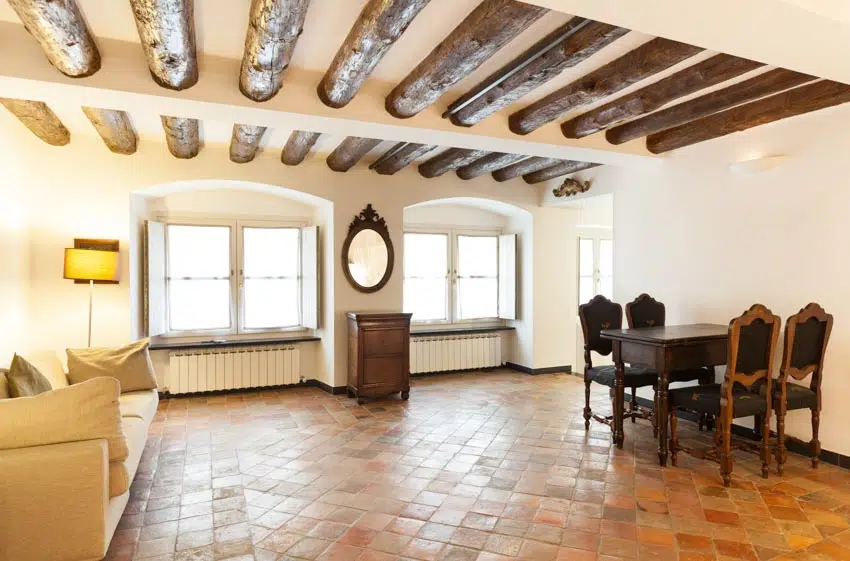 Once you've settled on brick flooring, you need to choose the type you'll use for your home. When it comes to materials, you can go for brick pavers, engineered bricks, or recycled bricks. Brick pavers are thinner in construction and so do not raise the level of the ground.
They are considered the most popular option for flooring. Engineered bricks put more weight and size on the floor which raises the level of the ground and can lead to erosion after some time.
And finally, recycled bricks are the option for green homes since they are homeowners who are able to reduce environmental impact with this simple choice. Other types of bricks you can use for flooring are brick veneers, brick types of floor tiles, faux brick, and brick laminate.
Another element to consider for the different types of brick flooring is its arrangement and pattern. It will influence the general ambiance that the room will have. Some of the popular brick patterns include Herringbone, Basketball Weave, Diagonal, and Spanish Bond.
When choosing the pattern to follow, you need to consider the complexity of the pattern, your budget, and the general ambiance of the area where you will install your brick flooring. Some complex patterns can be very wasteful with the bricks and so if you have a tight budget, these complex patterns are not for you.
Brick Cost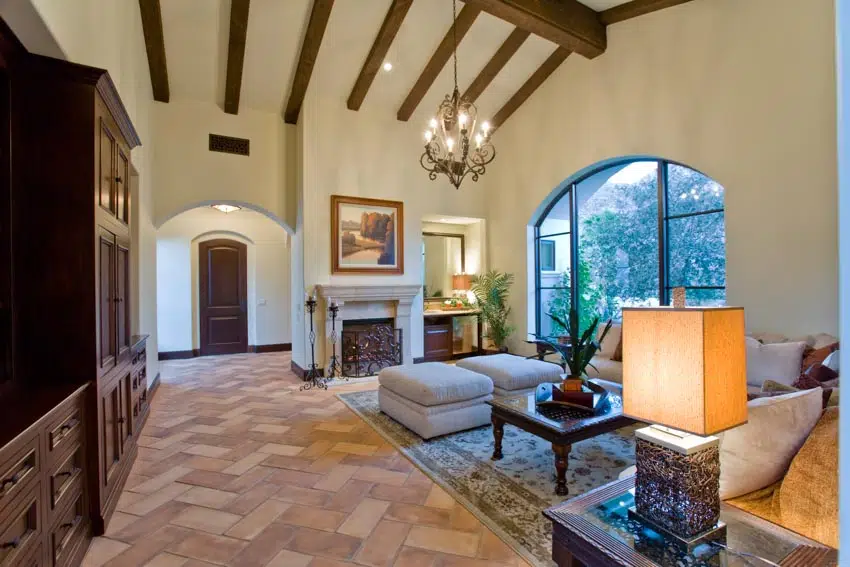 Brick flooring can be a cheaper option compared to other flooring alternatives, particularly natural stones and ceramic tiles. It is more similar to tile installation, both in cost and in the process itself.
In a large area that will require 1000 bricks, you'll be set back $350 to $900 with the materials alone. Installation and labor can add around $400 to $900 for the entire project.
It means that choosing to DIY can save you half the cost of the entire project. But of course, you need to have the necessary tools to install the bricks properly, from tile saw to grout float.
Brick Cost Per Square Foot for Floors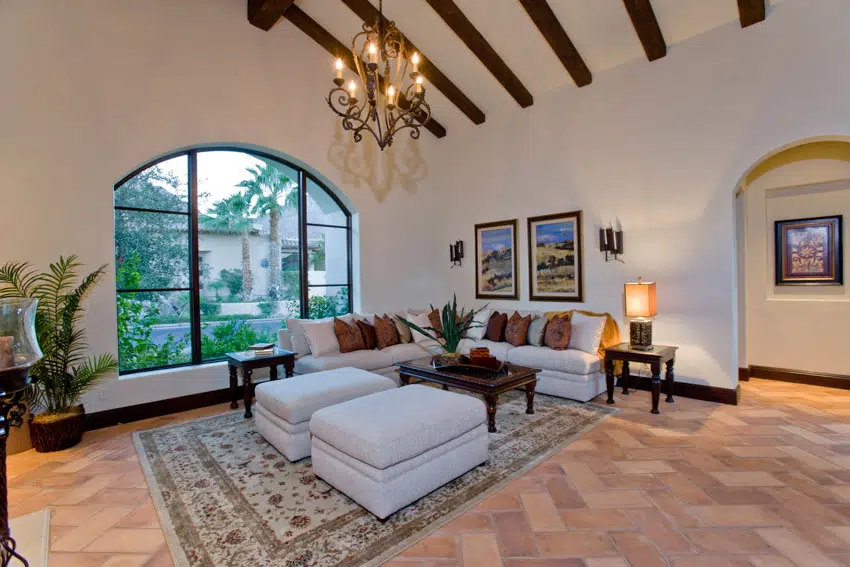 Depending on the type of material and sometimes the color, brick flooring can range from $3 to $10 per square foot, which is way cheaper if compared to marble flooring which costs $20 per square foot.
When you choose the bricks though, despite your tight budget, make sure not to settle with the cheapest and go for the middle ground instead.
Installation cost comes with the same price as the cost of the bricks but of course, it will depend on the experts you're going to hire for the project. Some professionals can charge you as much as $1000 for the entire project.
Brick Installation for Flooring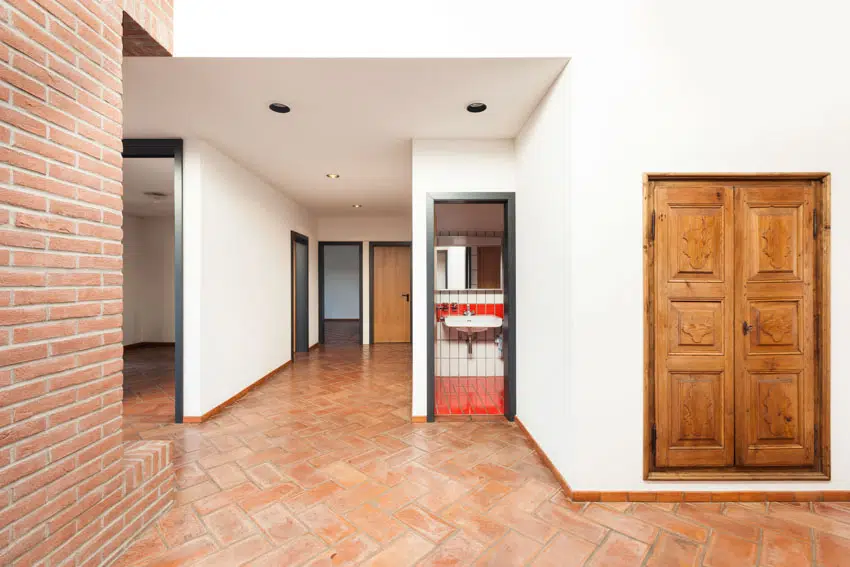 The installation of brick flooring can be simple or complicated, depending on the difficulty of the brick patterns you choose. Some patterns require meticulous cutting of bricks while some patterns work well with the size and shapes of the bricks. Read more about different brick dimensions here.

If you believe that you can't install it, hiring professionals may be the best option. If you're planning to DIY the project, here are simple steps you can follow to help you.
Step 1. Gathering all the materials you need for the project: Make sure you have all the materials you will need in doing your brick flooring, and here are some things you can check out:
• Brick of your choice
• Grout & grout float
• Tile saw
• Cement backer board & cement board screws
• Thinset mortar
• Trowel
• Buckets
Step 2. Prepare the floor you'll work on: Prepare the floor by leveling it as much as possible. You need to sand the glue and residue ridges to have a cleaner workstation. Make sure to tap nails entirely through the surface. A highly uneven surface requires an underlayment like cement board or plywood to level the floor.
Step 3. Measure and create the layout: Measure the floor you're going to work on and create the layout of the entire flooring, as well as how the bricks will be installed. Make sure you check the coverage of the bricks and their arrangement and pattern (This will make your work easier later).
Step 4. Install the bricks one at a time: Similar to installing ceramic tiles, just lay down the bricks one at a time and follow the layout you've created before.
Start with one of the room's corners and follow these steps.
1. Get a brick and use a trowel to spread the mortar on its back.
2. Carefully place it on the floor and slightly but firmly press on it.
3. If at the end of a row, the brick doesn't fit, use a tile saw to cut it to the appropriate size.
4. Use plastic spaces to guarantee even grout lines.
Step 5. Starting dealing with the grout lines: Use a trowel and fill the lines with grout. For smaller grout lines, you can just use grout float but a trowel will be needed for thick and bigger grout lines. Remove excess grout by wiping the surface with a damp sponge.
Step 6. End with sealing the bricks: Wait for the grout to completely dry (Usually done overnight) and then start sealing the brick and grout. Choose a strong and penetrating sealer you're sure you can trust. You need to apply this every few years.
Brick Maintenance
The major maintenance for brick flooring lies with keeping the sealant to work. The sealant makes sure that your brick flooring remains resistant to stain and water, in order to avoid long-term and irreparable damages.
Sealing usually fades over time, which is why you need to re-apply the sealant every few years or whenever you notice the sealant getting duller.
In order to make the sealant last, here are simple tips you can do:
• Wipe off spills and splashes as soon as you see them
• Conduct a daily sweeping, mopping, or vacuuming routine to get rid of small dust
• Use a vinegar solution to get rid of grime and grease
• Use a phosphoric acid cleaner for stains in the brick grouts and mortar
Is Brick Hard To Clean?
In general, brick flooring is not difficult to clean, especially if you maintain a cleaning routine from daily sweeping to weekly vacuuming and mopping. The difficult areas are the mortars and grouts but nothing that a brush can't clean.
And since bricks are incredibly hard, you won't have to worry about being too careful in brushing them. In case there are more stubborn stains like grease and grime, you need the right solution and enough time to take care of them.
Are Bricks Waterproof?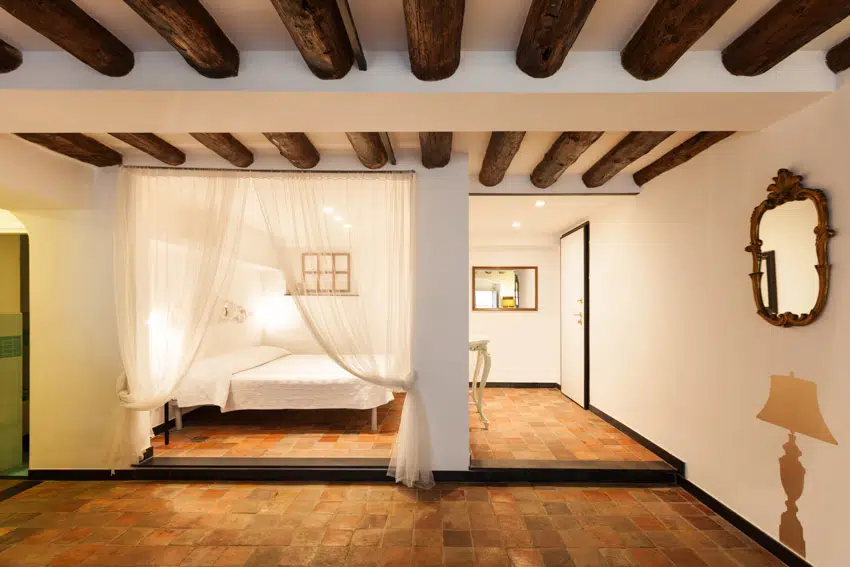 Bricks are porous and susceptible to water damage. It's an entirely different story though once the bricks are sealed. Brick flooring becomes waterproof once they are properly sealed.
Depending on the strength and effectiveness of the sealant you use, it can remain waterproof for several years until you need to re-apply it again.
Can Thin Brick Be Used On Floors?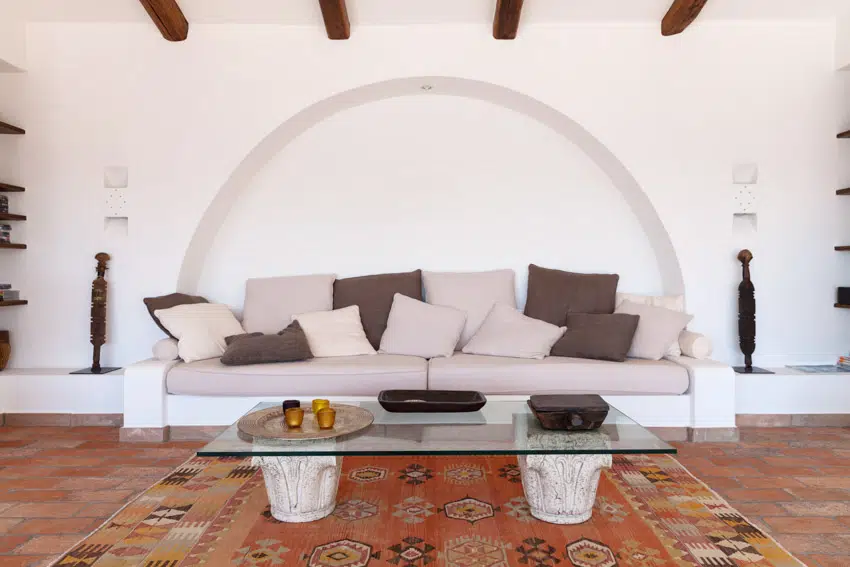 Yes, thin bricks can be used on floors and even have easy installation compared to other flooring materials. They are installed in a similar fashion that other tiles are installed (which involves an adhesive).
Besides their easy installation, thin bricks are also more cost-effective since they can last longer than other types of flooring, especially when regularly cleaned and properly maintained.
Is Brick For Floors A Good Idea?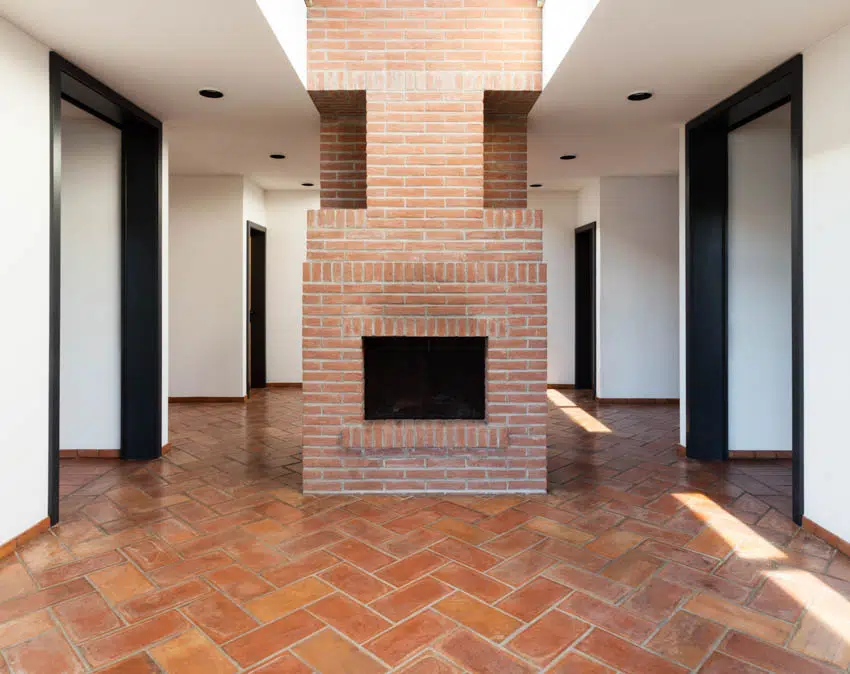 Brick flooring is a good idea if you're going for something unique but somehow showcases a rustic and welcoming ambiance. It is a more affordable option that can last a long time with proper cleaning and maintenance.
You need to pay attention though that it's installed in the right way (leveled and stable) and that you reseal the flooring every few years or whenever it's necessary. And while you might pay for the sealing more than once, you get to benefit from a water-resistant and trendy flooring in your home.
See more related content in our article about uneven floor transition ideas on this page.