In this guide to porch swing dimensions you'll see the standard swing sizes, bed & crib swing dimensions, proper spacing and porch swing placement.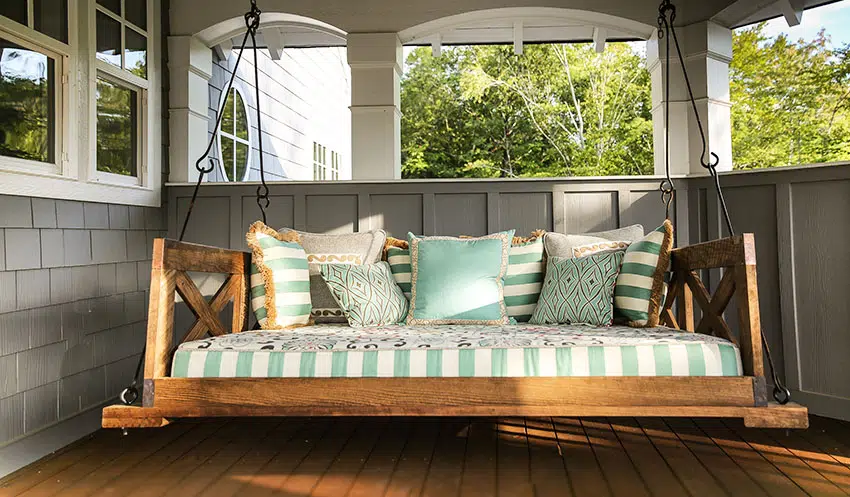 One of the pieces of furniture that you can add to your outdoor living area is a porch swing or a swing bed, whether putting it in front of your porch or at the back of your house under the shade of your favorite tree. It will be a great place to relax and unwind and a fun addition to any household with children.
Buying the correct size porch swing appropriate for your clearance space is only the first factor you need to consider. There is the consideration of what material will be most suited to the climate you live in and the porch swing style.
Standard Porch Swing Dimensions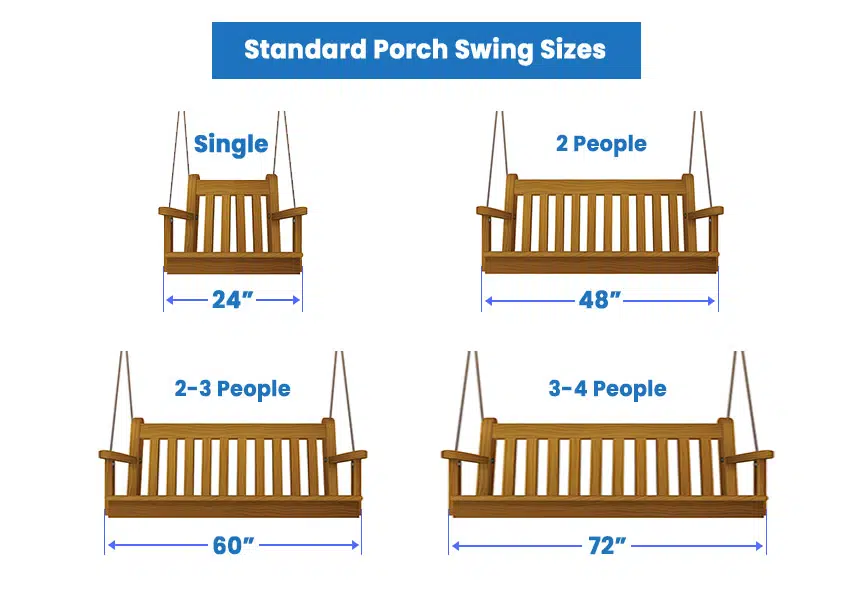 Porch swings will come in various sizes or dimensions. They will usually range from the smaller 2 feet or 24 inches porch swing that can seat a single person to longer ones at 6 feet or 72 inches that can easily seat three to four people tightly.
The most common size for porch swings is usually the one that comes in 4 feet or 48 inches. This porch swing holds two people comfortably. Another standard size famous among many buyers is the porch swings that run at 5 feet or 60 inches, which can seat two to three people.
Deciding on the perfect porch swing for your home will largely be determined by the model that will fit your patio or porch design. Some homeowners even have porch swings in their homes, and it will usually be the 2 feet ones that can seat a single person.
What Is The Seat Height Of A Porch Swing?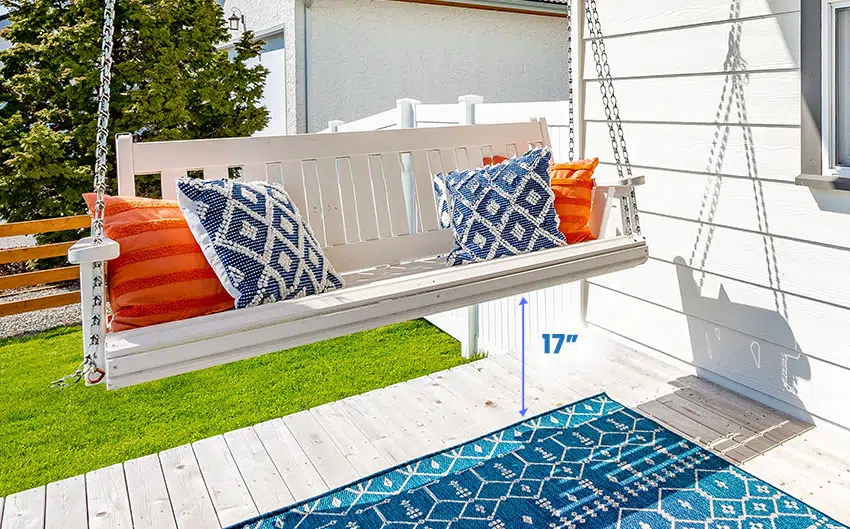 One of the primary considerations in hanging a swing porch for your space is the 4-foot arc of swing space allowance for the porch swing to be able to swing properly without bumping any wall or furniture in the process. Another point of consideration is the seat height of a swing porch.
The standard seat height of a swing porch from the floor starts at 17 inches or 43 centimeters. That is the standard minimum height so that the knees are comfortable and leveled for anyone using the porch swing.
This height starts at 17 inches, but any homeowner installing a porch swing can easily adjust this space higher from the floor to the porch swing seat to accommodate their heights.
Porch Bed Swing Dimensions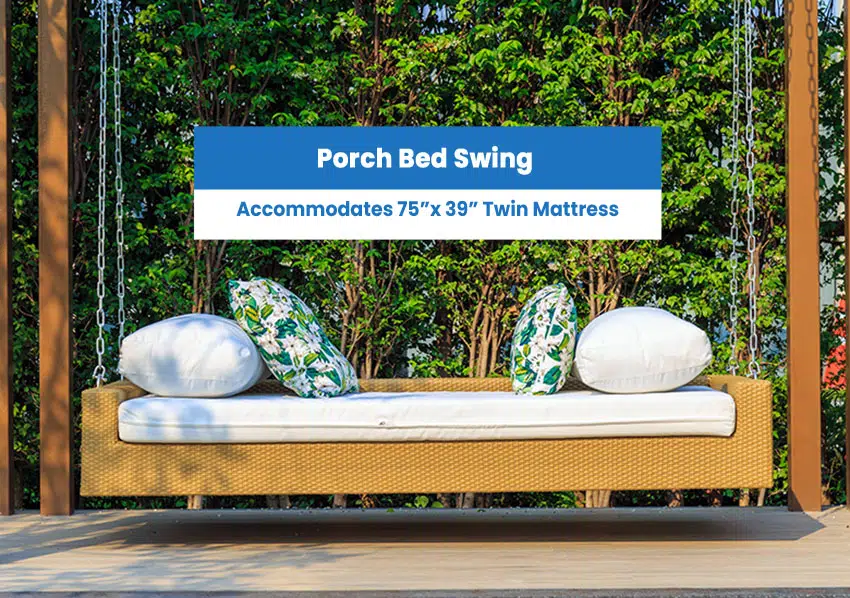 One thing that distinguishes a porch bed swing from a standard porch swing is its frame. A porch swing will feature a more rigid bottom with the seat depth having a dimension of 32 inches or about 81 centimeters.
In contrast, a porch swing bed has the ability to fit a twin bed mattress on its frame. A twin bed mattress measures 75 inches or 191 centimeters long with a width of 39 inches or 99 centimeters.
Because of the ability to hold a twin mattress, the porch swing bed becomes the more comfortable option to fit any porch or patio.
Another thing that distinguishes the two is the way they swing. The standard porch swing is usually hung at two points to swing in a front and back motion. On the other hand, porch swing beds are suspended at four points. Making them glide more than they swing.
Deep Porch Swing Size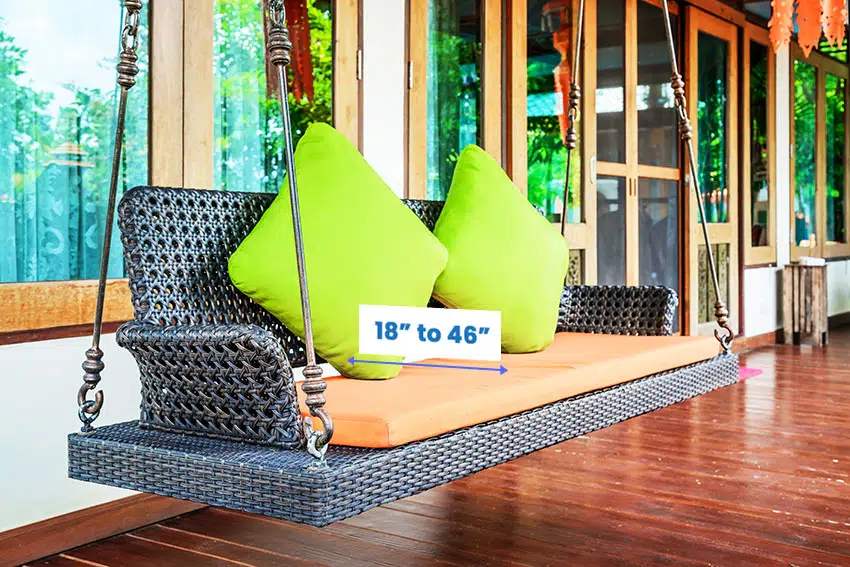 The sizes of porch swings will vary if you want a single porch swing chair or a more extended one that could sit up to 4 people. Other than the length they come in, the depths of a swing porch will also vary, and depth is essential if you want a deeper swing porch.
Seat depths for a porch swing will range from narrower ones at 18 inches or 46 centimeters to deeper ones at 46 inches or approximately 117 centimeters. If you are looking to relax and take a nap for longer periods on your porch swing, it is better to get a porch swing that is deeper and more extended.
Crib Size Porch Swing Dimensions
Porch swings available in crib sizes are rarer when bought in stores because they are sometimes more custom-made or DIYed by artisans. However, there are still specialty stores that will offer this size for homeowners looking for a crib size porch swing.
A crib size porch swing will usually have a length from one end to the other of 52 inches or 132 centimeters and width from side to side of 28 inches or 71 centimeters.
These porch swings will have a seat height from the floor up of 17 inches or 43 centimeters, but homeowners can always adjust it to fit their needs when installing the porch swing in place.
How Much Space For A Porch Swing?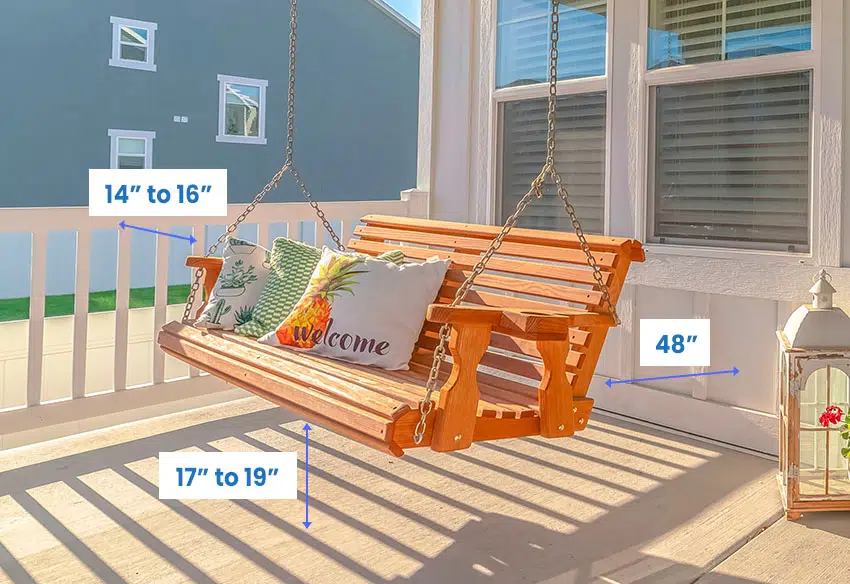 Now that the size of a porch swing or porch bed swing for your home has been decided, it is essential to ensure that you have enough space in installment so that it can swing or glide without hindrance.
A porch swing should have a distance from the wall that ranges from a minimum of 26 inches to 36 inches or 66 to 91 centimeters.
For the space behind the swing that swings forward and backward, an area of about 48 inches or 122 centimeters should be cleared before installment. At the same time, an allowance of 14 to 16 inches or 36 to 41 centimeters should be vacated on both sides of the porch swing.
To be comfortable, a homeowner should ensure that the swing is at least 17 to 19 inches or 43 to 48 centimeters above the floor.
Which Way Should Your Porch Swing Face?
Deciding where your porch swing should be facing is a problem for households using the porch swing with minimum space. If you have enough space on all four sides of the porch swing, it should not be a problem, and this is the case for porch swings put in backyards or suspended on thick three branches.
In contrast, for smaller spaces, a homeowner needs to decide where to orient the swing and whether they want it to face the street or on the side. Choosing to install the porch swing perpendicular to the road will offer more privacy, so this is probably the best choice.
Visit our guide to hammock sizes for more related content.