Here's our entryway table dimensions guide including types for different purposes, standard entry table sizes, and how to style an entryway table.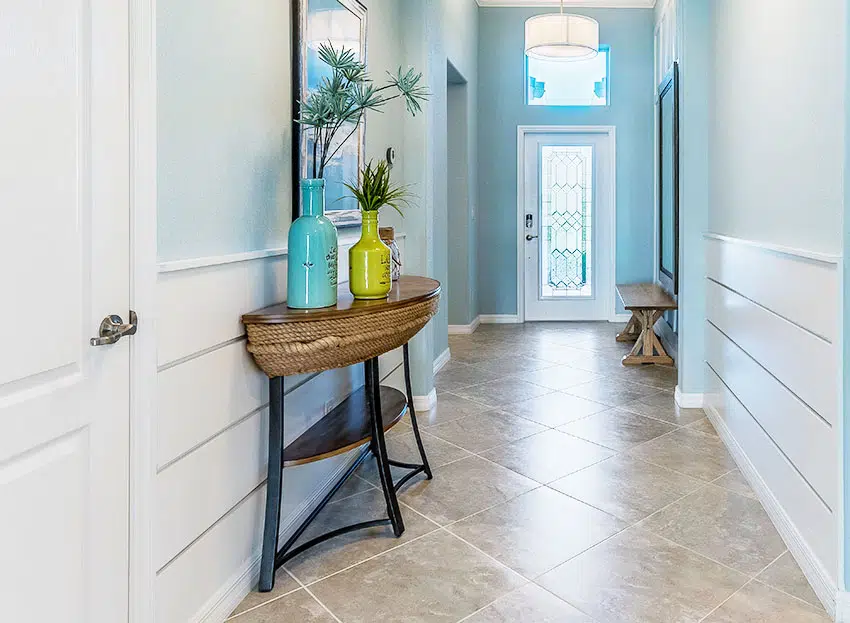 A stylish and straightforward way to decorate your entryway is to put an entryway table on the side. An entryway table does not just look good but can also add a dash of functionality to the space.
An entryway table can house a decorative bowl where everyone can keep their essential things like wallets and keys so as not to forget them when they go in and out of the house.
There are many aspects to an entryway table to think about when thinking of buying it, such as style, budget, space, and size. Size is the most important, as it would make or break the space with a slight mishap in proportions.
Standard Entryway Table Dimensions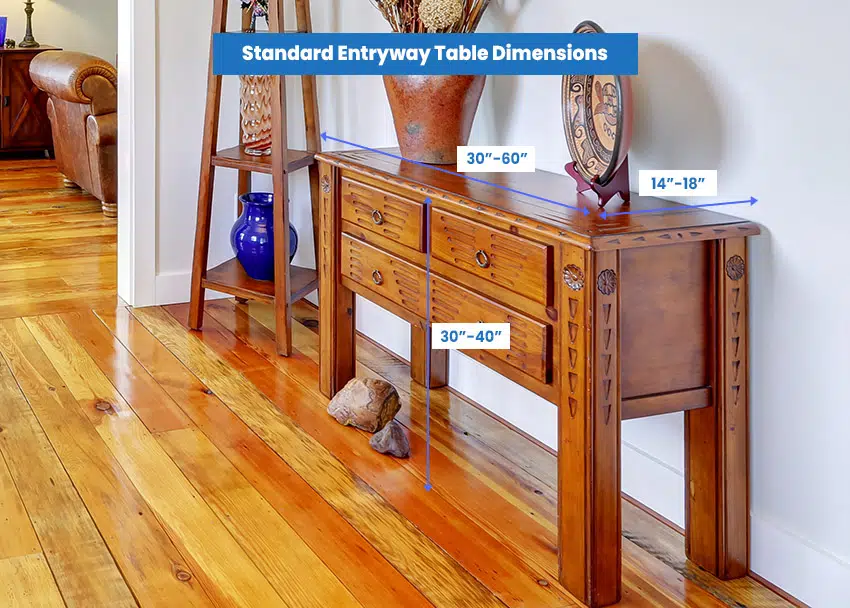 Entryway tables occupy the entry hallway or any entrance area of any home. Since residential areas may be small, most are just square plots that would lead to different areas of the house.
Entryway tables are mostly narrow and are not too thick to make sure it sits out of everyone's way and to make sure that it does not look out of place in the space.
Although bigger homes would require more oversized entryway tables to be proportionate to the bigger space, they are also available to be used for those spaces.
The standard length for an entryway table will range in differing sizes. Although most of them will be somewhere between 30 inches or 76 centimeters for smaller spaces, they can also go as long as 60 inches or 152 centimeters for more oversized ones.
The entryway table depth would usually vary and have sizes between 14 to 18 inches or 36 to 46 centimeters. See our gallery of the types of end tables here for design ideas.

Entry Table Height
Like the width and depth of an entryway table, the heights will vary significantly to fit any space size. There are small to larger ones to suit any needs so that you get the style and also the use of space effectively when it comes to entryway tables. So, how tall should entryway tables be?
There are two factors that would affect the height of the entryway table you need, and those are your personal preference and the structure of your home.
A more elevated entryway table will work best to fill up the space nicely for homes with a higher ceiling and taller walls. Taller entryway tables will usually have a height of 35 inches or 89 centimeters, but they could go higher at 40 inches or 102 centimeters for grand hallways and entryways.
These taller entryway tables will offer more versatility because more elevated surfaces would mean that they have enough space for more compartments and shelves for aesthetics and function.
For smaller spaces or entryways, the midsized 30 inches or 76 centimeters would work great for smaller and medium-sized areas. This is also the widely available entryway table height sold in most furniture stores, so there won't be any problem finding the best ones available at this height.
How Tall Should An Entry Table Be?
The perfect entryway table will give the person or guest visiting the room the experience of the feel of the interior of a home on the get-go. It will initially add a dash of personality to your home and give visitors a glimpse of what they can expect from the rest of the interior.
As stated above, an entryway table can be anywhere from 30 inches or 76 centimeters to 40 inches or 102 centimeters for grander and bigger entryways. Although for the standard size, the height of 36 inches or 91 centimeters will be perfect for many.
The reason behind this height is that it is the wrist height of most average height people. This height will be suitable in making sure that people utilizing the table wouldn't need to reach up or bend down to reach something, whether that is their phone or keys conveniently placed on the trusty entryway bowl.
How Long Should An Entry Table Be?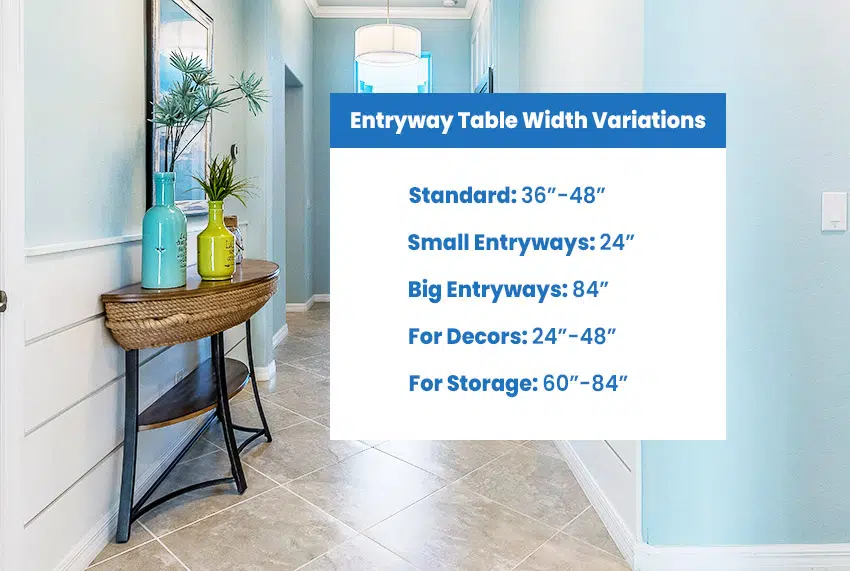 An entry table width will vary significantly to fit every need and design requirement any homeowner may have. The standard width for an entryway table is 36 to 48 inches or 91 to 122 centimeters.
It can be as short as 24 inches or 86 centimeters for small hallways and entryways and as long as 84 inches or 213 centimeters for the more sizable hallways and entryways. So what are the considerations in choosing the exact entryway table width you need for your home?
If you are using the entryway table solely for aesthetics to display decors like plants, books, artworks, and the like, a standard entryway table of 24 to 48 inches or 86 to 122 centimeters in width will be more than enough. Extra-long tables won't be necessary.
However, if you are looking to use an entryway table for more practical ways like a storage area or even an entertainment system, the longer it will be, the more helpful it is. Width sizes of 60 to 84 inches or 152 to 213 centimeters for the entryway table will be perfect for this purpose.
How Wide Should An Entryway Table Be?
Deciding on the depth of your entryway table will call for determining whether you want to place it against a wall or tuck it into a corner in your entryways or hallways. The average depth of an entryway table is typically between 14 to 18 inches or 36 to 46 centimeters.
A deeper entryway table will protrude in hallways or entryways, and the table might end up looking like a buffet or a console table. A deeper entryway table may also cause bumping, especially in smaller hallways or entryways with foot traffic.
However, go deeper if you have a broader hallway to make sure that the entryway table is not lost in the space to match the taller height it will surely have.
What Is An Entryway Table Called?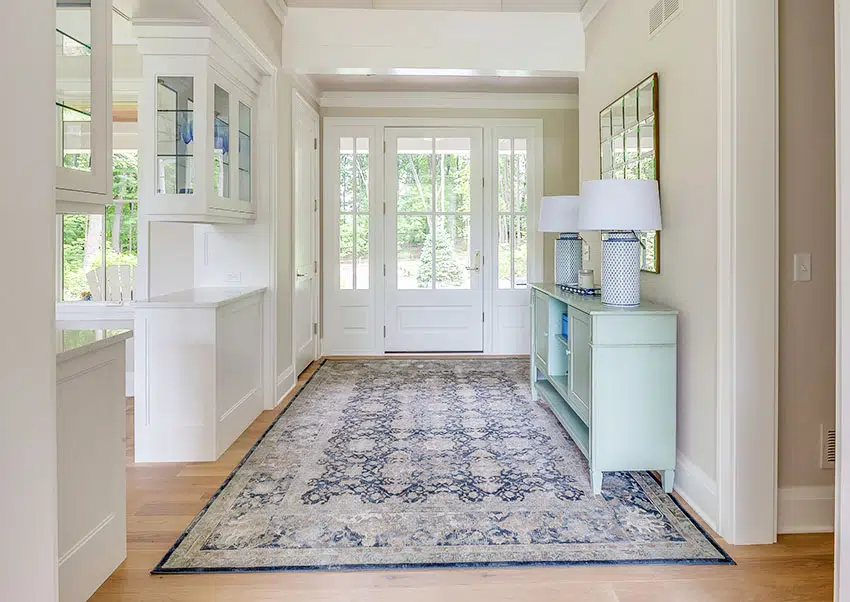 If a homeowner will choose to use a table in the hallway, it will usually be called a console table. However, it would be called an entryway table for hallways in the front portion of the home with a door in the middle.
Both console tables and entryway tables are often interchangeable because they are tall and narrow and mostly pushed on the sides to a wall to avoid blocking the space for foot traffic.
Sometimes an entryway table can also be mistaken for a sofa table because of its narrow and taller nature. Still, sofa tables are pushed on the backs of sofas and are lower, while entryway tables are on the hallways or entryways and could be higher to complement the interior.
How Do You Style An Entryway Table?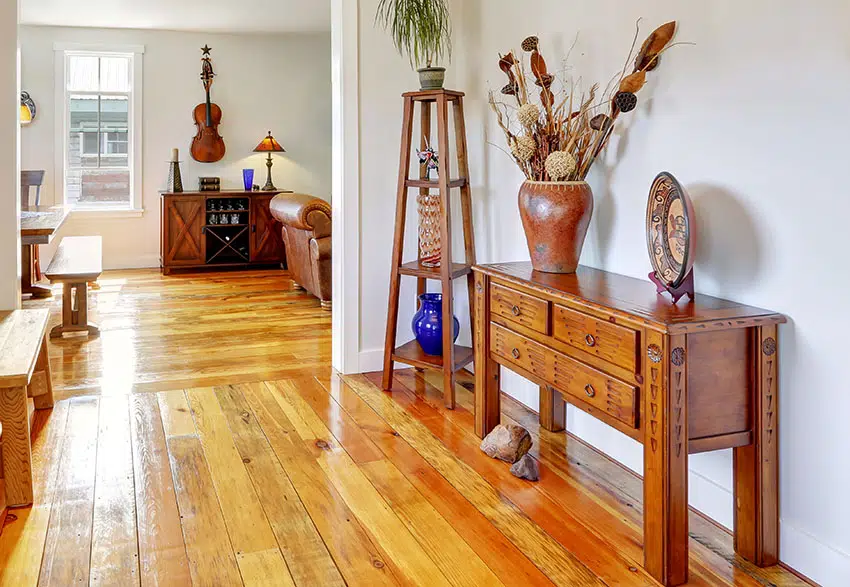 Once you have chosen the perfect size and style of entryway table for your home, it is time to style them, and here are a few tricks and tips on what to put on the real estate space provided on an entryway table.
For aesthetic purposes, why not add a large mirror to add light to the hallway or entryway. This décor is also really functional since you can look over at yourself before leaving your house. We also encourage you to hang family photos on the walls or use the space for stylish frames to add personality to your entryway.
For functionality, adding storage boxes and our favorite multipurpose bowl to add your keys, wallet, and change in will help you not forget the important stuff before leaving the house.
For more related content visit our sideboard dimensions guide here.