Here's our console table sizes guide including standard tv console table dimensions and how it compares to a sofa table for your interior design.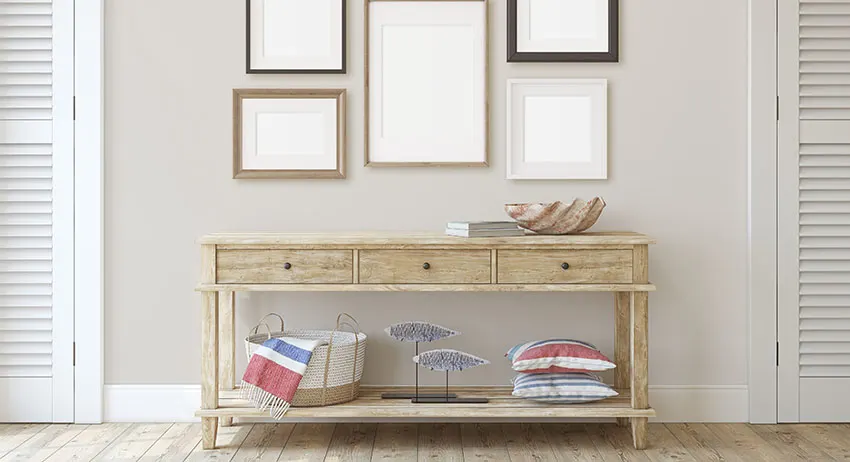 If you are thinking about adding dimension to your hallway or your living and dining room, one great idea is adding a console table to the space. Console tables are wide, they are mostly shallow, and most of them are as tall as a table or a desk.
Most of the time, a console table is pushed against the wall. Console tables are standalone pieces made to be the focal point wherever you wish to place one in an entryway or dining room. Everything can be displayed on top of a console table so homeowners all over can get creative with decorating.
Standard Console Table Sizes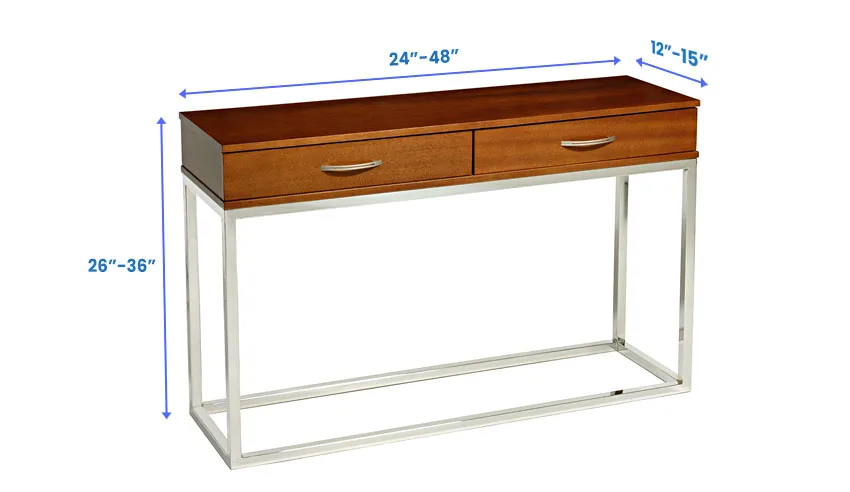 Console tables can be made of wood to metals, and they can also have different heights and widths to fit any size of space. Sometimes it can be tricky to a specific one, but knowing where you want to put it should solve the dilemma.
A standard console table will measure from 24 to 48 inches or 61 to 122 centimeters in table length. They will stand from top to bottom at 26 to 36 inches or 66 to 91 centimeters tall. The table depth will usually range from 12 to 15 inches or 30 to 38 centimeters.
To know what console table size you need, here are some variables to consider:
• The primary use of the console table you will be purchasing
• Your desired console table style or design
• The measurements of the space and wall you will be pushing the console table against
• Are you going to be placing the console table behind a sofa?
These variables will determine what size of console table you should be getting.
Standard Console Table Height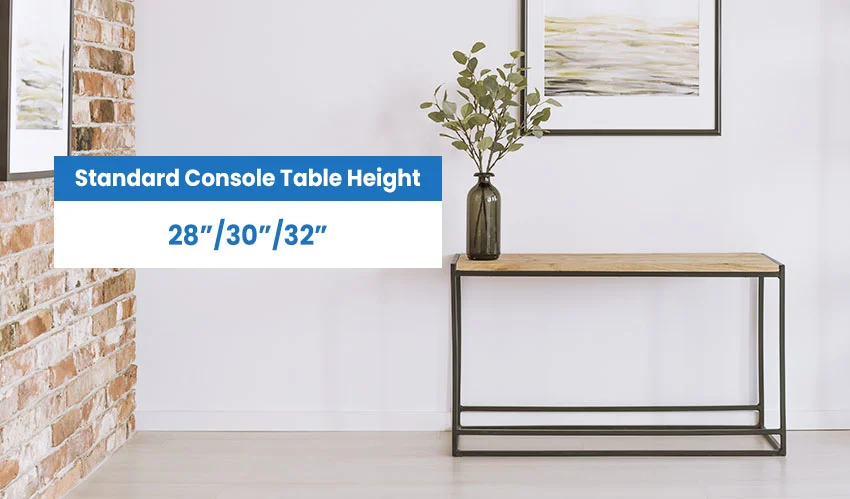 Height is probably the most crucial factor for you to consider when deciding on what size of console table you should get. Typically, the average console table can be as tall as a table or a desk, but some console tables can be shorter or even taller to achieve proportion to your space.
Many console tables available widely in furniture stores will have heights of 30 inches or 76 centimeters. However, there are also shorter ones available at 28 inches or 71 centimeters and longer ones at 32 inches or 81 centimeters.
Because most console tables are designed to be situated on the backs of sofas, they are made high enough that people can reach for objects on them while sitting. At the same time, console tables need to be low enough that the table would not stick out on the tops of the sofa.
TV Console Table Dimensions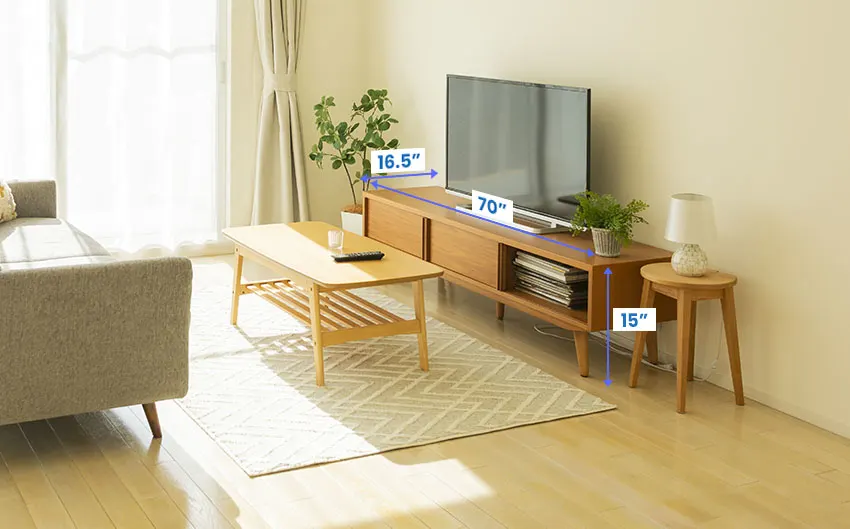 TV Console Tables are also called media consoles or simply TV stands. They hold televisions to allow people seated to have a comfortable viewing experience from the sofa or even the bed. TV console tables can also have drawers or other storage units to store gaming consoles, DVDs, remotes, and what have you.
TV Console tables can have legs, although they can also have none. Legless TV console tables usually come with dimensions of a height of 15 inches or 38 centimeters; they have a full table length of 70.8 inches or 180 centimeters and a table depth of 16.5 inches or 42 centimeters.
Most TV console tables with legs will come with an overall height of 30 inches or 76 centimeters, a table width from side to side of 47 inches or 119 centimeters, and a depth of 17 inches or 43 centimeters. Read more about TV dimensions here to get an idea of average sizes.

Can A Console Table Be Taller Than A Couch?
If you are considering adding a console table to any space other than the sofa, then, by all means, go for a taller console table. However, this rule would not apply to console tables placed on the back of the sofas. If this is the issue, it is best to pick a sofa table at least an inch or 3 centimeters shorter than the topmost part of your sofa.
To ensure that you are picking the correct height of the sofa table for your couch, it is best to measure the size of your couch's back from top to bottom. However, make sure to leave the required allowance of 1 inch or 3 centimeters less.
This rule can be applied to all the console tables in the living room for a more proportionate and cohesive look in the space.
How Wide Should A Console Table Be Behind A Sofa?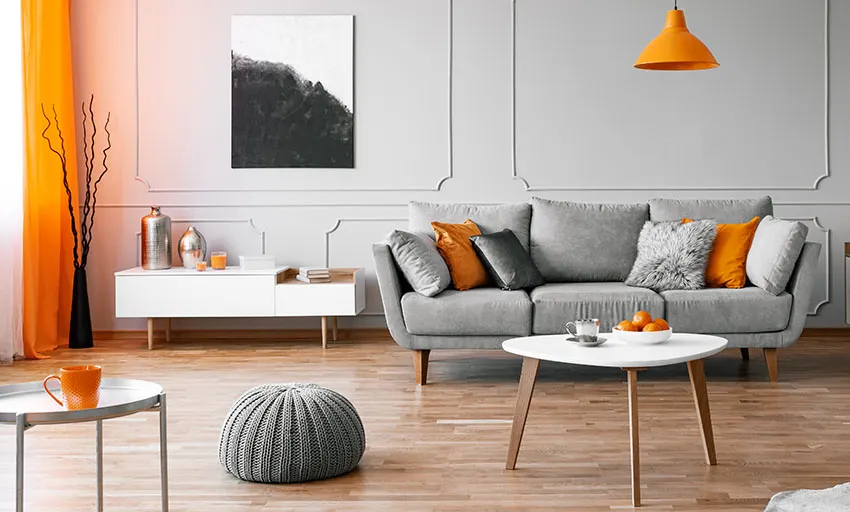 Other than the height, the width of the sofa table on the back of your sofas also comes with a design rule. For this, allow at least 6 inches or 15 centimeters of space to make sure that the couch is longer than the sofa table to ensure safety for all the people walking behind the sofa and the sofa table.
At the same time, if your couch is situated in the middle of the living room and you have a sizable space where there is a more extensive surface area for foot activity, then your sofa table can run the entire length of your couch from one side to the other.
You can also keep this width of the console table for every console table you are planning to add to the space.
What's A Console Table vs. Sofa Table?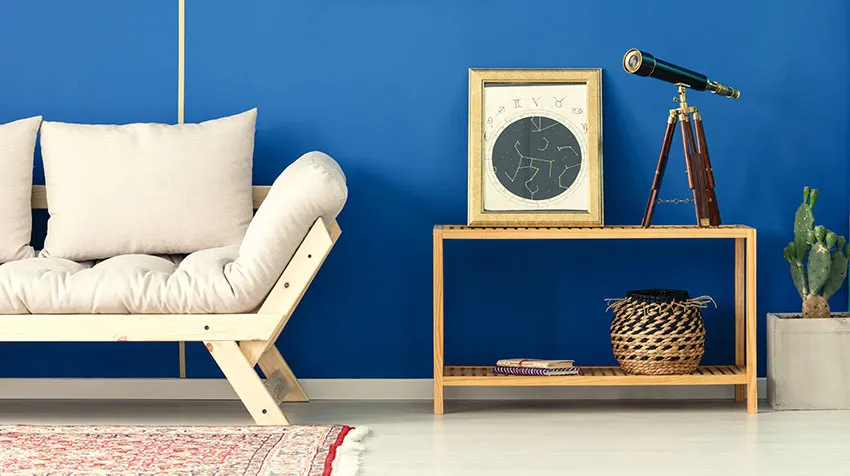 A console table is as tall as a regular desk height or a working table, but they are taller than any other table in the living room, including side tables and coffee tables.
Essentially, a console table and a sofa table are the same. The difference is only evident once a console table is pushed or placed against the back of a couch, which will then make it a sofa table. Console/sofa tables used in this fashion should be lower than the back of the sofa.
Both of these tables will complete the look of your living room or study and console tables will work great to add dimension to narrow spaces like a hallway or entryway.
They can also add a storage element to a bedroom or a living room and keep the safety of your television by lifting it off the floor if you are looking to add a TV console table to your space.
For more related content visit our sofa table dimensions guide here.