Here we share coffee table dimensions including round and rectangular table measurements and coffee table size guide to match your couch and interior design.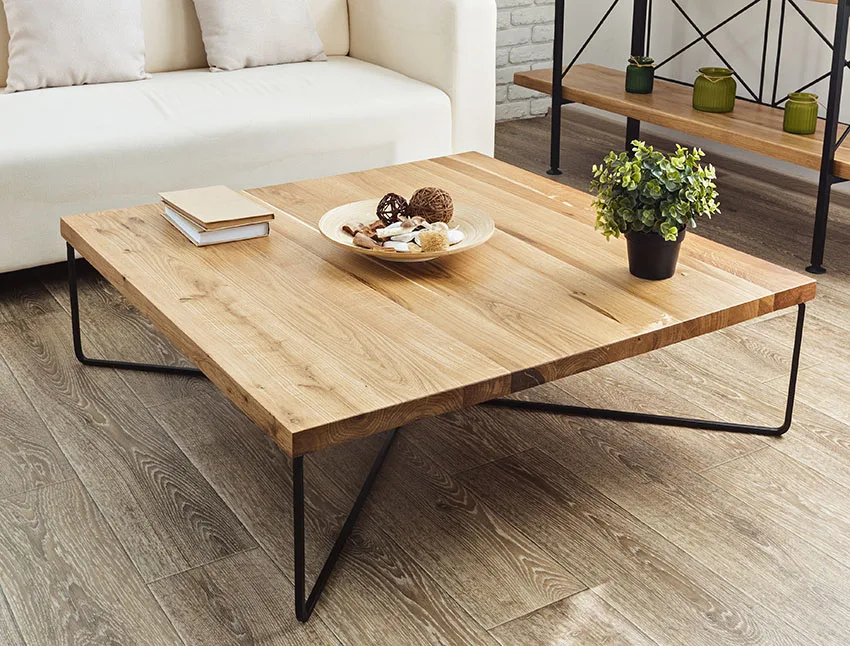 It is easy to become engrossed while you flip through magazines and browse the internet for beautiful living room inspirations. As if choosing a sofa, a couch, or chairs is not a struggle enough, picking the right coffee table and chair styles, including back support and comfort, adds to the challenge.
Many homeowners admire coffee tables in showrooms and end up purchasing them, only to find out that they do not fit their space and provide for the sofa or chair options they have imagined.
The truth is, picking a coffee table is beyond buying a pretty centerpiece. The intended function of the coffee table is more crucial than its aesthetics.
Therefore, what you select needs to be conducive to your daily activities in the living room. For example, a person who loves to eat in the living room will benefit from a higher coffee table with a big surface than a decorative small coffee table.
This article aims to wade through the tricky process of choosing a coffee table by delving into the different coffee table dimensions and shapes.
Standard Coffee Table Dimensions
Standard coffee table dimensions vary according to your preferred shape and other factors. But there are general rules you can follow in terms of height, which heavily rely on the length of your sofa.
A coffee table should at least be one to two inches lower than your sofa seat. This height is comfortable enough for you to reach down yet is not too tall for your sofa.
For reference, the standard sofa seat height is 16 to 18 inches from the floor.
But some homeowners may prefer higher coffee tables for easier access. You will also encounter coffee tables with multiple pieces in varying heights.
If this is the case, keep your coffee table four inches higher than your sofa seat at a maximum. Otherwise, your sofa, chairs and coffee table will look disproportionate.
Our how to measure a sofa article can guide you through getting the dimensions of your sofa correctly.
Standard Round Coffee Table Dimensions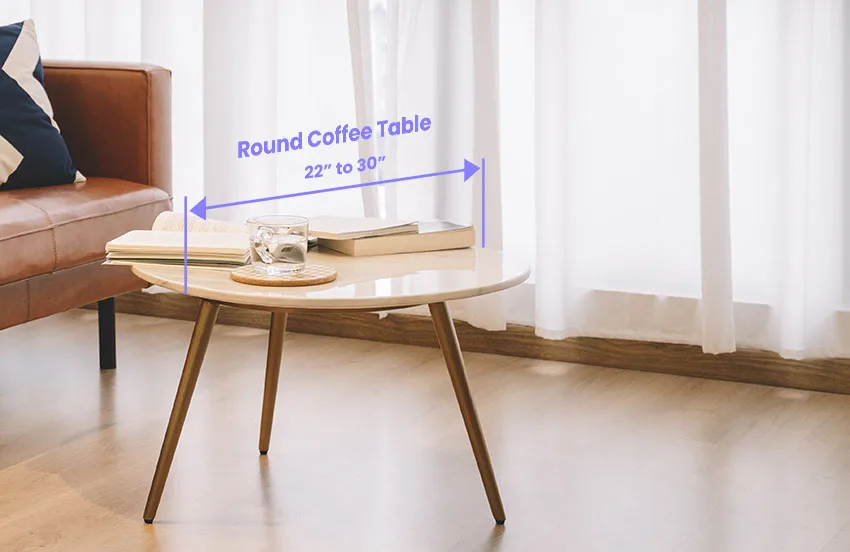 When shopping for round tables, the standard size you will find is between 22 and 30 inches wide. Oval coffee tables measure around 22 inches.
Round coffee tables in living rooms are more favorable because, without distinct edges, they give the illusion that it is more spacious. They also contrast against rectangular sofas and chairs, and add a softer and modern touch to your living room.
Finally, round coffee tables are safer compared to tables with sharp corners.
Standard Rectangular Coffee Table Dimensions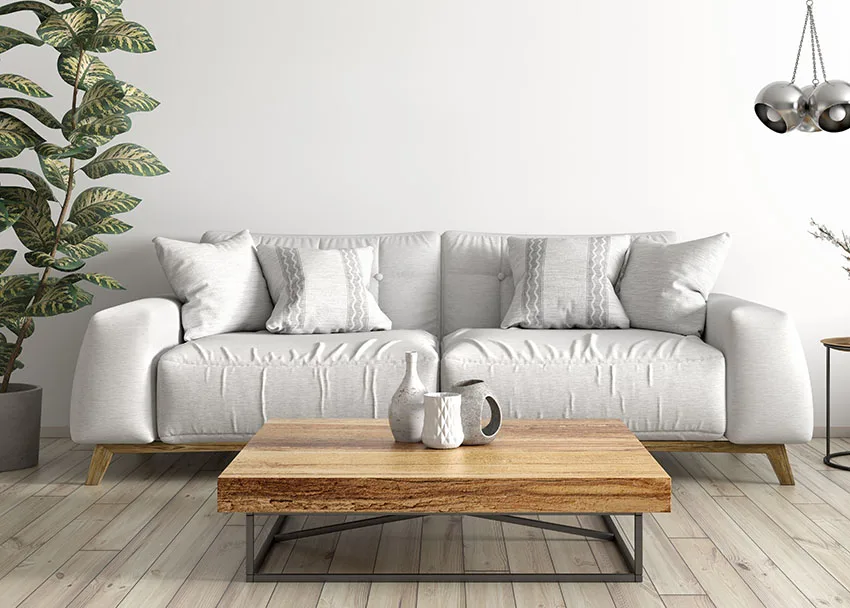 A standard rectangular coffee table measures 47 inches long and 27 inches wide. This shape is ideal if you want to maximize the surface of your table. Thus, you can accommodate more family or guests.
If you are the type who loves to work in the living room, then rectangular coffee tables, combined with the right chairs and cushions, will be more helpful to you. You will have ample space to fit your laptop, documents, and coffee on the generously-sized top, while the material choice for the legs can complement your existing decor.
Another upside is they are more common and widely available. You can also get two square coffee tables and combine them. Voila! You have an extra-large rectangular coffee table. Like sectional sofas, they are also convenient should you decide to move one piece to another space.
Are you looking for space to put your books and albums? There are a lot of rectangular coffee tables with open or closed bottom storage designed for this purpose. These tables come in various designs, catering to a wide range of products and decor styles.
Finally, to avoid injuries, especially to the side of your legs, it is advisable to pick a rectangular coffee table with round corners.
Small Coffee Table Dimensions
Not everyone has the luxury of space in their homes. Hence, practicality is important to achieve a well-designed albeit small living room.
Small coffee tables are anything that measures below the average dimensions previously mentioned. You can find a round table that is only 14 to 16 inches in diameter, enough for a cup of coffee and a book.
Square coffee tables are the same, but they have more wiggle room than round tables. Like rectangular tables, square tables also come with open or closed storage space underneath.
One space hack when you entertain more people and need extra space is to purchase a nesting table. A nesting table is a set of tables where you can pull out one to two pieces of varying low heights from underneath the primary coffee table.
But what they lack in surface space, they make up in design. Furniture designers have made available eye-catching small coffee tables. Whether they use natural materials, colors, or odd shapes, they can add a tremendous impact to your interior style.
How Big Should A Coffee Table Be Compared to The Sofa?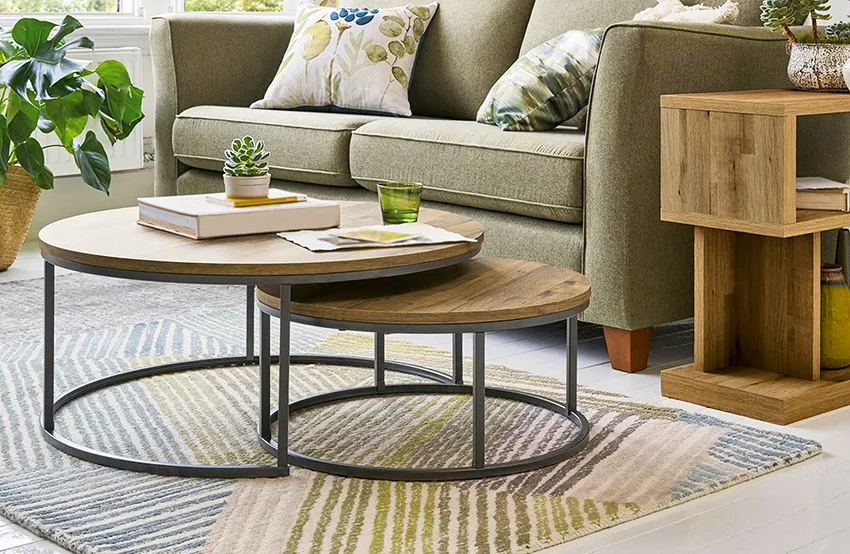 Now that we have rounded up the different dimensions of coffee tables, how do you decide on which size of the coffee table to match your couch? It all starts with the golden ratio.
The golden ratio or the 2:3 rule indicates that your largest furniture should measure two-thirds of your area. This golden rule helps attain proportionality when choosing pieces of furniture and rugs.
If your sofa is 70 inches long, the maximum length of your coffee table should be 47 inches. The shortest length you can go for should be at least half of your sofa length.
The clearance between your furniture is also an enormous factor in your living room as it maintains the flow of space. As a guide, allow at least a 14 to 18 inches gap between your coffee table and your sofa.
If you have a TV stand, a sideboard, or a fireplace across your couch, keep a distance of at least 24 to 30 inches from your coffee table.
Mixing different sizes and shapes of coffee tables can make your interior layout more dynamic and multifunctional. But if you're not a fan of coffee tables, you can also opt for ottomans.
As always, interior design is all about maintaining a balance between form and function. See more related content at our article about sofa dimensions here.