Welcome to our sectional sofas ultimate designs & buying guide including different types, sizes, materials, costs and tips on how you can style them.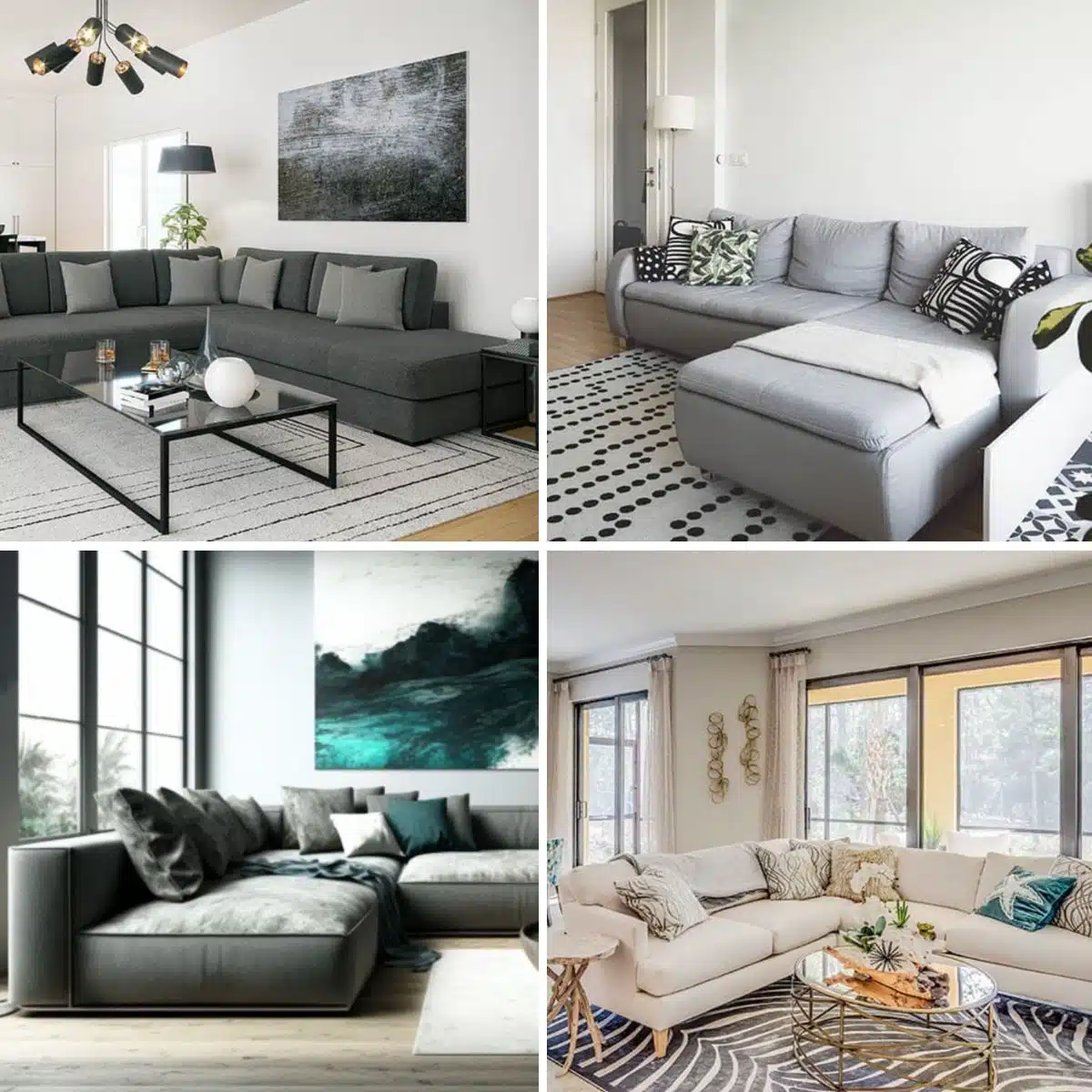 The sectional sofa is one of the most versatile and most practical furniture pieces you can find in the market. First seen during the Victorian era, sectional sofas continue to grow into popularity and make their way not only into residential settings but commercial spaces as well.
Sectional sofas are available in numerous designs, styles and materials. You can find thousands and thousands of options in the market to suit your specific taste, need and preference.
To help you decide which one is the best for your home, we share with you our very own ultimate design and buying guide for sectional sofas.
What Is A Sectional?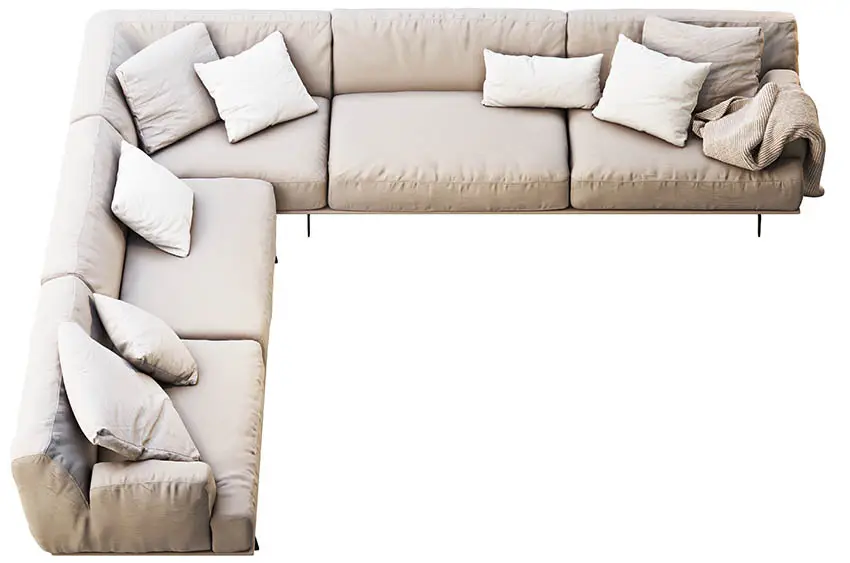 Sectional sofas are a type of couch or seating made up of independent pieces or sections which can be arranged in different configurations.
A typical sectional sofa usually consists of two to seven pieces, which ideally includes fixtures that connect them from each other and prevent them from separating while in use.
Each "section" is a different type of seating — options may include an armless chair, a regular two or three seater sofa, sleeper sofa, a chaise lounge, ottoman or storage.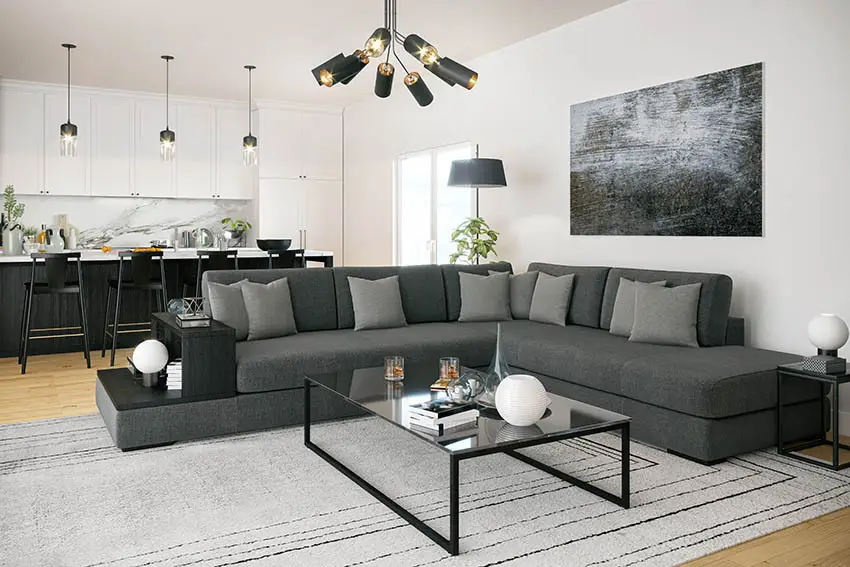 The biggest advantage that a sectional sofa offers is design flexibility and versatility. Unlike a three seater sofa, a sectional can be modified into different lay-outs to fit into a space — it can be formed into an L shape seating area, a U shape seating area or a standard single seating area. This type of sofa can be customized easily according to your needs and your space.
Sectional Sofa Shapes and Designs
The designs of sectional sofas are mainly classified according to their shape. In general, sectional sofas have three main shapes, namely U-shape, L-shape and semi-circular shape.
The shapes may take on different designs and typically come in modular sets of three to seven pieces which can be arranged in different configurations.
L-Shaped Sofa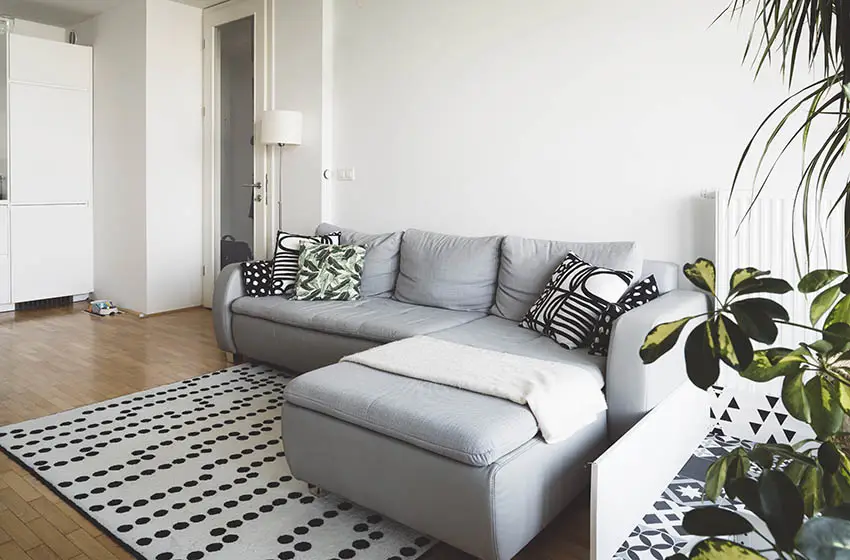 These sectional sofas take on the form of the letter "L" and come standard with a chaise. L- shaped sectional sofas are perfect for homes that have small living rooms as they help optimize the seating space.
L-shaped sofas allow for easy reconfiguration without cluttering the room and since they come with a chaise, it is easy for the user to recline, sit and relax.
U-Shaped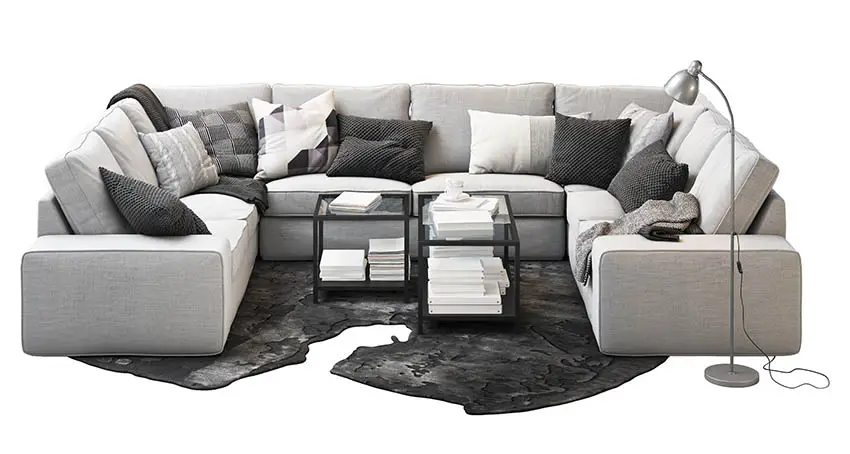 The U shaped sectional has more space compared to a standard L shaped sofa. As its name suggests, it takes on the form of the letter "U" and allows the user to recline on either ends of the sectional.
A u-shaped sectional sofa is a great choice for homeowners who have large living rooms since they are usually bulkier compared to other sectional sofa shapes.
Semi Circular or Curved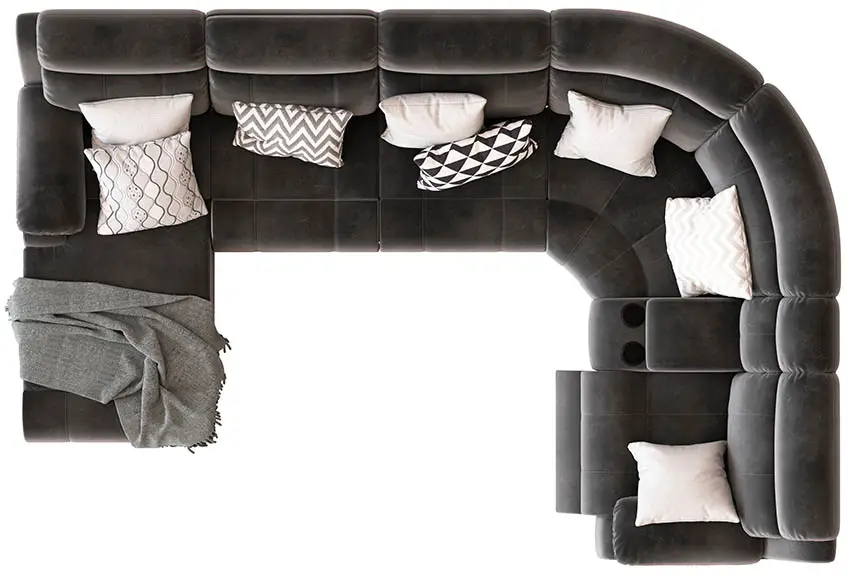 Curved sectional sofas have a more graceful form compared to L shaped and U shaped sofas. In this sectional sofa design, there is no uncomfortable corner seat and the users can comfortably sit and talk easily on all parts of the sofa.
Corner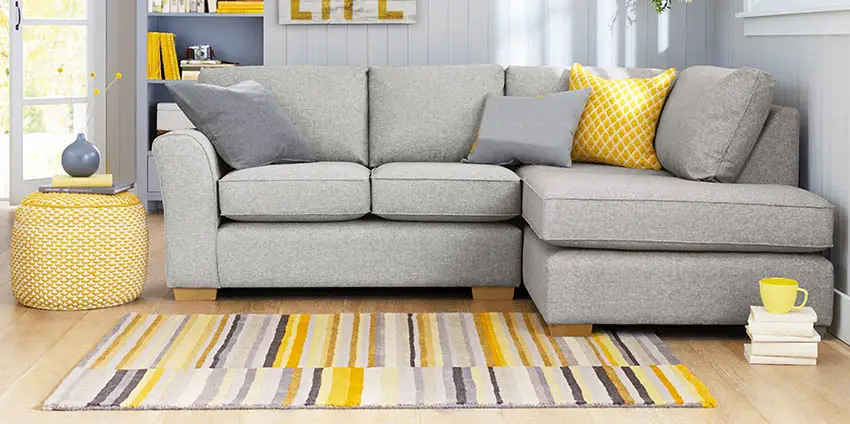 Corner sectionals have individual pieces that come together at a 90 degree angle , thus forming a "corner". Depending on the design, the corner pieces may sit between other individual pieces of the set.
L-shaped corner sofas are most approriate for large and open-plan rooms. where they can be placed against two adjoining walls to fill a perhaps otherwise insignificant corner. – Step-by-Step Home Design and Decorating, DK 2012
Corner sectionals are ideally p[laced on one side of the room, but they also work great when placed in the middle of a space, especially if you have an open plan. This type of sectional sofa can be used to divide a room without being an obstruction to the space.
Reversible
See this gray reversible sectional sofa at Amazon [sponsored link]
If you want something versatile, functional, flexible and convenient, reversible sectional sofas are your best bet. Reversible sofas give you the ability to rearrange the pieces to create different layouts.
A reversible sofa makes great sense for those who move a lot or enjoy constantly rearranging the furniture layout in their home.
This type of sectional sofa consists of a standard sofa with two arms and a stand alone ottoman piece. You can put the ottoman on either side to create a right facing sectional or a left facing sectional, depending on your need.
Left Or Right Arm Facing
A sectional sofa's orientation may either be left arm facing (LAF) or right arm facing (RAF). A left arm facing sectional is a sectional that has the longer seating piece on your left side.
When you look directly at the sofa, the chaise or lounge is on the left side. Whereas, a right arm facing sectional is the exact opposite — the chaise or longer piece is located on the right hand side.
Reclining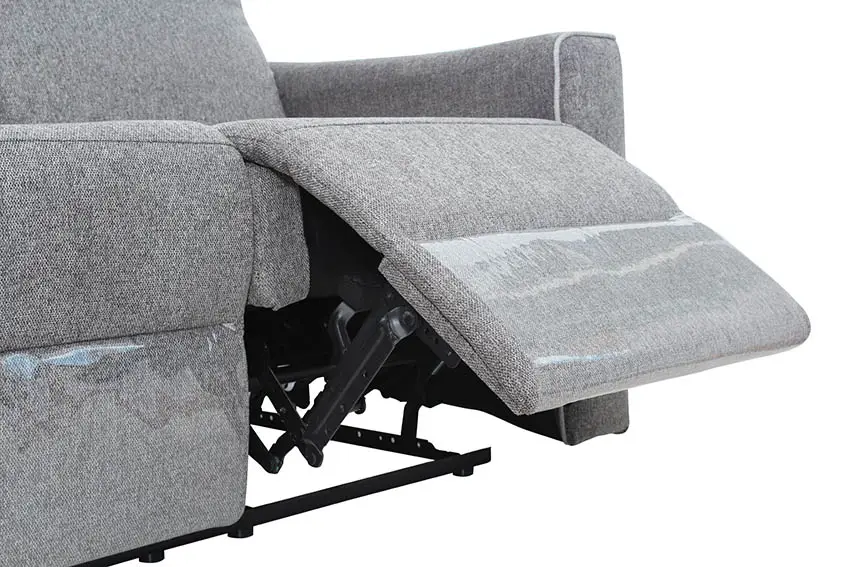 Reclining sectional sofas are commonly used in entertainment rooms, media rooms and family rooms. In this design, the user can recline comfortably while reading a book, watching a movie or hanging out.
The design of reclining sections vary widely — some come with sections which can be adjusted, while some look like theater chairs. They are more suitable for large rooms because they take up a lot of space.
Reclining sectionals can either be manually operated or power operated. Power reclining sofas recline easily with a touch of a button. They usually come with added features like massages, heated seats and USB ports.
Whereas, manual reclining sectional sofas recline by pulling a lever. This type is a lot cheaper than power recliners because they do not have any special features.
Sleeper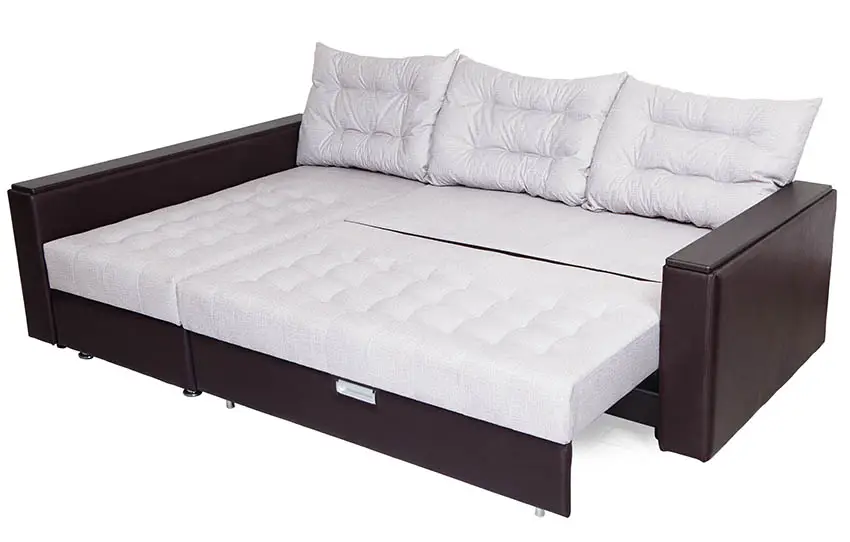 A sleeper is a sectional sofa which can be converted into a bed or a sleeping area. Generally heavier than other sectional sofa designs, sleepers are perfect if you want to maximize the use of a room.
With a sleeper sofa, you do not need a spare bedroom guest room as you can easily convert any space into an extra sleeping area.
Sectional With Chaise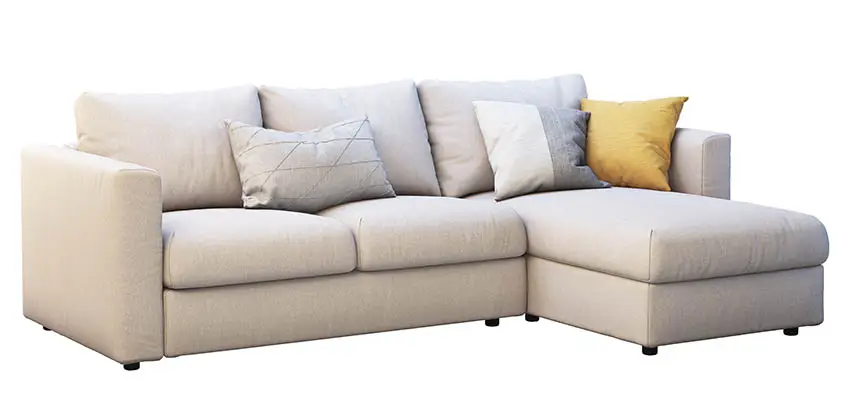 A chaise is an upholstered sofa that is long enough to support the legs. Also known as a "chaise longue" — a French word which literally translates to "long chair".
Most sectional sofas consist of two or more pieces and it typically includes one chaise. The part with the greater seat depth which allows for reclining, lying down and stretching the legs is the chaise.
This type of sectional is perfect for relaxing and lounging. Some larger sectionals designed for couples or families come with two chaises

Deep Seat Back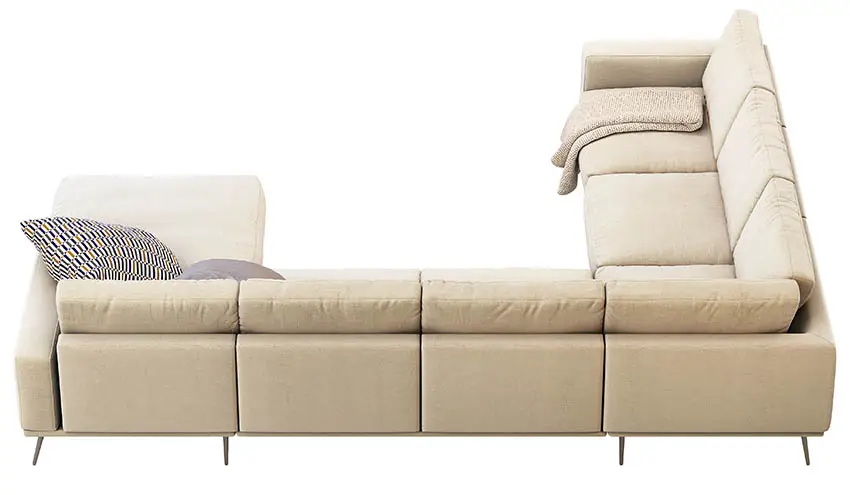 Typically, sectional sofas and other types of couches have a standard inside depth of 21 to 26 inches, and a standard outside depth of 31 to 40 inches.
The inside depth refers to the space between the front of the seat and the sofa's back cushion, while the outside depth is the distance from the back of the couch to the front. Sectionals and other sofas that follow this standard seat depth are categorized as "shallow seating".
Sectional sofas with deep seats have a depth of more than 40 inches. This allows the user to lean back comfortably or lay down on it. On the other hand, shallow seats will only allow the user to sit in an upright position with their feet on the floor.
Low Profile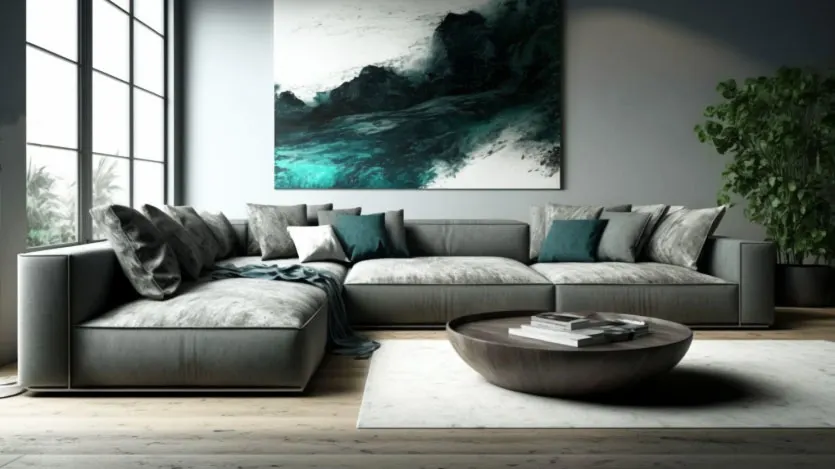 This type of sectional has a low profile and is lower height than a regular standard sofa. Most sectional sofas of this type do not have legs and have an overall height of less than 30 inches.
A low profile seat back is ideal if you want to keep your space from feeling too cluttered. It is also suitable for use in small spaces.
Nailhead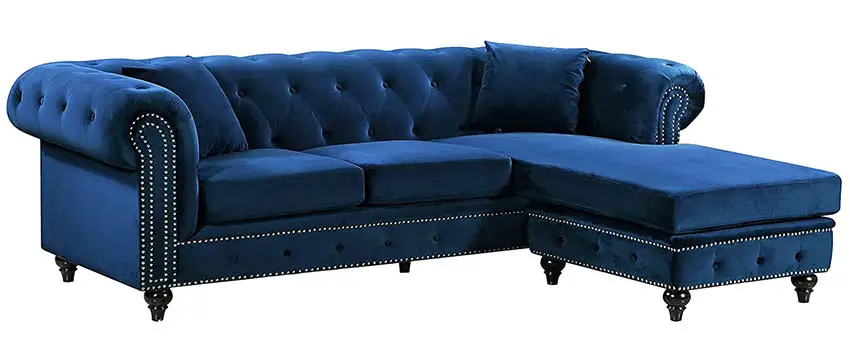 See this nailhead sectional sofa at Amazon [sponsored link]
A Nailhead is a classic furniture design detail used in traditional pieces and sofas that have a refined style. Also known as a "nailhead trim", it consists of a series of metal studs or nail heads used to hide the places where the upholstery is tacked into the wood frame.
Sectional sofas with nailhead trims are perfect if your home's interior style is leaned towards the traditional, transitional or contemporary.
Stationary
The most common type of sectional sofas are stationary and are designed with a single shape. Unlike modular sofas which can be mixed and matched, these pieces lock or connect together so that they stay in place.
The only downside to having a stationary sectional sofa is that you can't recline in them.
Modular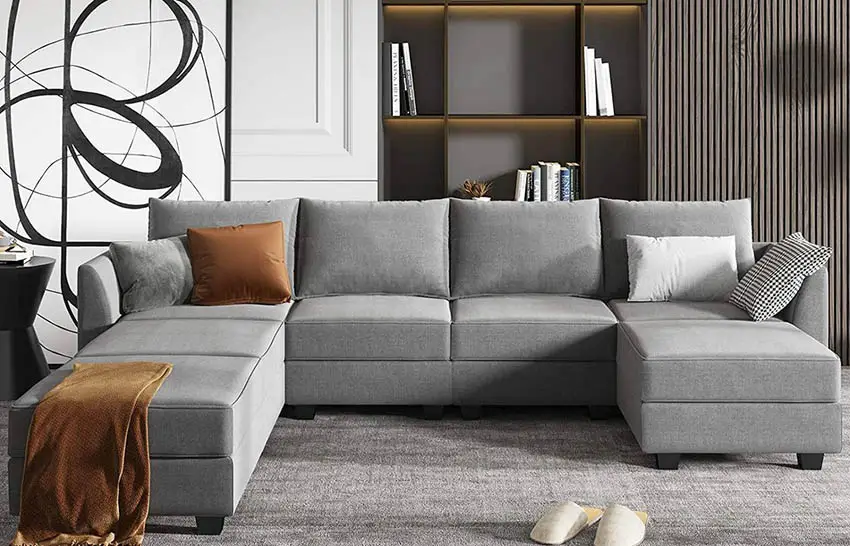 See this modern modular sectional sofa at Amazon [sponsored link]
Modular sectional sofas come in 3 to 5 pieces. Each individual piece of a modular sectional can be used as stand alone furniture , but together, they can be rearranged to form different styles and configurations.
Modular sofas are very practical because not only do they optimize the seating choices that you have, but they can be easily moved around to suit your taste and needs.
With a modular type of sectional sofa, you can push the pieces together to form one long setingor you can place them at the different sides of the room.
Custom Sectional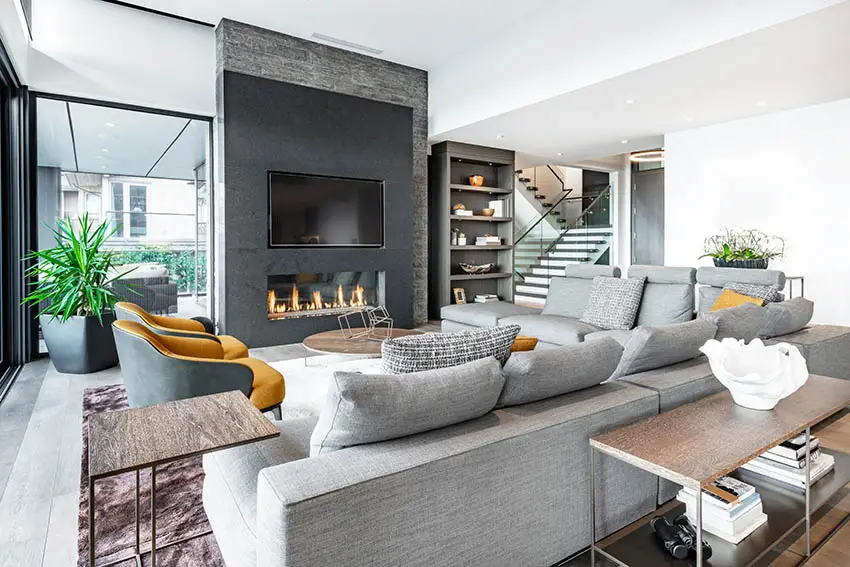 Custom made sectional sofas allow for complete modification of the design, style and material of the furniture piece.
Custom furniture designs are generally more expensive than a ready made sectional sofa, but gives you more creative freedom to produce a piece that will fit your exact specifications and needs.
Plaid
Not all sectional sofa upholsteries are in plain solid colors, you can find manufacturers which upholster them in beautiful plaid textiles, perfect for informal settings and a casual laid back vibe.
Stripes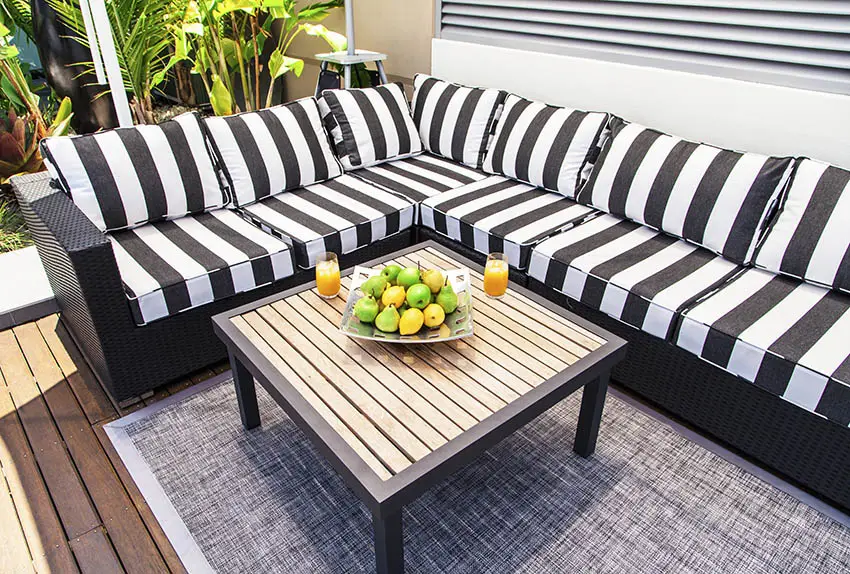 Aside from plaids and florals, other prints and patterns which can be used for sectional sofas are stripes. Stripes are perfect if you want to experiment with prints but do not want to commit to bold patterns.
Stripe fabrics are perfect for casual settings, coastal themed interiors or a navy motif. You can opt for this type of sectional sofa fabric design if your home has a contemporary style.
Floral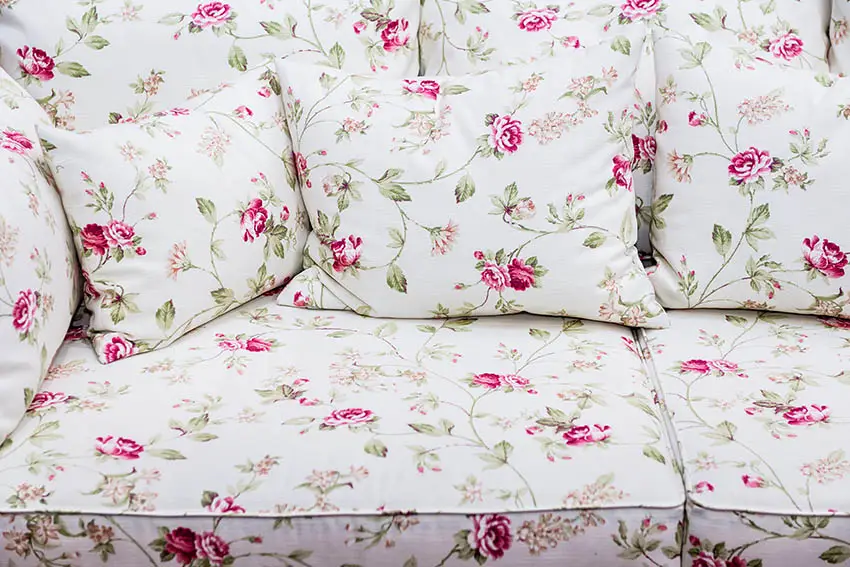 Another sectional sofa fabric design option is floral. Floral sectional sofas can help bring in a feminine touch to a space and will work well in charming cottage homes, traditional spaces and shabby chic interiors.
Sectional Pieces
As we have mentioned in the definition of a sectional sofa, the number of pieces of a sectional may range anywhere between two to seven pieces, depending on the design.
Each section is a different type of seating, which may include an armless chair, a regular two or three seater sofa, a sleeper sofa, a chaise or an ottoman.
Outdoor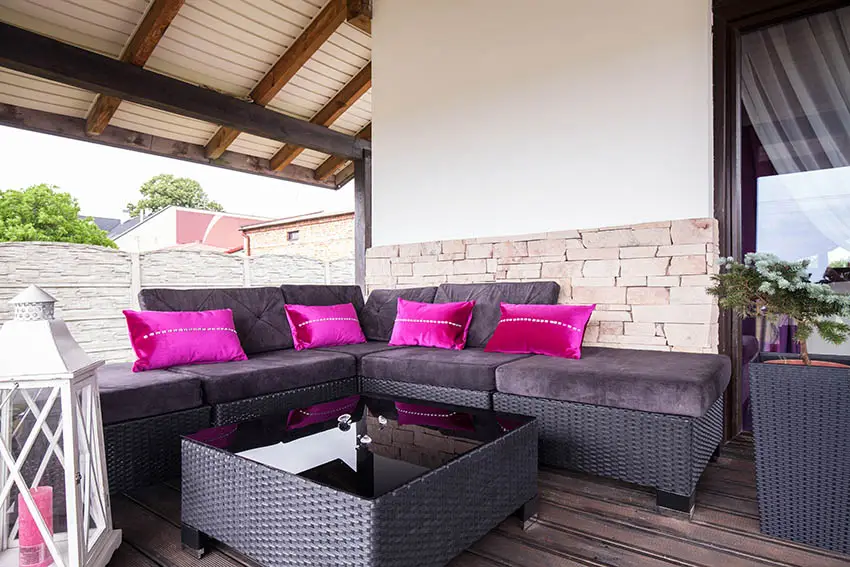 Some manufacturers produce sectional sofas which are suitable for outdoor use. These types of sectional sofas are made with materials which can withstand the changes in climate and weather.
The fabrics and upholstery used for outdoor sectionals are also weatherproof and easy to maintain. Some materials used for this include wicker, rattan, solid wood and metal. In general, they are much more expensive than indoor sectional sofas.
Sectional Styles
Aside from the form and details of the sectional sofa, another design factor which you can consider when buying is the style.
Before you decide which sectional sofa style to use, you must have a clear understanding of the prevailing overall theme, style and color palette of your home. This will ensure that the resulting look will be cohesive and harmonious. Here are some of the most common sectional sofa styles :
Traditional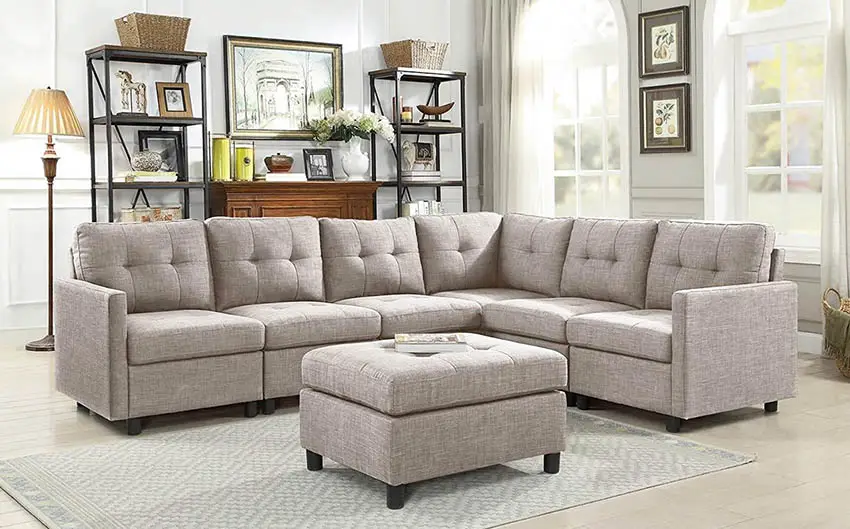 See this traditional sectional sofa at Amazon [sponsored link]
In general, traditional style furniture is more ornate, luxurious and graceful than its modern counterparts. Typically, traditional style sectionals are daintier, have a curved form and soft edges.
The accents and details are fancier, while the colors are richer. If made with mixed materials, traditional sectionals often make use of rich wood tones and plush patterned upholstery. The sectional legs are also typically turned or in cabriole style, finished in deep wood stain or gilded.
Modern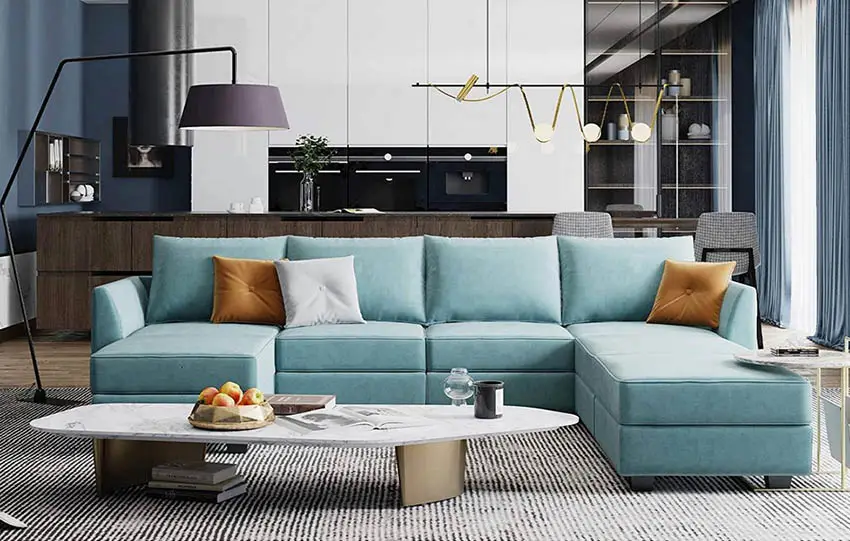 See this modern modular sectional sofa at Amazon [sponsored link]
Also referred to as Mid century modern, Modern style furniture was popularized during the late 19th century up to the present.
Sleek and streamlined, modern style sectionals are highly characterized by their sharp lines and strong geometric form. They also have more updated touches like metal accents, thin legs, while the fabrics and upholstery used are usually in plain solid color.
There is little to no ornamentation used and overall, they tend to be "boxier" in appearance compared to traditional sectionals.
Mid modern century sectionals are also usually made with leather — often with a tufted back . This type of sectional is perfect if you want to add lightness to a room as their visual weight is less compared to ornate traditional sectionals.
Contemporary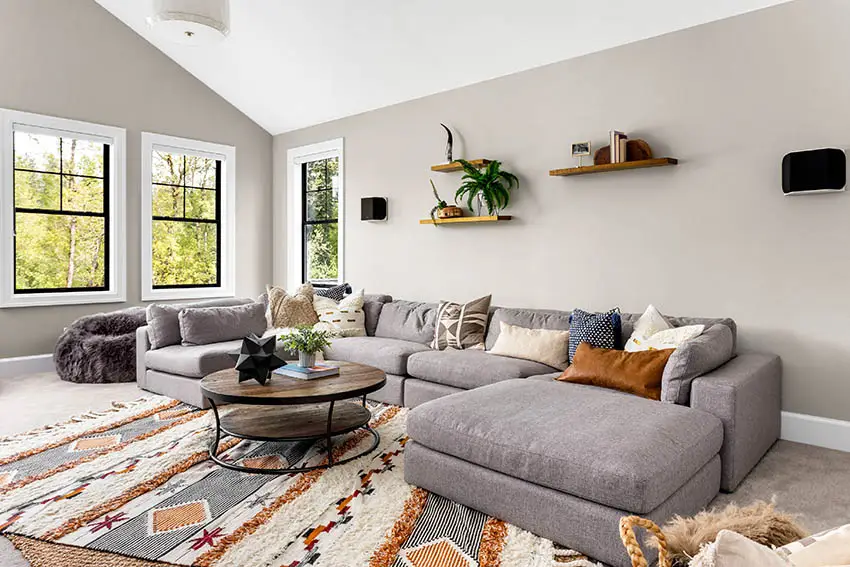 Often confused with modern furniture, contemporary style furniture borrows inspiration from all styles and eras — from Mid century Modern to present.
Contemporary style sectionals have a strong minimalist appeal that is characterized by simple clean lines and squared edges and prominent geometric form.
They are typically made with natural materials like wood or metal and upholstered in neutral colored fabrics like black, white, gray, beige or brown. The fabrics are also often textured but other than that, there are no ornate details present.
Farmhouse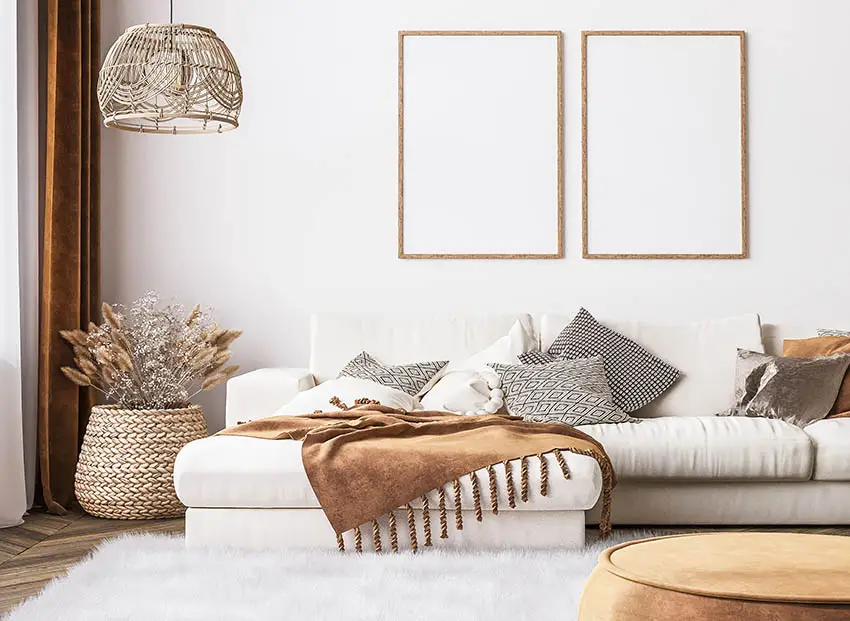 The basic elements of farmhouse style furniture include neutral colors, durable fabric and comfort. Farmhouse style sectionals have a strong rustic appeal, typically made with natural materials like wood, upholstery in muted shades with a few pops of colors.
Farmhouse style sectionals have a simple and timeworn appearance and are built to last. They are the perfect choice if you want to evoke a laid back vibe in your space.
Rustic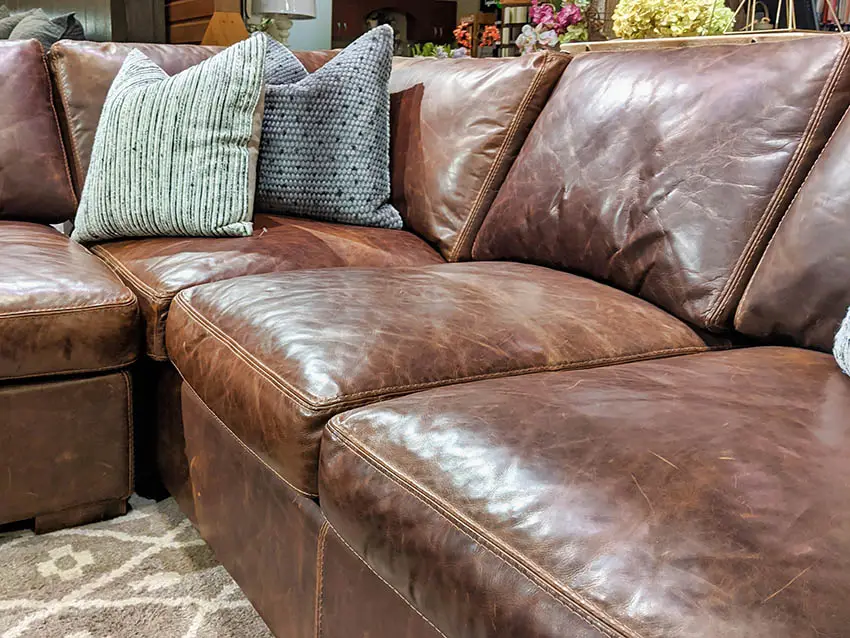 Generally speaking, rustic style furniture are very simple, natural looking and have a timeworn appeal.
Rustic style sectional sofas emphasize the use of natural materials like distressed and solid wood, and textured fabrics like canvas or burlap. They look very organic and are plain, unornamented yet very utilitarian.
Transitional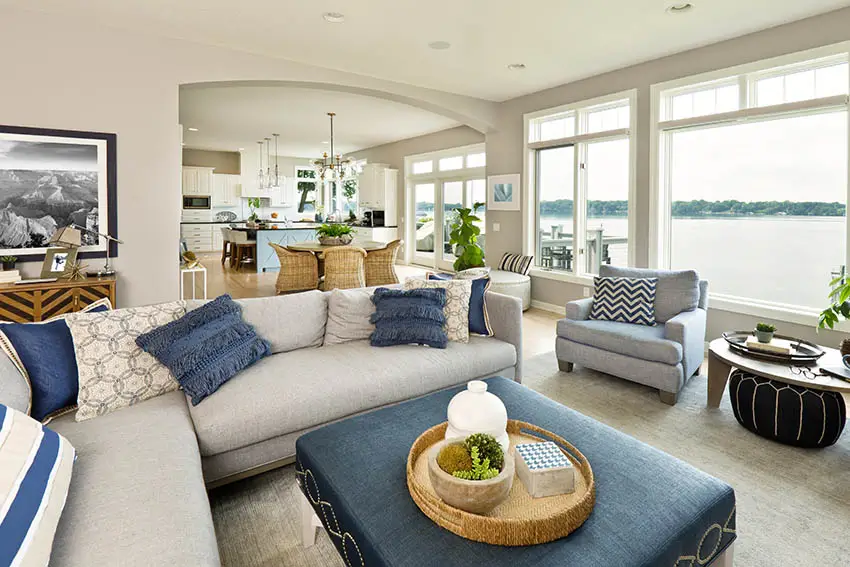 Combining the best of both traditional and modern furniture styles, transitional furniture focus on rendering a sophisticated appeal without having to use ornamentation.
Typically transitional style sectional sofas have neutral colors and have metal or wooden legs.
Coastal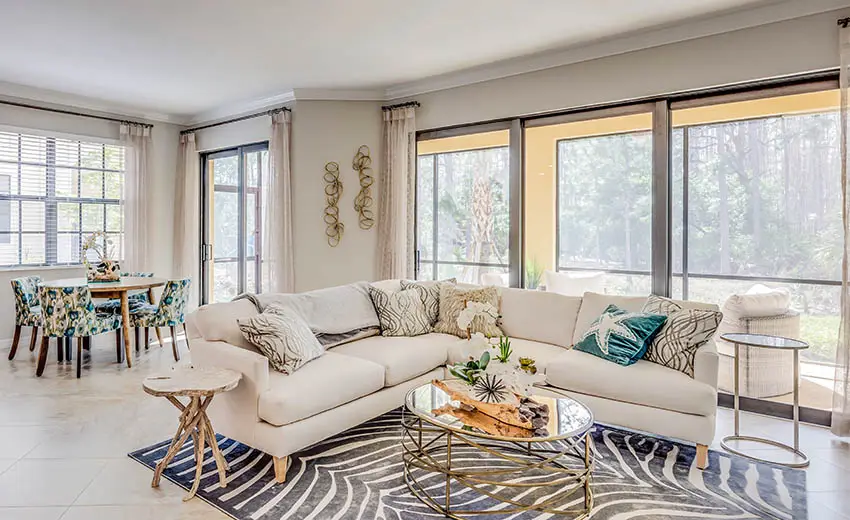 Coastal style furniture are known for their relaxed and refreshing vibe. Coastal style sectional sofas usually incorporate the use of natural elements like rattan, woven wicker or weathered wood.
Castal sofa fabrics are often simple, typically in light colors like beige, ivory, blue or green. Some other popular materials used in this furniture style include canvass.
Sectional Fabrics & Upholstery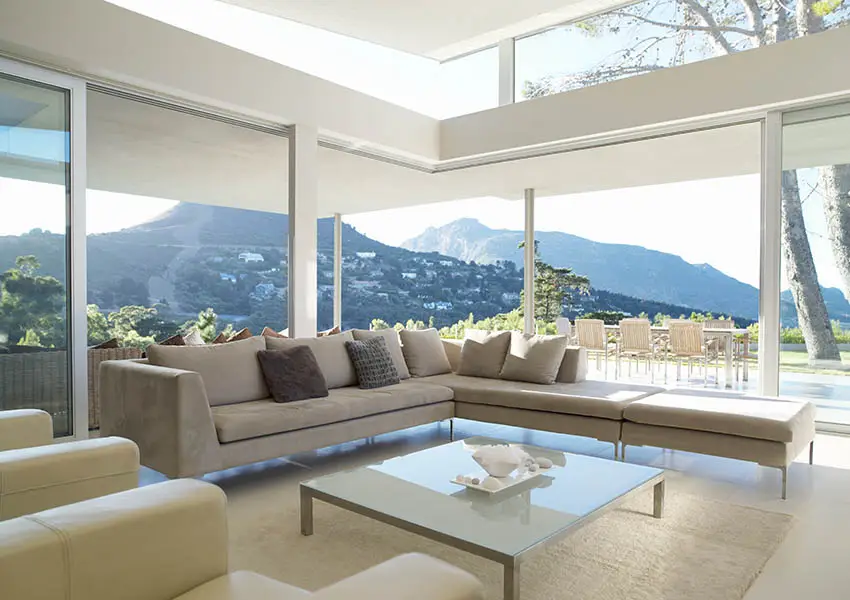 There are a lot of fabrics and textiles which you can use to upholster a sectional sofa, and the type of material you choose greatly impacts its performance, life span, comfort and appearance.
With the wide array of options available in the market, you can surely find the right sectional fabric and upholstery which can suit the style of your home and fit your budget.
Polyester Sofa Fabric
Polyester is one of the most common types of microfibers used in upholstery. Because of its ability to withstand daily use, most furniture manufacturers and homeowners alike tend to go with this choice.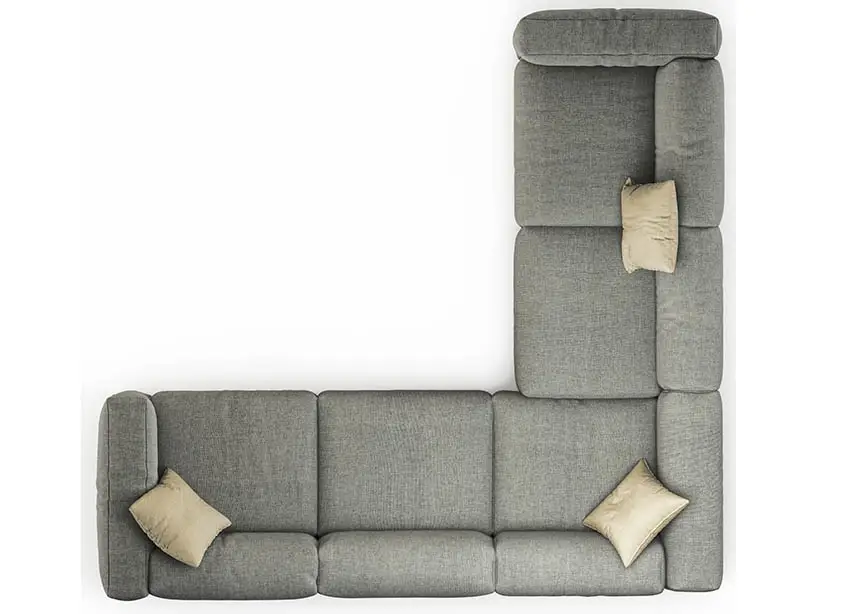 Pros of Polyester:
Polyester is very soft and comfortable to use as an upholstery material
Polyester is durable. This type of fabric lasts a long time, is stain resistant and abrasion resistant. Since it does not fade easily, you can place your sectional sofa near a window , without having to worry about it discoloring under the sun.
Polyester fabric is low maintenance and easy to clean. This fabric also dries very quickly in case of spills or washing.
Unlike other breathable fabrics, polyester does not absorb smells.
Polyester is available in a wide variety of colors , thus offering dozens of choices in terms of design and style.
In terms of appearance, polyester gives furniture an "expensive feel" and makes it very attractive.
Cons of Polyester:
Like most upholstery fabrics, polyester is flammable.
Although polyester is resistant to most stains, grease can be quite hard to remove from it, so you need to be careful if you plan on snacking on fried foods while on your polyester sectional sofa.
Polyester has the tendency to crack when exposed to fluctuating temperature or extreme hot and cold.
Polyester is a tensile fabric and may stretch over time.
We've written more about polyester couch pros and cons here.
Cotton Sofa Fabric
Cotton is the most widely used natural fiber in upholstery fabrics. Aside from being the cheapest, there are a lot more practical reasons which make it a very reliable material for furniture use.

Pros of Cotton:
Cotton is soft, comfortable and breathable. It gives furniture an over all soft feel.
Cotton is very durable and resists pilling and fading. It is also resistant to abrasion.
Cotton is 100% natural and hypoallergenic, which makes it highly suitable for people with sensitive skin.
Cotton can be dyed in almost any color, which means you can find it in different hues which can match your interior style. In the same way, it is available in different styles, patterns and designs so it's easy to find the perfect cotton sectional sofa which will match the decor of your space.
Cotton fabric is easy to care for and can withstand moderate stains. You can easily clean it and get rid of stains without needing special treatment.
Cotton fabric is available in different grades which means it fits most budgets, whether low , mid or high.
Cons of Cotton:
As mentioned, cotton fabric can easily accept dyes. However, this can pose a problem because it also makes it highly susceptible to staining. For example, a cotton upholstered sofa can easily catch dyes from blue colored jeans.
Cotton fabric also has the tendency to soak in spills quickly. If not quickly dried, your cotton upholstered sectional may develop an unpleasant odor over time.
Cotton fabric wrinkles easily.
Because of being susceptible to stains, dust and dirt, cotton upholstered furniture is not the best choice for everyday use furniture.
Linen Sofa Fabric
Linen is another type of natural fiber and it is derived from the flax plant. Oftentimes, it is mixed with synthetic fibers to improve its strength and qualities. Linen is one of the affordable upholstery fabrics used in the market today.

Pros of Linen:
Linen has uneven fibers, which gives furniture an attractive texture and alluring feel.
Linen has a natural luster and makes furniture very elegant.
Very comfortable to use as an upholstery material because it is fort and smooth to the touch.
Linen does not pill or develop small balls of thread on its surface.
Linen is resistant to abrasion and fading. Linen is also resistant to mildew, making it antibacterial.
Because it is natural, linen is also very eco friendly.
As mentioned, linen is very affordable and inexpensive compared to other upholstery materials.
Cons of Linen:
Although durable, linen is not suitable for heavy use.
Linen wrinkles quite easily, which makes it not recommendable for everyday furniture or for households with small children and pets.
Even if linen stands quite well to fading, it can get soiled and stains easily. Linen also has the tendency to shrink when washed. To ensure its perfect quality and to avoid damaging its original size, you need to hire a professional cleaner.
Genuine Leather Sofa Fabric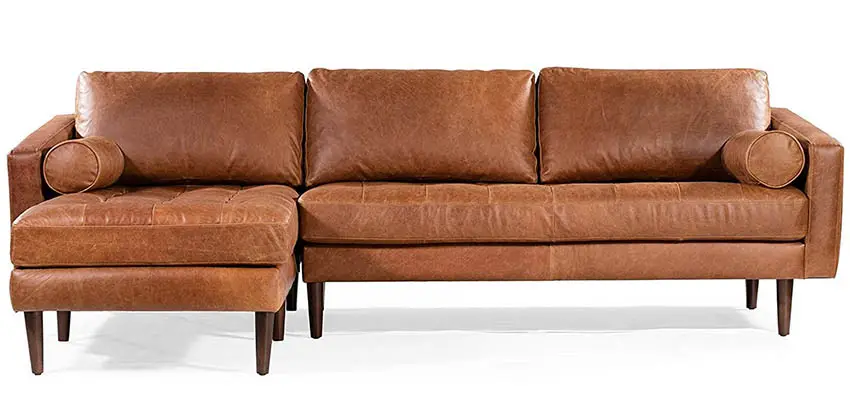 See this top gain leather sectional sofa at Amazon [sponsored link]
Leather is derived from the hides and skins of animals. While not a fabric, most people opt for this material for the furniture pieces because of its class, luxurious feel and masculine touch. There are different types of leather sofas and they can vary in quality depending on the material used.
Pros of Genuine Leather:
Genuine leather is very comfortable to use as a furniture upholstery. It has an exquisite texture, feels luxurious and is amazing to the touch. It also has a distinct smell which most people associate with something expensive.
Genuine leather looks even better as it ages and develops a patina or mild discoloration which adds a unique beauty to furniture.
It holds its value better than other upholstery materials
Genuine leather is easy to maintain compared to other upholstery materials. You can easily wipe off any liquid using a cloth. It does not absorb liquid or gets stained easily unlike fabric.
Because it does not absorb spills, genuine leather furniture does not smell bad. On the other hand, some furniture upholstered with fabric can develop undesirable odors.
Genuine leather furniture is very durable and has an average lifespan of 5 years, provided that you take care of it well. It is suitable for heavy use.
It is well suited for households with pets or for those who smoke.
Cons of Genuine Leather:
Some homeowners still prefer fabric over leather because it is a bit harder.
Leather had tanned skin, which can split or crack over time. It can also get damaged easily from sharp objects.
Although quite resistant to liquids, some spills on genuine leather will often require professional cleaning.
Leather upholstered furniture is a lot more expensive than fabric.
Read more about leather vs fabric sofas here.
Faux Leather Sofa Fabric
Faux leather is one of the names used to refer to synthetic leather. Faux leather is composed of man made materials and is often used in furniture upholstery because it gives you the same look of genuine leather for a fraction of the price.
Although not as soft as its authentic counterpart, faux leather has its own positive characteristics which make it a good alternative.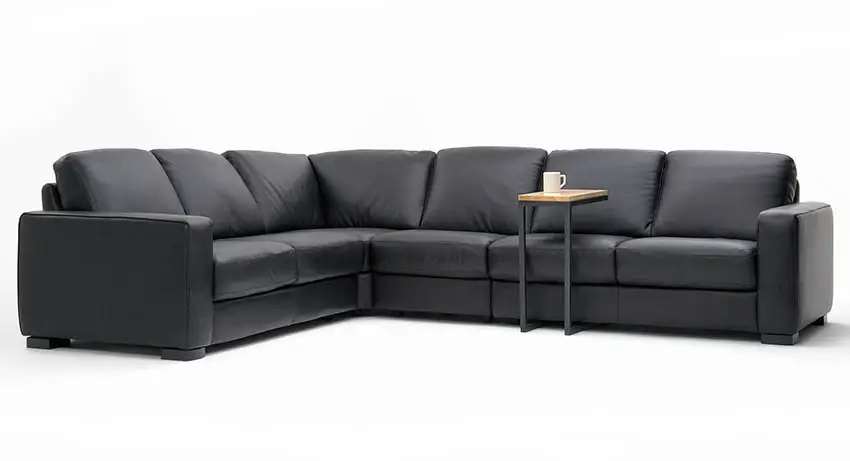 Pros of Faux Leather:
Can render an elegant and luxurious feel to a home
Durable and can last for years.
Furniture upholstered with faux leather does not require to be professionally cleaned.
More affordable compared to genuine leather
Is more environment friendly.
Cons of Faux Leather:
Faux leather does not age gracefully and won't develop patina over the years.
It can crack an tear more easily than real leather
Faux leather can release harmful chemicals that may be harmful to your health
Chenille Sofa Fabric
Chenille is one of the softest and plushest natural fabric you can find. Its name actually means "caterpillar" in French because its texture is very fuzzy and it has piles that protrude around the weave.
Aside from its super soft feel, a lot of furniture manufacturers use Chenille as an upholstery material because it is very stretchable. Because it is a casual fabric, Chenille is more commonly found in children's furniture and everyday comfort furniture
Pros of Chenille:
Chenille upholstered furniture is super comfortable, very plush and soft to the touch.
It is a very durable fabric and can stand up to hard use.
Chenille is available in a wide variety of colors.
Because of the way it is constructed, its colors also appear to have a variation in shade and produces an interesting visual effect once the light hits it.
Cons of Chenille:
Because Chenille is extremely stretchable, it needs a backing material for upholstery. This translates to additional costs in terms of production.
Chenille upholstered furniture needs frequent cleaning because dust and debris can get stuck in its long fibers.
Chenille upholstered furniture is not suitable for use in homes with pets.
Microfiber Sofa Fabric
Microfiber is an ultra soft synthetic fabric that is made up of polyester and polyamide ( plastic and nylon). The fibers in this type of fabric are split into very fine strands, which makes the material porous , ultra absorbent and enables it to dry quickly.
Due to the way it is made, microfiber sofa fabric is perfect for a lot of commercial applications, such as sports gear, household use and furniture. Its ease of cleaning makes it a pet and kid friendly choice.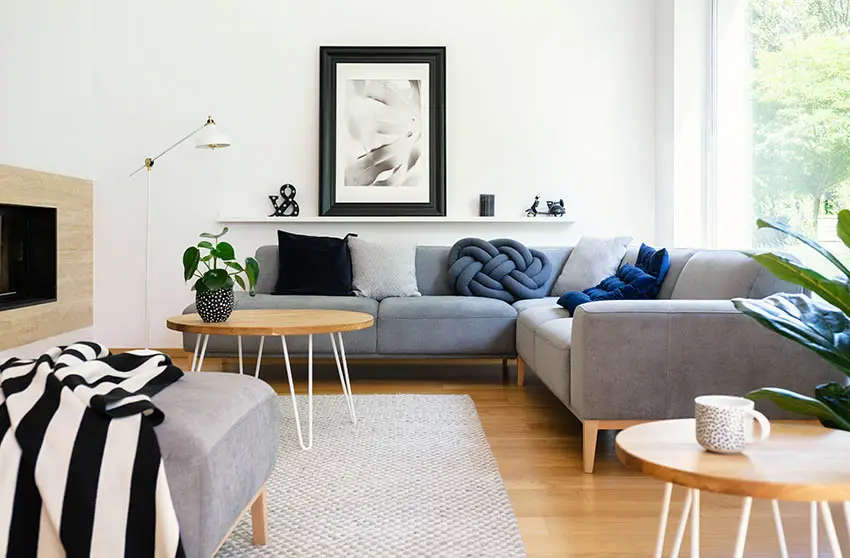 Pros of Microfiber:
Microfiber is stain resistant and repels water. In the event of spills on your furniture, you do not have to worry because all you need is basic spot cleaning.
Microfiber is durable. Because it is tightly woven , its quality is very durable and furniture upholstered with this fabric is designed to last for a long time. It does not get easily torn and stands up well to everyday use.
Microfiber furniture is dust free. It doesn't collect dust or lint, which also makes it highly suitable for people with allergies.
Microfiber furniture is easy to clean. You do not need special equipment such as a steam cleaner or carpet shampooer to clean a microfiber sectional. All you need is some mild soap, water and a cloth — apply the soapy water solution to the area, clean it with a cloth and wait for it to dry.
Microfiber is one of the most comfortable fabrics for upholstery. It has a soft texture.
Microfiber furniture is suitable for households with kids and pets.
Cons of Microfiber:
The biggest problem with microfiber is that because it is synthetically made, it can be a source of microplastic pollution.
Can create a lot of electrical static to different materials
The material can sometimes create swirl marks that make the sofa look dirty even when clean
Velvet Sofa Fabric
One of the most regal and richest fabrics in the market is velvet. It is commonly used in statement furniture pieces and accent chairs.
Opt for this type of fabric upholstery if you want to add a touch of class and sophisticated flair to a space.
Pros of Velvet:
Velvet has a very luxurious texture. Its smooth feel, soft texture and comfort is hard to beat.
Velvet renders a very unique visual effect to a furniture. It has a nap in which the fibers pile and when it catches the light, it reflects it. It can also accentuate the form and shape of a furniture piece
Velvet comes in a wide variety of colors. It is often dyed in rich hues and jewels tones like purple, emerald green, sapphire blue and ruby red — colors which can bring in an elegant and luxurious feel to a space.
Velvet has excellent insulation properties. Thus, velvet upholstered furniture pieces are well suited for cold climates.
Cons of Velvet:
Velvet can be quite difficult to maintain. It is a bit hard to clean, especially if it gets stained. You'll need a steam cleaner to remove any dirt or stubborn stains.
Velvet upholstered furniture wears out faster than other kinds of fabric. Its durability varies and depends on the density of the piles of woven fibers.
Velvet is more expensive than other upholstery fabrics.
Because of the rich texture and appearance of velvet, it is seldomly used for casual furniture. It is more typically found in traditional furniture and is more suitable for lush and formal furniture.
Twill Sofa Fabric
Twill fabric is the perfect choice for upholstery because it is sturdy and heavy. It is a type of fabric that has a distinct diagonal rib pattern.
This type of fabric usually has a lighter colored backside and a darker colored front side, which is also referred to as the "wale". Twill also has a high thread count, which makes the material entirely opaque and very thick.
Pros of Twill:
Twill fabric is very durable. The material can stand up to wear and tear well which makes it highly suitable for everyday furniture.
Due to the way the fabric is made, twill fabric hides stains very well and it is water resistant.
It resists wrinkling.
Twill fabrics are very attractive. They are made with multiple colors of yarns and usually have unique patterns like hounds tooth and tweed.
Cons of Twill:
Twill fabric is quite expensive compared to other fabrics that use plain weave.
Twill upholstered furniture can be quite hard to clean.
If used as a slipcover for vouchers, the fabric is prone to skewing and twisting if washed.
Sofa Back Styles
Sofa backs typically vary in shape, height and material. The style and design that the back of a sofa has will not only affect its aesthetics but the level of comfort it gives. Let's take a look at the most common sofa back styles used for sectional sofas:
Cushion – As the name suggests, this type of sofa is padded by thick, plush cushions that are attached to its back. This is much comfortable and softer than a tight back sectional.
Pillow – Pillow baked sectional sofas come with removable pillows. These pillows are much smaller than cushions and almost resemble the design of throw pillows.
Aside from being super comfortable, this type of sofa back allows you to move around the pillows and customize it according to your needs. Pillow backs sectionals are perfect for sitting and reclining.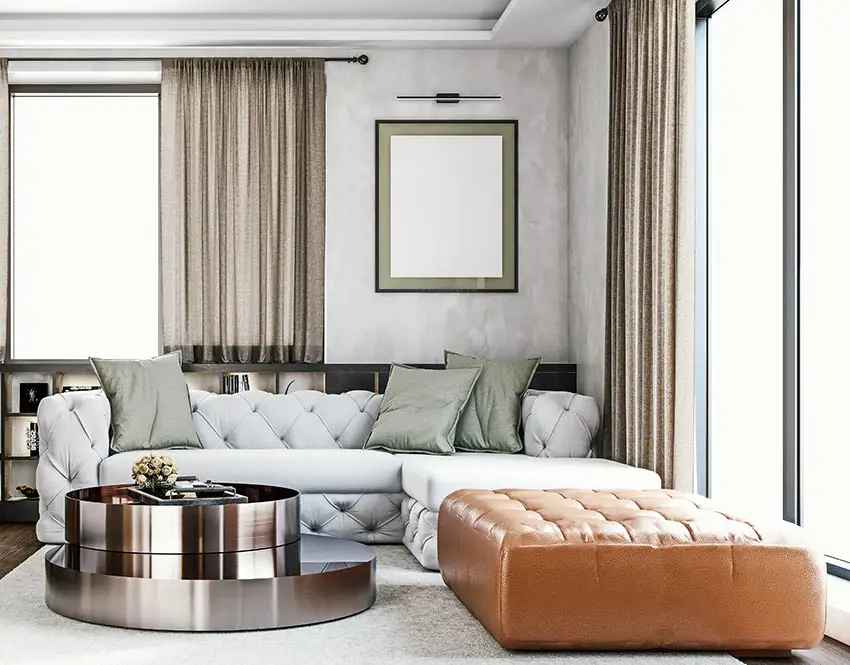 Tufted – Tufted backs are treated with "tufting" — a classic upholstery technique wherein the fabric or leather is sewn into the cushion of the sofa using buttons or stitches that create "dimples" in a diamond shaped pattern.
The overall result is highly textured and adds a lot of visual interest to the piece of furniture. Tufted backs are typically used in vintage style and traditional style sectional sofas.
Split – Split back sofas are made up of one or more panels which have loose, sewn -in cushions. They have a much smoother appearance than pillow and cushion back sofas because of their seamed, tight backs.
Because of their formal design, split back sectionals are perfect for contemporary styled rooms and for modern and minimalist spaces.
Tight –Tight back sofas do not have any cushions or pillows, but instead they have simple, upholstered back panels. They have a very tight appearance because of their smooth edges, sharp lines and straight form.
Because of their streamlined look, tight back sectional sofas are very well suited for modern and contemporary homes.
Camelback – Dating back to the 18th century, the camel back is a traditional sofa back that is shaped like a camel's hump. This is more ornate than the other types of sofa backs and has a much graceful form — with its middle raised and the ends sloping down lower.
The classic design, refined form and dramatic lines of camel back sofas make them highly suitable for use in traditional style spaces. However, with proper styling and accessories, they can also work for shabby chic spaces.
High Back – As the name suggests, high back sofas have a back that is much higher than a regular sofa. The standard back height of most comfortable sofas generally range from 26 inches to 32 inches.
However, for high back sofas, the sofa height, or the distance from to floor to the top of the sofa back, can reach anywhere from 30 to 36 inches. High back sofas tend to lean more on a traditional style, while low back sofas are typically more modern and sleek.
45 Degree Angle – This type of sofa has backs which lean on a 45 degree angle. This type of sofa back allows the user to slightly recline while seating. It is used in both traditional and modern sofa styles.
Loose – Loose back sofas have cushions which are separated from the sofa back,. Because the cushions are loose, they can be easily removed for cleaning.
Attached Back – The exact opposite of loose back sofas, attached backs have cushions that are sewn, clipped or fastened to the sofa. It is also known as "sewn pillow" back.
The advantage to having this type of sofa back is that the pillows are pretty much kept in shape, however they cannot be removed for cleaning.
Biscuit – The biscuit sofa back is a modern variation of the tufted style. But instead of being rounded, biscuit sofa backs have square sections . These biscuit shaped sections are sewn directly to the sofa.
Channel Back – Channel back sofas are also a variation of the tufted style, but instead of having a diamond pattern, channel tufting produces deep vertical grooves. This back style is typically added to tight back sofas to give them a more plush look.
Sectional Arm Styles
Each part of the sectional sofa has a different design, function and style. Aside from the different back styles, you can also choose from different arm styles.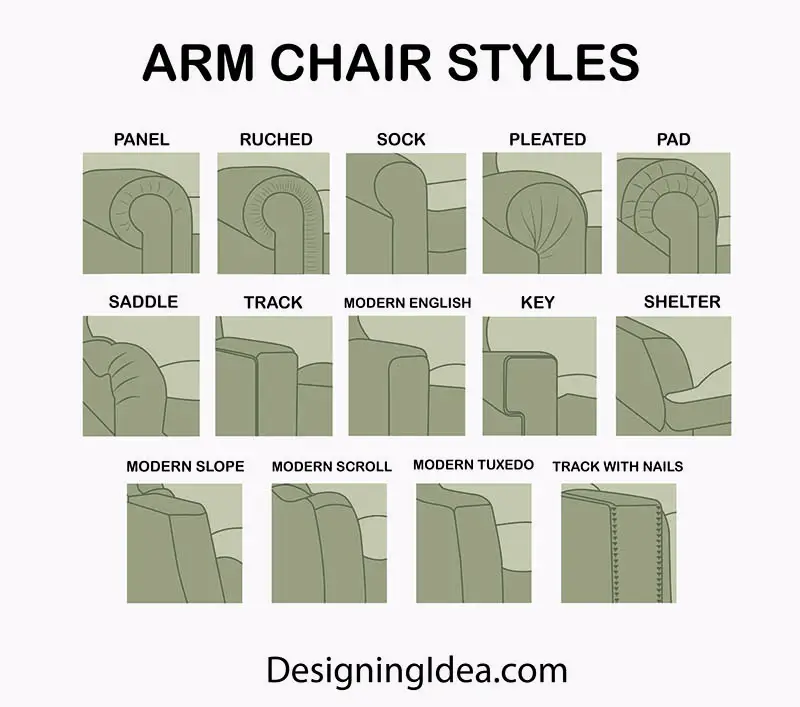 Round – A very common type of sofa arm used for traditional styles is the round arm or ruched style. As its name suggests, it has a round shape or rolled form wherein the arms slope outward and curl in on themselves.
Round arm sofas offer a lot of support to anyone sitting or leaning against it. Compared to other sofa arm styles, the round arm can appear bulky and takes up a lot more space because it is larger.
But overall, it is a very comfortable sofa and it is perfect to use when you are reading a book or watching tv. Round arm sectionals are perfect if you want classic and graceful furniture pieces.
Track – Track arm sofas have arms that don't extend out to the side of the sofa. Characterized by their sharp straight form, track arm sofas provide firm support and are typically made with a string foam so they can hold their shape. Track arm sofas are also referred to as straight arm styles.
Compared to round arm sofas, track arm sofas are more formal looking and are highly suitable for contemporary style interiors. In addition to their rigid form, this type of sectionals also fit perfectly in small homes.

Pleated – The pleated arm is another type of sofa arm widely used in traditional style sectionals, wherein the inside part of the sofa arm front part of the sofa arm is covered with fabric that is continued to the front.
Armless – Armless sofas are getting more and more popular nowadays due to their sleek modern look. This type of sectional sofa can fit perfectly in much tighter spaces compared to those with two bulky arms. However, the only advantage of armless sofas is that it's less comfortable to use if you sit at the ends of the sofa.
If you love the contemporary vibe and seamless look of armless sofa, but find it abit uncomfortable to use you can add pillows to your set up.
Square – Square arms have a straighter form and sharper structure. Because of its crisp lines, geometric form and hard corners, this type of sofa arm is more commonly used in modern, mid century style and Lawson sectional sofas. This type of sofa arm is the perfect choice if you want something classy, elegant and formal.
Pillow Top – Pillow top sofas have small thick arm shaped cushions pads attached to their arms. They are more commonly used on sectionals with attached back cushions.
In some sofa designs,the pillows are removable and are attached with velcro. This is the perfect option if you want soft, plush sofa arms that are ideal for leaning or lying down on.
Recessed – This type of sofa has arms that don't extend to the edge of the seat. The recessed arm is also referred to as "Charles of London" and has become an iconic signature of English style furniture.
Recessed arm sofas and sectionals tend to be more traditional looking and are characterized by an extremely low set and sloping profile. Read more about sofa arm styles here.

Sectional Ideas
Some sectional sofas include special features and added components which make them more convenient to use.
Chaise
Sectional sofas with a chaise allow the user to stretch their feet up the sofa comfortably. This is a good alternative if you want to lounge and rest on your sofa but do not have a space for an additional ottoman.
Cuddler
A cuddler sectional is designed with an extended cushion at the end of the sofa which allows the user to curl up and cuddle with other people.
In terms of shape, the cuddler sectional does not have a straight L or U shaped form, but rather has a slanted piece at the end. They are like a combination of the traditional sofa and a sectional with a chaise.
Down Filled – Down or feather filled cushions and sofas are considered to be the most luxurious type of sofa cushions. Down is the soft puff of feather found in a bird's underbelly.
They are typically used for high end sofas and are more expensive than foam. Not only are they super plush, soft and comfortable to use, but they also last a very long time.
Power Reclining – Power reclining is a special feature in sectional sofas which allow the user to recline with just a push of a button
Hidden Storage – Another notable feature that some sectional sofa designs have is the hidden storage. Sectionals with hidden storage help you maximize your space and does not only give you a place for seating, but a place to stash items like books, blankets, pillows, board games and other stuff.
For most designs, the hidden storage can be found under the chaise or the ottoman. Multipurpose sectionals are your best bet if you have limited space at home.
Slipcover – Slipcovers are removable fitted cloths used as a covering for sofas and couches. If you want to make sure that you can clean your sectional sofa without any hassle, opt for something that has a slipcover. Thuis can be easily removed and washed or dry cleaned in case of any spills.
Convertible – A convertible sectional sofa is a sectional that can be transformed into a full sized bed. Most of these designs include pull-outs which enable the sofa to extend, allowing the user to sleep comfortably on it. Convertible sectionals are perfect if you want to use your living room as a guest room or extra sleeping space.
Ottoman – An ottoman is a piece of furniture with no arms or back that is used as a footstool, stool or table. Some sectional sofas include an ottoman instead of a long chaise and allow you to stretch out and rest your legs. Unlike an attached chaise, an ottoman gives you more flexibility in terms of layout since you can easily move it around.
Cup Holders – Some sectional sofas, specifically home theater style and reclining models include cup holders.
The cup holders are typically hidden at the armrests located in between the sections of the sofa. These are extra useful if you want to enjoy drinks while watching or lounging in your living room.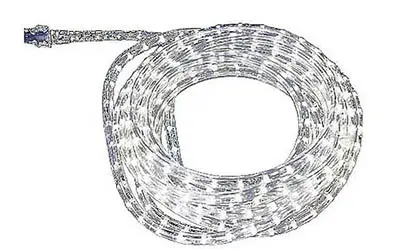 Led Lights – An ultra modern innovation in sectional sofa design are glowing LED lights.
LED's are perfect if you want to add ambient lighting or create an extra interesting visual effect in your space.
This type of special features are highly suitable if you plan on putting your sectional sofa in your home theater, entertainment, media or game room.
See this LED light strip at Lumens [sponsored link]
High Weight Capacity – In general, the weight capacity of couches and sofas are measured on a "per seat" basis. This typically ranges anywhere from 200 to 300 pounds.
Models that include pull outs and special features like reclining mechanisms lower the total weight capacity to as much as 180 pounds per seat. Whereas, heavy duty sofas can support more weight and have a limit of up to 350 pounds.
Inflatable – An inflatable sectional sofa comes in a single piece instead of multiple individual pieces. This type of sectional sofa can be inflated using a built in pump in just a matter of minutes.
Aside from being easy to set up, you can also deflate it quickly and tuck it away when not in use. The inflatable sofa also offers mobility as it is completely portable and can be used both indoors and outdoors. You can purchase inflatable sectional sofas online at an affordable price of $140.
Sectional Cost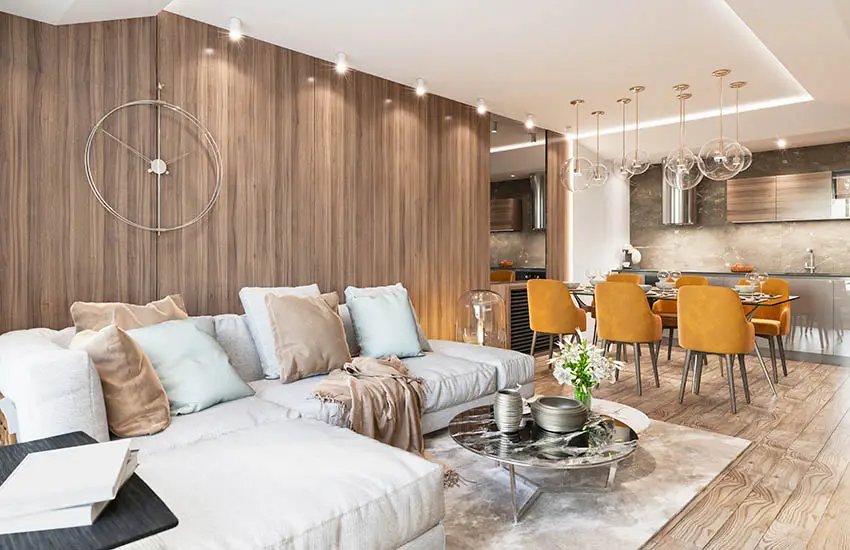 In general, the overall price of a sectional sofa is more expensive than a regular sofa — typically ranging from $1200 to $7000 depending on different factors.
The reason being is that it is made up of more individual seating pieces, and typically, the more modular pieces there are in a set, the more expensive the sectional sofa is.
Aside from the number of pieces, there are a number of other factors which affect the pricing of sectional sofas like the design, materials used, quality, construction and overall comfort. Below are the different classifications of the average prices of sectional sofas.
Low to Mid Range Sectional Sofa Cost – Prices range between $1200 to $2000. You can find sectional sofas around this price range without compromising quality. However, the upholstery choices and customization are much more limited compared to their high end counterparts.
The primary materials used for low range sectional are typically solid wood, particleboard and plywood, while the cushions are high density foam supported by sinuous spring suspension.
Most sectional sofas in this price range already come bundled with throw pillows, and while the upholstery choices are limited, you can find attractive options in both leather and fabrics.
Mid Range Sectional Sofa Cost – Prices range between $2100 to $3500. In this price bracket, the sectional sofa options are more durable and offer premium comfort. The method of construction used to build the pieces also has higher quality.
The cushions have higher foam density — typically 2.2 to 2.5 and do not sag easily. In most cases, they also have different layers to ensure that they provide superior support and comfort. The fabrics and upholstery are also more durable and wear tested.
Aside from better materials, mid range sectionals can be customized depending on your preference, specifications and requirements.
High-End Sectional Cost – prices range from $3500 or higher. High end sectionals are fully customizable — from the sizing of the seat, to the details, materials, special features and mechanisms.
In this price range, you have the choice to include add ons like recliners or change the details of you sofa kike the nail heads, the leg finish or the seat cushion.
High end sectional puts premium on maximum comfort. Construction of the sectional sofa is top of the line — making use of high quality materials like kiln dried wood, a superior quality spring system and down filled cushions. There is also a wider selection of upholstery covers.
Sectional Dimensions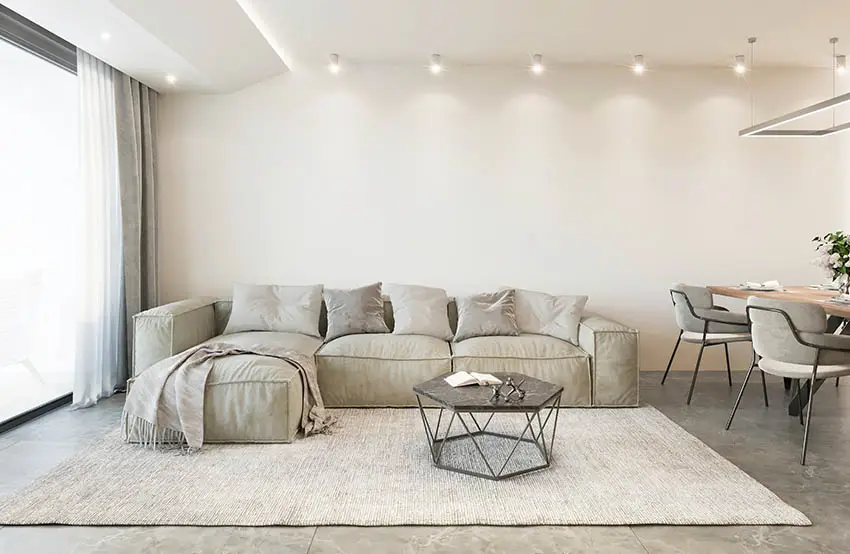 Before you buy a new sectional sofa, you need to measure your space to ensure that it fits perfectly. Sectionals can help maximize space but they are a bit tricky to place in a room.
Here are some tips on how to measure a sectional sofa:
How To Measure Sectional
The right way to measure a sectional sofa comes in handy when you want to purchase one and see if it will fit into your home. If you already have a sectional sofa at home and want to relocate it, you can also measure it first.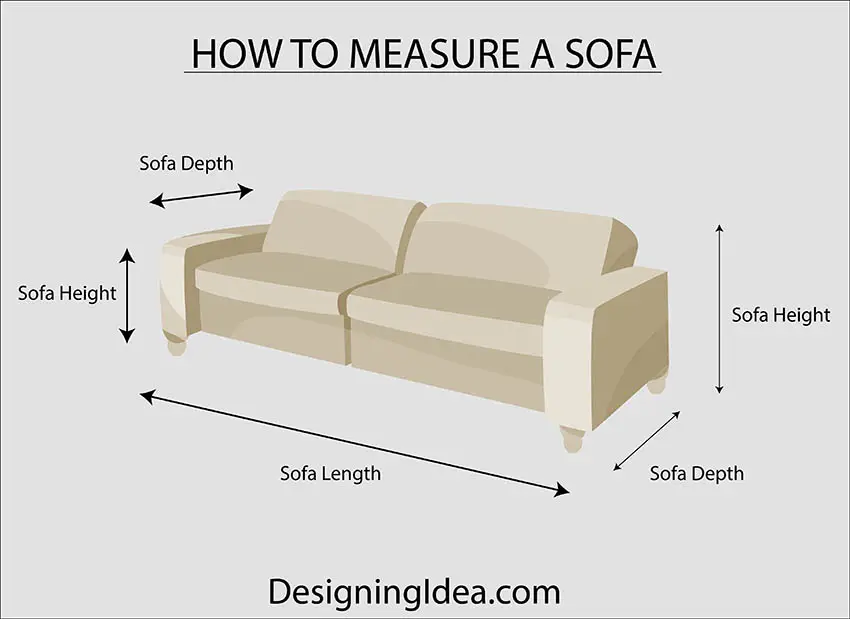 The two primary measurements that you need to focus on when measuring a sectional sofa is the overall length and the overall depth. To get these dimensions, you need a tape measure and you can refer to the following guidelines:
Overall Length:

The total measurement form left arm to right arm and all the pieces in between (loveseat to corner chair or chaise)
The standard overall length of a sectional sofa is usually between 94 inches (8 feet) and 156 inches (13 feet). For more standard sizes we've written a sofa dimensions guide on this page.

Overall Depth:

The total measurement of all the components front the front facing edge to the back of the sofa. So if you have an L shaped sectional with a chaise on the right side, you will start measuring from the back of the chaise to the front edge of it.
The standard overall depth of a sectional sofa is usually between 88 inches (around 7 feet) and 168 inches (14 feet).
Height:

The height of a sectional sofa is measured from the base of the sectional to the top of the sofa back. The standard height of sofas ranges between 30 inches to 36 inches.
See our guide on how to measure a sofa for more details.
Measuring a Curved Sectional-Style Sofa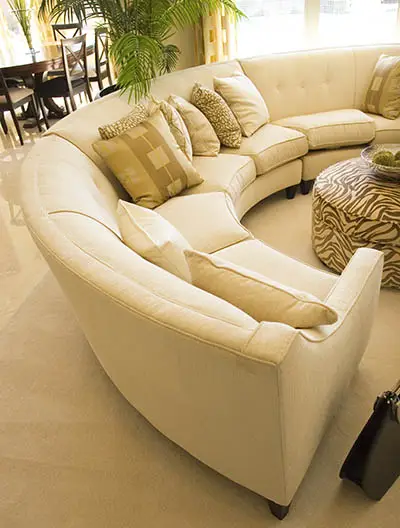 Measuring a curved sectional is a little more difficult than measuring a rectangular sectional sofa.
Measurements for curved sectionals or those that have rounded corners can be taken easily by relating the whole set to the smallest imaginary rectangle that it can fit in.
To get the total depth and length of a curved sectional, you can use masking tape or painter's tape to create or mark a rectangular area around the curved sectional sofa.
Make sure that nopart is protruding and the whole set fits within the rectangle.
Use a tape measure to measure the length and depth of the rectangle. The long side of the rectangle will correspond to the overall width of the curved sectional w, while the short side of the rectangle will correspond to the overall depth.
How To Choose A Sectional
The size of your room is one of the biggest factors that you need to consider when buying the right sectional sofa. In addition to the size, you also need to decide on the orientation and placement of your sofa to get the best layout for your space.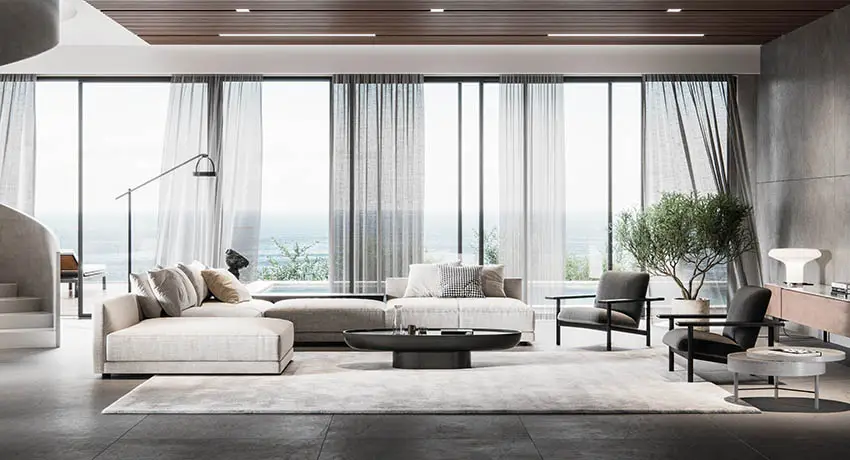 Measuring your space. Use a tape measure to measure the length, width and height of the room. These dimensions will be the baseline for the size of sectional that will fit comfortably into your space. Take the measurements from wall to wall, do this twice to make sure that your measurements are accurate.
If you plan on putting your sectional sofa in front of a window, make sure to measure the height of the wall to make sure that the sofa is not higher than the window sill.
Aside from the overall size of the room, it is also important to measure any entry, doorway (such as the main door and the door of your living room, if any) , hallways or any other areas through which the sofa will pass once it is delivered.
Tape The Room . If you have already put your eye on a sectional sofa and know its dimensions, one method you can try to make sure it fits your space is to tape the room.
Use painter's tape or masking tape to mark the floor as to where your sectional sofa will be placed. This will give you a clear visualization of how much space your sectional sofa will occupy.
Aside from the proportion and layout, you can continue planning the placement of other furniture pieces like side tables, ottomans and other décor.
If you feel that the position is off, you can easily remove the tape and remark the space as many times as you need until you find the perfect spot and the most comfortable position for your sectional sofa.
Make sure that the spot you choose is wide, open and would not obstruct any high traffic pathway in your home. If you plan on putting your sectional at the corner of a room, note any convenience outlet and be sure to leave a few inches away from the wall for easy access.
Left or Right Orientation. The orientation of a sectional sofa will ultimately depend on the part of the room you plan to put it in. If you plan on putting it in the middle, you can go with either a left arm facing or a right arm facing sectional, provided that it will not obstruct any major traffic area.
However, if you plan on putting your sectional at the corner of a room, the recommended orientation will vary.
Ideally, if you face the room and plan on putting a sofa at the right side of the room (where the wall that faces you and the right wall meets), opt for a Right Arm Facing Sectional.
Whereas. If you plan on putting it on the left, opt for a Left Arm Facing Sectional. This will maximize the space and keep it more open.
Floating The Sofa Away From The Wall. "Floating away a sofa" simply means putting your sofa away from the wall or in the middle of the room, rather than placing it against a wall.
Floating your sectional sofa away from the wall also helps in delineating the different areas in a large space. You can also use this design trick if you want to center the focus to your sectional sofa.
If you plan on putting your sectional sofa against a wall, make sure to leave at least 6 to 12 inches of clearance from the furniture piece to the wall as this will make the room feel more cozy, inviting and it will help[ eliminate that "formal waiting room" feel.
Frequently Asked Questions About Sectionals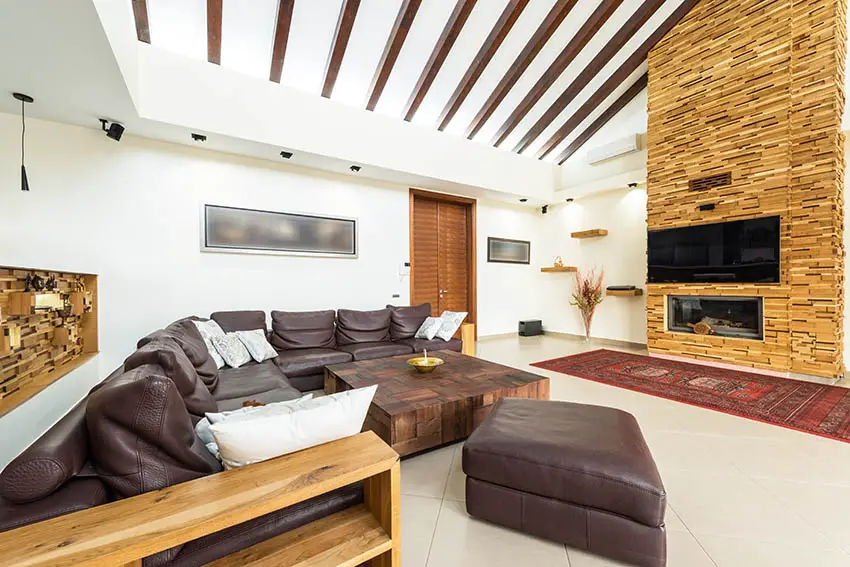 Here are some of the answers to the most common questions about buying and styling a sectional sofa:
Most Comfortable Sectional
With thousands of sectional sofa options available in the market, it can be quite hard to rank which one is the best. But based on reliable sources and product reviews, the best overall sectional sofa in terms of comfort, flexibility and price is IKEA's Infini Furnishings Reversible Sectional.
The Infini Reversible Sectional has a casual yet chic design and comes in two colors, Dark Blue and Charcoal Grey Black — both of which can fit in a wide range of interior color schemes.
This sectional is 118 inches wide, comes with two sofa and chaise pieces that are securely attached to each other. It can comfortably accommodate four people at a time, while its 84 inch chaise will allow you to comfortably stretch your feet out while watching TV or reading a book.
In terms of design, this sectional sofa has tufted seats and 6 inch thick flat back cushions. This sofa also comes with two patterned accent pillows, which gives it more visual appeal and a different texture. The sofa's frame is made from solid wood which makes it very durable and sturdy.
Comfort wise, the Infini sectional sofa is also impressive. Because the cusghions are all made with medium firm foam, the seats have just the right amount of softness and hardness in them. The seats are also deep, offer great support and are inviting too.
This sectional sofa is also easy to maintain and has removable cushions which can be kept in place using a hook and loop strap.
However, the best thing about it is its flexibility. The sofa and chaise are completely reversible and you can set them up in multiple configurations and orientations. You can easily rearrange them no matter what the layout of your space is.
Its style is classic and can work on numerous interior design motifs like transitional, modern and contemporary.
Overall, the Infini Furnishings Reversible Sectional is not only fashionable and affordable, but is super versatile, which makes it really worthy to be a part of your home.
How To Place A Rug Under A Sectional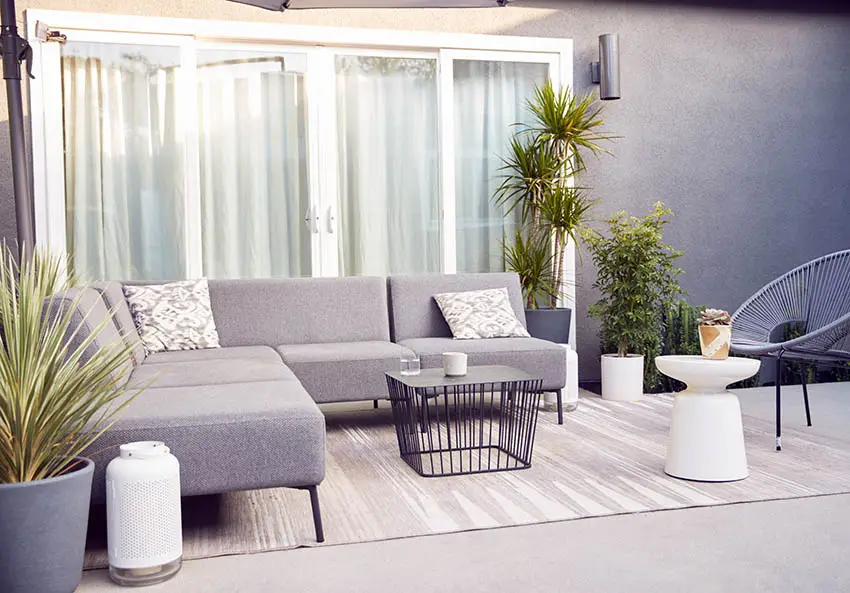 Aside from adding an accent and visual interest to a space, the main purpose of an area rug is to anchor all the décor in the room.
Ultimately, there is no hard rule on what size of rug to use, but you can follow some guidelines to effectively frame your sectional sofa.
The rule of thumb when placing a rug under your sectional sofa is that it should fit well under your sofa's front legs, then the amount of space around it (or on each side of the rug) must be even.
If you plan on putting the area rug under your coffee table, there must be at least three feet of space beyond the table.
How To Choose A Coffee Table With Sectional
Looking for the right size and shape of a coffee table to match your sectional sofa can be a bit tricky. Sometimes, a coffee table may look too big, too small, off in style or have the wrong shape.
The main visual attribute you need to achieve when pairing a coffee table with a sectional sofa is balance. Consider height, width and visual weight and make sure that the coffee table is proportionate to the size and scale of the sectional sofa.
Below are some of your recommendations when choosing the right coffee table or ottoman to match with your sectional:
Square or Corner Sectional Sofas – Square or corner sectionals typically have two arms on each end or come in a three piece set.
This style of sectional sofa is best paired with a round or square coffee table. Ideally, the dimensions of the table must be at least ⅔ of the total length of the sofa, while the height must be a couple of inches higher or lower than the sofa seat.
Pairing a square sectional sofa with a round coffee table will help soften its shape, while pairing it with a square coffee table will help emphasize the profile and create sharp lines in the space.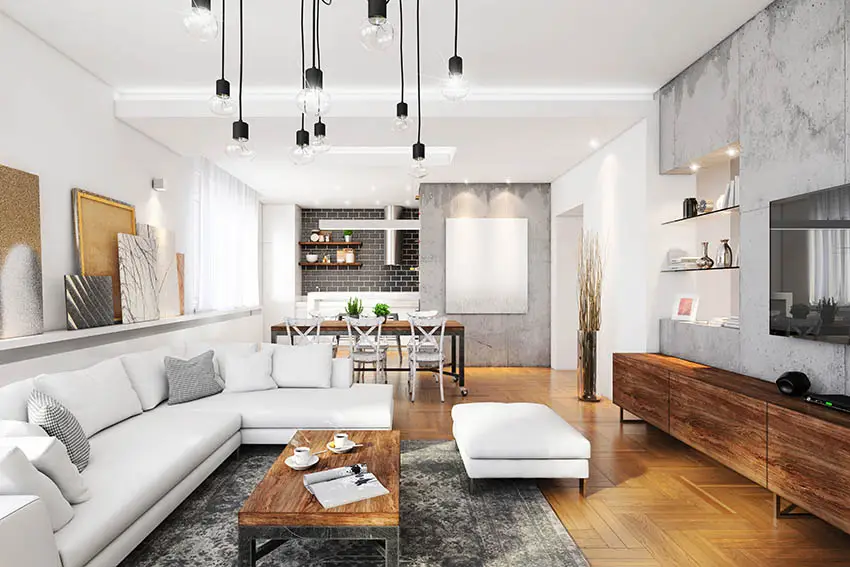 Chaise and L – Shaped Sectional Sofas – Both of these types of sectional have one side longer than the other and are best complemented with an oval or rectangular coffee table. This fills the elongated space and creates proportion.
Make sure that your coffee table does not extend beyond the arms of your sectional sofa on both ends.
U- Shaped Sectional Sofas – U shaped sectional sofas are the most flexible and work with a lot of coffee table shapes. Depending on the overall length of your U shaped sectional, you can pair it with an oval, square or rectangular coffee table.
In addition to a coffee table, you can also add some side tables to balance the scale and proportion. Round coffee tables are a great option for U shaped sectionals because they are easier to navigate around even when they are fully surrounded by seating.
Visit this page if want to read about using an ottoman instead of a coffee table.
How To Place Pillows On A Sectional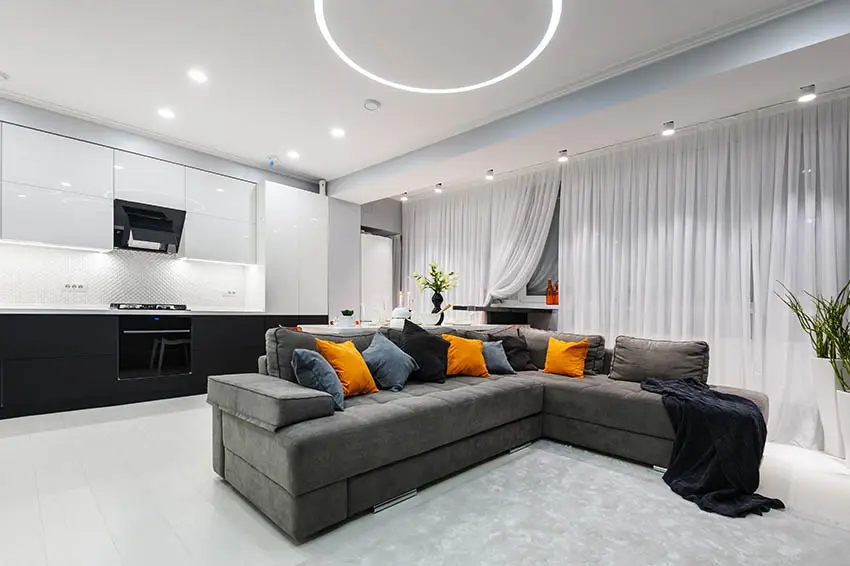 When styling a sectional sofa, it is best to use a combination of different sizes of pillows to create more interest in your décor. You can buy 12 inches, 20 inches, 22 inches and 24 inches pillows and set them up in different ways by layering.
Typically, the average number of pillows recommended for most living room sectionals are between seven to nine pieces. Choose different colors and patterns that fit into your room's color palette and then mix and match them to accentuate the decor.
When placing the pillows on a sectional sofa, start at the back corner of the sofa and place the largest pillow. You can use a 24 inch pillow for this then layer the front with two pieces of smaller pillows (20 inch pillows).
You can do this combination on both ends if you want symmetry, but you can also throw in a small rectangular accent pillow into the mix.
Best Place To Buy a Sectional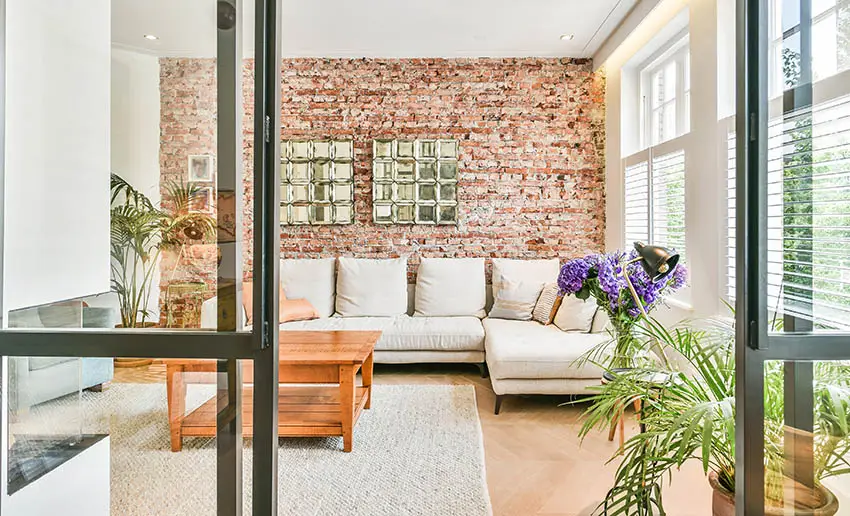 There are a lot of places where you can buy sectional sofas and some of the best can even be found online. Based on our research, here are some of the best places you can buy sectional sofas at a reasonable price.
Allform – Considered to be the best brand option that specializes in couch customization, Allform is known for the brand's personalized service. Customers are asked to provide their preferences on the following aspects:
● The number of seats
● The choice between a corner-style sectional and a chaise sofa
● Color (9 different choices)
● Type of fabric
● Type of legs (3 options)
Allform provides comfortable and easy-to-assemble sofas. The brand offers a modular sofa that can be added with seats later on when needed or wanted. It even has a 100-day trial that gives customers the chance to change their minds to return the sofa for a full refund.
AllModern – When it comes to modern and elegant designs offered at cheap costs, AllModern is the place to go. AllModern works similarly with its sister site, Wayfair, which means that surfing and skimming through the portfolio is an easy and enjoyable experience.
AllModern also offers fast shipping, where customers can get their sofas as quickly as two days. More than its top-notch customer relationship, AllModern is also popular for its wide selection of couches in the following styles:
● Minimalist
● Scandinavian
● Bohemian
● Farmhouse
● Mid-century Modern
● Industrial
Apt2B – Another popular place delivering modern couches, Apt2B is the brand to explore when searching for a good middle ground between what's cheap and what's high-end. The aim of the brand is to provide the market with stylish and high-quality couches at affordable and reasonable prices.
Apt2B features a sizable collection made of sofas that include apartment-sized couches, reclining sofas, and modern and stylish sleepers. The brand is popular for showcasing trendy aesthetics and shorter wait time even for customized pieces (just around 2 to 4 weeks).
There are selected couches that are made in the United States and fabric swatches are also available for free.
With delivery, you can either choose white glove delivery for a flat rate of $129 or entryway delivery for free. The return policy is set at 100 days and an extended warranty is also available to cover things like accidental rips, chipped surfaces, and stains.
Article – Article is an extremely popular furniture line that made a mark in the market when it launched in 2013, armed with a user-friendly website and well-made couches. Article couches are notable for their sleek midcentury styles and streamlined contours. The brand also features a mix of bold and neutral couches though the color options are quite limited and only around 4 to 5 colors.
The couches are also offered at reasonable prices and can be purchased for under $2,000. Free shipping is even given for orders costing over $999 to most locations in the United States and Canada.
Free upholstery swatches are also available with some couches. The return policy is set at 30 days, which will give you time to decide if you are satisfied with the product you get. If not though, make sure to prepare for the $49 return shipping fee.
Burrow – Recognized as a place for trendy and modular couches, Burrow is a bit similar to Allform in the sense that modular and customizable couches are available.
Customers have control over many factors in the couches they purchase, including fabric type and color, leg type and color, number of seats needed, and whether a chaise is preferred or not.
Burrow is still a new brand in the industry since it was just founded in 2016 compared to other couch brands but it had already built its reputation because of its sleek and modular designed sofas. Proudly made in the USA, the couches are easy to assemble and do not need special tools.
The downside to choosing Burrow couches is that they only come with a one-year warranty despite the free shipping offer. There is also a 30-day return policy but you will need to pay for the shipping fee, which costs 10% of the total cost or 20% if the original packaging is not available anymore.
Birch Lane – Popular for its farmhouse-style couches, Birch Lane is a brand that features a collection of casual and rustic coaches. This Wayfair subsidiary has free fabric samples and free shipping, as well as multiple delivery options. And while it follows similar practices and policies as Wayfair, the prices for the couches tend to be higher.
Birch Lane has an average wait time of 8 to 10 weeks and a return policy of 30 days. Its selection of couches is quite limited compared to other brands.
Castlery – Castlery has a wide range of styles available for couches. It is popular for its decent collection of high-end contemporary and timeless pieces offered at fair prices. Most of the couches offered by Castlery are in neutral colors, which can easily match any style and decor.
The downside though is that customization is not available, especially with limited fabric options (usually only 2 or 3 choices) and colors (mostly only neutral ones).
The brand operates online and uses a business model that directly approaches customers. It also offers free shipping to selected cities in the United States with orders that cost over $999 and an optional extended warranty. The major downside of this brand is the short return policy window of only 14 days and a 20% restocking fee customers will be charged.
Ethan Allen – Popular for its high-end and incredible craftsmanship, Ethan Allen offers timeless pieces of furniture and couches that can be an aesthetic addition to one's home. Purchasing is possible through its online store or via its 300 retail locations all over the United States.
Ethan Allen has a wide selection of couches, from loveseats and sofas to sectionals. Customers can choose from over 40 upholstery fabrics. There are also products offered in different sizes and seat depths, along with 10 free fabric swatches and free design services.
The drawback of Ethan Allen's made-to-order couches is that they can't be returned. The products from the brand are also more expensive compared to other brands. And while there is a premium in-home delivery offered, the average wait time still falls between 12 to 14 weeks.
Floyd – Proudly made in the United States, Floyd is a furniture brand that focuses on modular couches that are easy to assemble (only 30 minutes with 2 people). This American brand offers sectionals or sofas where customers have control over the following elements:
● Seating configuration
● Upholstery
● Base color
Besides customization, Floyd is also preferred for its focus on sustainability and reasonable pricing. The brand offers carbon-neutral products and delivery is made through standard ground shipping. It even offers a 10 years warranty for the sofa frame and 3 years for the cushions.
The downside of this brand comes in the form of its limited selection. There are also lots of packing materials involved and an expensive shipping fee. The average wait time falls between 6 and 9 weeks and its return policy is set at 30 days with a 10% restocking fee required.
Inside Weather – Inside Weather is another American brand that provides three different sofa styles customers can choose from. These couches can be customized with different elements, including the following:
● Configuration
● Upholstery
● Arm shape
● Pillow details
● Leg style
● Cushion filling
Since most couches are made-to-order, the average wait time can fall between 1 to 2 months but can vary on the product. Similar to Floyd, the brand pays special attention to sustainability. There's also an impressive 365-day trial where customers can still return the couch within 365 days but will have to pay 20% for the environmental fee and 10% if it's within 14 days.
Interior Define – For custom-made couches tailored from scratch, Interior Define is the brand of choice. Its impressive custom-made service allows customers to choose from the following:
● Over 15 silhouettes
● 125 fabrics
● 20 leg styles
● Multiple seat depths
And even more impressive is the fact that these custom-made couches won't rip you off and actually have reasonable prices. The brand also offers many discount programs (like for healthcare workers and military members) and extended warranties for their couches.
With physical stores located all over the country, customers can have professionals assist them with the design of their couches if necessary.
Shipping of the couches requires a flat-rate fee with an average wait time falling between 18 to 22 weeks. The return policy is set at 60 days but requires a 50% processing fee on the returns.
Joybird – Famous for its handcrafted pieces, Joybird is a brand that's familiar to many homeowners because of its extensive collection of modern-style couches.
This collection includes hundreds of upholstery options and more than 60 different materials, including velvets and sustainable materials in bold and neutral colors alike. The brand even offers pet-friendly and stain-resistant couches, as well as modern designs like sleeper couches.
Joybird provides an easier shopping experience with reasonably expensive couches and an incredible selection of products. The brand also has this Decide Later service, where customers can know the price of the product without having to choose the specific fabric or design to use.
Joybird also uses an impressive order tracking system that monitors the progress of products, especially the couches that are custom-designed. The average wait time falls between 4 to 8 weeks with the return policy set at 90 days, requiring a 10% restocking fee for the returns.
Pottery Barn – Pottery barn is one of the most popular furniture stores in the US that offers a wide range of furniture and home décor.
You can also check their online store to see their available sectional sofas which have numerous styles and designs like chaise sectionals, wedge sectionals, bumper sectionals, U shaped sectionals and L shaped sectionals.
Their price range for their types of sectional sofas is around $999 to $16,000 depending on the material, number of pieces and type.
Crate and Barrel – Crate and Barrel is a global store of home furnishings and furniture and they have a broad range of sectional sofa types which include small sectionals, modulars, sleepers, U shaped and L shaped sectionals.
Most of these are contemporary in style, but they also offer a special "create your own" service, which allows you to freely customize your own sectional sofa.
Ashley Furniture Homestore – Ashley Homestore is an American furniture store chain that caters to customers worldwide and they offer quality furniture at a reasonable price.
This is one of the best stores you can try if you are budget conscious but still want a reliable sectional sofa. Their website offers around 200++ sectional sofa designs you can choose from and most of them have a contemporary aesthetic.
Wayfair.com – For those who prefer buying online, Wayfair is one of the most reliable online stores. They have hundreds of sectional sofas options in different styles and designs and offer free whipping with the United States.
Wayfair has both low, mid and high end sectional sofas, with styles ranging from traditional to modern. Price range for their sectional sofas is around $350 to $15,000.
Amazon.com – Amazon may not come first in your mind when you are looking to buy new furniture, but they have almost anything that you need.
Amazon is a great place to explore different sectional sofa options as you can find a lot of styles and designs which come from different manufacturers.
Along with hundreds of options, you can also find reviews from customers. Price range for their sectional sofas is around $290 to $8,700.
Target – Target is a big box retail store that offers a variety of items, including home furniture like sectional sofas. You'd be surprised that you can find high quality options here at a reasonable price.
Target is the best place to go if you do not want to pay as much as buying in couch stores. Target has more than 1,8000 stores across the United States and the price range of their sectional sofas is between $200 to $4000.
IKEA – Ikea is the go to store for DIY enthusiasts and high quality knock down furniture. This Swedish company sells attractive Scandinavian furniture at low prices and their aesthetic majorly fits contemporary, modern and minimalist interiors.
Ikea offers a wide variety of sectional sofa designs , from modular seats to sets of 2 to 6 pieces. There are around 50 branches of IKEA stores located across the United states and they offer in-home assembly. Price range for sectional sofas is between $139 to $3900.
Best Quality Sectional Manufacturers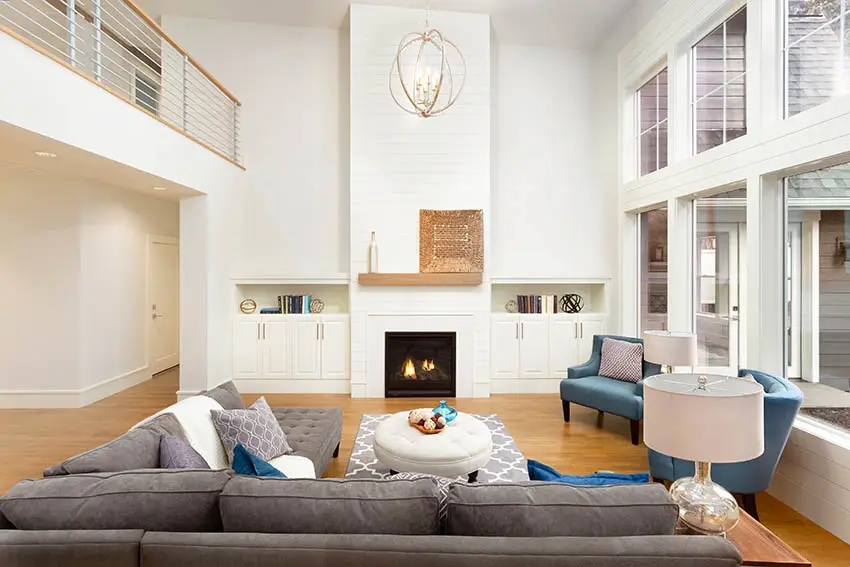 Lazy Boy – The Lazy Boy brand is so iconic that it is the first thing that comes to mind when we hear high quality recliners and armchairs.
Lazy Boy is an American brand that is well known not only for comfort but also for durability. Their recliners come in a variety of upholstery materials like fabrics and genuine leather and are available in manual and power recline.
Flexsteel – Flexsteel has been manufacturing quality furniture for over 100 years. They make fabric and leather sectional sofas in both small and big sizes and some of them come with power reclining features.
Serta – Serta Upholstery is manufactured by Hughes Furniture and is offered in local home improvement stores like Home Depot and Lowe's. Most of their sectional sofas are traditional in design and are built to last.
Rooms To Go – Rooms to Go carry a large selection of sectional sofas that come in a variety of styles, colors and designs. They are reasonably priced and are a great option for budget conscious homeowners.
Lane – Lane Furniture has focused on making high quality recliners since the 1970's. They dominate the industry making different recliner styles from traditional to contemporary. Aside from their impressive durability, their recliners have unique power reclining features and massager and heat.
Bassett – Bassett has made their name in the furniture industry and boasts of 115 years of fine craftsmanship. The types of sectional sofas that they make have a contemporary classic style and fall within the mid price range. Their fabric options for upholstery alone are over 800 — which means you can surely find one that will fit your taste.
We hope you enjoyed our types of sectional sofas buying guide. If you have any favorite types of sofas let us know in the comments section below.