Here's our polyester couch pros and cons guide including what it is, different types and whether its a good choice for your home's living room design.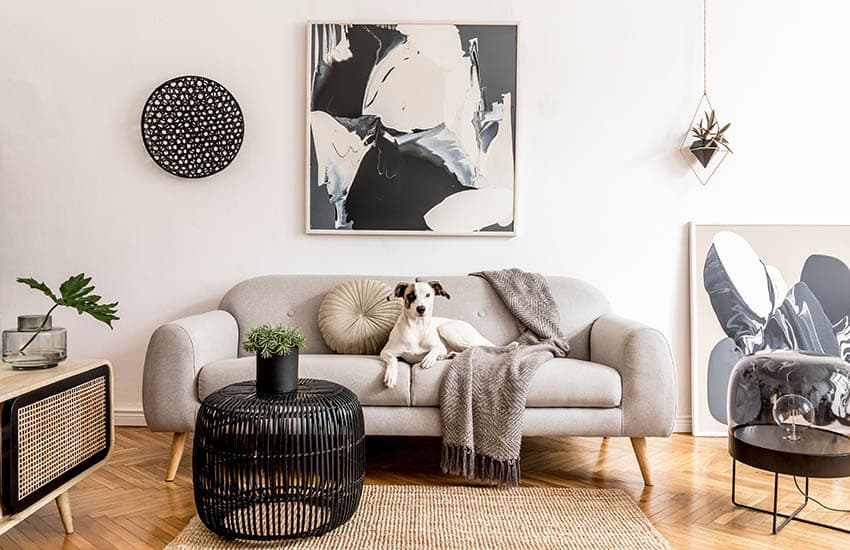 Polyester couches are a popular furniture option for your home. They can be found with 100% polyester fabric or blended with other materials to create a durable and affordable sofa.
What is a Polyester Fabric Couch?
First introduced in the 1950s, polyester is a high-performance synthetic microfiber used as an upholstery fabric often made use with natural materials such as cotton and wool.
Advances in technology have made improvements to the feel, drape and look of polyester. Today, polyester can feel and look like real silk and wool.
Polyester is one of the most inexpensive fabric textiles often blended with other fibers in order to create an upholstery resistant to wrinkling, crushing, and fading. It is also useful as an outdoor fabric and a comfortable material for sofa and slipcovers. See more types of couch fabrics here.
Polyester Couch Pros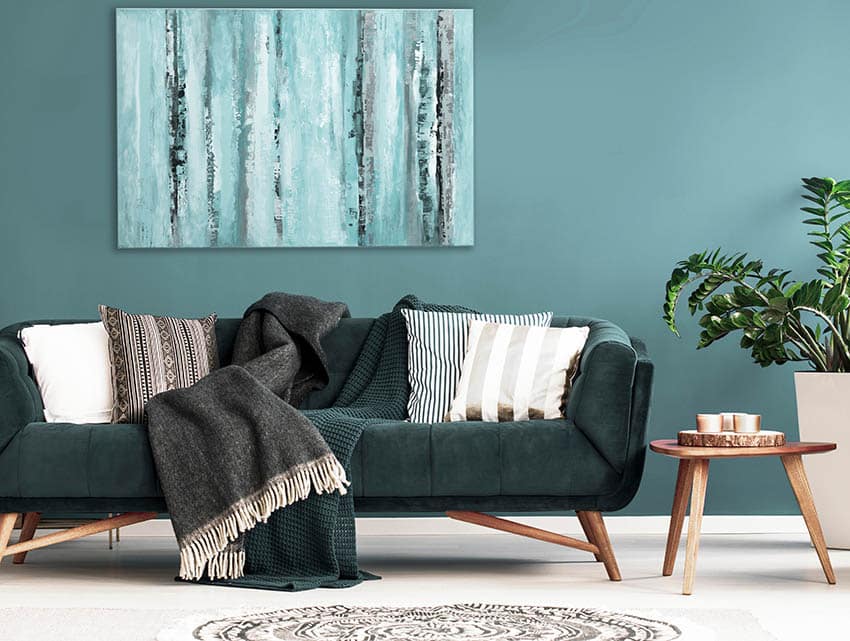 Price – A polyester couch is at a very affordable price compared to other natural fabric couches because it is cheaper to produce. Polyester blended with cotton is cheaper than 100% cotton fabric.
Durability – A polyester couch is very soft, comfortable, and extremely easy to clean. It also has an abrasion resistant quality which makes it durable.
Polyester can resist more damage than natural materials. Although it may not stop all of the damage that your pets can cause, it will resist the impact of their claws and bites better than those of the natural fibers. Polyester is resistant to stretching and shrinking when washed.
Resists fading – A polyester couch can withstand discoloration and can resist fading issues from sunshine or artificial light exposure.
Stain resistant – Polyester fabric will resist most stains better than natural materials since it dries very quickly in case of spills.
Breathability – Polyester fabric will not absorb smells and prevent sweat accumulation because of its more breathable quality.
Polyester allows moisture to be drawn off the surface and evaporate almost instantly. By combining cotton with polyester, you get the softer feel of the fabric and a more robust weave while remaining breathable.
Non-allergenic material
Polyester couch is naturally hypo-allergenic. There is a fewer risk of allergy development in polyester couch than that of using natural materials such as wool and cotton which create the most trigger.
Natural materials have allergens that can be found in them such as pollens that can settle into the fibers of the upholstery. Polyester on the other hand, has fewer sediment issues because it has a tighter weave.
Other Pros
Another good characteristic of polyester is that it can be blended with other fibers in order to get the benefits of both natural and synthetic blended fabrics. When shopping for a couch nowadays, there are quite a lot of blending options to choose from such as silk, wool, or rayon.
Polyester couches can replicate the look and feel of leather without the price tag. You can be assured that it will be durable, it is also available in rich earth tones similar to leather and a polyester couch have fewer maintenance issues than leather. See more couch color options on this page.
There is more resilience in the polyester's fabric construction, which means you can avoid the saggy look which is evident in couches made of cotton or wool upholstery. Polyester couch can keep its shape better.
A polyester fabric couch often comes with a "W" symbol which can be found on their manufacturer's tag; this means that you can easily clean and maintain your couch upholstery with water without ruining its weave.
Polyester Couch Cons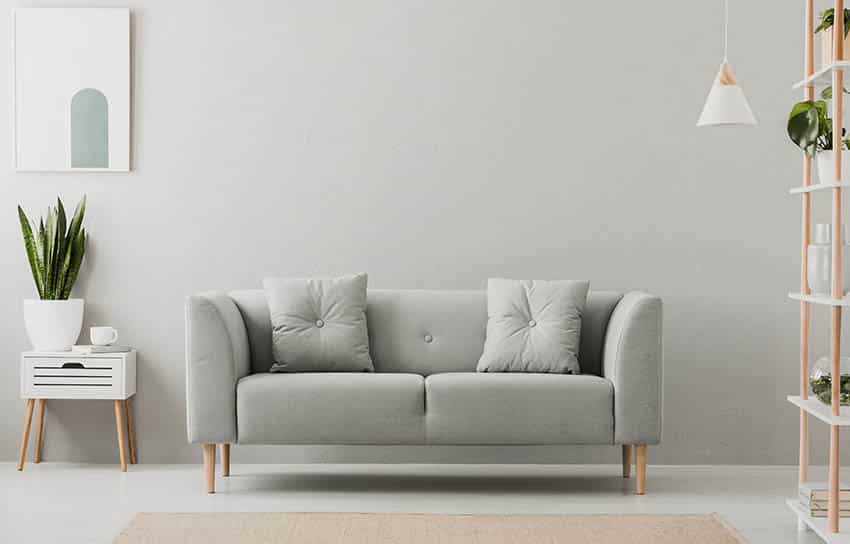 Oil staining – Polyester couch offers poor resistance to greasy food stains and oil contacts. Even the oils from your skin can leave permanent stains on the couch – oily hands and feet are top on the list.
Runs and pulling – Cheap polyester upholstery can have the runs and pulling problem when exposed to consistent abrasion. As the fibers come loose from their weave, it creates an unsightly look for your furniture.
Natural fibers have their share of runs and pulling as much as synthetic fibers, but polyester tend to experience more damage over time.
Static – As a synthetic type of upholstery fabric, there is a certain amount of static electricity maintained in polyester couches. This static charge will build up over time and will always have the risk of some sort of a "shocking" experience.
Avoiding conductive items near and around polyester couches can reduce the risk even further. By maintaining an appropriate level of humidity in the home can temper this disadvantage.
Consider wearing rubber soled shoes or slippers while sitting or relaxing on your polyester couch can also help reduce the risk.
Due to the static electricity generated by polyester couch, it will attract numerous particles as well pet hairs, lint on your clothes. These particles can embed in the weave of the upholstery which can become a problem when cleaning the couch.
Temperature sensitive – Since polyester is consists of synthetic fibers, it is vulnerable to heat. Its heat level of tolerance is not at the same level as that of the natural materials.
When used as an upholstery on couches, polyester fabrics could singe and burn then melt once exposed to any heat sources or hot substance poured to the upholstery.
Other Cons
Polyester couch is prone to stretch over time due because polyesters are tensile. When exposed to high pressure, the skin of the polyester fabric peels off from the back material causing a delaminating effect. Also, if exposed to varying temperatures, the fabric may crack.
Is Polyester Good for a Couch?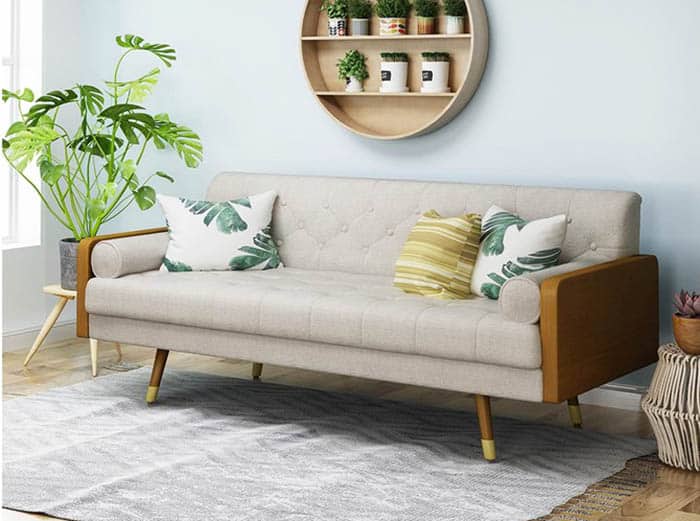 See this mid century modern polyester sofa at Amazon [promoted link]
As mentioned above, polyester offers several advantages as an upholstery fabric such as its strength to stand up well to sun exposure and daily use. It remains colorfast and resistant to water-based stains.
In terms of resilience, it holds its shape better than cotton upholstery fabrics which prevent the saggy look often observed in couches as they age.
Although it is vulnerable to excess heat or burns, polyester couch is very durable, comfortable, soft and has lightweight fibers. Synthetic fabrics such as polyester tend to be less expensive and very easy to clean.
With its current development and ongoing improvements, polyester fabric has become a very eco-friendly substrate and has become a popular choice couches due to its high performance as an upholstery fabric.
Polyester can be reprocessed to form new fibers; polyester fiber, yarn and fabric can be recycled. Unlike pure plastic materials, polyester do decompose although it takes time but they do so eventually.
And so, if you are looking for a reasonable couch at an affordable price, then polyester couch is the excellent choice for your home.
Is 100% Polyester Good for a Sofa?
Usually, 100 percent polyester fabrics will not pill, will not stretch, it is resistant to stain, mildew, fungi and even bugs. When used on a couch or sofa, 100% polyester it can provide a highly durable comfort experience.
Microfiber is 100 percent polyester with multi-weave fabric comprised of ultra-thin polyester fibers and a fuzzy, sueded pile that mimics suede. It has a surface abrasion treatment that makes it an excellent choice for heavy-use sofa. Microfiber has a good reputation in terms of easy maintenance and cleaning and are a great choice for a sofa if you have kids and pets.
In all of the engineered fabrics, 100% polyester is one of the most durable sofa fabric available in the market. This material can mimic most fabrics; it is resistant to stains and liquid because of its ultra-fine fiber that are tightly woven.
Polyester is a great fabric choice for upholstery used in sofas and other furniture even due to its synthetic nature compared to its natural counterparts since it does have its many advantages.
Polyester is a great, affordable upholstery fabric that can last long whether used for indoor or outdoor furniture. Polyester fabric has a personality of its own; its texture has a nice feel. We strongly recommend that you consider buying furniture with polyester upholstery fabric for your home.
For more related content visit our gallery of different types of sofa styles.