Discover all you need to know about cherry wood furniture, including its characteristics, grain pattern, hardness, benefits, and furniture ideas for bedrooms & living rooms.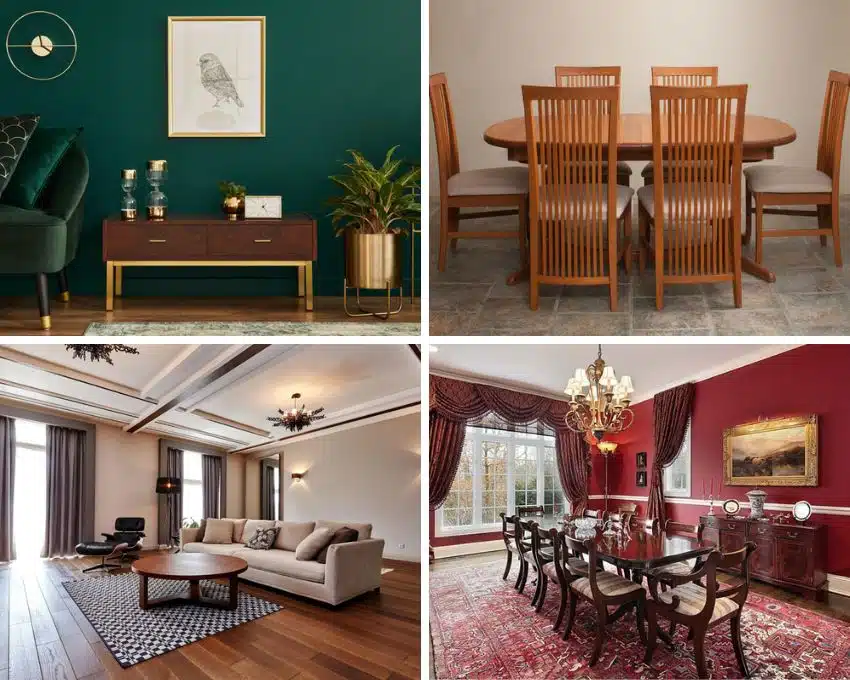 Long-time furniture makers and professional woodworkers believe cherry wood makes premium-quality and timeless pieces that can last for decades. Resistance to cracking and warping are some of cherry wood's best assets, making them ideal for furniture pieces that face daily wear and tear.
Moreover, cherry wood furniture offers a very fine grain pattern, eye-pleasing reddish brown color, and a perfect amount of warmth, making your interiors look a lot more homely and inviting. This hardwood is usually sourced from the American black cherry tree, and it is also renowned for its naturally gorgeous patina that develops over time.
As you visit different types of homes, especially the ones that are traditional-style, you can most probably find dining tables, bookshelves, desks, credenzas, and chairs that are made out of cherry since it is a very common furniture wood option.
We also recommend using cherry wood for homeowners who love to add complex details and carvings to their furniture as it is very easy to work with. Therefore, if you are in search of a top-quality, timeless, and practical furniture material, look no further than cherry wood.
Cherry Wood Characteristics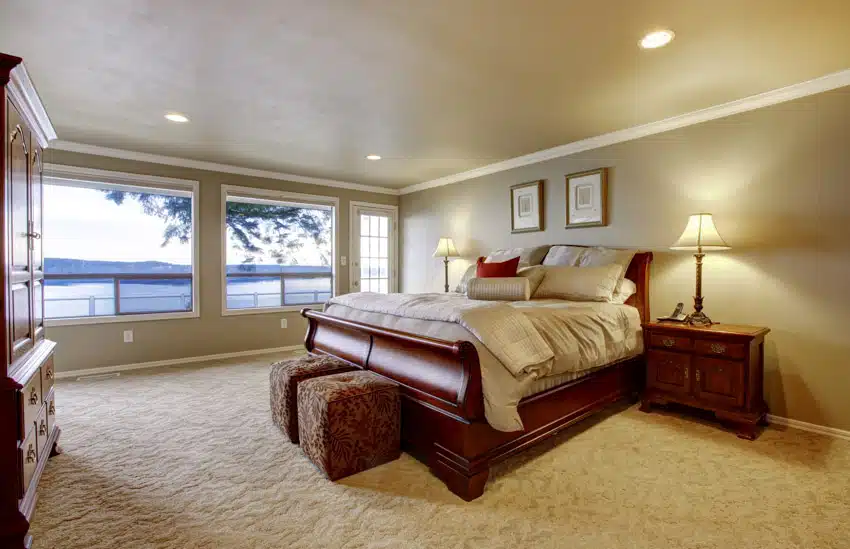 Wood Color: Cherry wood usually has a reddish-brown tone. However, the color may vary from light to dark burgundy depending on where it is sourced or harvested.
What some interior designers and homeowners appreciate about cherry wood is its natural patina that allows the wood to develop a darkened, brown color with gold details.
Source: North America is where cherry is most profusely sourced, although it is also native to Europe and West Asia.
Woodworking Performance: According to professional woodworkers, cherry is simple to machine-process, plane, turn and shape.
It glues effectively and performs well while screwing and nailing. It is ideal for carving and molding as well and it may be polished, painted, and sanded to a precise and flawless finish with ease.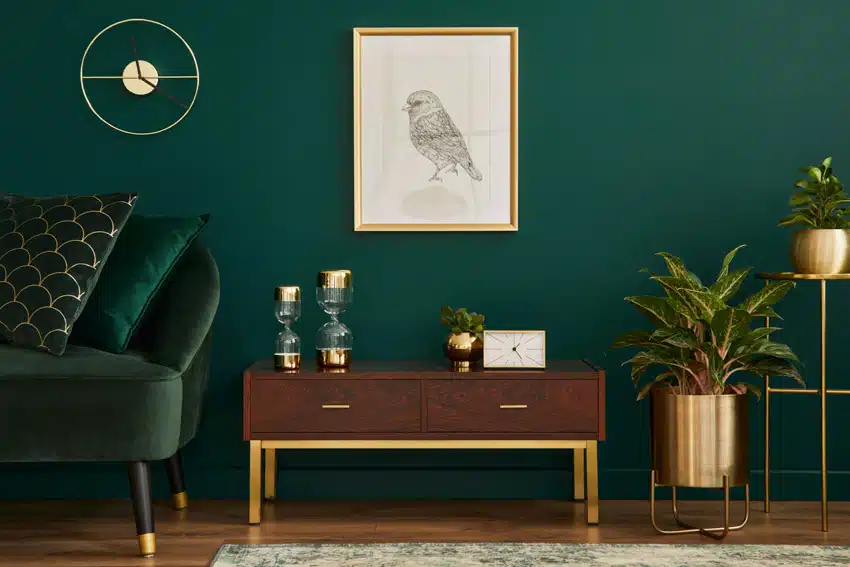 Furthermore, cherry heartwood is rot-resistant and relatively impervious to preservative treatments. Nevertheless, users should be aware that the heartwood of cherry can darken over time in a tone very quickly when exposed to light. Luckily, this color-changing process still usually produces an eye-pleasing effect.
Common Uses: According to designing experts and homeowners, cherry wood is most commonly used for building high-usage pieces of decor such as different types of dining chairs, dining tables, working desks, dressers, cabinets, bed frames, cribs, playpens, and highchairs.
Mechanical Capabilities: Cherry does have a medium density, adequate wood-bending capabilities, substantial strength, and tough impact resistance, but it has a modest stiffness and can be steam-bent with caution.
Because this wood is firm and sturdy when dried, it is very straightforward to stain and polish to an outstanding quality. It is extremely valuable for both interior and furniture assembly.
Cherry Grain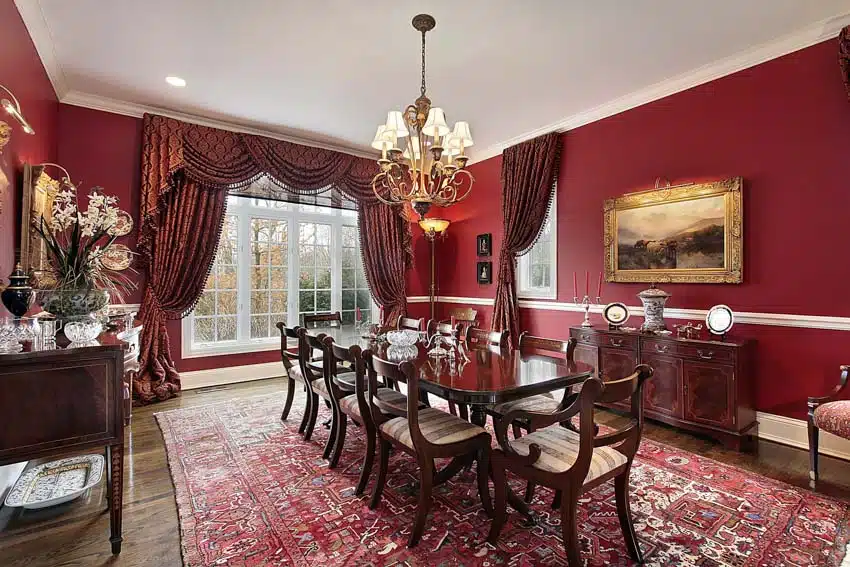 Cherry wood normally features a smooth and closed-grain pattern. Indeed, we normally recognize and appreciate the uniqueness of its wood grain, just as we do with any natural material. Depending on the maturity of the tree, a single cherryplank can have multiple distinct grain patterns.
Generally speaking, the grain arrangement of the wood is straight, but in certain areas, it can be wavy or curly. However, these irregularities somehow make it more eye-catching as the grain pattern contributes to its uniqueness.
Cherry wood is often used in cabinetry and furniture because dramatically different grain contrasts can often be found in one solid cut. This means that finished products can range in colour from a light pinkish brown to a medium reddish brown; time and exposure to light will also darken the shade. – Cherry, Constance L. Kirker, Mary Newman
Furthermore, the grains of cherry create an excellent surface that can make paints, stains, and other finishes easily adhere to it. Hence, this versatility allows it complement different interior design styles such as traditional, modern, farmhouse, or contemporary.
Another thing that makes the grain pattern more emphasized is the uniform and rich color of the wood. The combination of its elegant color and its unique grain pattern helps create a very cohesive appearance, which also helps add a substantial level of style and luxury to your interiors.
Nonetheless, distinct grain variations within the same piece of natural cherry wood pieces are not infrequent. The lighter-colored grain lay closer to the tree's bark, termed sapwood, whereas the darker-colored grain lay closer to the middle of the tree, also known as heartwood.
Thus, when selecting cherry for furnishings, we normally concentrate on the darker heartwood, although sapwood may be present on occasion. We usually take time to choose and connect boards that feature the finest color and grain combination available.
Cherry Hardness (Janka Score)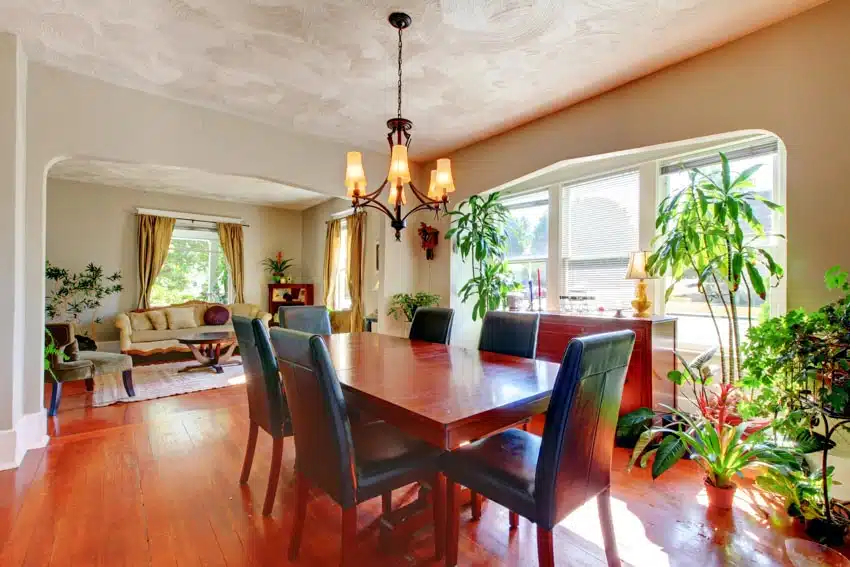 Most furniture specialists and interior designers both believe that determining the Janka hardness score of wood is quite essential as it also helps users identify its longevity and overall durability.
According to reliable tests and professionals, cherry wood has a Janka hardness score of 950 lbf. It is still a decent hardness rating and it is deemed as a medium-hard type of hardwood.
Although its Janka score of 950 is not considered very high unlike some types of superior hardwoods, its medium hardness is still a plus. Indeed, cherry wood's not-that-high hardness increases its workability, which allows furniture specialists and woodworkers to carve on it and make artistic decor details.
Benefits Of Cherry For Furniture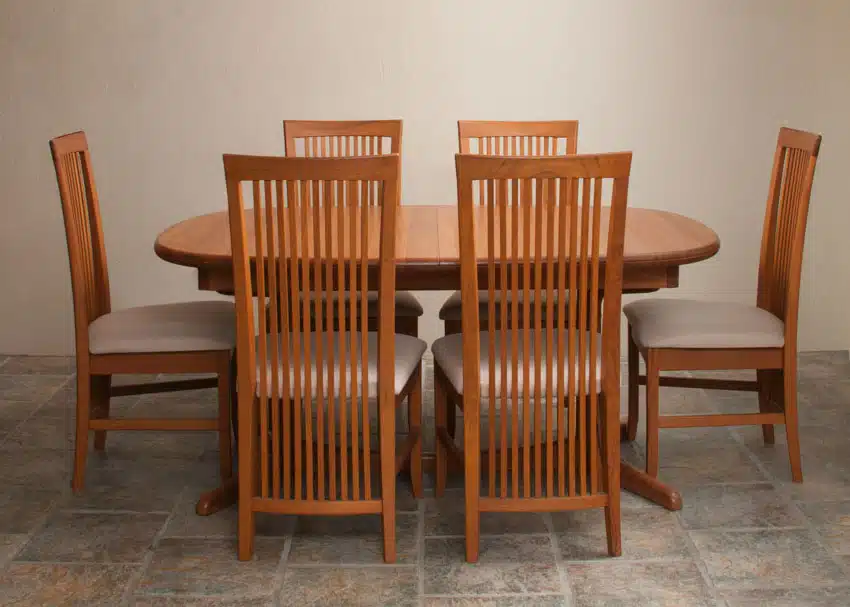 Cherry wood has numerous benefits, which are all ideal for building a high-grade piece of furniture. Below are some of them:
Very Attractive Color and Grain Pattern: In fact, one of cherry's most notable benefits is the naturally attractive color as well as the patina it develops. Originally, the color of cherry wood is slightly reddish brown, while some pieces can be found in deep burgundy.
However, as time goes by, it will develop a patina or a color change, which normally turns into a reddish-brown color with gold undertones, but sometimes, the overall color turns golden brown.
Not only is cherry wood recognized for its gorgeous color but also its eye-catching grain pattern, which greatly contributes to its aesthetic appeal as well as its overall quality.
Tried and Tested Durability: What we really love about cherry wood for furniture making is its inherent durability. When it comes to building pieces that are meant for daily use such as chairs, dining tables, wooden sofas, or kitchen cabinets made from cherry wood, they have always been a preferred choice by interior designers – they're always at the top of their selection list!
Also, cherry wood is dent- and scratch-resistant. And we all know, particularly the households with children, that these characteristics are very crucial when it comes to building kids' furniture, such as cribs, highchairs, and playpens. These furniture pieces often experience the physical activeness of children; hence, it is an ideal option.
Incredibly Easy to Work With: Another reason why woodworkers and furniture manufacturers prefer including cherry in their projects is its incredible workability.
Indeed, cherry can easily be finished, stained, or even carved in a plethora of techniques. Thus, if you are a homeowner who wants customized indoor or outdoor furniture pieces that have intricate and artistic details, this is a suitable choice.
Environment-Friendly: In terms of the wood's environmental impact, we must say that this wood still passes the test. This type of wood is considered a sustainable option for building different types of furniture.
Cherry trees are native to North America, West Asia, and Europe. However, it is grown most abundantly in North America, and it is normally planted in forests that are very well-managed.
Natural Cherry Furniture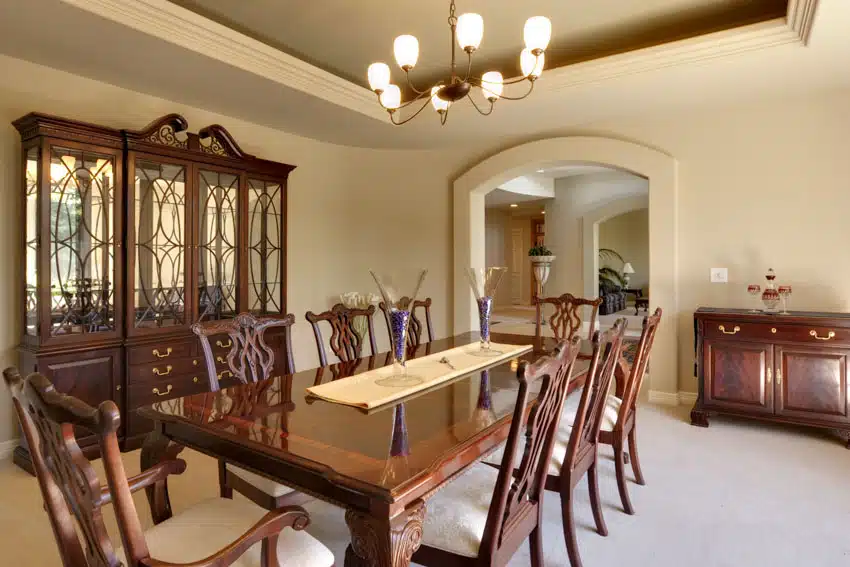 Frequently, natural cherry is the most preferred option by both designers and homeowners, especially if the house where the furniture pieces will take place is in a traditional or farmhouse style. Unfinished, raw, and natural cherry is a smart option to bring the natural atmosphere indoors.
Since most natural cherry wood pieces are not finished, painted, or stained, the grain patterns look more raw and antiquated. The bare combination of the straight and wavy types of wood grain patterns as well as knots, often adds more complexity and classic ancient vibes to the solid-wood furniture. Thus, if you are trying to achieve vintage decor in your house, doing so would be a smart thing to do.
Additionally, one reason why so many people choose natural cherry wood furniture is that it has a natural color-shifting process that further makes the wood look more classic and weathered. Plus, we, as interior designers, know that it is in itself decay- and termite-resistant. Natural pieces are henceforth ideal for the outdoors as well.
However, once you decide on using natural cherry, you have to keep it well-maintained. Compared to finished, painted, or stained, solid cherry pieces may necessitate more frequent cleaning.
The good thing, though is you do not have to clean it using strong cleaners; a soft and damp cloth with mild soap may be enough to clean it regularly. You have to prevent, nevertheless, your natural cherry furniture from getting constantly exposed to harsh sunlight and moisture as it might get damaged and discolored.
Cherry Painted Furniture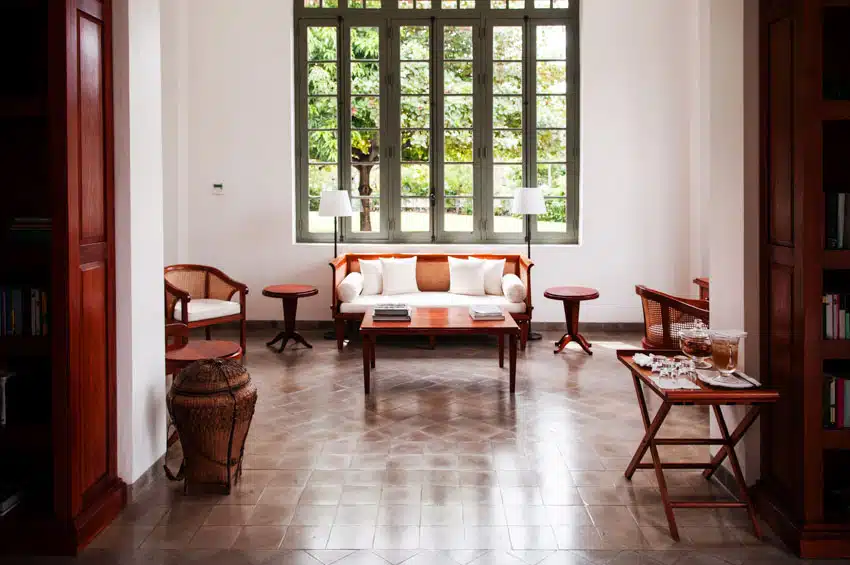 Many homeowners would not pick natural cherry wood furniture, particularly if their house is in a modern or contemporary style.
The solution that they normally would come up with is to get their cherry wood furniture painted. Indeed, painting it is a preferred selection by those people who wish to increase the modernness, color, and personality of their interiors.
A painted piece of cherrywood is basically made by initially sanding as well as priming the wood. After that, multiple coats of chosen paint will then be administered. Most painted pieces use different types of paints such as oil-based or water-based paints.
Unlike natural cherry, painted wood furniture is indeed a lot more versatile and customizable. If you want to maintain design consistency in your current home interior decor, choosing painted products may be the better option as you can customize it or paint it according to your preferences.
So, whether you pick a bold- or bright-colored paint, a subtle or neutral paint, or a combination of both, you are sure to pick a piece of wood furniture that matches the design of your room. Plus, you can even repaint your painted furnishings if you want to update them.
Moreover, a piece that's painted also adds a layer of protection to the wood. Multiple coats of paint, including the primer, help protect the surface, extending its longevity. Read more about what colors go with cherry furniture here.

Cherrywood Bedroom Furniture
Bedroom furniture pieces are among the 'busiest' items inside the house, hence they have to be made out of reliable and long-lasting wood material. Numerous homeowners are turning to cherrywood bedroom furniture nowadays and for a good reason.
Aside from their unique, rich color as well as their stylish grain patterns, the bedroom furniture pieces made of cherrywood often last for decades. Truly, based on our experience, cherrywood bedroom furniture pieces are less susceptible to dings and scratches in comparison to other softwoods like pine.
Thus, it is also an ideal option for making reliable bedroom furniture. Cracking and warping are not something we have experienced with cherrywood, thus they won't be an issue over time.
Furthermore, due to the deep, rich color of cherrywood and its eye-pleasing grain pattern, furniture pieces have a great potential to give the bedroom a more inviting and comfortable ambiance.
Also, since cherrywood can easily accept paint, stains, and any other finishes, you can easily customize it so it can complement the style of your bedroom. Many bedroom furniture pieces can be constructed of this material, including bed frames, nightstands, mini bookcases, dressers, and desks.
Cherrywood Living Room Furniture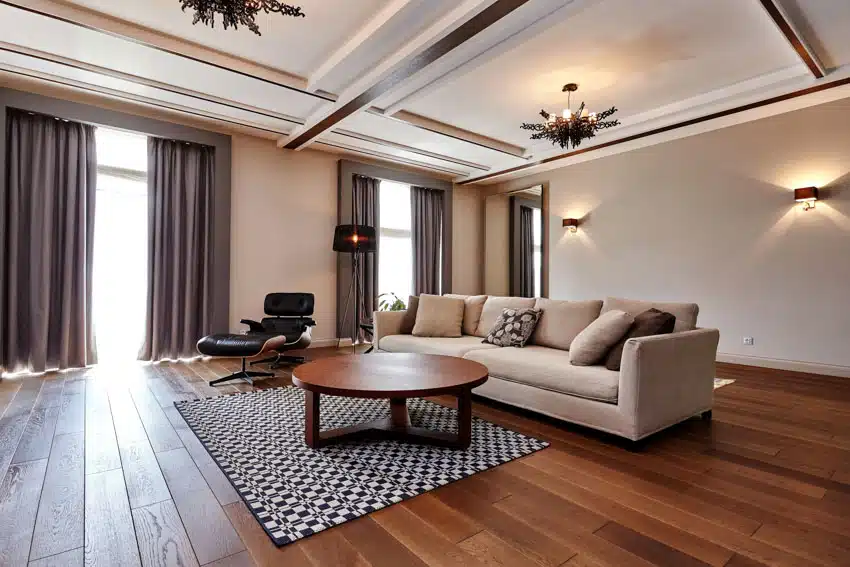 A living room is usually the space where household members and even guests congregate and have fun. Therefore, living rooms need reliable and versatile wooden furniture, and we're quite lucky because cherry wood is also a great furniture option.
Living rooms are among the spaces that regularly face renovations or redecorations, hence they need furniture pieces that can easily adapt to the changes.
Fortunately, cherry wood living room furniture pieces are versatile enough as they can be easily finished in a myriad of techniques – your designer or contractor can conveniently apply any type of finish, paint, or stain to customize your items.
In addition, since these items have surfaces that can fully accept different treatments, designers or even DIYers can effortlessly apply any sheen they want to beautify or fortify their living room furniture. Whether you are going for a glossy, matte, or semi-glossy appearance, you can achieve it with these pieces in your living room.
Since the furniture items in your living room such as the wooden sofa, coffee table, bookcase, armchair, or TV rack normally face wear and tear, we can also suggest having them constructed this material since it is resistant to dings, dents, and scratches.
Wood Paint For Furniture Made From Cherry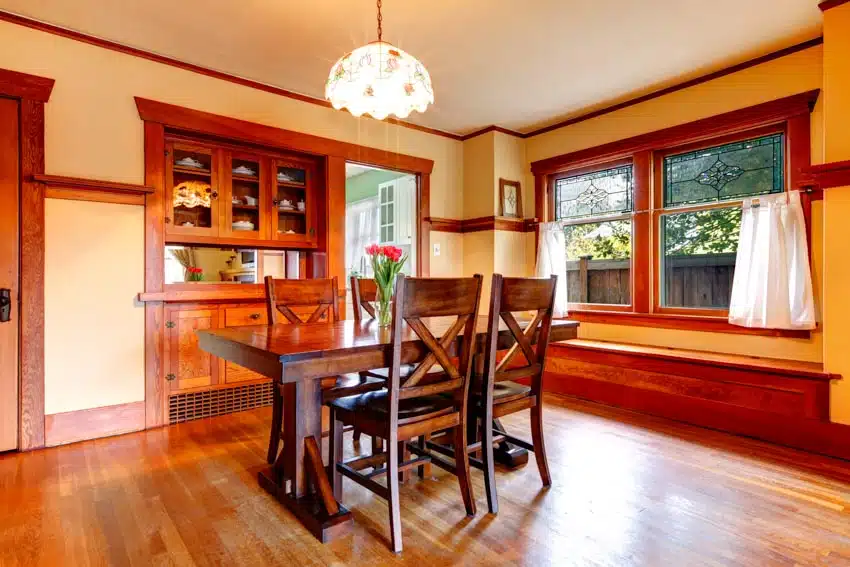 Getting your cherrywood decor piece painted is a smart thing to do if you wish to customize it or revamp its overall look. However, you have to decide first on the type of paint you will use.
The correct type of paint you will use for painting your cherrywood furnishings should ascertain a naturally pleasing and durable finish. Here are some of our recommendations.
Oil-Based Paint: If you use oil-based paint for your cherrywood paint, you will surely get an ultra-smooth, shiny, and well-distributed paint coverage. And since oil-based paint dries very gradually, you will surely achieve a finish that is very long-lasting after the drying process.
Moreover, this type of paint is recognized for its incredible durability as well as its maximum resistance to peeling, chipping, and flaking.
Water-Based Paint: Water-based paint is also a favorable choice when painting cherrywood furnishings since it is much easier to clean once it completely dries.
When compared to oil-based paint, the drying process of water-based paint is a lot faster, allowing you to instantly use your decor piece just after a few hours of painting it. On the other hand, its durability may be inferior to oil-based paint.
Chalk Paint: If you are a fan of matte-finished furnishings, chalk paint may be the right option for you. This is also a type of water-based paint that is recognized for providing cherrywood pieces with a vintage and antiquated appearance.
This type of paint for cherrywood is ideal if you want to achieve rustic or farmhouse-style decor in your home.
Acrylic Paint: If you want to give your wooden pieces a hard and smooth finish but want the paint to dry quickly, you can consider using acrylic paint.
This type of paint is also suitable for painting cherrywood, and it is impervious to fading and chipping as well. Since it is also water-based, cleanup will be very easy.
Enamel Paint: Enamel paint refers to a form of paint that dries to a hard and glass-like coating. Normally, this type of paint is oil-based, which implies that the durability and longevity it gives to this wood are also extraordinary.
Enamel paint is well-known for the glossy finish it provides. Hence, it can be used for indoor or outdoor pieces that are constantly subjected to moisture or daily wear and tear.

Best Furniture Polish for Cherrywood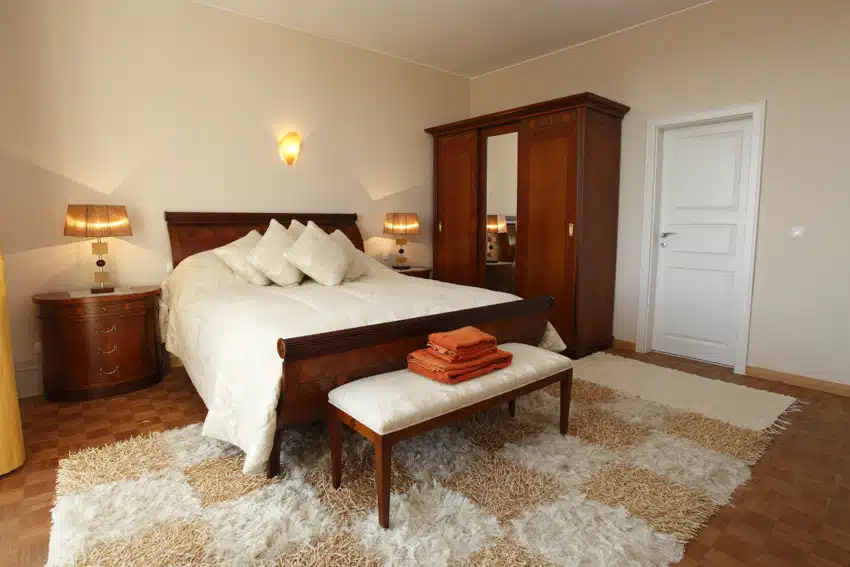 Using the right furniture polish can further enhance the quality and gorgeousness of your cherrywood furnishings. Therefore, here are some of the best decor polishes you can apply:
Beeswax: Indeed, natural matches another natural. Your wood surfaces can be improved and protected using a natural product as well. Beeswax helps in adding a protective coating on top of the surfaces and maintaining its inherent color and luster.
To apply, distribute the polishing treatment onto the decor surface and delicately rub it using a clean and soft cloth.
Lemon Oil: Lemon oil is another preferred option for cleaning, protecting, and beautifying your pieces. Whenever you apply this polishing substance, you can preserve the natural color and grain, ensuring that it stays eye-catching for a very long time.
Commercial Furniture Wax: If you are not a fan of using natural polishing products, we suggest going for a furniture-safe polishing wax.
Certain types of furnishings waxes can be bought online or in actual home improvement stores, and practically all of them are intended to preserve the quality of your pieces and maintain their shine.
How To CleanCherrywood Furniture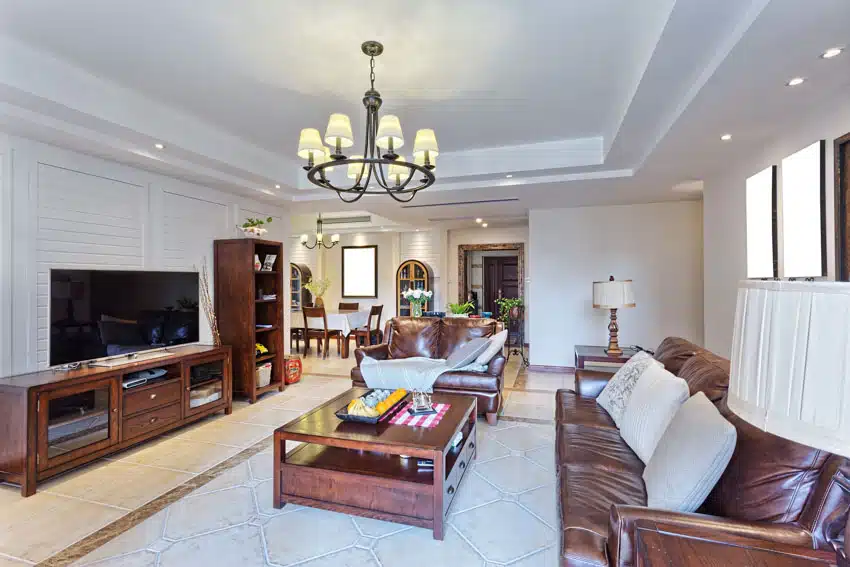 Instructions and Tips on How to Safely Clean Cherrywood Furniture
1. Regularly dusting the cherrywood decor should be done to prevent the dust and debris from accumulating. Always make sure to use a soft, clean, and lint-free cleaning cloth, and make sure to dust the furnishings piece in the direction of the wood grain.
2. Use a vacuum to clean the grooves as well as the crevices. There are multiple hard-to-reach surfaces in every piece of wood decor, so it is best to connect the brush attachment to your vacuum and start working on those areas and remove the accumulated dirt.
3. Always remember to spot-clean any stains or spills you will see on your pieces. To do this, be sure to prepare a clean and damp cloth to soften the stains and remove them gradually.
If you see any stubborn stains, you can try dropping a small amount of vinegar onto the stains only and rub them with a damp cloth.
4. If you wish to deep-clean your surfaces, use mild soap to avoid damaging the surface quality.

Apply the mild soap to the dirty areas and wipe them right away with your damp cloth. After that, get a dry and soft cloth and remove any moisture from the decor piece by gently rubbing it.
5. After cleaning your cherry wood pieces and completely drying, you can now start polishing. Choose your polishing solution from the list above and start applying it to your cherrywood furishings
See more related content in our article about maple wood furniture on this page.