Find out what Stickley furniture is, including Stickley mission styles, types, where it's made, pros and cons, prices, and where to buy it.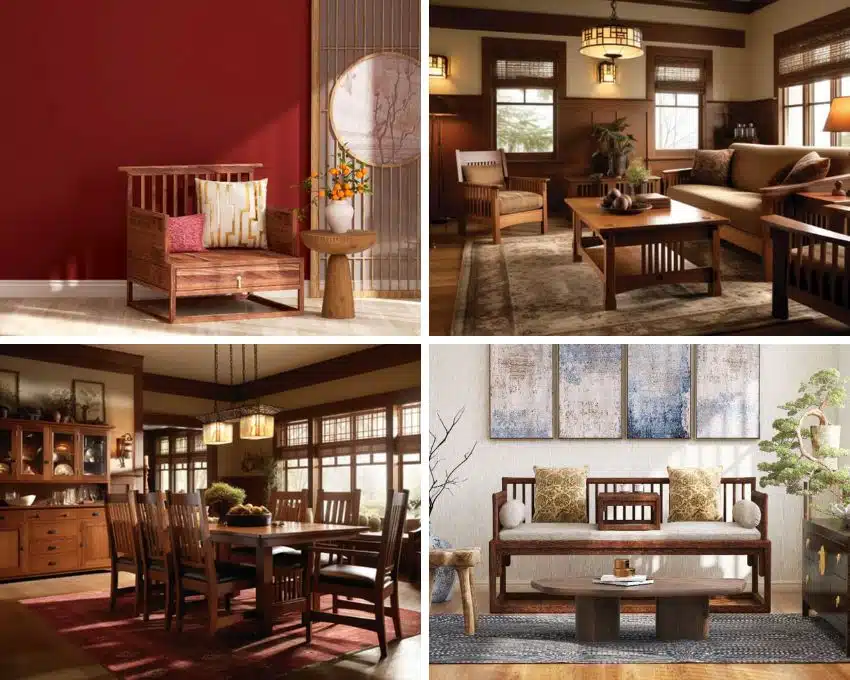 Stickley furniture has been around since the 1900s and is known for its craftsmanship and quality. They have a rich history and are known to produce beautiful and highly functional pieces.
Although it started from humble beginnings in rural New York, it has since branched out and become one of the most well-respected brands in the furniture industry.
Let's take a closer look at what makes Stickley furniture so unique and why it should be set apart compared to the other furniture brands.
What Is Stickley Furniture?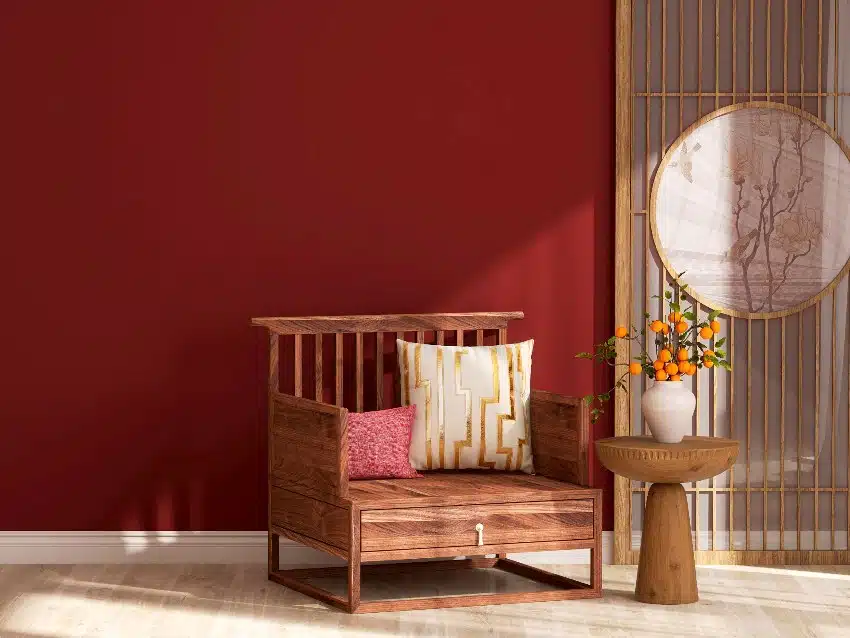 Stickley furniture is a brand that's basically synonymous with heirloom furniture. This is because they have consistently upheld that type of furniture design.
Today might seem like the era of heirloom furniture being outdated because cheaper and mass-produced furniture pieces have become the norm. Thankfully, brands like Stickley have stuck around to keep the traditional and high-quality process of manufacturing quality furniture alive at the end of the day.
What is it, though, and why is it worth buying in the first place? Knowing its motto is a good starting point in understanding what Stickley furniture is all about. It's actually more of a phrase.
It's short but telling: "To the best of my ability ." It's an old phrase upheld by Flemish craftsmen. This is what Stickley furniture has been upholding since the year 1900.
Every single piece of Stickley furniture has been marked with this iconic phrase. It's Gustav Stickley's way of reassuring his clients. He wants to ensure every piece of furniture they put out is made with pride, integrity, honor, and the highest quality and durability.
This brand became popular and mainstream when the Industrial Revolution exploded. In a time when mass production was all the rage, Stickley opted to take a step back.
He wanted to focus on furniture pieces that would be durable enough to be passed down from generation to generation, perhaps even enough to last multiple lifetimes.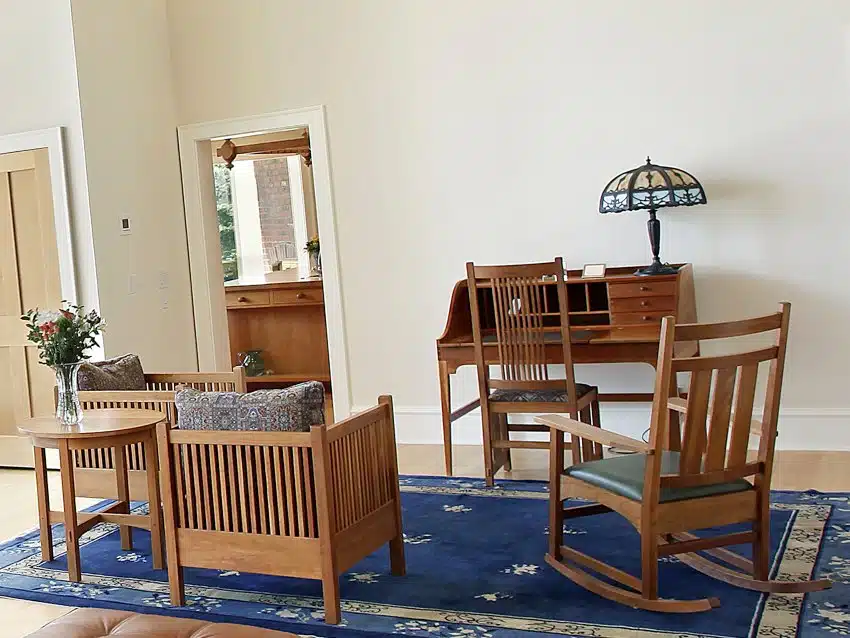 Stickley furniture also champions efficiency and sustainability in its manufacturing process from start to finish. It's a business entity that strictly complies with environmental regulations. To this day, they have proudly maintained their membership in the Sustainable Furnishings Council.
They are known to have one of the highest quality furniture in the market. Purchasing Stickley furniture means you will have a piece you can enjoy and have something to pass down to the next generation. Hence, the term "heirloom furniture."
Stickley Furniture Style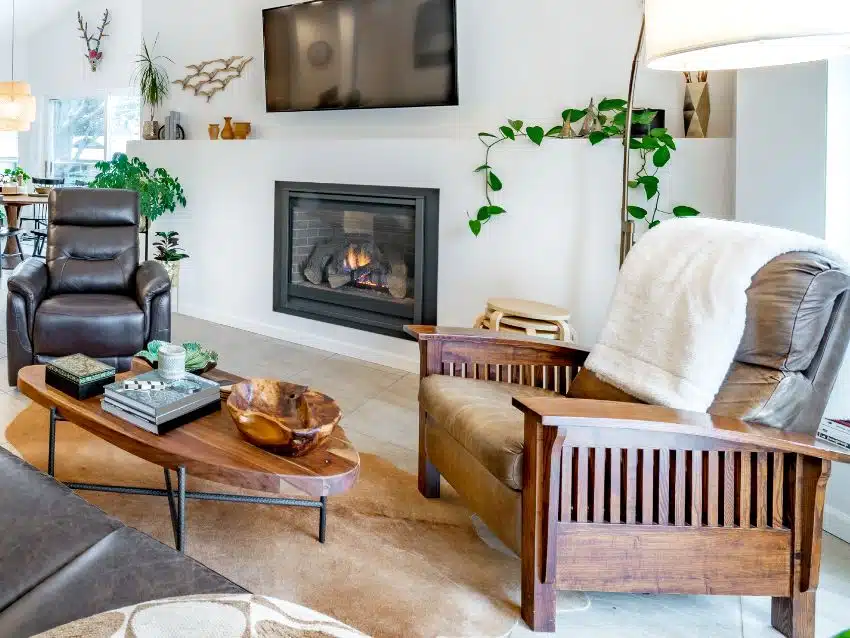 Gustav Stickley's furniture style was the driving force that eventually led to what we know today as Mission Style furniture. To pay proper homage to Stickley, though, he disliked his work being called by that name. he much preferred his furniture pieces be tagged as "craftsman style" instead.
Although Stickley didn't start what we know today as mission-style furniture, he was the driving force behind why it eventually became a mainstream or household name.
The craftsman style, or the arts and crafts style, rapidly spread throughout the United States, thanks to Stickley. It's a highly realistic design style, and it makes sense that the mission / craftsman style is still highly sought after even to this day.
This furniture style focused heavily on the tenets of simplicity and honesty. It makes sense why it resonated so much with so many people. It anchors on trademark inornate furniture that's high quality and long-lasting.
Stickley was an early advocate of what he described as utility. His study, unadorned Craftsman furniture was durable and functional and intended for daily use. – David Cathers, Arts and Crafts Homes in the Craftsman Tradition
He wanted his pieces to be admired and highly valued not because of the fancy materials they're made of but because of how they're so handily and beautifully made. He detested industrialization in all aspects and was highly against mass-produced furniture.
Stickley Mission Furniture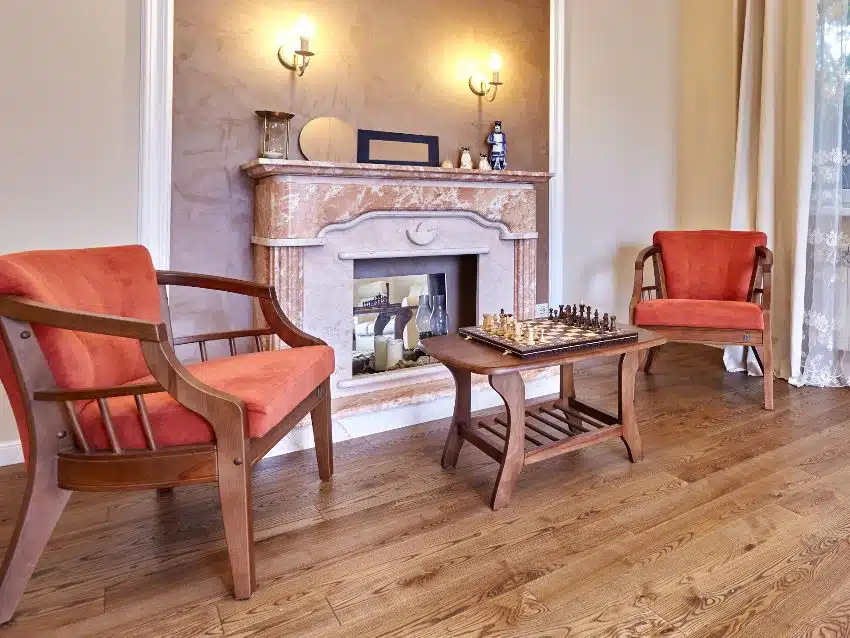 Stickley furniture leaned heavily on Oakwood and Ashwood pieces with simple, solid lines. As he progressed in his later years, his designs evolved to keep up with the times.
They became airier and more modern. This evolution catered well to the demands of the times and attributed to his works' popularity even more. Several pieces were put out there with metal inlays incorporated into their designs.
Pros Of Stickley Furniture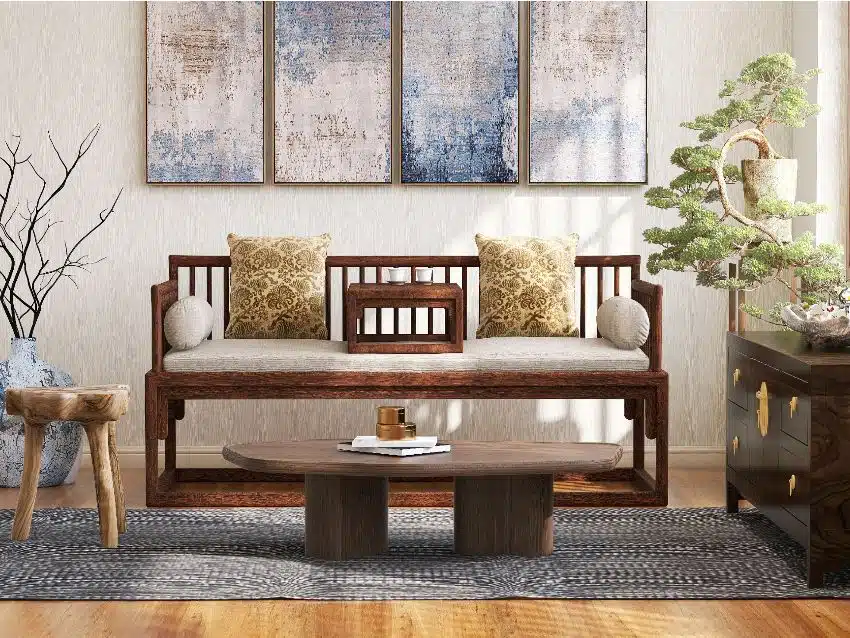 Quality: Stickley furniture is known to have exceptional quality, craftsmanship, and keen attention to detail. Each piece has details that have been executed to perfection.
Durability: This brand uses only the best and most durable materials, so their pieces are built to last.
Timeless designs: They offer a wide range of timeless, stylish, and highly functional designs. They have different designs that can cater to various preferences and tastes.
Customization: You can customize your furniture with upholstery choices, hardware options, and finishes. This allows you to create truly unique looks and experiences for your home.
Resale value: Buying one of these pieces can be passed down from generation to generation and as such as excellent resale value should you choose to resell it later.
Cons Of Stickley Furniture
Price: Stickley furniture pieces are known for their quality, but that quality also comes at a high price. They're more expensive than other brands, which can be off-putting for some consumers.
Availability: Authentic Stickley furniture pieces are only available through a network of authorized dealers. This makes it challenging for customers to find and get their hands on the furniture they want.
Lead time: Because each piece of Stickley furniture is handcrafted, another downside is the long lead times between the order and the time they are actually received. This can be unattractive for consumers who want to get their furniture quickly.
Interestingly, only some of the furniture pieces stamped with the Stickley brand were created and designed by the man himself. The reality is that a total of 15 people in the family joined and participated in the business.
All the designs they came up with were merged under the same brand. That's what they're known for up to now.
Types Of Stickley Furniture
Stickley furniture pieces are highly varied. They have categories that fall under living room furniture, dining room furniture, bedroom furniture, and office furniture. They even offer different rugs and interior design accents.
Stickley's living room furniture pieces were notably high quality and had intelligent designs. They're a combination of solid wooden frames that have been paired up with impressive leather upholstery.
It is no surprise why a Stickley ottoman or sofa, for example, can be easy to spot and extremely hard to ignore when you come across one. They have a robust Craftsman vibe, and it's because of this very trait that makes his living room pieces are highly adaptable. They can work with traditional or contemporary designs all the same.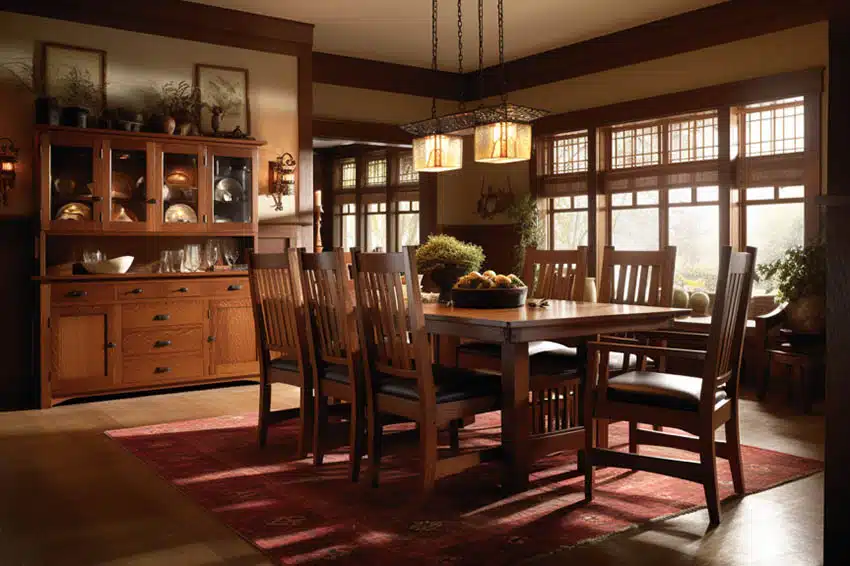 Stickley dining furniture is mainly made from hardwoods. They're known to be highly solid and are frequently made from either cherry or oak. Their designs are the ultimate marriage between form and function, so on top of the fact that they are beautiful, they are also highly functional.
As usual, they have solid and clean lines that are highly distinctive to the Stickley brand. And when you think about it, this is the defining trait that sets Stickley furniture pieces apart from the rest of the herd. Some other details that stand out for their dining furniture are scrolled legs, beautiful hand-carved details, and heavily inlaid wooden patterns.
Another thing that stands out in their dining furniture is the attention to detail paid to the construction of the pieces. They're made of joints that fit carefully with finishes that preserve the natural inlay of the wood grains. They also often have sideboards, built-in storage, and extension leaves to accommodate more guests.
Where Is Stickley Furniture Made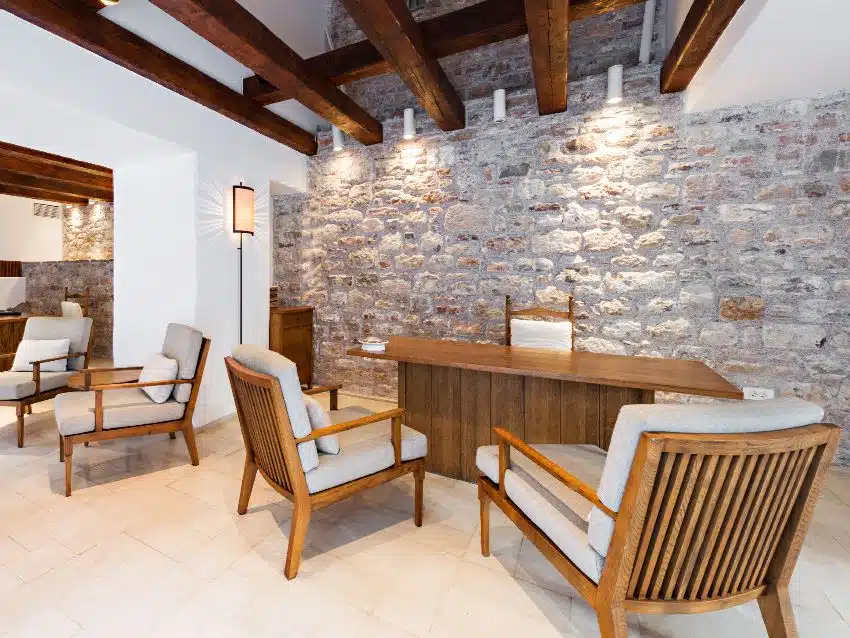 Stickley furniture is proudly American. They have been known to process the entirety of their manufacturing process onshore. They were founded and initially based in New York. They have been known to produce their furniture in the exact location ever since, even over a hundred years later.
They pride themselves in still upholding traditional techniques in furniture making. Although they have embraced manufacturing facilities and automation (you must if you're ever to survive with the times), they stuck to the old ways.
They have maintained the requirement of having skilled craftsmen handcraft the finishing of every furniture piece before being put up for sale.
They also pride themselves on controlling every step of the manufacturing process. They take charge of the selection of the materials being used. They handle the production of the base frameworks, all the way down to the handcrafted details and, eventually, the finishes.
Prices Of Stickley Furniture
There isn't a one-size-fits-all formula or description of how much it will cost to get your hands on a piece of Stickley furniture. They can vary greatly depending on the type of furniture you're planning to get in the first place.
Other variables may impact the pricing, from the materials used, the level or amount of customization included, and other things on the side. It is considered a premium furniture brand, which means it's on the high end of the pricing spectrum.
To better understand this, a Stickley dining table, for example, can cost anywhere from a couple of thousand dollars to ten thousand dollars and upwards. Again, it all boils down to the materials used. The intricateness of the style and, of course, the size of the furniture piece.
Another thing that's worth mentioning is that Stickley furniture offers a wide variety of customization to the pieces they sell out. You get to pick out the finish, the choice of upholstery material, what hardware pieces are included, and freight costs. All these elements affect the final price of the Stickley furniture you plan on purchasing.
Understandably, the prices can really be on the high end. But then again, these pieces are meant to last you for a lifetime, or several lifetimes, even. Because of its craftsmanship and durability, you can consider it a worthwhile investment.
Is Stickley Furniture Worth The Price?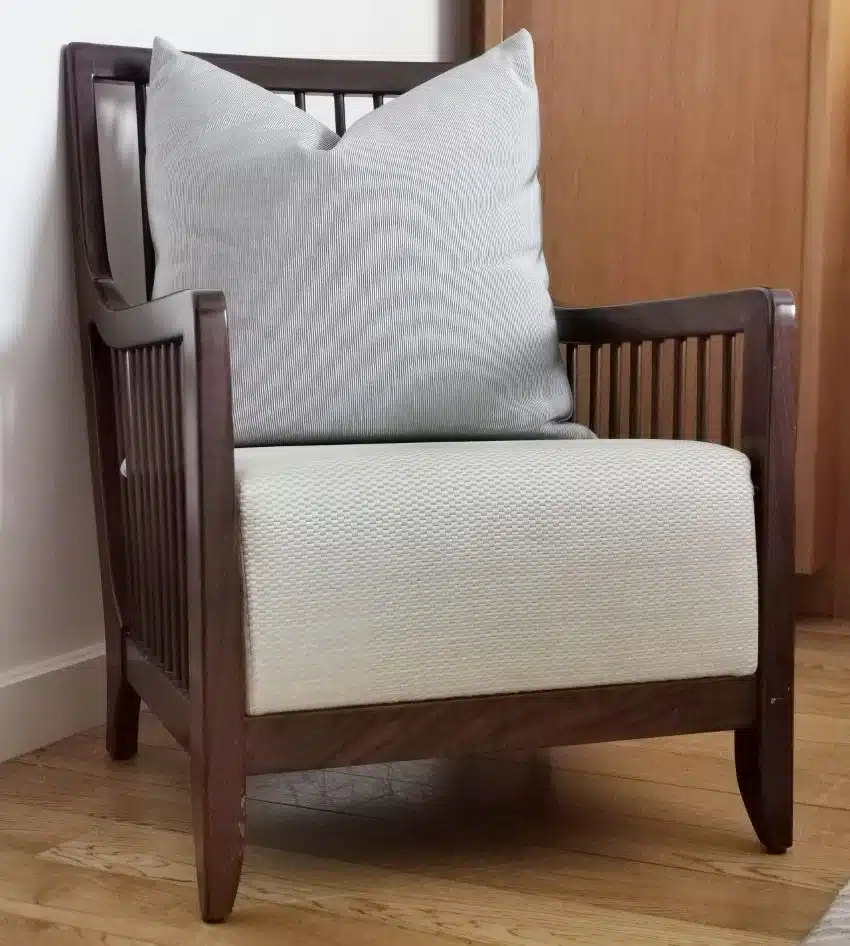 This is a truly subjective question. The answer depends on various reasons and factors. You need to consider the actual budget you can afford, what needs you have for your furniture, and of course, your personal needs and preferences.
Many people argue that a Stickley furniture piece is worth its price, whatever it may be. This is because of its high quality, artisanal traits, the premium materials they come with, and all of the attention paid to its production.
It effectively combines style with functionality. That, coupled with durability, makes every stick of Stickley furniture a great choice and not something to regret.
So, in conclusion, the answer would have to be a resounding yes. Stickley furniture is worth the price – to the right people.
When Does Stickley Furniture Go On Sale
Since Stickley furniture is a brand committed to upholding quality and its stand in being premium and high-end, it does not typically go on sale. The company posits that they are providing high-quality furniture at a fair price.
This means that going on sale doesn't really make that much sense to them in the first place. However, there are certain times of the year when you can find discounts, such as during clearance sales and, of course, during the holidays.
Additionally, you may come across Stickley furniture dealers who offer discounts and promotions occasionally. It may be in the form of a percentage off your purchase or a free accessory that may come along with it.
A local dealer or the official Stickley website must be your best resource in scoring a sale. Please take note, though, that they are very rare.
An alternative to buying new Stickley furniture is to search online for previously owned pieces. Sites like Craigslist, Nextdoor, Facebook Marketplace and your own local consignment stores may have great-looking vintage Stickley available at a fraction of the original price. Since these pieces are so well made, they are often in excellent condition.
If you decide to buy a used piece, inspect it thoroughly for any potential problems. Open and close all drawers or cabinet doors to ensure they operate properly.
Carefully check the upholstery, if any, and potentially avoid buying used pieces with fabric altogether. Check the item for any strange odors, damage, or repairs. Some odors can be aired out while others may not.
Finally, ensure you have your measurements handy before purchasing so that it fits in your space as there are typically no refunds on used items.
Can You Buy Stickley Furniture Online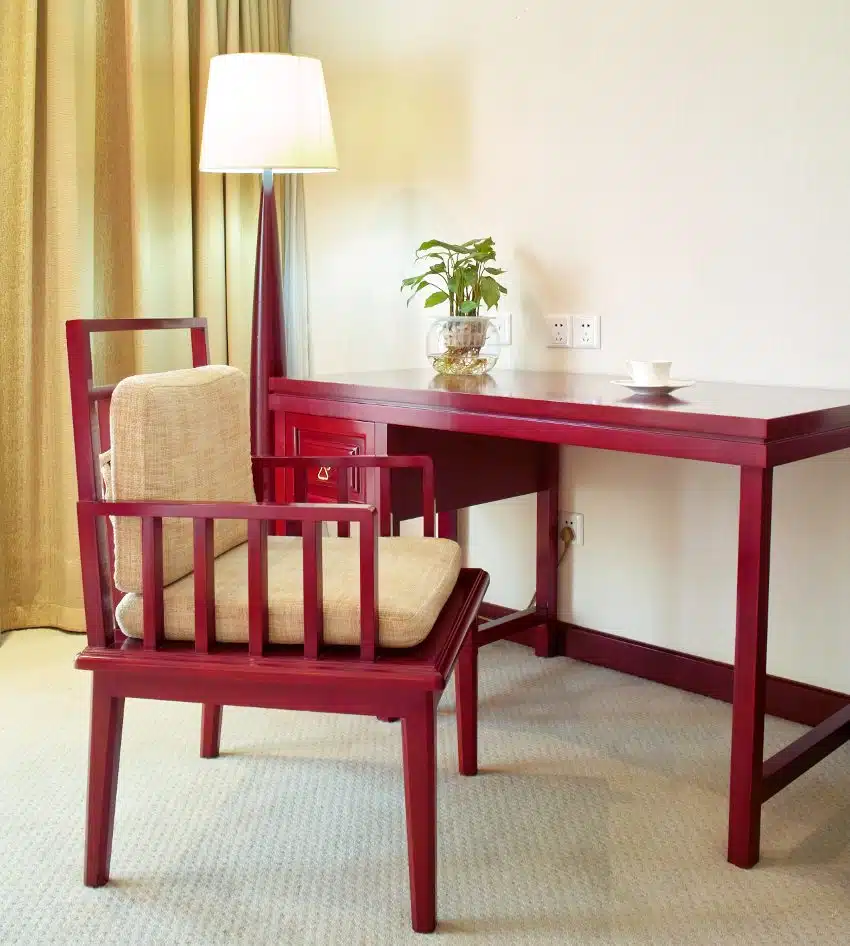 Yes. You can go ahead and buy Stickley furniture online. The brand's official website will allow you access to its different collections and products. On top of that, you also get access to a vast network of authorized dealers offering up their products. These dealers also sell Stickley furniture online.
Suppose you are shopping around for Stickley furniture pieces online. In that case, one important thing to note is that you must make sure that you are buying from an authorized dealer in the first place.
This will ensure you get an authentic Stickley product instead of a counterfeit or a knockoff. The dealers should have an online presence and should be referenced from Stickley furniture's main website.
Another aspect for you to consider when shopping for Stickley furniture online is shipping and delivery. You also need carefully read through the warranty information you are getting. And, of course, you need to pay keen attention to returns and exchanges.
It will take some time. But reviewing the dealer's policies and procedures before you move forward with a purchase will ensure that you are well-educated when it comes to an understanding all the terms and conditions of the purchase you plan to make.
Buying your furniture online is a convenient way to find and purchase the pieces you are looking for at the end of the day. Please note, though, that it is essential to be cautious and carefully tread so that you make your online purchase based on highly informed decisions.
Where To Buy Stickley Furniture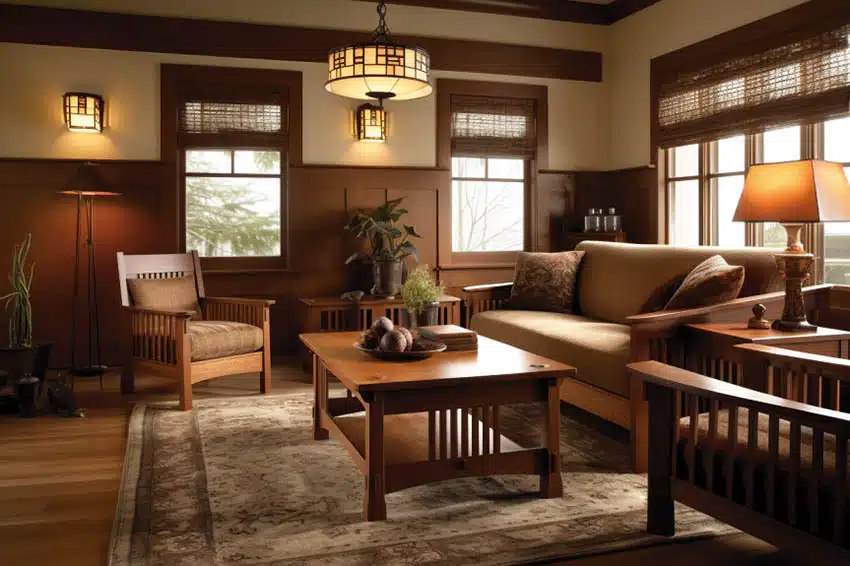 Stickley furniture has authorized dealers all over the United States. For you to locate if there's an authorized dealer near you, all you need to do is make use of the dealer locator tool found on their official website.
You can enter your zip code. Adjust your radius, and the website will produce a list of authorized dealers you can contact.
In addition to all of this, Stickley furniture also has a long list of online retailers. The challenge is all the same. You need to cross-check your references and ensure that the retailer you're buying from is authorized to ensure that you take a genuine product home with you.
A helpful tip in buying a Stickley furniture piece is to do a physical visit with a local dealer you have in your area. Seeing and assessing the furniture in person makes all the difference. This will give you a better feel for the piece's quality and the craftsmanship that came into it.
Whatever your preference is, be it shopping in person or online, all these tie in with your research. Do the work. Read up. Know what your options are and compare them with each other. Choose a dealer that meets your needs and will offer you the best value for your investment.
Stickley furniture has a long-standing badge of excellence as a furniture maker. They are recognized as true leaders in the premium furniture industry. Every single piece of Stickley furniture is handcrafted with exceptional care and precision.
They make sure that every single detail is executed to absolute perfection. They have a commitment that goes far beyond just how the furniture looks. They also pay close attention to the construction of their pieces.
They use the best hardwoods, the most premium leathers and fabrics, and the most durable finishes. These elements are meant to ensure that their pieces are beautiful and built to last.
Their designs are not only timeless but also highly versatile. Whatever your preferences are, you're bound to find something specifically for you. They have classic, traditional, contemporary, and modern collections. You are guaranteed to find something highly functional without sacrificing style.
More ideas on creating the perfect interior design can be found in our gallery of wood types for furniture.