Here are the living room essentials including what's needed for furniture, decorative accessories, and lighting fixture ideas to make your space more functional & stylish.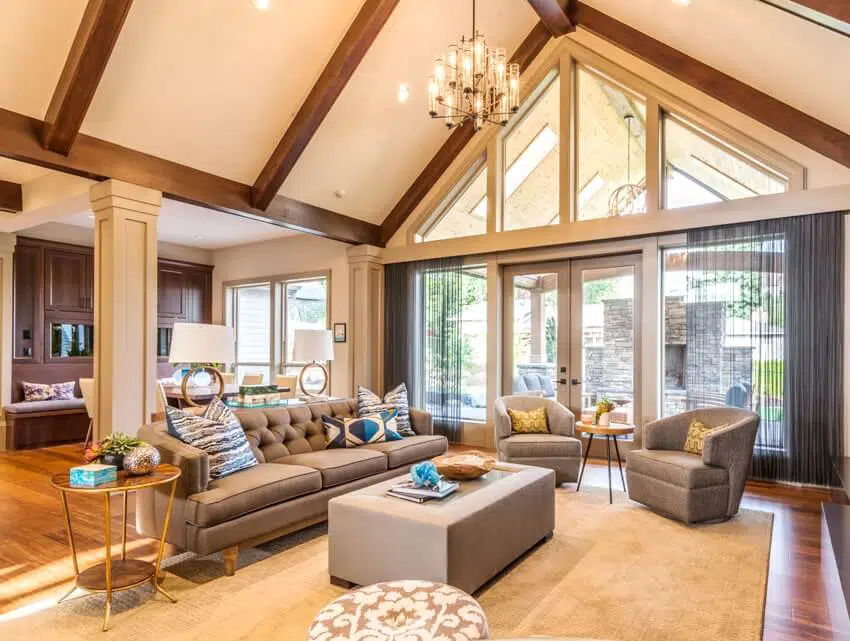 Sprucing up your living room into a comfortable nest you can spend an entire day in requires specific pieces and elements inside to make it that way. Furnishing the room may seem easy and simple but planning can be overwhelming.
To start with yours, check out this guide to living room essentials and the choices you can freely make. Make sure to always consider your own needs and your budget as you go along.
Living Room Furniture Essentials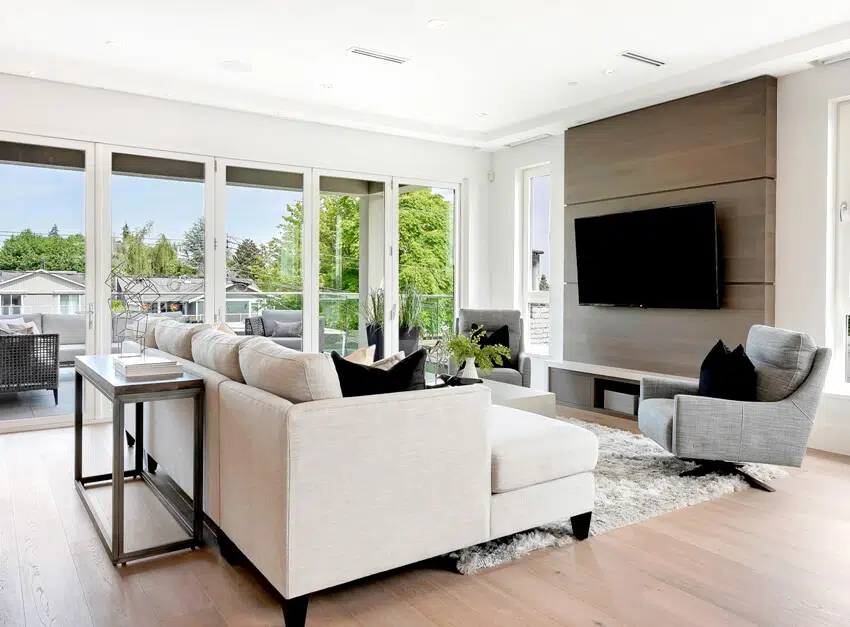 A room will look empty and bare without furniture in it but to maximize the space you have, you also need to be smart about which ones you choose to keep.
The pieces of furniture will serve as the core pieces of your living room. For this element, make sure to consider the living room size and layout and if you have enough space to accommodate the furniture.
Living Room Seating
Functionality is a priority with furniture and aesthetics comes a close second. Here are the pieces of furniture worth considering for a living room.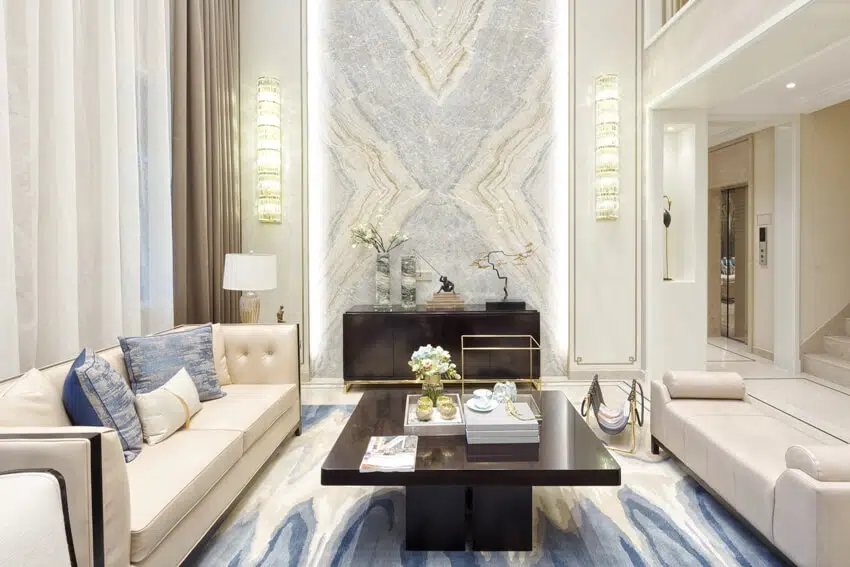 A living room can't be considered one without its seating. It is considered the most vital factor, especially since most spend a lot of time in this space.
Sectional Seating & Sofas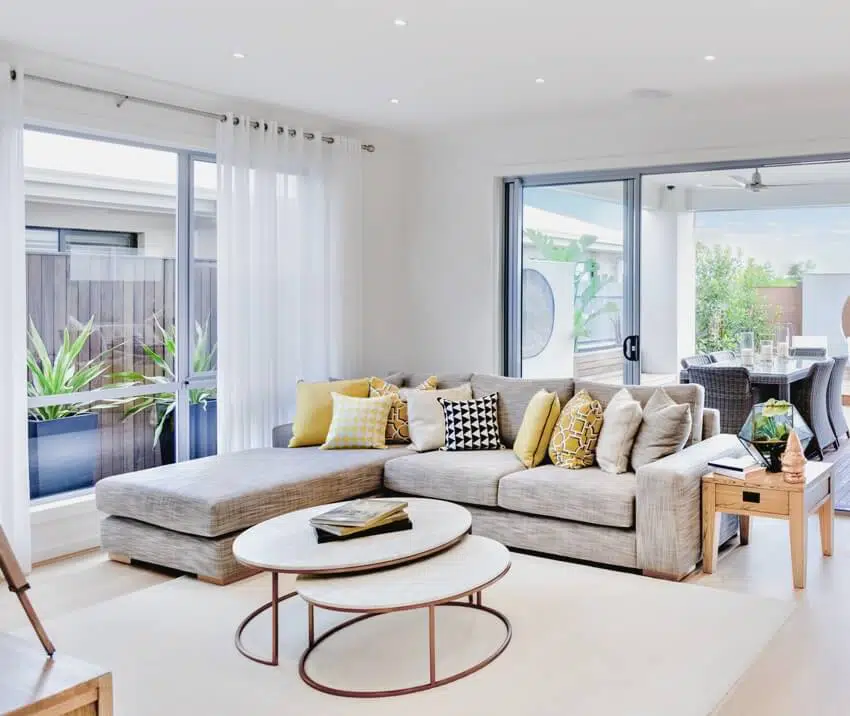 Sectional seating or sofas are the most popular first choice for a living room's seating, providing more space for the family and future guests, and at the same time serves as the point of reference for most room layouts.
Considered the main feature of the living room, the sofa comes in different colors, sizes, and styles. Most living rooms coordinate the entire style and look based on the aesthetics of the sofa.
Your sofa is one of the biggest financial investments in your living room. It can set you back around $800 to $8,000, with its cost depending on the materials and upholstery they're made of. It is also the most-used piece of furniture in the living room so it's an excellent investment.
Reclining Chairs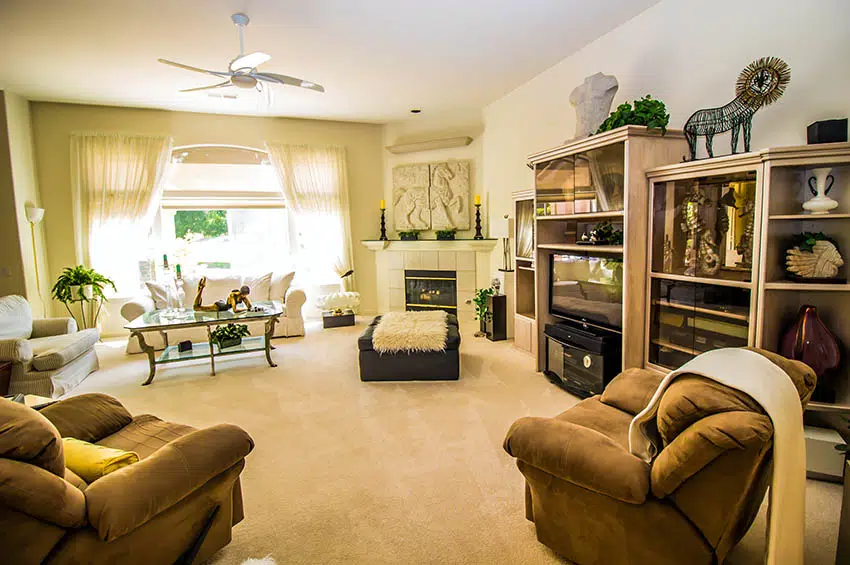 If you're searching for additional seating, reclining chairs will do. While not necessarily living room essentials, recliners are not just for seniors and people with mobility issues but for everyone who loves comfort and convenience.
Adding these chairs is great provided you match them with your sofa. However, do keep in mind that recliners typically add more in comfort than they do in room style.

When looking to make a purchase consider its size & fit, and design style and how it will look with your existing furniture. In addition, select a material that will coincide with its use. Choose an easy to clean microfiber, vinyl or polyester. If you're looking for a hypoallergenic fabric go with cotton, linen, wool or leather.
Accent Chairs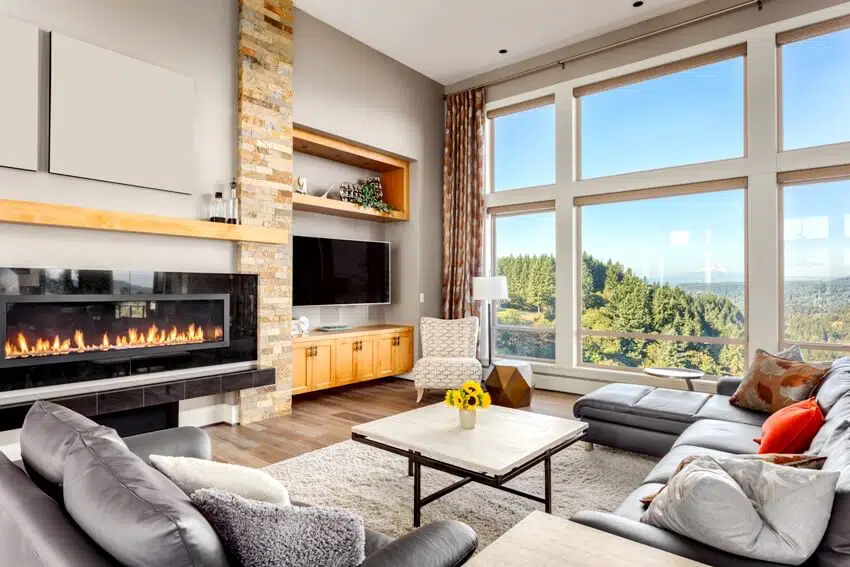 Accent chairs are mostly about aesthetics but they can also provide extra seating for your living room. Place these accent chairs next to the sofa or in locations that have extra space.
Aesthetically, they will be catchy and look like popping in the room so you need to have them in a style that can make this possible. Accent chairs range from $200 to $1,500.
Living Room Tables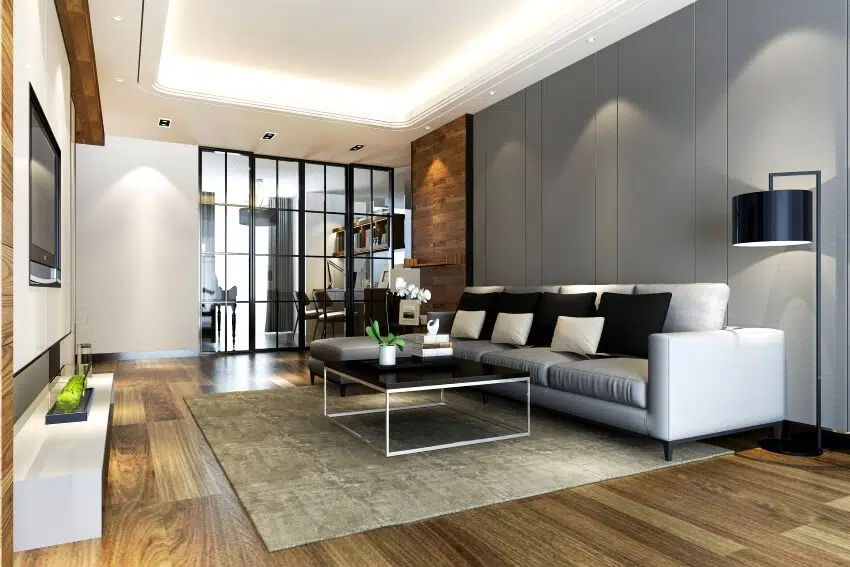 With your seating, you need to match it with a table that matches your sofa and chairs. Both stylish and functional at the same time, you can choose from several types of tables to consider.
Coffee Tables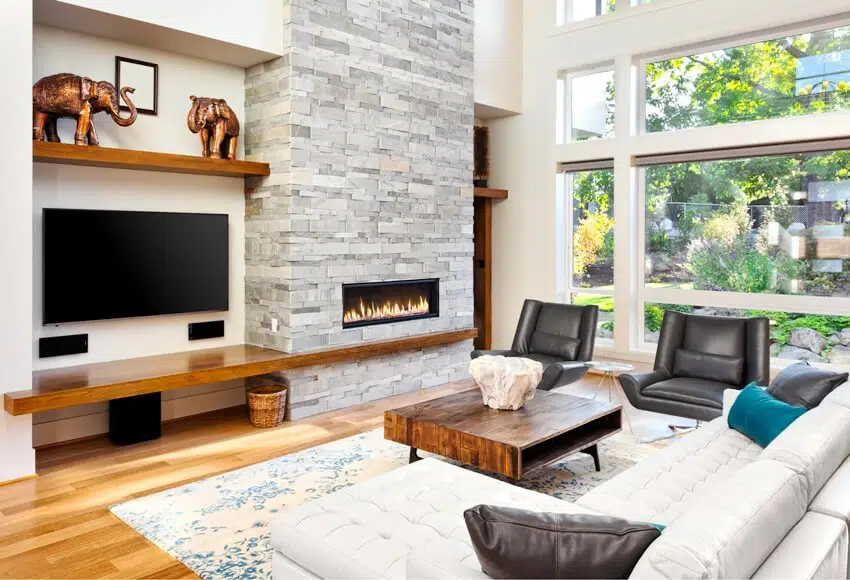 Most coffee tables also most often serve as the room's center table, becoming the central furniture of the entire space. Functionality-wise, it's usually the surface where you place your remote control, magazines, and other important stuff you want to remain within your reach.
It is even multi-functional since you can use it as a dining table or a working table, depending on your current need and task at hand.
There is also a variety of styles to choose from like the traditional oval coffee table or the contemporary rectangular table. The cost of these coffee tables ranges from $150 to $3,000, depending on the size, shape, and material composition.
While many consider a coffee tables as must-have living room essentials, there is a great debate as to whether a coffee table or an ottoman is better. The answer to this will depend on how you plan on using the furniture piece.
For instance a coffee table provides a stable surface and can act as a decorative element. On the other hand an ottoman may be better for flexible spaces and can be utilized as a coffee table with the addition of a tray.
Side Tables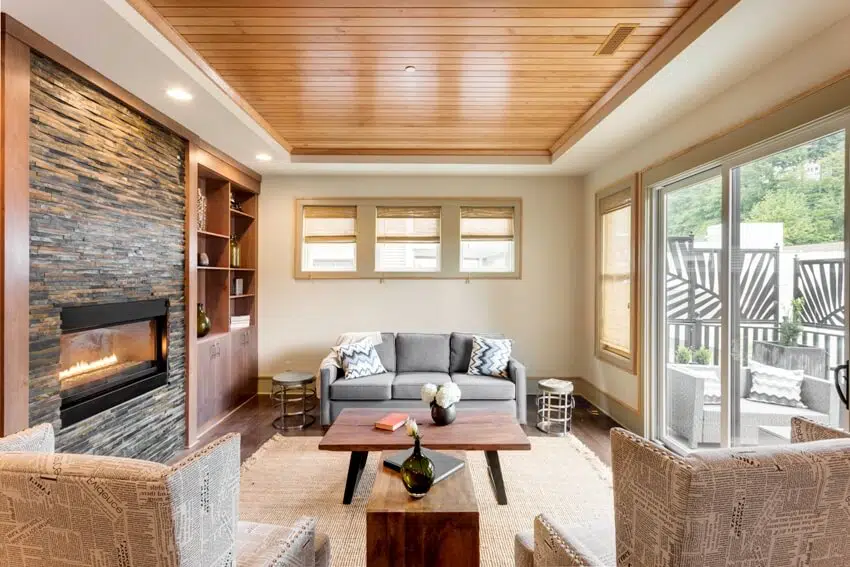 Besides coffee tables, you can also add side tables either on one side or two sides of the sofa. These tables are excellent for table lamps, remote control, and even drinks if you are sitting on the areas on the sofa where you can't reach the center table.
End Tables
Similar to side tables, end tables can be used as a spare table if you are sitting somewhere you can't reach the center table. They also offer the aesthetic value of symmetry. See the differences between an end table vs side table here.
Accent Tables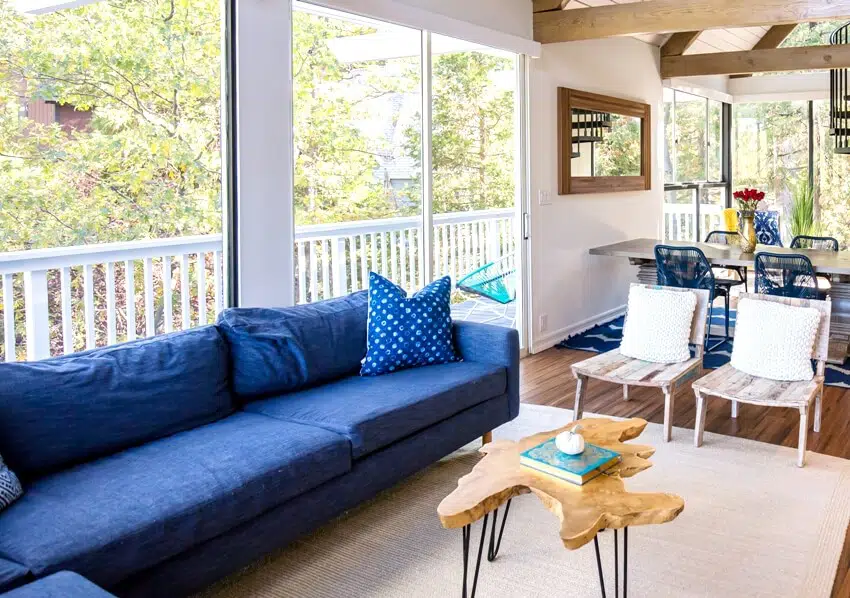 When talking about aesthetics, accent tables are incredible options. Similar to accent chairs, their priority lies in style and adding aesthetic value to the room. Match its style with the room's design and make it pop just like how accents should do.
TV Stands & Media Consoles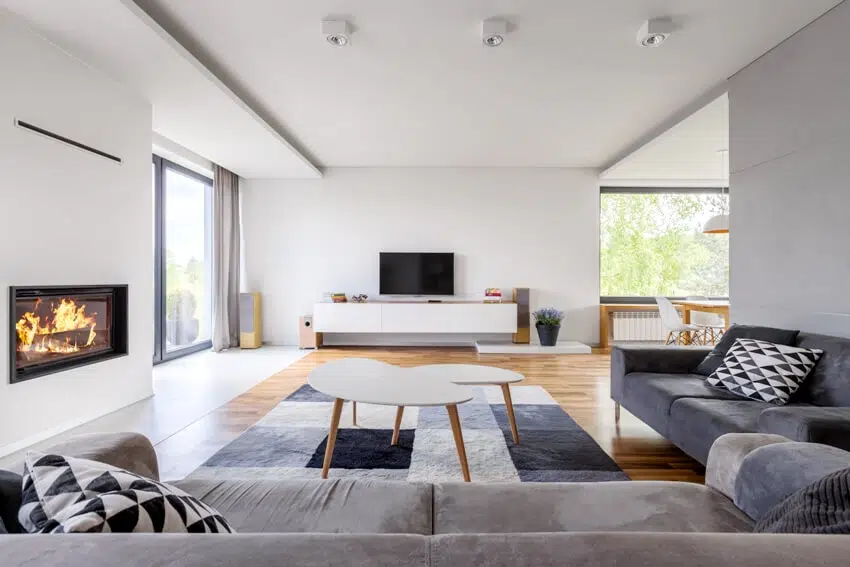 Another core element vital to the living room is the TV and media consoles. Besides the sofa, the TV and its cabinet play an important role in the layout of the room.
Some use the TV as the focal point, where everything else should follow. With this ensemble, here are the particular components you can use.
Media Stand & Cabinets
A media stand or cabinet is the home of your television so it needs to be sturdy and durable. While the TV stand is a place where you can set your TV, you can keep it inside if you use a cabinet.
A media cabinet offers more protection, but will require a larger unit. A media cabinet can actually set you back $600 to $4,000.
Entertainment Units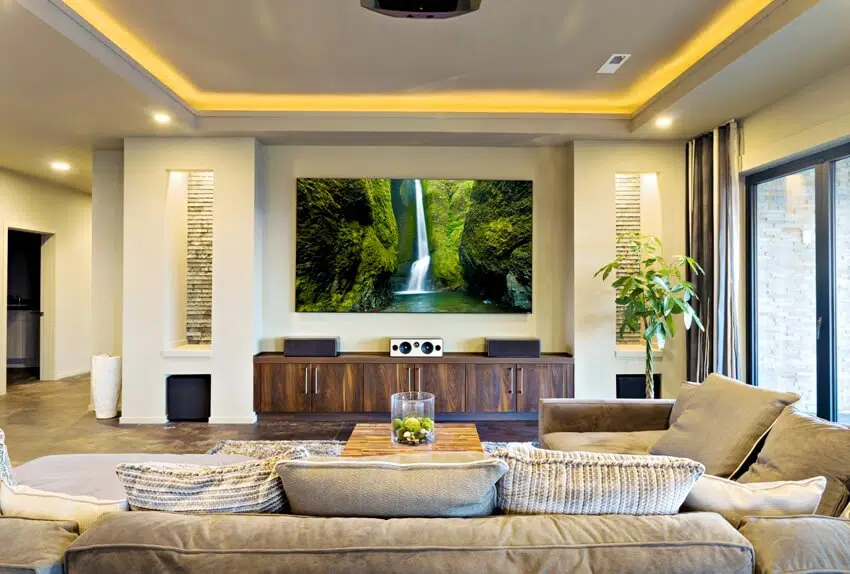 The entertainment units are the necessary components for the said ensemble to function. This ensemble includes the TV itself and the entertainment unit.
With the development and popularity of flat TV screens, most prefer having a media stand to a cabinet, not just for the sake of aesthetics but also since cabinets can eat up a lot more space than media stands.
Storage Furniture
Having storage furniture may work if you have a lot of items that need to be stored out of sight. Besides general storage cabinets you can find furniture such as ottomans or benches that provide places to store living room essentials like pillows and throws.

Living Room Cabinets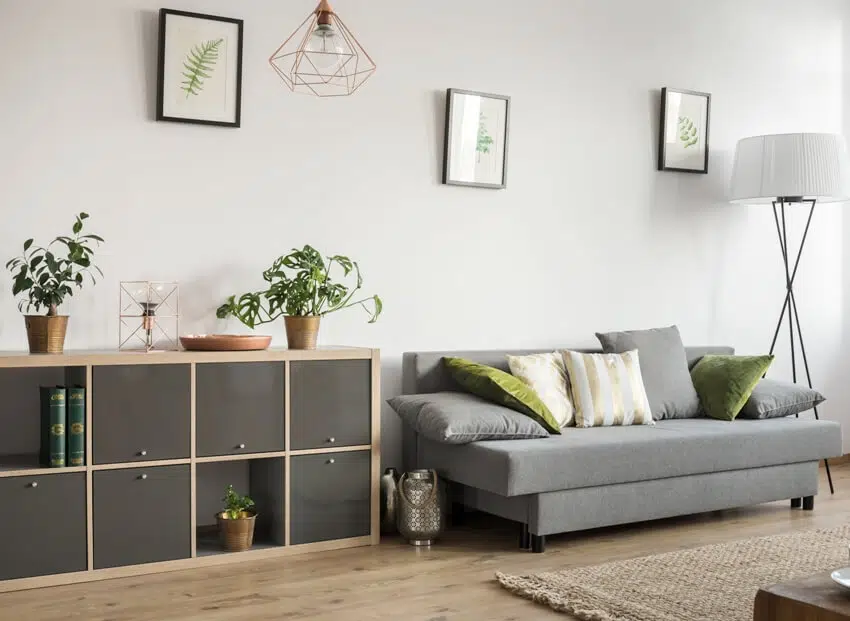 A cabinet is the most common storage and to be honest, it's now a good option for the living room. While it may be good for the kitchen and bedroom, it just won't work in the living room.
Bookcases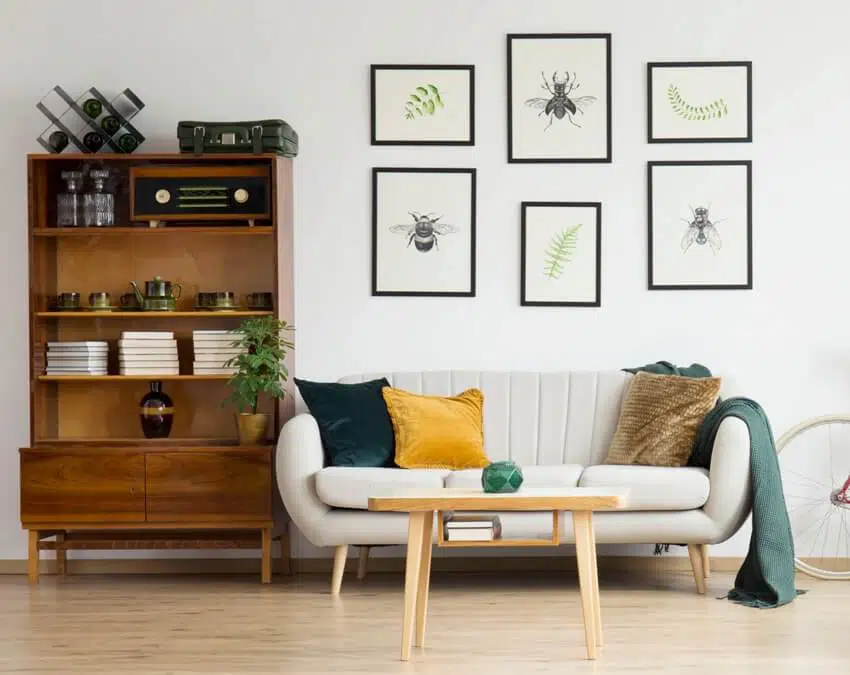 A bookcase in the living room can work if 1) you have many books to display and 2) you have extra space in the living room.
Picture frames and other decors can also be placed on top of the book cases. Bookcases can range from $300 to $2,000, so make sure to choose suitable ones!
Baskets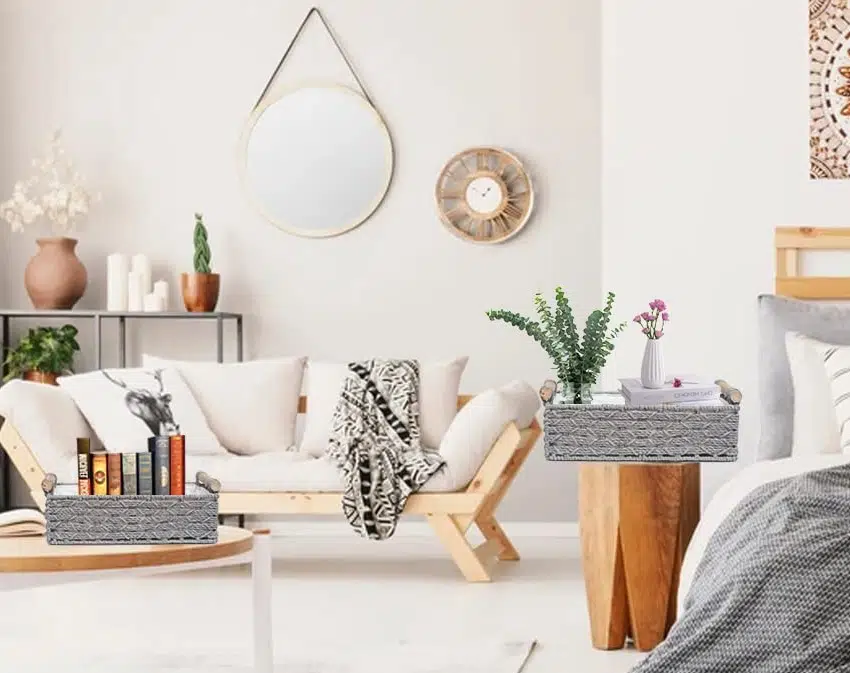 See these storage baskets for organizing at Amazon [sponsored link]
Baskets are stylish storage units you can add to the living room, especially if you have enough space to accommodate them. They can store toys, magazines, books, pillows, and blankets without needing to be meticulous on how to keep them. Baskets can cost as low as $20 and as high as $300.
Storage Ottoman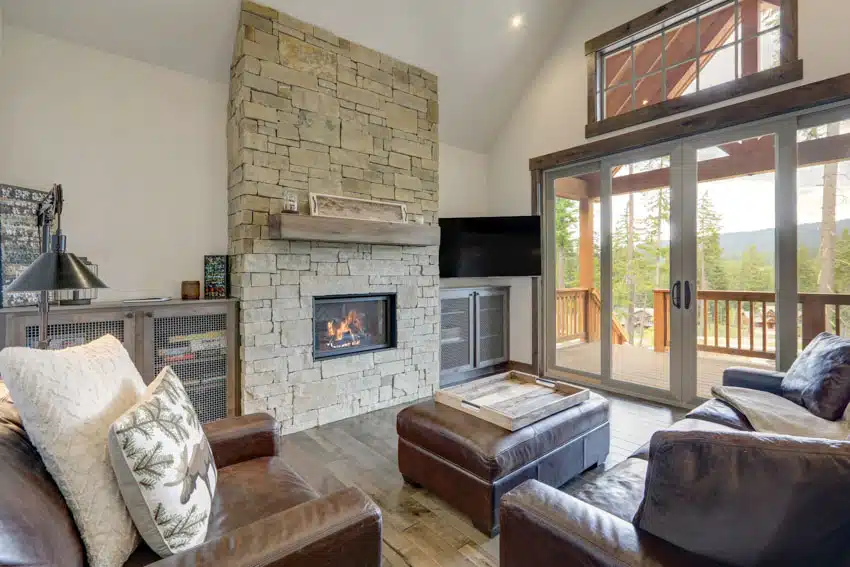 A storage ottoman is a type of furniture piece that combines seating and storage. It's typically used as a bench or footrest, and can add style, comfort, and functionality to any room.
Storage ottomans usually have removable lids and compartments that can be filled with items such as blankets, pillows, remote controls, shoes and toys. They are especially popular in living rooms and bedrooms due to their multifunctional nature.
Living Room Lighting
The lighting in the living room needs to be just enough to brighten up the common space but not too overwhelming to the eyes.
The best lighting fixtures to use will depend on the task you need to work on. Lighting can set you back $50 to $1,000 depending on the type of lighting you chose. Here are some of the types to check out:
Overhead Lighting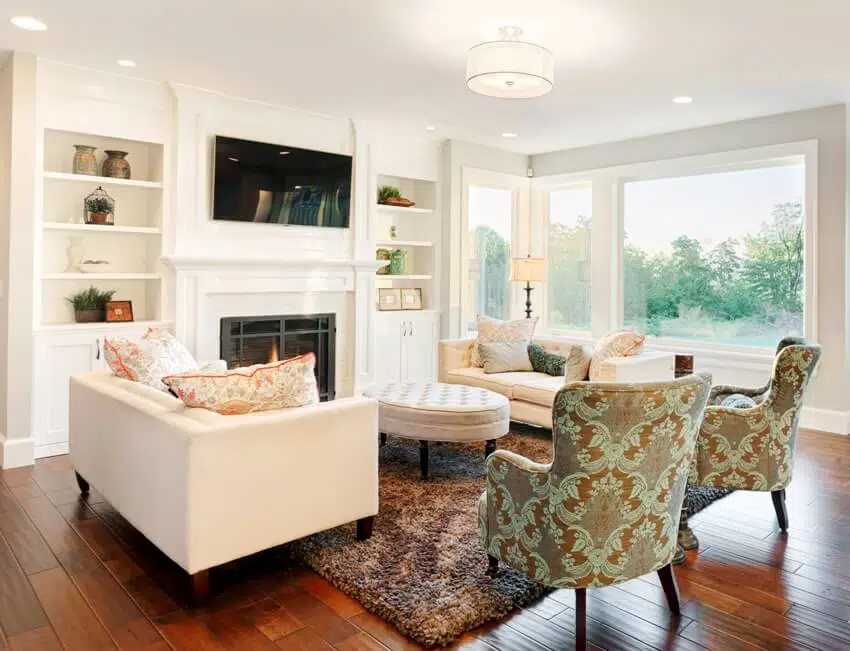 Overhead lighting offers the most coverage since the bulbs are installed in the ceiling. From having simple recessed lighting to using an overhead chandelier, lighting alone can deliver the ambiance you want your living room to have.
Table and Floor Lamps
Table and floor lamps can help balance the lighting you have in the living room and provide an ambient or task lighting source. Ambient lighting helps illuminate the entire space while task is for focused activities.
The size and placement of the lamp will greatly impact the look and feel of the room. Choose lamps that can work with a combination of other light sources to create a layered lighting effect.
If you're going for targeting task lighting, table lamps and floor lamps near the sofa or other chairs in the living room is the way to go. It is the best option for task lighting like reading a magazine or book. Visit our guide on where to put a floor lamp in the living room for more ideas.
Sconces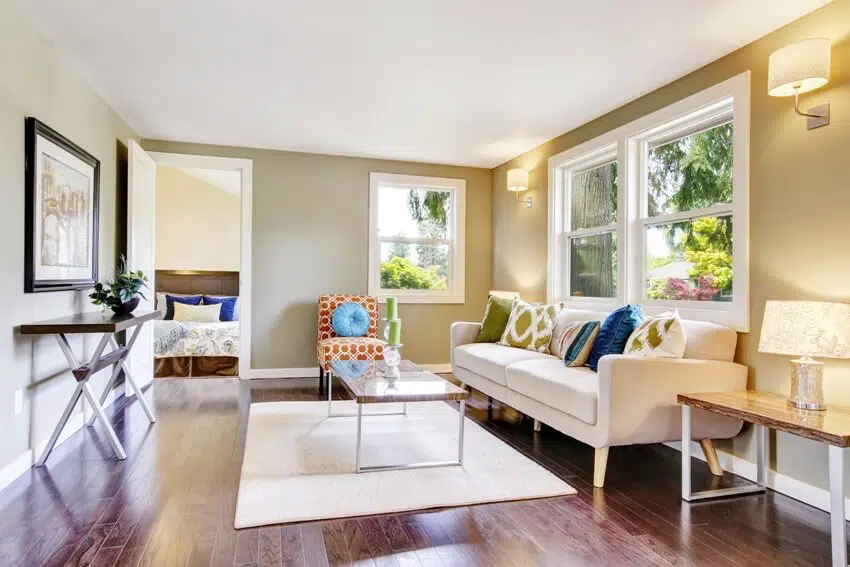 Sconces are the lighting option if you're going for accent lighting and want to add to the room's aesthetics. This type of lighting offers better control over the living room's style and ambiance by providing layered lighting.
They can work to act as a focal point by illuminating artwork, or framing a seating area or fireplace. By using different sconce light shades such as an opaque or frosted material, you can diffuse the brightness of the lighting and create a dramatic look.
When combined with dimming light switches you're able to control the amount of lighting for movie watching or depending on the mood you want.

Candles
Using candles in the living room adds warmth and class to the room without having to spend a lot just for the lighting. Candles set up a more inviting environment, which is what you would want to have for your living room. Check our guide to the types of candle holders here.
Living Room Decorative Accessories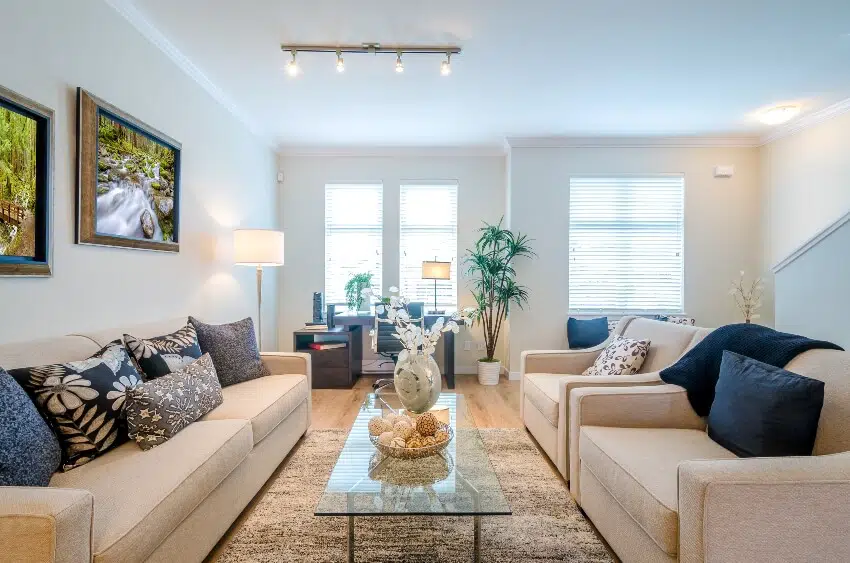 Decorative accessories are the finishing touches you can apply to your living room design. Focusing more on the aesthetics of the space, which is where you can add your own style, taste, and character. Here are options you can choose for living room accessories:
Area Rug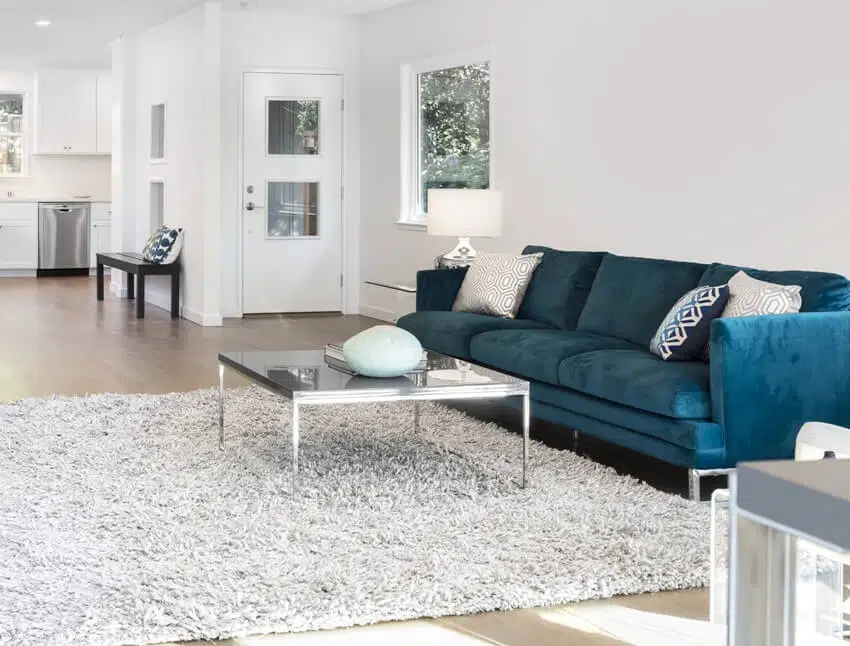 A soft area rug can be installed at the center of the living room, adding a cozy feel and inviting ambiance. It adds another element of plushness and comfort to the living room but can cost around $400 to $8,000 depending on the size and material of the rug.
Curtains
Curtains help control the natural light that enters the living room and provide privacy. You will need a sturdy rod to support these curtains and select a finish that matches your other decor.
The patterns of the drapes you use need to match the ambiance you have going for your living room. See our list of the types of curtains here.

Pillows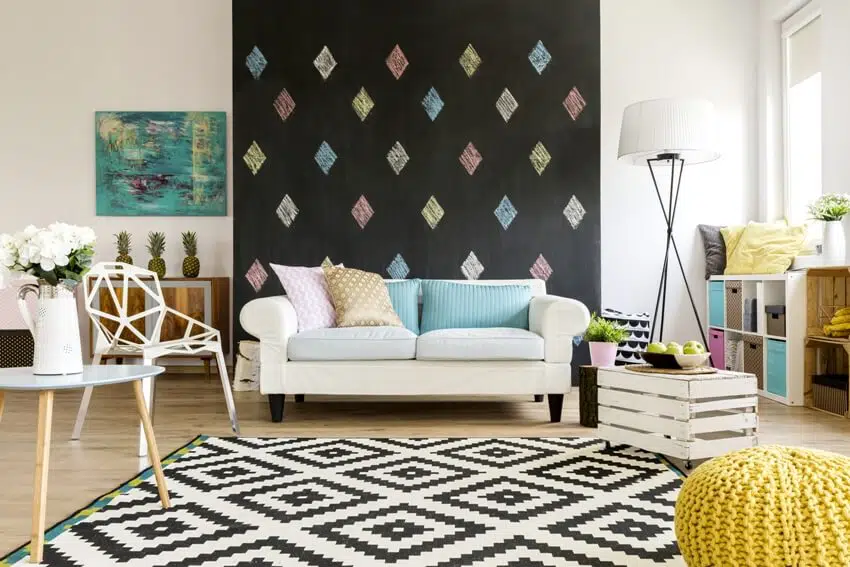 Pillows add comfort and back support when used in the chair or sofa but more than that, it is also like a cherry on top of the living room in terms of aesthetics.
You can use different types of pillows such as throw pillows or accent pillows, depending on your preference and they can cost $25 to $250 per pillow.
Throw Blanket
A throw blanket is an essential decorative accessory that's perfect for snuggling and cozying up with loved ones, especially during movie night. It also makes you feel comfortable by controlling the temperature and adds a cozy ambiance to the room.
Artwork and Wall Decor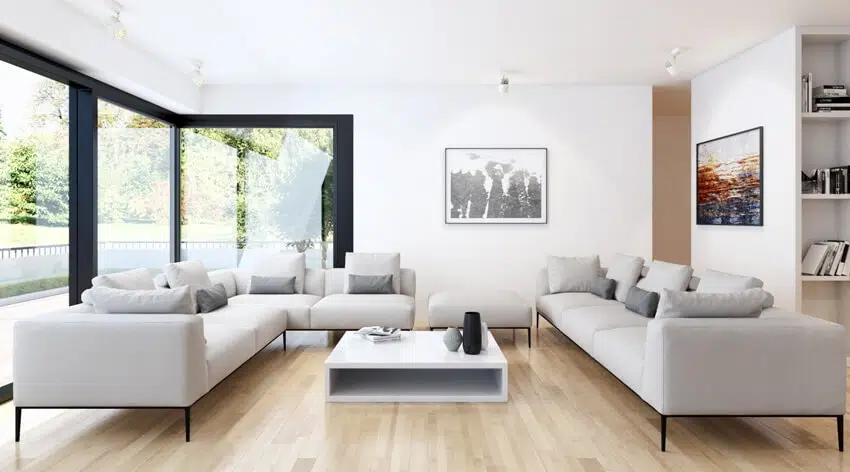 A bare wall can feel empty and heavy and adding artwork or wall decor can add character to the entire space. It is through wall decor and artwork that you can add your very own personality and style, from going for a classy touch to a unique and quirky one.
This is the part where you can dig deep into your creativity and have the freedom to touch up the room however way you want.
Plants and Greenery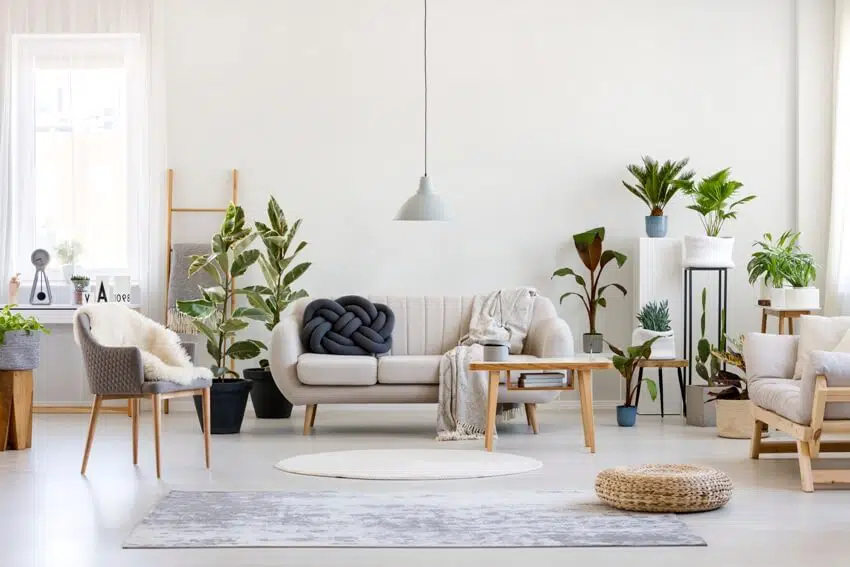 Greenery is a must inside the home, bringing a natural element inside your home. Besides adding fresh air as a benefit from plants, you also receive more natural aesthetics to the room and even benefit from texture to the design of the space. Having plants inside the room offers an inviting calm that makes you feel at ease.
The plants you choose should match the natural light that comes inside the room to make sure that it will not die. And make sure you know how to maintain the plant too. They can cost as low as $10 and as high as $500, depending on the specific plant you choose.
Did we leave any of your favorite living room essentials out? Let us know in the comments your must-haves for the living room below.
Visit our gallery of the beautiful living room decorating ideas for more stunning interior designs.