Welcome to our page showing popular gray living room ideas for traditional, contemporary and modern design styles.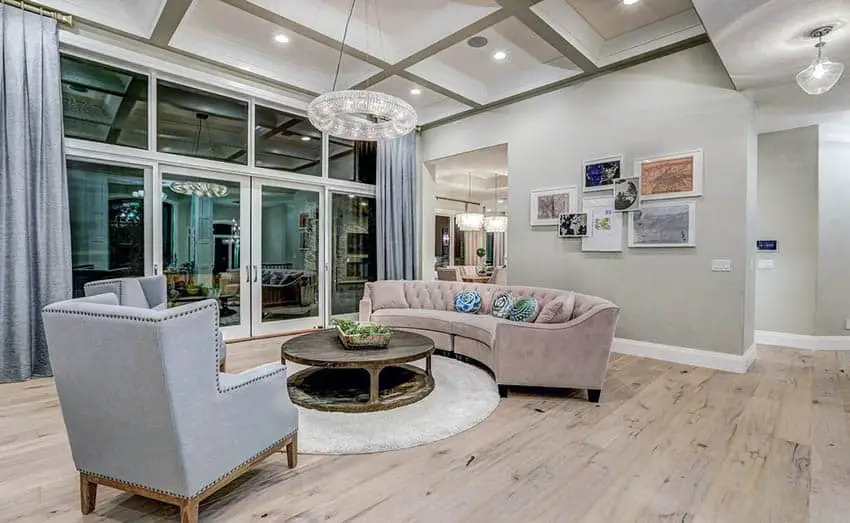 Grays for the living room paint color has really enjoyed immense popularity in the contemporary design scene. Despite the ever-changing color trends, gray has enjoyed steady popularity both as an accent color and as a neutral color.
It is often lauded for its versatility and adaptability, giving your spaces a fresh modern feel, while easily blending in with the other colors in the space. So if you still have that gray wall or modern gray couch from years ago, don't worry, it's not getting out of style soon as it becoming a staple basic color.
Since gray is a neutral color and is very versatile, it is a great color choice for covering large areas, especially on areas and items which you would like to keep for a long time such as: walls, wallpaper, curtains, flooring and upholstery.
These are items we don't want to replace too often, so it is better if we select neutral colors, making it easy to update the look of your room by just changing the style or colors of your accessories and accent pieces.
---
Gray Living Room Design Styles

We spoke with interior designer Danielle Porter for her ideas for giving gray new life in your living room design, and here's her response:
When it comes to color – gray is one of the most versatile and sophisticated options you'll find. It can be either warm or cool in tone, light and bright, or saturated and luxurious, and it can work with nearly any design style. We're going to explore the traditional, contemporary, and modern styles and how you can use gray to set the stage or complement your existing space.
Integrating Gray into a Traditionally Designed Living Room
The traditional design style is founded on the concepts of warmth, harmony, modest ornate details, and symmetry. Gray would be an ideal option in a traditional living room as it pairs nicely with the more classic furnishings and accessories.
It can be brought into the space in multiple shades and textures, creating layers and depth that complement and support the overall design.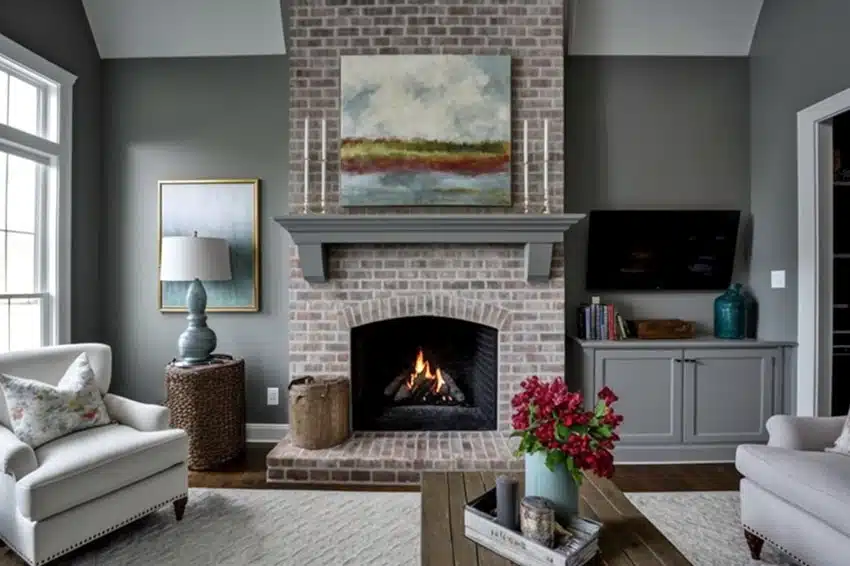 For example – a multi-toned gray brick around a fireplace would be a perfect balance to a cozy linen sectional or armchair. The textures create visual balance and don't compete or overwhelm one another.
For a different look, a dark gray plush fabric like velvet or chenille adds a touch of luxury and can be balanced by simply patterned pillows and light gray walls.
When determining colors to pair with gray in a traditional space, we recommend using gray as the primary color and colors as the accents.
Always consider bringing color in through pattern to keep if from dominating the space – think rich jewel tones like burgundy, navy, or forest green. Even gold can be brought in nicely in moderation.
Bringing Gray into a Modern Living Room
Characterized by clean lines, geometric shapes, and overall simplicity of form, modern design shines as a minimalist and even naturalist environment.
Popularized in the mid-twentieth century – it follow on the heels of Art Deco's height, where designers and homeowners alike flocked to the simpler, bright whites, and uncluttered aesthetic.
If modern design is your preferred style – consider gray your new best friend. It makes for a great backdrop – particularly the lighter shades but works just as well with unconventional accents.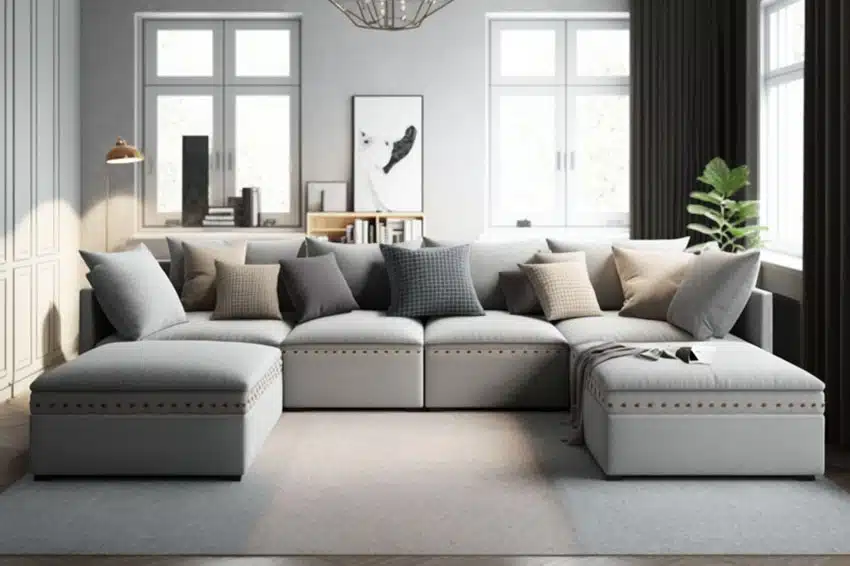 Consider bringing in a modular sectional or sculpted armchair – it will create a statement moment without feeling overwhelming or unbalanced with the overall aesthetic.
To elevate the aesthetic of your space – consider bringing in a touch of an industrial aesthetic through metal accents, which are naturally gray, but simple in nature.
Keep patterns simple, if used at all, and accent colors neutral – focusing on the contrast of woods, grays, white, and even blacks for starkness.
If you prefer a luxurious accent, a gray velvet sofa or plush shag rug works well when paired with abstract art or sculptural objects throughout the space. Using these elements together can evoke a sophisticated, avant-garde vibe that resonates with the modern design style.
Enhancing a Contemporary Styled Living Room with Gray
Contemporary design is thoughtful. It's sleek with hidden details that characterize a very curated aesthetic in a way the other design styles seek to achieve.
The use of clean lines, stark contrasts, cool tones, and overall simplicity leaves little room for error and pushes designers to create subtle sophistication.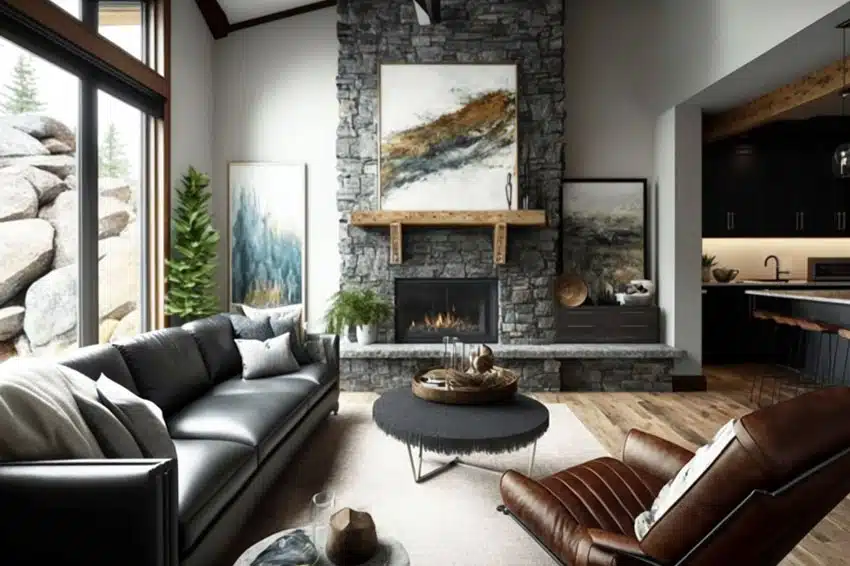 When considering how to integrate gray into your living room, think about smooth stone around a fireplace, a leather sofa, or even a glass coffee table with metal structural support. Metallic accents are also a great way to bring gray into the space while adding some visual interest.
It's easy in contemporary design to fall victim to creating a space that feels overtly stark, instead of balanced, clean, and simple.
By bringing in some subtle pops of color through art against a gray wall or a throw pillow on a gray leather sofa – subtle colors can feel more saturated and create depth and interest without being the focus.
When looking to design your living room and seeking to create a cozy, cohesive, and stylish space – lean on gray to bring it all together – no matter your design style!
---
How to Style a Gray Living Room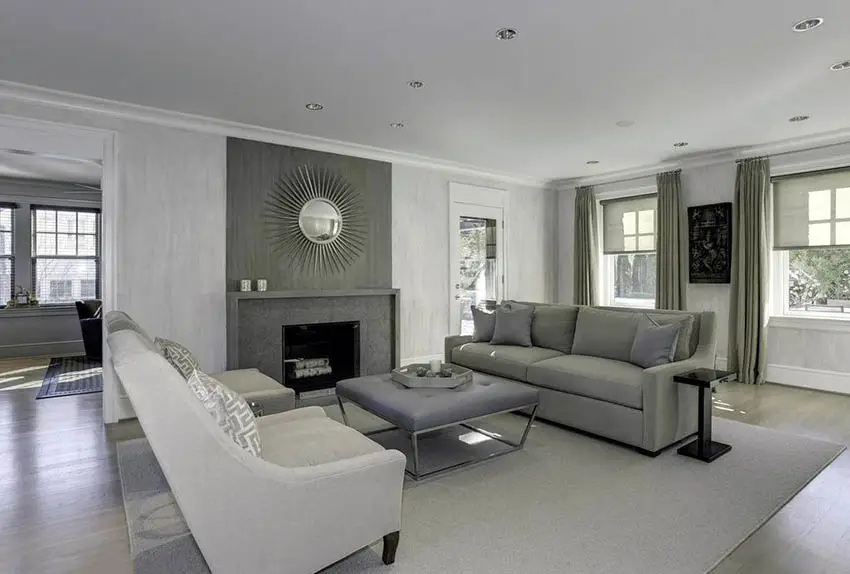 The living room is common area where the occupants and guests of the house usually gather, as such, the look of the living room is often made to appeal to a wider variety of tastes.
It often employs classic silhouettes and timelessly beautiful furniture pieces, to create a relaxed and welcoming ambiance. This is why grays are popularly used in spaces like the living room.
Here are some ideas you can use to style your own stunning gray living room design:
Tips for Using Gray Color in Living Room
Use metallic colors like silver for an elegant, modern feel
Experiment with different shades of gray for depth and contrast
Add a pop of bright accent color to avoid a boring or cold look
Use Silver & Metallics
The presence of metallic colors gives a touch of elegance with a modern appeal to any space. The metal foil finish of the wallpaper in the example below gives a more contemporary feel to the classic quatrefoil pattern and instantly gives the Living Room a luxurious feel.
By using a refreshing blue color for accent and warm-toned neutrals for the furniture pieces, the 'cold' feel of the wallpaper is toned down and is able to give a more homey feel to the space.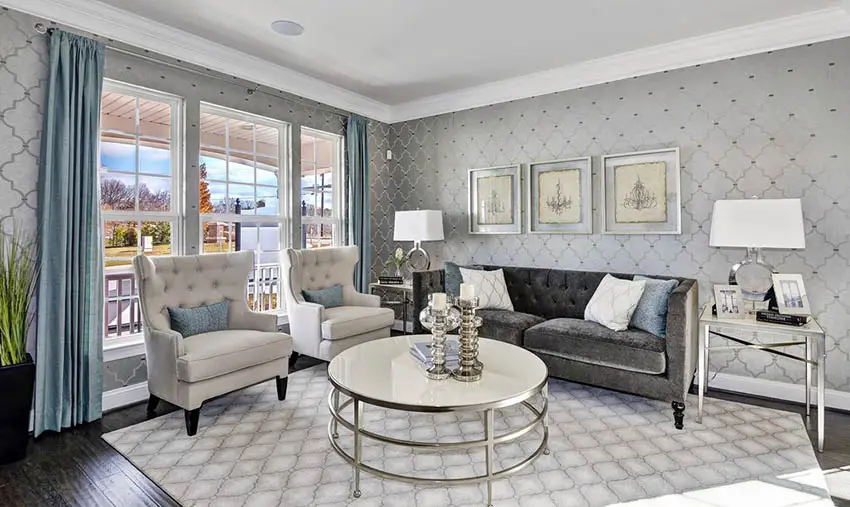 This elegant living room design uses a variety of patterns and finishes to make a stylish statement. The quatrefoil pattern on found on the wallpaper and the area rug is a classic, but the use of metallic gray/silver instead of a flat color gives it a refreshing update.
The other elements in this living room also ties with the unique wallpaper, such as the brushed metal legs of the furniture pieces and the chrome finishes accessories. You will also find the same quatrefoil pattern on the pillows and a touch of silver on the picture frames on the wall.
Play with Different Shades
Just like the rest of the colors in the spectrum, there are many different shades of gray available. If you intend to use a lot of grays in your living room, make sure you use a variety to create more depth and contrast & avoid making your space look too sombre. Don't be afraid to experiment. There is very little chance you could go wrong with gray.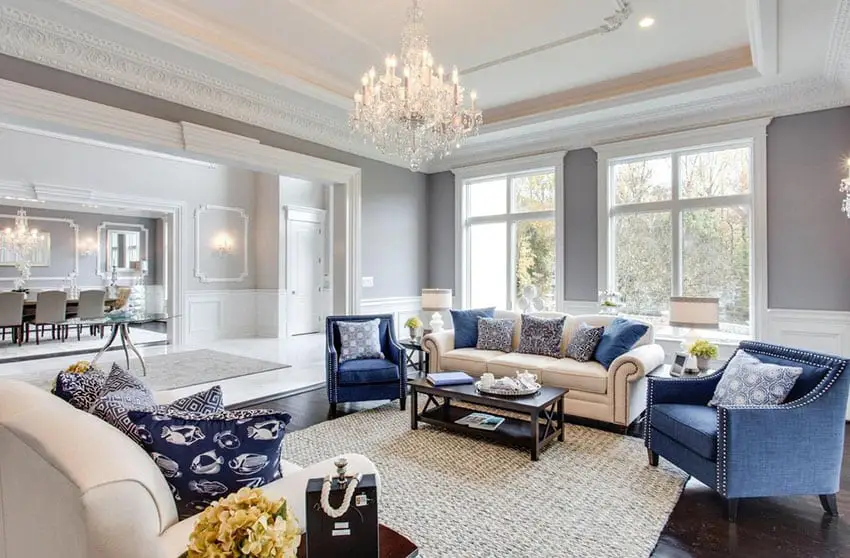 This beautiful gray living room with chandelier looks impressive with is pairing or gray paint and white molding. Dove gray is one of the most popular gray shades used as wall color because of its versatility. It is neither too dark or too light, and adds just a the right amount of contemporary appeal to any space you use it into.
In the example above, you will see that the living room uses furniture pieces in cream and navy blue, with nailhead details and classic silhouettes. The very classic style was given an update with its dove gray walls, paired with the white wall paneling and trims.
Add an Accent
The only danger of using gray is the possibility of making you space feel too boring or cold. A bright or bold accent color can easily solve such concerns. A pop of bright yellow? No problem. Even the most difficult colors to match easily look good when paired with gray, so have fun!
You can strategically use pops of color through decor pieces to brighten the design. Another subtle way to add a touch of gray is to use an area rug with gray patterns or gray background. A gray area rug will naturally blend with whatever color scheme you currently have, and will have no trouble matching with any other color scheme you decide on change into.
Gray Living Room Decor Ideas
Because of its popularity, it's not very difficult to find gray-colored decorative pieces / accessories. Grays abound in modern living room furniture and accessories, mostly in the form of metals. But it can also be found on other materials such as natural stones and concrete.
Depending on your budget and where you plan to apply grays in your design, some of our suggestions might be helpful:
Wallpaper – wallpaper is quite expensive, so when selecting one, always consider the longevity of its design and color. Gray is a fail-proof choice for wallpapers as it can easily blend in with other colors. Do try wallpapers with textures such as linen/fabric wallpapers or woven wallpapers, to help add more dimension to the surface.
Metals – it is easy to find metal accessories and furniture pieces. You can go for chrome finishes, brushed stainless steel, or even painted gray finishes.
Pale gray works just as well as pure whites when it comes to brightening spaces, but it has a bit more personality than the usual pure white. The gray walls also works well with the rustic living room wood flooring and furniture pieces in the room.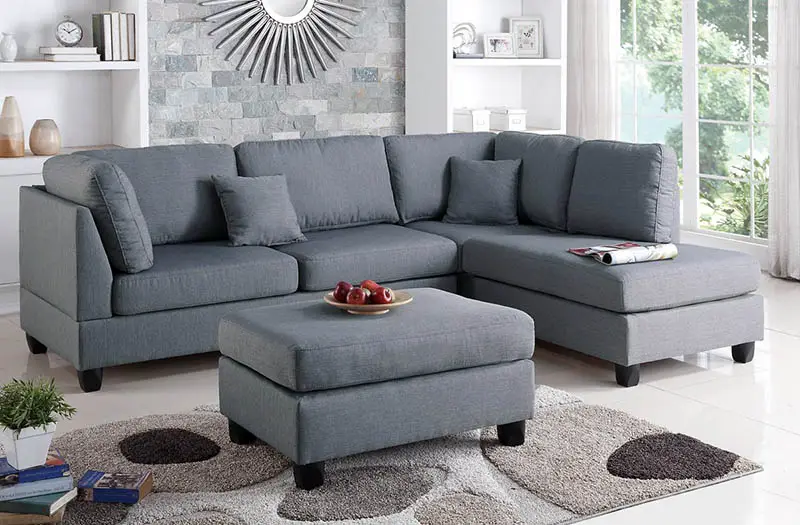 Gray sectional couch with ottoman

Aside from furniture upholstery and wall paint or wallpaper, you can also use gray-colored natural materials like the accent wall in this living room which uses natural gray slate stone cladding to add texture and color depth to its surface.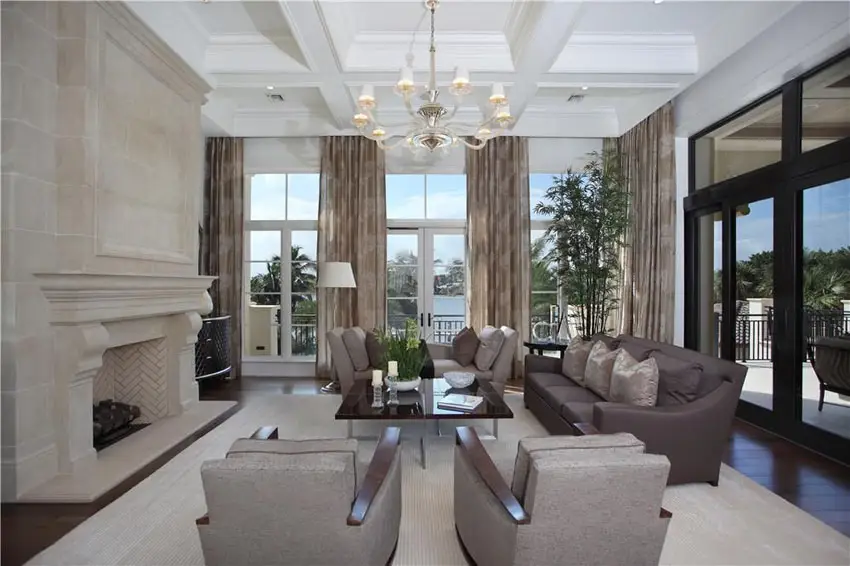 To match with the warm color scheme of the living room, the gray upholstery of the accent lounge and armchairs has a warm undertone as well, making it blend with the other chocolate-toned pieces in the room.
Upholstery – Big and expensive furniture pieces such as sofas are something we usually intend to keep for as long as we can, so using a neutral color for its upholstery will save you a lot of money versus constantly reupholstering to the currently trendy color.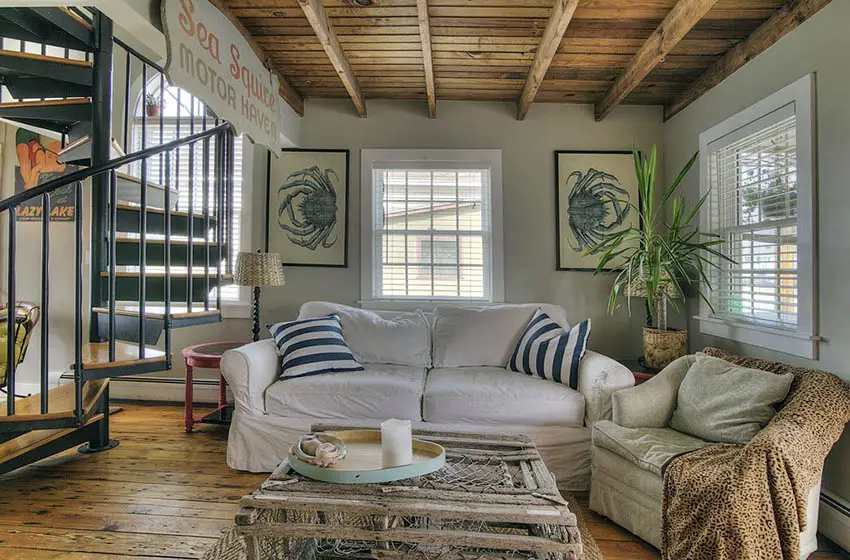 Paint it gray – one of the cheapest ways to add a touch of gray to your living area is to paint it. Go for light, soft grays to create a light a refreshing vibe, or go for warmer grays like the example above for a more cozy feel. You can also use gray to paint furniture or other accessories in the living room.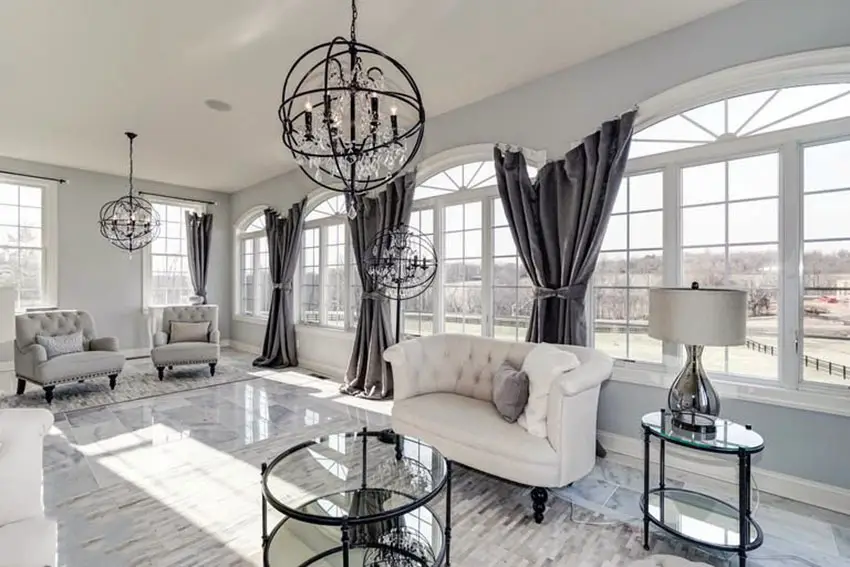 Curtains and pillows are another easy alternative is to use grays on your curtains or the throw pillows. This will work even if your furniture or your walls uses bolder/brighter colors.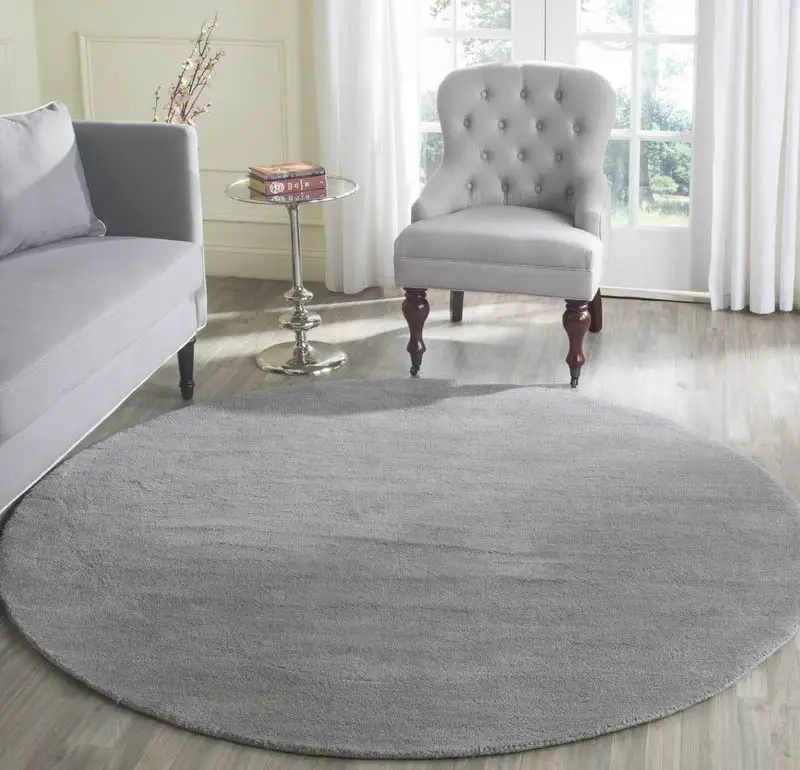 Gray wool area rug

This living room space makes a central sitting area around its large gray area rug. These types of rugs are great for designating a seating area as well as unifying functional zones in the home.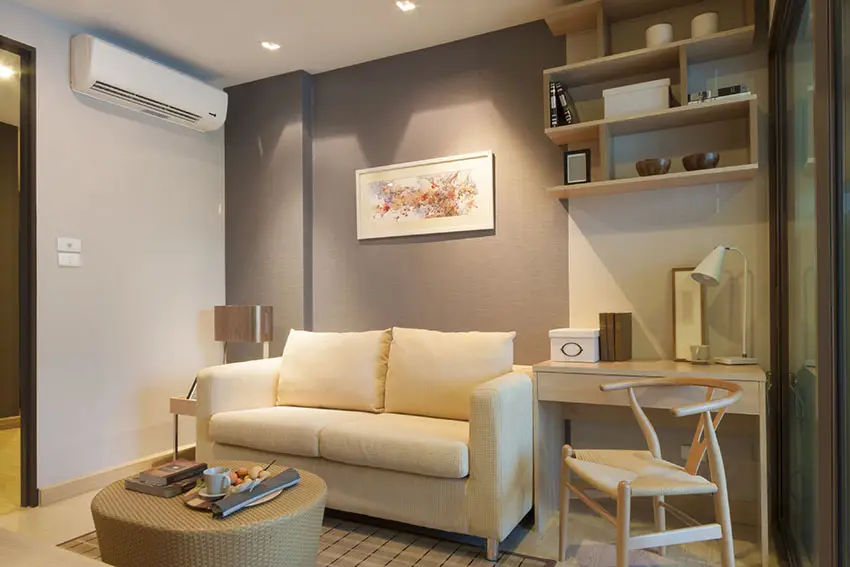 You don't have to cover a large amount of area in gray. Like in this example, only a small portion of the wall was covered in gray wallpaper to add a cool tone to the otherwise warm color palette of this small living area.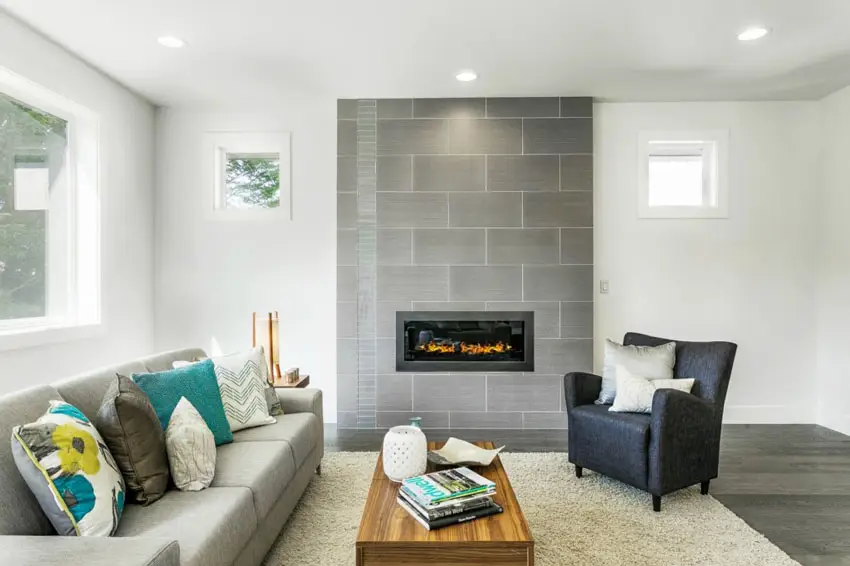 By simply adding gray tiles on the center of the wall, this contemporary living room is already given more appeal and texture versus keeping it plainly white.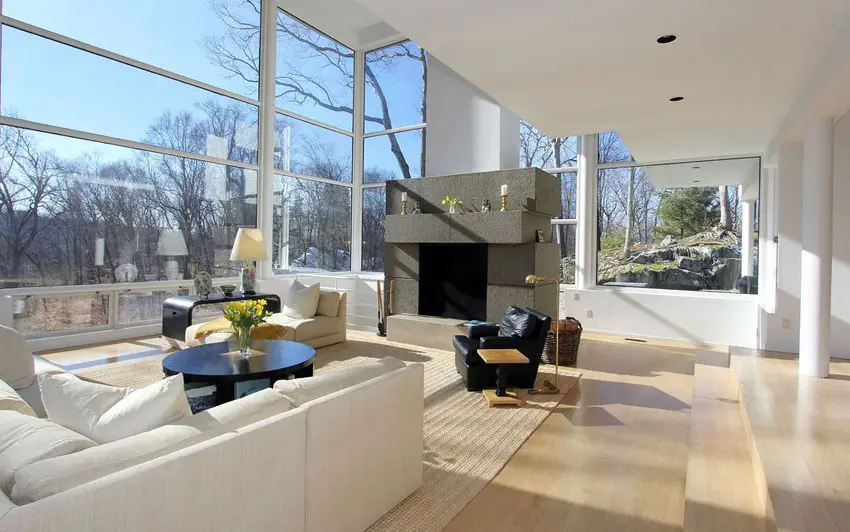 Accent wall – you can also use gray as an accent wall, by using paint, wallpaper, tiles or even natural stones. Grays also look good combined with color schemes using the colors taupe, beige, creams and browns, as it helps add a touch of cool tone to the warm palette.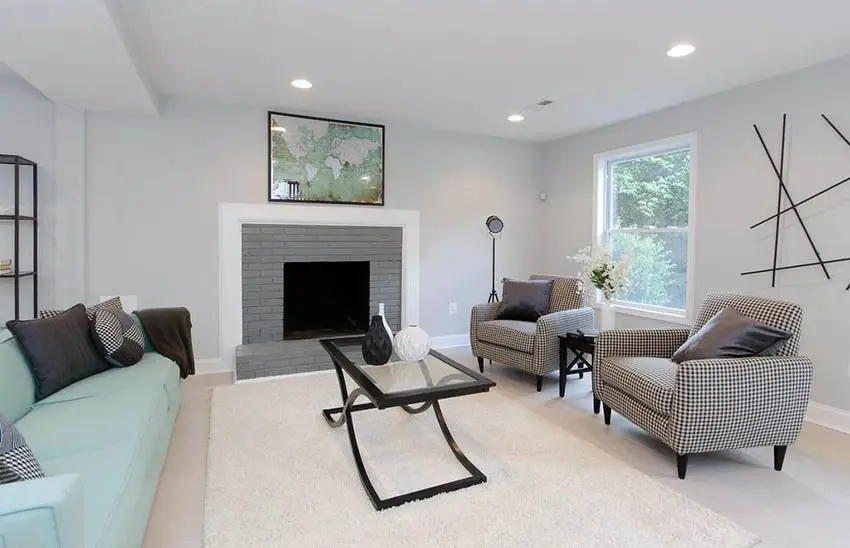 A gray painted brick fireplace can be an interesting way to bring this color in to your living room design. Since one of the things that dates a room is its fireplace, painting it can be a great way to update the room and create a new look.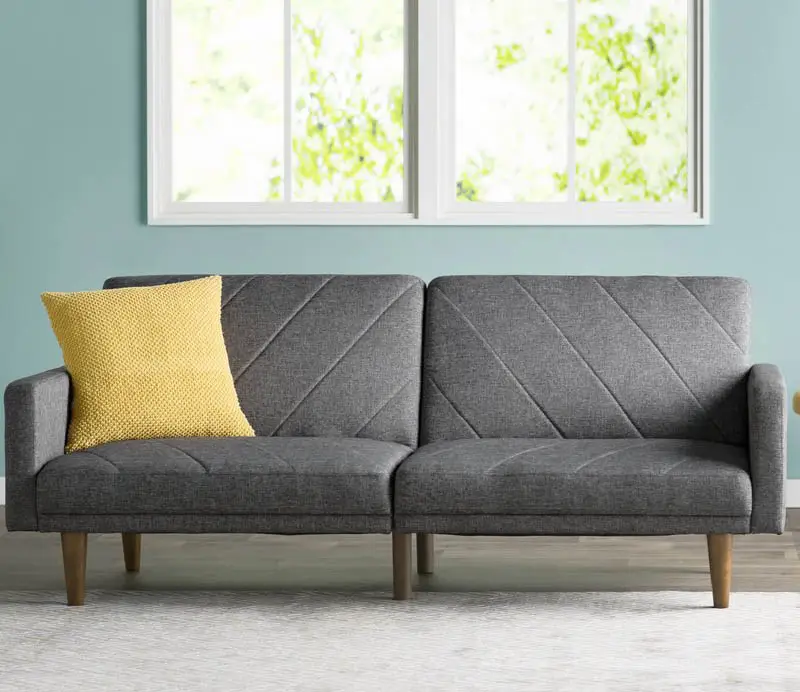 Gray sleeper sofa
This contemporary sofa in gray upholstery would look good in any living room, given its neutral colored upholstery. You can easily accessorize it with colorful pillows to match the color scheme of your choice.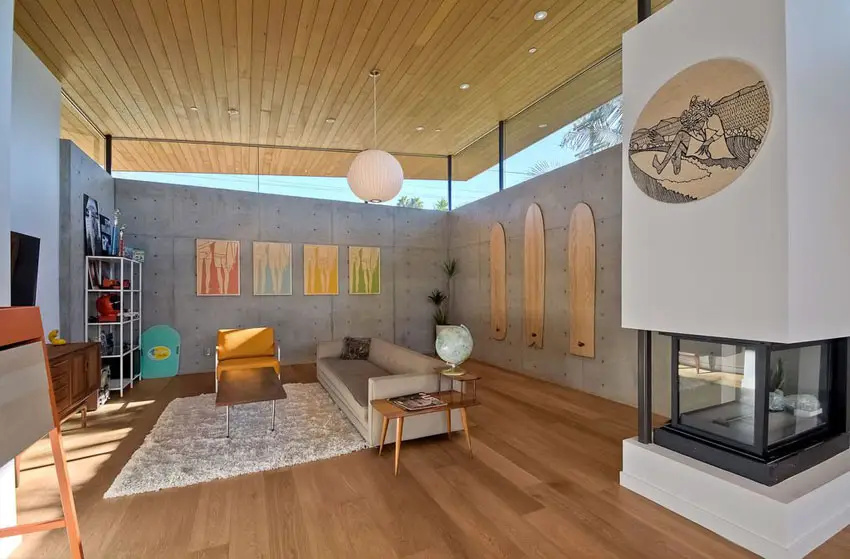 Concrete – concrete is a trendy material commonly used in contemporary designs, most especially on industrial style interiors. Concrete finishes adds a rough and rugged look to your living space and an industrial gray look that can be adorned with colorful decor to add your own personal touch.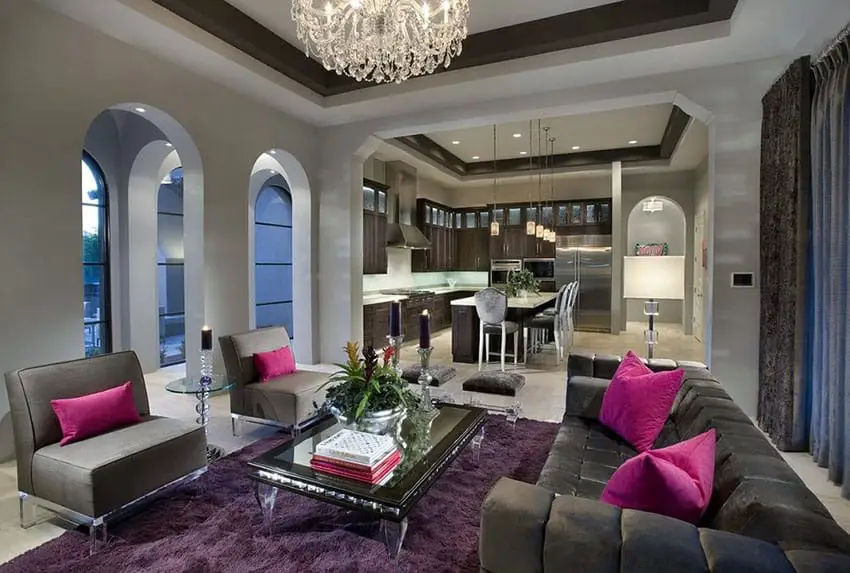 This grand living room uses a variety of grays combined with touches of color to create a glamorous design. Dark gray furniture and matching curtains combined with light gray wall paint gives this space an alluring look.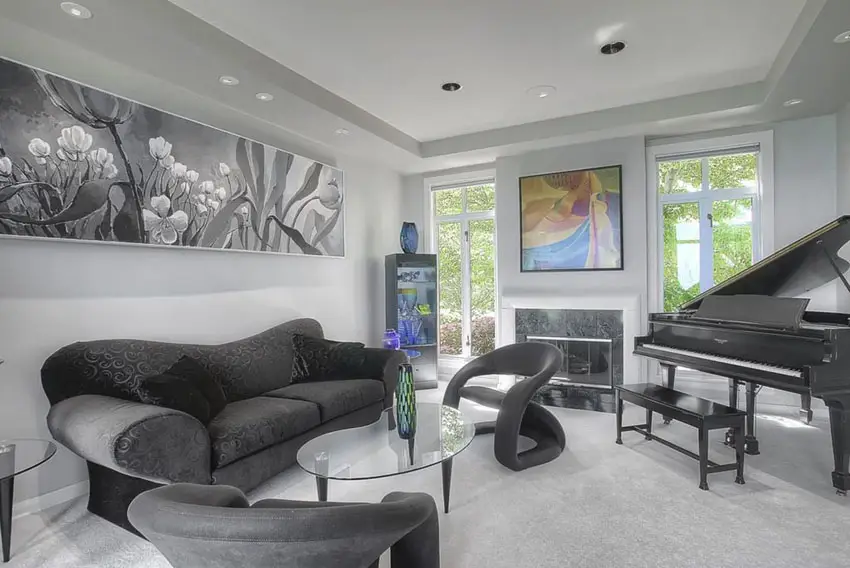 A paler, more toned-down gray was used for the walls and the carpet flooring in this living room to contrast with the black furniture pieces and brighten up the space. A few accent accent artwork and accessories in bold and bright colors helps spice up the monochromatic color scheme of the space.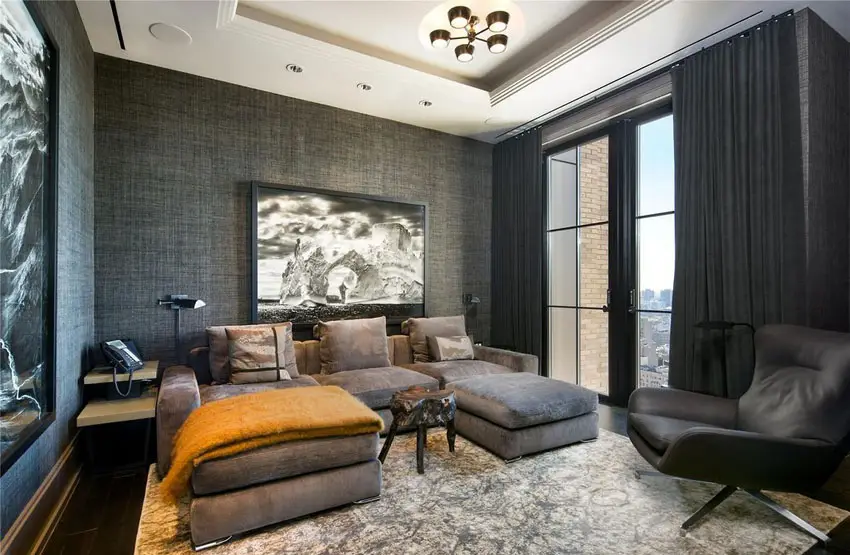 If you want a more cozy and relaxed living room design, try using darker grays for a more subdued and moody ambiance. This small living area uses linen-textured wallpaper in dark gray, giving the room a mysterious yet elegant ambiance.
When it comes to finding gray living room ideas the sky's the limit to the possibilities. Gray is an easy color to work with, so don't be afraid and have fun with it. For more pictures take a look at our contemporary living room ideas gallery here.