These built-in bar ideas showcase pictures with the best materials & finishes to consider, where to place a home bar, interior design elements, cost, and sizes.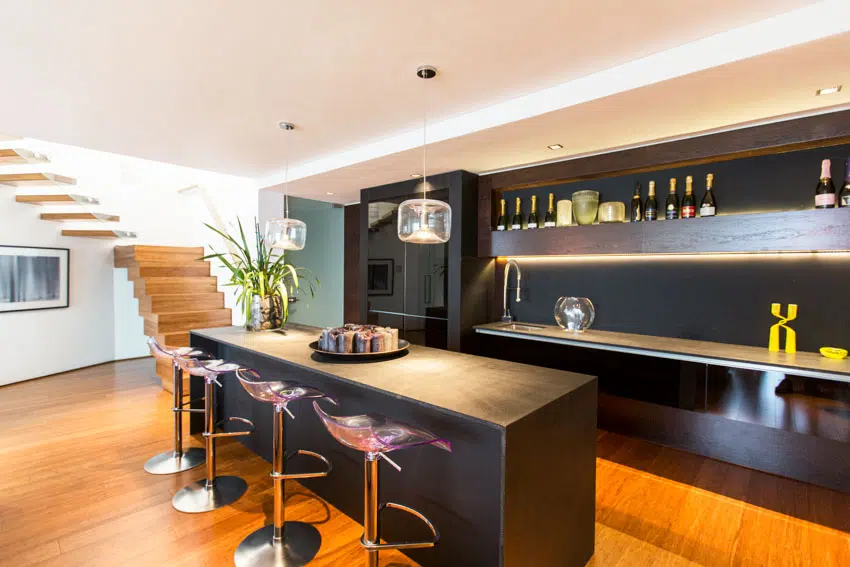 Built-in bars can be stylish and practical additions to your home, especially if you love entertaining guests. Easy access to the spirits means less time traipsing around to your wine cellar and more time entertaining.
From the rustic charm of your classic brick-walled backdrops and dark wood to chic travertine counters with neon back-lighting, you can incorporate many built-in ideas into your home and lifestyle.
Integrating a bar in your home, whatever style or size, looks impressive, especially if it goes with the rest of the room's theme and is not just an afterthought.
Types of Built-in Bars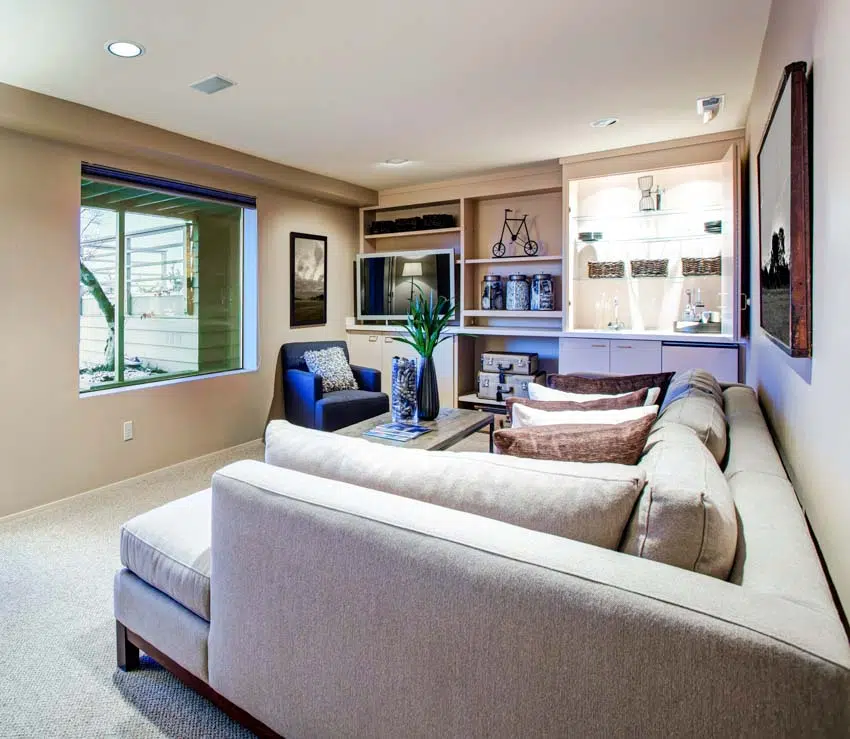 Built-in home bars are worth investing in if you plan to have a permanent gathering spot accessible to you and your guests. We've curated several types of built-in home bar ideas to spark inspiration for your own designs.

Built-in Home Bar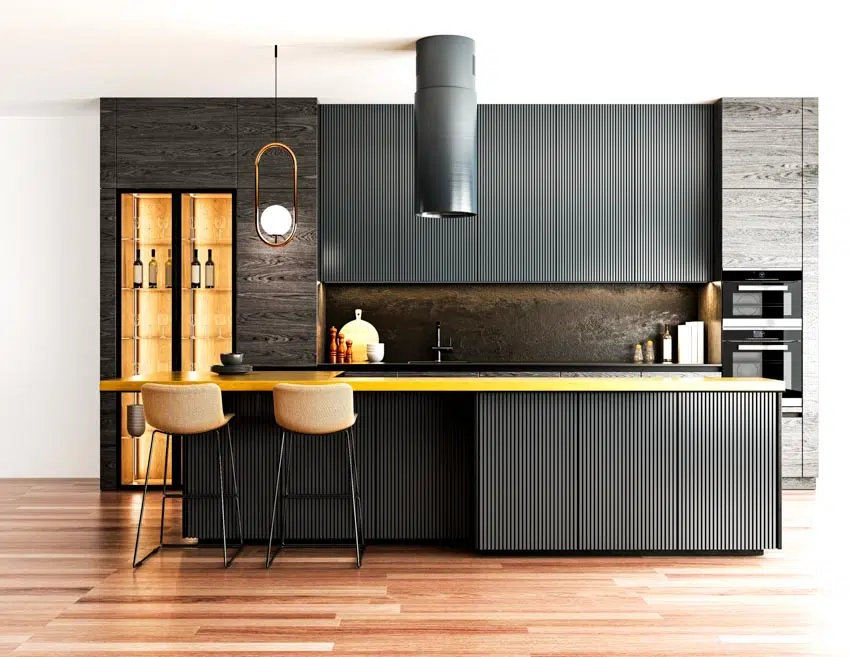 A built-in home bar essentially has a service counter, wine shelves or racks, stools, glassware, an icemaker, storage, and an enclosed trash bin to have a functional home bar in most types of room in a house.
Other additions such as a sink, refrigerator, dishwasher, recycling bin, back counter, and linen storage are highly recommended for larger spaces. See our list of home bar appliances here.

More than having a stunning wine display, it's important to note that your built-in home bar is a working space. Design considerations such as task lighting and countertop material that won't stain easily should be a priority.
Built-In Wet Bar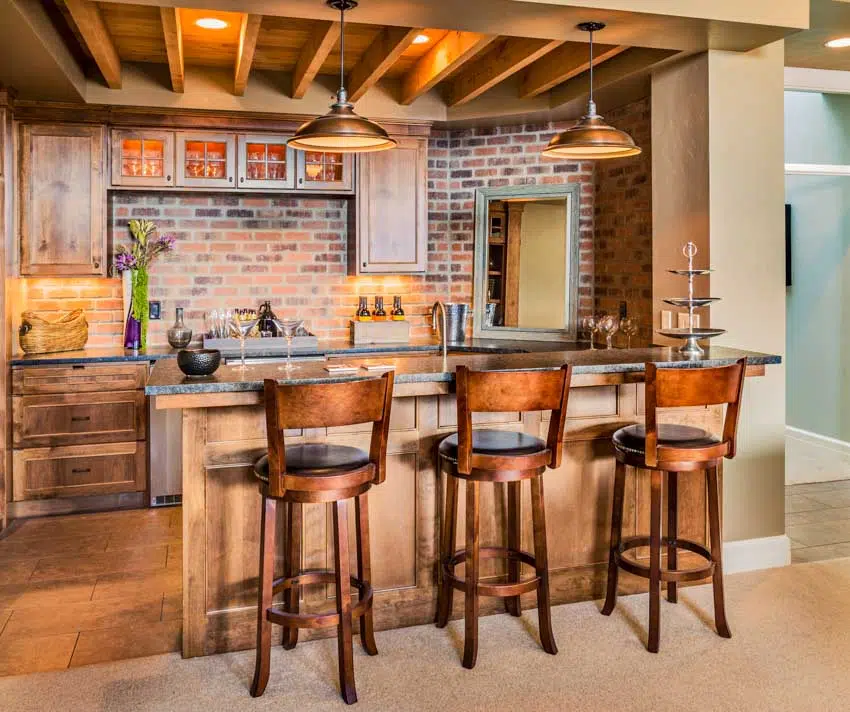 A built-in wet bar is basically a bar with a sink and running water, making it practical when you want a full functioning bar independent from your kitchen. Aside from your sink, installing an ice maker and wine shelves is a standard for built-in wet bars.
Built-in Dry Bar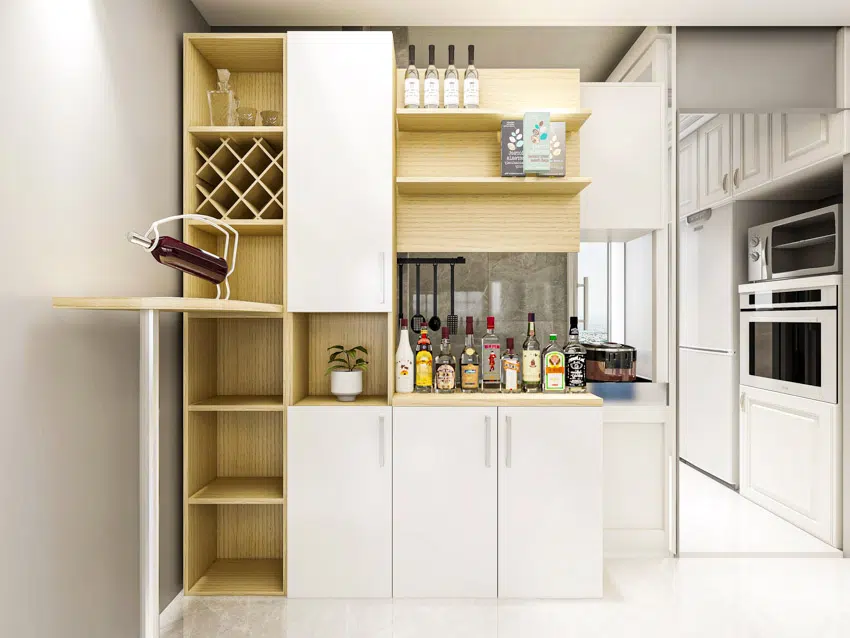 Technically, the only difference between a dry bar and a wet bar is the plumbing and essentially will have the basic counter where drinks are prepared and served.
Built-in Coffee Bar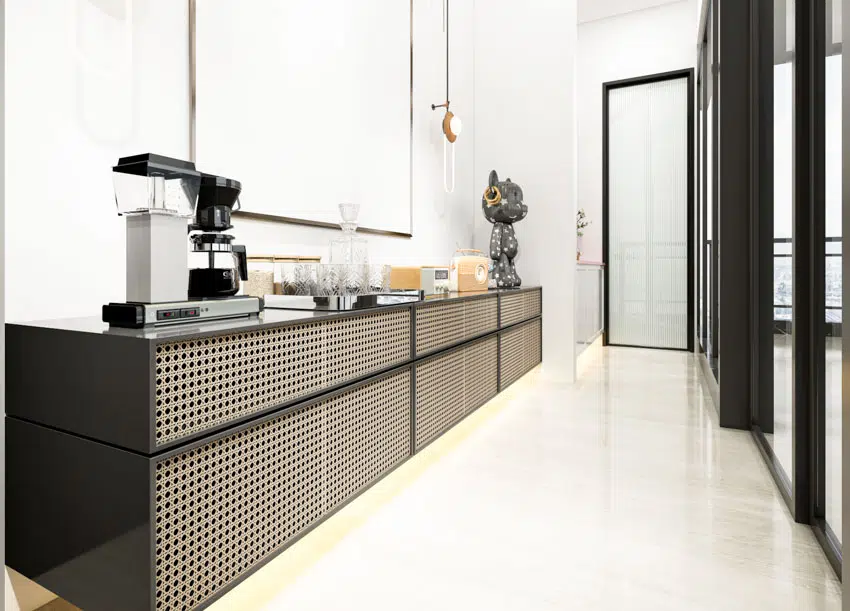 A built-in coffee bar is basically a counter where coffee is prepared and served. Additional items such as light refreshments, candies, and other desserts can be prepped as well.
Where to Place a Built-In Bar?
The first to consider when thinking about where to place these built-in bar ideas is what room in your home you most entertain guests. If it's in the living room, basement, or any area that's away from your kitchen, it is recommended to build a wet bar.
This should be done to accommodate the lack of a sink and running water when prepping your cocktails. A dry bar works when you have a limited budget as you have to consider the plumbing.
Selecting the best location for your built-in bar is one of the first considerations when building your bar, as it dictates the dimensions, features, the types of lighting fixtures to be used, and other elements. This area should be accessible but at the same time does not take much space and won't obstruct other activities in your home.
Built-in Bar Design Considerations
• Budget
• Circulation and Layout
• Seating Space
• Plumbing Works
Dining Room: Adding stylish built-in cocktail nook ideas in your dining room can elevate the look and function of your dining room, not to mention making it convenient to have a quick toast after or during a hearty meal.
If you've got an existing closet in your dining room, a shallow closet is the perfect base frame to build around your built-in mixology corner. Free the shelves and remove the drawers to reveal the shelves. You have an option to remove the doors as well for open shelving and convert the space.
Living Room: The living room is a sensible area to set up your built-in cocktail nook as you want it closest to a social environment that's accessible for guests. Moreover, the living room most likely has the available space to accommodate the number of seats.
While the living room bar has that relaxed vibe, it's also practical to have your lively drinking sessions away from private spaces such as the bedroom or study area. A showcase of your wine collection can be an added wall feature for your living room.
Kitchen: The kitchen is the heart of the home and can be your entertainment hub at the same time with a built-in cocktail nook. The great thing about built-in bars in kitchens is that you can incorporate a sink or have it adjacent or integrated into your kitchen counter to reduce plumbing works.
The kitchen is the most convenient place to place your built-in cocktail nook as you've got all the elements needed for a functioning wine station, especially if you have an eat-in kitchen. Just add a kegerator, icemaker, and wine shelves, and you've got yourself a built-in cocktail nook right in your home.
Outdoor Deck: Fresh air, spacious, and relaxing, the outdoor deck is the perfect space for entertaining guests during the day or night without trashing your home or waking up your little ones.
Popular built-in bar ideas use repurposed materials, such as corrugated galvanized iron sheets, pallets, or barrels, and adding pizza ovens or an outdoor TV by the pool are other ways to elevate your cocktail nook. You can connect your interior kitchen with your outdoor deck cocktail nook with a pass-through window.
Mancave & Garage: The best way to enjoy the ultimate man cave is to have your very own cocktail nook. From the rustic and urban man cave to a Kingsman-inspired gentleman's bar, the garage is the perfect getaway space that's cozy and accommodating. A built-in bar in your garage will need running water and a sink. A comfort room and wash area are highly recommended as well.
Bar Design Ideas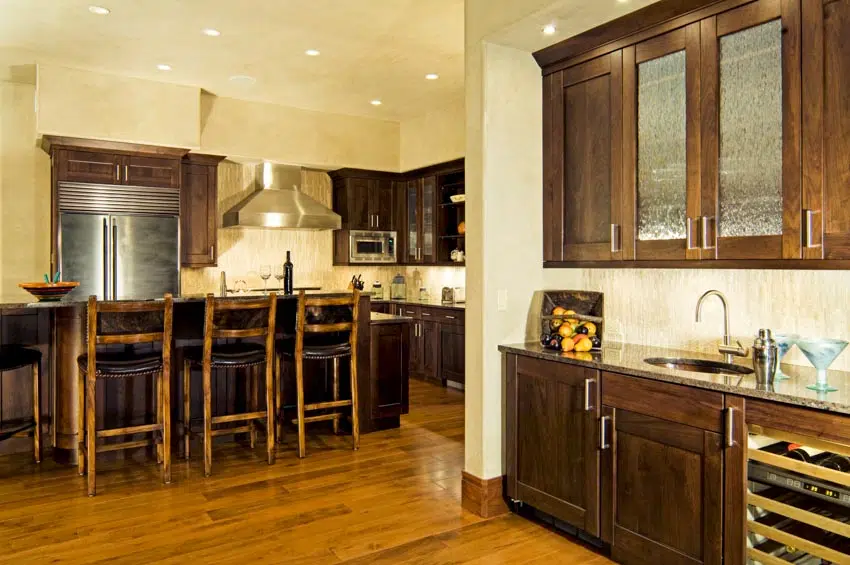 Here we share the different built-in mixology corner ideas you can consider.
Types of Cabinets for Bars
Having ample and easily accessible storage space is important in keeping your built-in cabinets functional and tidy even while entertaining a good number of guests at a time.
One design trend that goes in and out of fashion is a preference for open shelves and racks for wall-hanging utensils (instead of storage in drawers, cabinets, or other covered places). – Home Comforts The Art and Science of Keeping House, Cheryl Mendelson
Open shelves are practical for your stemware, making it easier to grab a wine glass anytime you feel like pouring down a glass of wine. A wine collection on floating shelves is also practical and more aesthetically pleasing. There are a lot of creative ways to showcase your wine collection.
Wine Display Bottle Ideas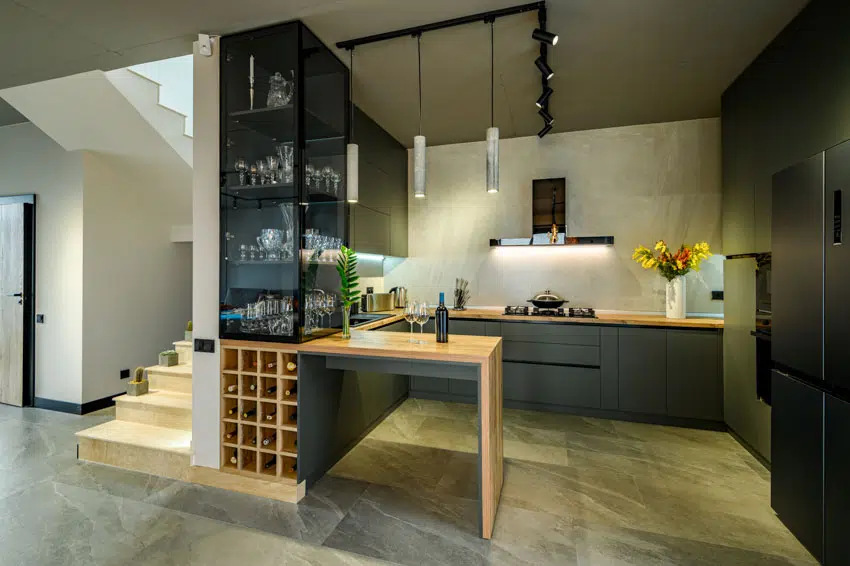 • Flat wine racks: A classic way to display simple and straightforward wines.
• Invisible acrylic wine holder: If you're looking for a cheaper way to simulate the trendy glass and chrome floating shelves, the acrylic wine holder is a great choice to achieve that seamless, invisible shelf at a cheaper cost.
• Salon-style wine racks: Use the industrial pipe framing and repurposed wood shelves for that old west vibe. You can even throw in old west knobs for your base cabinet hardware.
• Built-in wine closet: A wine closet design is the perfect place to showcase your collection. It is a small room with built-in storage for your bottles. They generally have glass doors to enable one to see in. Under cabinet mood lighting can be used to create an inviting ambiance.
When building your liquor cabinet, don't forget to include drawers for your utensils such as knives, jiggers, can openers, shaker sets, or muddlers. It helps to have drawers with divisions made for these utensils for easier access and prevent the tools from getting damaged.
Take advantage of having a customized built-in cocktail cabinet. You can conceal your built-in wine rack or hide other parts, such as the dishwasher or recycling bin.
Bar Countertops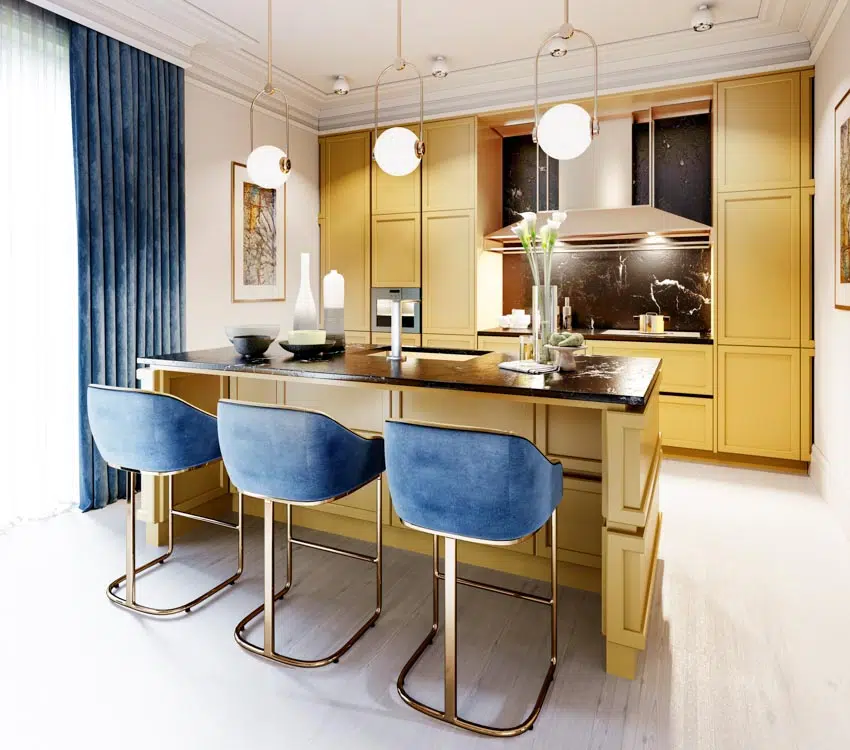 Material is the first thing to consider when choosing your built-in mixology corner countertop. Treat your mixology countertops just like how your kitchen counter, especially if you plan to prepare citrus or other ingredients that require chopping and spill liquids on your counter.
A sealed granite or quartz counter and other hard-wearing materials for your counter are the best as its convenient to work on without worrying you might damage or stain your counter. Choosing the best material that matches the use of your bar counter will extend the service life of your built-in mixology corner.
Bar Seating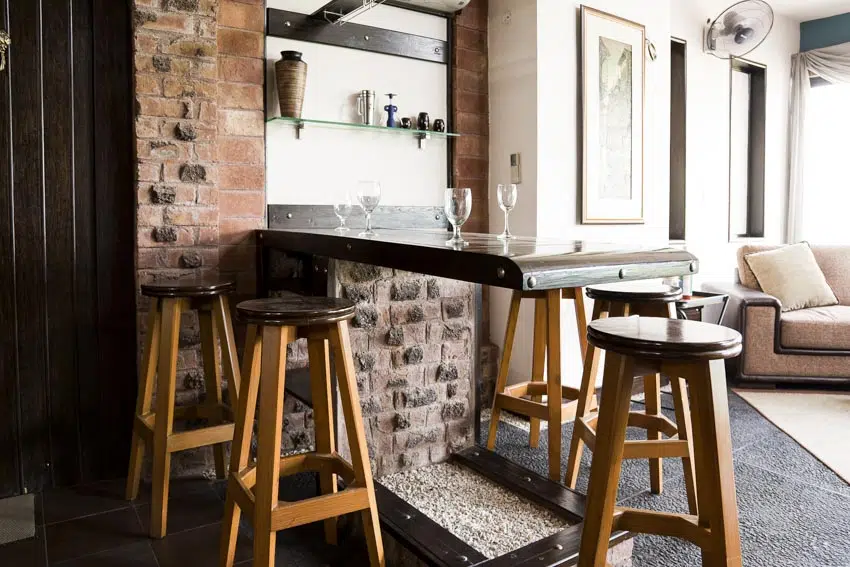 If you've got ample space for these built-in mixology corner ideas, having it mounted or having heavy types of bar stools will ensure that these seats are not moved away from your bar area.
Aside from height, make sure you've got a comfortable high seat that can accommodate users during long hours of use. Generally, upholstered high-topseats are the most comfortable. Contoured seats with low to high back support are considered the most comfortable design.
Bar Seating Fabric & Materials to Consider:
• Breathable Cotton and Linen: These fabric high chairs are skin-friendly and soft while allowing the skin to breathe.
• Luxurious Velvet: More than providing a luxurious and inviting look to your home mixology corner with the velvety texture, it's a classic fabric that is soft to the touch. A downside for velvet bistro stools is that pet hairs can easily get stuck through the raised fibers.
• Exquisite Leather: Authentic leather can provide very comfortable seating. While faux leather is budget-friendly, you might want to invest in natural leather for a more breathable textile. Leather is hard-wearing and looks exquisite suitable for contemporary, industrial, or rustic-themed rooms.
When choosing revolving high chairs, opt for models that have return springs, so you don't have to tidy up your stool every time they're left disoriented. Don't forget to find high chairs with kickbacks that are made of metal or durable plastic to prevent your footrests from chipping.
Bar Appliances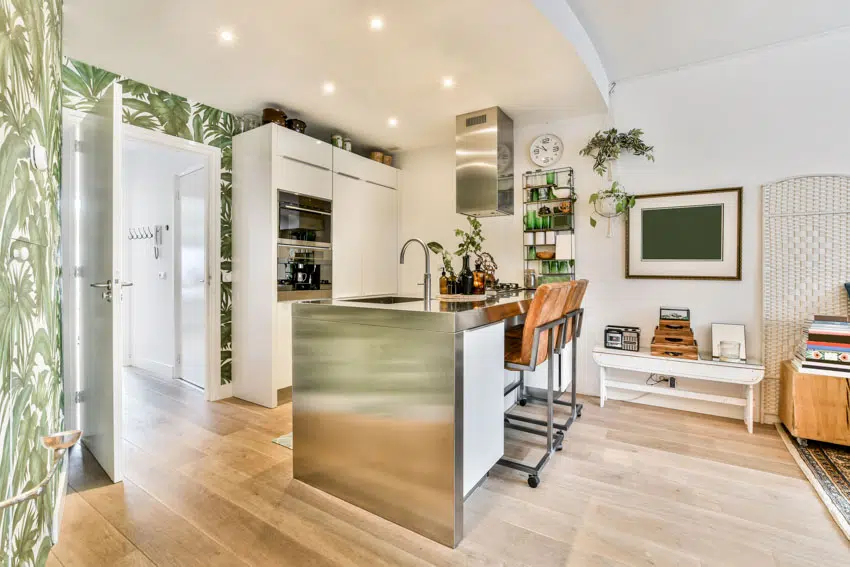 Dishwasher: A built-in dishwasher is recommended for any cocktail nook, especially when your kitchen is far away from your mixology corner. This saves you time and reduces the need to carry wine glasses after use.
Wine fridge: Similar to your regular fridges, you can keep the humidity at a low level. Wine fridges should have around 60 to 68 percent low humidity. Lower than 50 percent can dry out corks over time, allowing oxygen to enter the bottle, reducing the quality of the wine.
Kegerator: The benefit of having a kegerator added to your built-in mixology corner is that you'll have fresh beer anytime. You can store beer and other beverages within the stainless-steel keg of your kegerator to maintain their freshness.
Mixology Accessories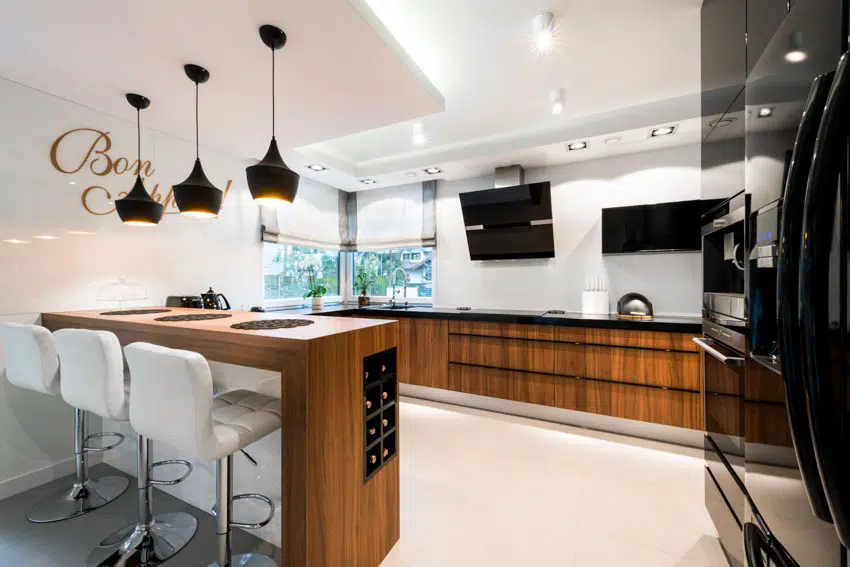 You can add wine accessories such as aerators, wine bottle stands, muddlers, drink mats, and shakers are
Rimmers: Whatever shape your glass rim has, you'll always have a perfect display of cocktails with salt, cocoa, lime juice, or sugar on your glass. Most glass rimmers come with individual compartments for salt or any other condiment you want to add to your cocktail.
Garnish Stations: Maintain an organized mixology station with garnish stations. Along with your condiment dispensers or mixology caddies, the garnish station can have multiple functions in your mixology corner. Present finger foods like olives, cherries, nuts, or chocolates in one tray.
Liquor Dispensers. Pour drinks for everyone fast with a liquor dispenser. A rotating liquor dispenser with LED lights means you can cut the time pouring drinks while having an attractive addition to your mixology corner.
Total Bar Installation Costs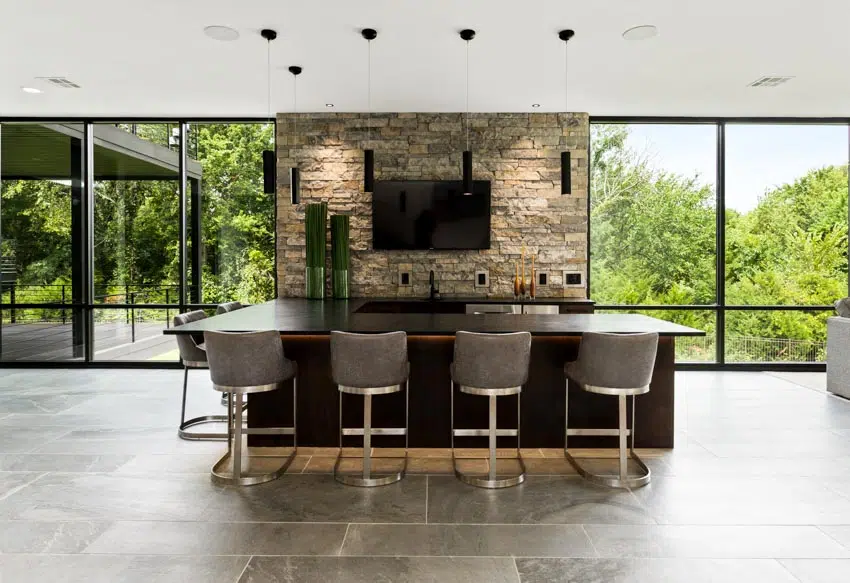 Generally, built-in wine corner costs have a wide range of pricing, depending on the size and design. The cost to build a built-in mixology corner ranges from $500 to $22,500, with $8,000 as the average cost.
For custom work, you'll likely shell out more. Expect to spend $5,000 to $20,000, while premade units will cost from $800 to $6,000, excluding utilities such as lighting, plumbing, and electrical connections.
Two Custom Options:
1. Customized Built-in Mixology Corner: $5,000 to $20,000. You'll hire a craftsman to build on site to fit your existing space, your preferred style, and added features with a customized built-in bar. It's easier to maximize your space and have an efficient built-in mixology corner at home that fits your needs or lifestyle.
2. Premade or Readymade Built-in Spirits Station: $800 to $6,000. On average, you spend $1,000 to $5,000 per square foot less than a custom built-in mixology corner, while you can enjoy your home drink counter faster since labor is minimized. However, you need to consider the lead time in receiving your mixology corner, especially when purchasing from overseas.
• Utilities such as electricity, lighting, and plumbing will require tradespeople. Electricians can charge from $50 to $100 per hour for additional or rerouting of outlets.
Lighting is another added cost where light fixture installation can cost around an affordable $150 to a costly $1500 depending on your lighting design.
• Flooring around your mixology corner areas, such as tile or hardwood floors, will add $1 to $5 per square foot.
• High chairs, especially for adjustable and floor-mounted versions, will significantly add to your cost. However, there is a wide range of options for chairs or high stools you can choose from, and they will range from $50 to $300 for leatherette or acrylic chairs. Upholstered and swiveled chairs can cost around $450 to $600 per chair.
• A wine cooler, beverage refrigerator, ice maker and kegerator, and mini-fridge should be added to your total expected cost if you wish to add any of these built-in appliances.
• Added renovations such as installing a wine cellar can add $40,000 on average to your total cost.
How Much Does It Cost To Build A Dry Bar?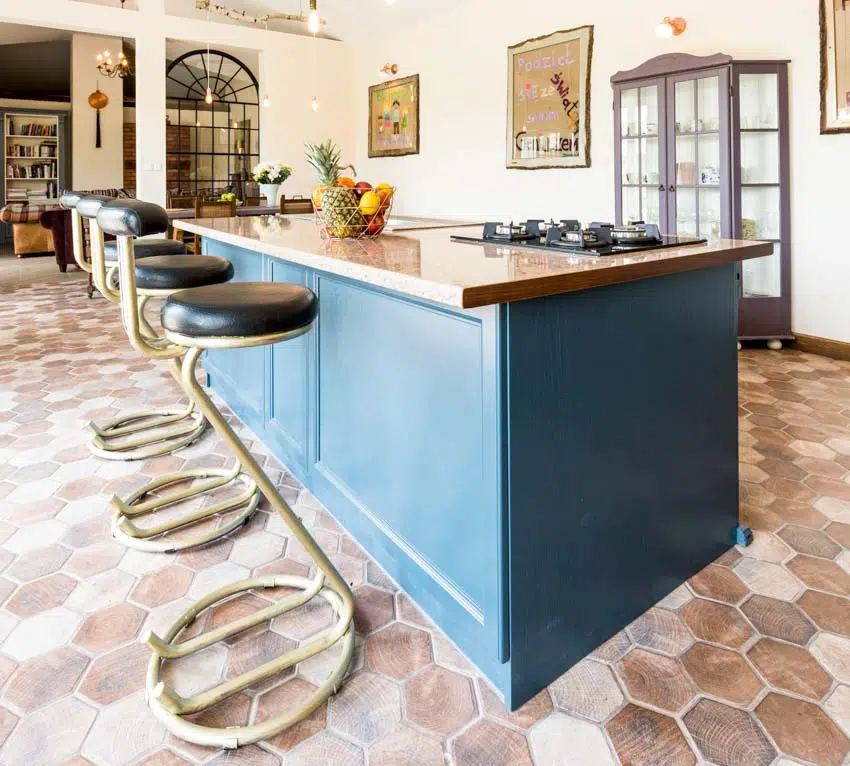 The average cost to build a dry bar is around $8,000, with the range of $500 to $22,500. Customized dry bars are naturally more expensive than your premade units due to the added labor, which can run from $5,000 to $20,000 and up. Premade wet bars, meanwhile, will cost $800 to $6,000, excluding lighting or outlets.
A dry mixology nook is less labor-intensive compared to a wet counter since it does away with the plumbing and fixtures needed in a wet nook and will generally cost less than around $1,000 to $5,000 per square foot than your standard size wet drink counter.
• Premade sit-down dry bar: $1,200 – $6,500
• Butcher block countertop: $35-$75 per square foot
How Much Does A Custom Wet Bar Cost?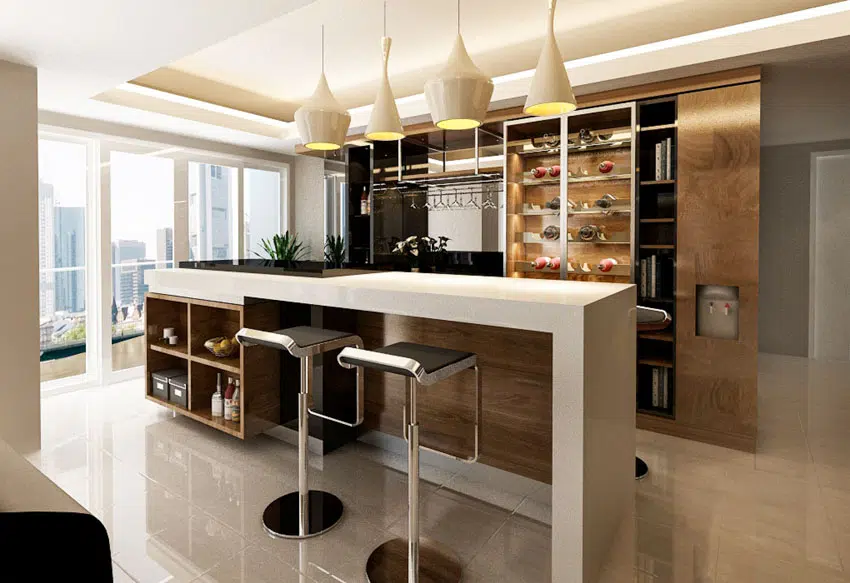 Costs start at $2,000 for a custom dry mixology corner that can go up to $4,000 for a simple layout and design. Larger dry bars with added features such as marbled countertops can cost around $6,000 to $12,000.
Apart from size and other added features, the cost adds up significantly depending on the material you use, especially for the counters and surrounding areas such as the flooring or bar backsplash.
Granite countertops, for instance, will cost around $35 to $75 per square foot, while a Formica countertop is at a more affordable price of $9 to $13 per square foot. Stainless steel under-mount custom wet corner with granite finish can cost as much as $19,500.
Mixology Corner Sizes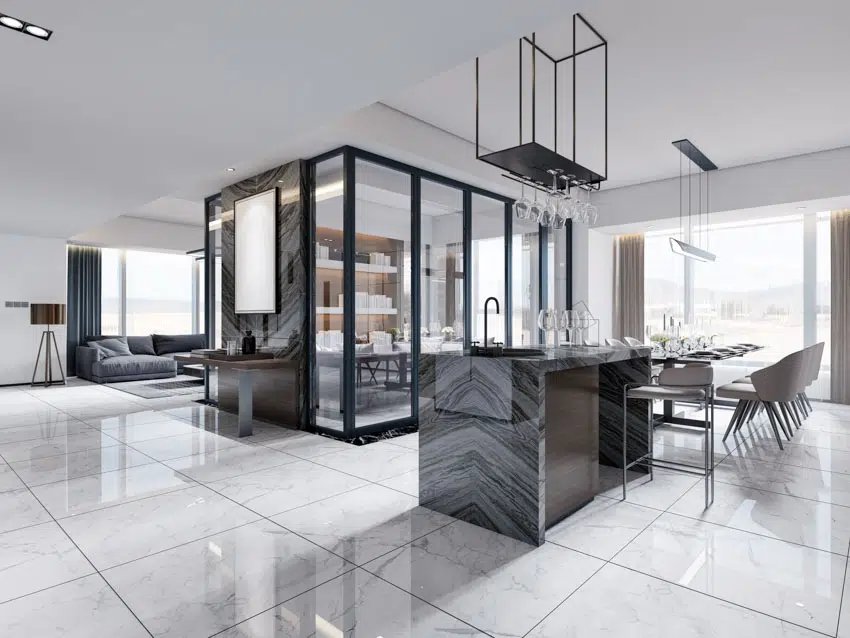 While there are no hard rules on built-in bar sizes, it's important to consider recommended dimensions to ensure an efficient and ergonomically designed mixology corner.
Recommended minimum built-in home bar sizes should be 6 feet long to accommodate three high chairs and 8 feet for four counter stools.
A 16″ to 20″ wide top bar surface is typical for small main bars that are enough to place a dinner plate or a pan of pizza, though the typical depth of bars, especially for ready-made built-in bars, is 18″ to 24″.
Bar Height:

40″ to 42″

Stool Height:

28″ to 30″

Bar Depth:

18″ to 24″

Step or Foot Rail Height:

7″ to 9″

Bar Seating Area:

18″ to 24″

Circulation Area Between Serving Counter and Back Counter:

42″ (single user) , 48″ (two users)
What Is the Standard Size of a Bar?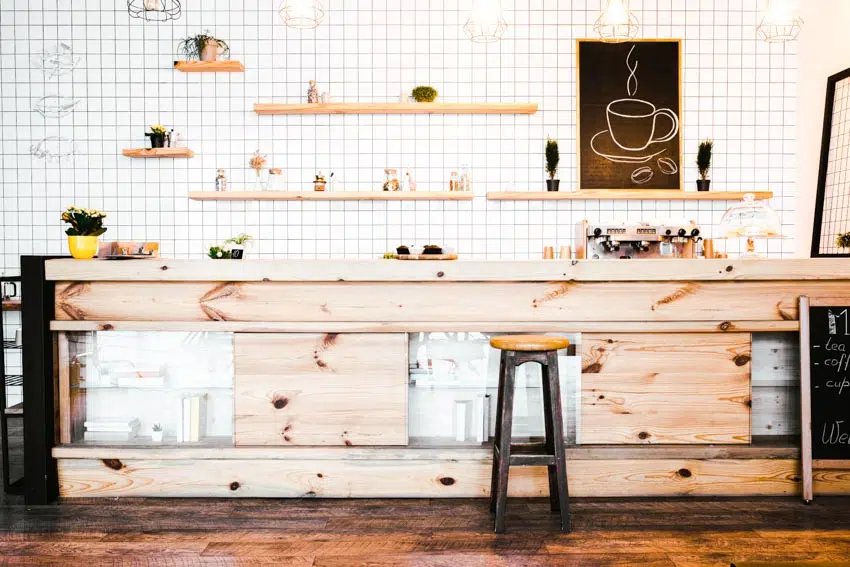 The standard height of a cocktail nook from the finished floor to the top surface of your mixology countertop is 40″ (101.6 cm) to 42″ (106.68 cm), while the total depth of your countertop is recommended at 18″ (45.72 cm) to 24″ (60.96 cm) for a comfortable servicing.
Bar Cabinet Design Inspiration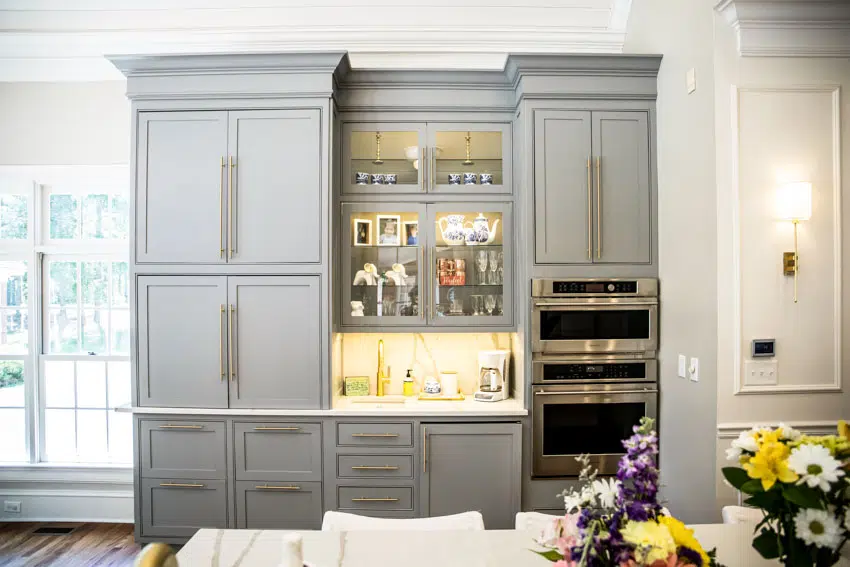 Here we share design ideas than can be used for inspiration for built-in cabinets.
Scandi-inspired Mixology Corner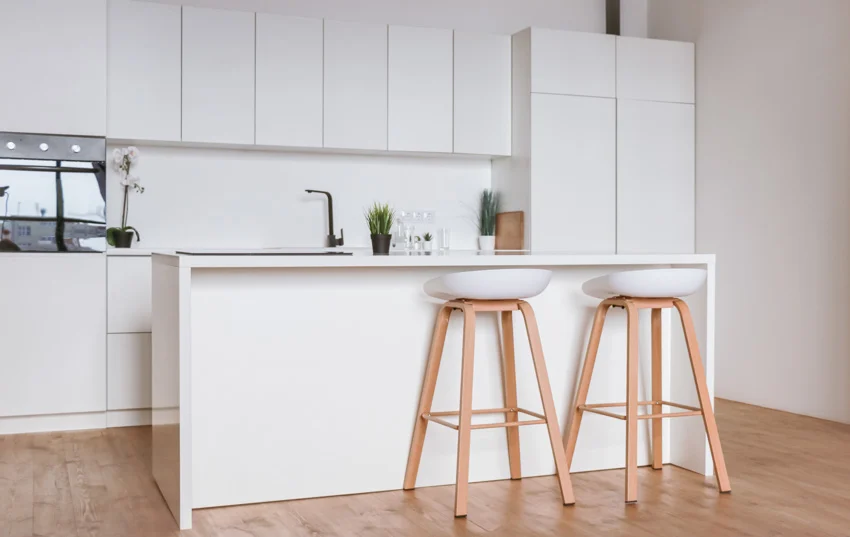 With a modern counter façade with frameless cabinets this room provides a modern minimalist design. The Nordic touch is a sure hit for your guests as the attractive built-in home bar is perfect for a minimalist home that showcases natural wood's beauty yet has a modern cabinet silhouette.
Light wood textures, clean lines, and flooding in natural light are hallmarks of this mixology corner idea. To layer textures, you can integrate white shelving and a few wood or chrome pieces, such as a curved mounted high chair. Timber wood beams or stilts on the counter façade can add dimension to the overall look, especially on curved or angled counters.
Rustic Barn Style Mixology Station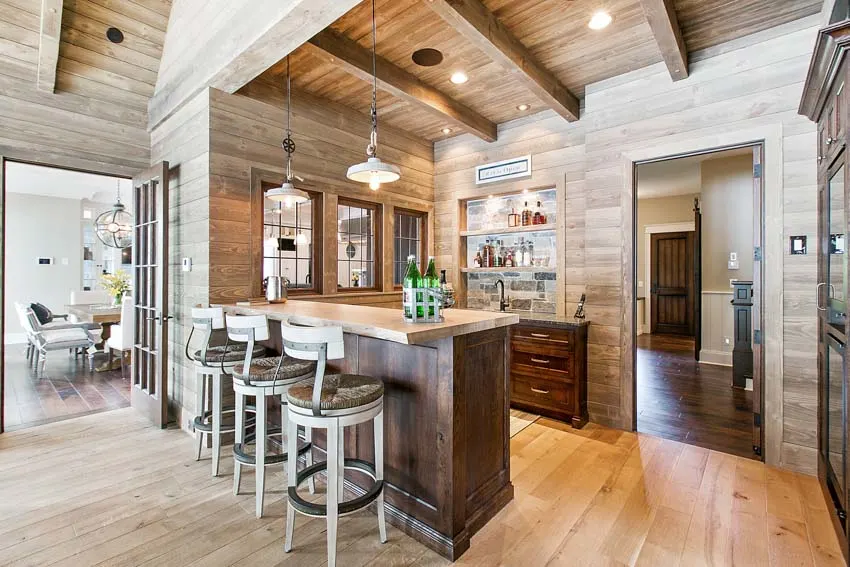 With a wood slab counter and cabinetry the room gives off a rustic theme and welcoming vibe to any spectator. The barn-inspired home bar's main feature is the live edge wood countertop and wood walls with backlit shelving.
Don't forget to add vintage wire lighting and old-school high chairs to complement your reclaimed wood slab counter. Recessed lighting and windows into the dining room help keep the area well lit and bright. Built-in mixology corner ideas with dark wood finishes can benefit from bringing in as much natural light as possible to help keep the space from feeling too dark.
Modern Geometric Type Bar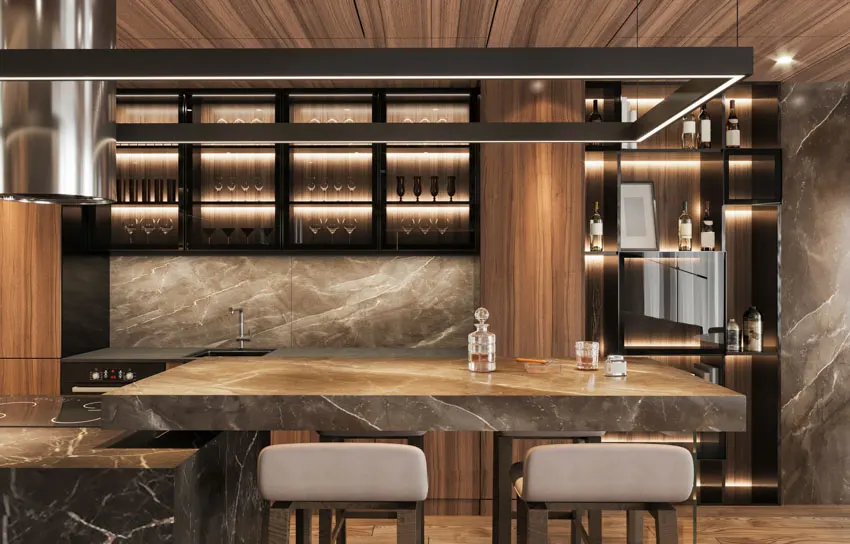 Add dimension and interest with under-shelf light fixtures with yellow-gold backlighting to house your glassware, cocktails and spirits. The floating shelves are great for any booze corner size, and you can extend or go in any direction to accommodate your storage space.
Solid quartz on a countertop façade give that modern vibe to your built-in mixology corner, pair varying gray counters with white, and gives a simple yet eye-catching wine hub right in your home.
The Full Display Style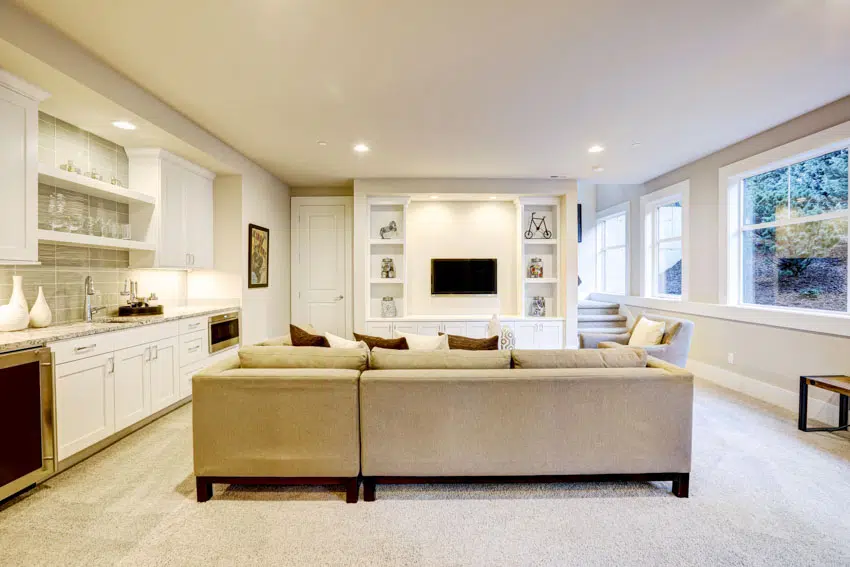 For those with more than one living room, a home mixology cornercan be an excellent place to create the perfect lounge area. For this room a full built-in spirits nook takes up one wall that's within steps of a large sectional sofa for relaxing.
Occasionally, open layout rooms can benefit from a wall divider that functions at the same time as a wine display. These elements allow the light and view to pass through while zoning in your mixology corner.
With an ample storage space dedicated to your wine bottles, you can showcase your collection without taking up much space. Other storage alternatives for built-in mixology corner ideas are using a wine fridge of storage cabinets with glass doors.
Industrial-inspired Mixology Corner
Two tone cabinet doors are trendy, and you can pair them with different countertop materials to add your own unique personality to the design. This room uses a stained wood backsplash and reclaimed-look wood toned island combined with white base cabinets and matte black upper cabinets.
Add wood topped high-top chairs to tie in with the backsplash and island to create that mysterious and masculine vibe in your built-in home mixology corner. Exposed brick and concrete walls give the vibe an industrial feel. A pair of hanging pendant lights will complete your look.
See more related content in our bar stool height guide on this page.