See our best kitchen bar decor ideas including a variety of fun and creative designs for your home.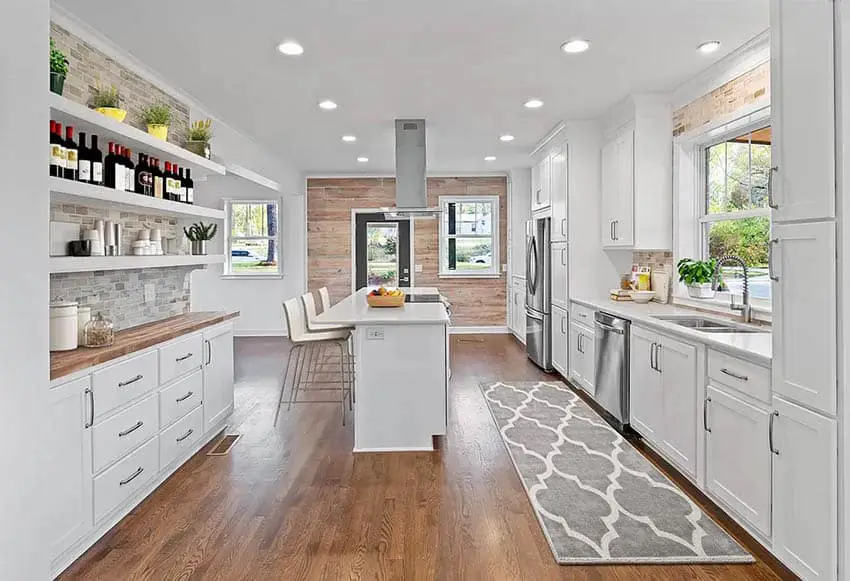 A kitchen bar is a great place to socialize with friends and family and its important to give it a look that's inviting and stylish. There are tons of different kitchen bar decor ideas to make your space unique and add character, while also keeping it functional. Here's a few of our top picks.
Custom Cabinetry & Hardware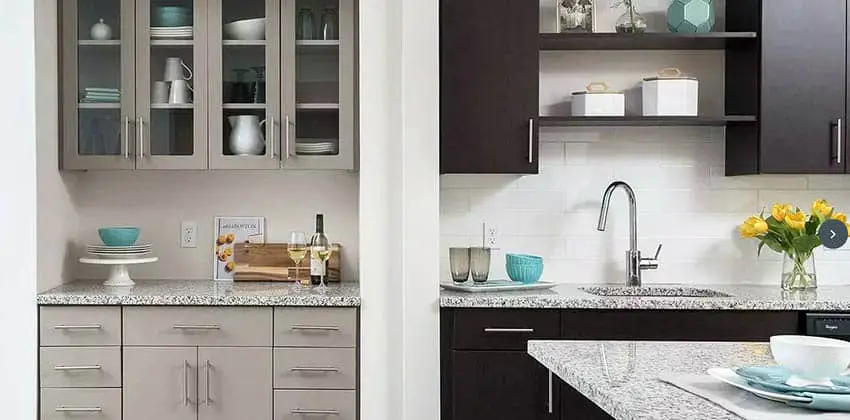 Why does cabinetry have to be only functional? Storage can easily be one of the biggest pieces of decor in the entire kitchen bar. The main component of a bar is the countertop itself, and having alcoholic and non alcoholic drinks. The ideal way to set up a kitchen bar includes the back wall lined with a counter, with lower cabinets, wine coolers, dishwashers, etc below.
Above is a great place to displace both glasses and the assortment of beverages you have to offer. With enough space between for someone to play bartender, across from that should be another counter. This could also contain some cabinetry, or places for ice, cups, towels, etc. The farthest side should have some leg room to add stools.
In addition, the cabinet hardware you select for your cabinets plays a big role in decorating. When selecting hardware pulls and knobs try to keep the design theme cohesive by using the same finishes throughout the kitchen.
Glass Door Cabinets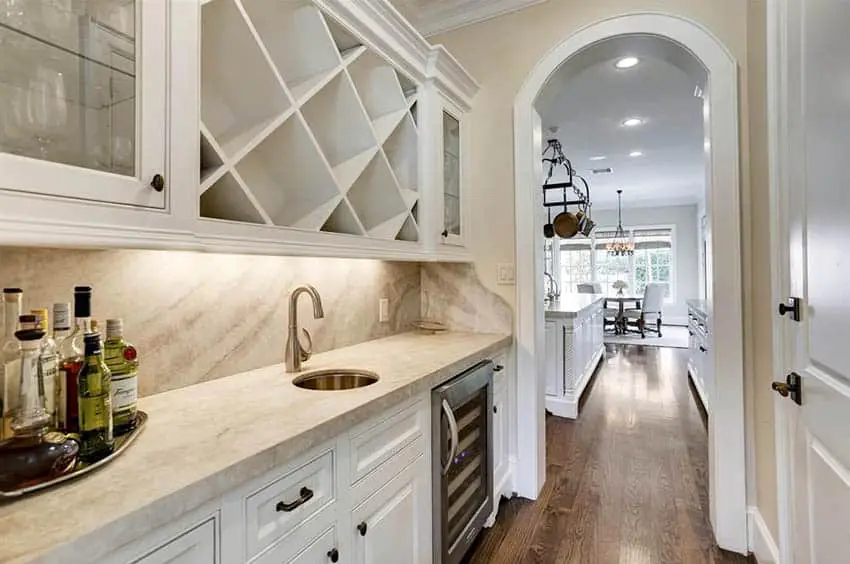 We just mentioned custom home bar cabinets, but another useful decor idea are cabinets with glass doors. These allow one to line up and display glassware that can sparkle from the rooms lighting. Cabinets with glass doors are very practical and can be used in kitchen designs from traditional to contemporary.
Open Shelving
A kitchen with open shelving lets you display all of your favorite glassware within easy reach. Try adding colorful wine glasses and personalized signs to give it a more whimsical look.
Cozy Corner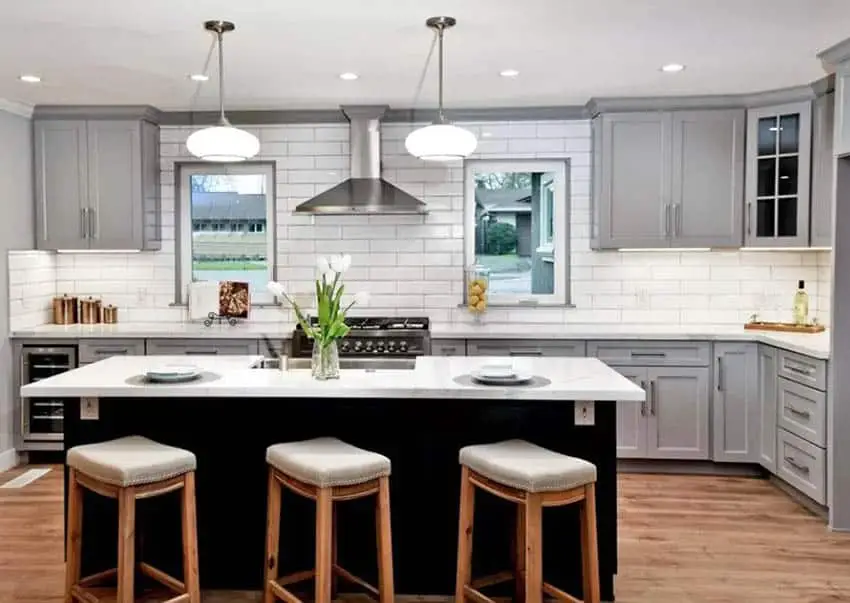 Many kitchen bar decor ideas can be created with minimum expense. Designating one corner of your kitchen for a serving tray with your favorite wine and glasses help keep things accessible and decorative.
Home Bar Cart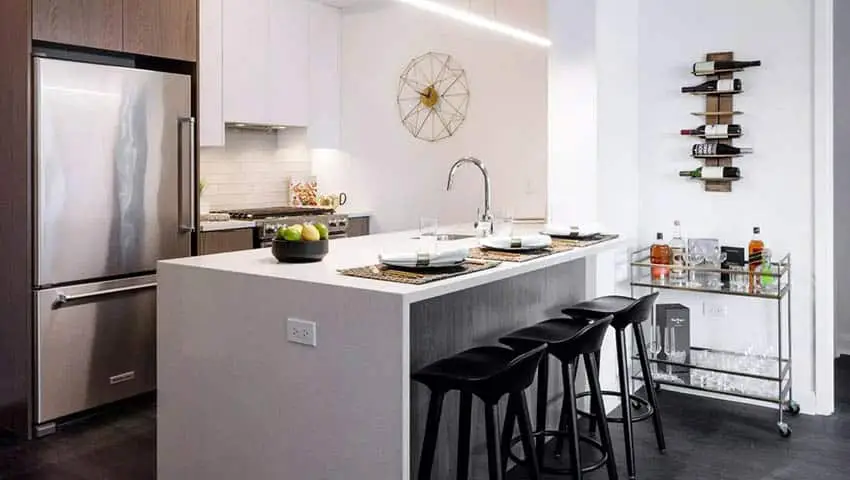 Keep your counters clean and tidy by storing everything on a home bar cart. This cart can be tastefully wheeled away when not wanted or brought out when entertaining. This can make a living room bar just as easily with different placement.
Stylish Bar Stools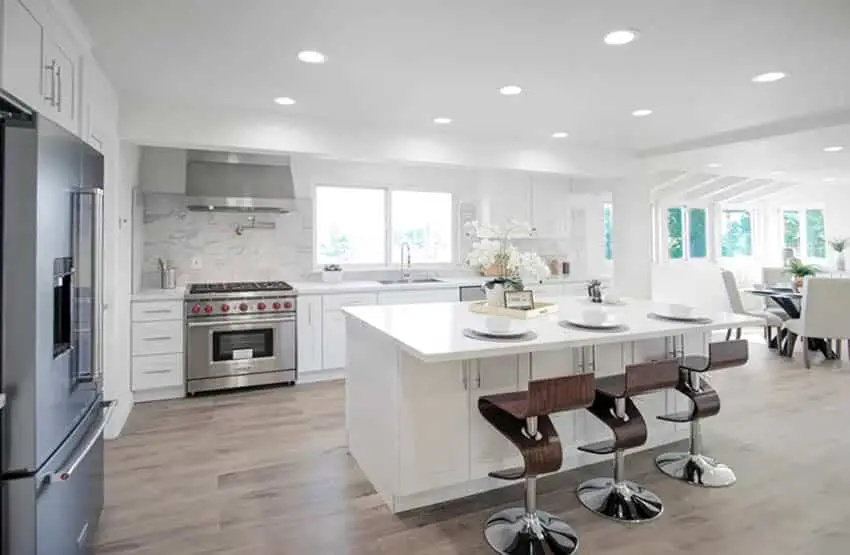 Bringing some stylish bar stools in to the space is an effective way to reinforce your design's theme and bring in your own sense of personality. From rustic to modern there's a different kind of bar stool for whatever kitchen design you have. Most kitchen breakfast bars will offer some counter overhang to enable one to pull up a bar stool and enjoy the extra space for dining or hanging out.
Under the Kitchen Island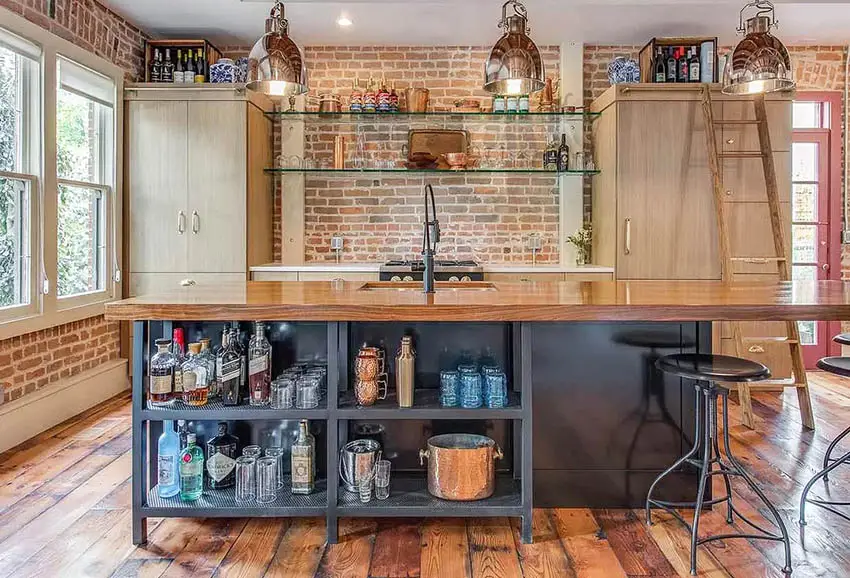 Storing all of your bar accessories under the kitchen island on open shelving is a great way to showcase your decor. This rustic kitchen design has a wood counter island and open glass shelving that keeps everything within easy reach.
Show Off a Collection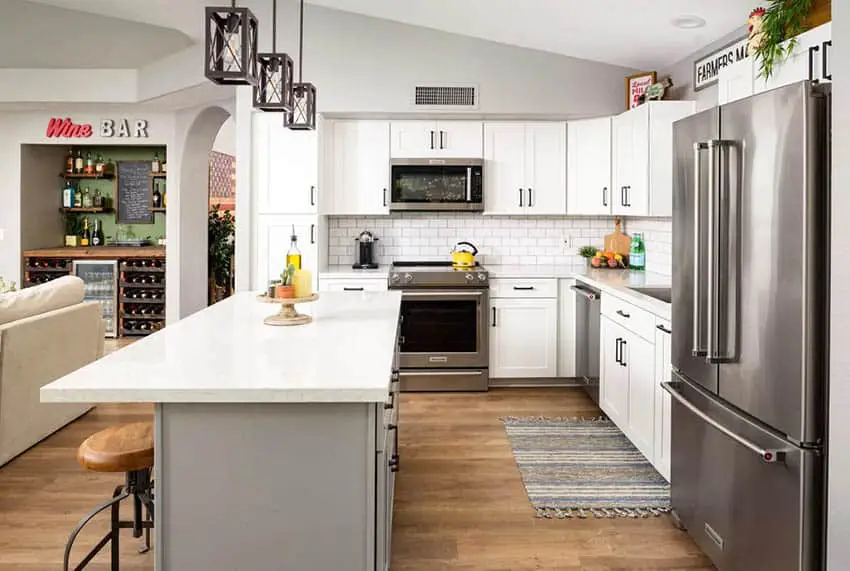 Most of the décor should be the alcohol you have! Based on the layout you have for shelving and displays, use the different bottles to create the bar look. Wine racks are very stylish, as well as a great way to store your wine in a readily available location.
Shelving along the back wall is the perfect spot to display bottles of hard liquor, or special glasses that you frequently use. Including a small fridge or cooler can be a good way to display and keep the items you have cool. Adding an ice dispenser can be classy and practical as well.
Lighting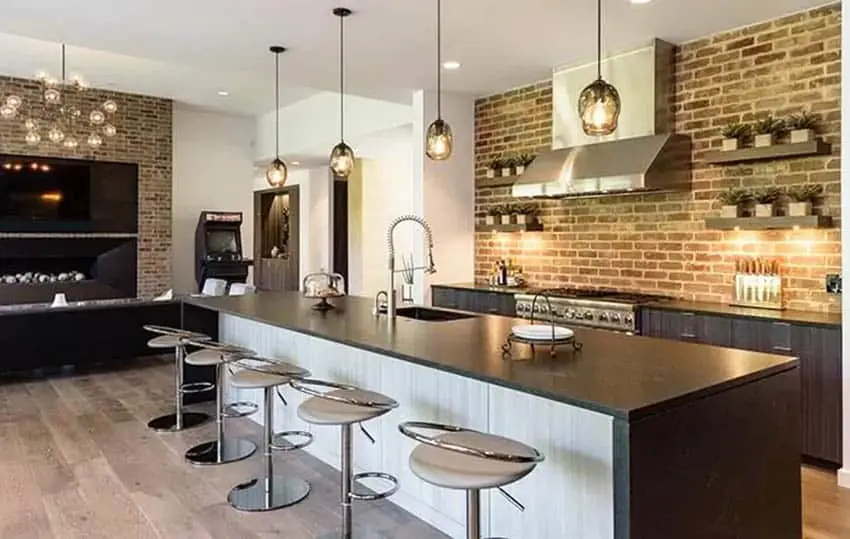 The lighting in the space really sets the tone of the room. Typically bars are lit a little dimmer than most kitchens, to help set the mood. The kitchen bar you make can have the best of both world if so desired.
The back counter can be lit up more by using under cabinet or under shelving lighting. This lets you see when you are cutting limes and things of that sort, and making sure your pours are accurate.
Then on the seating side of the bar you can have a dimmer, warmer light to give the correct bar aesthetic. You can use an assortment of recessed, pendant and under shelving lighting to get plenty of brightness right where you need it.
Coffee Bar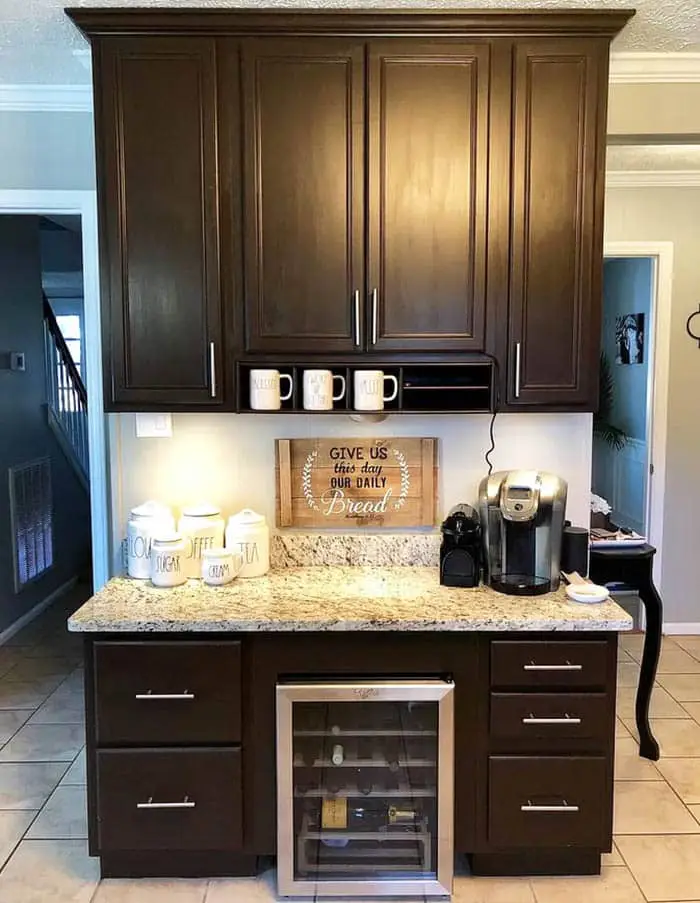 Who ever said that a bar can only mean alcoholic beverages? For some people a coffee and donuts in the morning could be just the thing you need. In situations like that you are looking for brighter colors to help wake you up! The lighting should be good, and bright colors should be used on the finishes for a lighter feel.
Décor can include coffee mugs hanging on the walls, and even tea spoons or jars of sugars and other flavorings commonly used in caffeinated beverages – you can even throw in a splash of booze if it is looking to be a long week.
While the layout can look the same as a front and back area, bars can also just be one long wall with a counter and cabinets. This type is less high tech but leaves a spot for the coffee maker, spoons, coffee beans, creamers, sugars, mugs and even the donuts that the first one up went to go grab for the family.
Bars do not have to be a difficult thing to build and decorate. Adding small signs, shelves or even a nice stone backsplash can bring it to the next level.
Kitchen Chalkboard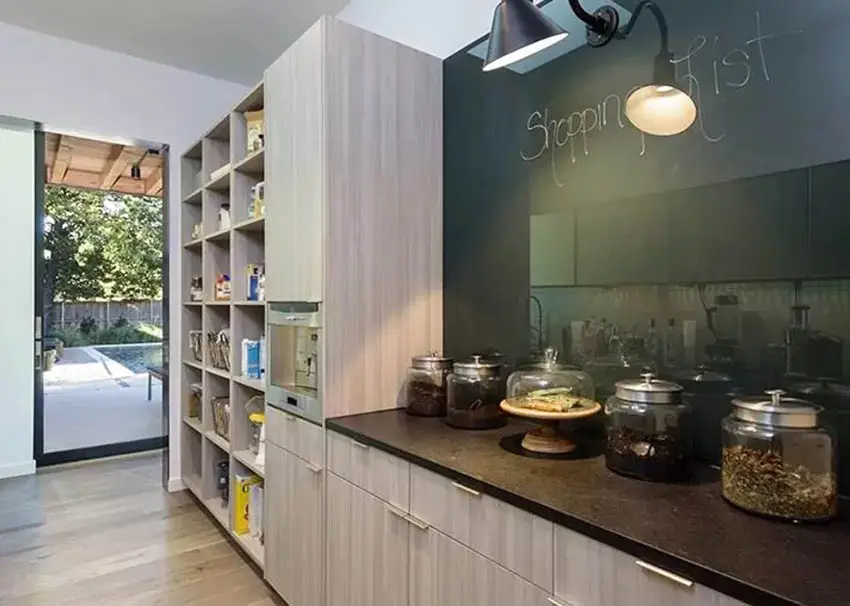 A kitchen chalkboard allows you to write your fun and creative messages, important dates, recipes, shopping lists or helpful reminders. When not in use they make an interesting accent wall.
Mirrors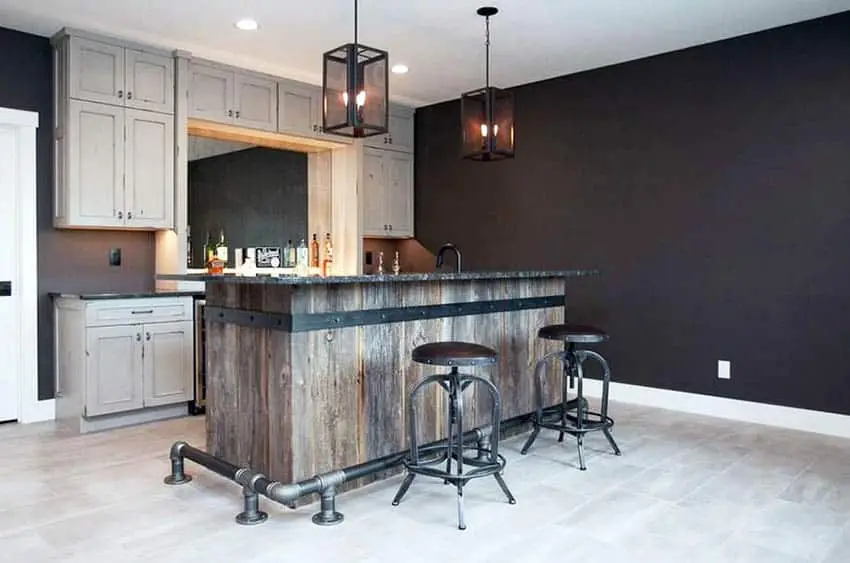 After all the bigger items are in place, you can assess the additional space, and select smaller decorative items. Adding mirrors to your bar work especially well if your bar is detached from the main kitchen and you're going for a more traditional home bar design. Mirrors are a great choice for two reasons.
One, typical bars use them, giving the realistic feel to the kitchen bar you have. Two, mirrors are super functional, if you are making drinks or snacks and your back is to the person sitting at the counter, you can still see them by glancing in the mirror.
As mentioned, this does not need to be a difficult build, most of these items can be bought at a local home improvement store. A kitchen bar can take up an entire room or even just part of the kitchen itself.
Check locally for prices on cabinetry and any backsplash finishes you are looking for, as those are the most expensive items in the project. Everything else can be found at home décor stores or could be a do it yourself project. Visit this gallery page for more home bar ideas on a budget.