Here we share our kitchen paint colors with off white cabinets guide, including selecting the correct shade and ideal hues for walls for antique and cream cabinetry.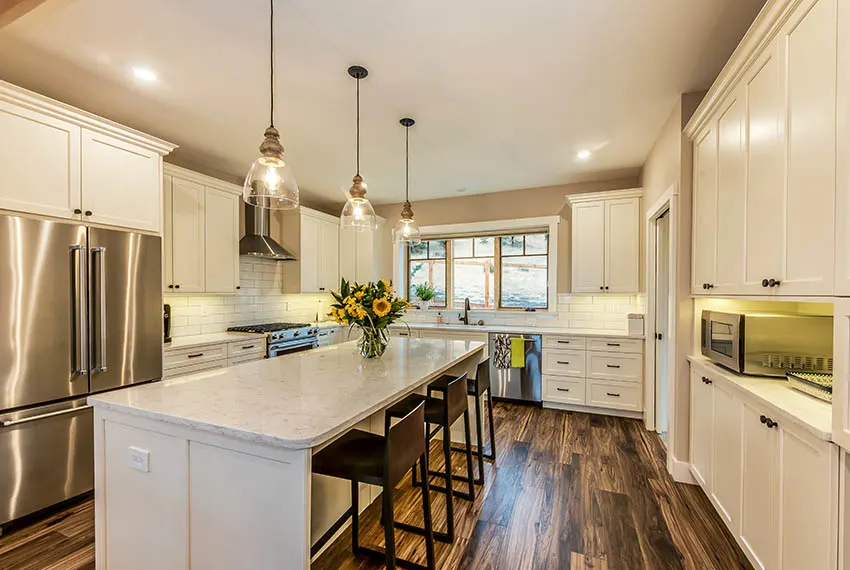 Off-white kitchen cabinets provide a bright, neutral canvas that can accommodate any personal style.
However, choosing a paint color for the kitchen to complement your off-white cabinets may be challenging. As a result, we turned to our design experts for advice on matching paint colors with off-white kitchen cabinets.
What Color Paint Goes With Off White Kitchen Cabinets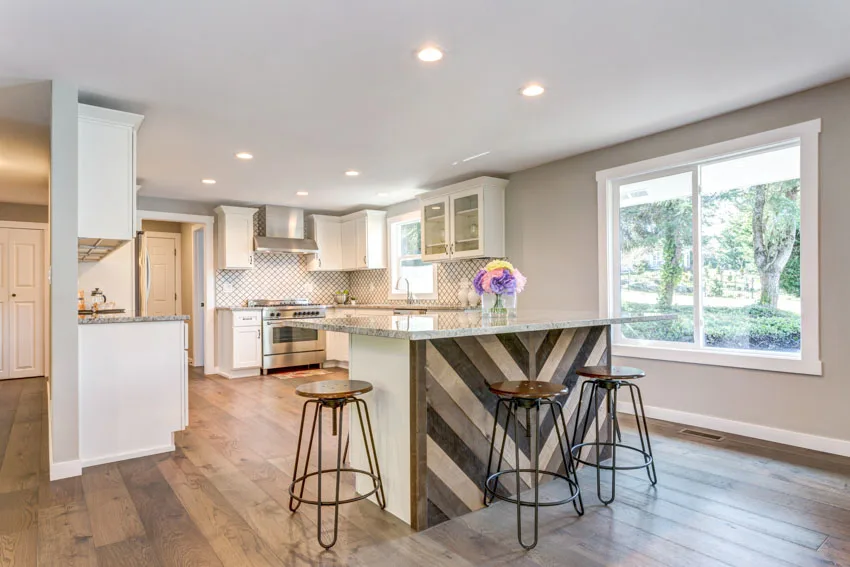 We recommend starting your kitchen renovation project by looking at color palettes. This stage is the first part of selecting the perfect wall colors with off white cabinets.
You will choose whether you want to utilize contrasting or matching colors in your design as part of the process.
Tone On Tone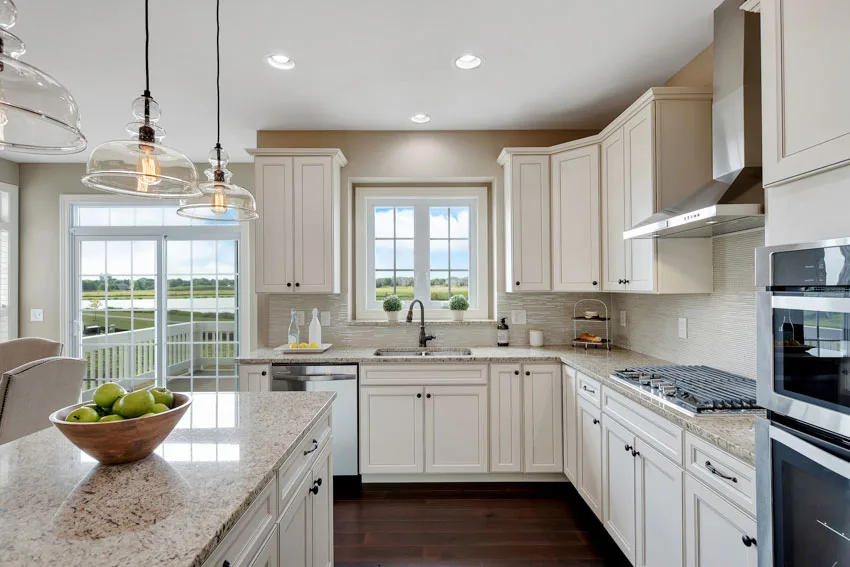 It's not difficult to find a tone-on-tone match for off-white. However, whatever background hue or undertone off-white includes isn't always apparent.
Place a piece of true-white paper against your off-white cabinetry and press against it. The cabinetry's color tint will then stand out. Work with the undertone after you've established it.
Whites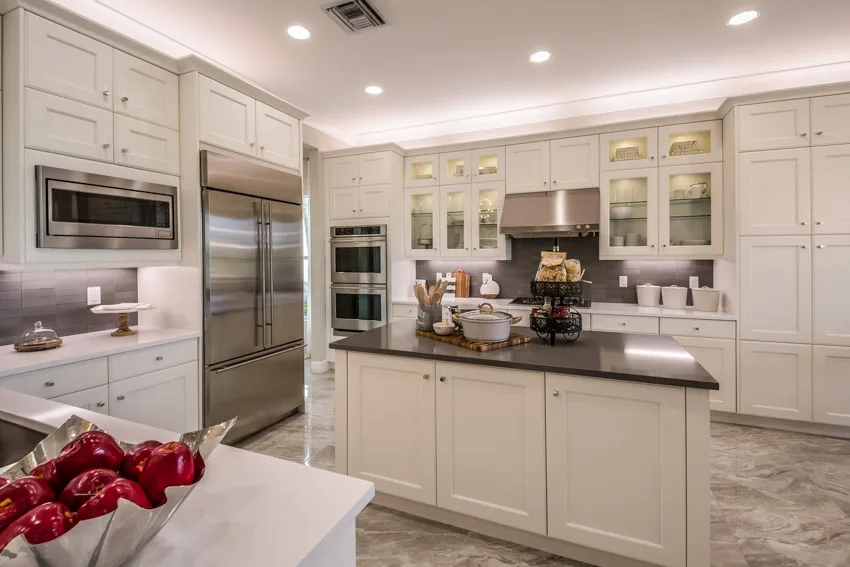 If done correctly, a kitchen full of different whites may look clean, bright, and easy on the eyes. Choose pure white paint, such as a reputable brand's non-tinted, interior-latex, white-based paint.
Cool whites with a touch of blue or green and warm whites with a hint of yellow or orange are ideal. The profusion of whites and gleaming items will blend in with or blur the off-white cabinets.
Colors That Pop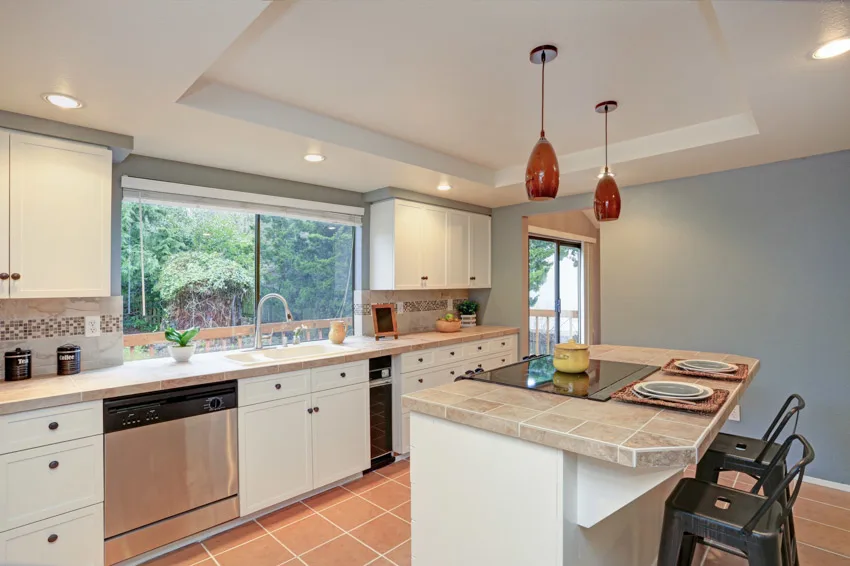 Choosing a vibrant paint color can also complement your off-white cabinetry.
Colors like turmeric, fuchsia, and lime can create a bold statement. As quirky and far-out as the colorful walls are, they will provide consistency to the room.
Best Kitchen Paint Colors With Off White Cabinets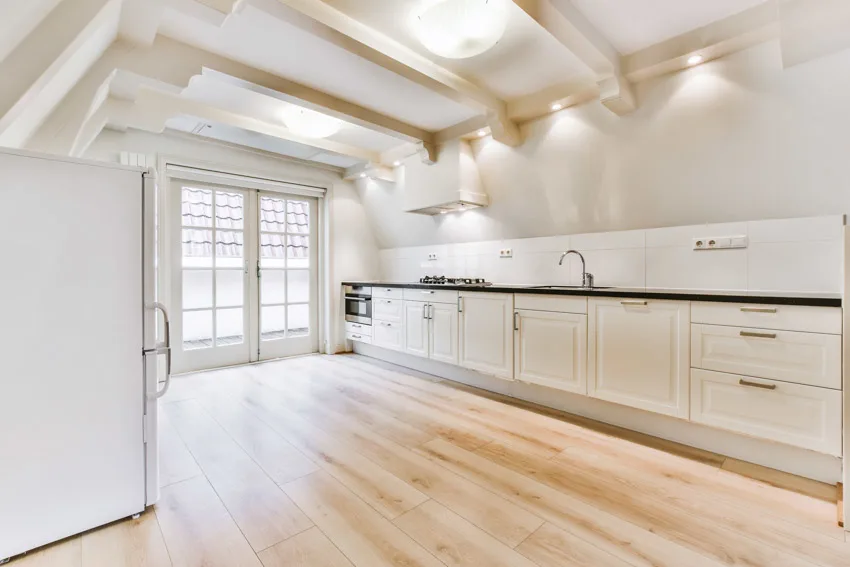 Contrasting colors may give a distinctive touch to your area. This idea is particularly true in kitchens, where cabinets take up a lot of space, and off-white cabinet doors are the most popular.
By contrasting and emphasizing the lighter cabinets, a splash of vibrant paint on the walls can genuinely bring your kitchen to life.

Sherwin Williams Naval (SW6244)
SW Naval 6244, for example, is a deep, soothing blue that truly pops against off-white cabinetry. The key is to go strong with a contrasting color to match off-white cupboards.
Deeper tones complement more classic designs if your cabinets are off-white or have an antique finish. Behr Back to Nature (S340-4)
If your cabinets are off-white and you're leaning more towards modern kitchen designs, opt for brilliant blues and more natural colors like the Behr Back to Nature S340-4, a fresh mossy green. Benjamin Moore First Light (2102-70)
Our experts suggest highlighting a popular accessory or décor hue or keeping it neutral when it comes to kitchens. Think beige, taupes, and warmer tones like Benjamin Moore's new, soft First Light 2102-70.
We suggest sampling from things that are unlikely to change shortly, like your kitchen backsplash or countertops. Neutral colors don't conflict with off-white cabinetry and are easy on the eyes.
You can also highlight off-white kitchen cabinetry with terra-cotta red, yellow ochre, paprika, and golden poppy, which give depth and warmth to home décor.
Best Paint Color For Antique White Cabinets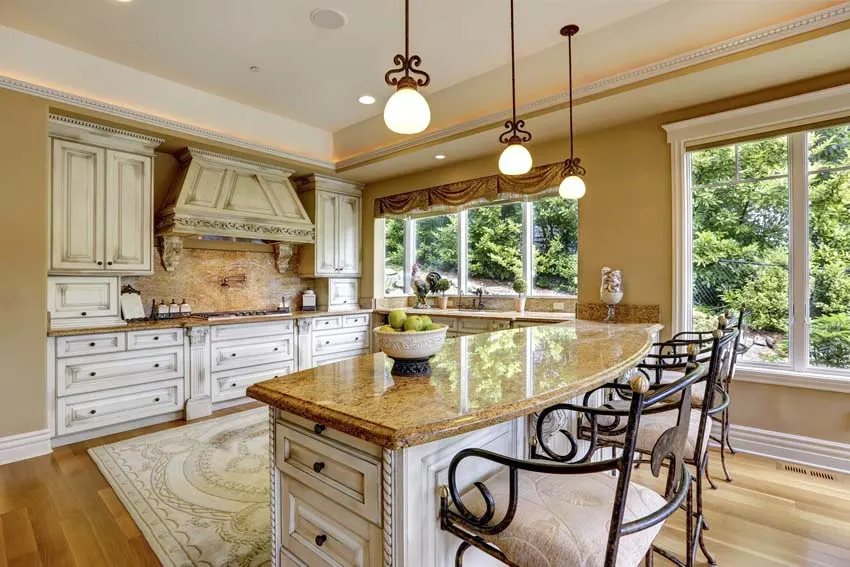 You may combine antique white kitchen cabinets with various other features and components to create unique appearances that will, of course, affect the whole kitchen area.
Antique white has a golden undertone and is a light gray caramel white. Combine it with gray or beige to create an exquisite look. Benjamin Moore Revere Pewter (HC-172)
This combination may seem surprising, but antique white cabinets and gray walls create a soothing atmosphere in your kitchen, making it more conducive to different activities.
To achieve the relaxing effect, you must, of course, pay closer attention to several factors. The first is the kind of gray wall paint you will use to complement the cabinetry.
In this scenario, a soft or light gray hue like the Benjamin Moore Revere Pewter is preferable. You may also go with a warm gray shade like greige.

Benjamin Moore Early Morning Mist (1528)
Surround yourself with your preferred color combinations with this classic color, such as the Benjamin Moore Early Morning Mist that is ageless and elegant.
This beige color is as timeless as they are forward, which consumers and professionals have loved for years. When it comes to antique white cabinets, there are many options for backsplashes to go with them, mainly when color is the main emphasis. Going for antique white is among the beige kitchen ideas that can work well.
A backsplash can also make a kitchen seem more extensive, which is a good concept for a small floor plan. Many other options exist for creating a unique appearance with antique white cabinets.
While choosing a particular combination, think about other components in your kitchen, such as wall color, kind of appliances, space size, and so on, so that you may establish the appearance that the combination is supposed to produce.
What Color To Paint Walls With Cream Cabinets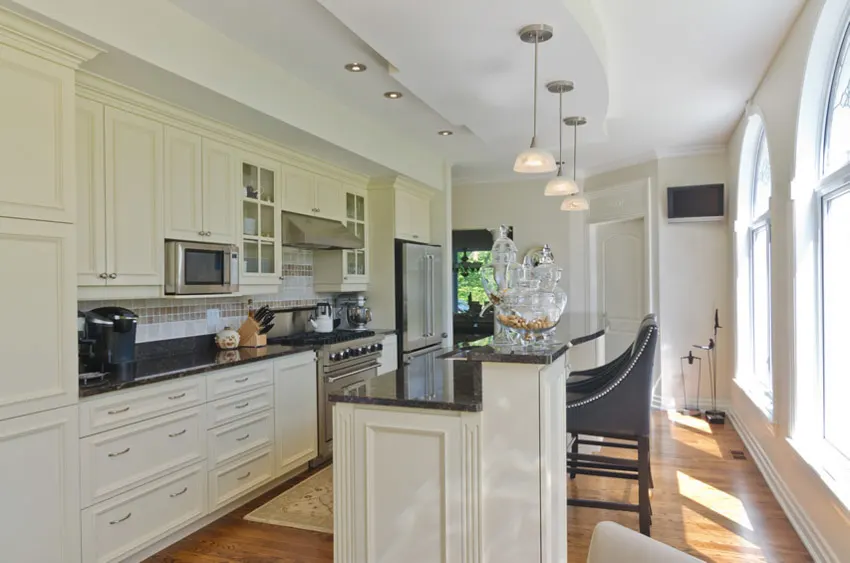 Cream cabinetry encapsulates a kitchen's essence, providing a buttery, smooth atmosphere. The brightness allows for smooth tonal transitions or, on the other hand, sets the scene for dark, opposing components. See more pictures of wall colors with cream kitchen cabinets here.

White
Don't be scared to keep your color palette neutral if you want a clean, fresh appearance. Cream cabinets complement the pure white painted and tiled walls.
The light colors get warmed by the wood countertops, floor, and a few vividly colored items.
Red

Glidden Red Delicious (00YR 08/409)
Pair cream with bright red to bring out the warm tones. The two colors complement each other because red adds zest to cream surfaces.
The eye-catching red backsplash complements the clean, modern cabinetry and gives the room a warm feel.
Red is a vibrant color that is perfect for a kitchen accent wall since it may increase appetite and even create an energetic atmosphere for spirited discussion. Glidden's Red Delicious (00YR 08/409) is a hue worth trying.
Mint Green

Benjamin Moore Meadowlands Green (2036-40)
The background of soft milk is ideal for toning down intense colors. The green is vibrant but may be overwhelming for others.
Cream cabinetry enhances the room's warm, natural, and fresh sense, which somewhat muffles the strong tones. Benjamin Moore Meadowlands Green (2036-40) complements the undertone of cream drapes and a cream-colored cabinet.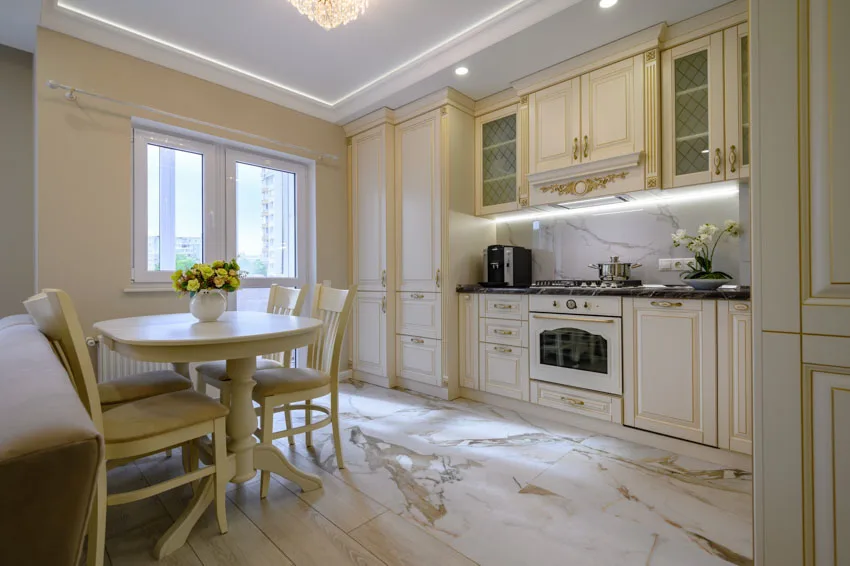 There is no such thing as a wrong decision when painting with off-white kitchen cabinets. They come in various styles and designs but generally fall into three categories: classic, transitional (old meets new), and contemporary.
Each design necessitates a distinct color scheme. Even then, you can always tweak it!
If you have a room with off-white cabinets, you're in luck since they blend with almost any wall color. Many homeowners choose off-whitecolors because they make altering the kitchen's theme simple without having to repaint.
So, whichever color you choose, we hope you discover the right shade to complement your home's design while still allowing your off-white cabinets to shine.
See more related content in our article about the white kitchen cabinets with granite countertops on this page.