Here we share our kitchen with island and peninsula designs including popular configurations, dimensions and ideas.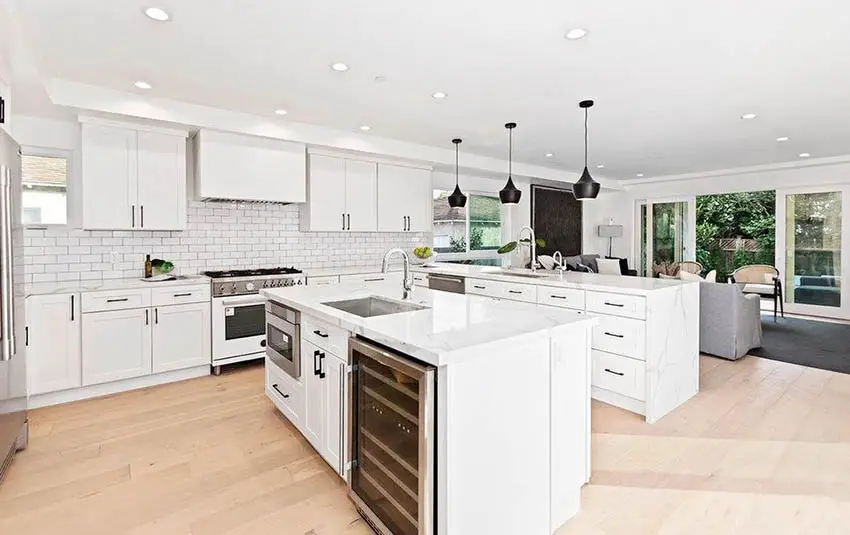 In today's world, kitchens have become more than just a space for cooking meals. It has transformed into multi-functional area that caters to dining, socializing with family, entertaining guests, and sometimes even working.
If you have a large floor space, a great option to make your kitchen versatile and efficient is to integrate both peninsula and island layouts. While this is often a feature found in high-end kitchens, the peninsula adds many advantages to your kitchen that makes it a worthy investment, especially if you have enough space for it.
In the picture above the white cabinetry, subway backsplash tiles, and Carrara marble countertops of this kitchen have a sophisticated and inviting appeal. The peninsula and island increases storage and additional room for kitchen appliances.
Kitchen Design with Peninsula and Island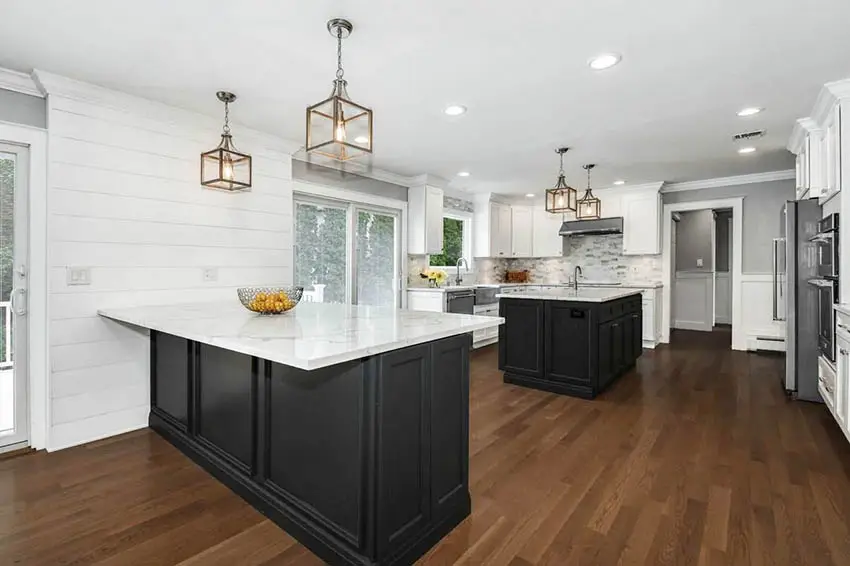 The peninsula forms division between the kitchen from the living or dining. It clearly defines the spaces without the need of full enclosures. At the same time, it may serve as a nook or bar where you can eat or do office work. On the other hand, the kitchen island counter enhances flow of movement as it makes the work zones more accessible to each other.
This layout also allows several users to collaborate or to simply just hang out with family and friends while cooking. Both design solutions increase storage by putting base cabinets and drawers underneath. They provide additional surface area for food preparation, cooking, and washing. You can generally divide peninsulas into two categories: Extension and Connected.
An extension peninsula is the most common, and is basically used in most U-shaped kitchen designs. The peninsula part is usually an extension of the existing countertop and kitchen cabinets, and are often in the same design style and finishes as the main kitchen counters. The peninsula side can be used as a counter seating, or add a higher surface for a bar seating.
You can even install a cooking hob to your peninsula counter to convert it into showcase cooking area, perfect for entertaining guests and family. This is a great option for open plan layouts as the peninsula helps divide and define the kitchen space.
By integrating a peninsula and a kitchen island into your U-shaped kitchen design, a better kitchen workflow can be achieved. A kitchen island (or two!) would definitely help cut down the unnecessary time spent on going from one end of kitchen to another if you integrate it into the plan efficiently.
A connected peninsula either connects to the wall, or a column. The kitchen peninsula design can also be attached on one (or both sides) to a wall or column. This is really common when you have doors or full-length windows that cut in between the wall length of you kitchen. The doors & windows will often cut the run of the wall, leaving you to connect the peninsula to a wall or a column, separate from the main kitchen counters.
These are also useful if you have errant structural column you can't get rid of in the middle of the kitchen. Attaching a peninsula to these columns is a great way to utilize the odd space left in between, helping integrate the columns into the design.
You can add a hanging cabinets & shelves, or even install pendant lamps to give it a little more accent. You can also clad the column in interesting finishes such stones that match your countertop, or textured surfaces like bricks, to help it seamlessly blend into your design, making it less of an eyesore.
The black base peninsula and island make a bold statement in contrast with the white countertops, cabinets, and shiplap walls. This helps draw the attention to the center of the space. The open layout definitely makes the kitchen look large and airy.
How Big Should a Kitchen Peninsula Be?
With regard to dimensions, minimum standard for a peninsula can range from 180-190 cm (70.8″ to 74.8″) in length and 70cm (27.5″) deep. For islands, average size is at 200 cm (78″) length by 100 cm (39″) deep.
It is recommended that there be at least 120cm (47″) aisle way clearance for easier access to storage and so two people can work together with ease. Read more about kitchen island dimensions here.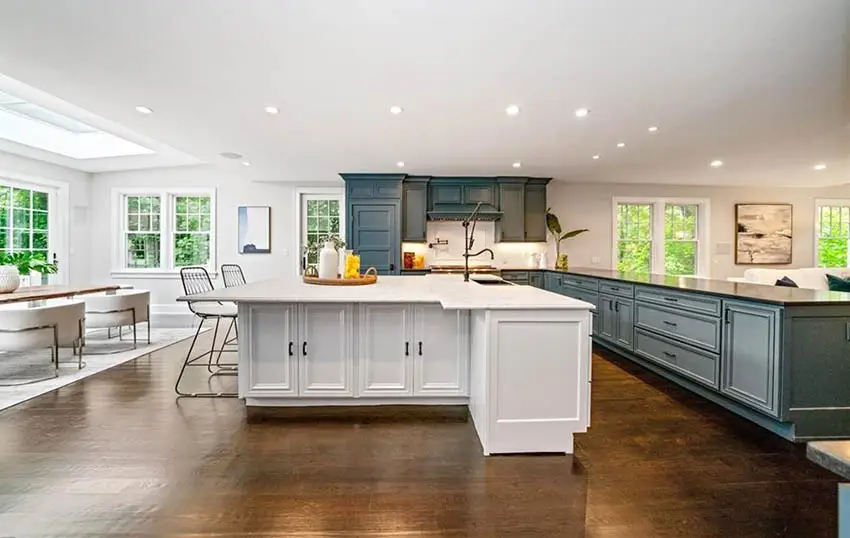 This open layout kitchen gives off a welcoming and warm vibe. The large island and counter space is ideal for multiple users to cook simultaneously. It is a great area for entertaining several guests who can either lounge at the living area or sit at the dining table.
U Shaped Kitchen with Peninsula and Island
Here are some design ideas for this type of kitchen layout.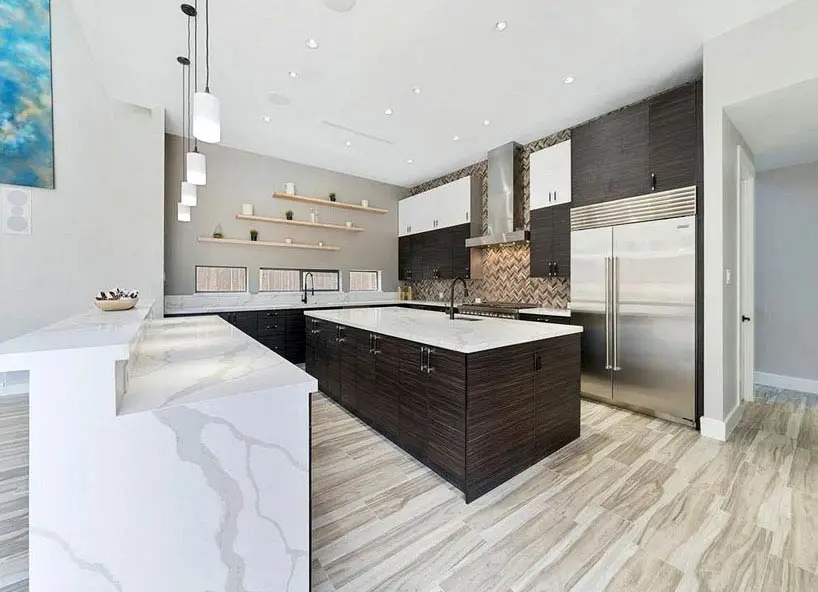 This modern kitchen combines marble countertops, dark veneer cabinetry, chevron patterned backsplash. The peninsula acts as a bar dining area and offers extra storage and work space. Moreover, the island is a preparation area with under surface cabinets.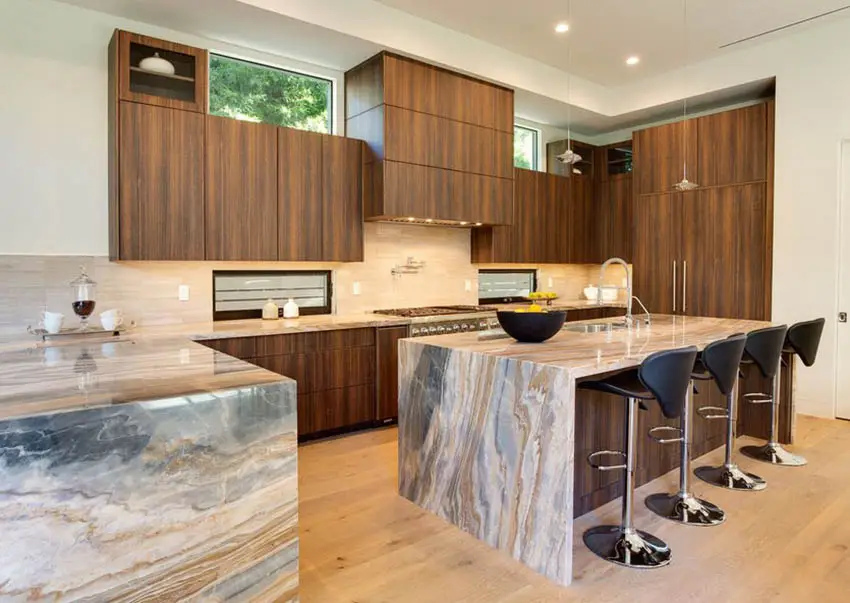 This contemporary kitchen stands out because of the beautiful grain of the island and peninsula countertops complemented by the warmth of dark wood veneer cabinets. Both the peninsula and island optimizes the work zones through supplementary storage and dining space.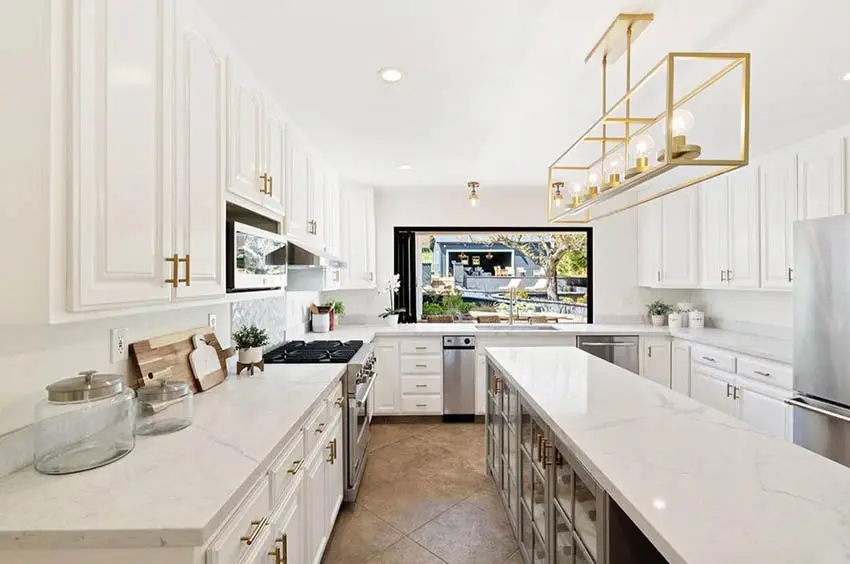 A U-shaped kitchen exudes a classic and luxurious look with its white cabinets, marble tops, and gold metal fixtures. The narrow island has display storage and has added countertop space for meal prep.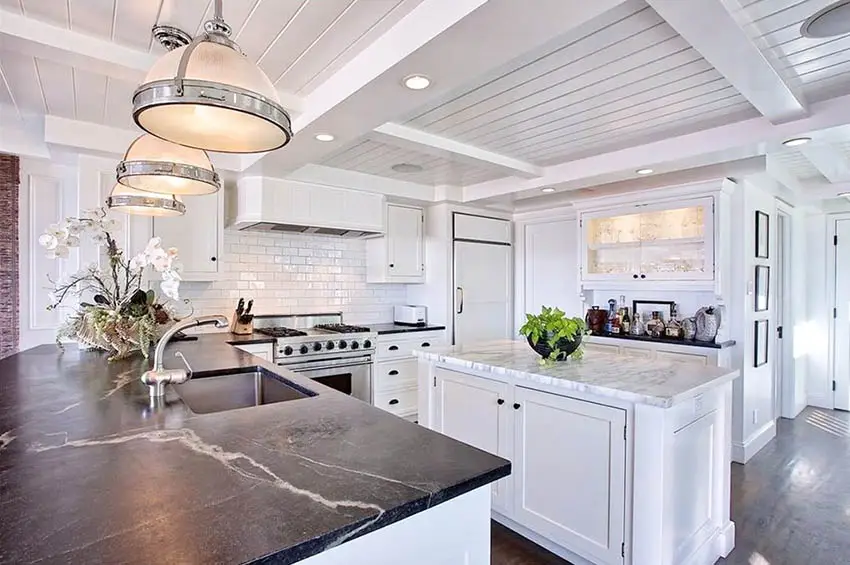 This u-shaped kitchen with island offers a strong contrast between the peninsula's black soapstone top against the white storage units, shiplap ceiling, and subway tiles which adds character to this classic and timeless kitchen design. The island is also gorgeous with its distinct marble top and white cabinets.
Peninsula & Island Kitchen Designs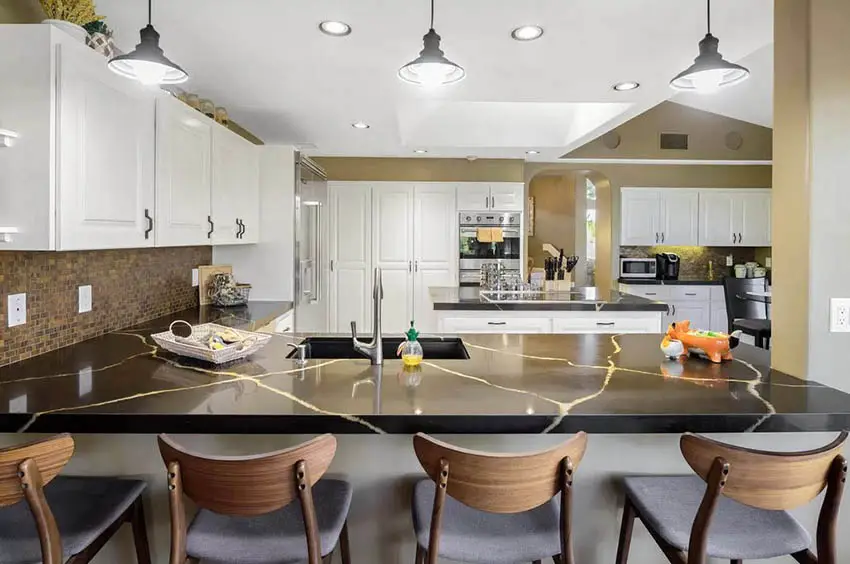 The black and gold countertop works flawlessly with the white base cabinets in this transitional kitchen. The peninsula serves dual purpose as a washing zone and a counter seating. Its island has a cooking hob that is very accessible to both the sink and dining area.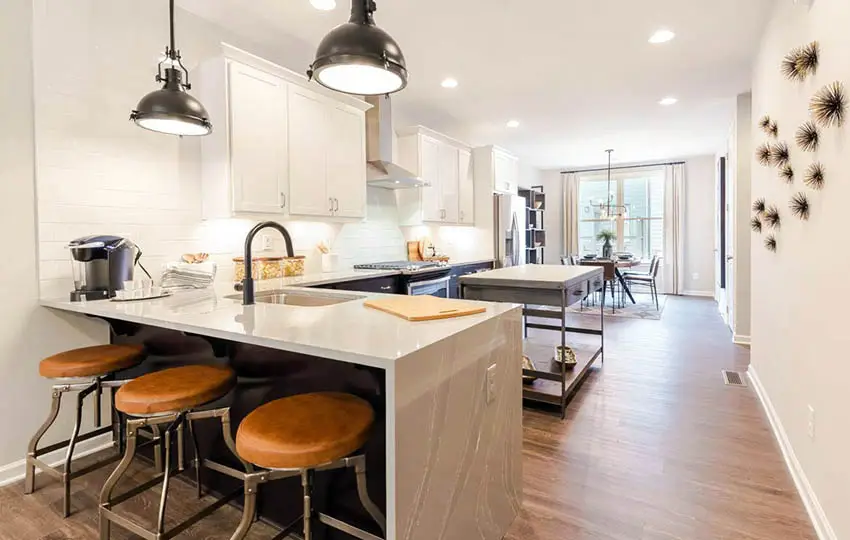 This urban industrial kitchen with an L shaped layout creates a relaxed and cozy feel. The open sleek island with Cambria quartz countertops pairs well with the rustic gunmetal finishes and white & black cabinets. The tan leather stools look more striking against the black base of the peninsula.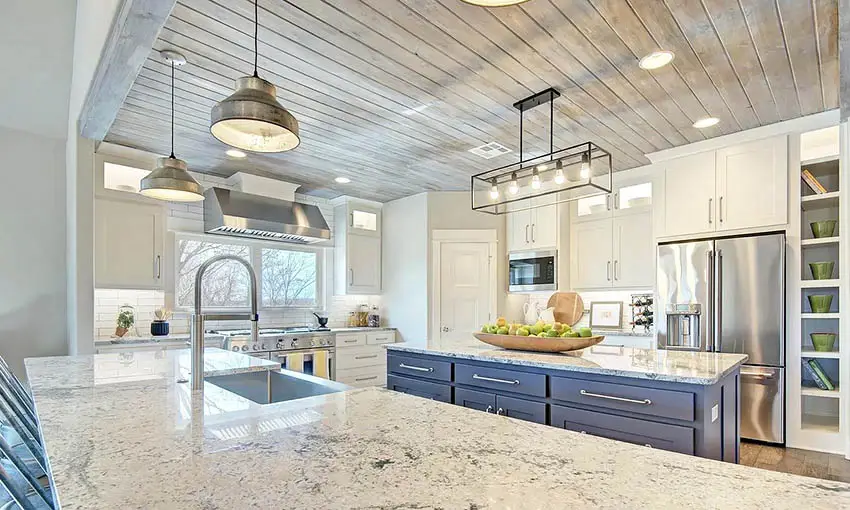 Make a neutral kitchen pop with color by painting the island cabinets blue grey. This adds interests and creates unique contrast with the white cabinets and metallic finishes.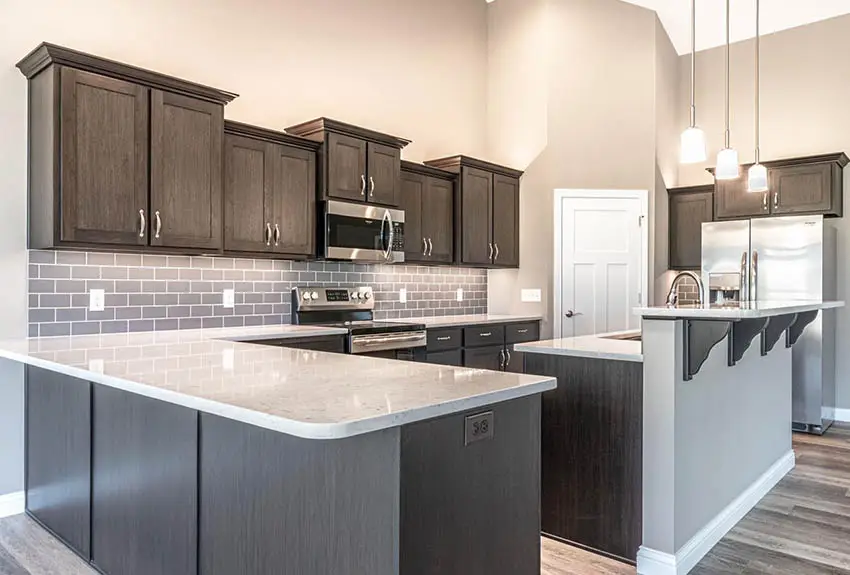 This palette of greys and dark wood balanced with silver metallic accessories creates a relaxing and light kitchen. It features an island with sink and a perfect bar counter for casual dining or gathering. In addition, it has a deep peninsula that increases the storage capacity and work area.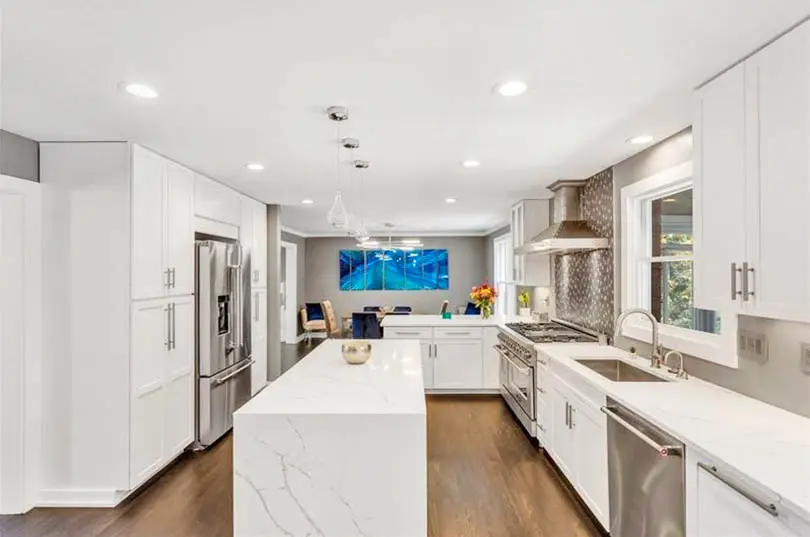 This one feels posh and stylish thanks to the stark white cabinets, mosaic tile backsplash, and chrome fixtures. It showcases a stunning long waterfall island cladded with marble.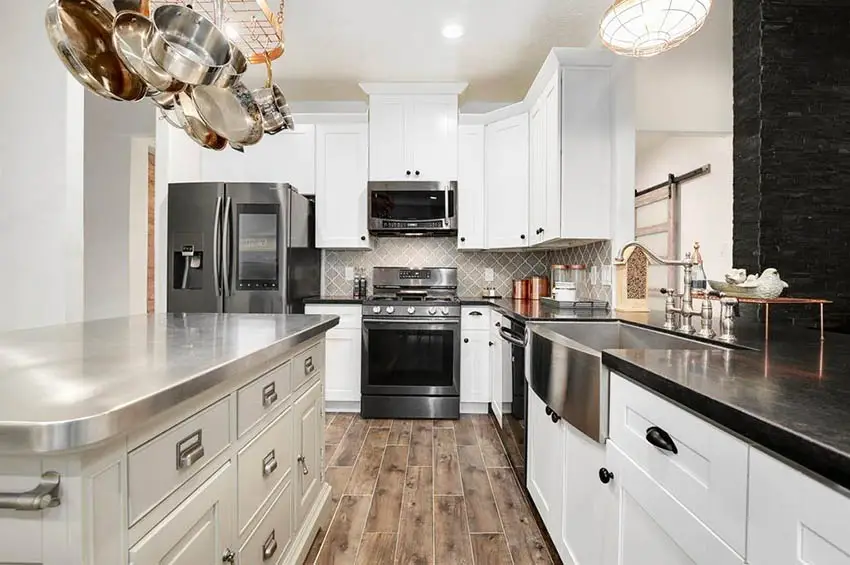 This kitchen uses white cabinets with glossy silver and black accents. Its island features unique stainless steel top surface that is easy to maintain and clean.
Never get out of style with this soft white and grey kitchen palette. The grey contrasting kitchen island in this compact design has improved its functionality through the added drawers and bonus countertop space.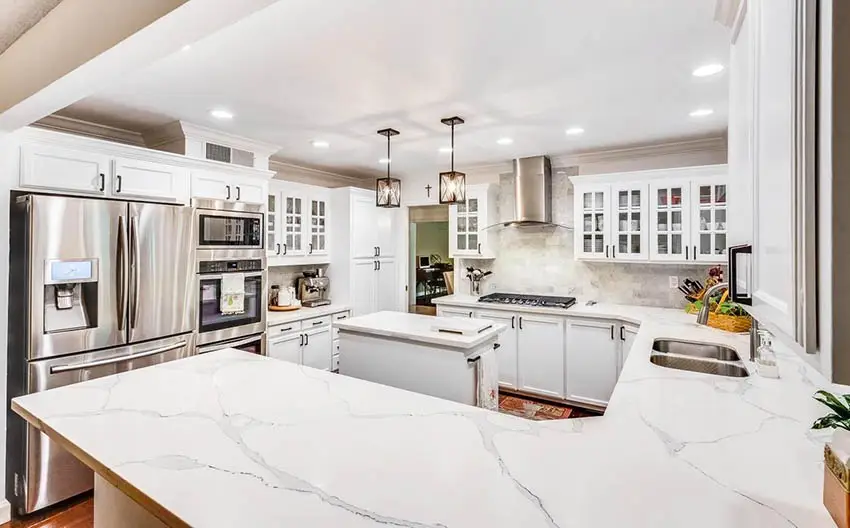 The Carrara marble countertops combined with pure white cabinets, and stainless steel finishes set the scene for a glam-inspired kitchen. This U-shaped layout with peninsula and island maximizes the work surfaces and storage making it more efficient for users.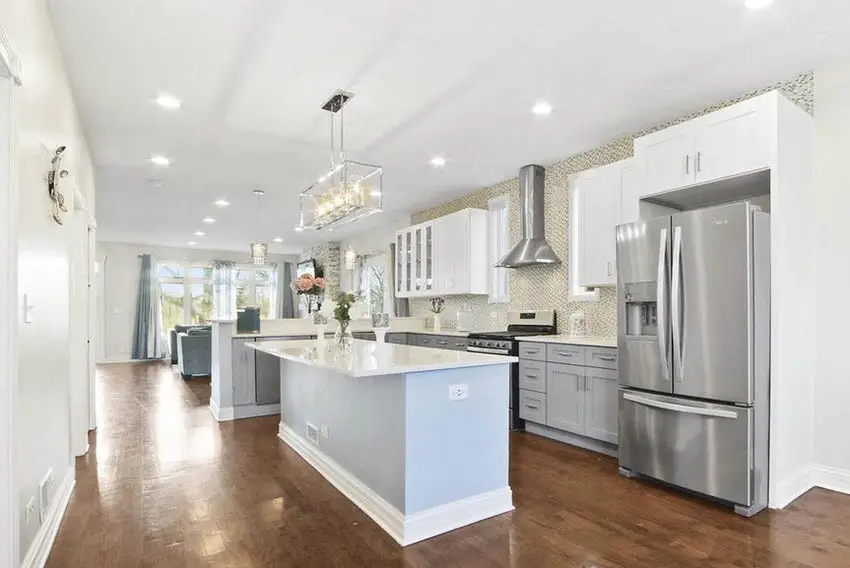 The pale blue island brings life and fun to this neutral scheme kitchen. Apart from increased work surface, it also incorporates breakfast counter and storage. On the other hand the peninsula, visually defines the kitchen from the living area.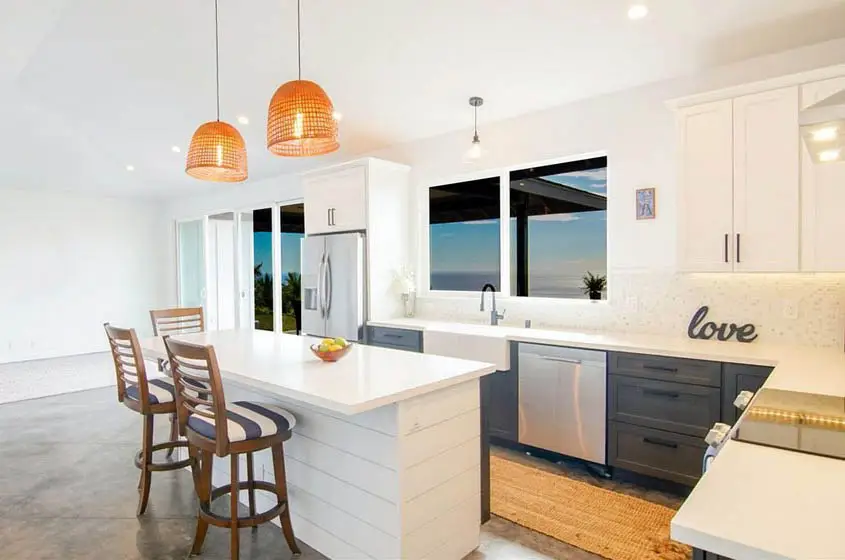 This coastal inspired kitchen showcases navy blue base cabinets, white upper cabinets, quartz countertop, and rattan pendant lights. The island has shiplap detail and matches the navy striped barstools.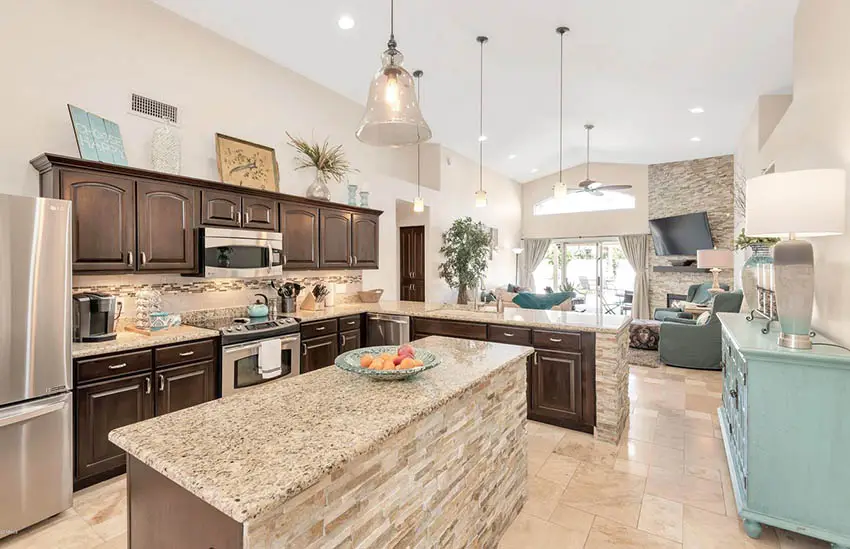 The stacked stone clad Island and peninsula is a great idea to add personality to this kitchen. It balances the rich dark wood cabinets and effortlessly blends with the beige walls and flooring.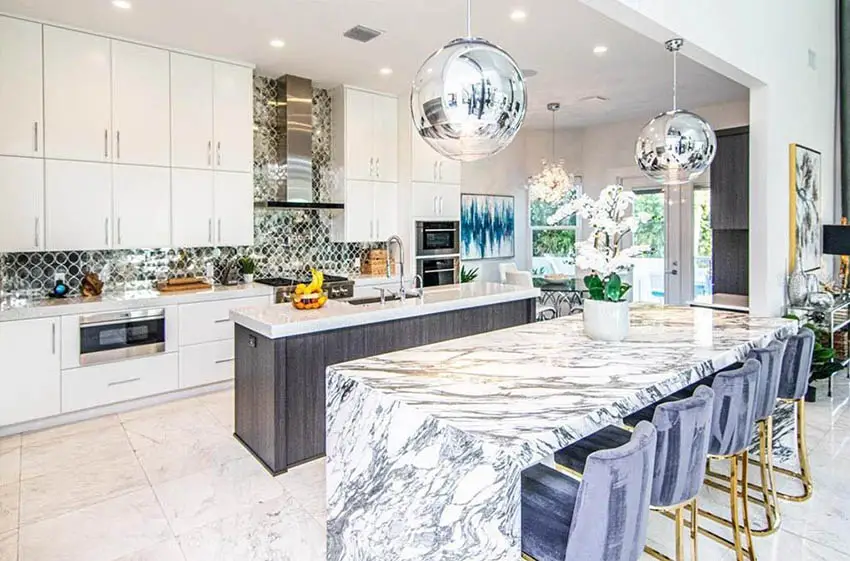 This kitchen creates a striking feature with the mix of polished metal finishes, mosaic backsplash, stone countertop, and lush velvet bar stools. The island and peninsula go together to make this kitchen not only elegant but at the same time functional by increasing surface areas and storage capacity.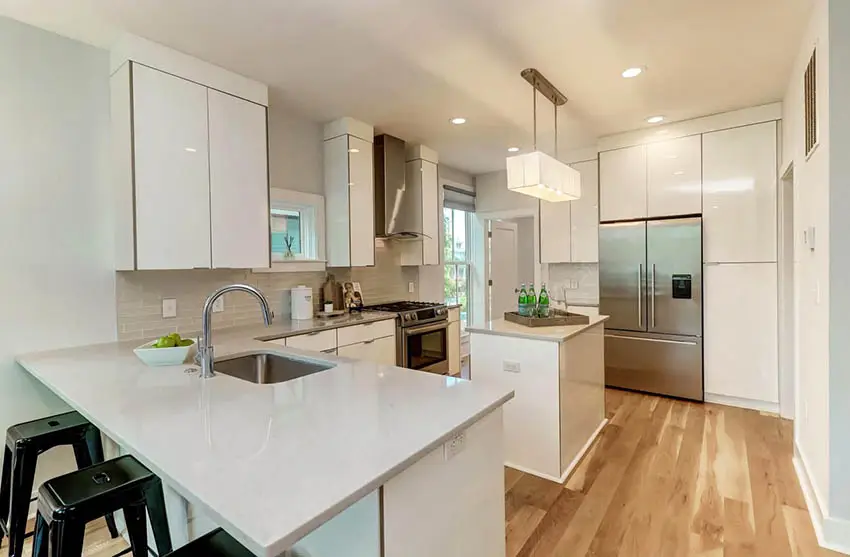 This simple modern kitchen blends clean white cabinets, subtle grey countertop, and light wood floors. It maximizes the space by putting a peninsula with sink and counter seating and an island for supplementary work surface.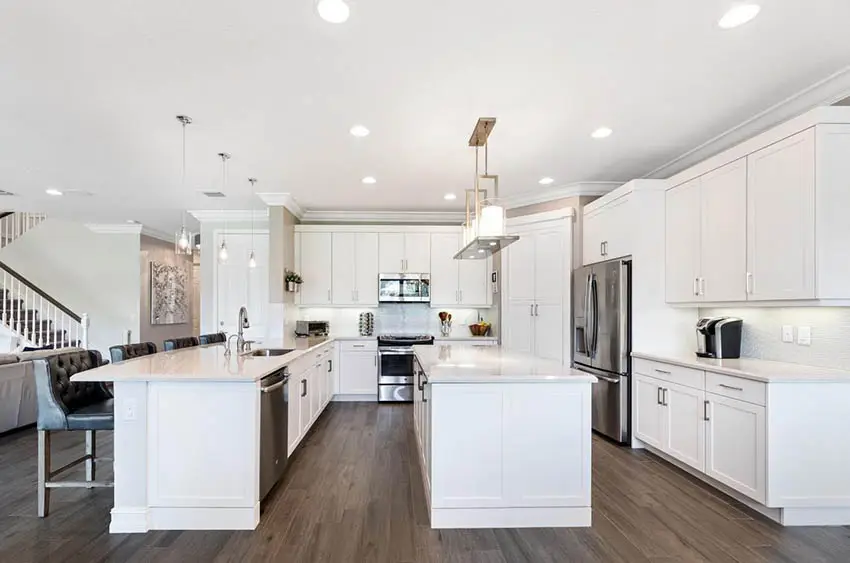 This open concept kitchen with white cabinets, marble countertops, and stainless steel appliances is simply refined and elegant. This large and airy kitchen with plenty of seating is a great area to hangout and to entertain guests.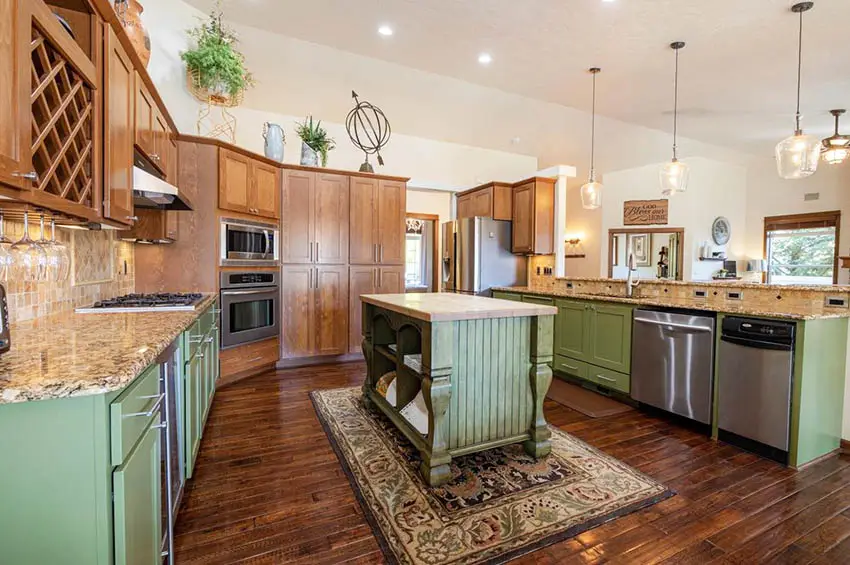 This vintage kitchen breaks monotony of wood elements by painting the base cabinets with olive green. The kitchen island with beadboard style detail has open shelves which is useful as stored items are visible and easy-to-grab. Its peninsula has dual function as a washing/preparation area and bar counter space.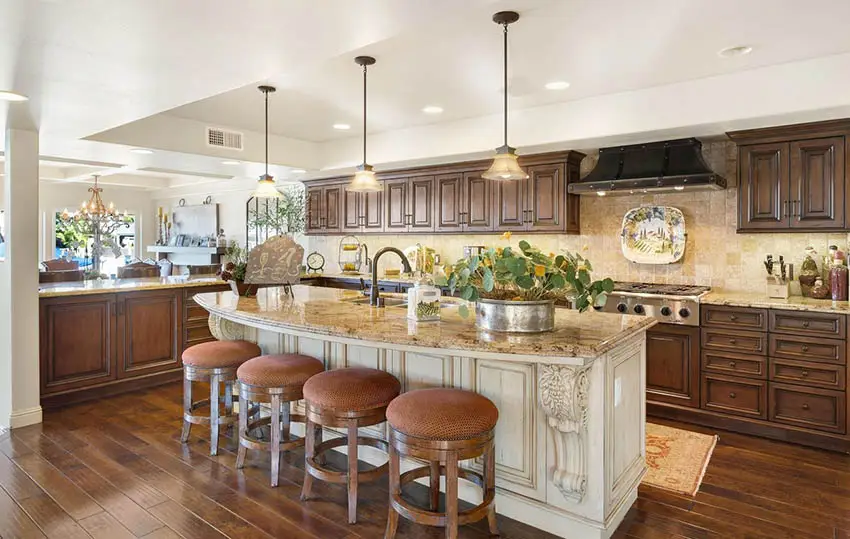 This traditional kitchen showcases rustic solid wood cabinets, beige granite counter tops and tan stools. It also features cream island with decorative corbel and moldings that works as a preparation and washing area. Its peninsula separates the kitchen from the dining area and provides additional seating and convenient store space.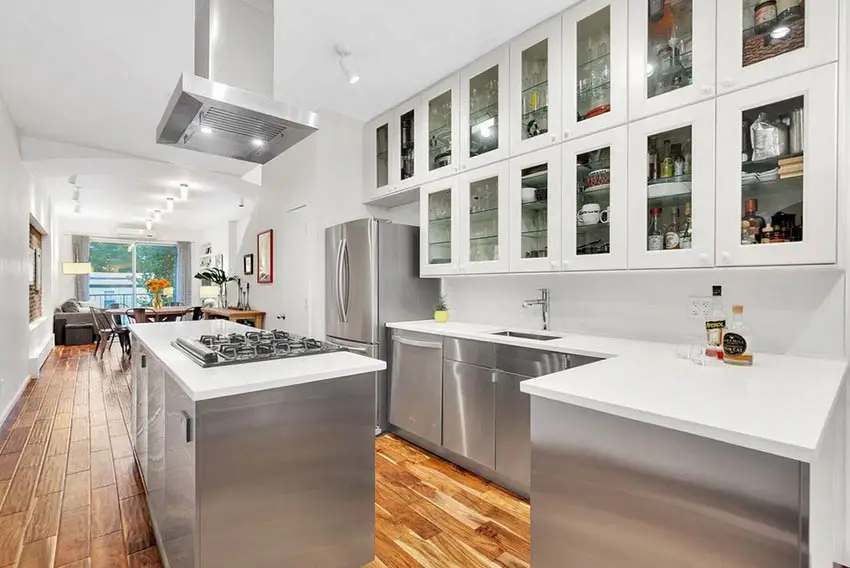 The stainless steel surfaces with white elements make this kitchen very streamlined and modern. Moreover, the stainless steel cabinets and storage offer durability and ease of maintenance and cleaning.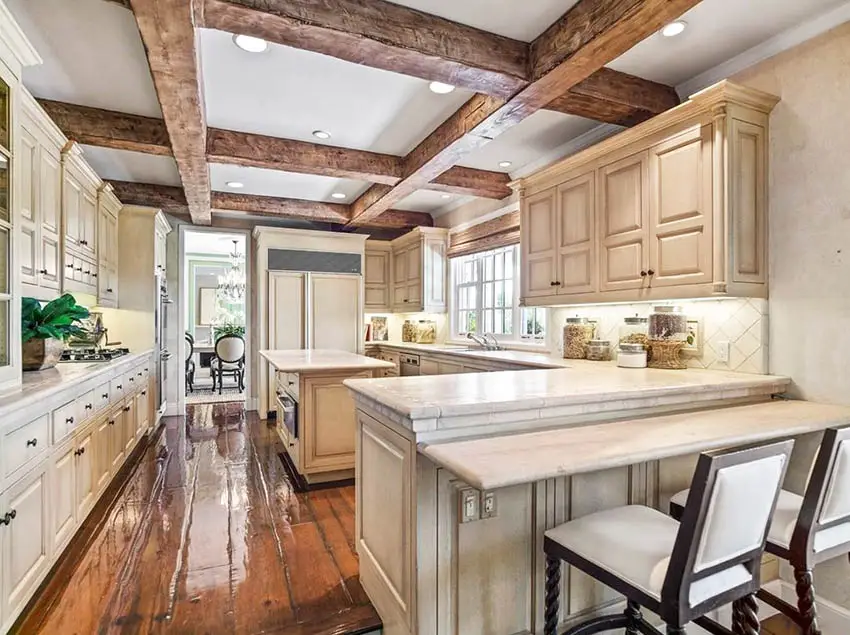 This classic French kitchen with exposed beams, rich floors, and rustic white cabinets exudes a sense of nostalgia and comfort. The peninsula provides a bar counter seating for two whereas the island provides functional storage and counter space.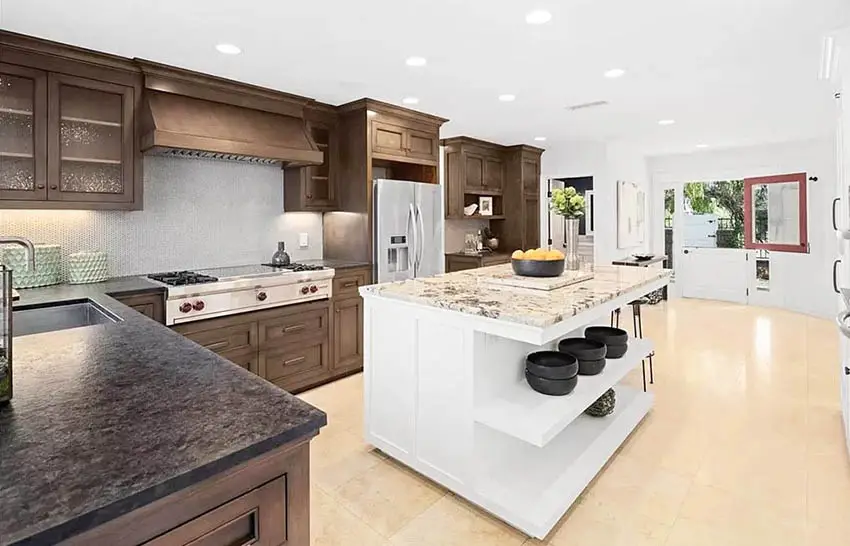 Create focal point by making your semi-open island white in contrast with the dark wood cabinets and black granite countertop. This kitchen offers flexibility with the island having extra display for commonly used items and work area when cooking.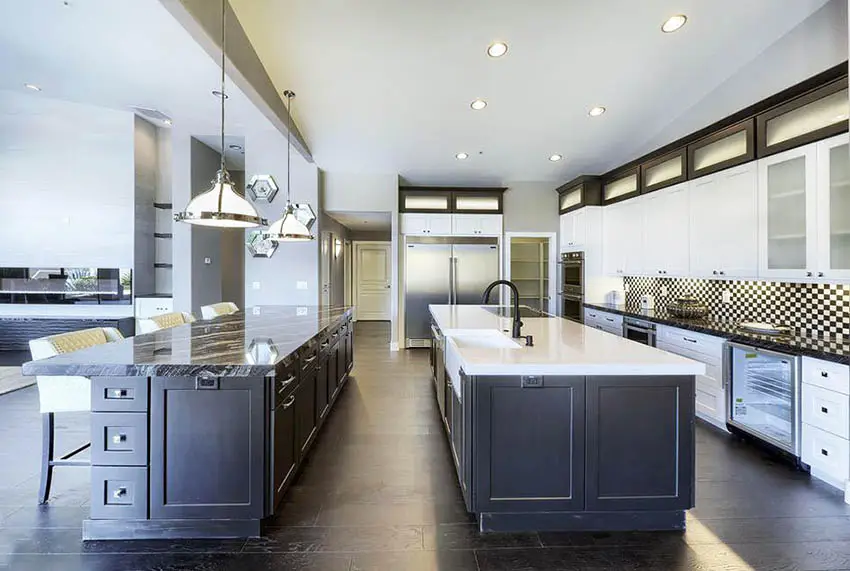 This transitional kitchen adds dramatic touch with the play of black and white finishes and textures. The massive island and peninsula offer underneath storage sink area and space for preparing and serving meals. The large kitchen island with seating provides plenty of space for family or entertaining guests while preparing a meal.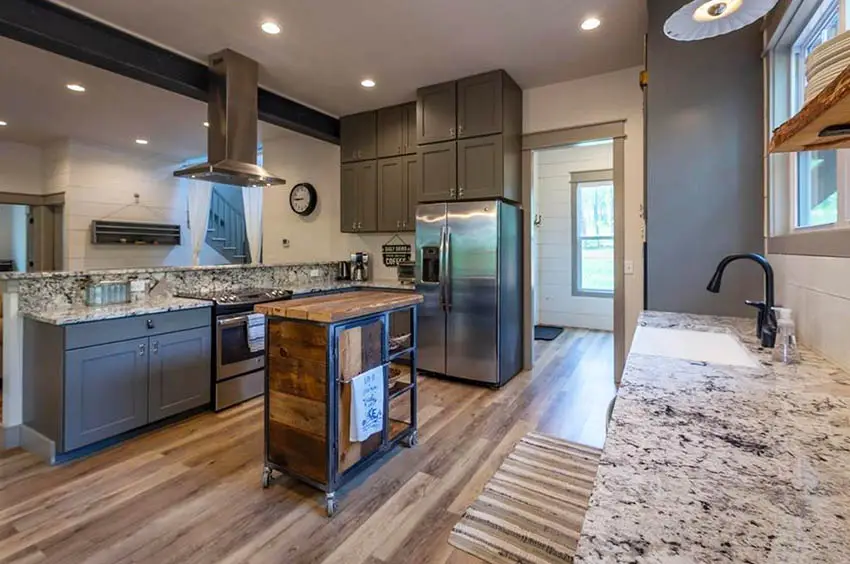 The dark grey kitchen cabinets complements with the salt and pepper granite tops and stainless steel accents. Its peninsula is a cooking zone and at the same time a breakfast bar. Another feature is the rolling island which is convenient as an instant work space and can be moved away when not needed.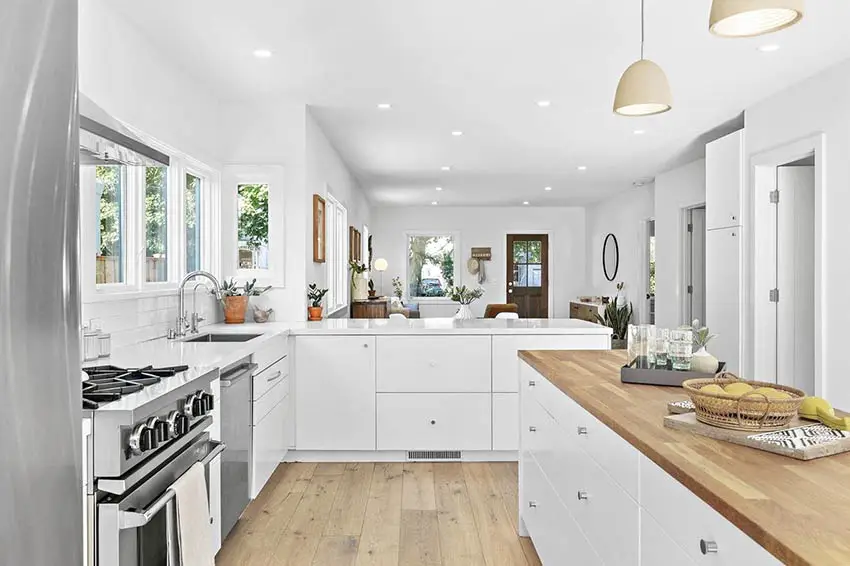 White paint and quartz countertops matched with light wood finishes just make this modern kitchen have a clean and fresh vibe. The peninsula helps visually define the kitchen and dining space while the island with butcher block top adds warmth to the space.
Fore more related information visit our article about kitchen island vs peninsula to see how each compare against each other.