Here's our guide to expanding the kitchen into the dining room including advantages of expanding a kitchen, cost and whether it is worth expanding a kitchen.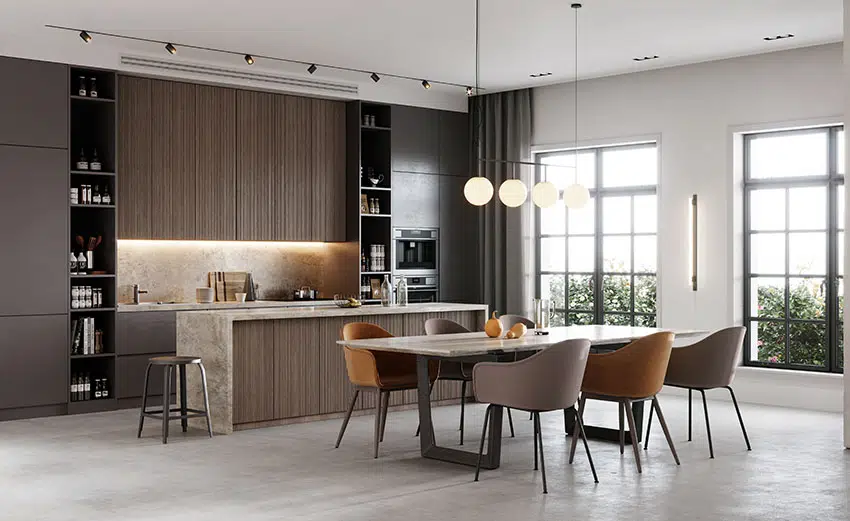 Open plan living redefined maximizing spaces in residential and commercial properties. This interior plan combines multiple rooms by eliminating several walls in between.
Open plan living in homes usually involves combining the kitchen, living room, and dining room. Its popularity among homeowners is also because it fosters engagement within the household.
This article dives into the advantages of expanding your kitchen into the dining room and other expectations, including costs.
Should I Combine My Kitchen and Dining Room?
Aside from adding trendy interior space to your home, your lifestyle is crucial when deciding whether you should combine your kitchen and dining room or not.
For more guidance, below are some pros and cons of an open plan kitchen. You can also read more about open vs. closed kitchens for comparison.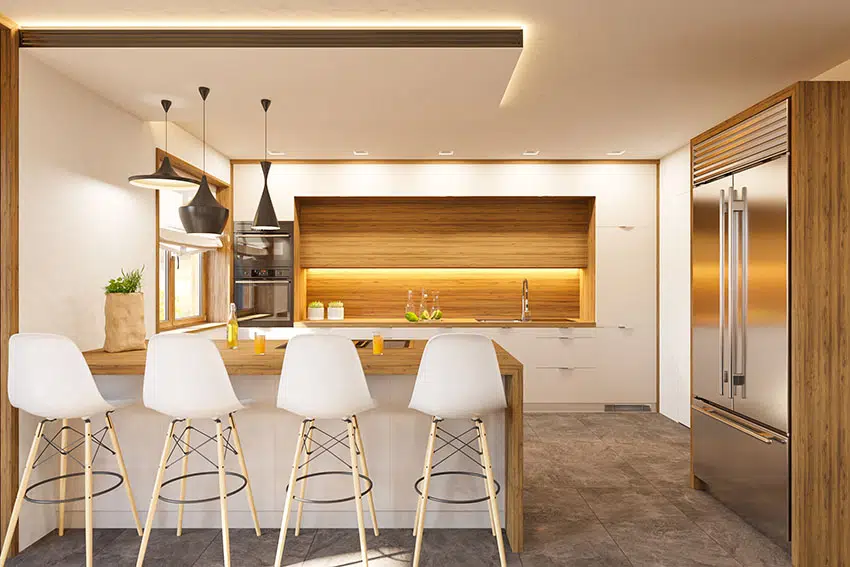 Improved Interior Flow
Walls exist in homes to offer privacy, provide structural support, and separate spaces. But having too many walls creates cramped rooms. Combining your kitchen and dining room opens up your space for an improved interior flow and an unhindered view.
Entertain While Cooking
Being the designated cook during gatherings means missing out on lovely conversations with your friends and family. Having an open kitchen allows them to join you in the dining area while you prepare food.
Creates A Brighter Kitchen
If you have large windows, natural light will flow unhindered in your room and can make your space appear larger. For more tips read our guide on how to brighten a dark kitchen here.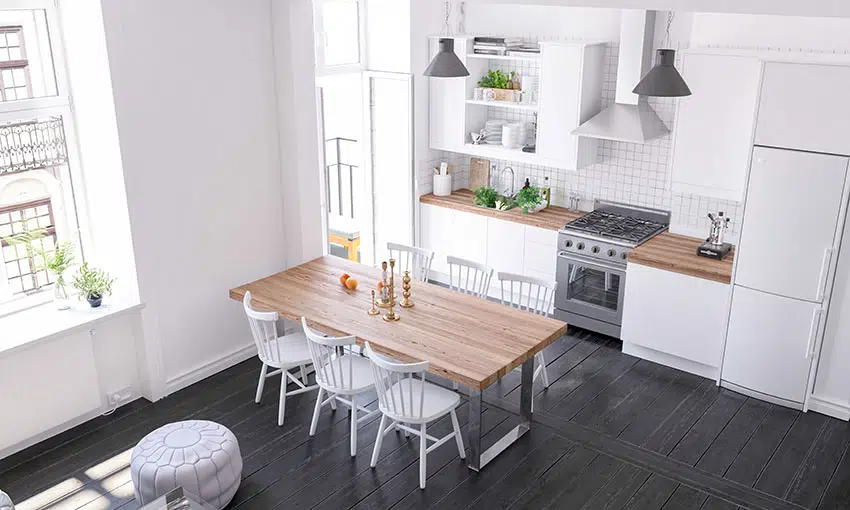 Practical For Small Spaces
Living in small apartments and condominiums may limit you from separating certain rooms. Combining your kitchen and dining room is a great space saver, especially for a small household.
Of course, an open kitchen has downsides. An unorganized kitchen overfilled with decors and accessories can be an eyesore. Cooking can get messy, and the noise from each space is difficult to confine. Read our guide on how to organize a small kitchen here.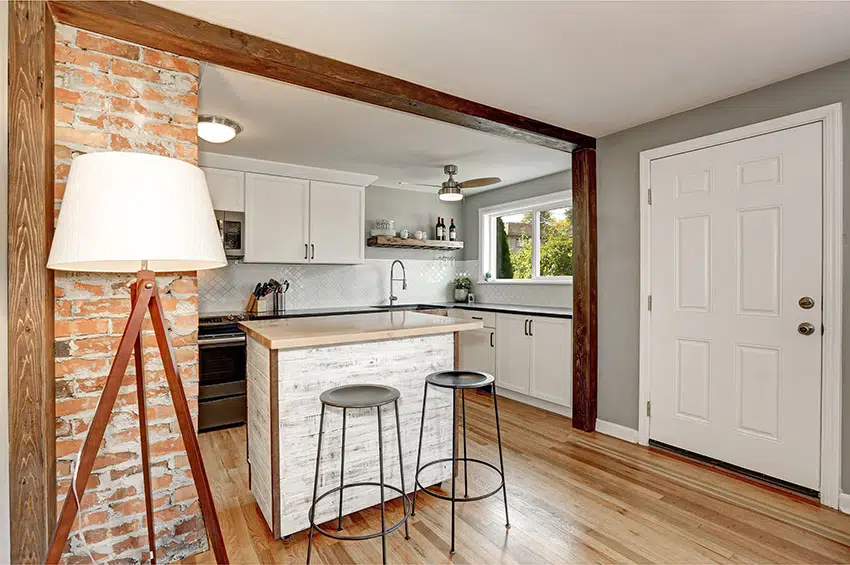 How Much Would It Cost to Expand My Kitchen?
Combining your kitchen and dining room can be as simple as removing a wall or two or having a complete kitchen renovation. Removing a wall can be as cheap as $300 or as pricey as $10,000.
This cost depends on whether the wall is part of the primary structure or not. Calculate the cost of patching up your ceiling when you remove a wall, as well.
If you are expanding and renovating your kitchen, expect to spend between $4,000 and $60,000. The national average for a kitchen remodel is $25,000.
Your budget comprises any new furniture and appliances, flooring, walls, ceilings, and plumbing. Include the professional fees for your designer and contractors, too.
How Do You Expand A Kitchen?
Your layout will determine the optimum way to expand your kitchen. The best way is to remove some walls to open up your space. But keep in mind what is behind your walls and how it affects your primary structure.
If you cannot take more space inside, another method is to add a bump-out. A bump-out is when a portion of your main wall is extended out by just a few feet to add space. Depending on the strength of the joist of your house, your bump-out ranges from two to 15 feet.
Otherwise, as previously mentioned, a total do-over or remodeling can only be your option for expanding your kitchen. Be practical and choose multipurpose furniture and fixtures.
Your kitchen bar can have a pull-out dining table or a kitchen island that doubles as a breakfast bar. Installing compact storage spaces in your kitchen is a substantial addition to getting organized.
Should I Knock Down The Wall Between Kitchen and Dining Room?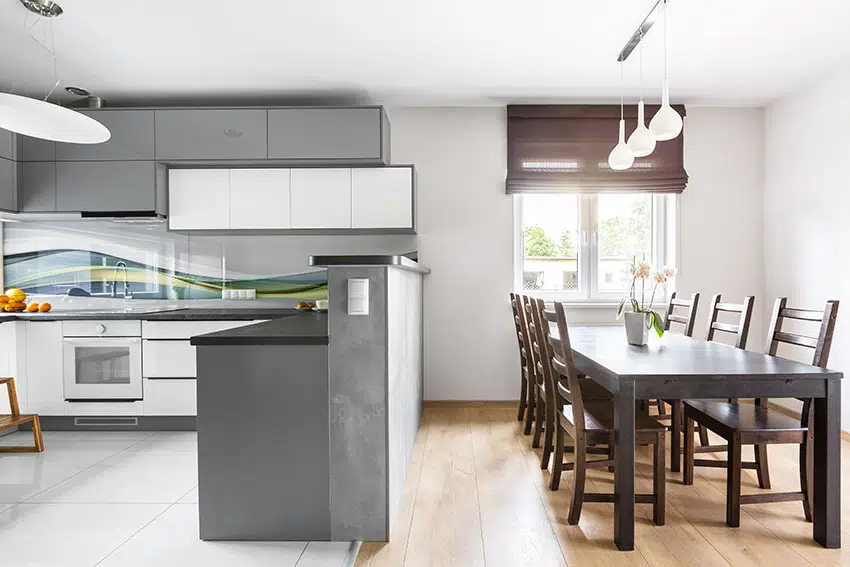 Again, removing walls between two spaces is the easiest way to get more space. But you can also opt for a bump-out if you need only a little extra space. If you decide to remove walls, below are the following things to consider for safety.
Wall Type
There are two classifications of walls based on their function: load-bearing and nonbearing walls. Load-bearing walls are integral to the structural support of your house. They distribute the weight of the house from the roof to the foundation.
While nonbearing walls serve only as a partition between spaces. They are often not connected to any beams and do not provide any support to your house structure. Most often, you can remove these walls yourself.
Electrical Lines and Plumbing System
However, another thing to consider is the electrical and plumbing behind the walls. While you can re-route electrical lines, it is best to consult with an expert before doing so. Plumbing from floors above may also exist behind the walls. Check with a plumber for the best way to re-route it for you.
Refer to Your Building Code
Finally, everything needs to comply with the building code, which may vary per city or state. You can secure permits, particularly for the removal of load-bearing walls, as this concerns your safety.
Is It Worth Expanding The Kitchen Size?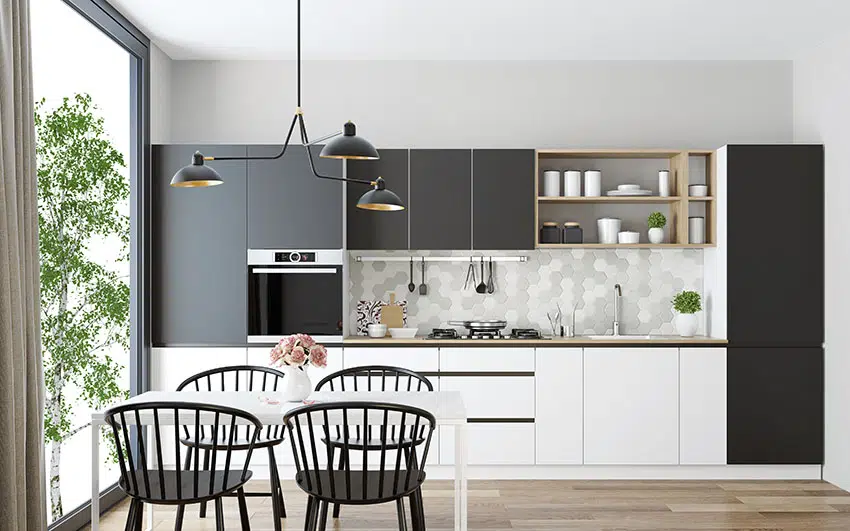 Expanding your kitchen can either be cheap or hefty. It can also take a toll on your time and daily activities.
Do a pros and cons list. Assess the problems you are facing with your current kitchen and see if extending it towards another room will benefit you. Maybe all you need is careful kitchen planning for storage and furniture.
Otherwise, expanding the kitchen into the dining room is totally worth it, especially for small kitchens. A combined dining and kitchen area also creates a family-friendly space conducive for conversations.
If you are still unsure, you can play with your ideas on our suggested kitchen design software before executing them. Have a browse at our list of beautiful open concept kitchens you can implement, too.
Whatever the case, your kitchen is an integral part of your home that should fit your lifestyle for an optimum experience.